Car sales nosedive in February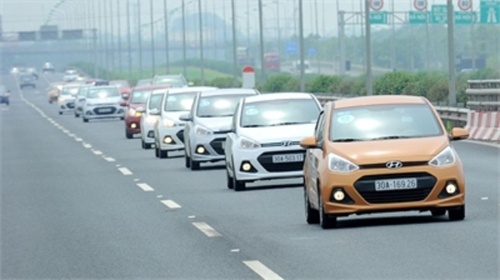 Automakers sold 11,718 cars in Viet Nam in February, a 49 per cent drop over the previous month, a report released by the Viet Nam Automobile Manufacturers' Association (VAMA) said.
The sales comprised 6,446 passenger cars, 4,599 commercial cars and 673 special purpose vehicles, falling 54 per cent, 44 per cent and 21 per cent, respectively.
The Truong Hai Automobile Joint-Stock Company (Thaco) took the lead in February, selling 4,184 vehicles, and claiming 37.5 per cent of the market share. It's followed by Toyota Motor Viet Nam with 2,367 units, equal to 21.1 per cent of the market share.
The VAMA report also showed that more than 9,200 locally assembled cars were sold in February, a 46 per cent fall over January. Meanwhile, 2,475 imported cars were sold last month, falling 57 per cent.
There were still familiar names among the top 10 best-sellers such as Vios, Morning, Innova and Fortuner as well as Mazda 3, while 660 units of the Ford Ranger pick-up were sold, taking the lead in its segment.
Speaking at a conference held last month, Chairman of VAMA Yoshihisa Maruta said VAMA members expected to sell about 260,000 units this year, a 10 per cent increase over last year.
He said it was hoped growth would be maintained this year, thanks to impetus from the market in 2015, and additional support from the government in terms of more stable policies.
Visa expands electronic payments into Mai Linh taxis
Visa cards are now accepted in Mai Linh taxis in Hanoi, Thai Nguyen, Bac Ninh and some central districts in Ho Chi Minh City, providing commuters with a faster and more convenient way to pay for their taxi rides.
This system of card acceptance in Mai Linh taxis started last year and is part of Visa's commitment to expanding electronic payment acceptance across Vietnam.
A recent study by Visa has revealed that four out of five Vietnamese consumers want to increase their card usage and reduce their reliance on physical cash. The survey also found that card ownership has increased, with 51 per cent of respondents indicating that they now carry more payment cards than they did five years ago.
"At Visa, we're passionate about helping consumers to access their funds and pay for purchases in the most convenient, efficient and secure ways possible, and a major part of that is working with merchants to expand electronic payment acceptance across the country," said Sean Preston, Visa's country manager for Vietnam, Cambodia and Laos. "Card usage is on the rise in Vietnam, and it's steps such as this, targeting areas of everyday spending including grocery shopping, fuel, or indeed, taxis, that will help to further normalise card usage."
According to another study commissioned by Visa last year, taxis rank amongst the highest areas of "mystery spending" for Vietnamese consumers, a phenomenon in which money gets spent, but consumers don't keep track of it or they don't know where it goes. The survey recorded that "taxis, parking, and tolls" account for 59 per cent of mystery spend.
"Electronic payments are a fantastic way to keep track of spending, as all the transactions are recorded on your bank statement, or in your internet banking, allowing you to get a more precise understanding of where your money goes, and making it easier to set budgets," said Preston. "By increasing card acceptance in everyday locations, we're not only giving consumers a more convenient way to pay, we're empowering them to take greater control over their personal finances through heightened visibility and record keeping."
This expansion of card payment in taxis is the latest in a string of everyday acceptance initiatives launched by Visa, with the company working with businesses such as Comeco, EVN, KFC, and online shopping platforms in order to give cardholders an even greater variety of outlets through which to use electronic payments.
Vietjet launches Ho Chi Minh City – Kuala Lumpur route
To welcome the new route Ho Chi Minh City – Kuala Lumpur, Vietjet launches a promotion of 250,000 tickets priced only from US$0 on March 16th, 17th, 18th, 2016 from 12:00 to 14:00.
The promotion is open for the airline's all international routes from Ho Chi Minh City to Kuala Lumpur, Seoul, Taipei, Singapore, Bangkok and Yangon and from Hanoi to Seoul and Bangkok at www.vietjetair.com.
Travel time will be from June 1st, 2016 to December 31st, 2016 for HCMC – Kuala Lumpur route and from March 31, 2016 to December 31, 2016 for the remaining routes.
The HCMC – Kuala Lumpur route will be put into operation from June 1st, 2016 on a daily basis, taking one hour 55 minutes per leg. The flight takes off from Tan Son Nhat International Airport at 9:30 and arrives in Kuala Lumpur at 12:25 (local time). The return flight will depart Kuala Lumpur at 13:00 and arrive in Ho Chi Minh city at 13:55 (local time).
Tickets can be booked at www.vietjetair.com (also compatible with smartphones athttps://m.vietjetair.com) or at www.facebook.com/vietjetvietnam (just click the "Booking" tab). Payment can be easily made with Visa, MasterCard, JCB, American Express, and ATM cards issued by 24 Vietnam banks that have been registered with internet banking.
CapitaLand to build third CapitaLand Hope School in Vietnam
Singaporean real estate developer CapitaLand on March 8 announced that it's going to build the third Hope School in Vietnam near Hanoi, as one of its activities to give back to the community.
Lim Ming Yan, president & group CEO of CapitaLand made the announcement during his meeting with Hoang Trung Hai, Secretary of the Hanoi Party Committee and member of the Politburo.
During the visit, Lim updated Hoang on CapitaLand's strong growth in Vietnam and expressed the group's long term commitment to the country. As one of the leading foreign developers in Vietnam, CapitaLand has established a presence in Hanoi, Ho Chi Minh City, Haiphong, Danang, Binh Duong and Nha Trang – in the residential and serviced residence sectors.
On his part, Hoang highlighted the country's robust economic and population growth which are driving demand for infrastructure, as well as the introduction of conducive policy measures, which will augur well for real estate development and investment in Vietnam. The success of a reputable international company like CapitaLand in the capital, Hoang added, will act as a catalyst to attract more investment into the country.
Lim then announced CapitaLand's plan to build the third Hope School in northern Vietnam, adding to a total of 27 schools across Asia.
"We are committed to Vietnam for the long term, so as we grow our business here, we want to continue giving back to the community," said Lim, who is also director of CapitaLand Hope Foundation (CHF), the group's philanthropic arm. "These efforts are part of CapitaLand's on-going commitment to building communities in countries where we operate."
CapitaLand currently has two CapitaLand Hope Schools in Vietnam – the CapitaLand Nang Yen Primary Hope School in Phu Tho province, and the CapitaLand Thanh Phuoc A Primary Hope School in Long An province.
CapitaLand organises international volunteer expeditions every year to projects that CHF supports, for employees all over the world to participate in activities that contribute to the well-being of children in rural communities. On March 5, over 50 CapitaLand staff volunteers and senior management embarked on a five-day volunteer expedition to CapitaLand Nang Yen Primary Hope School located in Phu Tho province, one of the most impoverished provinces in Vietnam.
The school provides close to 200 pupils from surrounding villages with education from Grade 1 to 5, equivalent to that offered by primary schools in Singapore. CapitaLand staff volunteers helped build more toilets and sheltered walkways to cater to the growing pupil population, cemented damaged walls, and refurbished the library with more shelves, which were filled with books gathered from the local community through a book donation drive organised by CapitaLand staff in Vietnam. A series of educational activities, including sports sessions, art and craft workshops, and CapitaLand's signature Little Architect Programme, were also organised for the pupils.
The CapitaLand Nang Yen Primary Hope School was originally built in 1975, and classes were previously conducted out of makeshift classrooms made from clay and leaves. In 2011, CHF donated VND2.2 billion ($100,000) to fund the construction of new school buildings and facilities, including a two-storey block with 10 classrooms, a library-cum-reading room, and upgraded equipment for outdoor activities.
CapitaLand organised an expedition to the school in 2011 to put the finishing touches to the refurbished school and to welcome the children from the surrounding villages into their new learning environment. Since then, local staff have regularly visited the school to better understand the needs of the students and the community.
Since 2004, CHF has been committed to building new school facilities and enhancing existing ones to create conducive learning environments for children in rural communities. To date, over 13,000 children have benefited from the 27 CapitaLand Hope Schools that CHF has helped build across Vietnam and China.
Easing investor procedures must be a top priority
Unsettled incompatibility between the provisions of the Investment Law and other regulations continues to impede investors in the legal setup stage.
According to the Ministry of Planning and Investment (MPI)'s Working Group on implementing the 2014 Law on Enterprises and Law on Investment, a consensus has been reached on whether impact assessment will be guided by the regulations outlined in the Law on Environmental Protection or the 2014 Law on Investment.
Accordingly, investors will have to follow the provisions of the 2014 Law on Investment, meaning they are now only required to present a preliminary environmental impact assessment report and measures on environmental protection to receive an investment proposal or investment certificate.
This move significantly reduces the procedural barriers erected by the Law on Environmental Protection, which required an official approval of the report.
"We have been working in close tandem with the Ministry of Natural Resources and Environment in the past months to come to this accord," said Tran Hao Hung, head of the MPI's Legal Department.
This is but one of the several incompatibilities between the Law on Enterprises and the 2014 Law on Investment and other regulations that have been tackled. However, the list of incompatibilities on the Working Group's agenda remains fairly long, covering diverse fields, such as healthcare, education, and industry and trade.
In reality, foreign investors are particularly anxious to see an amendment to governmental Decree 23/2007/ND-CP regulating the trading of goods and other activities related to commodities trading by foreign invested businesses.
A satisfying closure would follow the spirit of governmental Resolution 59/2015/NQ-CP (Resolution 59) on the implementation of the Law on Enterprises and Law on Investment. This task was to be finalised before the end of December 2015, according to the legislature's agenda.
Following the provisions of Decree 23, business registration agencies must source comments from the Ministry of Industry and Trade (MoIT) and grant investment certificates allowing foreign investors to trade goods and pursue related activities only upon receiving written approval from the MoIT. The 2014 Law on Investment and governmental Decree 118/2015/ND-CP guiding the implementation of the Law on Investment, however, did not stipulate these requirements.
Localities have been confused in their enforcement efforts, leaving the lion's share of investor records stuck in limbo.
Similarly, regarding investors in the field of education, several provisions of governmental Decree 73/2012/ND-CP on foreign cooperation and investment in education have yet to be amended. This stalling stymies efforts to ease investment procedures following the spirit of Resolution 59, hampering authorised government agencies to process applications.
Although Clause 4 of the 2014 Law on Investment prescribes its primacy in a clash with other regulations in fields related to forbidden and conditional business activities, as well as investment processes and procedures, enforcement, however, is not so simple.
"My approach is that legal documents need to be enforced in a way that later and higher level documents shall supersede the former, lower-level ones. Only by doing so will investors and businesses feel the conveniences we have touted in the Law on Investment and the Law on Enterprises," said Nguyen Dinh Cung, head of the MPI's Central Institute for Economic Management and head of the Working Group's Secretariat.
Gentherm launches plant in Ha Nam
USA thermal technology corporation Gentherm opened its Dong Van II industrial zone plant on Thursday in northern Ha Nam Province.
The plant covers an area of nearly 2.1 ha. Constructed with a total capital investment of nearly US$28 million, the new plant will produce air conditioning for the automotive industry and other industries, including seat heating systems, seat air conditioning systems, fans, blowers, electric wires and cables for automobile manufacturing.
The plant is expected to create jobs for around 1,500 local people when it begins operating, according to Pham Sy Loi, the provincial Chairman of People's Committee.
The Gentherm General Director, Alison Astarita, says that the new plant will strive to produce and trade effectively, as well as to protect the environment.
Knauf Vietnam signs strategic cooperation agreement with Zinca Vietnam
Germany's building materials producer Knauf Vietnam Co., Ltd. on March 12 signed a strategic cooperation agreement in distribution with Zinca Vietnam Joint Stock Company (Zinca).
According to general director of Knauf Vietnam David Thomas, the agreement is a remarkable milestone that would help Knauf Vietnam strengthen its nationwide coverage and promote brand awareness.
"Zinca Vietnam is a well-known building material manufacturer and distributor in the industry with 20 years of experience. We strongly believe this cooperation would bring us both market leading positions and a lot of successes in the Vietnamese building material market", said Thomas.
Over the past two years, Knauf Vietnam has set-up offices in Hanoi, Haiphong and Ho Chi Minh City and been developing a distribution network throughout the country. It has been supplying the Vietnamese market with high quality gypsumboard products using German technology such as StandardShield, MoistShield and FireShield, as well as Knauf Danoline and Cleaneo. With three distributors in total, Knauf Vietnam has the ability to supply various projects be it industrial, commercial and residential.
According to Thomas, Knauf Vietnam's factory in Haiphong had started commissioning and expected to have commercial board by May 2016. The factory will have a capacity of 20 million square metres.
"By working with our key distributors we will grow our market share and achieve our ambition of becoming a market leader in the Vietnamese building material industry," said Thomas.
Knauf Group, founded in 1932, is a multinational producer of building materials and construction systems that operates more than 220 production plants in over 60 countries with roughly 25,000 employees. Recently, Knauf has been expanding into a number of East European and Asian markets. Knauf Vietnam applied for and gained an investment license in 2013 to build a gypsumboard manufacturing facility in Haiphong that is expected to be operational within 2016.
CJ to invest $500 million more into Vietnam in 2016
South Korean conglomerate CJ is going to spend $500 million in 2016 on its expansion plans in Vietnam.
The money is going to be used to invest into new projects or M&As. The areas of interest are culture, as in opening movie theatres, producing movies and music, food production and warehousing —the fields CJ invested in over the past years in Vietnam.
At a press conference yesterday in Hanoi, Chang Bok Sang, president and CEO of CJ Vietnam, said that CJ had achieved steady growth over the past 20 years of operating in the country, with an average annual growth rate of 26.73 per cent in the period of 2011-2015.
According to Chang, CJ currently has extensive investments in China, the US, and Indonesia, but the company sees a lot of room for growth in Vietnam. Consequently, CJ plans to make Vietnam its third largest investment destination by 2020, following South Korea and China.
CJ has invested $400 million in Vietnam over the last 20 years. In 2011, through its foreign partner Envoy Media Partners, it invested $73.6 million into Megastar Media JSC, holding 80 per cent in the joint venture while Phuong Nam Culture Corporation held the other 20 per cent. The movie theatre chain recently changed its name to CGV and is now one of the biggest chains of movie theatres, growing steadily in the country.
Chang said, besides movie theatres, CJ was pushing a number of projects to produce small screen and big screen movies, as well as music. CJ's first projects have earned big success. The movie Miss Granny has surpassed De Mai Tinh 2 to have the highest box revenue among Vietnamese movies. Other projects include Let Hoi Decide and the drama series Forever Young.
In food production, CJ has a pastry chain named Tous les Jours in Ho Chi Minh City. Besides a flour production plant, the company currently has four plants producing animal feed in Vietnam and harbours plans to expand in this area. Recently, the company has bought 4 per cent of meat and meat product company Vissan and hopes to buy more. Chang said CJ wanted to invest in technology in order to help Vissan's products compete better in the domestic market, as well as internationally.
Furthermore, CJ is looking for a capable local partner to grow a retail chain.
CJ started investing in Vietnam in 1998 and has established a presence in various fields including agriculture, entertainment and media, logistics, and real estate.
D'. Le Roi Soleil - Quang An stirred up Singaporean real estate market
Over 200 Singapore's leading real estate companies and investors were totally charmed by the prospects and investment opportunities in Vietnam's real estate market, particularly in the capital city of Hanoi, when they attended a seminar boasting potential of the Vietnamese property market, held by Tan Hoang Minh Group in Singapore on March 5 and 6.
Rudolf Hever, managing director of Alternaty Real Estate Vietnam, who has spent some eight years living in Vietnam and is also a member of the judging panel of the Vietnam Property Award, lauded Tan Hoang Minh Group, during the seminar, for choosing Singapore as their first stop to introduce their real estate projects. The group's pick of destination was highly regarded as a sensible move in seeking for business opportunities and building their brand name in the international market.
The company's integrity among home-buyers and investors, according to Hever, could be boosted further, thanks to the impact of Vietnam's participation in the ASEAN Economics Community (AEC) and the Trans-Pacific Partnership (TPP). Coupled with the government's positive changes in loosening up the real estate ownership for foreigners, Vietnam will no doubt become the most attractive destination for foreign investors among other countries within the region, especially investors from Singapore.
According to CBRE Singapore, property price is one of the key features for Singaporean investors to swell up their demand for real estates in Vietnam. The price of a 300-square meter villa in Sentosa, Singapore, can go as high as $12.6-14 million, while a three-bedroom apartment could cost up between $500,000-840,000. Meanwhile, similar properties from local real estate companies do not cost as high as those in Singapore. D'. Le Roi Soleil apartments from Tan Hoang Minh Group, for instance, are priced roughly VND90 million ($4,128) for a sqm, or approximately adding up to VND6 billion ($275,229) an apartment unit.
Attractive prices and enormous potential are factors which have prompted a rising number of investors from the Lion City to explore and decide to invest in the high-end real estate market in Vietnam. Reputable and prestigious projects in Vietnam, in particular, are what investors actually aim at.
A series of luxury properties situating on prime locations in Hanoi, such as the D'. Palaise de Louis, the D'. San Raffles, the D'. Le Pont D'or, and the D'. Le Roi Soleil, developed by Tan Hoang Minh Group, have received due attention from the Singaporean real estate businesses lately. D'. Le Roi Soleil, among all, is promised to be capable of generating an annual profit of up to 7.3 per cent from sub-lease investment in the apartment complex, and thus has attracted special interest of hundreds of investors at the seminar. 12 D'. Le Roi Soleil apartments eventually found their owners at the end of the event.
Last July, during the groundbreaking and launching ceremony of D'. Le Roi Soleil, Ocean Master (Singapore) chairman David Lee Fook Choy was one of the very first buyers signed up to purchase a penthouse apartment priced at VND28 billion ($1.28 million). Choy shared that D'. Le Roi Soleil is a well-located project, boasting three sides overlooking at the West Lake and another viewing the Red River. In addition, the neighboring environment is rather quiet and the complex is equipped with highly-developed facilities. He thus believed that his family and friends could enjoy a peaceful break when they arrive in Hanoi.
At the price of $3,200 a sqm, a home-buyer can only get an apartment in suburban areas in Singapore, such as in Choa Chu Kang or Sembawang neighborhoods. What's more, in order to purchase a second property in the Lion City, home-buyers must pay a towering tax expense. These were the obvious reasons that urged Choy to obtain a property in Vietnam.
D'. Le Roi Soleil - Quang An is positioned on the Quang An peninsular, in West Lake, where most foreigners would choose to stay when they come to Hanoi. While there are other accommodation options elsewhere in Hanoi available for them, 30 per cent of foreigners in Hanoi, including company leaders, managers or diplomats, would still prefer Quang An peninsular as their first choice of place to stay, thanks to the West Lake's unpolluted environment, convenient transportation and modern infrastructure.
Serviced apartments and villas in the area are, as such, always fully occupied, with rental prices for each property vary between VND40-120 million ($1,800-5,500) a month. D'. Le Roi Soleil, among other complexes in West Lake, gathers all the must-haves of a high-end luxurious apartment building, satisfying even the toughest requirements of both domestic and international customers, for either as a place to live or as a long-term investment.
AFD to introduce preferential loans
The French Agency for Development (AFD) in Vietnam in partnership with the Ministry of Planning and Investment (MPI) and the Ministry of Finance will organize a conference to introduce preferential loans not requiring government guarantees from March 15 to 18 at the Apricot Hotel, 136 Hang Trong Street, Hanoi.
Some 20 leaders from large Vietnamese corporations will attend the conference, such as Electricity of Vietnam (EVN), Vietnam Airlines, the Vietnam National Coal and Mineral Industries Group (Vinacomin), the Vietnam National Textile Garment Group (Vinatex), the Sonadezi Industrial Development Corporation, the Thua Thien Hue Water Supply State Owned Co. (Huewaco), the Saigon Water Corporation (Sawaco), the Vietnam Steel Corporation (VnSteel), and the Vietnam Cement Industry Corporation (Vicem).
Via the workshops AFD expects to offer additional preferential loans to State-owned enterprises and help them understand how to access the loans without the requirement of government guarantees.
AFD has devoted about 70 years to fighting poverty worldwide. Arriving in Vietnam in 1994 it has committed to sponsoring over $1.78 billion in 81 programs in the country. Initially its support targeted rural areas and was then expanded to energy infrastructure, transport, water supply, and wastewater treatment.
Vietnam is considered one of AFD's priority partners and it now has key targets in the country: stable urban development, social and environmental responsibility, and fighting climate change.
Tet holiday shaves 22.3% off industrial production
The Index of Industrial Production (IIP) fell 22.3 per cent in February due to the nine-day Lunar New Year (Tet) holiday, according to a report from BIDV Securities (BSC).
Industrial inventories increased 8.9 per cent year-on-year while the Purchasing Managers' Index (PMI) was affected by the long holiday and remained virtually stagnant.
Prices of various products and services rose slightly in February due to increasing consumer demand. The CPI rose 0.42 per cent month-on-month and 1.27 per cent year-on-year.
Falling gasoline prices reduced transport costs significantly while almost all other sectors saw increases, especially dining, catering and beverages.
Retail sector revenue in February reached VND288 trillion ($12.92 billion), a 6.8 per cent increase year-on-year. Revenue in the first two months was therefore VND587 trillion ($26.34 billion), a 9.7 per cent increase year-on-year.
Interbank interest rates fell sharply in the month, especially since the Tet holiday (February 8). Short-term interest rates fell to less than 2 per cent per annum for one-week terms, 3.7 per cent for one-month terms, and 4.6-4.9 per cent for three to six-month terms.
The Sai Gon Beer-Alcohol-Beverage Joint Stock Corporation (SABECO) earned nearly $153 million in after-tax profit in 2015, a 25.5 per cent increase against 2014.
The company has just released its 2015 consolidated financial report, showing full-year turnover increasing 2 per cent year-on-year to $361 million. Sales rose 2 per cent to $335 million, pushing gross profit up 2.5 per cent from 2014 to more than $26 million.
Revenues from financial operations stood at $163 million, a year-on-year increase of 21.3 per cent, while the share dividend was up $26.5 million to nearly $147 million.
Last year the company spent $26 million on sales efforts, down 15.3 per cent, while management spending rose to $15.3 million, up 73.3 per cent against 2014.
SABECO's total assets were valued at $690 million, down 3 per cent, and accounts payable, including short-term and long-term debt, fell significantly, by 47 per cent, 47.5 per cent, and 35 per cent, respectively, against 2014.
FMCG see 5.7% growth in Q4 2015
Fast-moving consumer goods (FMCG) found momentum in the fourth quarter of last year in recording growth of 5.7 per cent, according to the latest quarterly Market Pulse report from market researcher Nielsen.
FMCG operations in the six key cities of Hanoi, Ho Chi Minh City, Hai Phong, Can Tho, Nha Trang, and Da Nang experienced recovery, with 5.7 per cent growth compared to 4.5 per cent in the previous quarter, driven by an increase of 4.9 per cent in volume growth against 3.6 per cent in the third quarter.
The recovery is reflected in growth across most of the seven major categories of beverages (including beer), food, milk base, household care, personal care, cigarettes, and baby care.
Beverages continued to enjoy major increases, recording the highest growth of 9.7 per cent, mainly driven by increasing volume growth of 7.7 per cent and contributing 38 per cent to total FMCG sales.
The final quarter of last year also saw a soft rebound in the food and milk-based categories, with volume increases of 0.9 per cent and 3.7 per cent, respectively. Other categories also exhibited signs of recovery, except for personal care, which remained stagnant.
"Although FMCG growth in Quarter 4 continued to show recovery the market is no longer expected to have double digit organic growth," said Ms. Nguyen Huong Quynh, Executive Director - Retail Measurement Services at Nielsen. "The volatility presents a lot of challenges for manufacturers to make sound decisions to fully seize market growth opportunities and drive a profitable business."
According to Ms. Quynh the rising rural population has been a new source of growth for many manufacturers.
Last year FMCG sales in rural area grew a significant 5.5 per cent, mainly led by volume growth of 5.5 per cent. Rural areas are home to 68 per cent of Vietnam's 90 million people and contribute 54 per cent of FMCG sales.
Further, rural habitants have been investing more in education and enjoying income growth of around 44 per cent over the last three years. "Yet these potential opportunities remain largely unknown to many businesses," Ms. Quynh added.
The Market Pulse report is based on the results of the Nielsen Retail Measurement study of FMCG operations in major categories. The Nielsen Retail Measurement provides continuous tracking of product movement through defined retail outlets. The data are used to measure manufacturer and retailer effort as well as consumer off-take.
BVS: Circular 36 may wipe out small investors
Bao Viet Securities (BVS) has commented on the draft amendments to Circular No. 36 on banks and foreign bank branches reducing the maximum ratio of short-term funds used for medium and long term loans from 60 to 40 per cent.
It said that as the proportion of short-term lending to medium- and long-term lending as at December was 31 per cent the amended Circular 36 would not affect the market to any great extent.
BVS also said, however, there many small and medium-sized banks have a high ratio of short-term loans, of roughly 60 per cent, and if the new regulation was to take effect there would be consequences for this group of banks.
It noted that the new regulation will take effect on January 1, 2017 if the entire amendment is approved. This will present difficulties for these banks in adjusting their lending to adapt for the new requirements on time.
Another consequence is that average interest rates of medium- and long-term loans may increase as banks adjust the deposit rate on terms of over 12 months to reorganize their short-term capital.
From a real estate perspective, demand will be affected as all home loans are long term. Regarding the granting of credit to investors, the negative effects would be less because project cycles are normally three or four years and in the meantime investors sell off-plan and ensure cash flow.
Banks, meanwhile, can disburse working capital for terms of less than one year and then extend it to avoid the effects of the regulation.
As for increasing for risk ratio for receivables from real estate from 150 to 250 per cent, BVS said it would have a significant impact on supply to the market because investors would face difficult requirements from bank on obtaining credit. Small investors would have a problem approaching credit and may therefore be forced to withdraw from the market.
New growth model to cope with disasters
There is no basis to assume that the impacts of economic crisis and the El Nino weather pattern will become the double obsessions in Vietnam's economy like they were two decades ago because the country is on the rise, Mr. Vuong Dinh Hue, Head of the Central Economic Committee, told local media.
He made the prediction amid some public concern about history repeating. In the 1997-1998 period Vietnam suffered from the severe effects of El Nino and economic crisis at the same time. Since the end of 2014 Vietnam has again suffered from the El Nino weather pattern, which is forecast to last more than 20 months - the longest in 60 years.
Mr. Hue acknowledged that climate change has had a negative impact on many regions around the country. By February 29, he said, 13 cities and provinces in the Mekong Delta officially announced saltwater intrusion and declared drought. Ca Mau province has experienced the most damage to its rice crop, losing over 49,000 ha.
Moreover, global warming has made Vietnam's weather become unpredictable.
Under the circumstances, Vietnam has made great efforts to overcome the situation and to turn challenges in weather disasters into opportunities. Guidelines were identified in Resolution No. 24, which will drive the transformation to a new growth model.
The International Monetary Fund (IMF) has said that Vietnam's GDP growth could be 7 per cent within the next five years and it will be one of the fastest growing economies in the world. The World Bank, meanwhile, said that achieving growth of 6.68 per cent last year made Vietnam one of fastest growing economies in the region. Looking at internal and external factors, Mr. Hue believes in the resilience of the country's economy.
New JW Marriott Hanoi management to boost MICE tourism
JW Marriott Hotel Hanoi is delighted to welcome Mr. Mark Van Der Wielen as Hotel General Manager, Mr. Paul Dunn as Sales & Marketing Director, and Ms. Stephanie Andrade as Group Sales Director.
The new management team, which has just taken shape, will use their experience to make the hotel become the best destination for Meetings, Incentives, Conferences, and Events (MICE) tourism.
With experience gained in nearly 20 years working for the group and nearly ten years as General Manager in different property groups around the world, Mr. Van Der Wielen hopes to bring new success to the hotel in the coming years.
Mr. Dunn, who was formerly Market Director of Sales for Dubai for four years and is an experienced, talented, and professional sales officer, looks forward to taking the JW Marriott Hanoi onto the world stage and becoming a leading hotel for MICE business in Vietnam.
With nearly ten years in sales Ms. Andrade, an American national, joined the Hanoi team in February.
Is trade surplus sustainable?
According to the General Statistics Office, export revenues in the first two months of 2016 reached US$23.7 billion, up 2.9% from a year earlier. It should be noted that exports by domestic enterprises climbed 4.2% while those by the foreign sector only rose 2.3%.
On the import side, the value fell 6.6% to US$22.8 billion, in which the domestic sector's purchases dropped 4.8% and the foreign sector's fell 7.7%. As a result, the first two months of the year saw a trade surplus of US$865 million, compared with a deficit of US$61 million in the same period last year. Does the return of a trade surplus in the early months of 2016 signal a surplus for the whole year as seen during the 2012-2014 period?
First, the export growth rate in the first two months of 2016 was not high, equivalent to about one third of that during the corresponding period last year. Moreover, the foreign sector, which accounts for more or less 70% of Vietnam's exports, reported a growth rate of less than one fifth of the previous year.
Second, a number of key exports such as computers, electronics, phones and footwear continued to post growth but at significantly slower paces than a year ago while others saw sharp declines such as oil, steel and pepper, which went down by 63%, 21.3% and 21.1%, respectively.
With such decreases, exports in 2016 in general will be much more difficult than in 2015, despite strong rises in seafood, vegetable and rice exports. And the growth target of 10% may be hard to meet and even achieving last year's figure is also a tough job.
The foreign sector's imports grew by 23.4% in the first two months of 2015 but fell 7.7% in the same period of 2016, leading to an overall decline in imports. In addition, a range of goods imported for manufacturing, which rose sharply in early 2015, contracted in the first months of 2016. Since the overall economic and export-import structures will remain largely the same, imports in the coming months are projected to increase, leading to a shrinking trade surplus and eventually the return of deficit like what happened in 2015.
In addition, the domestic sector's trade deficit was unchanged from last year, running at US$2.1 billion, so it is the foreign sector that determines Vietnam's balance of trade. Excluding oil, the foreign sector's exports in the first two months of 2016 rose 5.2%, far behind the 16.5% increase last year. Therefore, if Vietnam wants to maintain a trade surplus as long as possible or restrict the deficit in all of 2016, the key measure should be stimulating the foreign sector's non-oil exports while curbing imports of consumer goods, especially completely built cars, which reached US$3 billion in 2015.
Air New Zealand to fly nonstop to HCMC in June
Air New Zealand has said it will launch Auckland-HCMC nonstop service in June this year to meet rising demand for air travel between New Zealand and Vietnam.
The airline will operate Boeing B767-300 aircraft configured with 24 Business-class and 206 Economy-class seats for three weekly flights on Tuesdays, Thursdays and Saturdays from June 4 to October 29.
The carrier's aircraft will land at Tan Son Nhat International Airport at 7:45 p.m. and take off in HCMC at 9:45 p.m. The flying time is around 11 hours for the flight from HCMC to Auckland and 12 hours for the service on the opposite direction.
Two-way HCMC-Auckland tickets start from US$940. Discover the World Vietnam is the general sales agent of the carrier here in this market.
Scott Carr, general manager of Air New Zealand in Asia, said in a statement that the service will bring New Zealand closer to Vietnamese tourists who are keen to explore attractions in New Zealand.
Carr said passengers of Air New Zealand will be offered convenient connecting flights of Vietnam Airlines from HCMC to other parts of this Asian country.
Haike Manning, ambassador of New Zealand to Vietnam, told an event held in HCMC on Wednesday to introduce the new air route that Vietnam has emerged as the hottest destination for young New Zealanders who love to discover the natural beauty and enjoy Vietnamese food.
More New Zealanders have visited Vietnam in recent years. The ambassador put the number in 2015 at more than 20,000.
As there is no direct air route between New Zealand and Vietnam at present, Air New Zealand has partnered with Singapore Airlines for code-share services to transport passengers between the two countries before June 4 and after October 29.
Vietnam and New Zealand are member states of the Trans-Pacific Partnership (TPP) agreement, which was signed by 12 Pacific Rim nations in Auckland in February this year.
Last year, Vietnam and New Zealand inked a protocol to revise their air transport agreement to facilitate plans of Vietnamese and New Zealand airlines to launch flights connecting the two countries. Accordingly, aviation authorities of Vietnam and New Zealand will consider granting their airlines the fifth freedom traffic rights to let passengers disembark from and take new guests on board their planes at a stopover outside the two countries for flights between the two countries.
Lazada upbeat about online shopping outlook in Vietnam
Lazada Vietnam has expressed optimism that around 50% of Vietnamese consumers will do the online shopping in 2020, a much higher percentage projected by the Ministry of Industry and Trade.
Alexandre Dardy, general director of Lazada Vietnam, told the fourth anniversary of Lazada in this market on Wednesday that half of Vietnamese consumers are expected to have accounts at shopping websites active in this market.
Earlier, the ministry predicted in a master development plan for e-commerce in Vietnam in the 2016-2020 period that around 30% of the nation's population will shop online in 2020. The average spending on online shopping is put at US$350 per person and the e-commerce sales of business-to-customer (B2C) deals at US$10 billion that year, accounting for 5% of the nation's total retail sales of goods and services.
Dardy said e-commerce on the mobile platform has grown rapidly. Currently, revenue from orders made via mobile sites and Lazada apps accounts for 50% of the company's total revenue. The number of people accessing Lazada's website via mobile devices has outnumbered those using computers.
Lazada Vietnam has upgraded its applications to attract more shoppers using mobile devices. The number of customers using Lazada's mobile apps for online shopping has increased by dozens of times compared to 2014.
After four years of operation in Vietnam, Lazada has had 3,000 partners active in 13 sectors and 500,000 products available for purchase on the website lazada.vn.
Lazada has invested in two storage facilities in HCMC and one warehouse in Hanoi, and opened 35 goods distribution points. The company's largest warehouse covering 13,000 square meters was opened at Tan Binh Industrial Park in HCMC late last year and equipped with an automatic conveyor system, barcode scanner, and a cold storage room for food or cosmetics.
The goods storage facilities and the establishment of Lazada Express enable Lazada to handle more orders and shorten delivery time to two hours in the inner-city area in HCMC.
Draft rule requires network operators to fight spams
Network operators will have to work together to set up systems to prevent spam email and SMS messages as required by one of the regulations being drafted by the Ministry of Information and Communications.
The draft regulations would supplement the Government's Decree No. 90/2008/ND-CP on preventive measures for spam email and text messages.
According to the draft regulations, mobile network carriers will have to provide information, connect to the system receiving advertising messages, and report spam text messages to the Vietnam Computer Emergency Response Team (VNCERT) under the ministry. They are required to forward the spam messages reported by their customers to the spam message management system via the 456 call center.
Whenever consumers get spams, they could forward them to the 456 call center at no charge. The VNCERT spam message management unit would collect the messages and transfer consumers' complaints to the network providers.
VNCERT will collect and classify spams, report data to the Information Security Department under the ministry for close coordination with the network operators to detect and stop spams.
Mobile network carriers including Viettel, Vinaphone and MobiFone will have join forces to establish a spam prevention mechanism.
Previously, they mainly prevented spams sent to subscribers of the network they manage but did not handle spams sent to users of other networks.
Message service providers should develop a system to prevent their subscribers from spreading spams and at the same time collaborate with their peers to block spams.
Earlier, the HCMC Department of Information and Communications said spam prevention by technical measures would only solve part of the problem. A radical solution is to enhance management for prepaid subscribers, a key source of spams.
Viettel said it applied the anti-spam solution called Viettel-Antispam to stop about 90% spams. This system can learn new patterns of spams sent by customers to the spam handling call center 9198, update and detect spam message sources.
Rice prices soar as China steps up imports
The domestic rice market has turned bustling in recent days as prices of the staple food have edged up, backed by a rise in orders from Chinese importers, according to traders.
Ngo Ngoc Yen, director of HCMC-based rice firm Yen Ngoc, said unprocessed grains of the IR 50404 variety at Ba Dac wholesale market in Tien Giang Province are quoted at VND6,700-6,800 per kilogram. Meanwhile, OM 4900 fragrant rice is VND7,600-8,000 per kilogram, up VND200-300 against a week ago.
Yen said the price of fresh paddy transacted on the field has also inched up VND300-500 per kilogram to VND4,900-5,000 for Nang Hoa and OM 4900, and VND4,600-4,650 for IR 50404.
Tu Bao Duy, director of Soc Trang Province-based Hua Ngoc Loi Company, cited traders as saying that fresh IR 50404 and OM 5451 paddy are quoted at VND4,900 and VND5,200 per kilogram respectively, around VND300 higher than the paddy bought on the field in Tien Giang and Long An provinces.
Some rice companies credited the higher domestic prices to China's rising demand.
Yen said a number of rice companies in the Mekong Delta including Cam Nguyen, Viet Thanh and Tan Dong Tien in Long An Province have transported more rice to the north for export to China.
Nguyen Cong Khanh, a trader who sells rice to China, told the Daily on the phone that rice exports to the northern neighbor via border gates have become busier despite risks.
Compared to a week ago export price quotations by domestic companies have grown by US$10 to US$370-380 per ton for 5% broken rice, US$10 to US$350-360 for 25% broken rice and US$5 to US$445-455 for Jasmine rice.
According to the Vietnam Food Association, its member companies had exported nearly 590,000 tons of rice in the year to February 18, up nearly 70% against the year-earlier period. Nevertheless, the export price in the period fell by over US$50 per ton to over US$400.
Vietnam, UK step up cooperation in food industry
Vietnam wants to acquire advanced technology and enhance its cooperation with British enterprises to increase the value of food while ensuring benefits to consumers, Doan Duy Khuong, Executive Vice President of the Vietnam Chamber of Commerce and Industry (VCCI) highlighted.
He told the Vietnam-UK Cooperation and Innovation in Food Industry conference held in Hanoi on April 14 that the Vietnamese Government always encourages the production of high-value food that meets food safety standards, aiming to build prestige for businesses and create an excellent reputation for Vietnamese products.
A substantial surge in food consumption in the coming years will set forth both opportunities and challenges for domestic enterprises as they are asked to obey strict regulations on food safety from import countries, Khuong added.
Chris Jeffrey, Vice Chairman of the British Business Group Vietnam stressed that considerable attention should be paid to food safety to protect consumers.
He underlined the importance of raising public awareness of the issue.-
European businesses called to invest in Khanh Hoa province
Nearly 40 businesses from the central coastal province of Khanh Hoa and Europe gathered at a workshop in Nha Trang city on March 14 to seek bilateral economic cooperation opportunities.
Acting Director of the provincial Department of External Relations Nguyen Hoang Long said the event enables local businesses to welcome a wave of investment from European partners since the EU-Vietnam Free Trade Agreement (EVFTA) was signed in 2015.
He said the Ministry of Foreign Affairs is willing to act as a bridge between the two business communities.
According to the provincial Department of Planning and Investment, local businesses exported over 370 million USD worth of goods to the European market in 2015.
European countries are running 19 projects worth nearly 24 million USD in the province, making up around 2.4 percent of the total foreign direct investment (FDI).
Lying at the heart of the south-central coastal region, Khanh Hoa boasts great potential in the marine economy, especially sea and island tourism and transport services.
Nha Trang, Van Phong and Cam Ranh Bays are regarded as three key economic regions in the province, which are appealing for foreign investment in various fields such as tourism, services, and industry.
Authorities have been applying preferential policies for overseas investors.
Representatives from the European Chamber of Commerce (EuroCham) in Vietnam spoke at length about the EVFTA ,as well as a project to support European small and medium-sized enterprises (SMEs) in intellectual property in Southeast Asia.
VEF/VNA/VNS/VOV/SGT/SGGP/Dantri/VET/VIR