Small mobile retailers hit by big chains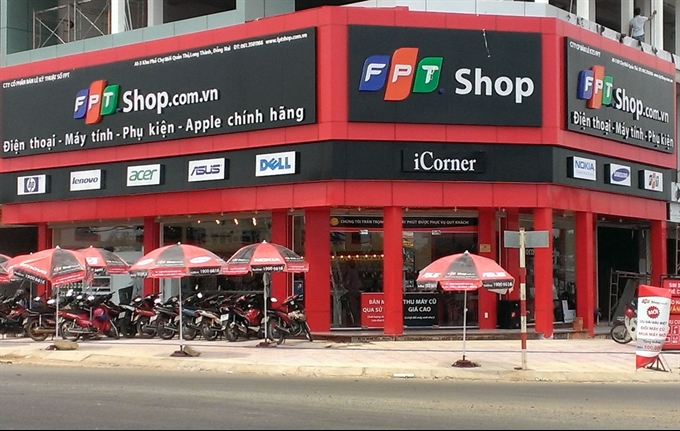 Giant telecom provider FPT Group opens a mobile shop in Long Thành Town in Đồng Nai Province. Small cellphone shops have been squeezed from the market by the entry of big retail chains. - Photo fptshop.com.vn
HÀ NỘI – Small retail stores for mobile phones are being excluded from the market as they must now compete with big retail chains and many have to close down.
Nguyễn Minh Quang in Hà Nội said he wanted to purchase an iPhone at his customary shop in Từ Liêm District, but when he arrived at the store it had shut down. Quang had to find another store to buy the mobile phone.
In recent years, the closure of small retail stores has been increasing rapidly. On some streets including Thái Hà, Chùa Bộc and Đặng Dung the shops are now thinly scattered in a town known for its mobile phones.
According to market research conducted by Gfk Retail and Technology Market Research Vietnam, some 3,000 small mobile stores had to close nationwide last year due to the expansion of large retail chains.
According to recent statistics, the market share of retail stores in Việt Nam has fallen sharply from 45 per cent in 2014 to between 25 per cent and 30 per cent in 2015. About 35 per cent to 40 per cent of the domestic market share belonged to Thế Giới Di Động (Mobile World Investment Corporation) and the remaining market share went to other large retail chains.
According to Trần Kinh Doanh CEO of Mobile World Investment Corporation, the retail sale network earned a revenue of some VNĐ20.8 trillion in 2015, with 220 new stores, bringing the total number to 633 retail stores nationwide.
Nguyễn Bạch Diệp, director of FPT retail said that two retail outlets of her FPT shop and FPT Retail grossed more than VNĐ7.8 trillion, with a number of the 260 retail shops surpassing a set target of 60 stores.
Meanwhile, Viễn Thông A retail chain also has more than 200 retail stores and Viettel telecom has 300 stores.
This year, most of the major retail chains were aiming to open hundreds of new stores nationwide. For example, Mobile World will reach a total number of 850 stores in 2016 and this figure can reach 1,000. While, FPT Shop and Telecommunications A also set their ambitious plan to further open between 50 and 100 new stores this year. Vin Pro, a newcomer in the telecom market, also set a target of opening 100 new stores to compete with big competitors in local market.
In other cities and provinces, many large chains also began to overshadow the small stores. A mobile shop owner in southwest of HCM City said that two large stores just opened next to his shop. His revenues dropped drastically as these two large-scale chains continued offering promotions and lowering their selling price. With such a tendency, his store will be closed soon, this owner said.
Trần Kinh Doanh said in the near future, small-scale shops will have to make way for modern retail chains as clients tend to buy products at big stores with professional services and after-sales services.
Doanh asked whether in a market, which offers the best service for customers, we will see things in the perspective of the customer. In a competitive market, if someone can serve our customers better, more efficient retail chains will be their first choice.
Thanh Hùng, a salesman of a small store in Hoàn Kiếm District in Hà Nội told Viet Nam News that his shop really wanted to trade authorised products to compete with big retail stores but they could not. Authorised products often fetched a higher price resulting in low profits. If small retail shops want to make a profit, they have to import a larger number of cell phones while they face a shortage of investment capital.
As a result, many small retail stores had to avoid direct competition with big chains. They have to trade used cell phones or unofficially import products or offer services relating to repairs or accessories such as speakers, camera lens and selfie sticks.
A retail expert predicted that big retail chains will continue their competition this year. And next year, the local market share will belong to big chains alone. – VNS