Fed interest rate hike may not affect forex
The United States Federal Reserve (Fed)'s interest rate hike expected this month is unlikely to have any significant impact on Viet Nam's foreign exchange rate, experts said.
St. Louis Federal Reserve President James Bullard said on May 30 that global markets appear to be "well-prepared" for a summer interest rate hike from the Fed.
Economists also said strong income growth, together with signs the economy was picking up steam in the second quarter, could give the Fed ammunition to raise interest rates as early as this June.
In the domestic market, after keeping steady for a long time since the central bank applied the daily reference rate in January, the foreign exchange rate has seen under an upward trend for the past few days in the wake of a recent sharp yuan devaluation by 0.45 per cent and a possible Fed rate rise.
However, domestic experts said that the fluctuation of the exchange rate in the domestic market is only short-term and temporary.
Nguyen Duc Do, deputy director of the Financial and Economic Institute, said in theory, the domestic foreign exchange market could suffer pressures from the Fed rate hike and the yuan devaluation, however, in fact, the impact might be insignificant.
Besides, he said, the US dollar might not increase sharply and yuan might not devalue sharply after the Fed's rise.
"So, the domestic foreign exchange market will be stable in the context of the central bank's pledge to keep the rate steady," Do said.
Banking expert Can Van Luc said that the Fed's increase would affect Viet Nam, but it would not be significant.
Luc said the Fed's interest rate increase is already within the market's expectations. The market late last year anticipated that Fed would raise interest rates in April 2016, so if the Fed raises interest rates in June, it would come as no surprise and would not affect the domestic market as much as it did in December 2015.
Besides, Luc said, the impact would not be significant as Citibank had recently forecast that the yuan would devalue by roughly 2 per cent to 3 per cent this year, much lower than the 6 per cent to 7 per cent rate anticipated early this year.
Nguyen Van Dung, chairman of the Tan Viet Securities Company, said it would be difficult for the exchange rate to make sudden adjustments because the Fed's interest rate increase would not be large. The increase in June, if available, would be only 0.25 per cent.
Moreover, Dung said, in 2015, the State Bank of Viet Nam made a strong adjustment to the exchange rate. Besides, the new exchange rate regulation mechanism, or the daily reference rate, would also make it more difficult for the dollar speculation. Therefore, it is difficult to have sharp changes in the foreign currency market.
Many economic experts also said that if the Fed raises interest rates, the local exchange rate would be affected of course. However, unlike previously when it skyrocketed, this time it would inch up gradually thanks to the daily reference rate policy.
However, experts still suggested that the SBV closely watch movements in the global market to avoid negative impacts.
Luc said that the central bank also needs to closely monitor the movements of eight foreign currencies, especially US dollar, Yuan, Euro and Yen, which Viet Nam uses to calculate the daily reference rate.
Echoing Luc, expert Nguyen Tri Hieu also recommended to the central bank that it closely watch the market movements to take the daily reference rate policy flexibly in a move to support exports and prevent foreign currency speculation.
Dien Quang in Forbes' top 50 listed companies for second time
Lighting equipment manufacturer Dien Quang Lamp JSC has been named among the top 50 listed companies of the year in the local stock market by Forbes Vietnam Magazine for the second time.
Dien Quang was among three producers of home appliances in the list. Last year, the firm was listed in Asia's 200 Best Under A Billion by Forbes.
Its products include lamps, ballasts, starters, electric wires, and glass tubes, manufactured using LED technology.
The list selected companies of all sizes who performed best in the stock market across 13 sectors.
The companies' combined revenue exceeded 475.5 trillion VND (21.22 billion USD), or 37.77 percent of total market revenue and their profit after tax reached 53.5 trillion VND (2.39 billion USD), or 53 percent of total market profits.
Vietnam seeks stronger economic links with Italy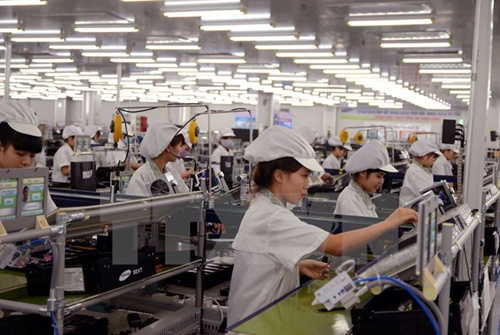 A delegation from the Ministry of Industry and Trade (MoIT) and 20 businesses participated in a series of events in Italy to cement partnerships and help Vietnamese goods enter the European nation's market.
At a recent workshop in Italy's northern city of Bologna, MoIT Deputy Minister Ho Thi Kim Thoa highlighted Vietnam's political, economic, trade and tourism relations with more than 200 countries and territories, which made the country a relatively good investment environment.
It has inked free trade agreements with 17 of the 20 economies in the G20 and all G7 members, while boasting intensive links with 55 economies with tariffs on more than 90 percent of imported goods from those economies cut to 0 percent.
She also noted the growing cooperation between Vietnam and Italy, especially in trade. Bilateral trade surged from 0.7 billion USD in 2005 to 4.3 billion USD in 2015, rising by some 19 percent annually.
The Vietnam – Italy joint committee on economic cooperation have convened two meetings during which they reached many agreements between their ministries and enterprises. Those agreements create optimal conditions for businesses to seek investment opportunities, Thoa stressed.
Italian Undersecretary of State for Foreign Affairs and International Cooperation Benedetto Della Vedova said now is the best time to foster economic ties between the countries, as well as between the EU and the ASEAN.
The EU – Vietnam Free Trade Agreement allows both sides great opportunities. Vietnam has an open economy, high growth rate, many industrial parks and a young and skilled population, which is ideal for Italian firms to manufacture in and export to Vietnam, he added.
He noted that Italy wants to tighten locality-to-locality cooperation and is willing to share experience in managing and running cooperatives – an important part of Italy's economy.
While in Italy, Deputy Minister Thoa had a working session with officials of the Emilia Romagna region. She said she hopes the region will share its experience and technologies in agriculture, the food industry and other sectors. It should also expand investment and business activities in Vietnam.
Stefano Bonaccini, President of Emilia Romagna, said more than 600 companies in the region are investing in Vietnam with total capital surpassing 120 million EUR. He believes that ties between the two countries will improve in the near future.
The Vietnamese delegation also held a show of Vietnam's flagship farm produce and beverages in Bologna, along with a business-to-business forum, gathering many local enterprises, including LegaCoop cooperative federation and Coop Italia and Conad distribution networks, to help Vietnamese goods make inroads into Italy.
Non-State investment to drive Hanoi
Hanoi has 95 projects calling for investment in the 2016-2020 period, Chairman of the Hanoi People's Committee Nguyen Duc Chung told the Hanoi 2016 Investment and Development Cooperation conference on June 4.
Projects include 52 in the form of public-private partnerships with total investment of VND388 trillion ($17.31 billion) and 43 calling solely for non-State investment totaling VND372 trillion ($16.59 billion).
To further develop the city in the period, the capital needs to mobilize a total of VND2,500 trillion to VND2,600 trillion ($111.77 billion to $116.24 billion) in other investment, 20 per cent of which is to come from the State and 80 per cent from non-State and foreign sources. "This means that local and foreign enterprises will be the drivers of development in Hanoi," said Mr. Hoang Trung Hai, Secretary of the Hanoi Party Committee.
Mr. Hoang Trung Hai addresses the conference.
The city is committed to creating an open transparent business environment to increase revenue and competitive advantage, according to Mr. Hai.
In the first five months of 2016 Hanoi led the country in terms of foreign direct investment (FDI), with $1.86 billion, or 24.6 per cent of the total nationwide, according to the Ministry of Planning and Investment.
In the plan for Hanoi's development approved by the government, in the 2011-2015 period a target was set for annual growth to average 12-13 per cent, 11-12 per cent in 2016-2020, and 9-10 per cent in 2021-2030. GDP per capita in Hanoi reached $4,100 -$4,300 in 2015 and is targeted at $7,100-$7,500 by 2020 and $16,000-$17,000 by 2030 in real terms.
In 2015 Hanoi's gross regional product (GRDP) increased 9.24 per cent, to $27.6 billion; the highest increase in four years, according to the Hanoi People's Committee, and per capita income was estimated at $3,600, an increase of 1.8-fold against 2010.
In the 2011-2015 period, average GRDP was 9.23 per cent; 1.58 per cent higher than the national average. The services industry contributed 54 per cent, industry and construction 41.5 per cent, and agriculture 4.5 per cent.
In Hanoi's small and medium-sized enterprises (SMEs) development plan in the 2016-2020 period, signed earlier this year, the city expects to increase the number of SMEs by 9 to 10 per cent each year, creating about 1 million jobs. Export turnover from SMEs is to account for 20 per cent of the city's total, and by 2020 there are to be 700 enterprises in support industries.
Private sector support the focus
The Vietnamese Government is strongly committed to supporting the private sector given that State-owned enterprises (SOEs) are unlikely to lead the economy in the way that was expected.
Deputy Prime Minister Vuong Dinh Hue confirmed the government's support during a speech to the Vietnam Private Sector Forum (VPSF) on June 3 in Hanoi.
Private enterprises and startups will enjoy a business environment that is more equal and transparent, he said, with favorable conditions for development.
Resources will be committed following market mechanisms and be monitored regarding efficiency, he added. In order to do so, "the government will increase the SOE equitization process, allowing the private sector to participate in sectors where they have strengths and the political mechanism will be completed to allow private enterprises to become involved in suitable projects," he confirmed.
Vietnam now has around 500,000 private enterprises that employ 51 per cent of the country's workforce and contribute over 40 per cent to GDP, according to Mr. Bui Van Quan, Chairman of VPSF.
In the first quarter of 2016 total national investment reached VND273.6 trillion ($12.21 billion), according to figures from the General Statistics Office (GSO), of which VND96.8 trillion ($4.32 billion) come from the State, accounting for 35.4 per cent, while non-State investment was VND100.5 trillion ($4.48 billion), accounting for 36.7 per cent. Foreign investment contributed VND76.3 trillion ($3.4 billion), or 27.9 per cent.
SOEs still hold the majority of Vietnam's resources as enterprises with more than 50 per cent State ownership have total assets of VND5.408 trillion ($241.30 billion), according to the Central Institute for Economic Management (CIEM). "They have significant resources and used to be considered the 'iron fist' of Vietnam's economy, but SOEs are also considered inefficient, corrupt, expensive and poorly managed due to a lack of supervision and opaque responsibility," said Mr. Pham Quoc Trung, Deputy Head of the Enterprises Department at CIEM.
SOEs have received many benefits in the hope that they will lead the economy. But they have lost the position they held previously, according to Mr. Le Phuoc Vu, Chairman of the Hoa Sen Group.
By 2035, Vietnam is to be a modern and industrialized nation moving towards becoming a prosperous, creative, equitable, and democratic society, according to the Vietnam 2035 (VN2035) report, issued by the Ministry of Planning and Investment and the World Bank Group.
One of the most important transformations that will help Vietnam achieve its goals by 2035 is enabling economic modernization with a competitive private sector firmly in the lead.
According to the report, public investment is not as efficient as it needs to be because of uncoordinated and often incoherent investment decisions by a fragmented State structure. There also is little doubt that most SOEs are inefficient. Widespread inefficiencies in State investment perpetuate weak productivity trends in the economy. But they do not fully explain the decline in productivity growth, the reasons for which are especially worrisome, it noted.
Restructuring and equitizing SOEs will remain important but the nascent and weak domestic private sector commands even greater policy attention. State-market relations will have to be characterized by a clearer division between the public and private spheres.
Specifically, the report stated, government agencies involved in economic regulation should not engage in business of any kind, to avoid the appearance and reality of conflicts of interest.
From the government's perspective, "this is the first time we have written in a Directive that private enterprises are the driver of economic development," Mr. Le Manh Ha, Deputy Chairman of the Office of the Government, told a conference in late May when talking about Resolution No. 35 on support for and the development of enterprises, signed by the Prime Minister in the middle of May.
According to Mr. Ha, the business environment will be better after the removal of unnecessary administrative procedures, as the frequency of checks and verifications on enterprises make doing business difficult, and enterprises will also have the right to reject such checks and verifications if they are not done within the law.
Resolution No. 35 creates favorable conditions and ensures transparency and equality for enterprises. "Enterprises are treated equally, regardless of how they were established," it states.
According to figures from the General Department of Vietnam Customs there were 2,355 completely-built-up (CBU) motor cars imported from Thailand in April, worth $41.5 million.
Though standing in second place among the 12 countries and territories exporting motor vehicles to Vietnam in terms of turnover, Thailand officially overtook China in terms of numbers in the first four months of the year.
The number of CBU motor cars imported in Vietnam in the four months was 10,155 units, worth nearly $183 million. Thailand exported 4,216 units, worth $162 million.
Thai automakers clearly possess certain advantages when exporting to Vietnam and Vietnamese drivers benefit.
Chinese manufacturers of heavy trucks, meanwhile, are at an advantage in terms of price, which wins over many Vietnamese customers rather than quality.
For passenger cars of ten seats or more Vietnamese enterprises and joint ventures in Vietnam hold the advantage.
While the import of high-end motor cars from Europe remained steady, the source of more affordable vehicles has diversified, including locally-made and those from South Korea, Japan, Thailand and, a recent "phenomenon", India.
Import duties on CBU automobiles from Southeast Asian countries are to be cut under the Agreement on Trade in Goods of ASEAN (ATIGA). From January 1, 2018, rates on CBU vehicles from ASEAN countries will fall to 0 per cent, pushing down retail prices considerably.
Thai CBU vehicles hold clear and major advantages when competing in Vietnam, and numbers are rising.
US$446 million project breaks ground in Da Nang
Empire Group officially started work on Cocobay tourist and leisure complex over 31 hectares in Ngu Hanh Son district, the central city of Da Nang on June 5.
The project's capital is estimated to reach VND10 trillion (US$446 million) to build many large items including an indoor stage with the capacity of 1,200 and 2,000-seat outdoor stage with daily amusement shows.
In addition, there is a tourist square with lot of services, Vietnam's longest walking street, Beach Club, mega restaurant, condotel system and Boutique hotels together with hundreds of amenities and amusement services.
The first phase of the project is expected to be put into operation by 2017.
German firms optimistic about Vietnam market - survey
A recent survey showed 70% of German firms in Vietnam are pleased with their sales and earnings results while 50% are upbeat about their business operations in the middle term.
Nearly 70% of German companies in Vietnam perceive their general business situation as good, according to the AHK World Business Outlook Survey 2016, which was conducted in March by German Industry and Commerce in Vietnam (GIC/AHK Vietnam) and aimed at providing a barometer to track and evaluate the business development and business confidence of German companies in Vietnam.
Overall, the firms have a good outlook of Vietnam's economic situation in the middle term. More than half of the respondents are positive with the future of the Vietnamese economy and 47% expect an improvement in economic development.
About 58% of the firms surveyed hold a positive business outlook while a similar percentage of respondents say they consider increasing their investment next year (with 54%) and will hire more employees for their plan (with 58%).
German firms are looking for investment opportunities in Vietnam because they see Vietnam as an attractive destination, said Marko Walde, GIC/AHK Vietnam chief representative. Vietnam has signed the Trans-Pacific Partnership (TPP) trade pact with 11 other Pacific Rim nations, and concluded negotiations over a free trade agreement with the EU (EVFTA).
According to the survey, German companies are more confident with the economy and business development in Vietnam than in other ASEAN countries, China and India. "It shows a very positive signal of the business confidence, outlook and expectations among German companies in Vietnam."
However, current economic policies, shortages of skilled workers and rapidly increasing labor costs are seen as hindrances to investment expansion by German firms in Vietnam, the survey found.
GIC/AHK Vietnam suggested Vietnam build a modern and practical vocational training system that meets the demands of companies in order to create a sustainable advantage to attract investors.
The Government also needs to support local businesses in competing with their rivals from other countries as Vietnam now joins the ASEAN Economic Community (AEC), TPP and other free trade agreements, it said.
The annual AHK World Business Outlook was conducted by the German Chamber Network worldwide. This year, the survey gathered feedback from about 3,400 German companies globally. Of the participants in Vietnam, 23% are from the industrial and construction sector, 58% from the services area and 19% from the trading sector.
According to the Foreign Investment Agency under the Ministry of Planning and Investment, as of late April, German firms had registered over US$1.35 billion for 264 projects, making Germany the 21st largest foreign investor in Vietnam.
Bosch pours extra US$22 million into Dong Nai plant
German firm Bosch, buoyed by strong growth in Vietnam in fiscal 2015, announced on June 2 to invest an additional US$22 million in a manufacturing plant in the southern province of Dong Nai.
Bosch Vietnam said at an annual press conference in HCMC on June 2 that its gasoline systems plant manufacturing continuously variable transmission (CVT) pushbelts in Dong Nai would get an extra investment of US$22 million after it received more than US$23 million last year.
Ryosuke Masumitsu, manager of the gasoline systems facility, said the extra sum would go to equipment and production lines to expand capacity and meet increasing needs for CVT pushbelts of automakers in Japan, China, Mexico and Thailand.
By the end of 2016, Bosch's total investment will have reached US$340 million. Around US$1 million of the investment was used to recycle wastewater at the plant, with wastewater undergoing two treatment processes before being reused for manufacturing or gardening purposes.
Bosch Vietnam managing director Vo Quang Hue told the press conference that the company achieved sales growth of around 50% in the fiscal year 2015 with consolidated sales amounting to US$68 million.
Total net sales, including sales to non-consolidated companies and internal deliveries to affiliated companies, amounted to US$293 million, according to Bosch Vietnam.
Hue said all business sectors of Bosch in Vietnam are doing well and contributing to the success story of Bosch in Vietnam. "Vietnam remains a key growth market for Bosch, and we are committed to investing in our operations here."
Besides the investment in the plant, Bosch plans to hire 600 new people towards the year-end, raising the total headcount to 3,000 workers. Over 80% of the new employees will work at Bosch's research and development (R&D) centers in HCMC. The two R&D centers have over 950 associates active in the fields of automotive and software and engineering.
"We will continue to develop Vietnam as a strategic hub for R&D and high-tech manufacturing," said Hue.
On the day, Bosch Vietnam signed a training cooperation contract with LILAMA2 Technical and Technology College and the Delegate of German Industry and Commerce in Vietnam (GIC/AHK Vietnam) to offer the mechatronics discipline at the Bosch Technical Industrial Apprenticeship (TGA) besides industrial mechanics.
According to Hue, with around US$150,000 spent on the new discipline, the amount Bosch has invested in vocational training in Vietnam has added up to over US$1 million since 2013 when the program began.
Hue said mechatronics is applied to almost every technical product across a multitude of industries. "Introducing this new field is an effort from Bosch to help Vietnam build a highly-skilled technical workforce and improve the employability of our apprentices after they graduate."
Admission to the two disciplines of industrial mechanics and mechatronics for the 2016-2017 school year is now open, with an annual intake of 12 apprentices per discipline.
The program frees apprentices from tuition fees and offers monthly allowances. The apprenticeship includes 3.5 years of theoretical studies at LILAMA2 Technical and Technology College and practical training at Bosch.
EU to disqualify seafood firms using banned substances
If Vietnam's seafood shipments to the European Union (EU) are found to contain prohibited substances, exporters will lose access to this huge market, according to the European Commission's (EC) Directorate General for Health & Food Safety.
Vietnam's National Agro-Forestry-Fisheries Quality Assurance Department (Nafiqad) has announced on its website that EU authorities have warned EU member states of mysterious mass fish deaths in Vietnam and requested them to closely monitor marine fish imports from Vietnam.
The director of a seafood export company told the Daily that having learned of Vietnam's mass fish deaths on the central coast, some EU importers asked for more information about seafood products. "Right after news mass fish deaths broke, we emailed our partners to inform them of the origin of our shipments and provided evidence as well."
His company has stopped signing new contracts for more than a month as its seafood stocks are sufficient for fulfilling the signed contracts.
Whenever environmental incidents happen, importers will always enhance inspections. As a result, his company has suspended the signing of new contracts.
"We expect local authorities to publicize the cause of mass fish deaths so that enterprises can map out their business plans accordingly. The later the cause of the incident comes out, the greater the possibility that shipments are returned," he noted.
According to the Vietnam Association of Seafood Exporters and Producers (VASEP), last year the EU was the second biggest importer of Vietnam's seafood with a total value of US$1.2 billion, or 18% of the nation's total.
In related news, the Food Safety and Inspection Service (FSIS), an agency of the U.S. Department of Agriculture, has sent out a warning about banned substances and antibiotics discovered in catfish exported by two Vietnamese companies.
According to Nafiqad on Monday, the two companies are Tan Thanh Loi Frozen Food Co., Ltd and Golden Quality Seafood Corporation.
The warning also affects the FSIS's inspection in the 18-month transitional period, from March 1, 2016 to August 31, 2017, when Vietnam applies for an equivalency determination.
Nafiqad earlier told seafood factories eligible for exporting to the U.S. to check their quality control and food safety systems, ensure seafood exports to the U.S. satisfy requirements concerning antibiotics, heavy metals, pesticides, microorganisms and product labels in order to avoid similar warnings, which may affect the equivalency determination.
Regarding the two Vietnamese firms, the FSIS told Nafiqad to report on the reasons why their shipments contained banned substances and antibiotics and their remedies on June 17 the latest.
Thai multi-level marketer loses license
The Vietnam Competition Authority (VCA) at the Ministry of Industry and Trade has announced the termination of the license of multi-level marketing company Aim Star Network Limited Vietnam.
VCA also proposed Aim Star Network Vietnam return all deposits to agents.
For 30 days from the date of the announcement (on May 30), persons who joined Aim Star Network Vietnam have the right to notify VCA in order that it ask the company to return deposits.
VCA earlier said that some enterprises conducting multi-level marketing in certain cities and provinces have not yet completed registration procedures, and these will be identified and dealt with.
Eight of eleven unlicensed multi-level marketing companies in Hanoi are in Cau Giay district: Everrichs Global Co., Trade Merro JSC, Focus Vietnam International Trade JSC, Amkey Vietnam New Technology and International Trade, Lotus Vietnam Trade Development JSC, UNION Vietnam Investment and Development JSC, BigForest Co., and KDM Vietnam JSC.
The three others are Blue Ocean Global Investment, Thien Loc Phat International Trade and Investment, and Thien Phuong Vietnam JSC.
Japanese ODA loans to enhance competitiveness
The Japan International Cooperation Agency (JICA) has signed Japanese ODA loan agreements with the Vietnamese Government totaling 166.124 billion yen ($1.52 billion) for three projects, according to a report released by JICA on June 3.
The three projects are the Ho Chi Minh City Urban Railway Construction Project (Ben Thanh - Suoi Tien Section, Line 1), the Thai Binh Thermal Power Plant and Transmission Line Construction Project, and the Second Ho Chi Minh City Water Environment Improvement Project.
The loans will support the building of economic infrastructure essential to strengthening Vietnam's competitiveness and promoting environmental improvements to overcome the country's vulnerabilities.
The construction of the urban railway in Ho Chi Minh City will alleviate traffic congestion and air pollution while encouraging regional economic development.
The Thai Binh power project will use coal produced in Vietnam to meet increasing power needs, boosting economic development and strengthening the country's international competitiveness.
The water project in Ho Chi Minh City, meanwhile, will see sewerage and drainage systems built to improve water treatment capacity and reduce flooding.
Since the 1990s, the report noted, Vietnam has maintained steady economic growth and in 2010 became a lower middle-income country, which had been a national goal, and successfully reduced its poverty rate.
In a process that began last year, tariffs are being abolished in stages within the ASEAN region. In order to maintain sustainable economic growth while progressing toward the goal of industrialization by 2020 under these new circumstances, Vietnam must make economic structural and governance reforms, including improvements to its financial system and infrastructure to improve its investment environment.
"Taking these steps will create mid- to long-term macro-economic stabilization and strengthen international competitiveness," the report stated. "Vietnam must also address its vulnerabilities by raising incomes of rural residents, who make up about 70 per cent of the country's population and have a higher poverty rate than urban residents, and by improving public sanitation, which worsens with urbanization."
Corporate taxes remains largest funding source for state budget
In 2015, global crude oil prices plunged from USD100 to USD32 a barrel. This obviously affected the contribution from the oil and gas sector to the state budget, falling from 107 trillion to VND 66 trillion in 2014, standing at 67% of the intended target.
The uncertain outlook for the oil and gas sector was clear to the government that have sought measures to reduce the impact on the economy, especially the state budget. Unsurprisingly, some of the shortfall has been passed on to businesses via taxes and other costs.
But Vietnam actually has a low tax environment. Satistics from the Ministry of Finance shows that at present only 15.6% of the state budget comes from taxes and fees in Vietnam, while the ratio is 23% in Thailand, 23.4% in Laos, 24.5% in Malaysia, and 19.5% in India.
Increasing taxes will not necessarily be simple as the country has used the widespread offer of tax concessions to many companies to encourage investment.
National Assembly Economic Committee Vice Chairman Mai Xuan Hung also said that this is a big challenge for Vietnam to serve the rising expenditure on social services and development while the country's economy is still very small, valued at approximately USD 200 billion.
According to the Ministry of Finance, although Vietnam has reduced corporate income tax rates to 20% in 2015 from 32% in 2009, this is is still the biggest contribution from enterprises to the state budget. When small and medium-sized enterprises as well as FDI firms are enjoying tax and fee incentive policies, the state budget is now relying mostly on contributions from large state corporations and groups.
In reality, leading state-owned firms in telecommunications, aviation, and banking sectors including Viettel, Vietcombank and Vietnam Airlines have always topped the list of 1,000 biggest tax contributors (V1000) since 2013.
In 2015, the Vietnam's flagship carrier Vietnam Airlines paid over VND 4.400 trillion in taxes, Mobifone nearly VND 7 trillion, Vietcombank VND2.20 trillion and BIDV nearly 2 trillion.
Military Telecommunication Group (Viettel) have stayed at the top of V1000 for two consecutive years in 2014 and 2015 with VND15 trillion and VND37.30 trillion (USD 1.7 billion), respectively.
In 2016, the government estimated that contribution from crude oil to the state budget would drop to only VND 55 trillion, accounting for 5% of the total state budget revenue.
Therefore, like all the other economies, Vietnam will have to depend on local businesses for a stable state budget as said by head of the National Assembly Committee for Finance and Budget, Phung Quoc Hien.
Vietnam's economy on strong rebound in Q2: HSBC
The Hongkong and Shanghai Banking Corporation (HSBC) has released the latest report on the prospects of Vietnam's market, stating that Vietnam's economy is still in a trial period but economic indicators in the second quarter of this year showed a strong recovery of the economy.
Despite a gloom in the Purchasing Managers' Index (PMI) in the region, Vietnam's PMI continued to expand in May and reached a ten-month high. The country's PMI surged from 52.3 in April to 52.7 in May.
The number of new orders continued to rise sharply, indicating that manufacturing operations can continue to grow in June. In the meantime, industrial production and exports will ceaselessly increase in the second quarter of this year.
The lingering El Nino will likely continue to affect agricultural output, but HSBC expected that solid manufacturing and service sector output would lift the GDP growth in the second quarter of 2016 to 6.1% year-on-year from 5.6% in the previous quarter.
HSBC also kept the full-year 2016 GDP forecast unchanged at 6.3% year-on-year.
The bank put forth medium-term solutions on financial reform in Vietnam including broadening the base of profit and adjusting accounting methods in line with international standards.
Accordingly, administrative measures to restrain tax evasion, the announcement of tax fraud cases and the simplification of the VAT refund process will be helpful.
HSBC also suggested the adjustment of accounting methods aligned with international standards to facilitate cross-country comparisons and improvements to financial communications to raise awareness of the market and increase management responsibility and capacity.
Da Nang's real estate market surges
As many as 2,500 hotel rooms were provided from six large projects operating in hotel management and hospitability industry in the first half of 2016 in the central city of Da Nang.
89% of the rooms was built in Riverfront Condotel Vinpearl Da Nang, Ariyana Beach Resort & Suite Da Nang, Alphanam Luxury Apartment and Ocean Suite (Zone B) projects.
A total number of nearly 3,100 hotel rooms were constructed around the city in six months, of which the premium rooms account for the highest proportion of 76%; normal ones with 16% and luxury ones with 9%.
Overall, developments in the hotel apartments and resorts witnessed positive changes in 2015 and in the first half of 2016, said Managing Director of Commercial Real Estate Services (CBRE) Viet Nam Marc Townsend, adding that investors continue offering incentives to encourage fast payment.
Currently, the price of a resort in Da Nang is ranging from US$250,000 to US$2 million.
The real estate market in Da Nang City is full of potentials for outstanding economic growth, the natural environment and institutions.
Viet Nam Foodexpo to take place in HCMC in November
The Viet Nam International Food Industry Exhibition (Viet Nam Foodexpo 2016) will be held from November 16-19 at the Sai Gon Exhibition and Convention Centre in HCMC.
The largest event targets to further promote agro-fishery products and food industry of Viet Nam.
Jointly hosted by the Ministry of Industry and Trade and the Viet Nam Trade Promotion Agency, Viet Nam Foodexpo 2016 expects to welcome 20,000 visitors, especially those from the Republic of Korea, Japan, the U.S., the EU, and the Middle East.
The exhibition will offer a playing field for enterprises to advertize their products and services and seek high-technologies; expand markets, and promote the trade in safe food.
This year, the fair houses over 500 booths installed by over 300 enterprises from 30 provinces, cities, and 15 foreign countries and territories.
The event showcases a wide range of food products and many more related products and services in the food, beverage, natural and organic industries.
Within the Viet Nam Foodexpo 2016, other activities include the third international conference on Viet Nam Food Industry (Food Viet Nam 2016) scheduled on November 17; a workshop on investment promotion in the food industry on November 16; Sai Gon International Cooking Contest 2016; as well as an awarding ceremony of Viet Nam Foodexpo 2016 Impression.
HoREA seeks no disbursement deadline for major home loan package
The HCMC Real Estate Association (HoREA) is seeking approval from the Prime Minister and the State Bank of Vietnam (SBV) for no disbursement deadline to be imposed on the VND30-trillion home loan program.
This proposed exemption should apply to the loan contracts signed before March 31 by individuals and households to rent, build and repair social homes, according to HoREA.
HoREA suggested loan disbursements should be based on reality, instead of being tied to the December 31 deadline as proposed by the SBV.
According to the association, many homes will be handed over to individual and household homebuyers after December 31. Life would be tough for homebuyers if they cannot borrow after that date while there are no alternative sources of funding for them. They cannot avoid paying higher interest if they rely on commercial bank loans or loan sharks.
According to the Real Estate Law, purchasers will have to pay 95% of a home's value after taking delivery of homes and the remainder after they get home ownership certificates. The property market and the interests of eligible homebuyers under the program would be affected if disbursements end at the end of this year.
HoREA also proposed extending the deadline for bank recapitalization disbursements for credit contracts struck before end-March. The contracts were signed with households and individuals to upgrade and construct budget houses, and investors of social housing projects and commercial housing projects converted into low-cost ones for homebuyers who signed contracts under the program before March 31.
HoREA said investors clinched contracts with customers, including those falling under the program, to sell almost all social and commercial houses converted into social ones.
Therefore, authorities should review the conditions of specific projects. If investors have yet to sell any homes, disbursements could be stopped. In case investors already inked contracts before March 31, those contracts should be checked to make appropriate disbursements so that investors can hand over homes to clients.
The SBV on Tuesday wrote to the Prime Minister proposing recapitalization disbursements until December 31 for the loan contracts signed before the end of March between banks and customers who are individuals and households using loans for purchasing, renting, upgrading and building homes.
The central bank also proposed suspending recapitalization disbursements for deals signed with individuals and households to upgrade and build social houses, and investors of social housing projects and commercial houses converted into social ones.
Local bank to lend US$35 million to Vietjet
Budget carrier Vietjet has signed a long-term contract to get a credit line of US$35.5 million from Military Commercial Joint Stock Bank (MB) to purchase Airbus A320 aircraft, the Vietnam News Agency reported.
MB is the first domestic bank to fund Vietjet's jetliner purchases and the airline can draw down on the line of credit over a period of 12 years. The contract came after a memorandum of understanding (MOU) was signed last December by the two sides.
Vietjet chairwoman Nguyen Thanh Ha described the airline's contract with MB as a positive signal for Vietnam's banking sector as local banks can now provide an international-level financing facility.
Under the MOU, MB would provide finances for Vietjet to carry out a number of projects, including a short-term loan of VND500 billion (US$22.28 million) to increase working capital and place deposits for airplane purchases, and a line of credit totaling US$50 million in the 2015-2020 period to buy Airbus aircraft.
The creditor will also provide Vietjet with banking products and services at preferential prices and improve Vietjet's e-ticket booking system using its mobile-banking service MB.Plus.
Moreover, Vietjet will collaborate with MB and Military Insurance Corporation in the insurance firm's promotions by sponsoring air tickets and souvenirs.
Facebook launches shopping section
Social networking site Facebook on Wednesday allowed its users in Vietnam and elsewhere in Southeast Asia to add a free-of-charge "Shop" section to their fan pages after it had tested run the service.
Fan page owners can now use the "Advertising" section to promote sales while their potential customers can seek typical products at the "Merchandising" section. The page also has the "Purchase" button next to product entries allowing users to contact the shop owner and place an order. Users may hit the "Subscribe" button on a page to get updated on new products and other announcements.
With the new service, individuals and enterprises can quickly create a shopping website with photos of products and details about delivery methods. The shop admin will be notified of an order placement and provided with information on the order tracking.
Prior to the service launch, online shop owners had to post articles about their products and payment methods on their page which is difficult for their customers to keep track of as the posts were arranged in an chronological order on the wall.
The additional tab helps Facebook users turn their fan pages into e-commerce sites and easily control their sales activities. Shop owners can also mark their products as "available" or "sold out."
According to a representative of Facebook Inc in Vietnam, the social networking site has 38 million regular users a month in the country, accounting for 79% of netizens and 40% of the population.
Mekong Delta's husbandry sector neglected
Deputy Minister of Agriculture and Rural Development Vu Van Tam told a conference on June 2 that the ministry has neglected the husbandry sector while concentrating too much on rice and fish farming in the Mekong Delta.
Speaking at the conference in Can Tho City on husbandry development in the wake of drought and salinity in Mekong Delta provinces, Tam said the delta is just famous for rice and tra fish.
The ministry has long weighed plans to ease the impact of drought and salination on rice and fish farming, he said, and coping measures for the husbandry sector have just begun to be discussed though drought and saltwater intrusion are easing.
Tam said the husbandry sector has not got due attention from the ministry though it holds growth potential.
The Department of Husbandry under the ministry and the delta's provinces have been tasked with mapping out a zoning plan for the husbandry sector with drought and saltwater intrusion taken into account, he said.
Tam noted the Mekong Delta provinces should pinpoint animals whose demand is potentially high and which can adapt well to drought and salination. He suggested pigs, chickens, ducks, goats, rabbits and sheep.
Based on the zoning plan, the ministry will suggest technical measures and ask the Government to allocate funding for the sector.
Nguyen Hong Khanh, deputy head of the department of irrigation works management under the ministry, said according to the national weather center, rainfalls in the Central Highlands and southern provinces increased in May but were still 20-40% lower than the average of previous years.
He said there would be more rain in June and the two following months but rainfalls would be 15-30% less than the average of previous years. However, rainfalls in September and October are forecast to be 5-15% higher than the average of previous years.
He said the rainy season has begun in the Mekong Delta while water levels from the upstream of the Mekong River have risen, easing drought and salinity in the delta and boosting fresh water resources for production and household use.
He noted salination would further ease this month.
The General Department of Irrigation forecast that some major areas like Vam Co River near Tan An City and Ben Luc District in Long An Province and Cuu Long River's estuary would see river water levels soaring.
According to the Cultivation Department, the easing of drought and salinity conditions had allowed farmers to sow paddy on one million hectares out of 1.6 million hectares as of May 26.
Prime Minister Nguyen Xuan Phuc has approved an allocation of hundreds of billions of Vietnam dong for Mekong Delta provinces to invest in a number of projects to cope with drought and salination.
Hansae holds teambuilding activities for staff
Hansae Vietnam is organizing a series of teambuilding activities until August for over 20,000 staff members at its three factories in HCMC's Cu Chi District, Tay Ninh and Tien Giang provinces.
The program is divided into 20 stages, with each gathering over 1,000 people on Saturdays at Tien Giang Stadium in My Tho City and Cu Chi Stadium in HCMC. Participants are encouraged to join sport activities to improve health and foster solidarity.
Kim Sang Ryur, deputy general director of Hansae Vietnam, said: "Having a large number of employees, Hansae Vietnam has launched many practical programs to improve the quality of life of staff. Apart from teambuilding activities, the company frequently organizes conferences and talk shows on health, living skills and solutions to help staff enhance their working ability and their lives."
"We hope each and every employee of Hansae Vietnam will feel connected and consider the company as their second home. Through the extracurricular activities, they will be refreshed to work better and tighten relationships with others."
Hansae Vietnam Limited Company was established in 2001 by South Korea's Hansae Group. It specializes in producing and exporting textile and garment products.
VEF/VNA/VNS/VOV/SGT/SGGP/Dantri/VET/VIR