SCG inspires kids to become "little green citizens"
On the occassion of International Children's Day, Thai industrial conglomerate SCG joined hands with the Tan Binh Youth Union and Khan Quang Do newspaper to organise a grand celebration for hundreds of kids and families in Ho Chi Minh City.
Under the theme of "Little Green Citizen", the International Children's Day celebration this year has been designed to become an interesting journey for kids to learn about important aspects of environment and how to preserve environment for the future. The journey includes four stations: water, energy, nature and waste, each of which consists of various gaming activities to deliver environmental lessons for kids.
Piyapong Jriyasetapong, general director of TPC Vina, an subsidairy of SCG said that "Environment has become a rising concern for not only Vietnam, but also the world. Everywhere, we could see the profound impacts of environmental pollutions and climate change on people's lives. This calls our immediate attention and action toward a sustainable future."
"Hence, SCG would like to take this opportunity of International Children's Day to inspire these little kids to become little green citizens through an exciting and educational journey. We believe by building environmental mindsets amongst these children, we could achieve a greater goal for a greener community in the future," he added.
Established in Vietnam since 1992, SCG has contributed in various community projects towards human development and children care. In 2012, SCG co-operated with te Tan Binh Youth Union and Khan Quang Do newspaper to build a public playground called "Sharing The Dream" for kids from five to 12 at Hoang Van Thu Park, using high quality materials from SCG Chemicals.
Since then, every year, SCG has brought up annual celebration on the occasion of International Children's Day right at this venue for kids and families of the city. This activity follows the big celebration of SCG for hundreds of children in the southern province of Ba Ria Vung Tau last week, also under the environmental theme of "Our Green Voice".
Baby monkey illegally kept by family in Kon Tum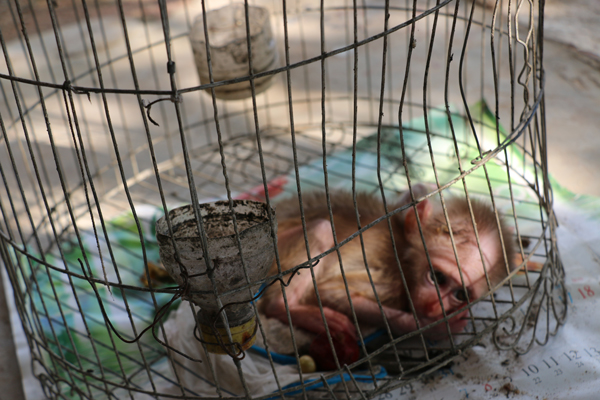 A family in the central highlands province of Kon Tum had a baby monkey kept at home, unaware of the ban on keeping wild
Trieu Thi S, 35, in No. 7 Village, Ia H'Drai District kept the baby monkey which her family caught while driving a group of monkeys from their cashew farm a week ago.
"Our dog chased the monkeys out of the farm and this baby monkey fell off from its mother's arms."
S is now keeping the monkey in a small cage and feeding it with milk and fruits.
The small monkey looks unwell but S said that it is now in much better condition than when they caught it a week ago.
"We've decided to keep it and will not return it to the wild," S said.
When being asked if he knows that keeping wild animal is illegal, S did not believe.
Keeping wild animal is banned in Vietnam as stipulated in Decree 159/2007.
Global Eye supports contemporary art in Vietnam
The Global Eye Programme, a non-profit organisation dedicated to nurturing artistic talent, will be coming to Vietnam.
The programme's activities will include an exhibition entitled "Vietnam Eye" on contemporary Vietnamese artworks. The display will be held in Hanoi from this November to February 2017 before arriving in Ho Chi Minh City, organisers said at a press conference in Hanoi on June 1.
Seventy-five outstanding contemporary artists from Vietnam will be selected and introduced in a book named "AIA Vietnam Eye" to be published in November.
The book will feature information about each artist along with articles on Vietnam's contemporary art.
Prominent artworks will be sent to an exhibition at the Saatchi Gallery in London, the UK, in September next year, the organisers noted.
They added that this will be a great opportunity for Vietnamese artists to show off their talent and connect with their peers from around the world, as the Saatchi Gallery is the most prestigious arts exhibition venue in London.
Global Eye, established by collectors David and Serenella Ciclitira, held its first programme in the Republic of Korea in 2009. It has so far organised 28 exhibitions and published eight books on contemporary art in many Asian countries.
Green urban planning project ratified
The PM has approved a green urban planning technical assistance project, which is sponsored by the Republic of Korea (RoK) through a non-refundable aid.
The project, worth US$7.15 million, will be launched in the northern province of Thai Nguyen and the southern province of Kien Giang.
It is expected to help realize the national strategy on green growth, sustainable development and enhancement of green urban planning capacity, research on urban construction and development in Viet Nam, establishment of green urban evaluation index and completion of a legal framework on green urban planning for Viet Nam.
The Ministry of Construction is in charge of implementing the project.
Tourist spreads false rumors of toxic seafood on Phu Quoc
A tourist suffering from food poisoning during a trip to Phu Quoc has claimed on Facebook that seafood on Vietnam's biggest island has been tainted with toxic chemicals, prompting authorities to quash the false rumor.
In a Facebook post on Monday, the man warned that no one "should ever eat any kinds of seafood, either fresh, cooked or processed, when in Phu Quoc, because Phu Quoc seafood is poisoned."
Phu Quoc is a district administered by the southern province of Kien Giang, and is a famous destination for sea and island travelers.
Tuoi Tre (Youth) newspaper has verified that the Facebook owner is a tourist taken to the island from Ho Chi Minh City by tour organizer ABC Travel.
The ABC Travel tour guide, Chanh Tin, told Tuoi Tre on the phone that some of his guests suffered digestive problems on Sunday night, after eating seafood at two restaurants on the island.
They ate a mixed herring salad for lunch, and grilled scallop in the afternoon, with four or five of the tourists starting to suffer abdominal pains later in the night, according to the tour guide.
"Two of them were eventually hospitalized, but they recovered soon thereafter," Tin said.
On Monday, all of the guests were able to continue their journey as normal, the tour guide asserted.
"Perhaps these tourists were not familiar with some kinds of seafood here," Tin said. "There is no such thing as food poisoning caused by toxic seafood."
As of Tuesday afternoon, the Facebook post with the false rumor had been shared more than 1,000 times, with a number of comments showing concern about the quality of the well renowned Phu Quoc seafood.
Pham Van Nghiep, deputy chairman of the Phu Quoc administration, said later on Tuesday that 'tainted Phu Quoc seafood' is a baseless rumor.
"I have been briefed about the issue and can assert that it is totally false to say Phu Quoc seafood is poisonous," he said.
"Such a baseless rumor has spread worry among locals and tourists, affecting the tourism environment of both Phu Quoc and Kien Giang."
Binh Phuoc, Lao province step up cooperation
Secretary of Binh Phuoc province's Party Committee Nguyen Van Loi said that he hoped for sound cooperation across the fields of politics, culture, education and economy between the Vietnamese locality and Laos' Attapeu province.
He made the statement during a reception on June 1 for a high-ranking delegation from the Lao province, led by Governor and Secretary of the Party Committee of Attapeu Nam Vinhakhet.
Loi affirmed that two governments and peoples always treasure the traditional friendship relations, which have been strengthened and developed extensively in all fields.
He added that the delegation's visit is a manifestation of the deepened special relations.
For his part, the guest expressed his delight to visit Binh Phuoc province.
He wished that Attapeu province and Vietnamese localities will further experience sharing in investment cooperation, making contributions to promoting the special traditional relations and comprehensive collaboration between the two countries.
At the meeting, the two sides briefed each other about local socio-economic development, focusing on healthcare, education, culture, industry and trade, and agroforestry issues.
Court sentences five to 5 years to life for misappropriating assets
The HCM City People's Court handed down sentences ranging from five years to life to five Vietnamese defendants on charges of misappropriating assets and violating loan provision regulations at a trial on May 31.
Nguyễn Đức Trí, former director of KTT Construction Design Advisory Co. Ltd, was given a life sentence and Trương Xuân Quang, former chief accountant at KTT, was sentenced to 20 years for swindling and misappropriating assets, the court said.
The court also said that Trí and Quang must pay in compensation VNĐ231 billion (US$10.5 million) in both principal and interest to the Bình Chánh branch of the State-owned Việt Nam Bank for Agriculture and Rural Development (Agribank Bình Chánh).
Nguyễn Văn Lợi, former deputy director of Agribank Bình Chánh, Trần Thị Hoàng Yến, former deputy head of Agribank Bình Chánh's business plan division, and Nguyễn Thị Thanh Nga, former credit staff member of Agribank Bình Chánh, were sentenced to seven, six and five years in prison, respectively, for violating loan provision regulations of credit institutions.
At the court, Trí and Quang said they took advantage of their acquaintance with the late Lý Văn Chức, former director of Agribank Bình Chánh, to forge a dossier on a project to build the Central Park residential area in District 7 in order to borrow VNĐ96 billion at Agribank Bình Chánh.
The project was not approved by authorised agencies.
Later Trí and Quang forged construction material purchase contracts, which were part of the dossier, to ask Agribank Bình Chánh to disburse an additional VNĐ10 billion.
Of the total VNĐ116 billion, Trí and his accomplices misappropriated more than VNĐ99 billion.
In June 2015, the HCM City People's Court sentenced Lợi, Yến and Nga to eight, seven and eight years in prison, respectively, in another case in which they were found guilty of violating loan provision regulations of credit institutions.
Man sentenced to life imprisonment for misappropriating gold
The Phú Thọ People's Court yesterday gave a 38-year-old man a life sentence for committing fraud and misappropriating 50kg of gold.
Nguyễn Văn Thuyết, who lives in Hà Nội's Thanh Xuân District, bought 50kg of gold in June 2014 at a price of VNĐ43.7 trillion (US$1.9 billion) from Nguyễn Trung Thành, owner of the Nam Thành Gold Enterprise in Việt Trì City, Phú Thọ northern province.
By July 2014, Thuyết had paid more than VNĐ24.2 trillion ($1.07 billion) but could not pay the remaining amount, which was some VNĐ19 billion ($844,400).
The provincial people's procuracy said this was a serious case with no precedent in the province.
Thuyết was sentenced to life imprisonment and has been ordered to pay Thành the money owed to him.
British brass band to perform in HCMC
The UK's Desford Colliery Brass Band will present a concert at the HCM City Conservatory of Music on June 2.
The band will hold a performance and workshops with young Vietnamese and international music students.
The ensemble has released many high quality recordings and performances, and toured Bangkok, Singapore and Manila.
The concert will begin at 8pm at 112 Nguyễn Du Street in District 1. Tickets priced at VNĐ200,000-300,000 are available at www.ticketbox.vn.
Dutch DJ Young Marco at the Observatory
DJ and music producer Young Marco from the Netherlands will appear at The Observatory on June 11.
The artist, who has been at the forefront of Amsterdam's underground scene for nearly a decade, will play a blend of funk, afro, house, disco and techno music.
He has released several singles and remixes, and an album. He has had his own live show, and has toured around Europe.
The show will begin at 9pm at 5 Nguyễn Tất Thành Street in District 4. Entrance is free before 10pm, and VNĐ150,000 after 10pm.
Art For You' affordable art fair returns
The Art For You affordable art fair for art lovers returns this Saturday. The fifth Art For You fair will take place at the Art and Photography Exhibition Centre at 29 Hàng Bài Street.
Summer is coming and with it Hà Nội's annual art hiatus. While some art appreciators are getting their homes ready to spend the gruesome summer months indoors, the migratory portion of our beloved art community is about to fly away to spend that time hibernating abroad.
Both groups needs to stock up on creativity before the 2015/16 art season ends. So Manzi Art Space and Work Room Four are hosting the fifth affordable art fair. It will be held downtown, instead of at the much smaller Manzi Art Space venue where it was held last time. This year the space is grand, the view is grander, and the art is always grandest of all.
The fair opens at 6.30pm on Saturday. It will be open 10am-8pm daily on June 5-12. Free admission.
HCM City kicks off Fruit Festival in District 9
The Southern Fruit Festival 2016 kicked off yesterday (June 1) at Suối Tiên Tourist Park in HCM City's District 9, featuring activities promoting the agricultural values of Việt Nam and its southern region.
The event, which ends on June 9, is organised by the city's Tourism Department, Agriculture and Rural Development Department, Industry and Trade Department, and Suối Tiên Culture Tourist Corporation, among other agencies.
The Floating Fruit Market is the highlight of the festival, where more than 150 kinds of fruit, including Vĩnh Long Province's Hoàng Gia pomelos, Long An Province's Hoàng Hậu dragon fruit, Bến Tre Province's Cái Mơn durian, and others sold at a 20-30 per cent discount.
Along with fruit that meets VietGap and Global Gap standards, the festival displays giant and rare fruit collections, featuring a 100-kilo pumpkin, 50-kilo winter melon, and many others.
About 600 fruit samples from 500 farmers will compete in the annual southern delicious and safe fruit contest.
"Due to the impact of drought and saline intrusion, we didn't receive as much as fruit samples this year. However, we have carefully checked all samples to ensure their quality," Nguyễn Thị Ánh Hoa, deputy director of the HCM City Department of Tourism, told Việt Nam News.
Held alongside the festival is the Việt Nam Fruit Week, where different kinds of Vietnamese fruit are on sale at Suối Tiên Tourist Park but also at many hotels, supermarkets, and shops.
"In addition to promoting tourism to international friends, we aim to raise funds for farmers and their families that have been affected by drought and saline intrusion in the region," Hoa said.
Sellers have been encouraged to donate a part of their revenue to a great cause, she added.
On the opening day, the festival drew a huge crowd, mostly residents of HCM City and neighboring cities and provinces.
According to Đinh Thị Thoa from the management board of Floating Fruit Market, more visitors came to the festival compared to last year.
Lâm Thị Tố Nga from Lâm Đồng Province said: "This was the first time for my daughter to visit the festival and celebrate International Children's Day. We bought fruit at an affordable price and took part in interesting activities. We'll definitely come back next year!"
Trương Bảo Kiếm from District 7 said he had taken part in the Southern Fruit Festival for four years. "The new activities that are added every year are exciting," he added.
Begun in 2014, the annual event has become a popular cultural tourism event. More than one million visitors are expected to attend and consume more than one tonne of fruits this year.
Village hosts many June activities for children
Various fun activities for children will be organised throughout June at the Việt Nam National Village for Ethnic Culture and Tourism on the western outskirts of Hà Nội.
The daily and weekend treats are planned at the houses of the Mường, Thái, Khơ Mú, Ê Đê and Khmer ethnic groups and include writing contests, folk games, folk music and food shows.
Teachers and students from the capital's schools will join in the contests and shows and get a closer look at the lifestyle of ethnic groups living in the village.
During the first five months of the year, the village received 300,000 visitors, an increase of 50,000 visitors against the whole of last year.
The village's management board is planning to organise special themed tourism activities every month to attract more guests to the destination.
The village is located 45km west of Hà Nội's centre.
National fund for children lights hope for disadvantaged
The annual meeting between the President and disadvantaged students, arranged by the National Fund for Vietnamese Children (NFVC) since 2008, has lit up hope for many of them.
Among fifty-five underprivileged children from across the country who were honoured by President Trang Dai Quang this year at the celebration of International Children's Day (June 1) were Nguyen Dang Khoa from Hai Phong, Nguyen Thi Ngoc Tran from Tra Vinh, Phan Thu Trang from Son La and Truong Thi Lam Sa from Nghe An. They all have achieved excellent academic results despite coming from difficult backgrounds.
Nguyen Dang Khoa, a 13-year-old boy who was born blind in a poor single-parent family, has impressed people with his confidence and cleverness. Khoa was awarded third prize at a national competition on history.
He said he hopes to become a teacher in the future so he will be able to help blind children in their lives and study.
Phan Thu Trang, born in 2001, is an orphan raised by her grandparents. She was honoured with a bronze medal at the national competition in mathematics last year, and has also won eight medals, including four gold, three silver and one bronze, at the provincial chess contests.
Over the past 24 years, the NFVC has mobilised over 5 trillion VND (225 million USD) from domestic and foreign donors to support more than 30 million children in need. Last year, the fund raised approximately 102 billion VND for over 108,000 children nationwide.
The fund has organised annual meetings with the President for 425 outstanding students in difficult circumstances since 2008, providing them chances to talk to Party and State leaders, and to visit President Ho Chi Minh's Mausoleum and Museum and the Temple of Literature. The children have also been financially supported by sponsors.
By 2015, the country had 26.7 million children, including 1.5 million living in difficulties, or 5.6 percent.
RoK aids green urban planning project in Vietnam
The Prime Minister has approved a technical support project using the Republic of Korea's (RoK) non-refundable aid package for green urban planning in Vietnam.
The project worth 7.15 million USD will be carried out in Yen Binh urban area in the northern province of Thai Nguyen and Rach Gia city in the southern province of Kien Giang.
It will contribute to the implementation of the national strategy on green growth, sustainable development, and green urban planning capacity enhancement.
The project also looks to set up indicators to evaluate green urban areas while building support systems and improving a legal framework in the field.
The Ministry of Construction will manage the project.
Ethnic minorities, drought victims get rice support
The Prime Minister has directed the Ministry of Finance to provide rice from national reserves for the central provinces of Thanh Hoa and Ninh Thuan.
Accordingly, ethnic minority people in Thanh Hoa's Thuong Xuan district will receive 3,762 tonnes of rice over the next five years. The beneficiaries are those who voluntarily grow, take care of and protect forests in 2016-2020.
Meanwhile, farmers affected by the recent drought in Ninh Thuan will be supplied with over 3,874 tonnes of rice.
This is the second time in 2016 the locality has received rice support from the Government. Earlier in January, it received more than 2,092 tonnes of rice.
The PM urged the two localities to promptly distribute the rice for those really in need.
ASEAN children art gala opens on International Children's Day
Children from several ASEAN member countries gave 15 performances featuring cultural identities of each nation at an art gala for ASEAN children in Hanoi, which was broadcast live on VTV1 on June 1.
Kaleidoscopic lights and traditional dances from Laos and Indonesia fascinated young audience.
The gala wrapped up with a chorus, which conveyed a message of peace to spectators.
The event was held as part of the Southeast Asian Children's Festival to welcome International Children's Day (June 1).
Initiated by Vietnam Television (VTV), the festival aims to enhance friendship, cultural exchange and mutual understanding among ASEAN children.
The festival involved children in a line-up of fascinating activities while introducing Vietnamese and regional culture to international friends.
VNPT's health information system introduced in Singapore
Vietnam Post and Telecommunications Group (VNPT) is introducing its health information system (HIS) at the four-day International Communications and Information Technology Exhibition in Singapore, according to Ha Noi Moi newspaper.
The system, which won a Vietnamese Talent Award last year, has been used in nearly 3,000 grassroots medical centres in 57 cities and provinces across the nation with about 10,000 health-checks conducted via the system.
VNPT is cooperating with foreign partners to develop the product further to meet the demands of provincial and national hospitals.
Participating in the exhibition, ongoing until June 3, the group also display e-government plans, online invoices and smart phones.
HIS is a healthcare management system that helps tackle overcrowding in healthcare facilities.
Bui Quoc Viet, Director of the Information and Public Relations Center of VNPT, said the system includes three management levels. Firstly, it will help State authorities manage hospitals via online systems. Secondly, it supports management at hospitals, and thirdly it directly supports patients.
At the State management level, managers will immediately be aware of the healthcare situation in provinces. They can then make decisions to enhance healthcare services.
Hospital management will have an immediate understanding of the situation at the hospital and its human resources and can make changes as required.
Patients can schedule appointments with a hospital online, removing the need to wait. All information about patients such as treatment time, fees paid, and prescriptions is stored in the system, which also reminds them to return to the hospital and even take their medicine.
Poor communes get facelift with national programme
Infrastructure, production methods and the living conditions of local residents in extremely disadvantaged communes in the northern province of Phu Tho have significantly improved thanks to investments from the National Programme 135.
An example illustrating that improvement is Tan Son district, one of the 63 poorest districts in Vietnam, has improved in many areas after it got an investment of 91 billion VND (4 million USD) from the programme.
With the investment, the district has built 113 infrastructure facilities and carried out maintenance on 21 others. As of now, all communes in the district under the programme have paved roads leading to their administrative area.
The rate of poverty in the district has dropped to 24.43 percent in 2015.
According to Dinh Ngoc Thanh, Head of the province's Ethnic Affairs Committee, from 2011-2015, the province has invested 485 billion VND (21.3 million USD) in implementing two electricity projects, 1,019 road projects, 214 irrigation works, 258 schools, rooms and housing for teachers, 16 health centres, 367 culture houses and two markets.
The remaining capital was used to repair and upgrade 129 facilities and provide aid to production projects.
The implementation of projects also helped improve the management and execution capabilities of the politic system at all levels, especially commune-level governments.
Ethnic minority groups also changed their production practices and techniques toward sellable goods production.
The Government's Programme 135, which was launched in 1999 under the Prime Minister's Decision 135/1998/QD-TTg on July 31, 1998, aims to improve living conditions for rural residents with a particular focus on ethnic minority communities.
Vietnam contributes to global health care issues
Vietnam has actively contributed to global health issues during the 139th meeting of the governing bodies of the World Health Organisation (WHO), Health Minister Nguyen Thi Kim Tien said.
During an interview granted to Geneva-basedVietnam News Agency correspondents, Minister Tien, who attended the meeting on May 30-31 in Geneva, Switzerland said Vietnam shared its experience in tackling newly emerged diseases such as Ebola and MERS-CoV.
Over the past years, the health sector has successfully prevented the diseases from penetrating Vietnam, Tien said, adding that this has been highly appreciated by the United Nations and international community.
Vietnam has focused on developing local-level healthcare facilities across the nation to ensure initial health care services for all people, thus effectively implementing the national target programmes on public health, the Minister said.
Vietnam will make more contributions to the development of the global medical system, thus getting more international attention in developing and implementating relevant policies in developing and regional nations, Tien said.
The WHO Executive Board comprises 34 members from six regions, including Vietnam and Fiji in the West Pacific region for the tenure from 2016-2019.
Ha Giang cares for children's health
The northern mountainous province of Ha Giang has focused on supplementing micro-nutrients for children, pregnant women and new mothers, particularly those from ethnic minority groups, to reduce micronutrient deficiency.
As many as 82,000 children from 6 to 60 months old across the province have received free vitamin A as part of the national drive on the occasion of the Micro-nutrient Day (June 1-2).
Nearly 8,000 new mothers have been provided with Vitamin A doses within a month after giving birth while more than 59,000 children aged between 24 and 60 months have got anthelmintic or anti-parasitic medicine.
Consultation services and health check-ups have been provided for pregnant women at communal medical centres.
The province has also encouraged families to improve the quality of meals in an effort to better their members' health.
Vice Director of the Nutrition Institute under the Health Ministry Le Bach Mai said that some 5 million doses of vitamin A will be provided for children from 6 to 36 months nationwide.
About 800,000 postpartum women will receive vitamin A within a month after giving birth.
In 22 disadvantaged provinces, the vitamin will be supplemented to children from 37 months to 60 months old, and anti-parasitic medicine will also be given to those from 24 to 60 months old, he added.
VNA/VNS/VOV/SGT/SGGP/TT/TN/Dantri