Architecture students design eco-playgrounds for city kids
Students at the architecture faculty of Hue College of Sciences have designed an "eco-playground" to develop children's motor skills and provide free access for disadvantaged kids.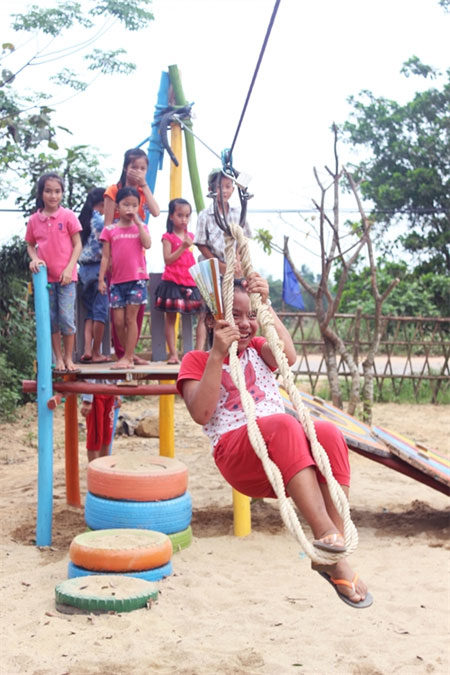 Eco-playground: Children play with recycled equipment made by students at the Hue College of Sciences. Photo Courtesy of Vien Gach Hong Club
The playground's rocking horses, zipline and other pieces of equipment are all made from recycled tyres, empty bottles, rope or wood and other materials.
Located in Ngo Mon Square, the Playstreet project playground was based on an idea from the Think Playground Group in Ha Noi.
Nguyen Dang Hoang Hai, head of the students' Vien Gach Hong (Pink Brick) Club, says the students design, make and maintain the equipment.
"They also develop skills in looking for sponsorship and negotiation because they must buy recycled materials at cheap prices," he says.
"Hue has a shortage of playgrounds. These handmade items of recycled materials are uncommon here."
At the playground, students can play traditional games such as skipping rope, hopscotch and monkey bridge.
"It's important that poor children have access to these areas," he says.
The playground, which ran out of sponsored funding last year, had to stop operating for a while but the students resumed operation in March after finding another sponsor.
The student club is also building playgrounds at Hien Sy Kindergarten, Tinh Truc Gia Welfare Centre for Children with Disabilities, and the Cultural House in Kim Long Ward.
The club has other projects, including an organic vegetable garden at the Xuan Phu Welfare Centre for Disadvantaged Children and Orphans.
"We're happy that children are coming to the playground. They're excited about our project," Hai says.