NA Standing Committee wraps up 22nd session
Minister of Justice Le Thanh Long
The 22nd session of the National Assembly Standing Committee closed in Hanoi on March 19 after seven days of sitting.
Minister of Justice Le Thanh Long and Minister of Science and Technology Chu Ngoc Anh took the floor and answered questions.
Minister Chu Ngoc Anh answered questions regarding the efficiency of adopting scientific research results in real life, control of technology export-import in production and services, and technological adoption in service of socio-economic development.
He said the Party and State have paid due attention to the application of high technologies in agricultural production.
He said eight chain factories will be inaugurated this year to facilitate technological transfer in agriculture.
Joining the question-and-answer session, Minister of Industry and Trade Tran Tuan Anh said the ministries of Industry and Trade, Agriculture and Rural Development, and Science and Technology will work closely together to launch chain models and rearrange market planning and production.
About concern over the import of outdated technologies, Minister Anh said the ministry will issue decrees and directives guiding the enforcement of the amended Law on Technological Transfer.
For his part, Minister of Agriculture and Rural Development Nguyen Xuan Cuong pointed to policy, work performance, and scientific and technological application as the three main causes affecting the development of agriculture, of which scientific and technological application is decisive and crucial to the competitiveness of the country's farm products.
Deputy Prime Minister Vu Duc Dam said Vietnam currently ranks 47th globally in innovation index and 38th in technological expertise.
He called on the State to issue practical mechanisms to make firms really become a centre of creativity and innovation.
Concluding the meeting, NA Chairwoman Nguyen Thi Kim Ngan said the Standing Committee piloted some changes in this question-and-answer session, which enabled more interactions between legislators and ministers in dealing with the issues raised.
She asked the government, the Council of Ethnic Affairs, the NA committees and agencies to promptly prepare quality bills to submit to the NA Standing Committee for consideration during the 23th and 24th session scheduled for April and May.
OVs in Japan urged to further contributions to homeland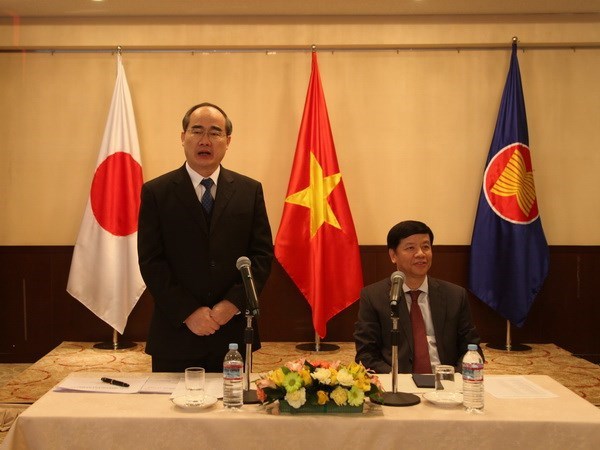 Secretary of the Ho Chi Minh City Party Committee Nguyen Thien Nhan (L) speaks at the meeting
Secretary of the Ho Chi Minh City Party Committee Nguyen Thien Nhan has urged Vietnamese expats in Japan to continue uphold their role as bridges, contributing to helping Vietnamese enterprises promote exports.
During a meeting with the Vietnamese community in Japan as part of his working visit to Japan from March 18-25, Nhan updated participants on recent achievements of Ho Chi Minh City, and highlighted its dynamic development.
Japan
is one of the two biggest investors in Vietnam, he said, adding that Ho Chi Minh City is currently the most attractive destination for Japanese investors in all fields.
The southern hub is calling for investments in 127 key projects, including those in building smart hospitals, developing high technologies and infrastructure, and flood prevention, he said.
He affirmed his current visit to Japan aims to learn from Japan's experience as well as collect opinions from Japanese experts and economists, and those from Vietnamese businesses in Japan, towards mapping out development strategies and orientations for Ho Chi Minh City in the coming time.
Speaking in the event, Vietnamese Ambassador to Japan Nguyen Quoc Cuong reported the development of the Vietnamese community in Japan, saying that the number of overseas Vietnamese (OVs) in Japan increased to nearly 250,000, 2.5 times higher than three years ago.
Many Vietnamese people achieved prominent achievements in the field of invention and innovation, thus contributing to the homeland's development as well as the relations between the two countries, he noted.
At the meeting, OVs shared experience in simplifying investment procedures, thus facilitating Japanese firms' operation in Vietnam.
Representatives from young Vietnamese entrepreneurs in Japan said if Vietnamese firms want to succeed in the Japanese market, they need to consult, learn and apply Japan's professional working style.
Nhan is scheduled to meet with Prime Minister Shinzo Abe and other officials of the Japanese Government; have working sessions with representatives from the Japan International Cooperation Agency (JICA), Tokyo and Tsukuba universities, and organisations and enterprises working in the high-tech field.
HCM
City
vows to support private sector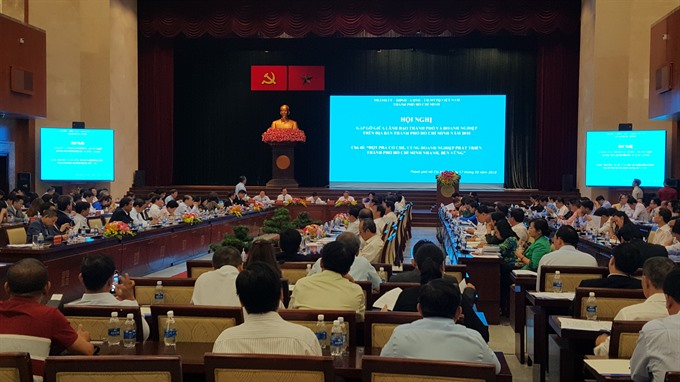 The meeting between city leaders and the enterprise community was organised on Saturday.
HCM
City
pledges to protect the legal rights and benefits of the business community, a city leader said.
Speaking at a meeting between city leaders and the enterprise community on Saturday, Nguyễn Thành Phong, chairman of the municipal People's Committee said, "Enterprises will be checked only once a year and leaders will reduce 30 per cent of their meetings to be able to go into the field and help enterprises handle difficulties,"
"The city will try to cut half of the current time for investment procedures and this year, the administrative reform index of the city will rank in the top ten of the country," he added.
To create more favourable conditions for the enterprise community, Phong also revealed that a task force to handle land and ground compensation will be set up to assist enterprises.
"Programmes of connecting banking and enterprises, investment stimulation; the establishment of a project development fund and a financial support fund for public-private-partnership will be promoted."
The chairman also pledged that policies to implement special mechanisms for the city will make enterprises stronger and will "not hinder nor become a burden for the business community," he added.
At the meeting, Lê Thị Thanh Lâm, deputy general director of Sài Gòn Food Company and representative of the Food Association, asked the relevant authorities to instruct the education sector to receive safe products from the association.
"Our association will provide technical supervision for parents to check the quality of food for children at the school, which can not be done now," she said.
Lê Hoàng Châu, chairman of the city Real Estate Association, commented that HCM City should consider that the average area for each person to rent in the city be 15 sq.m as in Hà Nội, not 20 sq.m as the Construction Department has just suggested.
Trần Việt Anh, chairman of Nam Thái Sơn Corporation, said HCM City is now losing its competitive advantage in logistics because the city is facing terrible traffic jams and there is no huge storage for logistics.
"Neighbouring provinces such as Bình Dương, Đồng Nai, Bà Rịa – Vũng Tàu and Long An are trying to improve their infrastructure and services in logistics by strongly investing in road systems, seaports and storage," he said.
Trần Anh Tuấn, deputy chairman of the HCM City Computers Association mentioned how to promote startup enterprises.
"Big companies and professional associations should have more of a role and contribution by guiding and assisting startup enterprises," he said.
At present, HCM City is facing many great challenges. Right now, only 1.49 per cent of the city's enterprises are big, 5.68 per cent are medium, 4.58 per cent are small and 88.25 per cent are tiny.
The private sector is still the major driver of the development of the city with GDP growth at 8.15 per cent. Each year, the city contributes 27-28 per cent to the national State budget and the city improved the business environment to attract US$10 billion through FDI during 2016 – 2017.
This year, the city will deploy the project "Smart city 2017 – 2020 with vision to 2025" with four solutions: building a sharing database and developing an open data ecosystem; setting up the city's socio-economic development prediction and stimulation centre; establishing a smart city operation centre; constructing an information safety and security centre.
The city plans to co-operate with the HCM City Business Association to organize the "HCM City Economic Forum" in October.
HCM
City welcomes Japan's high-quality infrastructure investment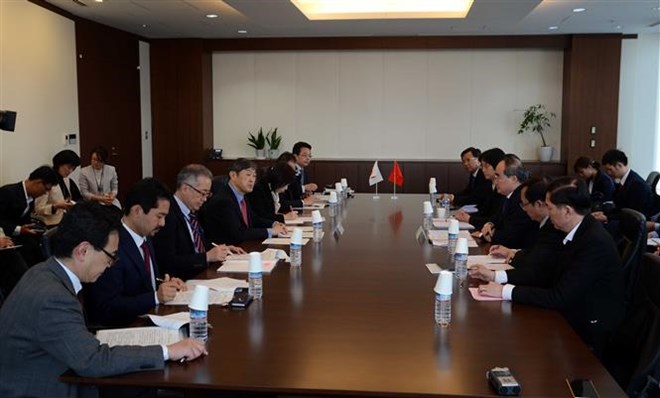 Secretary of the Ho Chi Minh City Party Committee Nguyen Thien Nhan hopes for more Japanese investmentin high-quality infrastructure in the city.
Secretary of the Ho Chi Minh City Party Committee Nguyen Thien Nhan hoped that the Japanese Government and businesses will continue support and investment in the city, especially in high-quality infrastructure.
He expressed his wish at his meetings on March 19 with Japanese Foreign Minister Taro Kono, Minister of Economy, Trade and Industry Hiroshige Seko, Minister of Land, Infrastructure, Transport and Tourism Keiichi Ishii and President of the Japan International Cooperation Agency (JICA) Shinichi Kitaoka, as part of his trip to the East Asian nation.
Speaking highly of the Vietnam-Japan relations as well as the ties between HCM City and Japanese localities, which are in the most flourishing period ever, Nhan thanked Japan for backing Vietnam and its southern hub in the past years.
He noted that Japanese support in infrastructure is crucial to HCM City, a city which is expected to be home to 15 million people by 2030 and contributing 22 percent of the national gross domestic product, as transport and water drainage facilities are hampering the city's development.
After the two countries become strategic partners, they have seen thriving cooperation in various fields, he said, adding that Can Tho and Nhat Tan bridges are vivid illustrations of the tight collaboration.
Lauding HCM City's role in the national economy, the Japanese officials said that Japan stands ready to help the city build high-quality infrastructure.
The same day, Nhan went to Ibaraki prefecture, where he visited Tsukuba University and Tsukuba science city.
Congratulations to Wang Yi on promotion as State Counselor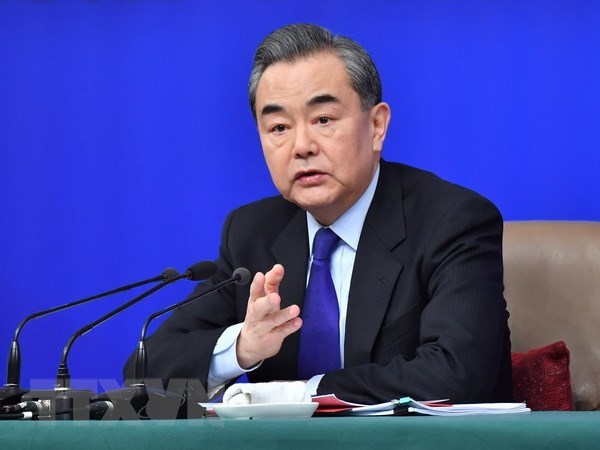 Chinese Foreign Minister Wang Yi
Deputy Prime Minister and Foreign Minister Pham Binh Minh on March 19 cabled a message of congratulations to Wang Yi on his reappointment as Chinese Foreign Minister and promotion to State Counselor.
His promotion was approved by the National People's Congress of China the same day.
Vietnam-US Society President receives US guest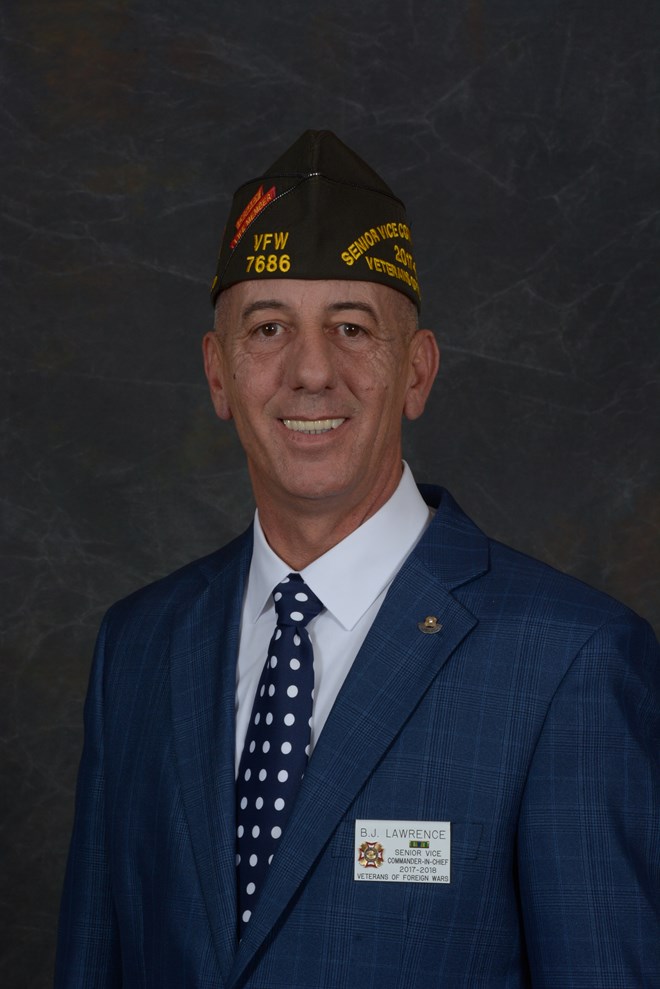 VFW Senior Vice Commander-in-Chief Vincent "B.J" Lawrence
President of the Vietnam – US Society (VUS) Nguyen Tam Chien hosted a reception in Hanoi on March 19 for Senior Vice Commander-in-Chief of the Veterans of Foreign Wars (VFW) of the US Vincent "B.J" Lawrence.
Chien briefed the guests about people-to-people diplomacy activities of the Vietnam Union of Friendship Organisations and the VUS and the humanitarian support programme between the two countries, especially the recovery from the consequences of war-era landmines, issues regarding Agent Orange/dioxin victims, and the search for remains of missing US servicemen in Vietnam.
He reviewed important milestones in Vietnam – US diplomatic ties in peacetime, the role of the VUS and mass organisations in promoting bilateral ties.
Lawrence, who is in Vietnam from March 18-22, said the visit affords him a chance to learn about Vietnam's post-war recovery and development, the country and its people.
In 1991, the VFW sent representatives to the delegations of the US Congressmen and ex-veterans to Vietnam to discuss the search for the US servicemen missing in action.
It also sends delegations to Vietnam each year to learn about the country's situation, the Vietnam – US relations, and especially dealing with the search for missing Vietnamese and US soldiers during the war.
Vietnamese, Cambodian customs bolster cooperation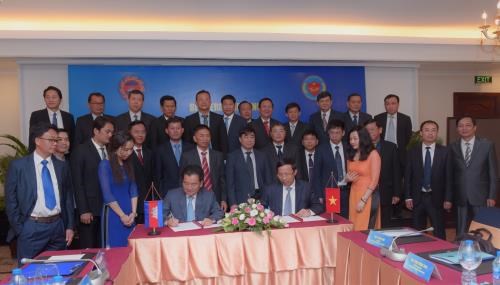 At the high-level talks between the General Department of Vietnam Customs and the General Department of Customs and Excise of Cambodia on March 19.
The General Department of Vietnam Customs and the General Department of Customs and Excise of Cambodia agreed to enhance cooperation at high-level talks between the two customs bodies in Ho Chi Minh City on March 19.
They reached consensus on pushing the negotiations between the two finance ministries on mutual support in customs sector to create legal foundation for bilateral collaboration.
Along with simplifying administrative procedures, they will work together to fight smuggling, trade fraud, drug trafficking and other illegal trade activities in border localities via improving information exchange mechanisms.
At the event, they stated that the two customs bodies have carried out a line-up of bilateral cooperative activities to facilitate two-way trade. They regularly met to update customs procedures as well as exchange information about passengers and goods items through the border gates. Also, they joined hands to crack down smuggling and trade fraud for imports and exports.
Statistics from the General Department of Vietnam Customs showed that Vietnam-Cambodia trade rose 29.7 percent year-on-year to over 3.79 billion USD in 2017. Vietnam enjoyed a trade surplus of more than 1.75 billion USD.
Party chief congratulates re-elected President V. Putin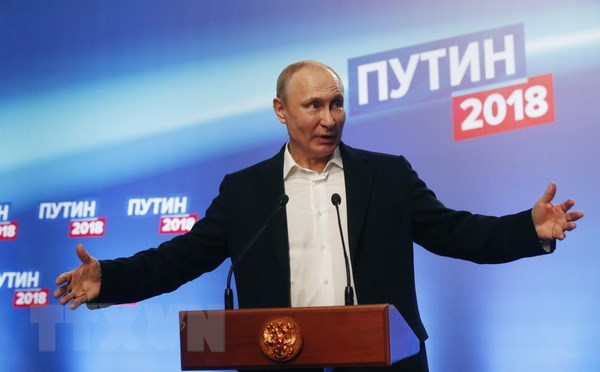 Vladimir Putin is re-elected as President of Russia.
General Secretary of the Communist Party of Vietnam Central Committee Nguyen Phu Trong sent a congratulatory message to Vladimir Putin on his re-election as President of Russia.
Vladimir Putin is set for another six years in power after winning a record election performance with 76.66 percent of the vote held on March 18.-
President greets outgoing UAE Ambassador
President Tran Dai Quang (R) greets outgoing UAE Ambassador.
President Tran Dai Quang on March 19 received Ambassador of the United Arab Emirates (UAE) to Vietnam Khalid Ibrahim Abdulaziz Shohail Al-Qahtani, who came to say goodbye before ending his tenure.
Praising the diplomat's contributions to enhancing the bilateral friendship and multifaceted cooperation during his four-year tenure, the President highlighted his efforts in linking the Vietnamese Ministry of Industry and Trade and the UAE Chamber of Commerce and Industry to organise several business forums between the two countries, particularly the Dubai – Vietnam trade forum in Hanoi in November last year.
Quang said he believes the two sides will continue implementing their agreements as well as boosting the exchange of business delegations and trade promotion activities.
The Vietnamese leader expressed his delight at progresses made in Vietnam – UAE relations in recent years, stressing that the UAE is among top trade and investment partners of Vietnam in the Middle East.
The UAE is the 7th biggest trade partner of Vietnam, with bilateral trade surpassing 6 billion USD annually in the past three years.
Quang noted his expectation that the outgoing diplomat will continue contributing to the Vietnam – UAE friendship and collaboration in his new post.
For his part, Khalid Ibrahim Abdulaziz Shohail Al-Qahtani thanked Vietnam's agencies and sectors for their cooperation with and support for him during his tenure in the country.
The UAE highly values upbeat outcomes of its cooperation with Vietnam, the ambassador said, adding that these achievements have placed the UAE among the top ten trade partners of Vietnam.