More than VNĐ15 trillion tax arrears irrecoverable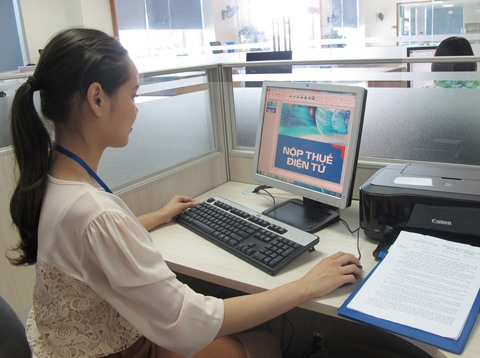 Irrecoverable tax debts were estimated to total more than VNĐ15 trillion (US$669.6 million) as of October 31, rising by 1.4 per cent over the end of last year, the General Department of Taxation said.
The irrecoverable tax debts accounted for more than 20 per cent of total tax arrears.
Tax authorities until October 31 collected a total VNĐ33.5 trillion worth of tax debts.
A recent report by the General Department of Taxation showed that tax revenues totaled VNĐ753.4 trillion in the 11 months of this year (excluding revenue from State stake sales at State-owned enterprises). The tax collection met 93.1 per cent of the estimate for the full year and was equivalent to 107 per cent of the same period last year.
Tax revenue from crude oil reached VNĐ35.6 trillion, or just 63 per cent of the estimate, since oil prices remained at low levels.
The Ministry of Finance said tax reforms were hastened this year to create favourable conditions for businesses.
The ministry said 92 tax administrative procedures were removed this year, along with the application of nationwide e-tax declaration and payment system.
The ministry's statistics also revealed that budget collection rose 6.3 per cent in the 11-month period to touch VNĐ911 trillion.
The Government is expected to add VNĐ1.039 quadrillion to the nation's coffers this year, with 80 per cent coming from domestic collection.
Parkson Hanoi to close one more shopping center
Parkson Hanoi Co Ltd, a unit of Malaysian retailer Parkson, is to close Parkson Viet Tower in Hanoi on December 15 after eight years of operation.
Early last year, the company shut down Parkson Keangnam Landmark on Pham Hung Street in the capital city. Experts said Parkson had closed its shopping centers in Hanoi due to fierce competition and heavy losses.
Many shopping centers in Hanoi have operated inefficiently in the past, as many tenants have left due to big losses. For example, Grand Plaza on Tran Duy Hung Street ceased its operation owing to a slump in sales. After three years of closure, the shopping mall Grand Plaza has been replaced by an interior furniture supermarket called Kasa Grand.
Trang Tien Plaza, one of the first shopping centers in Hanoi City, is located next to the landmark Hoan Kiem (Sword) Lake. After years of poor business performance, it has leased its facility to Imex Pan–Pacific Group (IPP Group).
The group invested VND400 billion in the center's innovation, and reopened it in early 2013. At that time, many experts predicted IPP Group would improve the performance of this center. However, the business situation has not fared as well as expected.
A report of Savills Vietnam indicated that business at Hanoi-based shopping centers has been less vibrant. Total retail space supply has increased with the launch of at least three new projects – T1 Tower of Thang Long Victory, Thang Long Garden and Victoria Van Phu. However, average occupancy has been on the decrease.
As reported by market researcher JLL, unoccupied space at commercial centers in Hanoi had risen from 25% in the first quarter to nearly 26% in the second quarter, and represented a year-on-year rise of 10 percentage points.
Many commercial centers are located in unfavorable locations that are inconvenient to local residents, or near existing trade centers, prompting fierce competition, according to Nguyen Van Dinh, general secretary of the Vietnam Association of Property Brokers.
Tra fish firms suggested to study market demand first
Instead of carefully gauging market demand before turning out products, many domestic tra fish enterprises have ignored that step and focused on production only, which has made their products less competitive on global markets, said experts attending a conference in Can Tho City on December 6.
Le Xuan Thinh, deputy director of Vietnam Cleaner Production Center (VNCPC), said so far, enterprises have only produced what they want rather than what the market wants.
"Making enterprises change their way of thinking is the objective of the Sustainable Pangasius Supply Chain (SUPA) project," he told the conference on market demand in the viewpoint of customers and European retailers.
Axel Hein, an expert of the World Wildlife Fund (WWF) in Austria, noted how customers are largely unaware of tra fish from Vietnam. "When asked what tra fish is, a group of young consumers in Austria said it is a low-cost freshwater fish which has no bone and therefore, can be processed into different dishes," he told the conference.
Vietnamese enterprises can use tra fish to make dishes for children or process it into fish balls or packaged fish rather than simply exporting tra fish fillets to Europe, Hein suggested.
Aside from creating new products, he said local firms should promote tra fish farming and processing techniques on YouTube to appeal to more consumers in the EU.
In addition, the packaging of tra fish products should be attended to so that such products become more eye-catching to consumers.
Not only that, exporters have to put information on the origin of tra fish products or guidance on how to cook tra fish on the packaging and ensure that the information is accurate, he added.
Robert Herman, managing director of Austria-based Yuu'n Mee, said enterprises have to produce tra fish of high quality to approach customers with stricter requirements.
In order to do so, Vietnamese tra fish has to meet criteria set by importing markets, he said.
The goal of the SUPA project is to make at least 50% of small and medium tra fish processing firms meet the Aquaculture Stewardship Council (ASC) standards.
Founded in 2010 by WWF and IDH (Dutch Sustainable Trade Initiative), the Aquaculture Stewardship Council (ASC) is an independent not-for-profit organization with global influence.
ASC aims to be the world's leading certification and labelling program for responsibly farmed seafood.
So far, only 35, or 16.3% of tra fish farms in Vietnam, have received ASC certificates.
Incoming remittances to HCMC predicted to drop this year
Incoming remittances to HCMC are expected to edge down this year due to the recent unfavorable political and economic developments worldwide, although this source of foreign currency steadily increased around 10% a year previously.
Nguyen Hoang Minh, deputy director of the HCMC branch of the State Bank of Vietnam (SBV), said incoming remittances to the city are estimated at US$5 billion in 2016, falling by over US$500 million from a year earlier. The smaller sum is attributed to a decline in remittances from the U.S.
Incoming remittances in the fourth quarter alone usually account for 40-42% of the total, with nearly two-thirds sourced from the U.S.
Minh said an imminent interest rate hike by the U.S. Federal Reserve this month has prompted remittances from this country to fall.
Besides, U.S. President-elect Donald Trump said he would scrap the Trans-Pacific Partnership (TPP) trade pact when he takes office. This might have made Vietnamese American investors hesitant over bringing money to the homeland to tap into opportunities from the trade agreement.
By end-September, 71.9% of remittances to HCMC had been channeled into the production field, 21.9% into real estate and 6.2% to families of overseas Vietnamese.
In the 2012-2015 period, remittances to HCMC increased 10% per annum, from US$4.1 billion in 2012 to US$4.85 billion in 2013, US$5 billion in 2014 and US$5.5 billion in 2015. Remittances to the southern economic hub make up 50% of the country's total.
SBV deputy governor Dao Minh Tu has been cited by Thanh Nien newspaper as saying that incoming remittances to Vietnam are expected at US$9 billion this year, much lower than in 2015.
According to a World Bank report, incoming remittances to Vietnam stood at an estimated US$12.25 billion last year.
HCM City to tighten fiscal discipline
HCMC will tighten fiscal spending given revenue constraints as a result of tariff cuts and a lower level of retained budget revenue.
With the percentage of budget revenue the city may retain slashed from 23% to 18%, a series of solutions for revenue management will be carried out next year, said HCMC Chairman Nguyen Thanh Phong at the opening session of the municipal People's Council on December 6.
Specifically, the city will tighten fiscal discipline, settle problems related to taxation to help businesses boost their activities and fulfill their tax obligations, said Phong at the third meeting of the council on December 6.
Notably, capital allocation will be based on how to balance the budget. Funding will be prioritized for projects within the seven breakthrough programs.
HCMC will offer incentives to lure investors from all economic sectors into infrastructure development, with a focus on public-private partnerships.
As per the plan for public investment in HCMC next year, the central budget will provide nearly VND7.2 trillion, while the city will supply itself more than VND25.1 trillion.
The total budget revenue of the city next year is estimated at over VND347.8 trillion, an increase of nearly 16% from 2016, whereas the total budget spending is put at some VND70.64 trillion.
A HCMC People's Council deputy suggested the city focus on fueling production as a long-term solution for sustaining revenues. Thus, the municipal government should early specify the incentives for each type of production to assist businesses to grow.
Initially, the city government said a VND1-trillion package would be launched to support entrepreneurship and help household businesses turn into companies.
In addition, the time for business registration will be shortened. And preferential policies on taxation, credit, land and manpower combined with attraction of multinational corporations will be implemented in line with the development of domestic enterprises and supporting industries.
"The city will go ahead with the plan for restructuring SOEs and divesting State stakes in enterprises, grant public service units autonomy, call for the private sector's involvement in public services, let eligible public service units go public, and cut budget spending," said Nguyen Thanh Phong on the economic development plan for next year.
HCMC to spend US$81.4 million dredging Ba Lon Canal
The HCMC government is seeking approval from the municipal People's Council to execute the Ba Lon Canal dredging project at a cost of VND1,850 billion (US$81.4 million) financed by the enterprise restructuring assistance fund.
In a document sent to the council on December 6, the city government said the project aims to dredge the canal with a total length of nearly 7.5 kilometers running from District 8 to Phong Phu Commune in Binh Chanh District.
The project is expected to be executed between this year and 2020, and when completed, it will help upgrade the drainage system in the south of the city, and connect the system with another project to improve flood control, which is underway in the area.
In addition, the city government has asked the council for permission for 55 public investment projects of Group B, costing a total of VND20 trillion which will be financed by the city's budget.
Prior to the meeting of the HCMC People's Council, many city residents expressed concerns over the rapid urbanization, resulting in many environmental problems, including the encroachment on drainage canals, and urban flooding caused by rains and high tides.
Steel industry no longer governed by master plan, says VSA
The Vietnam Steel Association (VSA) has reminded the Ministry of Industry and Trade that the State would no longer manage the steel industry with any master plan if the Planning Law was voted through and put into force in 2018. Regarding the current practices, a steel project cannot be approved if it is not named in the master plan for the industry.
As per the draft Planning Law submitted to the National Assembly (NA), the steel industry and many others will no longer be governed by planning but by other laws like the Enterprise Law, the Investment Law, the Law on Quality Standards and the Law on Environmental Protection, VSA said in a written comment on the draft planning for the steel industry until 2025, with a vision to 2035.
This planning, therefore, will only serve as a reference before investors make their decisions. Also, the issuance of investment certificates will be done according to the opinions of the relevant ministries, not just the Ministry of Industry and Trade.
The draft Planning Law stipulates that only 21 industries need national planning for their use of marine resources and large-scale infrastructure. For most of the other industries, including steel, the industry ministry is no longer responsible for doing the planning.
This draft law has been widely discussed by the NA since September, with most opinions against the planning for the steel industry, yet the industry ministry has still drafted planning and gathered opinions.
Foreign investors should not be invited into the projects to produce normal steel products whose supply is redundant. Instead, they should be encouraged to invest in the production of alloy and high-quality steel, says VSA in the written comment signed by Vice Chairman Nguyen Van Sua.
Currently, domestic investors are capable of developing large-scale steel complex projects. Foreign investors already account for a high proportion in the steel industry, so there is no need to call for others, VSA states. The steel association also notes that it is a major shortcoming of the industry ministry to adjust the planning without setting an aim for the development of hot-rolled and high-quality steel, almost 100% of which Vietnam has to import at the moment. Meanwhile, many projects of construction steel and steel billets are still conceived.
VSA also pointed out other faults in the ministry's draft planning. Remarkably, in this draft planning, a mammoth project for "expansion of the second phase of Thai Nguyen Steel Factory", which has made losses and remained inactive, is listed as "no investor". This is incorrect since it is a project of Vietnam Steel Corporation and other shareholders.
VSA proposes this project should be thoroughly handled and similar projects that have yet to get going should be eliminated, including several other infeasible projects slated for 2017-2025.
Vietnam aviation sector posts staggering growth
The total number of air passengers is estimated to reach 52.2 million this year, up a staggering 29% year-on-year, according to data of the Civil Aviation Authority of Vietnam.
Low-cost carriers Vietjet Air and Jetstar Pacific have operated 50 domestic air services connecting Hanoi, HCMC, and Danang with 17 domestic airports. Therefore, the number of domestic passengers has soared to 28 million, up 30% year-on-year.
In addition, the number of passengers using budget air services on domestic routes is expected to amount to 15 million this year, accounting for nearly 55% of the total number of domestic flyers.
As of end-November, the total fleet of the local carriers has amounted to 147 airplanes, and five more planes would be delivered in the rest of this year.
This year there are 52 foreign airlines of 28 countries and territories operating 78 air services to and from Vietnam. Local and foreign carriers also have conducted chartered flights to Hue, Can Tho and Dalat among others.
Local carriers in the January-November period of this year operated over 228,000 flights.
However, there were some 36,844 delayed flights, accounting for 16.1% and up 0.6 percentage point year-on-year, while 1,605 canceled flights were reported, making up 0.7% and rising 0.2 percentage point year-on-year.
First hotel project licensed into hi-tech park
Beton 6 Construction & Civil Engineering Corporation was awarded a license on December 6 to develop a commercial center and a hotel inside the Saigon Hi-Tech Park in District 9, HCMC, the first time such facilities are to be developed in the park.
Beton 6 will pour some VND453 billion to develop the Saigon East Commercial Center, comprising a trade center and a convention-hotel complex, in the hi-tech park.
The trade center, named Satra Center Mall, will have total floor space of 32,000 square meters, mainly catering to experts, workers and students in the park, as well as residents in nearby areas. Le Thien Giao, director of Beton 6 Construction & Civil Engineering Corporation, said at a function to receive the business certificate from the hi-tech park management on December 6 that his company had also inked an agreement with Saigon Trading Group (Satra), allowing the latter to manage the trade center over a period of at least 30 years upon the center's completion in 2018.
Meanwhile, a complex of convention halls and a five-star hotel will also be developed as the second component of the project. This 15-floor hotel will also cater to businesspeople in the park as well as their partners.
Giao said his company would look for a well-known hotel management company to manage the facilities.
The HCMC Saigon Hi-Tech Park is currently home to some 50 tenants, many of them multinationals like Samsung, Intel and Nidec, employing over 33,000 laborers.
Hanoi hosts international exhibition on security
The 2016 Homeland Security Expo, the only international exhibition on security in Vietnam, opened for the first time in Hanoi on December 7, marking the start of a series of annual programmes introducing the latest equipment, information and technologies in the field.
The two-day event features 50 booths set up by 40 companies from the leading nations in the areas of security and defence, such as Russia, the United States, India, Germany, Denmark, the United Kingdom, the Republic of Korea, Japan, the Czech Republic, Ukraine, Singapore and hosts Vietnam.
On display at the exhibition are products from many of the world's popular brands in the fields of security, safety and defence, including KB Radar, Emirates Special Vehicle, Digital Barriers, GDMS, Convidence Reeco Tech, Tata Motors Limited, Dermilog Indentification, Smiths Detection, Arvind, IRITECH, Panasonic System Solutions, SKICHEL and CPRO Vietnam.
With the goal of introducing and exchanging equipment and technologies serving the security and defence industry, the exhibition promises to bring the most advanced products and technologies to those working in the sector in Vietnam, according to the organising committee.
The event is expected to be a platform for Vietnamese companies to establish new relationships and advertise their products to potential international customers. It also offers a good opportunity for both domestic and foreign enterprises to facilitate international cooperation, experience sharing and technology transfers.
PM signs off on budget allocation for 2017
Prime Minister Nguyen Xuan Phuc has signed a decision allocating budgets for government ministries, central-level agencies, provinces and centrally governed cities for 2017.
The Ministry of Finance and the Ministry of Planning and Investment have been asked to guide other ministries, the state power utility EVN, Agribank, provinces and cities to implement the budgets in line with the Law on the State Budget and the Law on Public Investment.
Meanwhile, they are in turn requested to prod State-owned enterprises under their jurisdiction to pay their taxes in full after setting aside the required funds.
Provinces and cities are required to spend all the funds from lotteries on investment for development, of which more than half should go to education, vocational training and healthcare.
At least 10% of lottery revenues should be spent on building new-style rural areas while the rest may be spent on climate change response projects and other important programmes.
Ministries, provinces and cities are required to make efforts to increase revenues and reduce unnecessary spending in order to provide funds for a minimum wage rise from July 1.
The basic wage used to calculate salaries for state workers, pension payments and other benefits will increase from the current VND1.21 million to VND1.3 million a month.
In 2017 funds will not be provided to projects that had a disbursement rate of less than 30% as of September 30, 2016, except for the cases in which delays are unavoidable.
Funding for workshops, conferences, foreign field trips, cars and expensive equipment will also be cut.
Total investment capital of BRT adjusted
The Ho Chi Minh City Department of Transport said yesterday the city green transport development project - building bus rapid transit (BRT) on Vo Van Kiet and Mai Chi Tho was adjusted with total investment capital of US$ 131million, a decrease of over US$ 12.7million compared to last preriod.
The management board of urban transport investment & development proposed the solution to build two new lane BRT with total length of 3.8km on Mai Chi Tho (starting from Dong Van Cong to Cat Lai intersection), aiming to reduce traffic jams.
It is estimated that around 6,000 passengers per day will use this route for the first year's operation (2019). Next years, the number of passengers using the BRT is expected to increase and by 2026 it will be able to reach 25,360 passengers a day.
However, motor/car parking lots are far away the BTR therefore it proposed to build motor parking lot at bus stops.
The department suggested the people's Committee to invest high speed-buses from the city's green transport capital and encourage the private sectors to join in buying high speed-buses as per its green transport plan.
State assets must be secured during SOE equitization
Prime Minister Nguyen Xuan Phuc has called for the equitization process of Vietnam during the 2016-2020 period to be faster, clearer, and stricter, with the value of land use rights no longer incurring a loss for the State.
"The discussion on the determination of land use rights for enterprises is essential", Prime Minister Nguyen Xuan Phuc said, when he chaired the national videoconference implementing the rearrangement and renovation of SOEs during the 2016-2020 period.
Decree 59 sets a 30-day time limit for local administrations to give their official opinions on land prices to be applied to equitized enterprises. Some provinces have stated that the time allowed was too short, making the valuation of lands inaccurate.
Recently, during the divestment of State capital in two beer giants- the Hanoi Beer Alcohol and Beverage Corporation (Habeco) and the Saigon Beer Alcohol and Beverage Corporation (Sabeco), the Vietnamese leader called for the land use rights to be taken into account during the valuation process.
"A full and complete discussion over a regulatory change will be made, as Decree 59 on the conversion of enterprises with 100 per cent State-owned capital into shareholding companies has shown inadequacies", the PM told the gathering.
Figures from the Steering Committee for Enterprise Renewal and Development revealed that the number of SOEs has declined significantly from some 6,000 in 2001 to 718 as at the end of October 2016, focusing on 19 sectors. However, the proportion of stakes sold only accounted for 8 per cent of the total capital that the State is holding.
There is a need to determine the sectors that the State should entirely divest from. "The classification list of SOEs is in my hands", PM Phuc said. One thing holds the Vietnamese leader back, "how much should the dominant shares be in sectors that the government needs to control?"
During the next five years, the State will only hold 100 per cent of the capital in key sectors. "Those that the State does not need to hold controlling stakes in will have to conduct equitization in accordance to the market mechanism, ensuring transparency and avoiding a loss of the State's assets," said Vice Chairman of the Office of the Government Mr. Le Manh Ha.
"Those who deliberately slow down the equitization process, or do not want to be privatized, will be liable for their actions", said PM Phuc. The removal of all legal obstacles in the equitization process, development of evaluation systems for equitized enterprises, and the application of international corporate governance practices will be set.
During the first 11 months of this year, the military-run telecom operator Viettel, the Vietnam National Textile and Garment Group (Vinatex), the State Capital Investment Corporation (SCIC), the Vietnam Northern Food Corporation (Vinafood1), and eight corporations under the Ministry of Construction (MoC) and Hanoi, sold the State stakes in other enterprises worth VND2.8 trillion ($123.2 million), bringing in VND5.08 trillion ($223.6 million).
ACV divests all shares at Hanoi Ground Services
Airports Corporation of Vietnam (ACV) has announced it will divest all its shares, equivalent to 20 per cent of charter capital, at Hanoi Ground Services Joint Stock Company (HGS).
The Ministry of Transport directed ACV to sell the shares to other founding partners through an auction if over two founding partners will buy them, or through an agreement if only one founding partner buys the shares.
ACV is also requested to buy the shares under public auction for other investors who are not founding partners. "The starting price will be determined by valuation organizations in accordance with the law on valuation," said Deputy Minister of Transport Nguyen Hong Truong.
The aviation giant, on December 3, announced to its intent to sell nearly 4 million shares of its subsidiary Southern Airports Services JSC (Sasco), with the stock code SAS, .
From December 6 to January 4, ACV will register to sell 3.95 million SAS shares out of a total of 67 million SAS shares owned by ACV, equivalent to 51 per cent of the charter capital of Sasco.
SAS shares are now trading at a price of VND26,000 ($1.17) per share. At this price, ACV is expected to gross VND100 billion ($4.4 million).
More than 2.17 billion shares of ACV have officially traded on the Unlisted Public Company Market (UPCoM) since November 21, with a reference price on the first day of VND25,000 ($1.1) per share. Ten days later, the price rose to VND41,000 ($1.84) per share, an increase of 64 per cent.
ACV also divested a part of its capital in Saigon Ground Services JSC (SAGS) before trading on UPCoM. ACV sold 132 million shares of SAGS, reducing the ownership percentage from 54.62 per cent to 48.02 per cent, equivalent to 9.6 million shares.
HSG has charter capital of VND150 billion ($6.6 million), providing ground services at Noi Bai International Airport with approximately 30 per cent of market share.
In the first seven months of 2016, HSG achieved revenue of VND170 billion ($7.48 million), profit after tax of VND28 billion ($1.2 million), with return on equity reaching 30 per cent.
This year, HGS signed a contract to provide services for Emirates, Turkish Airlines, Malindo Air, Hainan Airlines and Nok Air.
ACV is a joint stock company operating under the parent-subsidiary structure, with the state holding majority stake. In October 2015, the government approved its equitization plan, with state ownership to fall to 75 per cent.
ACV manages 22 airports throughout Vietnam, seven of which are international and 15 domestic, with 21 directly managed by the corporation. It also has a range of joint ventures with other companies.
DAS Capital seeks strategic partnership with Tan Tao
DAS Capital Fund from the US has recently announced plans to become the strategic partner of Tan Tao Investment Industry Corporation (HoSE: ITA) by making an investment capital contribution of $150 million.
Under the plan, DAS Capital will buy ITA shares for $20 million, then raise its investment to $150 million over several phases.
DAS Capital, founded in 2011, has expanded its presence all over the world and made a strong foothold in Asia. The Los Angles-based fund's portfolio currently stood at $5 billion.
This week, a high-level delegation headed by Nebojsa Micic Micko, executive vice president of DAS Capital in Southeast Asia, paid a visit to Vietnam to explore the opportunity of becoming ITA's strategic partner.
According to Micko, Vietnam is well-known as an emerging market with significant potential. The country already signed a wide range of free trade agreements (FTAs), such as the Trans-Pacific Partnership (TPP) and the EU-Vietnam FTA. This is the right time for investors to study the market and make an investment decision.
He highlighted that this is the first time DAS Capital ventures into Vietnam. The fund is looking to cooperate with a prestigious local company who has strong growth, a matching portfolio, and high potential yield.
ITA general director Thai Van Men noted that Tan Tao has a diversified portfolio across many industries, like healthcare, education, real estate, and infrastructure development. In particular, the firm is one of the leading industrial park (IP) developers in Vietnam with many projects nationwide, such as Tan Tao IP in Ho Chi Minh City and Tan Duc IP in the southern province ofLong An.
"ITA has seen growing interest from investors due its rapid development in the past few years. The firm welcomes both local and foreign strategic investors to increase investment capital for its upcoming projects," he added.
Viettel's Burundi arm wins 2 world communication awards
Viettel's subsidiary in Burundi, Lumitel, won the "Best operator in an emerging market" and "Best brand" awards at the 2016 World Communication Awards (WCA) held in Britain last month.
To win these awards, Lumitel had to overcome a challenge from international telecom companies like Orange (France), Telstra (Australia), Airtel (India), Ooredoo (Qatar) and Telkomsel (Indonesia).
Lumitel has invested in laying 3,000km of fibre-optic cable to cover all of Burundi's 18 provinces, and the number of its base transceiver stations equals that of all four of its competitors put together.
One month after starting operations Lumitel became the second biggest player.
After one year the company was first with a 46 per cent market share and 1.5 million subscribers out a total population of 10 million.
Last October Lumitel had been recognised as the Most Successful New Enterprise of the Year, its first international award, by the International Business Awards – IBA Stevie Awards, after it built complete, high-quality infrastructure within a short time, used IT in sales, registered all smart phone users' private information, and set up a distribution network covering remote areas.
For Viettel, this was the fifth "Best operator in an emerging market" award after its subsidiaries in Viet Nam, Cambodia, Laos, and Timor Leste also won it.
The World Communication Awards were established in 1999 to recognise excellence amongst global telecom operators. They are open to all fixed and mobile operators and service providers who operate fully or partly in what is widely recognised as a developing market.
Da Nang Port lists 66 million shares on UpCoM
Da Nang Port has made its debut on the Ha Noi Stock Exchange with 66 million shares, under the code CDN.
The Da Nang Port Joint Stock Company said the listing would contribute towards the company's future development by driving it to constantly innovate, enhance business and put in place modern administrative methods, thus creating favourable conditions to mobilise capital from investors for business development and expansion.
Da Nang Port began operations under the joint stock company on July 24, 2014, with a registered capital of VND660 billion (US$29 million). It is one of the 12 businesses under the management of the Viet Nam Maritime Corporation that is being equitised, in accordance with the Corporation's restructuring plan for the 2012-15 period, approved by the prime minister in 2013.
After equitisation, the port faced many challenges from the global shipping industry as well as competition from other ports in the country. With its focus on receiving container shipping, bulk carrier and passenger shipping, developing the market, strengthening investment in infrastructure and training, the company has shown positive growth compared to its performance before equitisation. Its profit in 2015 was 10 times higher than that of five years earlier.
On July 30, 2016, the company began the second phase of work on expanding Tien Sa Port, which requires an estimated investment capital of more than VND1 trillion. Once complete, Da Nang Port will be able to receive ships with 10 million tonnes of goods and more than 150,000 gross tonne passenger ships.
Mebipha to invest in vertical integration
Mebipha Manufacturing & Trading Co. Ltd. will invest in a hi-tech, closed poultry farm in 2017 as part of its vertical integration chain, to supply farmers with feeds and breeders.
The company aims to increase its export turnover, construct a complete vertical supply chain for sustainable growth and become one of the top three leading veterinary companies in Việt Nam by the end of 2016.
As a manufacturer of veterinary pharmaceutical products, complete premix and feed additives and preventive and curative medicines for farming and aquaculture, Mebipha distributes its products across the country and exports to countries such as Cambodia, Laos and Myanmar.
It has researched, produced and distributed many products such as antibiotics Ceftri One LA, Josa INJ and Tri Alpha, which are popular with farmers owing to their effectiveness and reasonable rates compared to imported antibiotics.
The company's three antibiotics had been ranked as one of the ten best national veterinary products by the Animal Husbandry Association of Viet Nam, the Department of Livestock and the National Agriculture Extension Centre on November 24, 2016.
Fruit producer Vinamit get US, EU organic certification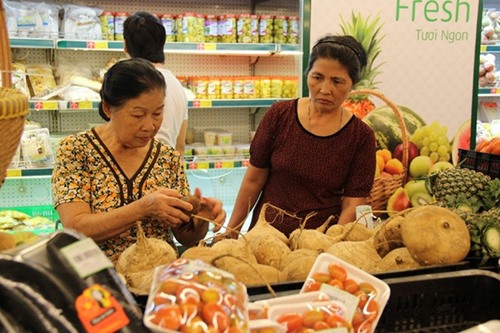 Vinamit Joint Stock Company, a producer and exporter of vacuum-fried fruit and dried-fruit products, has had its farming and processing certified as organic separately by the US Department of Agriculture and EU's Ecocert.
It received the USDA and EU organic certifications for around 80 products, its three farms totalling 171ha in Binh Duong Province and its two processing and packaging plants in the province.
The certification follows its efforts to strictly conform to US and EU organic farming requirements for the past three years, Nguyen Lam Vien, the company's chairman and general director, said.
Organic certification is considered the highest food hygiene and safety standard globally.
To obtain the certificate, growers must not only ensure they do not use fertilisers, pesticides, chemicals, stimulants, hormones or genetically modified seeds, but also have to guarantee that their organic farming practices meet environment-friendly, bio-diversity and sustainable development standards, he said.
Achieving the certification would enable the company to export to fastidious markets like North America, Japan and the EU, he said.
Richard De Boer, managing director of Control Union Vietnam, said, "consumers are becoming more and more aware of what they eat."
In the last three to five years organic consumption has been growing by 5-10 per cent a year.
The global organic market is worth around US$80 billion, with the US being the main consumer, De Boer said.
SCIC and IFC partnered to promote corporate governance
Viet Nam's State Capital Investment Corporation (SCIC) signed a memorandum of understanding with the International Finance Corporation (IFC) on improving corporate governance practices during equitisation, on December 7.
"Corporate governance has always been an SCIC priority to improve the performance of its portfolio. With a portfolio of about 200 companies, we are conducting thorough assessments to strengthen corporate governance in these companies to improve their value," said Nguyen Đuc Chi, Chairman of the SCIC.
By purchasing equity in state-owned companies and mobilising capital from international buyers, IFC agreed to support SCIC and its portfolio companies in executing their divestment plan and exploring financing opportunities in the agribusiness, services, and manufacturing sectors. The two parties will consider privatisation opportunities on a case-by-case basis.
Over the next two years, IFC will develop a corporate governance-improvement plan, using international practices for some SCIC companies. IFC will also conduct annual training programmes for potential directors of corporations on various aspects of corporate governance, like board effectiveness, financial oversight and transparency.
"Co-operation with SCIC is part of our efforts to support the equitisation of state-owned assets and help further strengthen the private sector as a key driver for economic growth and employment in Việt Nam," said Vivek Pathak, IFC's Regional Director for East Asia and the Pacific.
IFC expected to not only increase the performance of the SCIC portfolio, but also to accelerate growth, and attract more foreign investment to State-owned firm equitisation.
IFC, a member of the World Bank Group, is the largest global development institution focused on the private sector in emerging markets.
Since its first direct investment in Việt Nam in 1994, IFC has catalysed $5.6 billion of investment to 120 projects in infrastructure, manufacturing, agribusiness, renewable energy, and finance in the country.
FTAs useless for local retailers
A recent report of the Viet Nam Chamber of Commerce and Industry (VCCI) shows free trade agreements will little impact on the country's enterprises, however, many disagree with the findings.
The Phap luat Thanh pho Ho Chi Minh (HCM City Law) quoted Huynh Van Minh, chairman of the HCM City Enterprises Association, as saying that the study results were not realistic.
Small and medium- sized enterprises account for 90 per cent of the country's total enterprises and these enterprises have several weaknesses, he added. He said the size of these retailers was increasingly shrinking.
Sharing the same view as Minh, Dao Xuan Khuong, an expert on distribution and retail, said the largest impact of free trade agreements are the tariffs, which will gradually reduce to zero per cent.
Foreign retailers already had connections with suppliers globally; therefore, if price of Vietnamese producers were not competitive, they would import goods from abroad into Viet Nam.
However, it was not easy for local retailers to do the same as they did not have similar trade relationships with global suppliers, he said.
"The fact that some local retail businesses leave the market shows that they are unable to ultilise the advantages of the preferential tariff of zero per cent, unlike foreign retailers. Besides this, they realise their capital is not enough to compete in the long term, so their decision to withdraw is a wise strategy," the expert said.
In addition, Nguyen Phi Van, an expert on retail and franchise, said it was the consequence of the unready and passive Vietnamese enterprises, which were satisfied with local and regional markets, while investors in neighbouring countries, especially Thailand and Malaysia, were keen for international co-operation.
Industrial machinery equipment and material expo opens in HCM City
The 11th Viet Nam International Exhibition on Industrial Machinery Equipment, Material and Products (Vinamac Expo 2016) opened in HCM City on December 7.
The expo features more than 450 booths set up by 250 Vietnamese and foreign exhibitors, including those from Austria, the Czech Republic, Germany, South Korea, the US, Japan, Singapore and China.
Products on display includes a wide range of machinery, steel pipes, metallurgy, materials, metal and welding items, chemicals, paint, coating materials, and textile, printing and advertisement equipment, among others.
Conferences on the textile industry, fertilisers and pesticides, welding and metalworking, the chemical industry and others will be held alongside the expo.
Speaking at the opening ceremony, Nguyen Quang Huy, deputy head of the Ministry of Industry and Trade's Southern Affairs, said the exhibition offered an opportunity for Vietnamese manufacturers and foreign companies to seek new business opportunities and technology exchange.
Organised by the Viet Nam Advertisement and Fair Exhibition JSC in collaboration with HCM City Association of Mechanical Engineering and other local and international organisers, the expo at the Saigon Exhibition and Convention Centre will run until December 10.
SBV works to prevent credit fraud
The State Bank of Vietnam (SBV) this week instructed concerned agencies and organisations to keep a strict check on the use of credit cards to prevent false transactions.
In a move aimed at keeping the credit card market safe so it develops healthily, the SBV issued Document No9325 / NHNN-TT dated December 5, directing card issuers, card payment organisations, payment intermediary organisations and SBV's branches across the nation to prevent the use of credit cards in sham transactions, in which card-accepting units permit card holders to withdraw cash via points of sales (POS) without making any real transactions related to the sale or purchase of goods and services.
The central bank said it had recently come across some cases where credit card holders had used the card to simply withdraw cash.
Such kind of transactions are prohibited under Vietnam's law as they are a risk and can negatively affect the healthy development of the country's credit card market, the SBV noted in the document posted on its website.
To manage the card market better, the central bank has asked card issuers and card payment institutions to scrutinise and select only reliable card-accepting units. Then, they have to closely monitor credit card transactions to avoid sham transactions, it said.
Before issuing credit cards to customers, these agencies must conduct a comprehensive assessment and scrutiny to meet the country's legal regulations on granting credit.
The central bank has prohibited payment intermediary organisations from providing services for pretended transactions.
The SBV has also asked card issuers and card payment institutions to raise awareness among people about false transactions and other frauds related to card and electronic payments.
Besides raising people's awareness about pretended transactions and following a non-cash payment policy, the SBV's branches must regularly conduct inspections to uncover violations, the central bank said.
BRG and Sumitomo embark in real estate and retail
Vietnamese leading private group in finance, banking and golf resorts BRG Group has established a strategic relationship with Japan's Sumitomo Corporation to increase to collaborate in potential business sectors, especially the real estate and retail.
The co-operation, which was marked by signing a memorandum of understanding (MoU) on December 1, is considered a foundation to exploit and develop the two parties' potential during the co-operation progress in numerous sectors, including real estate, Nhat Tan-Noi Bai urban development project, high-tech agriculture and retail sectors.
In addition, it is also an important landmark, which supports for the two parties' expansion of business activities, simultaneously help to confirm the value of the two firms' brand.
"Sumitomo sees BRG Group as a leading private group in Vietnam. We believe that BRG Group has characteristics we are looking for in a local partner. The MoU will lay the foundations of our partnership and enable us to work closely together on specific business agreements that produce new synergies and add value to both parties," said Masao Sekiuchi, CEO of Sumitomo Corporation Asia & Oceania.
Established in 1993, BRG is an conglomerate, providing services in many areas, including real estate, hospitality, entertainment, golf courses, trade, retail, production, and construction.
In real estate, BRG has developed projects in most major cities in Vietnam, with a focus on commercial buildings with the BRG Commercial brand, apartments with BRG Homes, apartments for rent with BRG Suites, and hotels and resorts with the BRG Hospitality brand.
With many projects invested basically, the group has confirmed its position through expansion of business activities and increasing to co-operate with domestic and foreign partners.
The group targets to build a sustainable development, matching regional and international levels.
Meanwhile, Sumitomo is one of the largest trading and investment companies in Japan engaged in multifaceted business activities through a network of 132 locations in 67 countries worldwide with total 70,000 employees.
Sumitomo was first established a representative office in Vietnam in 1995, which became Sumitomo Corporation Vietnam LLC in 2007.
Sumitomo has contributed broadly to Vietnam's socio-economic development through diversified business activities, including import and export, manufacturing and processing, development of industrial parks, power plants, urban railways, and many other meaningful corporate social responsibility (CSR) activities.
Danish goliath to pioneer wind energy in Vietnam
Vestas Wind Systems from Denmark, the world's leading wind energy producer, has promised to help Vietnam unlock its vastly underused wind potential.
"Vestas has been present in Vietnam since the beginning of the country's wind journey. The firm has recently taken a new step in development by setting up Vestas Vietnam in Hanoi. The legal entity aims to call for new industry partners to implement wind projects in the country," Chris Beaufait, president of Vestas Asia Pacific and China, said at Vietnam Wind Seminar 2016 last week.
In 2016, the company has supplied 12 Vestas V100-2MW wind turbines for Phu Lac 1 Wind Power Plant in the central province of Binh Thuan. The project is expected to deliver 24 megawatts (MW) of clean and reliable power to Vietnam.
Next year, Vestas looks forward to delivering the 30MW Huong Linh 2 project in the central province of Quang Tri.
Under an order from Vietnamese company Tan Hoan Cau, Vestas will manufacture 15 V100-2.0MW turbines.
Beaufait stated that the Phu Lac 1 and Huong Linh 2 projects can serve as best practice examples and change the way the government and stakeholders look at wind power development in Vietnam, thereby paving the way for the full realisation of Vietnam's wind potential.
Indeed, while Vietnam is blessed with abundant wind resources, only 158MW of wind power have been put into operation to-date.
Investors face many challenges due to a number of regulatory and market barriers, such as a low feed-in-tariff (FIT), weak grid and transmission systems, as well as the lack of financing options.
Pham Trong Thuc, head of the New and Renewable Energy Department under the Ministry of Industry and Trade (MoIT), said that the current FIT of 7.8 US cent per kWh is not attractive enough for investors, while the proposed 10.4 US cent per kWh is not feasible at the current stage of development.
"The MoIT is assessing three large existing wind farms in Bac Lieu and Binh Thuan provinces to establish the real costs of electricity production. We expect a number of wind projects will be implemented when the new FIT is put in place," he added.
"In addition, the government also plans to increase the localisation rate in the wind energy sector to lower investment costs. The MoIT and GE have inked a Memorandum of Understanding to develop 1,000MW wind energy in Vietnam by 2025. Under the agreement, we aim to achieve 60 per cent of localisation for the project," he said.
According to Danish Ambassador Charlotte Laursen, Vietnam's power development strategy targets 7% renewable energy in the total national electricity production in 2020, increasing to 10% in 2030, excluding hydro-power.
"Wind has an important role to play in achieving these targets. Denmark is well prepared to help Vietnam meet, and perhaps, even exceed these targets," she noted.
Industrial equipment expo opens in HCM City
The 11th international exhibition on industrial machinery, equipment, materials and products (VINAMAC EXPO 2016) kicked off in Ho Chi Minh City on December 7.
As many as 250 groups and companies from Austria, the Republic of Czech, Germany, the Republic of Korea, the US, Italy, Japan, Indonesia, the Philippines, Thailand and Singapore, China and Vietnam are showcasing their products at 450 pavilions.
The event is divided into five thematic exhibitions on metallurgy, iron and steel; welding and machining technology; metals and components; chemicals, paints and coatings; textile printing and inkjet advertising.
Deputy head of the South Agency under the Ministry of Industry and Trade Nguyen Quang Huy said the VINAMAC EXPO 2016 offers a good chance for businesses in industry and support industry to popularise their brand names as well as seek partners and expand domestic and international markets.
The expo also enables enterprises at home and abroad to transfer technology and promote trade and investment activities, he added.
A number of workshops on steel prospects in 2017, textile printing industry, and flora protection will be held as part of the event.
The annual VINAMAC EXPO is organised by the Fair and Advertising Joint Stock Company (VIETFAIR) in coordination with ministries, and domestic and foreign associations.
The fair will last until December 10./.
VEF/VNA/VNS/VOV/SGT/SGGP/Dantri/VET/VIR