Binh Phuoc records nearly 1,000 malaria cases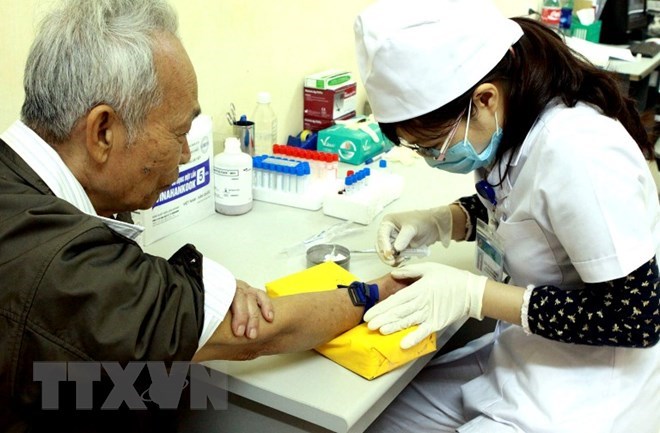 The southern province of Binh Phuoc has recorded 973 malaria cases in the first half of the year, up by 66 percent year-on-year, including one death, reported by the provincial Department of Health on July 16.
The cases were mostly found in the districts of Phu Rieng, Hon Quan, Bu Dop, Loc Ninh, Bu Dang and Bu Gia Map, and Binh Long town. In particular, Bu Gia Map discovered 666 cases, accounting for 68.5 percent of the total, much higher than the 349 cases recorded in the same period last year.
This spike in diagnosed cases has been attributed to the prolonged rainy season in the area, as well as a rise in infections for those over the age of 15.
The provincial health sector will work to prevent malaria, especially in ethnic minority areas and communities near forests, lakes, and rivers.
It will also strengthen supervision over the discovery and treatment of malaria cases in district-level hospitals and commune-level medical stations. Public awareness of malaria prevention and control will also be raised, particularly of methods involving anti-mosquito sprays, hanging mosquito nets, long-sleeve clothing, and necessity of medical help once infected.
Binh Dinh receives healthcare station built with US funding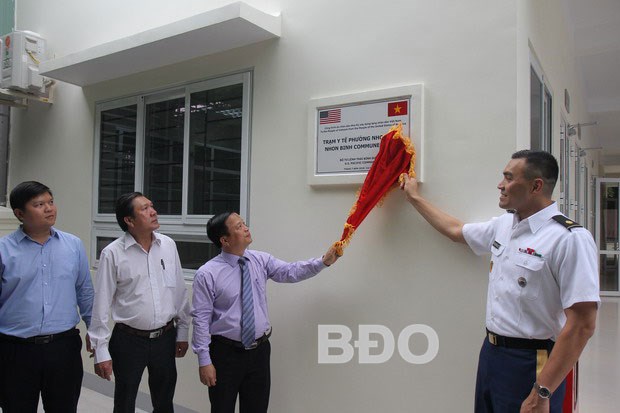 At the launching ceremony of Nhon Binh health care station (Photo: baobinhdinh.vn)
A ceremony was held in Quy Nhon city of the south central province of Binh Dinh on July 16 to hand over a healthcare station to the locality, a project funded by the US Pacific Command and the US Embassy in Vietnam.
The project to upgrade the Nhon Binh healthcare station has a total cost of more than 5.8 billion VND (249,400 USD). It is one of 31 facilities at commune level in Vietnam built with the financial assistance provided by the US, aiming to improve coastal localities' capacity in responding to natural disasters.
Along with providing healthcare services, the station can serve as a shelter for local residents in Nhon Binh in case of storms and floods, which occur frequently in the locality.
Addressing the ceremony, Vice Chairman of the provincial People's Committee Nguyen Tuan Thanh thanked the US for helping to protect public health in disaster-hit areas.
He stressed the significance of emergency aid and evacuation in natural disasters, especially storms and floods amidst climate change.
Thanh also asked local officials to effectively use the facility to ensure safety and health for local people.
Phu Tho: About 3,340 people receive free heart health screenings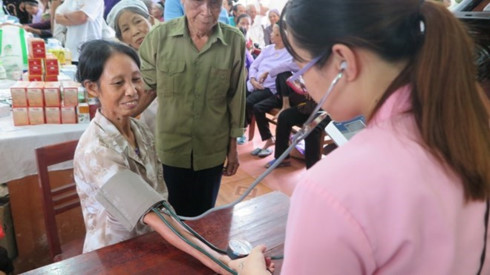 Nearly 3,340 people received screening examinations for cardiovascular diseases during a humanitarian programme which took place in the northern province of Phu Tho on July 14-15.
The programme was jointly held by the Phu Tho General Hospital, the Hanoi Heart Hospital, and the Phu Tho branch of military telecom group Viettel. More than 100 medical personnel from the Phu Tho general hospital participated in the programme.
As a result of the screenings, 257 people were diagnosed with cardiovascular diseases, 41 underwent surgery, while 36 others were hospitalised.
Doctor Ngo Huu Ha, Deputy Director of the Phu Tho General Hospital, said the free screenings for cardiovascular diseases helped people in remote and mountainous areas gain access to the sector's leading experts and modern equipment. Local residents were provided with the necessary diagnoses for timely counselling and treatment, he added.
A cardiovascular health screening programme for children under 16 years old will be organised in the province during July 28-29.
World Health Organisation (WHO) chief representative in Vietnam Kidong Park said high blood pressure and diabetes, which can easily be diagnosed and treated at grassroots medical stations, are the most prevalent of cardiovascular and non-communicable diseases in Vietnam and across the world.
Statistics in 2015 showed that in Vietnam alone, only 43.1% of high blood pressure patients were diagnosed, and only 13.6% treated at medical stations.
Violations found at Nhon-Hanoi metro line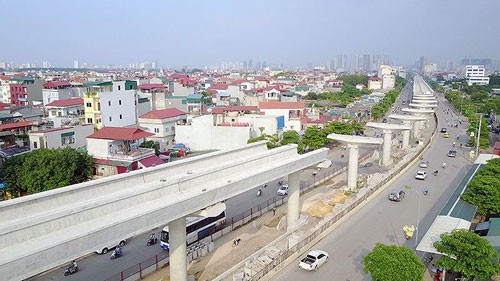 The Government Inspectorate has announced violations found at the on-going Nhon-Hanoi Railway Project.
The irregular inspection was carried out under the request of Deputy Prime Minister Truong Hoa Binh and complaint by Luong Xuan Binh, deputy head of Hanoi Urban Railway Management Board.
The project is developed by Hanoi Urban Railway Management Board. French consultancy firm Systra was hired for USD10.6m. Three appendices later were signed and the total consulting rate increased to USD17.1m.
According to the inspectorate, there are many shortcomings from the beginning. The contract contains many ambiguous contents that can be interpreted differently by both parties.
Hanoi Urban Railway Management Board doesn't have experienced and capable employees to review and approve the project. They have to constantly ask for opinions from other agencies and hire foreign consultants, which has delayed the project and caused costs to rise.
This was also the first time Systra works in Vietnam. They didn't understand many legal procedures and took a long time to reach agreement on many problems. Moreover, they also faced difficulties because of inconsistent requests from the management board.
The Government Inspectorate said that even though responsibilities lie with both parties, the Hanoi Urban Railway Management Board was most at blame.
Concerning the bidding package for unexploded ordnance and mine clearance by Lung Lo Construction Company, violations were also been found in the evaluation and payment processes. The monitoring work was lax and the reports were not up to quality standards. It also failed to comply with the approved plans.
Meanwhile, Luong Xuan Binh, deputy head of Hanoi Urban Railway Management Board, said he had been harassed by corrupt officials. However, the Government Inspectorate said they hadn't found concrete evidence to show that Binh and his family had been threatened.
The inspectorate suggested reviewing the responsibilities of all related parties over the inflated cost and delayed project. Individual responsibilities in the Hanoi Urban Railway Management Board must be clear.
The Ministry of Defence should review individual responsibilities in member agencies over the bidding package for unexploded ordnance and mine clearance. The Ministry of Transport must also review their responsibility over the delayed project.
Nhon-Hanoi metro line is 12.5km long with 8.5km elevated sections and 4km underground sections. The cost of the project has increased from USD783m to USD1.17bn.
Two women killed as car crashes into cafe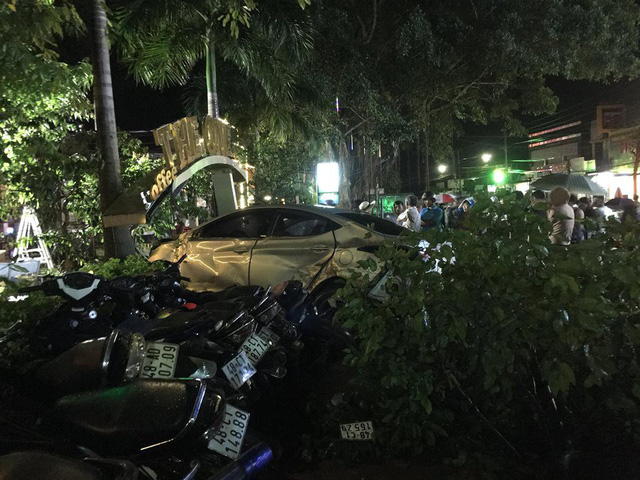 The scene of the accident
Two women were killed and many others were injured when a car hit a cafe in Dak Lak Province on Sunday evening.
The Traffic Police Department in Krong No District said on July 16 morning that the case was still under investigation.
Initial reports show that at around 9 pm on July 15, the car was speeding from Cu Jut District to Dak Mam Town. It lost control while going down a slope and crashed into the parking lot of The One Cafe.
Two women, born in 2000, were taking out their vehicles in the parking lot and killed on the spot. Four other people were injured and admitted to Krong No General Hospital, one of whom was in critical condition and had to be transferred to Dak Lak General Hospital.
Dozens of motorbikes and the car were damaged. The driver ran away after causing the accident. According to the witnesses, the driver was a local man.
Border residents join smuggling foreign currency and goods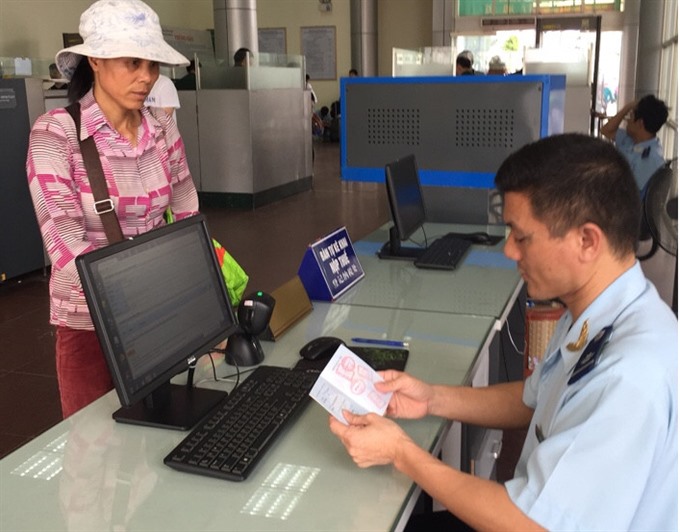 An officer at Móng Cai border gate Customs checks the entry/exit history of a local resident. — Photo quangninhcustoms.gov.vn
Customs officials at Móng Cái Border Gate in the northeastern province of Quảng Ninh have seen their efforts to fight to smugglers hamstrung by border residents engaging in the illegal trade.
Head of the province Customs Department Bùi Văn Khắng told Hải Quan (Customs) newspaper that smugglers disguised themselves as border residents to carry goods and money between Việt Nam and China.
Under current regulations, border residents, defined as Vietnamese citizens with permanent residence in border areas, are exempt from customs duties on goods valued below VNĐ2 million (US$89) per person per day, and on no more than four days a month.
Khắng said border residents were hired to collect and carry goods/money across the border to avoid taxes, which made it hard for customs officials to detect tax dodgers.
He said that about 5,000 people used Móng Cái Border gate daily while there were only four or five customs officers working there on each shift.
In the last six months, border officials there detected 26 smuggling cases with goods worth more than VNĐ 1.8 billion (US$78,000), with three cases ending with criminal charges.
"Most people involving in the smuggling cases are border residents or labourers who regularly cross the border," Khắng said.
For example, on May 16, border gate customs found a Vietnamese woman hiding cash worth VNĐ 594 million ($25,700) on her body when entering Việt Nam from China's Dongxing City, which borders Móng Cái City.
Early this month, two Chinese nationals wanted to exit Việt Nam via Móng Cái Bordergate but ignored the customs checkpoint. After being asked to halt, they attempted to flee but were caught. They were then found with the equivalent of VNĐ600 million in Chinese yuan on their bodies.
Under current regulations, goods traded and exchanged by border residents for direct consumption are not subject to medical quarantine, such as animals, plants and aquatic products, unless the relevant State body warns of an epidemic or contagious disease.
Therefore, goods consumed by border residents are not subject to inspection and control in terms of food quality and safety, except for emergencies requiring immediate quarantine.
Khắng asked for assistance from higher levels - the Việt Nam Customs- in collecting and processing information about imported goods to better control the quality of the imported goods and to curb smuggling.
Veteran cải lương actor dies at 76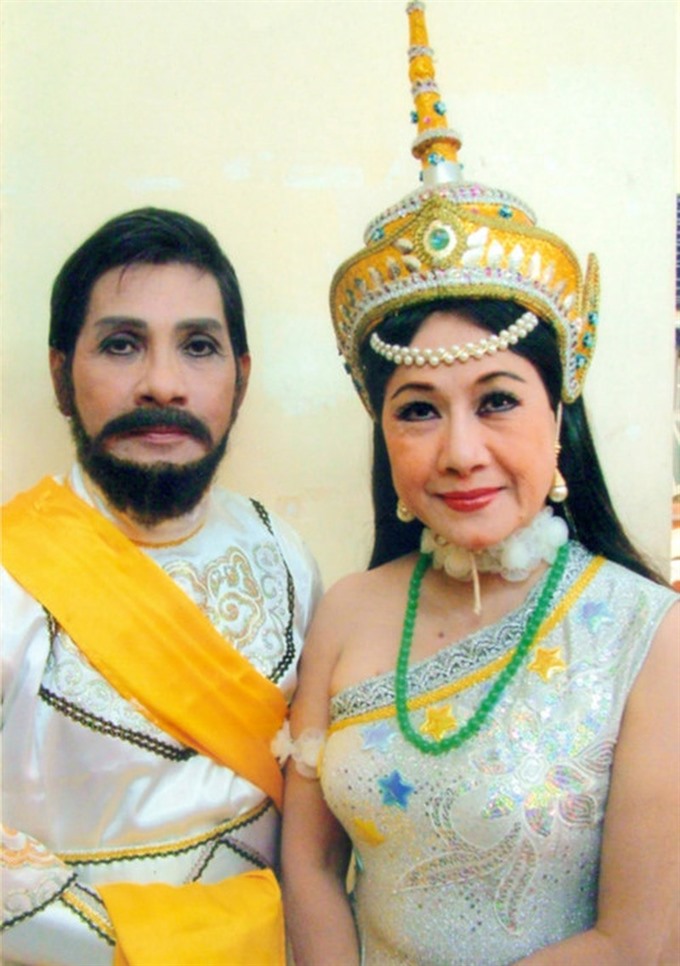 Meritorious Artist Phương Quang and his partner, Meritorious Artist Thanh Vy, in the play Nàng Xê-Đa (Xê-Đa – The Pretty Woman), which helped them become famous cai luong stars. Photo from vnexpress.net
Meritorious Artist Phương Quang, a star of cải lương (reformed opera), died Friday (July 13) in HCM City after five years of illness from degenerative brain disease. He was 76.
Tôn Quang Bảo, Quang's eldest son, said his father pledged to donate his body for medical research to Phạm Ngọc Thạch Medical University after death.
Quang, whose real name is Tô Văn Quang, was born in Sông Bé Province (now Bình Dương Province).
As a child, he admired People's Artist Út Trà Ôn and studied cải lương singing by listening to Ôn's performances on local radio programmes.
When he was 18, he moved to Sài Gòn (now HCM City) to study music with composer and musician Văn Còn, who discovered his talent.
Quang later worked for Kim Thành and Kim Chưởng, who were famous cải lương troupes in the South at that time.
With a strong voice and appearance, he gained fame by playing heroic roles.
His favourite plays included Hai chiều ly biệt (Farewell Evening), Mặt trời đêm (Midnight Sun), Người nhạn trắng (White Bird Man), and Sương gió biệt vương cung (Waves at the Palace).
In 1966, he won best actor from Thanh Tâm Awards for his leading role in the play Tình Nào Cho Em (Love for You). Thanh Tâm was the most prestigious cải lương award at the time, given by Tiếng Dội (Echo) newspaper from 1958-1968.
Quang became a bright star in the 1970s. In 1983, he joined Trần Hữu Trang Cải Lương Theatre, the leading troupe in the South, and played a leading role in Nàng Xê-Đa (Xê-Đa – The Pretty Woman).
The play was staged from 1983 to 1993 with 1,500 performances across the country. It was broadcast many times on television stations in the Cửu Long (Mekong) Delta region.
He also performed in Tình yêu và lời đáp (Love and Response), winning the Golden Prize for best actor at the National Professional Theatre Festival in 1985.
The artist's family held a commemoration ceremony at his house in District 7 on July 14 with veteran cải lương artists like People's Artist Bạch Tuyết, Meritorious Artist Thanh Vy, and Lệ Thủy.
Documentary about late Lao president sent to Vientiane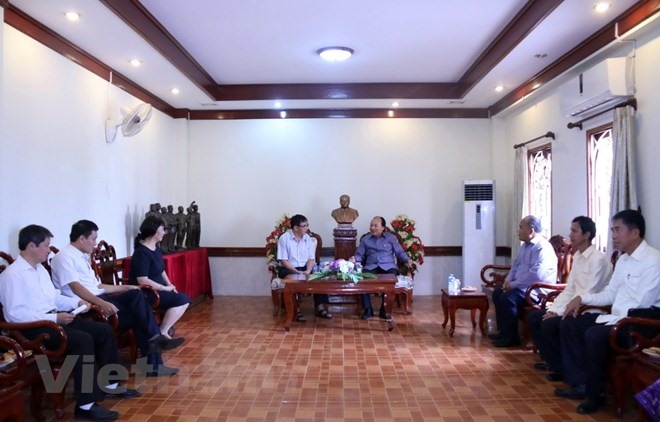 A documentary film about the late Laos President Suphanouvong was transferred from the Việt Nam Cinema Association to a museum in Vientiane on Thursday.
A documentary film about the late Laos President Suphanouvong was transferred from the Việt Nam Cinema Association to a museum in Vientiane on Thursday.
The film was delivered to the Kaysone Phomvihane museum on the occasion of the 109th birthday of the late President.
Entitled Suphanouvong President with Việt Nam, the film is a reflection of the life, career and notable architectural works of President Suphanouvong during his time in Việt Nam.
It highlights the relationship of the President with Việt Nam and his contributions to the two countries' revolutions.
It also recreates the historic meeting between Suphanouvong and the late President Hồ Chí Minh in September, 1945 and his escape from Phonkheng prison in Vientiane in July, 1959.
The documentary was filmed in April, 2017 on the 55th anniversary of the establishment of Việt Nam – Laos diplomatic relations and the 40th anniversary of the signing of the Friendship Contract between the two countries.
During a meeting with representatives from the Việt Nam Cinema Association, Singthong Singhapanya, acting head of the Kaysone Phomvihane museum, expressed his appreciation for the transferal of the film.
"The film will contribute to the museum's archives of the Việt Nam – Laos relationship and bear a significant meaning to Laos people, especially on the 109th birthday of President Suphanouvong," he said.
The documentary will be transferred to Laos Television Station and broadcast on the late President's birthday, he added.
HCMC book street earns $877,000
HCM City Book Street's cultural activities attract millions of local and foreign visitors each year.
The HCM City Book Street on Nguyễn Văn Bình Street in District 1 earned a turnover of VNĐ20 billion (US$877,000) in the first six months of this year, up 5 per cent annually, according to the HCM City Book Street Company.
Nearly 386,000 books on different topics were sold.
"The street organised 11 book exhibitions and more than 100 cultural and book signing events, attracting dozens of leading domestic and foreign publishers, distributors and agencies," said Quách Thu Nguyệt, deputy director of the Book Street Company.
Book weeks and festivals on the street, including the book exhibition celebrating the 4th anniversary of Reunification Day (April 30), European Literature Week, and book event celebrating 20 Years of publishing Harry Potter, attracted more than 6,000 visitors per day and 10,000 per day during weekends and holidays.
"We are working with local authorities to make the street a cultural tourist destination," said Nguyệt.
The company has been working with cultural and arts associations as well as museums to launch cultural exchange programmes and exhibitions on the street.
The company has asked the city authority to maintain the long-term operation of two parking lots and build a new public toilet facility to serve the street's visitors.
Last year, the street attracted 2.4 million visitors, earning a turnover of VNĐ50 billion ($2.2 million), according to the Việt Nam Publishers Association.
The book street, which opened in January 2016, features dozens of book stalls from more than 20 publishers.
The city's Department of Culture, Sports and Tourism plans to replicate the book street in the city's Tân Phú and Thủ Đức districts, where the target audience will be students and young migrant labourers.
All hands on board to boost sea tourism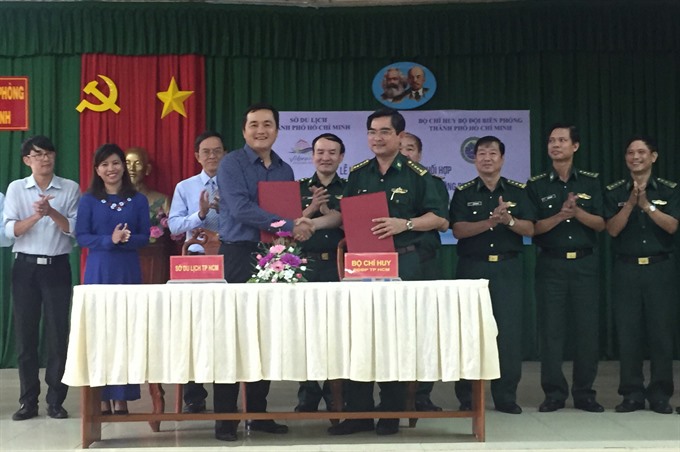 The HCM City Border Guard Command and the city Department of Tourism have signed an agreement to boost tourism through marine borders.
Leaders of HCM City's Border Guard Command and the city Department of Tourism sign an agreement to boost tourism through sea routes.
They will exchange documents and information on State management of tourism activities as well as passenger departures, arrivals and transit at ports.
In recent years the number of tourist arrivals in the city by sea has grown strongly, Col Tô Danh Út, commander of the Border Guard Command, said.
The co-operation is vital to fuel the development of river and sea tourism, he said.
Dozens of thousands of passengers and crew on hundreds of cruise ships and more than 10 military ships visit the city every year, according to Út.
The Border Guard Command is assigned to manage two sea routes, the Cần Giờ route and the HCM City seaport route, he added.
A total of 244,000 tourists visited the city last year by sea and the number continued to soar in the first half of this year, according to the department.
Temple inaugurated in commemoration of Dong Loc volunteers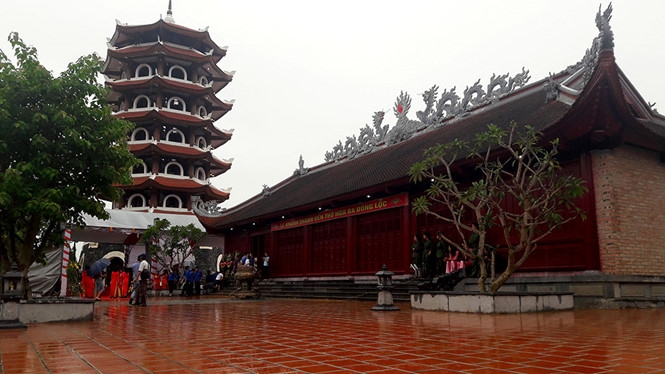 A temple in the central province of Ha Tinh has been dedicated to ten female volunteers who died heroically at the famous Dong Loc T-junction during the war against the US.
The temple is dedicated to ten young women who have come to symbolise the indomitable spirit of Vietnam's volunteer force.
The temple was inaugurated on July 15 to mark the 50th anniversary of the Dong Loc Victory.
It is part of the Dong Loc Memorial Complex and was completed following two years of construction.
The Dong Loc crossroads was a key point on the Ho Chi Minh Trail and a target of heavy US bombings during the 1964-1972 period, with an estimated 48,600 bombs of various types being dropped from March to October 1968.
Speaking at the ceremony, Ha Van Thach, a Ha Tinh official, emphasised that the Dong Loc Temple would be an address to educate later generations on the revolutionary traditions and patriotism.
On July 24, 1968, ten young female volunteers aged between 17 and 24 were killed while on duty at the junction.
The young women have become legends and their sacrifices have come to symbolise the indomitable spirit of Vietnam's volunteer force during the American war.
Lam Dong announces plan to double size of Bao Loc city
The People's Committee of the Central Highlands province of Lam Dong has made plans to more than double Bao Loc city's territory so that it can become a primary driver of economic development in the region.

Bao Loc city's size will be increased from its current 23,200ha to over 59,700ha under the local master plan to develop the city by 2040. After the expansion, the city's territory will cover Bao Lam district's five communes of Loc An, Loc Tan, Loc Thanh, Loc Nam, and Tan Lac.

The move helps to speed up the urbanisation rate and build the city into a second-tier urban area by 2020. Bao Loc aims to reach the standards for first-tier city by 2040 and become an attractive destination in the province.

The city's population by 2030 is expected to reach 257,900 people, with the number rising to 320,000 by 2040.

Some 3,800ha of land will be zoned off to build urban areas by 2030, while 4,800ha set aside for urban development by 2040.

Bao Loc city, previously called B'Lao, is located 120km away from Da Lat city. From 1958, it was chosen as the administrative centre of Lam Dong province. However, after 1975, when Da Lat city became the provincial hub, Bao Loc returned to its previous name and became a town.

In 1994, Bao Loc district was separated into Bao Lam district and Bao Loc town. Bao Loc was then recognised as a third-tier urban area in 2009, and upgraded into city in 2010.

Bao Loc city is famous for its tea, coffee, sericulture, mining, and many tourist sites such as Damb'ri waterfalls, Nam Phuong lake, and Da Ban stream. Agricultural tourism has also been touted as a potential product in the province.
Unlicensed taxi operator fined after overcharging foreign visitors in Nha Trang
The operator of an unlicensed taxi in Nha Trang, a resort city in the south-central Vietnamese province of Khanh Hoa, has been fined VND8.5 million (US$371) after overcharging a group of Korean visitors.
Nguyen Nhac Tan, chief inspector of the provincial Department of Transport, confirmed to Tuoi Tre (Youth) newspaper on July 14 that the penalty had been imposed upon Dinh Thi Thanh Tuyen, the owner of car No. BKS 79A-15483.
Tuyen was charged for operating passenger transport services without a permit.
The driver of the cab was Nguyen Than, 38.
According to reports, Than was driving the vehicle, which was disguised as a cab of Emasco Nha Trang Taxi Line, on the night of July 9 when he picked up a group of three Korean tourists.
The passengers wanted to travel between the Havana Nha Trang Hotel on Tran Phu Street to Rosaka Nha Trang Hotel on Nguyen Thien Thuat, a journey that was about 1.4 kilometers.
Than charged his passengers VND200,000 (US$8.73), which included the fare and "surcharges."
Such a journey would cost an average VND25,000 (US$1) to VND30,000 (US$1.31).
As the visitors refused to pay the exorbitant price, Thanh started threatening them.
Security guards of the hotel attempted to intervene and were also aggressively yelled at by the cabbie.
He eventually lowered the fare to VND100,000 (US$4.37) but maintained his intimidating tone.
The tourists had no choice but to pay.
The incident was reported to the Khanh Hoa transport department, which later identified the car as an unlicensed taxi.
Than also received a warning from the Khanh Hoa-Nha Trang Tourism Association for his inappropriate manners toward the foreign passengers.
Building smart cities – trend of Industry 4.0
Vietnam has made progress in applying applications of the fourth industrial revolution (Industry 4.0) in various areas of life, including smart urban development.

According to Le Quoc Huu, Chief Architect of Smart City of mobile network operator Viettel, the Vietnamese Party and Government have given clear directions on using the advantages of Industry 4.0 and developing information communication technology (ICT) infrastructure.

Huu, who also joined a smart urban development project in Vietnam, said the Government has been stepping up the building of e-government recently.

Most public services are now online (88%), he said, adding that major ICT and telecom groups such as Vietnam Posts and Telecommunications Group (VNPT), Viettel, FPT and CMC Corporation have been setting up departments specialising in studying and developing technological applications and smart urban area solutions.

Vietnam has several advantages for the work, such as good telecommunication infrastructure and a high rate of internet users (54% of the country's population).

In 2016, Vietnam ranked 79th among the 139 countries in networked readiness index (NRI) and stood third in terms of telecommunications affordability.

However, there are still difficulties in building smart urban areas, especially limited capital and lack of international standards, Huu said.

He referred to public-private partnerships as an effective way to mobilise social investment, particularly from enterprises, to build smart cities.

At the recent Industry 4.0 Summit and Expo 2018 in Hanoi, Prime Minister Nguyen Xuan Phuc said Vietnam is ready to overcome any challenges ahead, moving forward to grasp opportunities presented by Industry 4.0.

He said Vietnam has been researching new global technologies – such as the Internet of Things, big data and artificial intelligence – to improve its competitiveness and boost innovation.

To optimise opportunities and minimise negative impact of Industry 4.0, the Vietnamese Government is determined to build long-term plans and concrete policies.

The country also needs the support of development partners, businesses and international experts with the wave of scientific-technological breakthroughs as well as its increasing integration into the world, he added.

Themed "Vision and Development Strategy in the Fourth Industrial Revolution", the event was attended by Government officials and nearly 1,800 representatives from localities, domestic and foreign experts, businesses and embassies.
Saigon bus driver wins passengers' hearts with small acts of kindness
If you have ever taken the No. 54 bus in Ho Chi Minh City, chances are you have been greeted by a warm, grey-haired driver who always finds ways to brighten up his passengers' day through small acts of kindness at his own expense.
​
From keeping a box of free candies which he gives to little children to keep them happy and calm throughout the ride to preparing small changes for forgetful bus riders to borrow, Le Xuan Huy never ceases to surprise his passengers.
Huy is one of the drivers for Ho Chi Minh City's No.54 bus route, which runs from the Cho Lon Bus Station in District 5 to the Mien Dong Bus Station in Binh Thanh District.
"Children have a thing for candies and they can get carsick very easily, so a piece of candy might help them feel better," he said in response to surprised looks from passengers after offering a candy to a child sitting in his mother's lap.
According to the bespectacled driver, he buys the candies with his own money because it makes him happy to bring happiness to others.
"Driving a bus can be stressful at times, so this is how I keep myself happy and stress-free," he said.
Apart from candies, Huy also keeps a box full of small changes which he's willing to lend to bus riders who forgets to bring their own money.
Among his surprise gifts are keychains that he tends to give to students because "they like to wear these on their backpacks"
"Whenever I see the keychain on someone's backpack, I know they have been on my bus in the past," he said joyfully.
Huy is also known for his rule of not leaving any passengers behind, as he always stops to wait for those trying to catch up with the bus even if it has been way past a stop.
At a time when buses in Vietnam are often complained for the unprofessional attitude of drivers and attendants, Huy's acts of kindness have restored people's confidence in the means of public transport.
"I don't think the impression he has made on me will ever fade," said My Duyen, a frequent bus rider.
K-pop academy brings Korean culture to Vietnamese kids
A "K-pop Academy" program and a festival celebrating the culture of the Republic of Korea (RoK) have been held at the Korean Cultural Centre in Vietnam, offering informative and exciting activities for Vietnamese children during the summer and inspiring a love of Korean culture among many of the country's youth.

Taking place for five weeks from June 11, the "K-pop Academy" program includes 7 K-pop singing and dancing classes taught by experienced Korean teachers.
The culture festival features activities providing experiences of Korean culture such as watching Korean cartoons, making handicraft products with hanji paper, writing calligraphy, reading comic strips, making kimbap, discovering Korean tourism with 3D glasses, playing folk games, and drawing a collective picture on the theme of "Vietnam-RoK".

This is the third time such events have been held during the summer in Vietnam, attracting more than 100 trainees who are particularly interested in K-pop and Korean culture.
This year's program was selected as a typical global cultural project of the RoK Ministry of Culture, Sports and Tourism, which was organized simultaneously at all Korean cultural centres around the world.

Park Hyejin, director of the Korean Cultural Centre in Vietnam, says she hopes the program will draw more Vietnamese teenagers who love Korean culture, particularly K-pop, and help to promote the cultural exchange between the two countries.