Belgian Beer Festival to showcase 50 brews, cuisine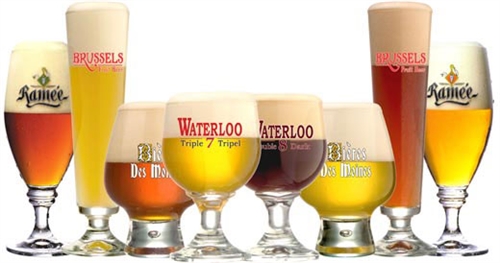 The Belgian-Luxembourg Chamber of Commerce in Việt Nam will host the Belgian Beer Festival at Cargo Event Space on April 15.
The festival will introduce more than 50 kinds of Belgian beers. Belgian cuisine and music will be also included.
The event will open at 6 pm at 7 Nguyễn Tất Thành Street in District 4. Tickets are VNĐ300,000 inclusive of two free beers.
Tickets can be bought at The Landmark in District 1, or via www.ticketbox.vn. More information can be found at www.belgiumbeerfestival.com.
Electronic music and VJ concert Saycet to be performed at L'Espace
Artist Pierre Lefeuvre will present his electronic music and VJ concert Saycet in L'Espace on April 9, at 8pm.
Lefeuvre, has toured throughout Europe and Asia and also works as a composer for the Pompidou Centre.
His latest album Mirage in 2015 pushed a sonic style inspired by his recent tours. He creates sound mirages in which one loses oneself intensely. Lefeuvre's live music will be enriched by the video work of Zita Cochet who also plays on materials and abstract textures.
Ticket costs VNĐ170,000. For L'Espace member: VNĐ100,000 and for students: VNĐ80,000. Tickets are available at L'Espace.
Saigon Outcast will celebrate Thai water festival, Songkran, in HCM City
Saigon Outcast will celebrate the Thai water festival, Songkran, at the HCM City Youth Cultural Centre on April 16.
There will be games and activities like sumo wrestling, bouncy castle and water slide, coloured powder, food, and music selected by local DJs.
Nearly 5,000 people are expected to attend. They are asked to bring water guns and balloons.
The event will begin at noon at 4 Phạm Ngọc Thạch Street in District 1. Tickets are VNĐ130,000-360,000 and are available at www.ticketbox.vn.
HCMC Book Fair sales total VND50 billion
Participating businesses at the ninth HCMC Book Fair, which was held from March 21 to 27, reported total revenue of VND50 billion (over US$2.2 million), up 30% from the previous edition two years ago.
The event at Le Van Tam Park in District 1 attracted over one million visitors, up 20%. This was an opportunity for publishers and distributors to promote their sales and brands. Visitors could also enjoy a variety of recreational activities, exchanges and talks between readers and companies.
"Con cho nho mang gio hoa hong" (Puppy Brings a Basket of Roses) by Nguyen Nhat Anh was the best-selling book at this year's event.
The distributors and publishers that posted the highest revenues at the event this year were Fahasa with VND14.5 billion, Tiki with VND7.5 billion, Dong A with VND2.35 billion, and Phuong Nam with VND2.18 billion.
Vinabook, Nha Nam, Van Lang, and Youth Publishing House also obtained high sales revenues.
Color Me Run, music festival to be held in April
The annual "Colour Me Run" event and music festival will be held at Trương Văn Bàng Street in District 2 on April 16.
Participants will be splashed with coloured powder during the 5km race.
The run will be followed by a concert featuring Los Angeles-based DJ and producer Deorro, and local singer Tiên Tiên and F Band.
Participants can register for the event at www.colormerun.vn/ho-chi-minh.html until April 3. The registration fee is VNĐ600,000.
Goethe Institut releases 3rd photo book on Vietnam
Danang: Coastal City, a photo book edited by Dr Michael Waibel comprised of 600 images in total, documenting the city's economic transformation, is now available in bookstores nationwide.
The book was ceremoniously released on March 29 at the Goethe Institut located at 56-58 Nguyen Thai Hoc Street in Hanoi.
Speaking at the event, Dr Waibel said it took over one year for colleagues and himself to complete the project.
This is the third in a three-book series of large-format photo books centred around the urbanization and movement of the nation to a more industrialized economy that Dr Waibel has partnered with the Goethe Institut to publish.
Earlier, two photo books Mega City-Ho Chi Minh City in 2014 and Hanoi- Capital City in 2015 were released, with massive support from sponsor AUDI Vietnam and the German government.
"The photos in my book illustrate the everyday life of urban residents," said Dr Waibel. This is worth mentioning because many other photo books on the market only show a beautified 'virtual reality', often achieved through Photoshop editing.
Michael Waibel is a researcher and head of urban projects at the faculty of geography of the University of Hamburg in Germany.
Danang hosts Vietnamese, Korean cultural exchange
More than 30 artists from the Republic of Korea (RoK) and 40 Vietnamese performers are due to take the stage on March 30 for a cultural exchange at Danang's Han River Port on Bach Dang Street.
The collaborative event, organised by Danang's People's Committee and the RoK Embassy in Vietnam, features traditional dance, drum performances and folk songs from the Traditional Arts Inheritance Association of Korea, as well as romantic Vietnamese songs.
The culture exchange, which aims to promote culture and tourism between Vietnam and RoK, starts at 7pm. Tickets are free.
Korean artists will also give scholarships and school facilities to poor students at Hoa Son Primary School in Hoa Vang District on March 31.
Last year, the city hosted a RoK-Vietnamese cultural exchange including hanbok-wearing, folk games, a photo exhibition, art performances and film screenings.
RoK tourists are the second largest demographic of foreign tourists in the city.
Budget airline carrier Jeju Air launched its new air route connecting Danang with Incheon, while Korean Air Busan introduced a chartered flight between the city and Busan in 2014.