Hà Nội's café culture changing with the times
Off the beaten path: A traditional archway covered in moss and vines marks the entrance to Café Cuối Ngõ, a well-hidden but popular spot for music and art lovers. Photo Emily Petsko
Elaborate themes and funky decor are now the standard at many Ha Noi cafes. Business owners aim to attract younger generations who seek out unique social spaces and the perfect "selfie"
Tin children's toys, beach sand, 30 cats and old tennis racquets aren't your usual café décor, but they don't feel out of place in

Hà Nội

's quirkiest coffee spots.
In the Vietnamese capital, where you can't throw a rock without hitting a roadside café with blue, baby-sized stools, it takes extra oomph for a business to get noticed.

While cramped pavement cafés that serve cheap black and brown coffee are cultural staples,

Việt

Nam's café culture is no longer limited to these no-frills foundations. In recent years, the café scene has become more varied, even decadent.
Many café owners spare no expense to hire interior designers. Others decorate their businesses in-house, seeking inspiration from DIY project website Pinterest and imploring woodworker friends to design customised furniture. Part of the push to have more decorated social spaces is to appeal to the 'selfie' generation – millennials adept at finding the perfect background to practise their perfectly pouty expressions in front of a camera.
For instance, The Coffee Kat, located at 1 Hồ Đắc Di in Đống Đa District, takes a small space and transforms it into a beach. After removing their shoes, patrons can step inside and sink their feet into a thick layer of sand. It feels real enough, even if Rihanna's

Umbrella

can be heard crooning from speakers instead of crashing waves.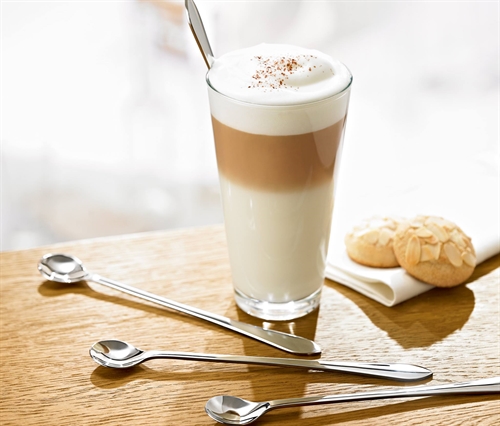 Western trend: European coffees, like this latte macchiato, have become popular at Tranquil Café. Photo courtesy of Tranquil
On a
Monday
afternoon, a gaggle of pre-teens giggles while taking photos in front of decorative anchors and illuminated lanterns. The photos will likely end up on social media – Facebook or Instagram – spreading the café's popularity via word-of-mouth.
Café owners haven't failed to notice that unique décor is an advertising method in itself. Stylish and off-the-wall cafés are rewarded in other ways, too. The
Hanoi Café Corner
page on Facebook has over 2,000 members dedicated to finding the coolest new hangout spots. The website
hanohideaway.com
publishes café reviews and lists establishments by district and by categories like "dog-friendly café" or "powerful air conditioning".
One featured
café

,

Gardenista, is popular for its photogenic appeal. The greenhouse-inspired business

at
50 Vạn Bảo, Ba Đình
District, is filled with hanging plants, potted succulents, terrariums and cutesy crafts.
And at Ailu Cat House Club at
114 Trấn Vũ in Ba Đình District, café-goers can choose one of 30 cats to cuddle up next to. The café caters more to felines than customers, offering low benches, cushions and crawling spaces for the purring prowlers to enjoy.
But

Hà Nội

's cafés offer more than just photo backdrops. They have also become emblematic of a culture in transition, as

Việt

Nam undergoes rapid economic development and globalisation. Cafés have emerged to meet growing demand among higher-earning denizens for creative spaces, not to mention quiet coworking spots for the budding freelancer or entrepreneur.
Coffee was brought to

Việt

Nam by French colonizers in the 1800s, and large coffee plantations got underway in the early 20th century, according to

Vina.com

.
"Despite bumper crops, it wasn't exactly a
café

au lait party:

Việt

Nam

was not home to a dairy-drinking culture,"

a Salon article

about Vietnamese coffee states. "It was a tough place to find fresh milk, and whatever there was wouldn't last in the heat." And thus, the classic Vietnamese coffee with sweet condensed milk was born.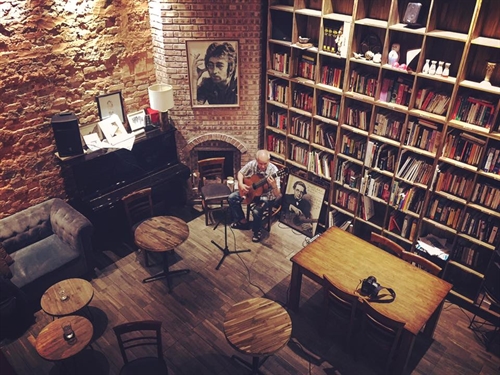 Relaxing retreat: A view of Tranquil from the café's upstairs balcony. Photo courtesy of Tranquil
While coffee production was interrupted during the American War, the industry was nationalised and revitalised after the war ended in 1975. Then, after the
Đổi mới
economic reforms of 1986, the industry opened up to private ownership, and a huge boom in cafés gave coffee producers a boost. Coffee chains Trung
Nguyên
and Highlands Coffee, which still dominate today, were established in 1996 and 1998, respectively.
"You cannot find any place in the world where the coffee production has strongly increased with explosive rates like in

Việt

Nam," an article on Vina.com reads. "In 1990, this country just produced approximately 1 per cent of the coffee production of the world."
Now,

Việt

Nam is the second largest coffee exporter in the world, after Brazil. The nation exported 1.25 million tonnes of coffee during the 2014-15 period, with a turnover of US$2.62 billion.
Aside from the sheer numbers,

Việt

Nam's coffee industry has had wider cultural influence.

Hà Nội

's cafés in particular have a strong tradition of fueling the city's leading artists, writers and thinkers. Café L

â

m, one of the oldest in the city at 60

Nguyễn Hữu Huân

, displays works by some of the last artists trained at École des Beaux Arts de L'Indochine, an art school founded by the French in 1925, according to the café's website.
"Its proprietor, Nguyễn Lâm, provided coffee and often loans to the city's impoverished artist community during the war," the café's website reads. "…Some of his patrons couldn't pay, and gave him paintings in lieu of cash for long hours spent drinking coffee and talking."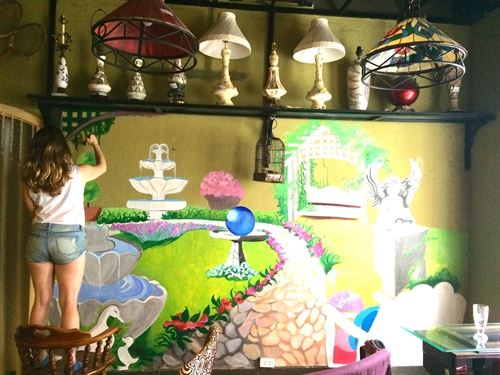 Quaint: Antique Café undergoes renovations and receives a fresh coat of paint in preparation for a grand opening event. Photo Emily Petsko
For decades,

Hà Nội's

cafés have been social spheres, offering a spot to chat and people-watch along the pavement.
"Ninety per cent of cafés in

Hà Nội

are on the street – mom-and-pop shops – and some of them are very old," said Khuất Tuấn Anh, co-owner of Tranquil Café at

5 Nguyễn Quang Bích.
"If you go on

Nguyễn Hữu Huân

or

Hàng Bạc

streets in the Old Quarter, you see a very tight set-up of cafés, people are squeezed next to each other. Going to cafés is a very old tradition for

Hà Nội

people, but they are not used to being in a quiet environment, so most of them sit outside on the street, on the pavement, and they don't care about comfort."
Tranquil Café seems antithetical to everything Vietnamese café culture stands for. Customers often come alone and sit for hours, reading books or working on laptops, and at times it's so quiet that you could hear a pin drop. You'll see no gabbing or sunflower seed spitting here.
The trend seems to be moving towards cafés that stress a sense of individualism and identity. The décor at Tranquil – a John Lennon poster, a record player and a ceiling-to-floor bookshelf with hand-selected hardbacks – hints at the type of clientele who frequent Tranquil. They are typically under 35, introspective and introverted, with creative tendencies.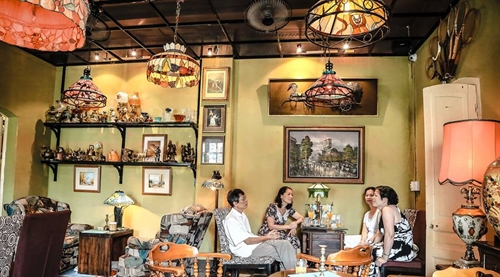 Cozy: A room inside Antique Café is filled with old objects imported from Canada, including furniture, artwork and lamps. Photo courtesy of Antique Café
Manzi, located at

14 Phan Huy Ích, Ba Đình District,

attracts a similar crowd. Its café and art gallery go hand-in-hand, with any funds raised from daytime operations being funneled back into exhibitions and other events hosted at the venue. The café's design is clean and classic, with white walls and stunning framed artworks grabbing customers' attention. The upstairs gallery is larger, and an employee is on hand to answer questions about the artworks, all of which are for sale.
Co-owner Vủ Trâm originally studied to be a lawyer, but instead wound up working in the art world. She said the café supports emerging and unknown artists, and also serves as a coworking space. She said that over the past four to five years, more and more people have sought quiet cafés to use as coworking spaces because there are now more freelancers in

Hà Nội

.
"We wanted to create a space for people who have the same thinking to come together," she said.
Other establishments have made a name for themselves by harking back to a bygone era. The Cộng Càphê chain – with its political posters, grey and army green colour scheme, and Communist memorabilia ­– is perhaps the most popular example of nostalgic décor.
Antique Caf

é

, which opened last year at 10 Dã Tượng in Hoàn Kiếm District, is another example. It doubles as an antique shop and café, with all its collectibles coming from Canada.

Wooden tennis racquets are fanned out to form decorative arcs above doorways, colourful painted images cover the walls and steps leading up to the café, and shelves hold an array of long-unused lamps and typewriters.

It feels like a cross between a quaint tearoom and someone's grandmother's house.
New owner Chu Lan Anh said she has a passion for interior design and wanted to appeal to students by creating a study space that feels "different from being inside a boring classroom".
Caf

é

Cuối Ngõ takes a similar approach. During the daytime, the café at the end of

alley 68 on Cầu Giấy Street

feels like a secret garden with its concealed location and

entrance archway

covered in moss and vines. At night, especially during a thunderstorm, its dimly lit interior and peeling walls set an eerie scene.
Antiques are placed throughout the caf

é

: a traditional tin boat toy, a rotary dial telephone and an old radio. Black-and-white photographs and dark artworks are pinned to the walls, and a crimson red painting seems to jump out from the shadows.
The café, which only plays songs by the melancholic Trịnh Công Sơn, one of

Việt

Nam's most beloved singer-songwriters, offers a quiet retreat from

Hà Nội

's noisy establishments. A small sign on the wall reads

nói nhỏ, nói sạch

(literally: 'speak little, speak clean').
"This guy," Nguyễn Quyết Thắng, 37, says while pointing to a poster of Trịnh Công Sơn and explaining why he has been coming to Café Cuối Ngõ since he was a university student. "I love Trịnh's songs."
Vũ Thu Huyền and her husband opened the café 13 years ago. The building itself was built about 60 years ago, but the entrance archway

– which used to be the entrance to a communal area housing several families – dates back to 1932.
Huyền said she and her husband wanted to create a quiet place for people to "escape" and enjoy the

café's timeless atmosphere. She said the café remains a constant in an ever-evolving city, like the tree that has stood sturdy in its courtyard for generations. While

Hà Nội

is undergoing rapid development and continues to modernise its social spaces, some simple pleasures – seeing a familiar face in a café, or taking the first sip of iced coffee on a hot day – never go out of style.

-

VNS
Pop of colour: The inside of Café Cuối Ngõ is dimly lit and covered with artwork and antiques, while speakers play music by famous composer Trịnh Công Sơn. Photo Emily Petsko
Fresh flowers: A coffee is served at Manzi Café. Photo courtesy of Manzi
by Emily Petsko,
Viet Nam News