Art & Entertainment Highlights for November 1
Vietnam Heritage Photo Exhibition opens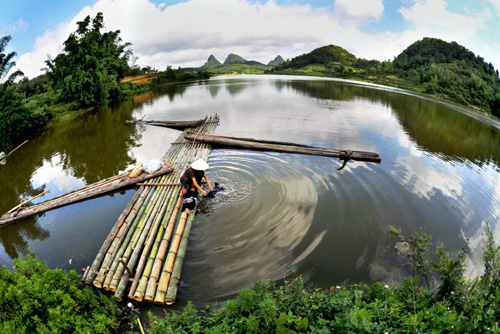 Vietnam Heritage Photo Exhibition 2013 opened in Gia Lai province on October 30 to mark the 9th Vietnam Cultural Heritage Day.
On the show are 122 photos and collections chosen from more than 6,000 entries to the Vietnam heritage photo contest.
They are focused on the daily life of ethnic groups, enjoying the marvelous and magic moment of festivities in the wide open space.
The event is part of the second Vietnam Heritage Photo Contest with the aim of encouraging the social community to discover, preserve and promote natural and cultural heritage values.
The exhibition will run until November 11.
The Vietnam Heritage Photo Awards 2013 ceremony is scheduled to take place in Ho Chi Minh City on November 21.
American pros share experience with Vietnamese filmmakers
American filmmaker Sean Trace will make a business trip to Ho Chi Minh City and share his experiences as part of a project launched by Saigon International Film School (SIFS).
Trace is one of the project's lecturers who will work with dozens of students in cinematography from local art universities and colleges. His talks will focus on two of the most popular performance styles in Hollywood today – the Meisner and Ivana Chubbuck acting methods.
Trace's five-day trip, beginning on November 11, will also include work and experience exchanges with Vietnamese filmmakers and film companies.
Those interested in the project can contact the SIFS office at 15 Hoang Hoa Tham Street, Binh Thanh District.
First sci-fi film contest opens in VN
The first-ever sci-fi short film contest titled "Project: Sci-Fi" is open to film makers of all ages throughout the country till December 1.
Entries on sci-fi topics are expected to last between 5 and 10 minutes including an up-to-one-minute advertising trailer.
A set of prizes with total worth of VND300 million (US$14,000) will be given to the best directors, best films and best cameraman.
The judges include director Nguyen Quang Dung and Andrew Cosby, an American comic book writer, film producer, screen writer, and most notably the co-creator of the hit SyFy TV series Eureka. He co-founded Boom! Studios.
The contest is organised by Cloud 9 Production and the Western Digital Corporation's Southeast Asia branch company.
More information can be viewed at www.project-scifi.com.
Finnish artist showcases latest works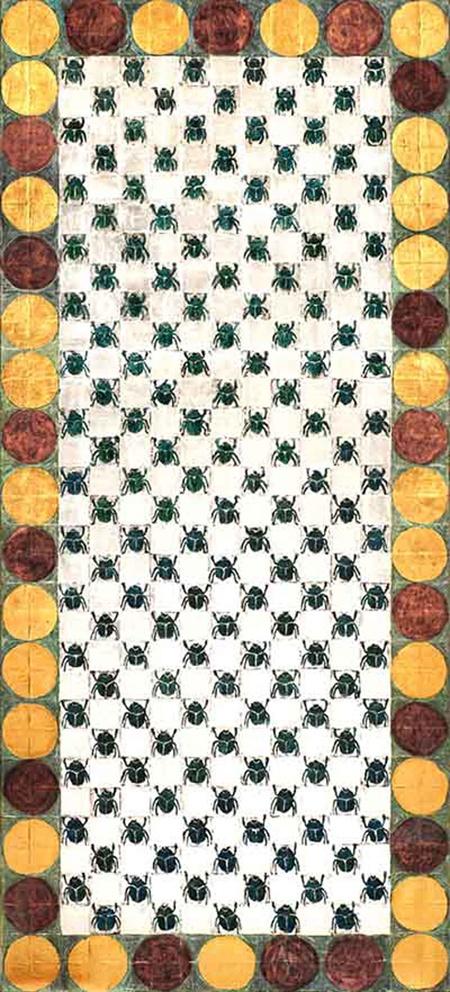 The work of Finnish artist Maritta Nurmi, a Ha Noi resident for over 20 years, will be presented at Manzi Art Space from tomorrow.
Entitled Anima, the display will showcases her current works which use the animal form in many guises. In this new work, Nurmi seems to be questioning the necessity of man to create form, to suggest a bond between human and nature, and the implications of such a need or desire.
Nurmi was trained as a biologist so this exploration and fascination with the animal world is not a new realm. Her works are at once physical, and yet they seem to yearn to be free from constraint.
Co-organised by Art Viet Nam Gallery, Manzi Art Space and the Embassy of Finland, her exhibition is to celebrate the 40th anniversary of the diplomatic relationship between Finland and Viet Nam. Free entry to the display, which runs until November 30 at 14 Phan Huy Ich Street.
VNOB talents stage special dance performance
Artists of the Viet Nam National Opera and Ballet Theatre will stage a special performance featuring classical and contemporary dance tomorrow night.
The performance's first part will present two one-act ballets La Ventana and Flower Festival in Genzano by Danish choreographer and ballet master August Bournonville. Both of the ballets have been choreographed especially for Vietnamese artists by Frank Andersen – former Artistic Director of the Royal Swedish Ballet and the Royal Danish Ballet.
The second part will feature the debut of the contemporary dance Secret Garden, Choreographed by Macedonian artist Sasha Evimova.
The one-night performance will take place at the Ha Noi Opera House from 8pm.
Twee Hue howling for Halloween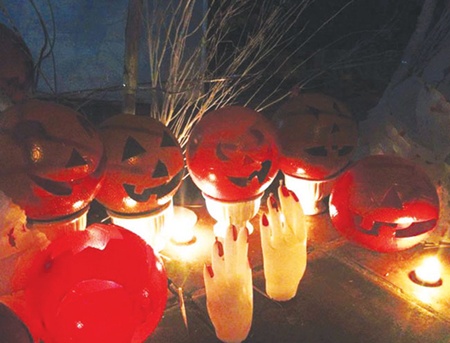 Despite its reputation as a city hesitant to adopt foreign traditions, the city of Hue is buzzing with halloween excitement.
The city is festooned with Halloween decorations; dead bodies, ghosts, pumpkins and monsters - a reminder of the city's younger generation.
Shops display various decorations and Halloween costumes for sale while fake dead bodies are found hanging on trees throughout the city.
"I found many interesting things from Halloween and have been feeling scared of ghosts," said 25-year-old local Ngoc Bich.
Bich and her close friends prepare costumes to dress as witches and monsters for a costume party tonight at a local bar.
Meanwhile, another local resident, Bao Huy, said he has trained in the English Language Faculty to learn about the tradition. Huy has planned a Halloween dinner for his friends before they go to a party at DMZ Bar, famous in Hue for its annual Halloween party, primarily attended by foreign tourists.
Coffee shops, where most youngsters congregate in the old city, are redesigning the shops to coincide with the Halloween theme and hold Vietnamese-style Halloween parties for young locals.
The His&Her coffee shop is offering participants free face paintings for guests who order food and beverages, with no cover charge.
"We are holding the party for frequent guests to our shop. They are young and do enjoy cross-cultural events" said shop host Thuy Duong.
Similarly, the Thuna House coffee shop is offering entrance tickets to winners of a photo contest held prior to the "Twilight Party".
Other coffee shops will hold different Halloween parties, for couples and those coming alone. Singes will have the option of a service to rent female or male partners.
As a tradition, the International Studies Faculty in Hue University of Foreign Languages holds a party for students to enjoy themselves and learn about the tradition, says young lecturer Le Ngoc.
This year's event includes a costume party, comedic performances and a musical play by students.
Talking about the effects of foreign cultural imports such as Haloween, one local culture expert said the younger generations demonstrated a keeness to embrace foreign cultural traditions, while remaining faithful to their own things.
Nepalese singer set for one-night-only show
After his performances in Kathmandu and at the "musicians' mecca" Blue Frog, in Mumbai, Nepalese singer and songwriter, Ayush Shrestha will come to Ha Noi for a one-night-only performance tomorrow night.
Shrestha will bring a fresh musical taste to the capital city coupling his contemporary folk songs with the six-string instrument and a dash of traditional Nepali melody.
His performance will start at 8pm at 6 Hoi Vu Street. Tickets are available at the venue.
Arties Quartet head to L'Espace
France's Arties Quartet will perform a classical concert at the French Cultural Centre L'Espace, 24 Trang Tien Street tonight to mark the 40th anniversary of diplomatic ties between France and Viet Nam.
The band includes violinist Sullimann Altmayer, viola player Julien Dabonneville, violoncellist Gauthier Herrmann and pianist Romain Descharmes.
They have participated in many prestigious concerts in London, Tokyo, Beijing, Paris and Kuala Lumpur.
Tickets are available at L'Espace for VND120,000 per ticket with students receiving a 50 per cent discount.
The group will also perform tomorrow night at the Youth Culture House, 4 Pham Ngoc Thach Street, District 1, HCM City.
Hair show to highlight new, nostalgic trends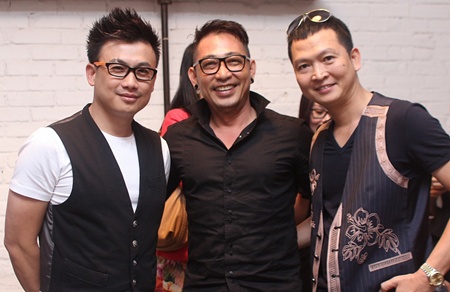 The Davines Hair Show 2013, titled Happiness, will present the latest hairstyle trends in the fashion world next Thursday in HCM City.
Organised by Davines Viet Nam Co. and Dep magazine, the annual event will gather the most famous hair artists in Viet Nam including Hoang Minh Tam, Vuong Trong Khoi and Don Hau.
Pham Vu Tung, marketing director of Davines Viet Nam said the show will help Vietnamese hair designers further develop their talents and skills.
The show will be designed as a three-chapter book depicting a happy life by director Viet Tu, using "creative and colourful" combinations.
The show will be a meeting place for several professionals including fashion, make-up and music.
A trip down nostalgia lane into the 30s-40s will be taken with Retro music presented by Saigon BigBand, headed by the nation's leading saxophonist Tran Manh Tuan as well as top DJs Wang DMC and Bnuts.
Hair designer Hoang Minh Tam will present a collection called Quy Toc Duong Pho (Street silk stocking) that reflects "rebellion in tradition" with up-to-date cutting and colour inspired by London City.
Hair designer Don Hau, meanwhile, will show off his collection called Hoi Cho Phu Hoa (Pompous Market) with exquisite and splendid hair styles in combination with back and white costumes.
Hair artist Vuong Trong Khoi's collection, Hanh Phuc (Happiness), will hark back to plain hair styles favoured in the 50s ad 60s.
The show will take place at the Nguyen Du Indoor Stadium in District 1.
Aki Matsuri Summer Festival opens in City
Aki Matsuri Summer Festival, an annual Japanese cultural event, will open at the Crescent Mall in District 7 in Ho Chi Minh City on November 3.
The free festival which was organized in Hanoi on October 27 aims to mark the 40th anniversary of diplomatic relations between Japan and Vietnam.
The event will feature around 15 display booths presenting Japanese arts and culture, such as Daruma-Japanese traditional doll, Furin wind chime, Japanese food and costumes, Yosakoi-style traditional dance, performance of cosplay costume, and introduction of Japanese comic strip characters and games.
Well-known cosplayers Stay of Taiwan (China) and Yuegene from Thailand will be special guests at the event.
Aki Matsuri Fall Festival is an entertaining event held in the Japanese countryside. The show was organized for the first time in Vietnam two years ago.
Hanoi hosts concert to raise funds for storm victims
A concert titled 'The Storm' will be held at Dai Nam Theater in Hanoi on October 31 to raise funds for storm victims in the central coastal provinces.
Well-known singers such as Tan Minh, Khanh Linh, Ngoc Khue, Dinh Manh Ninh, Duong Truong Giang, Nhat Thu, Pham Thu Ha and MC Thanh Trung, Phi Nguyen Thuy Linh will join the event.
The music show will also include an auction of paintings featuring the central region and portraits of late General Vo Nguyen Giap by artist Tran Thinh.
'The Storm' is a part of the Emergency Relief Campaign for Central Vietnam which will run from October 20 to November 20.
All proceeds of the concert and auction will be sent to the storm victims.
Exhibition marks Vietnam-Japan ties
An exhibition of lacquer paintings by Japanese artist Saeko Ando will be held in Hanoi on November 9, in celebration of the 40 th anniversary of Vietnam-Japan diplomatic ties.
The painter, who has lived in Hanoi for 18 years and uses local materials and techniques in her work, wants to present her Japanese side at this exhibition themed " Japan in Me."
The paintings will be shown together with a series of short essays Saeko has written to explain the ideas of her works.
Saeko's works depict aspects of life in the natural world that people usually fail to notice. Her command of lacquer techniques, use of rich colours and bold compositions, and creation of elaborate textures, enable her to transform these into enchanting characters with their own stories.
Because of her devotion to the lacquer craft and profound understanding of Vietnamese culture, the painter is regularly invited to appear in magazines and on television in Japan and Vietnam .
She is the first foreign member accepted by the Hanoi Fine Art Association.
Japanese/Vietnamese rock fest in capital
The Japan Foundation in Hanoi has teamed up with rockpassion.vn to present both Japanese and Vietnamese rock bands on November 16.
The event will transform the Van Ho Exhibition Center into a rock venue with Japanese outfit Okamoto returning to Vietnam for a fourth time together with support from The Ton-Up Motors and Ryukyudisko. An unnamed local rock band will also take part in the big night.
Van Ho Exhibition Center is located at 2 Hoa Lu, Hai Ba Trung, Hanoi.
The event is free and tickets can be collected from The Japan Foundation, 27 Quang Trung Street, Hoan Kiem District, Tel: (04) 3999 7419 or at the Rockpassion.vn Office, 66 lane 40, Ta Quang Buu Street, Hai Ba Trung District.
Exhibition highlights President Ho Chi Minh's time in Longzhou, China
An exhibition entitled 'Activities of President Ho Chi Minh and Vietnamese Revolutionaries in Longzhou county, Guangxi province, in China' opened October 30 at the Ho Chi Minh Museum in Hanoi.
The exhibition displays nearly 200 photos, documents and artifacts focusing on the activities of President Ho Chi Minh and Vietnamese revolutionaries in Longzhou leading up to the August Revolution in 1945.
The exhibits will help visitors discover the career of President Ho Chi Minh and achieve a fuller understanding of the support given by locals in Longzhou county to the Vietnamese revolution.
After the establishment of the Communist Party of Vietnam in 1930, Longzhou became an important base for many Vietnamese revolutionaries, including Le Hong Phong, Hoang Van Thu, Phung Chi Kien, Truong Chinh and Vo Nguyen Giap.
The exhibition is scheduled to run through November 10.
Source: Nhan Dan/SGT/SGGP/VOV/VNA/VNS