Traffic accident kills two in central Quang Tri
Two men died after their motorbike collided with a tank truck while travelling from the Lao Bao border crossing to Dong Ha City in central Quang Tri Province.
The motorbike was traveling in the opposite direction when the accident occurred on national highway 49 in the province's Huong Hoa District. Witnesses said the force of the collision threw the two men into the roadside drainage ditch.
The dead were identified as 26-year-old Ho Van Bon and 32-year-old Ho Van Phac, residents of the mountainous Dakrong District. The motorbike was heavily damaged.
Police are investigating the accident. Experts noted that residents of the mountainous areas tend to drive very fast and often do not monitor their speeds.
Fishermen attack sand dredges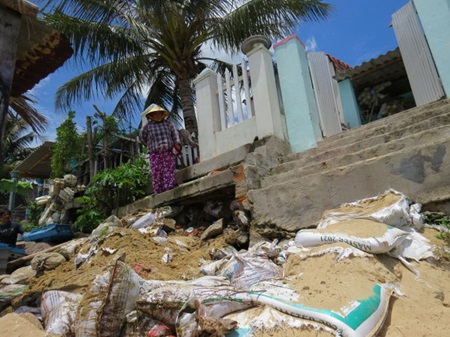 The homes and livelihoods of residents in Van Ninh district's Dai Lanh commune in southern Khanh Hoa Province are being threatened by a sand dredging project.
Since the project started, the depth of river sand has fallen by 80 centimetres. This has weakened the structure of the bank and threatens to not only undermine 500 households in Dai Lanh commune but also cost the inhabitants their incomes from fishing in the river.
Phan Thi Lich fears that her house in Đong Nam hamlet will collapse if the project continues.
The removal of so much sand has weakened the foundations and steps leading to many houses. Residents have replaced broken steps with sand bags.
For two days at the beginning of August, more than 110 irate locals on about 50 boats surrounded the dredging area and threw bricks and bottles at the dredgers, according to provincial border guards.
At the same time, 20 to 30 women and children headed to the headquarters of Dai Lanh commune's People's Committee to verbally oppose the continuation of the work.
The investor was later told to halt the project and to withdraw his dredgers.
The provincial People's Committee has asked Van Phong economic zone management board to collect opinions from local authorities about the feasibility of the project and to listen to residents, according to Tuoi Tre (Youth) newspaper.
The sand dredging project, conducted along a 12km stretch of river, covers 1,213 hectares in Van Phong economic zone. Sole investor in the zone is the Phuc Son company, which plans to remain until 2 023.
The provincial People's Committee and Việt Nam Marine Department originally gave permission for the company to exploit the river sand..
According to the provincial Customs Department, so far more than 415,000 cubic metres of sand have been removed and exported to Cambodia and Singapore, Tuoi Tre newspaper reported.
The dredging project is apparently also aimed at deepening the seabed in Vân Phong economic zone to enable 100,000-tonne ships to enter.
This is aimed at attracting investment to the zone and developing tourism, said Trần Kim Bảo, deputy chairman of Vạn Ninh district's People's Committee.
However, residents say the project is not feasible. They say there are no ports, industrial activities or major tourism infrastructure in the area.
Last year, many barges began to appear near Vạn Thọ commune to load the sand. It is near where local fishermen have been catching shrimps for many years.
Police arrest Quang Binh local carrying drugs
Police in the province announced today that they had caught a man carrying drugs while he was travelling on the urban bypass section of the local Bo Trach District.
Tran Van Chuan, a resident of the central province's municipal Dong Hoi City, was found with 719 pills in his possession. He told police he had bought the drug from the Lao Bao border gate in the neighbouring Quang Tri Province.
Chuan said the purchase was intended for consumption within the province. Police are investigating the case.
3,000 illegal detonators seized in central province
Local police today seized nearly 3,000 detonators being transported illegally in a taxi that was going from Nghe An Province to central Thanh Hoa Province.
The vehicle was stopped by the local police for having violated a traffic law. As the police were checking his papers, the male passenger riding in the taxi managed to flee.
The police then searched the car and discovered the illegal items, including more than 3,000 detonators and 150 metres of slow-burning fuses.
Le Hong Lam, the driver, said the confiscated material belonged to the passenger, who had hired the cab at Dien Chau District in Nghe An Province and wanted to go to Tinh Gia District in Thanh Hoa Province.
All the items were sealed for further investigation.
People worry about reservoirs' safety during monsoon season
Deteriorating reservoirs are one of the greatest concerns of residents of the central region during the monsoon season.
Due to insufficient funds being available for the upgrade and maintenance work, many localities can only set short-term plans to ensure the safety of irrigation systems in the monsoon season.
The Hoc Bua Reservoir in Binh Son District, which was constructed 40 years ago, has become severely damaged over time. The local authority has had to mobilise human resources and available means to repair the dam every year before the flooding season.
"When the monsoon season approaches, we are afraid the dam may break and so have to move to other places. I hope the authority upgrades the dam to ensure the safety of the local people," Tran Van Thanh of Binh Son District said.
There are 119 reservoirs that provide water to more than 12,500ha in Quang Ngai Province. Three-fourths of the total reservoirs were built before 1989 and are now in poor condition.
Deputy Director of Quang Ngai Province's Agriculture and Rural Development Department Nguyen Mau Van said the province has prepared plans to ask for state funds for maintenance and repair work of the deteriorating reservoir system.
Besides regular checks and maintenance work, the Quang Ngai agriculture department also prioritises forecasting of reservoir levels so that the local people can prepare a prompt response to natural disasters.
Requiem held for over 2 million Vietnamese famine victims
A requiem for over 2 million Vietnamese famine victims who died in 1945 took place in Tien Lang district, the northern city of Hai Phong on August 31.
The starvation, a result of the Indochinese war, killed 280,000 in Thai Binh alone over the course of five months and nearly 2 million others in 32 cities and provinces, including Hanoi and Hai Phong.
Foreign invaders depleted Vietnamese agriculture by forcing farmers to sell rice to be stockpiled in their countries and grow fibre and oil-yielding plants in place of rice, said Venerable Thich Quang Minh, Head of the Executive Board of the Vietnam Buddhist Sangha's Tien Lang chapter.
Excessive taxation also pushed them into poverty, he added.
On the occasion, a photo exhibition on the 1945 famine was opened.
On the evening of the same day, 3,000 coloured lanterns were released into the Van Uc River to pray for national peace and prosperity.
Ho Chi Minh City
marks national events
Ho Chi Minh City
authorities commemorated the 70 th anniversary of the August Revolution and National Day during a public ceremony held on August 31.
Addressing the celebration, Le Hoang Quan, Politburo member and Chairman of the municipal People's Committee, highlighted the city's comprehensive progress in the last four decades, saying it is striving to enhance local living standards moving forwards.
Meanwhile, Vice State President Nguyen Thi Doan awarded the Ho Chi Minh Order to the southern hub for its overall contributions to national development and defence.
On the occasion, senior officials laid wreaths and offered incense as tribute to the late presidents Ho Chi Minh and Ton Duc Thang in various destinations across the city.
Hanoi
detention camp frees nearly 300 prisoners
As many as 285 domestic and 14 foreign inmates at the Thanh Xuan detention camp in Hanoi were freed on August 31 under the President's Decision on Amnesty.
Attending the event, Deputy Prime Minister Nguyen Xuan Phuc, Chairman of the Central Advisory Council on Amnesty, said the Vietnamese State decided to grant clemency to inmates with positive rehabilitation on the occasion of the 70th anniversary of the August Revolution (August 19) and National Day (September 2).
The amnesty policy of the Vietnamese Party and State reflects the humanitarian tradition of the Vietnamese nation, which encourages offenders to rehabilitate and become useful members of society, Phuc said.
Consideration for amnesty was conducted in a public, transparent and democratic manner, receiving domestic concurrence and international applause, he said, adding that people and authorities across the country created all favourable conditions for the pardoned inmates to reintegrate into the community.
Deputy PM Phuc congratulated the pardoned inmates, saying the Vietnamese Party and State hope they will proactively reintegrate into society with the support of their family, the community, local authorities and police.
He encouraged those who are not eligible for this year's amnesty to make greater efforts to rehabilitate.
In addition to amnesty, the Party and State's policies are designed to reduce sentences for inmates with positive behaviours, he said.
He urged local authorities to monitor and support pardoned inmates to return home and find employment.
Under the President's Decision on Amnesty, 18,298 prisoners serving jail terms and eligible for amnesty according to State law were freed ahead of their scheduled release dates on August 31, 2015.
Police seize rotting chickens before being sold
Police in central Quang Binh Province stopped a van and discovered over 100kg of rotting chickens being transported to be sold as food.
Traffic police late last week stopped the passenger van registered for operation on the Quang Binh - Da Nang route and discovered 104kg of chickens stored in cardboard boxes. The van's driver, Tran Chinh Truong, a resident of the province's Dong Hoi City, did not have legal permits for the chickens, according to authorities.
He confessed to police that the chickens were to be served as food. The province's department of veterinary later verified that the chickens were rotten and could not be used as food.
Police issued a violation to the driver and confiscated the chickens so they could be destroyed.
Youth summer campaign helps better rural infrastructure
The June-August youth volunteer summer campaign launched by the Ho Chi Minh Communist Youth Union has built 1,071 km of new roads in rural areas.
Campaign participants have helped upgrade 4,074 km of roads, installed road lights on 2,000 km, and repaired 423 cultural centres, playgrounds for children and more than 3,000 compassionate houses in villages as well.
These outcomes of the 2015 campaign were revealed by the Ho Chi Minh Communist Youth Union and the Hanoi Youth Union at a conference held in Hanoi on August 30.
The campaign has thus far trained 160,000 rural youths with modern farming techniques, and consulted and offered jobs for 378,000 others.
As many as 60,000 volunteers joined in supporting national entrance exam participants in big cities, heard the conference.
VFF chief requests more spending on HCM City sci-tech
President of the Vietnam Fatherland Front (VFF) Central Committee Nguyen Thien Nhan has suggested the southern metropolis Ho Chi Minh City raise its annual budget spending, from the current 2.06 percent to 4 percent, for sci-tech innovation.
During a working session with the municipal authorities on August 30, Nhan commented that the city is on the right track to sci-tech development, citing a number of effective models underway in the city.
In the coming time, the city should offer incentives designed for individual sectors, set up units majoring in applied sciences while utilising inventions by the Institute for Computational Science and Technology, he said.
Director of the municipal Department of Science and Technology Nguyen Viet Dung spoke of the city's advocacy for developing industrial and agricultural products having high added value and eco-friendly functions.
Aside from its budget, funding for sci-technology development also came from science-technology foundations run by businesses.
Among 93 local firms announcing the establishment of sci-tech innovation foundations, 41 have set aside US$21.8 million for the work and spent roughly US$7.6 million renovating technologies, he informed.
Deputy Chairman of the municipal People's Committee Tat Thanh Cang vowed to provide all possible support to turn sci-tech into a driver of the City's local socio-economic development
Grammy-winning producer debuts scholarship fund in Vietnam
Three-time Grammy Award-winning producer RedOne is currently in Vietnam for a music project with a Vietnamese-Australian singer/songwriter after attending a ceremony to launch a scholarship fund, to go partly to local autistic children, this week.
The Moroccan-Swedish music producer partook in the ceremony to debut Trinh Cong Son Music Scholarship Fund held on August 28 evening in Ho Chi Minh City.
Part of the fund earnings will go to autistic children.
The fund offers grants to outstanding candidates for programs run by the SOUL Music and Performing Arts Academy (SMPAA), initiated and managed by Vietnamese-Australian singer/composer Thanh Bui.
Ten candidates are named annually by a council made up of Thanh Bui, principal of SMPAA; Tyler Smith, vice president of the Trinity College London in Asia; Trinh Vinh Trinh, Son's younger sister; violin virtuoso Bui Cong Duy; and some seasoned Vietnamese journalists.
"I'm positive that music is a miracle for patients, including autism sufferers. Music soothes autistic children and even helps them reclaim their non-autistic part," RedOne told Tuoi Tre (Youth) newspaper.
He divulged that he has studied Son's notable works and life.
"Though I don't understand the lyrics of his songs very well (despite my friends' rough translation), I'm really appreciative of his melodies and why he became such a legend dubbed 'Vietnamese Bob Dylan.' His music is simple yet profound and has never waned in appeal," the 43-year-old producer observed.
Trinh Cong Son passed away at age 60 on April 1, 2001 to the shock and overwhelming grief of thousands of his fans, Vietnamese and foreign alike.
The BBC also covered his funeral, which was attended by some thousands of mourners.
Son has been added to the Encyclopedia Britannica, which highlights him as one of Vietnam's most eminent composers, along with Pham Duy and Van Cao.
RedOne still has a few days left in his one-week trip to Vietnam, which will be spent discussing partnerships with Thanh Bui and exploring the Cu Chi Tunnels, a historical tourist attraction located in the outlying district of Cu Chi in Ho Chi Minh City.
According to Wikipedia, RedOne, whose real name is Nadir Khayat, is a producer, songwriter, and music executive.
As a producer and songwriter, he has worked with many high-profile recording artists, including Lady Gaga, Nicki Minaj, Jennifer Lopez, Pitbull, Enrique Iglesias and Mariah Carey.
His discography boasts many Billboard and international hits, which he produced and co-wrote.
RedOne has been nominated for six Grammy awards and nabbed three so far.
PM adjusts construction project for Dau Giay - Phan Thiet Highway
The Prime Minister Nguyen Tan Dung has given approval to a plan to split the Dau Giay - Phan Thiet Highway project in the south into two road sections.
The Dau Giay - Phan Thiet Highway will be 98.7km in length with four lanes built under international standards.
Under the plan, the highway would connect the southern province of Dong Nai to the sea tourism city of Phan Thiet in the southern province of Binh Thuan.
The first section will cover a length of 36km, extending from Dau Giay in Thống Nhất District to Xuan Loc District in Dong Nai Province. Investment comes from Government loans from the World Bank's International Development Association (IDA).
The second section will cover a length of 62.7km from Xuan Loc District to Phan Thiet City.
The transport ministry, in coordination with the Ministry of Planning and Investment and relevant agencies, will be responsible for reaching agreement with the World Bank on plans for the investment mode and arrangement for loans from IDA for the first section of the project in 2016.
To begin construction of the first section on time, the Prime Minister has also asked the Ministry of Planning and Investment to work with the transport ministry and agencies on formalities associated with IDA loans and to arrange counter-capital from the State budget.
This is the first pilot transport infrastructure project in Viet Nam under the Private - Public - Partnership (PPP) investment mode, with capital from the private sector and State. The State's financial participation ensures that the project would be attractive to private investors.
After construction is completed, the Transport Ministry will choose an investor to transfer rights for management and operation of the highway.
The highway is expected to accommodate high-density transportation. It will run through many industrial parks and seaports, as well as to proposed international airports.
The Dau Giay-Phan Thiet Highway will be transferred after 30 years.
Diminishing resources test food security
With the increasing impacts of climate change and dwindling natural resources, providing food security for a burgeoning population is a challenge for global agriculture, especially in the Asia-Pacific, an international non-profit has warned.
Speaking at a workshop held recently in HCM City, Randy A. Hautea, global co-ordinator of the International Service for the Acquisition of Agri-biotech Application (ISAAA), said food production must increase by 70 per cent by 2050 to meet rising demand.
Asia
accounts for nearly 60 per cent of the world's population but only a third of arable land and water resources. Already a large number of people in the world are undernourished and many others currently live in countries chronically short of water, and that's expected to increase in the coming decades, he said.
In addition, climate change is causing extreme weather conditions – flooding in some regions, drought in others.
Along with industrialisation and urbanisation, the arable land area is shrinking in many countries, he said.
The challenge for farmers is to learn how to sustainably produce more food with a finite base of arable land, saline intrusion and dwindling natural resources, he said.
Technology plays an important role in resolving the challenges, he said.
Plant science technologies have helped farmers increase production to keep up with the world's growing demand for food in the past 50 years and future production requires greater adoption of innovative technologies, he said.
Anni Mitin, executive director of the Southeast Asia Council for Food Security and Fair Trade, said small farmers cultivate 80 per cent of available arable land in Asia and produce the majority of food to feed the world, but are "still trapped in poverty, struggling to feed their own family".
Besides vulnerability to climate change, small landholders have difficulty accessing capital, the market and technology, she said.
Having limited market information, they struggle to get a fair price for their produce, obtaining only a small percentage of retail prices, she said, adding that those in remote areas often have little choice but to sell to traders and cannot dictate the terms of trade.
Rick Van Der Camp, senior operations officer at the IFC (World Bank Group), said the high risks involved in agriculture are among the factors preventing farmers from getting bank loans.
Mitin said to overcome vulnerabilities, farmers need accurate and timely information, training, knowledge, and technologies besides access to financial resources.
Health insurance to include holidays
If patients using health insurance cards have health examinations and treatment on weekends and holidays, their hospital fees will be paid through their health insurance.
This was one of the new regulations in Circular 16 enacted by the Ministry of Health and Ministry of Finance. The circular will be put into effect at the beginning of September.
Luu Thanh Huyen, deputy director of the HCM City Social Insurance, said a number of people in HCM City had requested having health examinations and treatment outside regular working hours.
They were often patients suffering from chronic diseases that needed long-term treatment, she said.
Le Hoang Quy, deputy director of the Binh Thanh District Hospital, said that the hospital received about 2,400 patients coming for health checks per day, with 90 per cent of them having health insurance cards.
To meet the needs of the patients, the hospital will lengthen the time for examinations, which were from 6am to 6pm Monday to Sunday, including holidays.
The circular was necessary, he added.
Deputy director Huyen added that the new circular was easier to enforce than past circulars.
Past circulars regulated that only very crowded hospitals and medical stations were allowed to offer health examination outside working hours. And those hospitals were required to set up detailed plans about the work and submit them to the Social Insurance.
The new circular states that every hospital can perform examinations and treatments as long as they employ the correct number of medical workers, assure proper professional conditions and adequate equipment, and must post their hospital fees in public, said Huyen.
The new circular was also welcomed by workers.
Nguyen Thai Hien works in the Linh Trung processing zone in Thu Duc District in HCM City said it was difficult for her to ask for leave for even one day to have her health checked because the company did not have enough workers to replace those seeking care.
It would be better for workers to have health examinations on weekends, she said.
However, some hospitals worried that they could not conduct health examinations outside working hours.
Le Xuan Dung, deputy director of the HCM City Tumour Hospital, said the hospital did not have enough funds to carry out the circular because it would need more funds to pay for doctors and nurses who conduct health examinations outside working hours.
Further, Tran Van Khanh, director of Hospital District 2 in HCM City, suggested that patients pay additional hospital fees if they went to hospitals on weekends, and the money would be used to pay for doctors.
Can Gio conserves mangrove forests
The conservation and regeneration of mangrove forests in HCM City's coastal Can Gio District have been successfully accomplished since 2000, when the local administration took over the task, a district official told Viet Nam News on Saturday.
More than 10 hectares of mangrove trees have been planted in the period, and the forest, recognised as a UNESCO biosphere reserve in 2000, measures more than 35,200 hectares now.
Around 40,000 hectares had been destroyed during the war, UNESCO says on its website, calling it a "luxury mangrove" for Viet Nam.
"There are 52 true and associate managrove species, 200 animal species, hundred fish, crab, shrimp species and benthos. Over 40 bird species including shore birds and migratory species have been found in this biosphere reserve."
The forest accounts for more than a half of the district's total area and is considered a "green lung" of the city.
"It has reduced damage caused by storms, typhoons and sea level rise to the city," Le Dinh Long, deputy head of the district's centre for environmental education, communication and forest eco-tourism, said.
It has also helped keep the city's climate moderate, he said.
The district co-operates with local and foreign organisations and enterprises for the reforestation, he added.
For instance, last Saturday the city-based Youth Social Work Centre and health products and cosmetics company ATZ Healthy Life planted 300 mangrove trees in the area.
Tran Ba Cuong, the head of the former, said increasing forest cover is one way to mitigate the influence of climate change, which is affecting the district.
Bui Trong Nghia, deputy secretary of the district's Youth Union, added conservation and reforestation is one of 19 development criteria for the district under a national programme to improve rural areas and, thus, living standards there.
Many programmes to raise awareness of forest protection among local residents, especially young people, have been carried out, he added.
Exhibition highlights historical event in Hanoi
An exhibition of historical documents and objects related to the Politburo conference from December 18, 1974 – January 1, 1975 that sought to liberate the South and reunify the country in the war against the US, opened in the Thang Long Royal Citadel in Hanoi on August 30.
As part of activities to mark the 70 th anniversary of the August Revolution and National Day, the event was hosted by the Centre for the Preservation of Thang Long-Hanoi Cultural Heritage .
On the occasion, the centre also arranged a photo exhibition spotlighting the value of world cultural and natural heritage in Vietnam and intangible cultural values of Hanoi such as C​, Giong Festival and tombstones in Van Mieu (the Temple of Literature) and Quoc Tu Giam (Vietnam's first national university).
The exhibition is within the framework of the Heritage Photo Tour 2015, which began in June this year with the aim to promote world heritage sites in Vietnam.
The two events offer visitors a good chance to learn about the country's cultural values as well as spiritual and historical stories.
Vietnam boasts eights world cultural and natural heritage recognised by UNESCO: Hue Imperial City, Hoi An Ancient Town, My Son Holy Land, Thang Long Imperial Citadel, Ho Dynasty Citadel, Ha Long Bay, Phong Nha-Ke Bang National Park and Trang An Tourism Complex in northern Ninh Binh province.
Meanwhile, the country's UNESCO-honoured intangible cultural heritage include Nha Nhac (royal court music) , Gong cultural space, Quan Ho (love duets) folk singing, Ca Tru, Giong festivals in Soc and Phu Dong temples, Xoan singing, Hung Kings worship belief , Don ca tai tu and the Nghe Tinh Vi-Giam folk singing.
Dak Lak: Nearly 14,000 households lack electricity
As many as 189 villages and hamlets with 13,924 households in the central highlands province of Dak Lak still lack access to electricity from the national grid.
According to the provincial People's Committee, the figure accounts for 5 percent of the total villages and households in the locality.
As planned, the province will pour 1.5 trillion VND (about 68 million USD) into 685 kilometres of medium-voltage lines, 1,684 kilometres of low-voltage lines and 515 transformer stations with the aim to ensure power for all villages, hamlets and households by 2020.
This year, Dak Lak has focused on bringing electricity from the national grid to 37 villages in Krong Nang, Lak, Buon Don and Ea Sup districts.
Source: VNA/VNS/VOV/SGT/SGGP/TT/TN/Dantri