Retail, manufacturing sectors slow HCM City economy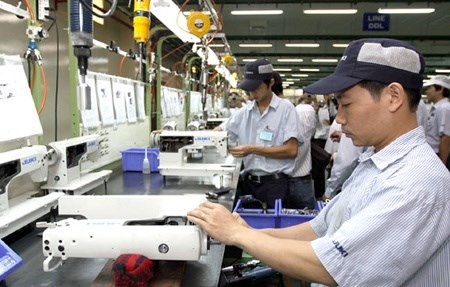 The slowdown in retail and manufacturing sectors has reduced the speed of HCM City's economic engine despite significant gains in services, trade, industry and agriculture.
At a regular meeting on the city's social-cultural-economic, and defence-security situation on May 30, the statistic figures showed mixed signals on the city's economic development.
In the first five months, the city's consumer price index increased only 0.86 percent, propped up mainly by hikes in transport, electricity, water and building materials to compensate for businesses' and peoples' spending on tourism, clothing and entertainment.
Industry is another sector showing a slowdown with the industrial production index rising only 3.4 percent in May, a considerable reduction against the level of 8.5 percent in May, 2015.
The city's main import goods include machinery and materials for production like pharmaceuticals, electronics, spare parts and cars, which highlights the city's weakness in terms of rate of localisation in industrial products.
According to the city's Department of Planning and Investment, the city has exported 11.89 billion USD, up 1.2 percent from last year but has imported 14.05 billion USD, an increase of 9.2 percent against last year.
At the meeting, Nguyen Thanh Phong, Chairman of the People's Committee, said it is a concern that local retailers only possess 36 percent of market share in comparison with 51.5 percent share of foreign companies.
He said a strategy to help local companies avoid losing more market share is necessary to prevent adverse impacts on local manufacturing.
He asked the municipal Department of Trade and Industry to soon complete the planning for retail systems, service and trade businesses in the city, and build the city's brand programmes for each of the city's key products.
Phong also asked departments to seek solutions to enhance the competitiveness of enterprises as the country will soon implement numerous free trade agreements.
Vietnam attends 25th World Economic Forum on ASEAN
Vietnam will continue integrating into the world, strengthening solidarity and making responsible contributions to building the ASEAN Community, Deputy Prime Minister Trinh Dinh Dung announced to the 25th World Economic Forum (WEF) on ASEAN that opened in Kuala Lumpur, Malaysia on June 1.
Amid opportunities and challenges faced by ASEAN, Dung said sustainable and inclusive development is a crucial goal in Vietnam's development strategies and plans.
In the foreseeable future, Vietnam will continue with comprehensive reform, economic restructuring and shift to an economically, socially and environmentally sustainable growth models, he said, adding that the country will consistently strive to fine-tune its market economy mechanism, improve its business climate and human resources quality via comprehensive reform of education-training and infrastructure ramp-up, particularly in rural areas.
In his speech at the opening of the forum themed: "Shaping ASEAN agenda for growth and inclusiveness," Malaysian PM Najib Razak said ASEAN is the seventh largest economic bloc in the world and has room for increasing internal trade by 30 percent by 2020.
Participants shared the view that ASEAN should strengthen mechanisms, improve human resources, infrastructure and connectivity among member states.
Attending a high-level dialogue on the fourth industrial revolution, Deputy PM Dung and Malaysian PM Najib Razak, Cambodian PM Hun Sen and Indonesian Vice President Jusuf Kalla discussed the potential, opportunities and challenges facing the revolution.
On the occasion, the Deputy PM and Malaysian PM Razak pledged to carry out the Vietnam – Malaysia action programme for 2016-2018 and boost trade, investment and labour ties.
The Vietnamese official and WEF Executive Director agreed on increased joint work in WEF's initiatives and activities as well as thorough preparations for the WEF-Mekong conference to be held in Vietnam in late October.
Dung and Vice President of the Asian Development Bank (ADB) Stephen Groff were committed to accelerating infrastructure, climate change prevention, economic restructuring and poverty reduction projects between 2016 and 2020.
Both sides will work closely together to prepare for the sixth Greater Mekong Sub-region Summit in Vietnam in late 2017.
PM requests reports on public investment disbursement nationwide
The Prime Minister has asked ministries, agencies, municipal and provincial authorities to submit reports on the disbursement of public investment this year.
The reports should be sent to the Ministry of Planning and Investment (MoPI), the Ministry of Finance (MoF) and the Government Office no later than June 6, detailing any obstacles and their causes during the process, as well as suggestions to accelerate disbursement.
The MoPI and MoF will sum up the reports and put forward proposals to submit to the PM before June 20.
PM orders stable prices of basic goods to avoid high inflation
Prices of many basic commodities must not be increased this year to prevent a surge in the consumer price index, Prime Minister Nguyen Xuan Phuc has said.
He and other Government members looked into a report on the Price Steering Board's performance and working orientations for 2016 during the Cabinet's monthly meeting in Hanoi on June 1.
PM Nguyen Xuan Phuc highlighted that the ultimate goal is to ensure the inflation rate does not surpass 5 percent, as targeted by the National Assembly. Relevant ministries must base decisions on facts on the market to adjust prices, while striving to make precise forecasts and stockpile an adequate amount of goods to prevent false price augmentation.
He agreed on a proposal by the Ministry of Industry and Trade (MoIT) and the Ministry of Finance (MoF), which suggested electricity retail prices should not be increased.
The MoIT was also allowed to import 100,000 tonnes of sugar in the short term to stabilise domestic prices, given the fact that Vietnam is facing a shortage of 200,000 – 300,000 tonnes of sugar, and prices of this commodity already rose 700 – 1,200 VND per kg in May.
At the meeting, the Ministry of Agriculture and Rural Development pointed out that the country's salt reserve and output this year is about 2.2 million tonnes, while domestic demand is only 1.5 million tonnes. That has dragged salt prices down to 400 VND per kg.
PM Nguyen Xuan Phuc approved the ministry's proposal of stockpiling 200,000 tonnes of salt to beef up prices and assist salt farmers.
Meanwhile, the Ministry of Health must not raise medical services fees simultaneously in all 63 provinces and cities in 2016, but work with the MoF and local administrations to increase the fees at appropriate points of time, the Cabinet chief said.
Tuition fees should also not be adjusted at the same time with medical fees to avoid a sudden impact on consumer prices, he added.
Minister of Education and Training Phung Xuan Nha said 20 provinces have raised tuition fees at modest levels since last December, which has yet to greatly affect the consumer price index. He pledged to control tuition fees in line with education quality.
During the Government meeting, PM Nguyen Xuan Phuc also asked relevant sides not to increase road tolls on Build-Operate-Transfer projects.
Vietnam-Thailand trade fair, exhibition underway in Da Nang
A Vietnam-Thailand trade fair and photo exhibition opened in the central city of Da Nang on June 1.
The six-day event features 50 stalls showcasing cosmetics, household articles and food, among other products.
Visitors can take part in a draw to win flights to Thailand's Bangkok and Pattaya or a free stay at the Centre Hotel Da Nang.
At the event there will be a conference on business opportunities in Da Nang for Thai investors, a Thai food festival and a music concert.
Trinh Thanh Sau, head of the Vietnam-Thailand friendship association in Da Nang said ties between the two countries are growing in trade, culture and tourism.
On May 25, a direct route between Da Nang and Bangkok was launched, with four flights operating per week. It is expected to stimulate the wide-range relations between the two cities and the two countries.
Vietnamese, Algerian enterprises seek to expand links
Vietnamese and Algerian businesses gathered at a workshop in Alger on May 30, which aimed to promote economic links between the two countries.
As part of the 49th International Fair of Algiers, the event was hosted by the Vietnamese Embassy and Commercial Affairs Office in Algeria in conjunction with the Chamber of Commerce and Industry of the Medéa region.
Representatives from Vietnamese companies expressed their desire to partner with Algerian firms, in a bid to boost exports of farm products, healthcare devices, handicrafts, electronics and household goods to the North African country.
Chairman of the Chamber of Commerce and Industry in the Medéa region Hadef Abderrahmane welcomed Vietnamese enterprises' presence at the fair, saying that this reflects increasing economic bonds between the two countries.
He briefed participants on his country's economic reforms, which prioritised diversifying the economy with the focus on non-petroleum sectors like agriculture, industry, construction, tourism, IT, and renewable energy.
The reforms have helped Algeria improve its business environment, making it one of the most stable and competitive markets in the Middle East and North Africa, he noted.
Vietnamese Ambassador Vu The Hiep stated that the workshop highlights opportunities to boost links between Vietnamese and Algerian firms.
Algerian companies should take part in international fairs in Vietnam, Hiep said.
He added that the two countries ought to to improve the business climate and facilitate their enterprises' operation as well.
The Vietnamese Embassy in Algeria will connect the two sides' businesses, for the prosperity of both nations, he affirmed.
Vietnam's consumer confidence index hike
Vietnam's Consumer Confidence Index (CCI) was 91 points in the second quarter of this year, six point higher than the same period last year, according to a Vietnam Taylor Nelson Sofres Company survey.
In the first quarter, the index was 51 points.
The index was based on Vietnamese nationals' expectations of the value of the domestic currency, employment, economy and personal living standards.
The company revealed that households who earn more than 13 million VND (600 USD) monthly account for 57 percent of the population while 30 percent earn from 6.5 million VND (292 USD) to 13.5 million VND (607 USD) monthly.
The ratio has improved remarkably over the last decade when only five percent of households earned more than 13 million VND and 17 percent earned between 6.5 million VND and 13.5 million VND.
Vietnam's steel production surge in May
Several steel products saw a surge in productivity in May. The bar and angle steel products showed the highest increase of 22.5 percent, following by rolled steel with 21 percent.
Statistics from Vietnam Steel Association showed that in the first four months of the year, steel consumption has seen a strong increase of 1.3 million tonnes, posting 49 percent year-on-year rise.
The association forecast that domestic steel prices would be increased 10 percent to 11.4 million VND (506 USD) per tonne in the upcoming times.
Vietnam urged to become a more competitive market
The Vietnam Chamber of Commerce and Industry (VCCI), the Ministry of Planning and Investment and the World Bank jointly held a seminar in Hanoi on May 30 on the role of the business community as well as need of institutional reform in the Vietnam 2035 Report.
The report "Vietnam 2035: Toward Prosperity, Creativity, Equity and Democracy" lays out a path for the country to reach upper-middle income status by 2035.
In the report, Vietnam sets goals for modernising the economy, increasing the competitiveness of the private sector, the effectiveness of urbanisation and the capacity of climate change response, ensuring social equality for vulnerable groups, and building a modern rule-of-law State.
To that end, Head of the Central Institute for Economic Management Nguyen Dinh Cung said that Vietnam should become a more competitive, transparent and democratic market.
Pham Dinh Toan, Chairman of the Phu Thai Group, said that business will decide the success of institutional reform.
From now to 2035, employers should improve their knowledge and capacity as many businesses cannot grow as the awareness of their leaders has yet to meet the requirements of the integration process, he added.
At the event, delegates recommended Vietnamese enterprises pay more attention to exports, particularly in Vietnam's strongest fields like seafood processing, garment and textiles and electronics.
They were also advised to associate with foreign businesses to gain higher competitiveness.
Farmers switch to pepper as coffee prices fall
The high price of pepper, combined with a drop in coffee prices, has pushed many farmers to switch to cultivating pepper vines.
Experts, however, have warned that unzoned pepper development could hurt farmers in the long term.
In the Central Highlands province of Dak Lak, considered the country's coffee capital, many farmers are now growing pepper.
Hoang Minh Hung cut down one hectare of coffee trees to grow pepper in the province's Krong Nang district in March. "Many families here have switched to pepper," he said.
Dak Lak has the largest pepper cultivating area in the Central Highlands region, according to the provincial People's Committee.
As of May, the province had nearly 22,000ha of pepper, exceeding 15,000ha compared to the province's zoned pepper cultivation area for 2015.
Similarly, the Central Highlands province of Gia Lai plans to have 6,000ha of pepper in 2020 but the province's current pepper area is more than 12,000ha.
Do Ha Nam, Chairman of the Vietnam Pepper Association, said the country's pepper area had reached about 100,000ha as of the end of March, double the country's pepper area zoned to 2020 by the Ministry of Agriculture and Rural Development.
The pepper areas in Southeast and Central Highlands provinces would continue to increase by 10-20 percent in the coming time, he said.
"If agencies do not have measures to limit unzoned pepper development, the pepper sector's sustainable development will be affected," he said.
Currently, pepper farmers grow the plant on many kinds of soil, including in areas not suitable for pepper cultivation.
Many farmers have also intercropped pepper in rubber orchards, which can cause rubber trees infected with phytopthora, a kind of fungi, to die, according to experts.
A number of farmers overuse fertiliser and pesticides to increase yield, causing a decline of pepper quality.
Tran Vinh, deputy head of the Central Highlands Agriculture and Forestry Science Institute, said pepper seedlings without clear origin are being used due to the lack of information about disease-prevention techniques, as well as farmers chasing after profits.
This can lead to the mass death of pepper plants caused by disease outbreaks or pepper bearing no fruit, he said, adding that farmers could suffer severe losses.
To grow one hectare of pepper, farmers have to invest more than 500 million VND (22,000 USD).
Pepper companies are now buying pepper from farmers at a price of 170,000-180,000 VND (7.7-8.1 USD) a kilo.
The price of pepper has been high for nearly 10 years, providing stable profits for farmers.
Vietnam is one of the world's top pepper exporters. The country exported about 70,000 tonnes of pepper worth 562 million USD in the first four months of the year, up nearly 24 percent in volume and 10 percent in value against the same period last year, according to the Vietnam Pepper Association.
Cargill confident about Vietnamese market
US-based agribusiness conglomerate Cargill will continue investing in building animal feed plants and other production projects in Vietnam, Jorge Becerra, Managing Director for Cargill's Animal Nutrition Business in Vietnam, said at a press conference on May 30.
Vietnamese agriculture, despite current difficulties due to drought, has prospects in the long term, he explained.
Serena Lin, President of Cargill Feed & Nutrition, said Vietnam is among the best markets for animal feed production and sales that her company has entered worldwide.
Cargill has recently inaugurated an 8.5 million USD plant in the central province of Nghe An, which is capable of turning out 66,000 tonnes of animal feed per year. This is the 11 th plant opened by the company in Vietnam, with the construction of its next plant in southern province of Binh Duong expected to be completed by the end of 2017. Cargill is channelling 30 million USD into the 12 th plant, which will be equipped with the latest technologies and produce 260,000 tonnes of animal feed per year.
Previously, in the first quarter of 2016, the company installed a new production line worth 8 million USD at its plant in the Mekong Delta province of Dong Thap.
Cargill is an international producer and marketer of food, agricultural, financial and industrial products and services. Founded in 1865, the privately held currently company employs 149,000 people across 70 countries.
Steel businesses improve competitiveness
The Vietnam Steel Association (VSA) and the South East Asia Iron and Steel Institute (SEAISI) jointly held an international expo in Hanoi on May 30 to improve competitiveness of the steel sector in ASEAN.
The expo features 62 booths, including eight from Vietnam, showcasing a wide range of products from domestic and foreign major steel manufacturers.
Chairman of the VSA Ho Nghia Dung said the Vietnamese steel industry has witnessed the fastest growth in Southeast Asia. However, there are still some small-scale and uncompetitive businesses, he noted.
The sector is also facing fierce competition from low-price steel importers, he said, urging local firms to further update to the latest technology, equipment, improve business management, and increase regional and global integration.
General Director of the Vietnam Steel Corporation Nghiem Xuan Da said the expo offers an opportunity for steel manufacturers in Southeast Asia to exchange information and seek solutions to improve their operational efficiency and competitive edge.
There will be tours of local steel producers, including VnSteel Thang Long and Hung Nghiep Formosa Ha Tinh Company.
The event will run until June 1.
Farmers want pepper futures trading
The Vietnam Pepper Association's proposal for a pepper futures trading centre was welcomed by farmers who hoped that such trading would give them an upper hand while deciding prices.
The association said that the proposal had been already submitted to the Ministry of Agriculture and Rural Development.
Do Ha Nam, chairman of the pepper association, said that starting pepper futures trading was necessary for Vietnam and would help extend its reach in the global pepper business as the world's biggest pepper producer. Vietnam currently accounted for 50 percent of the global total pepper output.
Hoang Phuoc Binh, Deputy Chairman of Chu Se Pepper Association in Gia Lai Province, said that the international pepper community forecast that Vietnam would continue to take the lead in pepper exports in the next eight years and the foundation of the pepper exchange would be taken up on an urgent footing.
Binh said farmers would certainly benefit from pepper futures trading.
Currently, farmers sold their pepper directly to traders and prices often fluctuated significantly depending on the demand. With futures trading, farmers could avoid dependence on traders.
Tran Huu Thang, a farmer with 3.2 hectare pepper farm in Dong Nai Province's Xuan Loc District, said to Dan Viet newspaper that he expected futures trading to start soon and help farmers reduce the dependence on traders.
Dang Van Chinh, a pepper grower in Binh Phuoc Province said that it was good that futures trading would help keep prices stable. However, he was afraid that the requirement on the output for futures trading could cause difficulties to farmers.
Transport fees and procedures were also a matter of concern for farmers, Chinh said.
Late last year, a memorandum of understanding was signed between the Vietnam Pepper Association and the Indian Spice Board, the Indian government's regulatory and promotion agency, for starting futures trading for pepper in Vietnam.
Futures trading for agricultural commodities was not a new idea.
In fact, Vietnam had Buan Ma Thuat Coffee and Commodity Exchange, a pilot cashew exchange in Binh Phuoc Province and the Vietnam Commodity Exchange. However, those models failed to attract a large number of farmers as they found it inconvenient to bring their products to one exchange.
Vietnam is the world's largest pepper producer and exporter with an annual output of 150,000 tonnes.
In the first four months of this year, Vietnam shipped more than 69,000 tonnes of pepper abroad, worth 561.86 million USD.
HCM City takes steps to attract tourists
The HCM City tourism sector has made good preparations this year to attract international visitors but more new attractions are needed for them to succeed.
"We spent a lot of effort and time to carefully prepare for festivals and improve service quality and are very glad to see good results," Truong Hien Hoa, director of the city Tourism Promotion Centre, was quoted as saying to the Vietnam Economic Times.
Tourism activities have been accelerated this year with the holding of the Ao dai Festival and Southern Colour Festival.
According to the city tourism department, 1.38 million international visitors came to the city in the first quarter and spent 25.8 trillion VND (1.15 billion USD), 12 and 9 percent higher than in the same period last year, respectively.
They came predominantly from the Republic of Korea, Japan and the US, but also included a lot of overseas Vietnamese, thanks to the Lunar New Year that fell in that period.
The number of visitors arriving by ship increased by 80 percent to 9,000.
Last year the city welcomed 4.6 million foreign visitors, accounting for a full 50 percent of the number coming to Vietnam, who spent 94.6 trillion VND, or 30 percent of national tourism revenues.
"The city's share of tourism has decreased because tourism development always accompanies investment in new attractions," Hoa added.
He said the city lacks such new attractions, mentioning several major delayed ones like a safari in Cu Chi District, the Vietnamese History and Culture Park in District 9 and the Bach Dang Culture Park in District 1.
However, the city has been launching some new services, including a boat tour on the Nhieu Loc – Thi Nghe canal.
A successful tourism model needs time to become known and popular, Hoa said.
"We should make each local resident a tourism ambassador."
In the first quarter 2.46 million foreign tourists arrived in Vietnam, an increase of nearly 20 percent year-on-year, while domestic visitors numbered 18.7 million.
The sector's total revenues rose 21.2 percent to 109 trillion VND.
The number of mainland Chinese visitors increased by 66 percent, while it was 30 percent for the Republic of Korea, 160 percent for Hong Kong, 15 percent for Taiwan, and 12 percent for Japan.
Catfish raw material management tightened after US warning
The Agro-Forestry-Fishery Quality Management Department has asked Siluriformes processors and exporters to tighten management of raw materials, especially chemical and antibiotic content, to ensure food hygiene and safety.
This was reported by the Viet Nam News Agency.
The order came following the warning by the United States' Food Safety and Inspection Service (FSIS) on two batches of catfish sent by two Vietnamese exporters, which were found to contain banned chemicals and antibiotics, including Malachite Green, Enrofloxacine and Gentian Violet.
The two companies are Tan Thanh Loi Frozen Food Company Ltd. and Golden Quality Seafood Corp.
FSIS in its document sent to the Viet Nam Ministry of Industry of Agriculture and Rural Department's fishery quality management watchdog said the reasons for the contamination and the handling measures for the two contaminated catfish batches must be clarified within 30 days.
The FSIS also asked for information on other catfish batches supplied by the two firms that had received the warning and on other exporters who had the same suppliers of raw materials.
Catfish processed from raw materials which were found to be contaminated could not be exported to the United States until appropriate handling measures were put in place, FSIS said in the document.
The Agro-Forestry-Fishery Quality Management Department, in response, asked the two firms to list the catfish batches exported to the United States since April 15 and the suppliers of raw materials, clarify the reasons for contamination and set up appropriate handling measures.
On December 2, 2015, FSIS published the "Final Rule" on the inspection programme for Siluriformes. In accordance with the programme, FSIS has checked Vietnamese catfish exported to the United States since April 15.
The "Final Rule's" full enforcement will come into effect on September 1, 2017.
However, on May 25, the US Senate approved a bill that would repeal the US Department of Agriculture (USDA)'s catfish inspection programme that critics argued was wasteful and unnecessary, Viet Nam News Agency reported.
The resolution still needs the House of Representatives' approval and President Barack Obama's signature to take effect.
Asian countries eye postal service improvements
Deputy Minister of Information and Communication Nguyen Minh Hong has called for strengthening co-operation among Asian countries to improve postal services.
He made these remarks at the fourth Universal Postal Union (UPU) Workshop on service quality and a supply chain improvement project involving Asian countries.
Hong stressed that deputies from the 21 participating countries should share their experiences and discuss ways to improve postal services and training methods.
"I wish for participants to get involved in more discussions to present ideal solutions and share their experiences in postal services within their respective countries at this workshop. We hope this workshop will result in better services," Hong said at the opening ceremony in Da Nang City on May 30.
"We expect our postal service to meet the increasing demands of customers through rapid development and widespread use of information technology," he said.
The deputy minister also said Asian countries should co-operate in building a better future for the postal service and in improving service quality, encouraging faster growth across nations in the coming years.
He also praised the initiative of the UPU in executing the project to boost the productivity of postal services in Asia.
The project, which has drawn the participation of 50 deputies, managers and experts from 21 Asian countries, provided technical support that allows the UPU to help the countries improve their postal services.
As scheduled, the UPU's experts will help Asian countries map out action plans to improve their working processes and update their technological applications to upgrade their postal services and supply chains.
The project also played a key role in the world postal strategy for 2012-16.
The workshop closes on June 2.
VN eyes tilapia export market
Viet Nam is striving to add tilapia to tra fish and shrimp as a key fisheries export.
The Ministry of Agriculture and Rural Development recently approved a tilapia farming scheme for the period until 2020 that will develop large-scale farms with diverse and high-value products for both the domestic and foreign markets, ensure supply of fries for breeding, control diseases and raise farmers' incomes.
By 2020 the fish is expected to be farmed on an area of 33,000 hectares and 1.5 million cubic metres of cages in rivers and ponds, with annual output at 300,000 tonnes, 50-60 per cent of which will be exported.
By 2030 the area would increase to 40,000ha and 1.8 million cubic metres of cages, with the output increasing to 400,000 tonnes, 45-50 per cent of it for export.
All the produce will be of VietGap standards.
The scheme envisages farming the fish in seven geographies — northern midland and mountainous regions, northern lowlands, north-central and south-central regions, Central Highlands, and south-eastern and south-western regions.
Not long ago international experts blamed Viet Nam for ignoring tilapia though it had geographic and climatic advantages to farm the fish.
Meanwhile, seafood exporters sought to ensure a sufficient and steady supply of the fish for processing to meet not only domestic but also large export demand, partly leading to the formulation of the programme.
Viet Nam's tilapia exports have seen strong growth over the past decade or so, increasing from US$1.95 million in 2004 to more than $32.2 million in 2014.
It sells the fish to more than 60 countries and territories.
But the exports remain relatively low compared with the potential, according to the Directorate of Fisheries.
According to the Viet Nam Association of Seafood Producers and Exporters, the EU imports tens of thousands of tonnes each year, mainly in frozen form from Asian countries like China and Indonesia.
The US is also a major consumer of the fish.
The agro-fishery-forestry exports recovered by end of May 2016, after a drop last year, driven by improved demand and a number of free trade agreements (FTAs) which took effect.
According to statistics from the Ministry of Agriculture and Rural Development, the agro-fishery-forestry exports rose 4.9 per cent over the same period last year to touch a revenue of $12.18 billion. The export revenue reached $2.32 billion in May alone.
Agricultural products accounted for nearly half of the total export revenue, or $6.5 billion, rising by 6.6 per cent over the same period last year.
Fisheries exports earned a turnover of $2.43 billion, representing a rise of 1.1 per cent while forestry exports saw a fall of 1.8 per cent to $2.69 billion.
Coffee saw the largest growth in exports in the five-month period, shipping 797,000 tonnes abroad, totally worth $1.36 billion, up 34 per cent in volume and rising more than 10 per cent in value over the same period last year, despite the average coffee export price dropping by some 18 per cent.
Viet Nam's rice exports rose 1.2 per cent to earn $1.06 billion from a shipment of 2.35 million tonnes despite Thailand's plan to accelerate sales of 11.4 million tonnes of stockpiled rice within two months starting in May.
Nguyen Chi Kien, from the Institute of Policy and Strategy for Agriculture and Rural Development, said that despite the biggest planned stockpiled rice sale clearance from Thailand, rice prices have recovered in recent weeks.
Rubber and cashew also grew in the first five months of this year with revenues of $561 million and $910 million, respectively.
Wood and wooden products exports dropped by 1.8 per cent to $2.56 billion.
Viet Nam imported $8.7 billion worth of agro, fishery and forestry products in the first five months, decreasing by 7.6 per cent, and helping the sector run up a trade surplus of $3.4 billion. Last year, the sector's exports posted a slight drop of 0.8 per cent to $30.14 billion.
IIP grows 7.5 per cent in five months
The national index of industrial production (IIP) surged 7.5 per cent in the first five months compared to the same period last year, the General Statistics Office (GSO) reported.
The index has been trending upward since the beginning of this year with an increase of 5.9 per cent in January, 6.6 per cent in the first two months, 6.3 per cent in the first three months and 7.3 per cent in the first four months.
However, according to GSO economists, the growth of industrial production in the five months is low compared to last year's at 9.4 per cent.
Experts attributed the slower industrial production growth to the decline in product consumption as the consumption index of the first four months of this year rose about 9 per cent while in the same period last year it rose nearly 13 per cent.
As consumption was lower, many industries cut production.
Production of motorbikes hit 1.25 million units, down 2.3 per cent; footwear was 93.8 million pairs, down 2.9 per cent; sugar was 1.12 million tonnes, down 3.4 per cent; mobile phones were 83.6 million units, down 9.8 per cent; and crude oil was 6.6 million tonnes, down 4.5 per cent.
However, some industries saw a high consumption rate, as well as high production growth. The textile sector saw a 21.4 per cent growth in consumption and metal production rose 18.2 per cent while electronic and optical sector grew 12.4 per cent.
Many enterprises employed more labourers to increase production, with the number of labourers working at the enterprises rising 6.1 per cent year-on-year by May 1 this year. Of these, the number of labourers of foreign direct investment (FDI) firms saw the highest increase at 8.7 per cent, that of non-State firms was 4.5 per cent and of State-owned firms 0.2 per cent.
Industrial enterprises in the northern province of Thai Nguyen saw the highest growth in labourers at 35.3 per cent, followed by Vinh Phuc (13.3 per cent), Ba Ria – Vung Tau (9.1 per cent), Dong Nai (8.2 per cent) and Binh Duong (6 per cent), meanwhile, Ha Noi and HCM City saw the lowest growth of 0.8 and 1 per cent, respectively.
Banking sector must support business: SBV
Monetary policies from now until the year end must give top priority to ensuring the safety of the banking system and controlling inflation while still trying to support businesses.
This new directive was issued by the State Bank of Viet Nam (SBV).
Under Circular 04/CT-NHNN issued late last week to regulate the operations of the banking system from now until the end of the year, SBV Governor Le Minh Hung said relevant agencies must closely monitor the movements of the macro economy, the monetary market and operations of credit institutions to take flexible measures aimed at assisting the liquidity and capital sources for credit institutions. However, the agencies must at the same time ensure the Government's target to control inflation under 5 per cent this year is not jeopardised.
"Credit institutions must balance their capital mobilisation sources and lending to ensure liquidity. Credit growth rates must be controlled in accordance with capital mobilisation and lending quotas allocated by the central bank to ensure safe credit growth and to help businesses with easier access to credit," the directive said.
According to the directive, close supervision and warnings must be issued for credit institutions that have witnessed high growth and large lending in industries with high potential risks, such as real estate, Build-Operate-Transfer (BOT) and Build-Transfer (BT) projects.
Measures taken from now until the end of the year can be implemented through Open Market Operations (OMO) and refinancing for credit institutions with a reasonable tenure, volume and interest rate.
Experts said that the measures could indirectly create favourable conditions for credit institutions to cut lending rates to aid businesses.
A stabilisation in deposit interest rates and a cut in input costs are required to be able to help credit institutions cut lending rates.
Under the directive, the governor also reaffirmed the central bank's message to stabilise the foreign exchange rate this year.
"The central bank's daily reference rate will continuously be applied in accordance with the monetary policy and macro economy targets," the directive said.
The relevant agencies must also prepare a project to restructure credit institutions and resolve bad debts for the 2016-20 period.
A boost must be given for resolving bad debts according to the market mechanism, developing bad debts trading market and encouraging the participation of foreign and domestic investors, according to the directive.
Order on 3 basement floors in high-rises 'unreasonable'
Facing with a severe shortage of parking space, Ha Noi recently issued a regulation that high-rise building projects and trade centres must have at least three basement floors for parking.
The regulation has made property developers unhappy.
In a recent move, the Viet Nam Real Estate Association (VNREA) on Wednesday proposed the regulation be put on hold. The association felt the order needed careful consideration as the requirement for three basement floors could cause a lot of difficulties for property developers and threaten to block property investment and development.
According to the president of VNREA, Nguyen Tran Nam, the requirement was raised by the Department of Planning and Architecture in April under Announcement 1823/TB-QHKT as part of efforts by the municipal authorities to tackle the shortage of parking space in the capital city.
"There are, however, unreasonable points," Nam said.
The document did not specify the scale or position of the projects that had to comply with the directive, which would certainly cause confusion and hinder property development in the city, the association said. In addition, this requirement would push up investment costs.
Nam said in the downtown area where there was critical shortage of parking space, the regulation for a building to have at least three basement floors was understandable, but in areas on the outskirts it could be unnecessary.
Nguyen Quoc Hiep, chairman of GP Invest, said the minimum number of basement floors for parking in a building should not be fixed. Instead, there should be a regulation on the minimum percentage of space in a building designated for parking.
According to Tran Chung, former director of the State Authority for Construction Quality Inspection, the requirement for basement floors for parking could not be executed for all projects. He said detailed instructions were needed, if there was a requirement.
The association said the document of the Department of Planning and Architecture must be revised with reference to other relevant legal documents. In addition, the document should be put on hold until there was a final decision from the municipal authorities.
Previously, the Department of Housing and Real Estate Management had said since the property market was anticipated to post solid growth until 2017, the property market management policies must be stable to promote the sector's growth.
HCM Exchange adds live foreign trading on board
HCM Stock Exchange (HoSE) has added live trading of foreign investors on its electronic transaction board on May 30.
Now, investors will not have to wait until the end of the session to see the volume of foreigners net selling and buying, as before.
According to local investors, the live reporting will allow the board to be used as a consulting tool before making purchasing decisions, and it also helps the market become more transparent.
It could further help to reduce risks taken by local investors, who often repeat foreign decisions in trading.
Import of cars increases in May
Viet Nam imported about 12,000 complete built-up units (CBU) cars with total value of US$195 million in May, increasing by 3,000 units, or 33 per cent, compared with last month.
Each car cost $16, 250 on average, the General Statistics Office reported.
Thailand took the lead in the value and volume of cars exported to Viet Nam, with 10,155 units, worth more than $182.8 million. It was followed by South Korea and China with 5,369 cars and 4,216 units, respectively.
In five months since the beginning of this year, about 41,000 units were shipped to Viet Nam, making total value of $927 million. The figures reduced 9.9 per cent in quantity and 23 per cent in value in comparison with the same period last year.
Dong A Plastic JSC to start operation of expanded plastic profile plant in June
Dong A Plastic JSC (HoSE: DAG) is going to start operation of phase 1 of its VND400 billion (US$18 million) expanded plastic profile plant manufacturing plant in the northern province of Ha Nam this June.
In the first phase, the company invested in 30 production lines made by Austrian company Theysohn to triple the plant's capacity to 50,000 tonnes of products per year. As such, DAG will become the biggest Vietnamese producer of plastic profile in terms of capacity.
DAG hopes that with this project it's going to become the biggest in terms of market share in Vietnam in plastic profile, gaining the market back from plastic profile imported from China.
DAG is one of the first Vietnamese companies to produce plastic profile, which it considers its focus, besides DAG's smart windows, mica sheets and PP sheets. In 2013 DAG issued VND53.5 billion (US$2.4 million) worth of convertible bonds, VND 40 billion (US$1.8 million) of which to Japan South East Asia Growth Fund L.P, and VND13.5 billion (US$605,000) of which to joint venture Shide Vietnam.
The company used the bond sales proceeds to increase its profile production capacity to 2.5 times as much. In 2015 it signed the agreement to distribute uPVC plastic trims of the Shide Profile brand.
DAG targets to reach annual revenue of VND3 trillion (US$135 million) in five years.
In 2015 the company issued 20.9 million shares to the public to mobilise capital for expansion. It's also looking for a foreign strategic investor. At end-2015, Japanese company RISA Partners Inc., which focuses on investment in real estate, expressed interest in becoming a strategic investor in DAG.
In March of this year, through Saigon Securities Inc., DAG met with seven funds namely Dragon Capital, Vietnam Holding, Vietfund Management, Korea Investment, Thien Viet Asset Management, Manulife Asset Management on possible cooperation.
It has also worked with Japanese fund DBJ and Japanese building material company Sankyo Tateyama, which is planning to help DAG in product development and introduce Japanese technology in the company.
In the second quarter of 2016 DAG started the project to build the 56-hectare VND40 billion (US$1.8 million) Water Resources University in Pho Hien, Hung Yen. The project is going to be finished in June 2016.
Business climate lures investors to Dong Thap
The Mekong Delta province of Dong Thap has achieved outstanding results in attracting investment thanks to its high ranking in the provincial competitiveness index (PCI), which assesses the capacity of provincial governments to develop business environments.
Last year, Dong Thap province was second in the country's PCI ranking and became the most competitive locality in the Mekong Delta region. From 2010-2015, the province attracted more than 25 trillion VND (1.12 billion USD) in investment.
Large enterprises landing investments in the province include Australian Austfeed Group, domestic Nghi Phong Group, Russian Dialog Group, RoK In Jae Group and domestic Vingroup.
Director of the provincial Department of Planning and Investment Truong Hoai Chau highlighted that the PCI ranking attracted potential investors while showing the satisfaction of enterprises that already invested in the locality.
The province has focused on improving industrial infrastructure and policies as well as public services to create a favourable investment environment, he added.
In 2016, the province is investing in a 150-hectare industrial zone and a 50-hectare industrial complex as well as encouraging investment in rice, mango, bonsai, tra fish, duck, longan and chilli.-
Industrial production picks up 7.5 pct in first five months
The Index of Industrial Production (IIP) in the first five months of 2016 picked up 7.5 percent from the same period last year, with May's figure increasing 7.8 percent year-on-year.
According to the General Statistics Office of Vietnam (GSO), metal production led all sectors with growth of 18.9 percent, followed by computers, electronic and optical products (17.5 percent), furniture (17 percent) and textiles (16.3 percent).
Several products saw higher growth than the same period last year, including televisions (42 percent), automobiles (28.6 percent), and cattle feed (17.5 percent while others edged down, for example, motorbikes (2.3 percent), footwear (2.9 percent), sugar (3.4 percent) and crude oil (4.5 percent).
Thai Nguyen province registered the largest IIP expansion of 39.9 percent. Quang Nam province came second with 37.9 percent, followed by Can Tho city (19.8 percent), Hai Phong (13.7 percent) and Bac Ninh (13.5 percent).
The two major economic hubs – Hanoi and Ho Chi Minh City – saw increases of 7.4 percent and 6.4 percent, respectively.
As of May 1, the inventory level of manufacturing and processing industry rose by 8.7 percent year on year, lower than last year's figure of 11.5 percent, the GSO said. Sharp rises were witnessed in computers, electronic and optical products (104.9 percent), vehicles (65.5 percent), and paper products (36.1 percent).
The number of workers in industry increased 6.1 percent year-on-year.
VEF/VNA/VNS/VOV/SGT/SGGP/Dantri/VET/VIR