MobiFone network upgrade may affect connection
MobiFone Telecommunications Corporation announced plans to upgrade and expand its network to improve service quality.
The network provider will implement the 2G/3G station transformation from June 11 to July 25 in Ha Noi and seven northern provinces of Thai Binh, Cao Bang, Lang Son, Ha Giang, Lai Chau, Lang Son and Lao Cai.
The upgrade may affect or prevent connections, including calls and texts.
The corporation recommends customers restart their mobile devices if problems occur, to ensure connection continuity.
Fire kills four in Ho Chi Minh City
A fire occurred at an electricity appliance shop in Tan Phu district of Ho Chi Minh City, on the early morning of June 10, claiming four lives.
According to Director of the city's Police Department of Fire Fighting and Prevention Le Tan Buu, the fire broke out at around 4am in the house at No.423, Luy Ban Bich street.
There were five people inside the house at that time, one of whom luckily escaped from the fire.
Investigation into the accident is underway.
President offers condolences to Kazakhstan over terror attacks
President Tran Dai Quang on June 9 cabled condolences to his counterpart of Kazakhstan Nursultan Nazarbayev over deadly terror attacks on June 5.
According to foreign media, the attacks by suspected religious radicals in the city of Aktobe near the Russian border killed three civilians at two gun stores and three soldiers at a military base.
US doctors fit prosthetic limbs for hundreds of amputees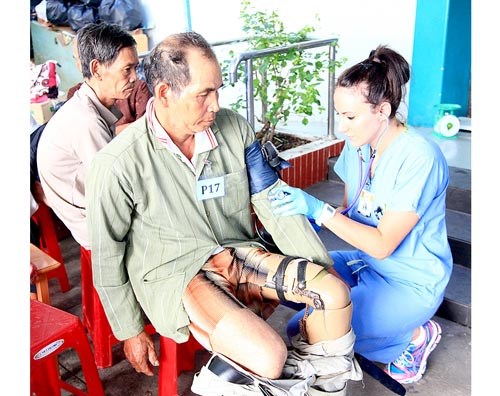 About 225 Vietnamese disabled people have received new prosthetic limbs through the programme "Mercer on Mission" by Mercer University based in Georgia, the United States.
The programme is underway in the Mekong Delta province of Ben Tre from June 4-11 by a group of 48 professors and students from Mercer University.
They also provide free treatment for about 800 locals with bone and joint disorders. All beneficiaries are from difficult backgrounds.
It is the fifth mission of the university's professors and students implemented in Ben Tre.
The "Mercer on Mission" programme has provided 1,000 Vietnamese with prosthetic limbs over the last five years.
Body of one miner extricated from cave
The body of one miner who trapped in the Nước cave of Lũng Cao commune in the central Thanh Hóa province was recovered yesterday by rescuers and local residents.
Col Hoàng Minh Luyện, head of the search and rescue committee, said that Bùi Văn Mẫn, 54, living in Kim Bôi District in the northern province of Hòa Bình, was one of the three gold miners trapped in the cave last Sunday.
After three days, together with heavy rain last night, the toxic levels in the cave also came down, so the rescue force and the victim's family members tried to go down to find them.
However, the other two trapped miners have not been been rescued so far.
The rescue force is using a technique to reduce the toxic levels in the cave while continuously searching for the remaining victims.
All the gold miners were trapped in the cave on Sunday after inhaling heavy toxic fumes.
Nine wild animals rescued
Education for Nature–Việt Nam (ENV) said yesterday it had rescued nine wild animals with assistance from local units after following up on reports from local residents and volunteers.
Among the rescued animals are five sea turtles, three long-tailed monkeys and one loris. All the animals have been released into the wild.
On Tuesday, three sea turtles, weighing up to 70kg, were rescued from a wooden boat located near Chà Và Bridge in the southern Vũng Tàu Province, thanks to a report from a tourist.
On the same day, the ENV's volunteers, working with local agencies, also rescued two monkeys that had been kept by a household in HCM City's Tân Phú District.
Two sea turtles weighing a total of 16kg were rescued on Monday, when a restaurant released them to the environment police and Hạ Long forest management centre in the northern Quảng Ninh Province.
Earlier, another monkey and a loris were rescued in the Tây Nguyên (Central Highlands) province of Lâm Đồng and at Cúc Phương National Park last week.
Hot wave burns central region
The central and south central provinces from Binh Dinh to Binh Thuan have suffered hot weather with its peak temperature of 37 degrees Celsius at daytime, reported the National Hydrology Meteorology Forecast Center yesterday.
At present, the hot weather has caused flow shortage at 50- 95 percent in local rivers. Water release capacity in reservoirs reached at 49, 4- 51, 3 percent in comparison with design capacity.
Because of the influence of low pressure trough, small- medium rains and thunderstorms have appeared in the north provinces on the large scale.
Besides, the southwest monsoon caused small- heavy rains and thunderstorms in Ho Chi Minh City and the southern region, with the highest temperature at 25- 26 degrees Celsius at night, and at 32- 33 degrees Celsius at daytime.
Heavy rains and cyclone not only blew up five house's roofs but also caused flood, landslide and traffic jam in some places of Lao Cai city
Experts warn outbreaks of dengue fever in Mekong delta
Director of the Department of Preventive Medicine in Mekong delta city of Can Tho Dr. Huynh Minh Truc yesterday said that there has been an increase in dengue fever cases.
Since the beginning of the year, Can Tho City has 361 cases of dengue fever, an increase of 80 percent compared to the same period last year. Not only Can Tho City but also 20 southern cities and provinces have seen a leap of 120 percent in dengue fever cases in the first five months.
According to the Department of Preventive Medicine in the Mekong delta province of An Giang, since the beginning of the year, the province has 1,290 cases of dengue fever, 160 percent higher than same period last year.
In Dong Thap Province, the hospitals receive 50 cases per week meanwhile in previous rainy seasons, just around 5-8 cases of dengue fever a week have been reported. Soc Trang Province has 500 cases, an increase of 70 percent compared to same period last year.
Director of Children Hospital in Can Tho City Dr. Tran Van De said that the region has seen an increase of 340 percent of kid patients compared same period last year. In the first five months of the year, the hospital has admitted 808 kids with dengue fever meanwhile the number of last year was 242.
The cause of outbreak this year is that it is circle of the disease and the weather change is unpredictable and people's awareness of killing mosquitoes is low.
Israeli Rock Vegan Friendly performs in HCMC
The Israeli Rock trio Vegan Friendly will perform in Ho Chi Minh City from June 9 to 10 at Saigon Ranger (Nguyen Sieu Street, District 1).
This event is organized by Israel Embassy to Vietnam and Jetviewn (Israel).
The Vegan Friendly has just been founded by Geva Alon (vocalist and guitarist), a well-known artist in Israel who released five albums from 2006 to date; Assaf Riess (drummer) and Jango on bass (guitarist).
They will introduce unique performances from stonner rock, psychedelic pop to rock n'roll and this is chance to the city's audiences to enjoy an impressive musical experience.
Maritime security conference opens in Ha Long
Around 150 delegates, including international law and maritime security experts, from the EU, China, Japan, Vietnam and other ASEAN countries gathered at a two-day conference underway in Ha Long City, Quang Ninh province.
The conference organized by the Diplomatic Academy of Vietnam and the Delegation of the European Union to Vietnam shared experience and discussed measures to cope with current maritime security challenges.
Participants also compared notes on issues relating to traditional and non-traditional maritime security, maritime development and management, mechanisms for transnational cooperation and governance and to resolve maritime disputes.
The conference took place in the context of the complicated situation in Asia-Pacific and the East Sea with potential risks of conflicts. This month,the Permanent Court of Arbitration (PCA) will announce its decision on the Philippines' lawsuit against China's Nine-Dash Line claim over the East Sea.
China declared to ignore the PCA decision. The move forces regional countries and the international community to find new initiatives to remove disputes and ease tension in the East Sea.
Students stage Atonement in English
Atonement, a well-known English drama by Ian McEwan, was performed in English by students of the Open University of HCMC at the Theater Company of HCMC last Sunday night.
Their performance brought excitement to all viewers. Ian Gibbons, British Consul General in HCMC, one of the special guests at the show, said he loved the show and thinks students' acting was professional. He enjoyed what they did, so he is willing to come back to shows like this.
The performance was part of an extracurricular program of the university's faculty of foreign languages from June 4 to 5.
In the previous night, the students performed two plays, "The nightingale and the rose" by Oscar Wilde and "Vanity fair" by Willam Make Peace Thackeray.
Le Quang Truc, a lecturer of English at the Open University and director of the show, said he and his students spent more than two months making preparations for the three plays and that this was the first time the university had organized the large-scale show in theater.
Local and foreign artists display sketches of Hoi An
"Hoi An International Sketch Tour 2016" exhibition took place between June 2 and 5 in the ancient town of Hoi An in the central province of Quang Nam, with 35 artists and architects from Vietnam, Singapore, Hong Kong and Thailand attending, Tuoi Tre newspaper reports.
Held by HCMC-based art group Urban Sketchers Vietnam, the event was a place for artists and architects to reminisce about old houses, streets, villages and culture of the UNESCO World Heritage town, said Vu Duc Chien, a member of the organizing board.
It also aimed at preserving the unique beauty of Hoi An through sketches, and promoting the beauty of the town to the world.
Urban Sketchers Vietnam, a member of International Urban Sketchers, groups Saigonese who want to express passion for sketching by walking deep into the streets to draw sketches about cities.
Vietnam, German lawyers share experience at Hanoi conference
Vietnamese and German lawyers shared experience to sharpen their interrogation and litigation skills in criminal cases during a conference in Hanoi on June 9.
The event was part of a cooperation programme between the Justice Ministry and German Federal Ministry of Justice and Consumer Protection for the 2015-2018 period.
Lawyer Phan Trung Hoai, Vice President of the Vietnam Bar Federation (VBF), said that the conference was a chance for Vietnamese lawyers to learn from their German peers in protecting the legitimate rights and interests of their clients, especially those who are accused.
Lawyer Nguyen Van Chien, VBF Vice President and Chairman of the Hanoi Bar Association, said that although the Criminal Proceedings Law 2015 has created equality in the practice of the right to gather evidence by both the accusing and exculpating sides, lawyers' roles and responsibility in collecting evidence are still restricted.
He cited a few instances of the limitation, including the absence of lawyers during investigating activities of confrontation, identification and scene examination.
Meanwhile, in many cases, valuable evidence given by lawyers, which can shed light on criminal blame, is not accepted by the jury, he added.
Many Vietnamese lawyers at the conference asserted that in order to ensure a lawyer's right in collecting and effectively using evidence, it is necessary to enhance equality in the field, while designing a mechanism to ensure the responsibility of agencies conducting criminal proceedings to consider evidence provided by lawyers.
German lawyer Otmar Kuty, head of the Hanseatic Bar Association in Hamburg, shared his experience and skills when gathering, verifying and evaluating evidence, as well as the necessary skills required during the process of arguing at court and during investigation.
A number of relevant cases were also discussed as case studies at the event.
Dak Lak conference promotes Central Highlands' potential
Strengths and potential for economic development of localities in the Central Highlands region were introduced to representatives from foreign embassies and consulates general, international organisations and foreign business associations in Vietnam at a conference in Dak Lak on June 9.
Addressing the event, Deputy Foreign Minister Bui Thanh Son briefed participants on the potential of the Central Highland region, towards promoting cooperation and investment with foreign nations through representative agencies in Vietnam.
Mozambican Ambassador to Vietnam Gamiliel Munguambe stressed that the conference offers a chance for international guests to enquire about the region, thus establishing investment and trade links with regional localities, especially in the cultivation of commercial plants such as coffee, rubber and pepper, vegetables, flowers, and other farm products.
Including the provinces of Dak Lak, Dak Nong, Gia Lai, Kon Tum and Lam Dong, the Central Highlands region covers 54,636 sq.km, making up 16 percent of the country's area. The region is home to over 5.6 million people, with 35.29 percent of those being from ethnic minority groups.
With a favorable geographical location and rich natural resources, the region is said to have great potential for economic and tourism development.
In recent years, the region recorded strong economic growth, hitting 9 percent a year. It's GDP in 2015 had increased 3.6 times compared to 2010.
Despite prolonged drought, the region's growth reached over 7.2 percent in the first six months of this year thanks to the localities' specific measures to stablise the market and resolve difficulties facing enterprises.
The investment climate in the region has improved, with its higher provincial competitiveness index.
At present, the Central Highlands has 577,800 ha of coffee, 259,531 ha of rubber, 53,533 ha of pepper, 23,814 ha of green tea and 76, 516 ha of cashew, along with great areas of other farm products.-
Dong Nai province leads in rural area building programme
Long Thanh and Nhon Trach have become the latest new-style rural districts of the southern province of Dong Nai, raising the number of districts in the province attaining the title to five.
With that outcome, Dong Nai is currently taking the lead nationwide in carrying out the national target programme on building new-style rural areas.
The programme was initiated by the Government in 2010 with a view to boosting rural regions. It sets 19 criteria covering infrastructure, production, living standards, income and culture.
Under a decision issued by the Prime Minister in early April, a district must have all communes meeting all of the criteria to be designated as a new-style rural district. Previously, those with at least 75 percent of the communes satisfying the 19 criteria were eligible.
The Prime Minister's decision recognising Long Thanh and Nhon Trach as new-style rural areas was announced on June 8.
At the presentation, Vice Chairman of the Dong Nai provincial People's Committee Vo Van Chanh said the two districts focused on communications right from the beginning to win local residents' support for the programme.
Over the last five years, Long Thanh raised more than 9 trillion VND (403.1 million USD) for new-style countryside building efforts, about 78 percent of the sum was from social sources. Meanwhile, social sources contributed 77 percent to the 11 trillion VND (492.7 million USD) Nhon Trach mobilised for the work.
Long Thanh district has formed 22 concentrated agricultural production areas, covering more than 6,400ha of land that apply scientific and technological advances and follow VietGAP standards.
As a result, the production value on one hectare of crops or aquaculture has surpassed 120 million VND (nearly 5,400 USD) each year, rising by some 58 million VND (2,600 USD) from 2010. Annual per capita income shot up 206 percent from 2010 to about 41 million VND (over 1,800 USD), reducing the household poverty rate to 0.16 percent.
In Nhon Trach, agricultural production value has reached 115 million VND (over 5,100 USD) per hectare annually, even achieving 300 million – 1 billion VND (13,400 USD – 44,800 USD) in some hi-tech orchid and honeydew melon farms. The district is home to nine industrial parks with 382 investment projects that ensure jobs for over 80,000 people.
Local per capita income is 38.5 million VND (over 1,700 USD) a year, and the household poverty rate is 1.05 percent at present.
Dong Nai expects it will become a new-style rural province by 2020.
EVN to ensure power supply to Truong Sa islands
The Electricity of Vietnam (EVN) will work with the Naval High Command on a report proposing the Government allow the group to supply electricity to all islands in Truong Sa (Spratly) archipelago.
The EVN has just conducted a survey on supplying electricity to islands in Truong Sa in preparation for power system management and operation, said EVN board member Pham Minh Thang.
On the occasion, the group raised funds from its employees to build a multi-functional cultural house on Da Lon C Island and presented gifts to officers, soldiers and people in the archipelago.
According to the EVN, as of the beginning of 2016, electricity had reached 99.8 percent of the total communes and 98.76 percent of households nationwide. Almost all border communes had access to electricity. The group is providing power for nine out of 12 island districts.
Between now and 2020, the EVN will focus on completing projects under the programme on supplying electricity for rural and mountainous areas and islands in the 2013-2020 period, ensuring power supply to nearly all rural households.
EU funds project on plant-based medicines
The European Union has allocated more than two million Euros for a project to scale up ethical biotrade initiatives within the phyto-pharmaceutical (plant-based) sector in Việt Nam.
The four-year project is being carried out jointly by HELVETAS Swiss Intercooperation, the National Institute of Medicinal Materials and the Centre for Rural Economy Development. It aims to improve the ability of at least 12 pharmaceutical businesses in Việt Nam to supply quality ethical biotrade (EBT) products to domestic and international markets.
Speaking at a seminar held in Hà Nội yesterday, Alejandro Montalban, head of cooperation and development section of the EU delegation to Việt Nam, said this project marked an important milestone in the promotion of a sustainable ethical biotrade business model within the natural ingredients sector of Việt Nam.
"We hope to see the goal of making Việt Nam an internationally recognised supplier of natural ingredients become visible and noticeable in the future," Montalban said.
Nguyễn Lam Giang, country director for HELVETAS, said the project would also provide businesses with a clean and safe resource of medicinal herbs for their production and increase their competitiveness in domestic and international markets.
She said the project would involve some 5,000 smallholder farmers and relevant agencies of the Ministry of Health and the Ministry of Natural Resources and Environment.
"We expect the project will increase the income of farmers through support for effective implementation of ethical biotrade value chains, consolidation of knowledge and skills in cultivating, harvesting and collecting, as well as the processing of ingredients, all in a manner that respects biodiversity and environmental protection," Giang said.
Giang said the project would contribute to scaling up of a policy framework under favourable conditions for biotrade initiatives to boost sustainable consumption and production development for the phyto-pharmaceutical sector in Việt Nam.
"The businesses that are taking part in the project would receive financial and technical support to apply and carry out the World Health Organisation's Good Agricultural and Collection Practices (GACP) for EBT medicinal herbs," Giang said.
Việt Nam's abundant natural ingredients could serve as a source of raw materials for the pharmaceutical, cosmetic and food industries. However, the domestic supply has been dwindling due to overexploitation and lack of conservation. Manufacturers, as a consequence, have to import large quantities of raw materials of questionable quality from other countries. The national pharmaceutical sector, therefore, becomes vulnerable to foreign competition even in its own market, let alone enabling it to penetrate international markets.
Under the project, the businesses will develop new EBT value chains for up to 50 different medicinal and aromatic plants (MAPs). MAPs will be cultivated to reduce pressure on the natural habitats. Meanwhile, farmer groups will propagate and harvest MAPs sustainably and optimise conservation and economic returns of natural habitats.
The producer network will gradually grow to reach some 140 groups by the end of the project. This will generate new employment opportunities in uplands, add value to the raw materials and increase the energy efficiency of value chains.
Nguyễn Huy Văn, Deputy General Director of Traphaco Joint Stock Company, one of 12 businesses taking part in the project, said to Việt Nam News that using natural ingredients for pharmaceutical production was the current trend in the world.
"Joining in this project, which is association among farmers, State, businesses and scientists, will help us businesses have access to WHO standards, especially GACP for medicinal plants," said Văn.
He said businesses and farmers would be trained to change their medicinal plants growing process and receive counseling and support on processing facilities. Farmer groups, especially women, will be empowered by the new know-how, trained on green capital and introduced to financial institutes providing access to green capital.
HELVETAS says Việt Nam has more than 4,000 species which can be used as raw material; some 95 per cent of traditional Vietnamese remedies, including over 1,760 medicinal products, rely on this natural resource base.
The country produces up to 40,000 tonnes of raw medicinal material annually. In addition, significant quantities are imported from foreign countries, even though many of those plants species are available in Việt Nam.
Attending the seminar were also leaders of the ministries of health, agriculture and rural development, and industry and trade, in addition to representatives of the World Health Organisation, the United Nations Conference on Trade and Development, Vietnamese pharmaceutical businesses and partner localities.
Supervision tightened on imported electric motorcycle components
Customs agencies throughout the country have begun tightening supervision of imported components of all electric motorcycle following the latest order of the General Department of Việt Nam Customs.
The supervision was conducted no longer after a regulation made the registration of electric motorcycles mandatory from July 1, under approval by Prime Minister Nguyễn Xuân Phúc.
The General Department of Việt Nam Customs has ordered strict punishment to any customs staff nationwide, who was found abetting smugglers.
The administrations of cities and provinces have been asked to join hands with the Customs to stop smuggling of electric motorcycle components in the future, the department said.
As of July 1, owners of electric motorcycles without registered number plates would be fined VNĐ300,000 to VNĐ400,000 (US$13-18) under the government decree No 171 issued in 2013.
Statistics from the Việt Nam Register Agency estimated that the country now has about 2 million electric bikes and motorcycles.
Cần Thơ City to reduce flood risks
Work has begun on the US$322 million Cần Thơ Urban Development and Resilience project to reduce flood risk in the core urban area.
The project will also improve connectivity between the city centre and the new low-risk urban growth areas and enhance the capacity of city authorities to manage possible disasters.
Of the cost, $250 million will come from a World Bank loan while the Swiss State Secretariat for Economic Affairs will provide non-refundable aid of $10 million, according to Huỳnh Thanh Sử, director of the city's official development assistance (ODA) project management authority, who announced the project at a workshop held in the city on Monday. The city will provide the rest.
The project, which ends in 2021, has three components -- flood risk management and environmental sanitation, urban corridor development, and spatial planning platform and financial and social protection instruments.
The objective of the third component is to build management systems to improve spatial planning, data and information management, post-disaster budget execution and the responsiveness of safety nets to flood events.
Along with the effects of climate change, more frequent and severe flooding, drought and storms as well as salinity are significant challenges faced by the region, according to Lưu Đình Hiệp, director of the HCM City University of Technology's centre for developing information technology and geographic information system.
A new spatial data infrastructure (SDI) platform would improve urban management, monitoring and evaluation of environmental data as well as foster efficient use of natural resources, he said.
"Staff training and educational efforts play an important role in ensuring the system operate effectively," he added.
Võ Hồng Ánh, deputy chairwoman of the city People's Committee, said the city made huge efforts to upgrade infrastructure and develop various industries.
"But the Mekong Delta is particularly vulnerable to climate change and hydro-meteorological disasters," she said.
The implementation of the SDI platform would help the city develop in a sustainable manner, she said.
The platform will provide a one-stop location for users to visualise, download, analyse and share geospatial data and maps, and link to additional sources at the national, regional and global levels, according to the World Bank.
HCM City tightens waterway traffic safety
An interlacing river and canal network is not only a favourable condition for Ho Chi Minh City to develop waterway traffic and tourism but also challenges to ensure traffic safety.
La Quoc Khanh, vice director of HCM City Tourism Department said, the city's inland waterway tourism is less developed as it lacks of a specific plan. The number of travel agents conducting river cruises dropped from 24 in 2014 to 19 in 2015 with around 72 cruise ships.
The city is currently operating big tourist vessels like Elisa, Ben Nghe and Sai Gon. The biggest tourist vessel in HCM City, SaiGon Ship can accommodate 600 passengers at a time.
Chiem Hoang Long, Director of Binh Quoi Tourism Village which owns SaiGon Ship, said traffic safety is the top priority. The ship is given maintenance on a regular basis. The company has coordinated with relevant agencies to conduct rescue exercises and handle all problems to ensure safety for passengers.
According to HCM City Traffic Police Department, since early this year the department has closely worked with relevant agencies to check all passenger, cruise and cargo ships and hydrofoils operating on inland waterways, focussing on ports and cruise terminals to ensure traffic safety and strictly fine any violations.
To minimize waterway traffic accidents, the municipal traffic safety board has asked traffic police and inspectors and port and wharf managers to conduct regular check of vessels and floating restaurants.
Rural water, sanitation programme proves effective
Rural communities' awareness of the importance of clean water, hygienic latrines and protecting the environment has been improved by the National Target Programme for Rural Clean Water and Sanitation in 2011-2015.
According to the coordination office of the National Target Programme of New-Style Rural Area Building, the total budget for the scheme was about 39.5 trillion VND (nearly 1.8 billion USD), with 61.6 percent of the figure coming from credit loans, 16.4 percent from international assistance, 9.1 percent from the national budget and the remaining 12.9 percent from local budget and the private sector.
Through communication campaigns, hygiene practices, especially in rural areas, have been changed, improving the rural environment.
The programme also called for the involvement of political and social organisations to improve the lives of rural people. Many private enterprises invested in building clean water projects in Ha Nam, Hung Yen, Hai Duong, Thai Binh, Long An, Tien Giang and Dong Thap provinces.
About 85 percent of the rural population now has access to fresh water, about 65 percent of rural households have hygienic latrines and 94 percent of schools and 96 percent of medical clinics in rural areas have clean water supply facilities.
However, there were still shortcomings in the programme, which resulted from poor management from local authorities.
Underprivileged areas have little access to water and sanitation supply. Management and maintenance of water supply systems also remained ineffective.
During the implementation of the programme, policies did not draw enough investment from some economic sectors, including the private sector.-
BOT must be transparent: Deputy PM
Calculating the cost and choosing the investors and contractors for BOT projects must be transparent, Deputy Prime Minister Trịnh Đình Dũng said yesterday.
Speaking at a meeting to review transport investment in the form of build-operate-transfer (BOT) and build-transfer (BT), the deputy PM said that "defining exactly the cost of BOT and BT projects will have the support of the people."
The deputy PM also said the public had recently expressed concern over the shortcomings of BOT and BT projects, such as high tolls and unplanned toll stations on national highways.
Transport Minister Trương Quang Nghĩa reported at the meeting that between 2011 and 2015, VNĐ186 trillion (US$8.33 billion) was mobilized in private investment, accounting for 42 per cent of total investment in 62 BOT and BT transport infrastructure projects.
So far, 26 projects with a total investment of VNĐ74.8 trillion (US$3.35 billion) have been put into operation and another 36 with an investment of VNĐ111.8 trillion ($5 billion) have been completed, Nghĩa told the meeting.
"The operation of infastructure transport projects has brought meaningful economic value, meeting the increasing transport demand, contributing to reduction of traffic congestion and accidents as well as promoting regional economic delopment," said the minister.
According to the minister, the World Economic Forum (WEF) ranked the efficiency and quality of Việt Nam's transportation infrastructure in 2014 in 74th place among 138 countries, compared to 90 in 2012 and 103 in 2010.
Many who spoke at the meeting said that invesmnent in transport infrastructure projects in the form of Public-Private Partnerships (PPP) was more complicated than traditional investment forms, requiring that all three sides benefit - State, investors and road users.
According to the ministry, one of the biggest concerns of BOT and BT projects was the quality of the works, which is the responsibility of the investors and projectors. Recently, several projects have been found to be of poor quality once they were put into operation.
The ministry has penalised investors on those projects by halting their fees or asked them to pay themselves to fix their construction mistakes.
Such was the case with the National Highway 1 in Vinh City of Central Nghệ An Province and Hà Tĩnh City.
The Ministry of Transport explained to participants of the meeting that the current rate of tolls was in compliance with that set by the Ministry of Finance.
The ministries of Finance and Transport have proposed an increase in tolls but they will seek opinions from other ministries and localities.
At present, there are 88 toll tax stations on national highways, 74 of which are managed by the Transport Ministry and the rest under the control of local People's Committees.
Trần Đình Thiên, director of the Việt Nam Economic Institute, said: the cost of BOT projects in Việt Nam was higher than in other countries, resulting in higher tolls and public dissatisfaction.
Thiên suggested that the State should help investors by allowing them to collect tolls for a longer period so as to reduce toll rates.
Nguyễn Ngọc Bảo, vice head of the Central Economic Committee, told the meeting that the State management in the field has exposed some shortcomings, such as lack of a master plan for BOT projects for specific region.
Deputy Minister of Transport Nguyễn Nhật said the State Budget has met 11 per cent of the demand and thus the PPP investment model was a necessary solution.
However, its implementation faces many hurdles, such as lack of a legal framework, long-term domestic credit and policies for access to foreign capital.
The Transport Minister suggested that the Government carry out some PPP transport infrastructure projects on a trial basis to help formulate policies and mechanism for this investment model.
VNA/VNS/VOV/SGT/SGGP/TT/TN/Dantri