Gasoline burns kill 1, injure 4
A man was killed this morning and four relatives, including his 23-year-old wife, his seven-month-old son and his 40-day-old nephew, were seriously injured due to gasoline burns in Ea Phê Commune in the Central Highlands province of Đắk Lắk.
Ngô Đại Phong, deputy director of the Đắk Lắk General Hospital, said the man died five minutes after being taken to the hospital. The injured patients are being treated free of cost because they are from a poor household in the locality.
According to the initial information, the man poured a can full of gasoline on his body and on the bed his four relatives were sleeping at 10pm yesterday. The motive for his act remains unknown.
The local police are investigating the case.
Thua Thien-Hue to prevent child labour abuse with Australia's support
The central province of Thua Thien-Hue held a ceremony on June 10 to receive a project on preventing children from going to work far from home and child labour abuse.
The project, costing more than 63,600 USD, is funded by the Blue Dragon Children's Foundation of Australia. Over 2,200 USD of which is sourced from the provincial chapter of Vietnam Women's Union.
It will benefit Phu Loc and Phu Vang districts by rescuing and repatriating children who work far from home, providing 400 of them with tuition and health insurance, and offering living expenses to at least 30 children who are rescued from labour abuse or are at risk of having to work illegally for a living.
The project will help 10 children access vocational training and 1,000 residents to apply for birth certificates or personal identification papers.
Capacity building and infrastructure for local child-care agencies will be built while micro-finance be given to 20 households.
The province also received a project which will present 520 wheelchairs worth more than 24,700 USD to the local disabled for free. It is funded by the US's non-profit charity organisation Giving Back to Kids via the provincial Association for the Support of the Handicapped and Orphans.
EVN launches new Zalo service
Residents can now view information about their electricity usage through the new Zalo app account of the HCM City Power Corporation (EVN HCMC).
Every month, EVN will send Zalo messages to customers' smartphones about their bills. Consumers can also confirm if the payments have been made.
Zalo users will also receive power-cut schedules and information concerning sudden power losses.
Monthly electricity records will be updated on EVN's Zalo account to help customers manage their usage.
For Zalo service applications, customers can follow EVN HCMC's Zalo Official Account and register using either a PE code or the phone number they used to sign up for EVN.
The Zalo app has various services, including scheduling doctor's appointments at participating hospitals and information about traffic congestion.
Int'l maritime security seminar concludes in Ha Long
20 presentations were made at the international seminar on maritime development and security which closed on June 10 in Ha Long City.
The event was organized by the Diplomatic Academy of Vietnam (DAV) and the Delegation of the European Union to Vietnam.
Delegates discussed proposals to boost cooperation in maritime development and security.
They agreed that political will, measures to build trust, respecting principles and international laws and mutual respect are the keys to overcoming differences on sovereignty claims, territorial waters and distance in the ability to cooperate and protect the sea.
MCST proposes to host ASEAN Tourism Forum
The Ministry of Culture, Sports and Tourism (MCST) has submitted a request to the Prime Minister to host the 2019 ASEAN Tourism Forum in either Hanoi, Ho Chi Minh City or Danang.
The annual Forum is a cooperative regional event devoted to promoting the ASEAN region as a single tourism destination.
It gathers tourism officials and industry representatives from the ten ASEAN member countries and three ASEAN partner countries – Japan, the Republic of Korea and People's Republic of China.
Our region is characterized by coopetition, said the MCST, – a cooperative, collaborative decision by all players to compete with each other so that the world will choose the region before choosing the country.
Our countries become, in very real terms, each other's value extension—we become each other's developing markets. And to make this development last for our children, we have to make certain that we are mindful of the social and environmental context that our region's growth exists in.
The MCST, therefore, said it would be honoured and proud to have Vietnam host the 2019 ASEAN Tourism Forum.
"Charming Blue Sea" event to promote Hội An tourism
An Bàng Beach in Hội An City, listed as one of the world's 50 best beaches by CNNGo, will organise the "Charming Blue Sea" event on June 10-16 to promote tourism.
The event will include games for local people and tourists such as a sack race, beach volleyball, tug-of-war in water, a mini football contest and basket boat racing.
During the period, the Cù Lao Chàm Island, a UNESCO recognised biosphere reserve, will also hold a boat race on sand.
Last month, travel and service companies in the UNESCO World Heritage Site of Hội An launched several tourism programmes in the Hội An old street area and on Cù Lao Chàm Island.
Vietnam's reform achievements highlighted in Norway
Vietnam has reaped important achievements after its 30-year Doi moi (renewal) process, President of the Vietnam Fatherland Front (VFF) Central Committee Nguyen Thien Nhan said.
Addressing a workshop held in Oslo on June 9, the Vietnamese official introduced participants to Vietnam's successes in the process, stressing that the country has built infrastructure system for socio-economic development, serving its industrialisation and modernisation targets.
The country has maintained stable economic growth, helping improve living conditions for the people and create development momentum for all sectors, he said.
He also highlighted the crucial role play by enterprises and entrepreneurs in realising the nations' development goals.
At the workshop, President Nhan also gave reply to queries on Vietnam's economic orientations, Vietnam-China relations and Vietnam's opinion on the settlement of issues related to the East Sea.
Summer camp brings valuable experiences to children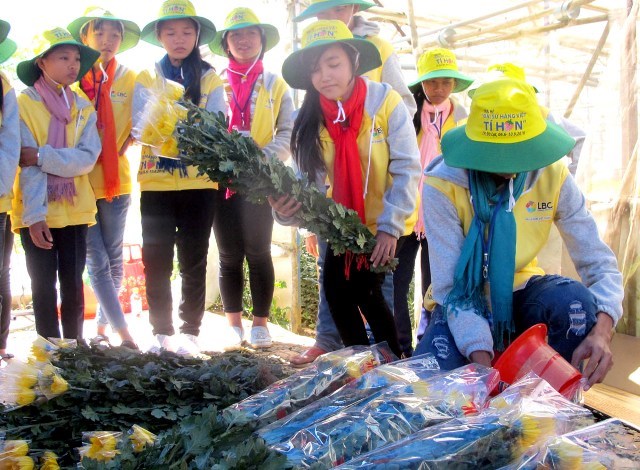 Children explore flower planting and harvest skills at Thai Phien flower village.
Over 100 disadvantaged children from the south-western provinces gained a wealth of experiences while attending a summer camp in Da Lat city, the Central Highlands province of Lam Dong, from June 6-10.
Dubbed "Summer Camp for Small Ambassadors of Vietnamese Goods", the annual camp offered children aged 12-14 striving to overcome difficulties in their lives a meaningful summer.
Along with studying the history, nature and people of the Central Highlands through a visit to Lam Dong Museum, the children explored flower planting and harvest skills at Thai Phien flower village.
They also met with businessmen to hear their successful business stories as well as learned how to manage money by shopping at supermarkets, among others.
More than 500 children from the southern provinces have joined the annual summer camp, which was initiated by members from the Club of Ambassadors for Vietnamese Goods in 2011.
The event is jointly organised by the Business Studies and Assistance Centre, the leading Business Club, the Club of Ambassadors for Vietnamese Goods and the Business Association of High-Quality Vietnamese Goods.
IBM Vietnam highlights CSR activities
US-backed IBM Vietnam has been boosting its corporate social responsibility activities in the country.
The firm has announced 20 community-oriented projects while marking its 20th anniversary of establishment in Vietnam on June 8, 2016.
In 2016, each employee at IBM Vietnam will voluntarily use their at least 20 hours for the firm's corporate social responsibility (CSR) activities. In total, employees' CSR efforts are worth US$70,000, focused largely on two key sectors including education and support for socio-economic development.
The 20 projects are designed based on the maximum exploitation of IBM Vietnam employees' strength. They are focused on career-oriented consultancy, training, vocation, soft skills and making preparations for students to seek jobs after graduation.
The biggest project in this year is called "IBM Community Day" held in April 2016 in Hanoi and Ho Chi Minh City. Under this project, more than 1,000 voluntary working hours were used at some centres for the disabled and children in need in Hanoi and Ho Chi Minh City.
In another case, the IBM corporate service corps programme took place during March-April 2016 in the southern province of Ba Ria-Vung Tau. This project includes 10 IBM experts coming from six nations (the US, India, the UK, Arab Saudi, Brazil and Canada).
The experts provided free-of-charge consultancy for four units in the province, including the Department of Natural Resources and Environment, the Department of Science and Technology, the Ba Ria – Vung Tau Urban Sewerage and Development One Member Limited Company (BUSADCO), and the Development Investment Fund.
BUSADCO's director Nguyen Quang Tung highly commended IBM Vietnam's initiative.
"I am quite impressed at the way the IBM experts work. They have advanced valuable proposals to improve our company's competitiveness," he said.
Pham Ngoc Van Giang, director of IBM Vietnam's CSR programmes said that "We do believe that the key value of a company does not only consist in how effectively the company expands its business, but also in how successfully the company deploys its CSR activities in favour of the public."
"In all of its community-oriented activities, IBM always finds new opportunities to apply its high technology to solve social problems, while creating the best conditions for its employees to participate in CSR activities. IBM also always uses its best assets to create positive changes in the society," Giang said.
Travel operators seek partners at Thailand Travel Mart
The Vietnam National Administration of Tourism (VNAT) and eight travel operators are attending the ongoing Thailand Travel Mart Plus (TTM +2016) June 8-10 in Chiang Mai.
TTM + is the largest tourism fair in the Greater Mekong Subregion (GMS) hosted by the Tourism Authority of Thailand (TAT).
The Vietnamese pavilion captured the major attention from visitors, media agencies and partners keen to seek business opportunities. It provides visitors with information about National Tourism Year 2016 Phu Quoc – Mekong Delta themed "Exploring Southern Land".
Vu Nam, deputy head of VNAT Tourism Market Department, said Vietnamese travel agents' participation in the event is designed to attract tourists from the lucrative Thai market and exchange with their highly reputable partners from Thailand.
On the occasion, Vietravel Company inaugurated the Vinh-Bangkok route, thus facilitating the opening of more tours to Thailand via direct flights from Vietnam's north-central region to Bangkok.
Last year, as many as 760,000 Vietnamese people visited Thailand, a year-on-year increase of 24%. During the first four months of this year, Thailand welcomed around 200,000 Vietnamese travelers, up 0.24% from the corresponding period a year earlier.
Russian National Day marked in HCM City
A ceremony to mark the 26th anniversary of the National Day of the Russian Federation (June 12) was held in Ho Chi Minh City on June 9.
At the event, Vice Chairman of the municipal People's Committee Le Thanh Liem affirmed that Ho Chi Minh City will work to further friendship between Vietnam and Russia, contributing to each nation's development as well as regional and global peace and cooperation.
Ho Chi Minh City and Russia have seen sound cooperation across the fields of trade, culture, education and tourism, Liem said.
He expressed his hope for the further development of the two sides' economic ties.
Vietnam and Russia have been maintaining the inter-governmental mechanism on economic, trade and science-technology cooperation.
Two-way trade volume reached 2.2 billion USD in 2015 and 591 million USD in the first quarter of this year. Vietnam mainly exported phones, garments and agro-forestry-fishery products while mainly importing oil and petrol, steel, fertilizer, machinery and equipment from Russia.
Vietnamese companies have invested 2.93 billion USD in Russia, mostly in oil and gas and trade with some big projects like Rusvietpetro, Gazpromviet and the Hanoi Trade Centre in Moscow.
The two countries also frequently organise cultural activities to boost understanding and friendship between Vietnamese and Russian peoples. In terms of tourism, Russia is one of Vietnam's 10 leading markets. Russia continues assisting Vietnam in training human resources with around 5,000 Vietnamese students studying in Russia.
They also step up cooperation in security, defence, science-technology and ties between their localities, with more than 100 cooperation agreements having been signed since 1991 in economy, trade, investment, gas and oil, nuclear power, training and education, culture, science and military engineering.
Pegasus hosts the Learn to Swim campaign for Danang primary students
Pegasus offers their state-of-art swimming pool for the Learn to Swim campaign for primary students in Ngu Hanh Son district of Danang city.
Swimming is one of the most vital survival skills for all people of different ages. Every year, there are thousands of drowning cases, especially children, due to the fact that most of them do not know how to swim.
Huynh Duc Tho, Chairman of the Danang City People's Committee, recently called for action for all primary students and upwards in Danang to learn how to swim.
Implementing such an official call for action, Ngu Hanh Son district People's Committee together with its Office of Education and Training have held an event marking the Learn to Swim campaign in all public schools in the district at the well-equipped swimming pool at the Pegasus Mixed Education Development of Kinderworld Education Group, Singapore.
Opened in 2015, the 25-metre swimming pool is well constructed at a significant cost. It is well managed and cleaned daily. It offers a safe and fantastic swimming venue for students from both Pegasus International College and the Singapore International School. The pool is a significant commitment by the Leaders of Pegasus in particular, and KinderWorld in general, to provide the most modern facilities for its students and building up the capabilities of its future global citizens.
Two Ukrainians found dead in central Vietnam
Police have launched an investigation after two Ukrainian nationals were found dead in their house in the central beach resort town of Nha Trang on June 8 night.
Local residents had notified the police of a foul smell from the locked three-story house on Hung Vuong Street, Loc Tho Ward.
When the police broke into the house, they saw the composing bodies of Eduard Pashchenko, 43, and Zoriana Zhukdva, 35.
Pashchenko's body was found lying on a sofa on the first floor, and Zoriana's in a restroom on the second floor, the police said.
Both bodies suffered from multiple injuries, the police said.
Neighbors said the two Ukrainians had lived and operated a business in the rented house for more than a year.
They said they hadn't seen the couple around for a couple of days.
The police said they have launched an inquiry and are checking the scene to establish the cause of death.
Lead contamination in drinks sparks concern among consumers
The recent disclosure of excessive lead content in beverages produced by the Vietnamese unit of Filipino food and beverage firm Universal Robina Corporation (URC) causes many consumers to be worried about their health, as most of the affected drinks have already sold to the market.
The Ministry of Health signed a decision in late May to impose a VND5.8 billion (US$259,144) financial penalty on URC Hanoi Co. Ltd.for excessive lead content in its C2 bottled green tea and Rong Do (Red Dragon) energy drinks.
URC Hanoi, under URC Vietnam, is the Vietnamese arm of Universal Robina Corporation, one of the largest consumer food and beverage companies in the Philippines.
Inspectors from the Ministry of Health also supervised the disposal of 1,184 boxes of C2 and Rong Do drinks, weighing over 10 metric tons, which came from consignments in violation of health codes.
However, nearly 40,000 similar boxes of the two types of beverages have already been sold to consumers across the country with total revenue estimated at VND3.9 billion (US$174,252), VnExpress cited Nguyen Van Nhien, deputy chief inspector of the Ministry of Health, as saying.
The tainted products were manufactured in late 2015, according to the firm.
The announcement has left customers throughout the country unsure whether or not they may have purchased contaminated bottles and worried that their health may be at risk.
According to the poison control center under Bach Mai Hospital in Hanoi, lead is harmful to the human body, especially to the intellectual development of young children.
Once consumed, the metal is stored in bones and soft tissues for 30 to 40 years, the center said.
Lead consumption can result in an array of serious health issues as well as influencing bone formation, depressing height development, and stunting hemoglobin synthesis in children.
Consuming products with high lead content over just a short period will not lead to any visible symptoms, Nguyen Tien Dung, head of the Pediatric Department at Bach Mai Hospital, was quoted by VnExpressas saying.
People with concerns regarding their health are recommended to undergo testing for lead content in their blood, the doctor said, adding that those affected should receive treatment to detoxify the metal in their body.
According to Dan Tri newswire, children are more likely to absorb lead than adults.
According to Nguyen Manh Hung, vice-president of the Vietnam Standard and Consumers Association, consumers have the right to demand compensation, Dan Tri reported.
Buyers can choose to settle the cases through negotiation with the firm or file a lawsuit.
However, bringing the case to court in this particular situation would be a waste of time and effort as buyers usually purchase these products in small volumes and bottles, which would act as evidence, have most likely been disposed of.
Agreeing with the opinion, Pham Thanh Binh, a lawyer from a Hanoi law firm, said that plaintiffs must also present proof that their health has been affected, which can be difficult, according to VnExpress.
Danang dismisses officials following fatal tourist boat sinking
Leaders of Danang have instructed the city transport department to dismiss responsible officials after three tourists died when a boat sank in Han River on June 4.
The officials include the director and vice director of Danang Inland Waterways Authority, the Danang Party Unit said on June 7.
Two children and a man drowned after the Thao Van 2 tourist boat overturned on the Han River, between the Thuan Phuoc and Han River bridges, at about 8.30 p.m. on Jun. 4.
Police have launched a criminal investigation into the sinking. The boat's owner Vo Quoc Hung and pilot Le Cong Chi have been detained for questioning.
According to the police, the boat was not licensed to carry tourists.
The police considered overloading the primary cause of the sinking. The vessel, which was originally a fishing boat, had a capacity of only 28 passengers, but was carrying 56 people when it overturned.
The passengers were also not properly seated on deck, resulting in too many gathering on one side of the boat and causing it to capsize.
Following the tragedy, Danang authorities have suspended the operation of all tourism boats on the Han River.
They also suspended the issuing of license for tourist boats modified from fishing boats.
According to Danang's leaders, the accident would not have happened had the Inland Waterways Authority fulfilled its duties.
Two days before the sinking, the police found the Thao Van 2 was operating without license and reported to the authority. However, the agency did not suspend the boat.
According to Danang waterway traffic police agency, more than 70% of tourist boats operating on the Han River were modified from fishing boats and cargo boats.
Following the accident, the Ministry of Transport has instructed provincial transport agencies around the country to keep a close eye on waterway traffic safety.
On June 8, authorities in the nearby Quang Nam Province suspended 5 unlicensed wharves.
Quang Ninh: Lightning kills two, injures four
Fatal lightning killed two and injured four people who were travelling by road in Minh Thanh ward, Quang Yen town in the northern coastal province of Quang Ninh on June 9, reported the provincial healthcare station.
The injured, two of whom are children, were hospitalised shortly after the incident and are now getting intensive treatment at Quang Ninh Obstetrics and Pediatrics Hospital .
Secretary of the Quang Ninh Party Committee Nguyen Van Doc and Vice Chairman of the provincial People's Committee have visited families of the victims and offered them financial support.
Dangerous lightning in the rainy season has also claimed the lives of a number of victims nationwide, raising the alarm that necessary preventive measures should be taken.
Earlier on June 8, one person was killed and three others in a family were seriously injured when lightning struck their house in Cu K'Nia commune, Cu Jut district, in the Central Highlands province of Dak Nong .
Meanwhile, lightning during a downpour claimed the life of a 19-year-old man in Muong Khuong district, in the northern mountainous province of Lao Cai on June 7.
Association moves to promote Vietnam-Cambodia relations
The Ho Chi Minh City chapter of the Vietnam–Cambodia Friendship Association (VCFA) should further promote and renovate operation methods, towards making its activities more effective, said VCFA Chairman Vu Mao.
Speaking at the chapter's congress in the city on June 9, Mao praised the organisation for its recent remarkable contributions to promoting the relations between Vietnam and Cambodia, and specifically between HCM City and Cambodia.
In the coming time, VCFA and its chapters need to intensify communication campaigns in order to educate Vietnamese and Cambodian people, especially youths, on traditional relations, friendship and cooperation between the two nations, he stressed.
Participants to the congress elected a fifty-two member executive board. Truong Minh Nhut was re-elected as Chairman of the chapter for 2016-2021.
They also determined some key tasks in the next tenure, with a focus on popularising the Vietnam-Cambodia relations to further deepen the traditional friendship and comprehensive cooperation between the two nations.
The chapter will enhance activities to introduce investment and cooperation opportunities, thus boosting economic links between the two countries. It will also pay attention to supporting Cambodian and Vietnamese-Cambodian students, who are pursuing studies in HCM City.
Established in 1979, the VCFA's Ho Chi Minh City chapter is working to assist the Cambodian Consulate General in HCM City in organising friendship exchanges between the two countries' people, and help disadvantaged people in Vietnam and Cambodia.-
US expert trains doctors in palliative care
Prof. Eric Krakauer from the Harvard Medical School in Hà Nội yesterday imparted training through lectures to doctors from hospitals in Hà Nội on palliative care measures and models.
"Palliative care is one of the indispensable measures in patient care, especially for those with cancer and HIV/AIDS in the advanced stages. It aims to improve treatment and life quality of patients in hospitals and in the community," Krakauer said at the training course in the Saint Paul General hospitals.
Krakauer said that about ten per cent of patients in low-income countries received pain management with morphine due to financial problems. Besides morphine, many low-cost palliative care measures could be used for patients, especially the poor.
The event was a chance for participants to exchange experiences and update themselves with the latest techniques in pain management in a move to establish a palliative care unit in the near future that meets international standards.
The event was organised under the framework of a co-operation programme between the Ministry of Health, the Central Geriatrics Hospital and the Harvard Medical School.
It aims to improve treatment quality and expand pain management systems in the city and in Việt Nam in the coming years.
Tây Nguyên seeks co-operation
Tây Nguyên, in the Central Highlands, has great potential for socio-economic development.
This was Deputy Foreign Minister Bùi Thanh Sơn's comment at the exchange meeting yesterday between Tây Nguyên localities and the Vietnamese diplomatic corps.
The meeting which was held in Buôn Ma Thuột City of Đắk Lắk Province. It provided a venue for Tây Nguyên leaders and businesspeople and international partners to discuss co-operation potentials and opportunities.
The event was organised by the Ministry of Foreign Affairs (MoFA) and the Tây Nguyên Steering Committee. It was attended by ambassadors, the consul general, international organisations, foreign business associations in Việt Nam, leaders of ministries and provinces in the region.
The conference was one of many MoFA and Tây Nguyên joint efforts to promote active international integration, to deepen Việt Nam's relationship with other countries and to strengthen exchanges between Vietnamese people and the international community.
The deputy minister highlighted the great potential and strengths of the Tây Nguyên region.
"The Tây Nguyên region holds an especially important position for the country's socio-economic development and international integration'" he said.
The region has vast natural resources, plus land and climate suitable for industrial crops and orchards.
The Government approved the region's socio-economic development master plan through 2020.
To bring potentials and strengths into full play, Tây Nguyên needs to expand international co-operation in many fields. It also needs to take a chance in order to approach the development experiences of other countries. It also needs to introduce a positive image of Việt Nam and Vietnamese people to the world.
During the conference, participants discussed economic co-operation potentials of the Tây Nguyên region, enhancing competitiveness, development of hi-tech agricultural production, development of sustainable tourism and Tây Nguyên culture preservation.
This was the fifth exchange programme. It follows the success of the last four meetings held in the Cửu Long (Mekong) Delta region, coastal Central-Southern region, Northwestern region and Central-Northern region.
Artworks to be auctioned off for Operation Smile
Vietnamese artists and organisations donated artworks and precious objects to Việt Nam Operation Smile for an auction to be held on June 18 at The Reverie Hotel.
Fifteen paintings by artists Phạm Hoàng Anh, Thân Trọng Dũng, Vũ Công Điền and Olaf Mueller and other objects, such as pearl jewels and Minh Long Ceramic sets, will be auctioned at a gala dinner and charity auction.
The event, themed Old Hollywood Glam-The Walk of Smiles, will revive the nostalgia and glamour of the 1920s and 30s with a live art auction, an entertainment lineup and a gourmet dinner.
Most important of all will be the opportunity to bring new smiles to underprivileged children throughout the country.
For almost three decades in Việt Nam, Operation Smile has helped change the lives of more than 39,000 Vietnamese underprivileged children suffering from cleft lip and cleft palate, and has contributed to developing standards for safe surgical care at health facilities in the country.
Film contest launched for environmental protection
A filmmaking contest has just been launched to honour individuals and organisers for their outstanding contributions to environment protection.
The films under five categories - short motion picture, documentary, scientific film, reportage film and animated cartoon - have environment protection as the theme and can be sent to 556 Nguyễn Văn Cừ Street in Long Biên District until November 5.
The contest's organisation board will give awards to the best films worth VNĐ30 million (US$1,300).
The other awards are one A, one B and two encouragement prizes for each category, respectively.
The contest is held every three years by the Ministry of Natural Resources and Environment for eminent filmmakers whose works have contributed to popularising and educating the community on environment protection.
The award ceremony will be held in December.
Grasshoppers attack crops in Son La
A large area of rice and maize crops in the mountainous province of Son La is being attacked by a plague of locusts, which has occured for the first time in the locality after a similar phenomenon in 1975.
Since the middle of May, the locusts, or more commonly known as grasshoppers, have munched their way through crops in Na Vac and Pa Kach villages in Muong Lan commune, Sop Cop district with an average density of 500 and even 600 hoppers per square metre. They are now spreading to other localities rapidly.
The People's Committee in Muong Lan commune has directed plant protection staff to guide locals in using pesticide to prevent the spread of the hoppers.
According to local farmers, the reason for the outbreak has been continuous rain in the past few days after a long duration of drought, which is a favourable condition for grasshoppers to multiply.
They are also worried that a large number of growing young hoppers will destroy more crops shortly.
Rural water, sanitation programme proves effective
Rural communities' awareness of the importance of clean water, hygienic latrines and protecting the environment has been improved by the National Target Programme for Rural Clean Water and Sanitation in 2011-2015.
According to the coordination office of the National Target Programme of New-Style Rural Area Building, the total budget for the scheme was about 39.5 trillion VND (nearly 1.8 billion USD), with 61.6 percent of the figure coming from credit loans, 16.4 percent from international assistance, 9.1 percent from the national budget and the remaining 12.9 percent from local budget and the private sector.
Through communication campaigns, hygiene practices, especially in rural areas, have been changed, improving the rural environment.
The programme also called for the involvement of political and social organisations to improve the lives of rural people. Many private enterprises invested in building clean water projects in Ha Nam, Hung Yen, Hai Duong, Thai Binh, Long An, Tien Giang and Dong Thap provinces.
About 85 percent of the rural population now has access to fresh water, about 65 percent of rural households have hygienic latrines and 94 percent of schools and 96 percent of medical clinics in rural areas have clean water supply facilities.
However, there were still shortcomings in the programme, which resulted from poor management from local authorities.
Underprivileged areas have little access to water and sanitation supply. Management and maintenance of water supply systems also remained ineffective.
During the implementation of the programme, policies did not draw enough investment from some economic sectors, including the private sector.
Lam Dong serves up hi-tech agricultural model
With its advantages in land and climate conditions, the Central Highlands province of Lam Dong is leading the country in developing hi-tech agricultural production in the context of increasing demand for quality agri-products.
Among 21 recognised hi-tech agricultural companies in the country, five are based in Lam Dong.
Vice Chairman of the provincial People's Committee Pham S said the province has created Vietnam's largest dedicated areas for growing vegetables, flower, tea and the second largest dedicated area for coffee.
The province has more than 43,000 hectares of production using high technology, equal to 16.4 percent of cultivable land. Of which, 11,900 hectares are under vegetables, 2,400 ha under flowers, 11,300 ha under coffee, 2,500 hectares under tea and 300 hectares for specialty trees.
The province's high-tech agricultural exports make up 30 percent of the sector's total production value and 80 percent of the province's total export value.
Pham S said the province's goal is to become a leading province in terms of high-tech agriculture in Southeast Asia.
Besides Lam Dong, hi-tech agricultural production has spread to many provinces and cities.
However, Nguyen The Nhuan, Director of the Research Centre for Potatoes, Vegetables and Flowers under the Southern Agricultural Science and Technology Institute, noted the need to conduct research into the specific conditions of each region in order to develop hi-tech agricultural production models effectively.
"In order to apply high technology in agriculture, there needs simultaneous improvement in technological factors across the supply chain, production and marketing," said Nhuan.
According to Nguyen Van Bo, former director of the Vietnam Agriculture Science Institute, the growth of agricultural production will mainly depend on the policy on developing enterprises and technologies.
It is necessary to have incentive policies for investors in agriculture, he said, suggesting those related to land-leasing, land acquisition, tax, capital, risk insurance, and human resource training.
Hau Giang to build 1,000 "safe homes" for children by 2020
The safe home model will be applied to about 1,000 families with children in the Mekong Delta province of Hau Giang by 2020 as part of the province's child injury prevention programme.
Accordingly, the province will provide at-home intervention and consultation services to help the families prevent injuries for their children. Guidelines for the safe use of home appliances will also be given to mitigate associated risks.
The home will then be examined and recognised as "safe" if it satisfies the authority's safety standards.
Hau Giang plans to build 40 safe schools and 10 communes and towns with safe community standards by 2020.
The province targets to provide 90 percent of local primary and secondary students with education on traffic safety regulations while 40 percent of them will be taught basic skills to stay safe around water.
It also aims to see 90 percent of those children using life jackets while travelling on waterways and all city and districts piloting safe swimming programmes for children.
Dong Van Thanh, Permanent Vice Chairman of the provincial People's Committee said the locality is working to raise awareness of the importance of child injury prevention among children, their families, schools and the community; and improve the capability of childcare workers on the issue.
Accidental injury among children is a pressing problem around the world, especially in Vietnam where the rate of accidental injuries and deaths is among the highest in the world.
Some 18 children aged 0-19 years died of accidental injuries each day in Vietnam in 2013.
Among the sources of fatalities and injuries are drowning, traffic accidents, falling from a height and severe burns, as well as being bitten by animals and being cut with pointed objects. Drowning and traffic accidents are the most common.
Tourist arrivals in Quang Binh rebound
The number of visitors to Quang Binh Province has bounced back this month compared to last month, signaling a recovery of the local tourism sector which has been affected by mass fish deaths on the central coast of Vietnam since early April.
Quang Binh Province's Department of Culture, Sport and Tourism said tourist arrivals in the province has grown slightly this month over May and that local hotels have reported an improvement in room occupancy.
Many hotels have posted room occupancy of 45-50% in June and some have reported over 60%.
The department expects tourist arrivals in Quang Binh Province to be higher than in July and August. Notably, more tourists can now enjoy fresh seafood of guaranteed origin at local restaurants.
The province's monitoring and environmental management center said samples of seawater taken for testing from beaches like Nhat Le, Quang Phu, Quang Tho, Da Nhay, and Hai Ninh were found to be safe.
After so many fish were washed ashore along the central coast, tourist arrivals in Quang Binh plummeted by 50-55% against the same period last year, dealing a heavy blow to travel agencies, hotels and restaurants.
To woo tourists back, the north-central province has launched many promotional programs and more tours.
The Vietnam National Administration of Tourism (VNAT) has suggested package tours with reasonable prices for the north-central region to help its tourism sector get out of troubles.
VNAT will work with relevant agencies to provide information about sale points of safe seafood to tourists this month.
The Research Institute for Tourism Development and VNAT will organize conferences in August and September to review the impact of mass fish deaths on tourism in north-central provinces and propose measures for the sector to get back on its feet.
VNA/VNS/VOV/SGT/SGGP/TT/TN/Dantri