7M real estate FDI at nearly $1 billion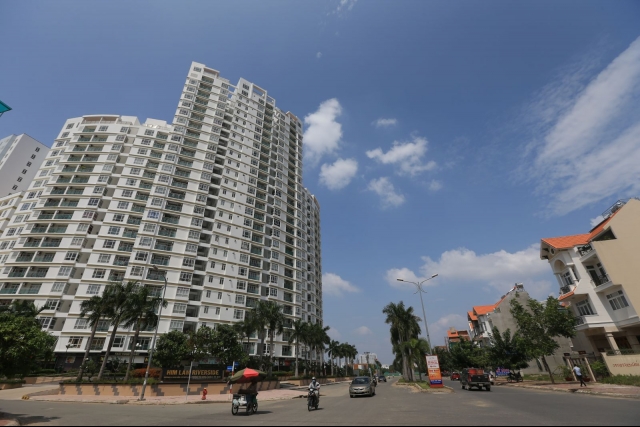 New and additional foreign-direct investment (FDI) into real estate this year had reached $956.8 million by July 20, or 7.3 per cent of the total, according to the latest report from the Foreign Investment Agency (FIA) at the Ministry of Planning and Investment.
It ranked second in terms of FDI attraction, following processing and manufacturing, which had $9.12 billion in new and additional capital and accounted for 70.5 per cent of all FDI. Total FDI into the country in the first seven months reached $12.94 billion, an increase of 46.9 per cent year-on-year.
Thirty new projects were registered in the first seven months in real estate and five existing projects added capital.
Japan's Mitsubishi Corporation and the Bitexco Group recently established a joint venture in which Mitsubishi will hold 45 per cent and Bitexco 55 per cent, with total investment estimated at 30 billion Japanese Yen ($290 million), to develop The Manor Central Park, a large-scale mixed-use development in Hanoi's Hoang Mai district.
There was also a notable trend of foreign investors taking part in Vietnam's real estate market via major M&A deals during the second quarter. According to a JLL report released on July 29, deal volumes remained considerable in the quarter, with foreign investors taking up the majority on the buy side and Ho Chi Minh City remaining the most desirable destination. "The quarter's investment deals were diversified, with a good variety of asset and property types transacted and investors from many countries," report noted.
Notable transactions in the second quarter included the G Homes land plot in District 2 (a residential development site), the Tran Hung Dao land plot in District 1 (a commercial development site), and Kumho Asiana Plaza in District 1 (a mixed-use property, including office, retail, hotel and serviced apartments). The buyers were all foreign investors. "The investment market is likely to remain active in the coming quarters, thanks to the large growth momentum in Vietnam in recent quarters amid lower activity in the region," JLL wrote.
According to insiders, FDI in real estate over the remaining months of the year may increase further as the market is seeing a positive impact from the new Law on Housing and Law on Real Estate Business, which came into effect on July 1 last year and loosened restrictions on the purchase of real estate by foreigners.
Foreign developers are also keen to take part in the residential sector, as Vietnam is considered to have steady economic growth, an expanding middle class, and higher demand for housing.
Investment promotion in U.S. promises to bring HCMC many contracts
Many U.S. businesses have said that they would visit and invest in Ho Chi Minh City after Deputy Chairman of the city People's Committee Tran Vinh Tuyen led a delegation to promote trade and investment activities in San Francisco mid July.
At a trade promotion seminar in San Francisco, Mr. Tuyen introduced ten year long tax and land incentives to U.S. investors.
HCMC always efforts to create breakthroughs in three major fields including institution, human resource quality and infrastructure to make the city an attractive and reliable destination for investors, he said.
Of these, the city pays special heed to administrative reform and stabilization of tax and land preferential policies to set investors' mind at rest.
Director of the HCMC Investment and Trade Promotion Center Pham Thiet Hoa said that U.S. investors have invested in over 300 projects worth US$600 million in the city. The number is much higher than that if comprising U.S. investments via the third country in Vietnam.
During his business trip, the deputy chairman also met overseas Vietnamese and large leading science and technology businesses to call on investors.
Leaders of Texas Instrument Company said that the company intended to invest US$6 billion in Southeast Asia and would come to study investment in HCMC in the upcoming time. The delegation had provided the company with useful information on Saigon Silicon City project in the Saigon Hi-Tech Park.
Other businesses also said that they would visit and invest in HCMC such as Allies Telesis and partners, who plan to work on US$300-400 million Life Sciences project to build a research institute, commerce and service hub and hospital.
Greenvity shareholders also revealed that they would promote investment in Quang Trung Software City.
After a meeting with Vigilant Solutions, Mr. Tuyen placed an order to study an IT application project to raise HCMC citizens' awareness of traffic law conformation, and reduce traffic jam and congestion.
On this occasion, the city also introduced semiconductor and integrated circuit products made in the Saigon Hi-Tech Park at Semicon West expo.
Seafood exports likely to top $7.1 billion in 2016
Figures by the Vietnam Association of Seafood Exporters and Producers show that the country's seafood exports will probably rise by 8 percent to hit US$7.1 billion this year.
Of which, shrimp remains the key export product with about $3 billion, followed by pangasius with1.6 billion, tuna with $500 million, and squid and octopus with $450 million.
In the past six months, shrimp exports have reached $1.3 billion, up 4.8 percent compared to the same period last year. White-leg shrimp exports accounted for 59 percent of total shrimp exports with $794 million, up 5.2 percent, surpassing tiger shrimp which accounted for 33 percent with $445 million, up 5.3 percent. The rest was accounted by saltwater shrimp.
Meanwhile, pangasius brought in $790 million, up 5.4 percent over the same period last year. However, shrimp and pangasius supply currently is going to face a shortage from now to the end of this year due to unfavorable weather since the beginning of this year. At the same time, fishing also encounters many difficulties because of high cost, unimproved preservation methods and low prices.
Nevertheless, according to VASEP, as there is a recovery in demand for shrimp and pangasius, seafood producers have focused on value-added products. Owning to that, processed white-leg shrimp rose 9 percent and processed tiger shrimp increased 24 percent compared to frozen shrimp.
Vietnamese brands yet to ASEAN countries
Vietnamese goods have yet to be made widely available in the ASEAN Community, despite its establishment seven months ago.
Since the ASEAN Community was established in late December last year, products from Thailand, Singapore and Malaysian have flooded into Vietnam. However, there is still a long way for Vietnamese goods to penetrate into the regional market.
Many Vietnamese exporters said that their exports to ASEAN country have almost seen no improvements since the community was established.
Tran Thi My Van, human resources manager for Acecook Vietnam Joint Stock Company, said that the company's products have been exported to 47 countries, but this included only the three Southeast Asian countries, Cambodia, Laos and Myanmar. Exports to Cambodia have been on the slight decline.
According to Bui Phong Luu, Director of Industrial and Agricultural Machinery Co., said that despite having a presence in ASEAN for over the past 10 years, the firm has not yet set up any branch or sole distribution agent in the market.
Over the recent years, orders from its big market importers such as Thailand, the Philippines, Indonesia, Cambodia and Malaysian have remarkably fallen.
Many Vietnamese tourists who go to regional countries such as Malaysia and Singapore said they hardly saw Vietnamese goods.
Luong Van Vinh, General Director of My Hao Cosmetics Company, said Vietnam has joined more and more free trade agreements, including ASEAN Economic Community, which has offered both opportunities and challenges for local businesses.
Currently, most of Vietnamese firms have just focused on maintaining their foothold in the local market amid the strong competition from foreign goods which are flooding into; but not yet enhanced their exports, Vinh added.
Le Thi Thanh Lam, General Director of Saigon Food also shared the same idea with Vinh, saying that it is very hard for Vietnamese companies to maintain their position in the local market due to competition from foreign rivals. Meanwhile, the competitiveness of many local businesses remained weak across financial, technology and human resources aspects.
Economy slows, forcing re-think on 'inclusive growth'
Expansion of the nation's gross domestic product has slowed to 5.52% in the first half of 2016 hurt by a crippling drought linked to the El Nino weather phenomenon, says the General Statistics Office.
Crop output from farming in the agriculture, forestry and fishing segments of the economy were a drag, as they often are, experiencing two-tenths of one percent negative growth in the first six months of the year.
One of the worst droughts to strike Vietnam in nearly a century combined with rising sea waters has taken a heavy toll and could cast a shadow on the economy for years to come, says the Ministry of Agriculture and Rural Development (MARD).
Dang Kim Son, former head of MARD's think-tank, the Institute of Policy and Strategy for Agriculture and Rural Development (IPSARD), at a recent business forum in Hanoi, was uncharacteristically blunt.
With more than 50% of the country's workforce engaged in agriculture, the drought has exacerbated troubles in an economy already weighed down by a slowdown in the rate of growth of manufacturing and exports.
Rural households are being hit by a perfect storm, said Mr Son, with the drought not only drying up farmland— but cash flows and profits as crop yields in the hardest hit central region dwindle.
This year, paddy rice fields have resembled parched deserts capes as farmers wait for a rainy season that is late to arrive. Smallholder farmers, who grow watermelons and orange trees about 40 miles from the East Sea, have seen crop-ruining salinity intrude farther inland than ever before.
Then there are the dams. China has built seven hydropower dams on the upper Mekong, known locally as the Lancang, and plans to add 21 more. Laos and Cambodia intend to build 11 hydropower dams on the lower Mekong, with two in Laos currently under construction.
The biggest impact from dams is the trapping of silt, said Mr Son. He said the silt is needed to replenish nutrients that wash away during the monsoon season in the Mekong Delta, and also to sustain the delta against rising sea levels.
Without the sediment, the low-lying delta is eroding and actually sinking and destroying valuable crop and fish farming lands.
Nguyen Do Anh Tuan, the current director of IPSARD, in turn pointed out that the stagnation of farming poses a big challenge to 'inclusive growth'—ensuring poor, largely uneducated, Vietnamese participate in the overall economy's expansion.
Over one-half of Vietnamese still work in farming and the economic segment gives them a chance to eke out a living even though they have a less formal education, he said, adding that few have attained education or skills beyond the basic primary level.
Farmers in Vietnam are largely engrossed in subsistence farming. They don't enjoy economies of scale and lack capital to expand, said Mr Tuan, and suffer the high costs of production and poor access to markets.
All of this in addition to the current drought conditions.
Mr Tuan underscored the point that farming is the perennial obstacle to 'inclusive growth' and underlined the importance for the government to rethink its strategies here.
Vietnam as a nation needs to pursue a steady course of supporting the drivers of transformation to reach its ambitious target of attaining growth to get to middle income status while promoting more inclusive development.
Economic transformation takes time, but policy makers must focus on those drivers and redouble their efforts to get farmers better educated, out of agriculture and into higher paying jobs in the urban and industrial areas of the country.
Over VND5 trillion invested in Quang Ninh's Dong Trieu town
More than VND5 trillion (US$225 million) in investment capital will be poured into Dong Trieu town in the northern province of Quang Ninh from now until 2050.
The information was revealed at a conference on July 30 announcing Dong Trieu's strategic plans and trade promotion until 2020, with a vision extending to 2030, and its master plan until 2030, with a vision to 2050.
Accordingly, the town aims to become a modern city and a gateway connecting Quang Ninh with Hanoi as well as the Red River Delta region and the North Central Coast region by 2020.
It also aims to develop into a centre for spiritual culture, mining, power generation and building materials; an area for high-tech agricultural development and a key economic zone of the country and the northern region.
At the conference, the Quang Ninh provincial People's Committee granted investment licenses to four projects totalling VND318 billion (US$14.31 million), including a VND128 billion high-tech agricultural area by VinEco Quang Ninh Company, a VND151 billion waste treatment plant by Vien Dong Co. Ltd., a VND24 billion public bus station by Phuc Xuyen Co. Ltd, a VND15 billion housing area for employees of Clinker Viglacera Brick Joint Stock Company.
In addition, Dong Trieu town signed memoranda of understanding on investment research co-operation for 10 projects worth VND4.744 trillion (US$213.48 million) in various fields such as urban building, high-tech agriculture, restoration of relics, education and coal mining.
Dong Trieu reported the highest economic growth of 16% in 2015 in the past four years, with total production value at VND4.582 trillion, higher than the province's common growth rate.
BR-VT wants road access to ports improved
The authority of Ba Ria-Vung Tau (BR-VT) has sought the Government's support to improve road and waterway access to Cai Mep-Thi Vai port complex to enable it to handle more cargo and bigger container ships.
At a recent meeting with Deputy Prime Minister Trinh Dinh Dung, the southern province proposed an early construction of Bien Hoa-Vung Tau expressway and roads connecting Cai Mep-Thi Vai port complex and provinces in the Southern Key Economic Zone (SKEZ).
Ba Ria-Vung Tau asked the Government to urge relevant agencies to carry out a major project to dredge and widen Vung Tau-Thi Vai navigational passage for bigger container vessels to sail to Cai Mep-Thi Vai, according to chinhphu.vn.
The province suggested reviewing and revising zoning plans for port development and navigational passages for cargo transport to help improve the competitiveness of the country in general and SKEZ in particular.
There are 57 seaport and terminal projects zoned in Ba Ria-Vung Tau and 28 of them have been put into use with a total investment of US$2 billion. These operational ports have total annual throughput of 98.9 million tons of cargo and 11.6 kilometers of pier.
The Cai Mep-Thi Vai port complex is envisaged comprising 35 terminals. Of them, 17 terminals have been put into operation with a capacity of around 93 million tons of cargo a year, including seven for containerized goods, three for fuels and the rest for general goods.
More than VND27 trillion has been spent on terminals and four kilometers of pier at Cai Mep-Thi Vai, which was opened to vessels in 2009.
Cai Mep-Thi Vai is the only port complex in Vietnam from which large container vessels transport cargo directly to Europe and Americas. Every week, the port complex handles 20 trips operated by vessels of more than 80,000 DWT to over 160,000 DWT.
Ba Ria-Vung Tau reported that cargo throughput at ports in the province has posted annual growth of 16% over the past five years and an increase of 17% in containerized goods a year.
Dung said Cai Mep-Thi Vai is an international cargo transshipment port complex important to economic growth of not only Ba Ria-Vung Tau but also the whole SKEZ. However, despite much investment, the port complex is dogged by underdeveloped infrastructure, the lack of approach roads and limited logistics services.
Dung underscored the need to have an agency able to restructure management and do zoning and investment plans for Cai Mep-Thi Vai. He told the Ministry of Transport and Ba Ria-Vung Tau to study the port authority model for the port complex.
It is important to map out a zoning plan suitable for the region's socio-economic performance and irrational issues should be addressed, Dung said. He stressed the zoning plan of the port complex needs to be adjusted in a way that ensures sustainable development for it.
Dung told relevant agencies to dredge and improve navigational passages to make it easier for vessels of 200,000 DWT to transport to and from Cai Mep-Thi Vai. He ordered better road connectivity between the port complex and other localities in the region.
Ports see cargo throughput up 13% in first seven months
Ports nationwide have handled a total of more than 230 million tons of cargo this year, up 13% year-on-year and meeting 48.9% of the full-year target, the Vietnam Maritime Administration has said.
Of the total, container cargo freight has increased by 19% year-on-year to 6.5 million TEUs, 52% of the year's target.
The country has 44 operational seaports with a total handling capacity of 470-500 million tons per year and with 59,405 meters of pier.
To enhance the capacity of seaports, the Vietnam Maritime Administration will complete zoning plans and development schemes, including developing inland container depots (ICDs) until 2020 with a vision towards 2030.
Eximbank to hold extraordinary meeting this month
Shareholders of Vietnam Export Import Commercial Bank (Eximbank) will gather at an extraordinary meeting in HCMC early August to discuss and approve the bank's important plans after its two previous general meetings ended in disarray earlier this year.
At the meeting on August 2, they will look into Eximbank's 2015 financial report and profit distribution plan, 2016 business plan and a long-stalled plan to construct its new head office building on Le Thi Hong Gam Street in the city's District 1.
At the meeting, shareholders will determine remunerations for the board of directors and the supervisory board, and elect three more persons among eight candidates to the board of directors, which has nine at present.
Shareholders will decide on the withdrawal of Cao Xuan Ninh from the board. Ninh, an official of the central bank, joined Eximbank in December last year but tendered his resignation for personal reasons at the end of March this year.
Eximbank's board wrote in a report that the lender's operations were not good last year due to a number of factors. Its capital mobilization edged down while its bad debt swelled.
The lender sold VND2 trillion (US$89.7 million) of bad debt to the Vietnam Asset Management Company (VAMC) and set aside huge risk provisions.
Meanwhile, the supervisory board said the business environment was tough in 2015 as competition in the banking system intensified. Therefore, the lender struggled to retain senior executives and missed all targets approved at its 2015 shareholder meeting.
By end-2015, Eximbank's total assets had fallen 22% and deposits had inched down 3%. The bank saw its pre-tax profit tumbling 83% to VND61 billion, 6.1% of the plan, while its bad debt ratio stood at 1.86%.
The supervisory board said Eximbank held a 9.16% stake in Sacombank last year, much higher than the permitted ceiling of 5%.
Its lending to the real estate sector accounted for 6.86% of total outstanding loans, higher than the 5% limit.
According to the 2016 business plan prepared by Eximbank's board, the lender's total assets are revised down to VND134 trillion from VND142.5 trillion, capital mobilization to VND108 trillion from VND113.5 trillion, outstanding loans to VND100 trillion from VND105.8 trillion and pre-tax profit to VND400 billion from VND720 billion. Its bad debt ratio is kept unchanged at less than 3%.
Local firms run huge trade deficit in Jan-Jul
The domestic corporate sector has run a trade deficit of around US$11.7 billion in the first seven months of this year despite a fall in the country's imports.
Data of the General Statistics Office (GSO) showed the country has got US$96.83 billion from exports in the January-June period, up by 5.3% year-on-year, and spent more than US$95 billion on imports, dropping 0.9% over the year-earlier period.
Of the total, outbound sales of domestic firms have inched up 2.4% to US$27.93 billion but they have imported US$39.63 billion worth of goods, up 1.2% compared to the same period last year. This means they have caused a trade deficit of US$11.7 billion in the seven-month period.
Meanwhile, the foreign direct investment (FDI) sector has brought a trade surplus of US$13.5 billion in the year to July since its imports have declined by 2.4% to US$55.4 billion and exports have gone up by 6.5% to US$68.9 billion (including crude oil).
Notably, Vietnam's imports from major markets have fallen in the first seven months. Imports from China have dipped by 3.1% to US$27.4 billion, the ASEAN region down 4.1% to US$13.4 billion, and Japan down 4.1% to US$8.2 billion.
However, imports from South Korea and the U.S have reached US$17.4 billion and US$4.5 billion, up 6.5% and 0.2% year-on-year, respectively.
The U.S has remained Vietnam's biggest export market in the period with total revenue of US$21.3 billion (up 13% year-on-year), followed by the European Union (EU) with US$19.1 billion (up 9.2%), China with US$10.7 billion (up 13.7%), and South Korea with US$6 billion (up 37%).
In contrast, shipments to the ASEAN market have slid by 12.6% to US$9.5 billion and Japan down 0.9% to US$7.9 billion.
Export turnover of some key products have increased compared to the same period of last year, with phones and phone parts rising by 13.4% to US$19.4 billion, textile and garment products by 5.4% to US$13.2 billion, electronics, computers and components by 9.5% to US$9.4 billion, and footwear by 8.1% to US$7.5 billion.
Machines, equipment and components have inched up by 18.2% to US$5.3 billion, seafood by 3.5% to US$3.7 billion, coffee by 16.6% to nearly US$2 billion, bags, suitcases, hats and umbrellas by 11.6% to US$1.9 billion, cashew nuts by 10.9% to US$1.5 billion, and vegetables and fruits by 32.7% to US$1.4 billion.
US$3 billion int'l bond issue in the balance
The Government has yet to decide when to issue US$3 billion bonds on international financial markets due to unfavorable conditions, according to a Government report sent to the National Assembly (NA).
Last year, the legislature approved the US$3 billion bond plan to raise funds to restructure debts. However, the Government has yet to implement the plan due to unfavorable conditions on global financial and monetary markets. They include the strong devaluation of the Chinese yuan, Britain's vote to exit the European Union (EU) and high interest rates for dollar-denominated bonds.
The Government pledged to keep a close watch on developments on global markets and choose an appropriate time to carry out the plan as approved by the NA.
One of the main reasons behind the delay is that the NA at the end of last year allowed the sale of three-year domestic government bonds instead of five years or longer like before, thus reducing pressure on debt payment.
Sales of short-term G-bonds went smoothly in the first half of this year with VND187.7 trillion (US$8.4 billion) worth of bonds issued at an average yield of 6.07% per year, lower than last year's level.
According to Finance Minister Dinh Tien Dung, domestic bond sales cost less than those on international markets. Between January and June, dollar-denominated bond sales were subject to a 5% coupon for the 10-year tenor, and even 9% if inflation was taken into account.
Legislature lookS into SOE issues
The National Assembly (NA) looked into the poor performance of State-owned enterprises (SOEs) as one of the major topics of discussion on July 29.
Nguyen Duc Hai, head of the NA Financial and Budgetary Committee, said in an appraisal report that tax revenue from the SOE sector in the first half of this year was equivalent to 94.5% of the figure in the same period last year. The 5.5% year-on-year drop in tax collections from SOEs is unacceptable, Hai added.
This is cause for concern as tax collections from the foreign direct investment sector rose by 12.8% and those from the non-State industrial and commercial sectors soared a staggering 22.9% year-on-year.
Hai said first-half tax collections from Dung Quat Oil Refinery in the central province of Quang Ngai plunged 60% over the same period last year, equivalent to VND9.3 trillion (US$417 million). Tax revenue from PetroVietnam Gas Joint Stock Corporation was down 75%, or VND1.4 trillion lower than in the January-June period of 2015 while that from the Ca Mau gas-power-fertilizer industrial complex in the Mekong Delta fell by VND280 billion year-on-year.
In addition, budget collections from dividends and profits of enterprises with State holdings met a mere 26.9% of the estimate and dipped 18.6% compared to the year-earlier period.
Protracted drought hit hydropower generation enterprises while coal and mining firms were affected by lower selling prices and higher costs.
However, the Government made no mention of all those woes in its review report. "Tax collections from the SOE sector dipped but the Government did not report this," the committee's report said.
Hai said some members of the committee expressed concern that domestic firms including SOEs have stepped up their offshore investment activities but the overseas investment operations of SOEs have not been as efficient as expected. A couple of SOEs have found it hard to recover investment capital from their offshore projects.
"The Government should report on the offshore investment activities of local enterprises, especially those from the State sector and on the impact of these investments on gross domestic product growth and budget collections," the committee's report said.
A Government report prepared by Minister of Planning and Investment Nguyen Chi Dung said budget collections from all sources dropped compared to the same period last year. On top of that, tax revenue of the central budget was 42% of the full-year target and below 46.3% in the year-earlier period.
"The contraction will affect collections and spending of the central budget," Dung said.
The country's economy expanded 5.52% in the first six months, the Government report said, citing the Government's effort to boost institutional reform, and improve the investment environment and the country's competitiveness. However, economic growth in the first half cooled due to unexpected events that hurt the agricultural and industrial sectors.
Besides, exports in the first six months grew lower than in the same period last year, budget collections fell and imports of machines and equipment shrank. These elements will be priced into development investment and economic performance in the coming time.
Vietnam has not made the most of opportunities from its speedier international integration, including joining the ASEAN Economic Community. External and internal factors are piling pressure on input costs, inflation, the foreign exchange rate and macro-economic stability.
The report said environmental protection remained weak. Drought and saltwater intrusion have taken a heavy toll on agro-aqua-forestry production in the Central Highlands, south-central and Mekong Delta regions.
Mass fish deaths in the central provinces of Ha Tinh, Quang Binh, Quang Tri and Thua Thien-Hue have left serious impact on production, lives of people and marine life on the central coast.
Financial proof rule relaxed for air transport firms
Companies seeking an air transport license can now use their audited financial reports to provide proof of their financial situations, instead of confirmations by banks, according to a new decree.
The Government's Decree 92/2016 ND-CP issued on July 1 says enterprises in the civil aviation sector that want to add new business activities are not required to produce banks' confirmations. They can now choose to submit their two latest annual financial reports to apply for a new license.
The liberal rule came out after Vietstar Airlines was caught in technicalities earlier this year when it sought an air transport license.
The Ministry of Transport in March wrote to the Government proposing an exception. The ministry said the carrier should be allowed to use its financial reports as evidence of its chartered capital. At the time, its chartered capital was only VND625.7 billion (US$28.06 million), compared to the required level of VND700 billion as regulated by Government Decree 30/2013.
The Government turned down the request, insisting a bank confirmation was a must.
It is not immediately clear why the ministry has proposed easing business requirements for air transport.
Decree 92 also has more specific regulations regarding aviation firms with foreign direct investment (FDI). Particularly, foreign capital must account for no more than 30% of a firm's chartered capital and there must be at least a Vietnamese individual or entity holding a majority stake. Foreign holdings in the Vietnamese entity, if any, must not exceed 49% of an entity's chartered capital.
If air transport firms without foreign investment want to transfer their stake to foreign investors, the transfer could only proceed after two years.
Thua Thien-Hue targets 7,000 enterprises in 2020
The central province of Thua Thien-Hue is striving to host 7,000 enterprises in 2020, which contribute up to 85 percent to the locality's budget collection and about 75 percent of the total social investment.
To this end, the provincial officials will organise an online dialogue with local business community every two months in an effort to timely remove obstacles facing the firms, together with a hotline to receive their feedbacks.
Meanwhile, the province will continue the administrative reform and shorten duration for business registration to only two working days for online cases and three days for those submitting paper documents.
The verification and acceptance of direct invested projects will take only 20 days, while the granting of investment licence for both domestic and foreign invested projects will be five days.
By this June, Thua Thien-Hue has seen 738 newly-established firms with a total investment of 1.75 trillion VND (78.4 million USD), up 20.7 percent over the same period last year, bringing the total enterprises in the locality to nearly 5,900.
However, production capacity of the firms has limited, while their growth quality as well as effectiveness and competitiveness are still low.
Businesses with a capital of over 100 billion VND (4.48 million USD) account for only one percent of the total enterprises, while those with below 100 billion VND make up 54 percent, and those with less than 1 billion VND make up 45 percent.
Garment and textile enterprises, which contribute nearly 80 percent to the province's total exports, have still focused on processing. At the same time, major products of the province, including beer and cement, are facing fierce competition from domestic and foreign rivals and loosing market shares.
Quang Nam asked to boost sea-based economy
Deputy Prime Minister Truong Hoa Binh has urged central Quang Nam province to pay heed to promoting sea-based economy, focusing on providing credit support and vocational training for locals, increasing the number of fishing boats and considering possibilities of shipbuilding industry development.
In a recent working session with leaders of the locality, the deputy PM asked the local authorities to accelerate agricultural restructuring and new urban development, intensify application of sci-technology and expand production and business models that bringing high efficiency.
He also underlined the need for the locality to make a study of aquaculture in hydroelectric reservoirs, promote labour export, natural disaster and forest fire prevention, research and rescue, disease prevention and environmental protection.
Local authorities were requested to hasten the implementation and disbursement of investment projects, giving priority to key projects.
Administrative reform should be stepped up towards improving the provincial competitive index and the business climate, the Deputy PM said, adding that specific ways must be devised to foster start-up activities and lure more strategic investors to the locality.
He asked for sustainable development of hi-tech and support industries, and effective exploitation of popular tourism sites such as Hoi An Ancient Town, Cu Lao Cham Island, My Son Holy Land along with traditional trade villages and beaches in the locality.
Attentions should be also paid to issues concerning socio-culture development, education, health care, poverty reduction, social welfare, and policy for contributors to the national revolution, especially those in disadvantaged and mountainous areas.
Quang Nam enjoyed a stable GDP growth in the first six months of this year, hitting 11.7 percent. It posted year-on-year increases of 6 percent in export turnover, 12.4 percent in industrial production, and nearly 13 percent of total retail sales of consumer goods and services, in the period. The number of tourists to the province was up 23 percent over the same period last year.
Local authorities have taken many solutions to agricultural development and new-style area building, job generation and high-quality human resources training.
The province has 54 communes that have completed all 19 criteria of new rural areas . The rate of poor households under multidimensional poverty standards decreased to 12.9 percent.
However, Quang Nam is facing difficulties in rationalising labour structure, building new-style areas in mountainous areas, managing of natural recourses and minerals and preventing drug-related crimes.
RoK – biggest investor in Binh Phuoc
The Republic of Korea (RoK) is currently the biggest investor in the southern province of Binh Phuoc with 81 businesses registering a total capital of about 500 million USD, said Chairman of the provincial People's Committee Nguyen Van Tram.
During a working session with a delegation of the Korean Chamber of Commerce led by RoK Consul General to Ho Chi Minh City Park No-wan on August 1, Tram promised that Binh Phuoc will continually protect Korean firms and investors in the locality.
Park, for his part, pledged all possible support for Korean investors who want to learn about Binh Phuoc's business environment.
He suggested holding more seminars and dialogues to offer the two countries' enterprises chances to seek cooperation opportunities.
On the occasion, the RoK delegation presented 200 million VND (9,000 USD) in support of local residents following the recent drought.
Takashimaya shopping centre opens in HCM City
Takashimaya, a well-known retailer from Japan, opened its first shopping centre in HCM City under the name of Takashimaya Ho Chi Minh.
Takashimaya, which is located in Sai Gon Centre on Le Loi Street in the heart of HCM City, contains 210 brands in shops covering 15,000sq.m, including two basements and three levels.
Of the brands, 58 are new to Việt Nam, while another 61 are new to HCM City and 31 are from Japan.
He said the company had chosen Việt Nam because of the potential of the market and the growing income of the Vietnamese.
The Takashimaya Ho Chi Minh shares the same concept as its shopping centres in other countries, including Singapore.
Takashimaya Ho Chi Minh is the biggest tenant of Sai Gon Centre, which reopened recently after a renovation. With a total floor area of 55,000sq.m, the centre houses more than 400 international and local brands.
About 25 per cent of the tenants in the mall are new to the market, and nearly 30 per cent are food and beverage stores.
FLC gets nod to invest in agricultural firm
FLC Group has got the go-ahead from the government of Thanh Hoa to invest in an agricultural firm which manages more than 1,180 hectares of farmland in the north-central province.
Nguyen Duc Quyen, vice chairman of Thanh Hoa Province, has signed a decision putting the value of Lam Son company at over VND33.5 billion (US$1.5 million) with the State holding VND20 billion.
The decision is the basis for relevant agencies to draw up a plan to set up a limited liability company with at least two members including FLC Group.
Earlier, the provincial government gave its nod to FLC Group to prepare a plan to turn Lam Son into a two-member limited liability company.
Lam Son LLC, formerly known as Lam Son Farm, produces and trades industrial plants, fruit trees, seedlings, sugarcane and rubber.
The firm currently manages more than 1,288 hectares, including over 1,180 hectares under agricultural cultivation, in Tho Xuan and Ngoc Lac districts in the province.
Energizing growth in Vietnam electronics industry
Domestic electronics manufacturing can play a bigger role in the industrial development of the nation and help grow the country's exports – thereby creating more real jobs, says the Ministry of Planning and Investment (MoPI).
Speaking at a recent business forum, Nguyen Chi Dung, minister of the MoPI, said the country has a lot to offer the global electronics industry, such as with top design engineers and world-class electronics manufacturing companies.
We have the latent technological expertise and skills, said Minister Dung, but much more need be done to fully develop that talent and lay the proper foundation for entry into the competitive global electronics industry.
Historically, the nation's manufacturers have not produced electronic components in any large measure, which is a key segment of electronics manufacturing and the first stepping stone for the domestic industry.
Mr Dung said he recently met with representatives of Samsung to talk about the future of the country's component supply industry and its effect on the electronic contract manufacturing industry.
As a result, he said he believes advances are being made in the number of local vendors qualifying to participate in the supply chain, as Samsung has represented it has increased by three-fold over that of last year.
The biggest drawbacks are the tough competition, lack of adequate manufacturing facilities and basic deficient fundamental business management skills possessed by local companies in the industry, he underscored.
As a general rule, multinationals such as Samsung are more than willing to consider local companies for inclusion in their supply chains provided they can demonstrate their qualifications and ability to compete consistently on price, quality and timeliness.
Prof Nguyen Mai, chairman of the Vietnam Association of Foreign Invested Enterprises, in turn pointed out that most all multinational companies operating in the country have well established deep rooted quality supply chains.
Invariably these supply chains predate the multinationals entry into Vietnam and many were formed with suppliers in China and the Republic of Korea.
These companies cannot be expected to disrupt these long established mutually beneficial relationships and risk potentially upsetting their production schedules and losing millions of dollars in profits to take a gamble on untested local suppliers.
The Professor highlighted the fact that most local companies face critical shortages of funds to invest in the state-of-the-art technological plant and equipment needed to compete in the big league global supply chains.
Just as importantly, they lack having the sophisticated management systems and internal quality controls in place to manage the logistics of such contracts on a footing comparable to successful actors in the global supply chains.
Prof Mai said he agrees with Minister Dung who said that growth in the electronics manufacturing business mainly comes from innovative entrepreneurs who are designing and engineering their own products.
We may not have the world class manufacturing facilities that we can really be proud of yet but we do have design engineering talent that we can tap who possess the requisite skills to keep up with the latest technology, said the Professor.
Maybe the best idea is to find ways to bring together these design engineers with all other industry players related to electronics manufacturing in some way and collectively find a pathway into the industry.
Electronics is so fast-moving there are new products launched almost daily and it is important for us as a burgeoning supply industry to keep up to date and informed of these developments as they ultimately affect our future production.
By working collectively, he believes the nation can develop a full blown electronic export industry of note and create real jobs, but that is a long-term proposition that may take decades to realize before the country really showcases its ability to the global market.
Vietnam sees 46.9% FDI surge
Vietnam has attracted US$12.94 billion in foreign direct investment (FDI) as of July 20, up 46.9% against the same period last year, according to the General Statistics Office.
Of the total, nearly US$8.7 billion came from 1,408 new projects with the remaining US$4.24 billion from 660 added-capital projects.
Investors poured money into new projects across 47 provinces and cities nationwide in the period.
The northern port city of Haiphong topped the country in attracting new FDI projects with nearly US$1.84 billion, accounting for 21.2% of the period's total new-registered FDI.
It was followed by Hanoi, the southern provinces of Binh Duong and Dong Nai.
Ho Chi Minh City ranked fifth with US$641.4 million, making up 7.4% of the total.
Circular economy to help with sustainable development: seminar
By promoting a circular economy, resources will be used effectively and in line with the sustainable development goal that Vietnam is pursuing, experts said at a seminar in Ho Chi Minh City on July 28.
In a circular economy, goods consumed today will turn into resources for future use. Although the circular economy has become popular in the world, it is still relatively new in Vietnam, said Assoc. Prof. Dr Huynh Trung Hai at the Hanoi University of Science and Technology.
To develop, a circular economy needs the consensus among the State, people and business circle. The Government should create favourable mechanisms and policies to spur the economy in the long run, he added.
Vietnam is currently in a linear economy where commodities are discarded after being used.
Data of the General Statistics Office show that more than 95 percent of Vietnam's businesses are small-sized ones which lack capital, high-quality personnel and innovation capacity, posing challenges to applying the principles of a circular economy in the country.
Sasama Tomoyuki, Country Director of US chemical firm Dow, said in Vietnam as well as many other nations, waste treated not thoroughly before being released into the environment has become a headache for the environmental protection and sustainable development.
A circular economy will help Vietnam maximise the use and reuse of resources and reduce the waste volume, he noted.
VEF/VNA/VNS/VOV/SGT/SGGP/Dantri/VET/VIR