Fewer Mekong fields used for cash crops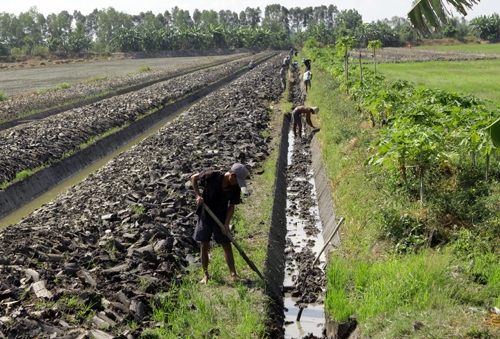 Fewer rice fields will be converted to cash crops in the ongoing summer-autumn crop in the Mekong Delta this year as farmers lack stable outlets, according to the Ministry of Agriculture and Rural Development's (MARD) Plant Cultivation Department.
Since saltwater intrusion occurs every year in the delta, converting ineffective rice fields to other crops is necessary to reduce risks and save water. Profits from cash crops can also increase farmers' incomes.
In 2014-15, the delta, the country's rice granary, converted 112,000 ha of rice fields to cash crops, but only 45,200 ha of rice fields will be converted this year.
The decline is due to unstable outlets, weak linkages between farmers and companies, and a shortage of concentrated cultivation areas for cash crops, according to the Plant Cultivation Department.
MARD said that a total of 200,000 ha of rice fields would be converted to cash crop cultivation in the Mekong Delta from now to 2020.
Experts have said that preferential policies and more mechanisation are needed to promote the conversion of rice fields to other crops.
The converted areas for the summer-autumn crop this year are located mostly in Vinh Long, Dong Thap, Tien Giang, An Giang and Long An provinces.
The crops are sweet potato, vegetables, aquatic species, sesame, watermelon, corn, chilli, dragonfruit and others.
In An Giang Province, farmers will switch to growing sesame and corn on 2,700 ha of rice fields in the summer-autumn crop.
Nguyen Thanh Phong, a farmer in Long Xuyen City's My Hoa Hung Commune in An Giang, said his rice fields had been converted to sesame cultivation in the summer-autumn crop.
"Sesame earned a profit of VND30 million (US$1,300) per ha last year, higher than rice cultivation," he said.
Tran Anh Chau, chairman of the My Hoa Hung Commune Farmers Association, said the model of rotating sesame and rice cultivation on the same fields had offered higher profits.
"But the outlet for sesame was still not stable, as farmers had to sell directly to traders, without guaranteed prices," he said.
Tran Ba Hoang, deputy director of Tien Giang Province's Department of Agriculture and Rural Development, said farmers had been encouraged to reduce one rice crop a year to grow other cash crops.
However, the cultivation of corn and bean varieties used to produce animal food has not attracted farmers and companies, as production costs are higher than imported corn and beans.
Deposit interest rates up at banks
Many commercial banks have raised deposit interest rates over the past few weeks for all tenures, raising concerns about an imminent lending interest rate hike.
Maritime Bank is the latest bank to have raised its short-term Vietnamese dong deposit rates by 0.2 per cent per year to touch 4.9-5.2 per cent as of July 26.
On June 20, Maritime Bank also increased its short-term deposit rates by 0.1 per cent.
SCB has also announced, effective from July 25, a sharp rise of 0.4 per cent in the one-month deposit rate, which is now 5.4 per cent.
VBBank also raised its rate on July 13, making it the third increase of the bank's rate in July. During the month, the bank mainly increased long-term deposit rates.
Accordingly, VBBank's rates for 15- to 18-month deposits are up 0.2 per cent to touch 6.8-7.2 per cent and for 24- to 36-month deposits, the rates have risen by 0.3 per cent to reach 7.6-7.7 per cent.
Previously, in a new rate list announced on July 12, Asia Commercial Bank (ACB) also increased its short-term deposit rates by 0.2 per cent to touch 4.6-4.9 per cent.
VietABank announced the first rate increase this year for deposits of more than six months on July 11. Accordingly, nine-month and 12-month deposits have rates of 6.9 per cent and 7.5 per cent, respectively, up 0.2 per cent. There is an increase of 0.3 per cent for 13-month deposits and 15- to 36-month deposits, lifting the rates to touch 7.6 per cent and 7.7 per cent, respectively.
Due to the deposit rate hikes, there is some concern that a lending interest rate hike is imminent.
However, the State Bank of Viet Nam (SBV) said in a report released last week that it would ask commercial banks to keep the rates stable over the remaining months of the year.
SBV said it would continuously instruct commercial banks to balance their mobilised capital sources and lending capital sources to stabilise deposit interest rates in the remaining months of the year.
Better business performance and lower input costs are also required for maintaining lower lending rates.
Vinamilk earns 32% higher H1 profit
Vietnam Dairy Products Joint Stock Company (Vinamilk) announced that its parent company earned more than VND21 trillion (US$940 million ) in revenue and VND4.8 trillion in after–tax profit in the first half, an increase of 17 per cent and 32 per cent year-on-year, respectively
During the period, Vinamilk saw strong expansion of its foreign market. In the first half of 2016, the local dairy giant reported the revenue and gross profit's growth in its foreign market of 11 and 57 per cent, respectively.
The growth of revenue and gross profit earned by the firm in Viet Nam were 18 and 24 per cent, respectively
As per the Q2 financial statement, the parent company earned VND11.65 trillion in net sales, up 16 per cent year-on-year. It also reported after-tax profit of VND2.7 trillion in the quarter, an increase of 28 per cent year-on-year.
A Vinamilk representative said it achieved better results because it focused on product groups with greater efficiency. At the same time, it had to pay less income tax during the period, compared with the same period in the previous year.
Always figuring among the top three shares in the market in terms of value, each Vinamilk share (VNM) ended at VND156,000 each on HCM Stock Exchange on August 1.
G-bonds: easy to sell, hard to disburse
The state treasury of Viet Nam plans to issue government bonds worth VND50 trillion (US$2.24 billion) in the third quarter of 2016.
Accordingly, the treasury will issue five-year bonds worth VND22 trillion, seven-year bonds worth VND10 trillion, 15-year bonds worth VND7 trillion and the longest term of 30-year bonds worth VND3 trillion.
According to the treasury, the capital mobilisation channel from G-bonds was good in the first half of the year when it sold bonds worth more VND182 trillion, nearly 83 per cent of the earlier plan for the year. After the first half, the treasury has revised its plan to issue more government bonds in 2016 by adding bonds worth another VND30 trillion. So, it aims to issue G-bonds worth VND250 trillion for the whole year under the new plan.
While the G-bond mobilisation was considered successful, the process of G-bond disbursement was slow and failed to support the GDP growth in the context of low economic growth in the first six months, according to the planning and investment ministry (MPI).
MPI said all ministries, sectors and localities disbursed about VND81.8 trillion (US$3.6 billion) of public investment capital in the first five months of this year, completing 32.6 per cent of the disbursement plan for 2016.
MPI said complicated procedures and slow processes in some ministries and localities caused the problem, stating some with the lowest disbursement percentages included the national defence ministry with 9.8 per cent, Hà Nội City with 2.9 per cent, Phú Thọ Province with 2.6 per cent and Tiền Giang Province with 2.3 per cent, besides Sơn La Province with 1.1 per cent.
On July 7, Prime Minister Nguyen Xuan Phuc asked all relevant agencies and local authorities to fast-track the disbursement of public investment capital to accomplish socio-economic development targets by the end of 2016.
HP to recall computer batteries for fire hazard
The Hewlett-Packard Viet Nam Co, Ltd and the Viet Nam Competition Authority (VCA) under the Ministry of Industry and Trade announced the company's battery recall programme.
These batteries, which were produced between March 2013 and August 2015, have the potential to overheat, posing a fire and burn hazard to customers.
The affected batteries were shipped with HP 450, HP 240, HP 246, HP ProBook 440 G0, HP ProBook 440 G1, HP 1000 or were sold as accessories or spares, or provided as replacements through Support, the ictnews.vn reported.
The serial numbers of products with potentially affected batteries follow the patterns of xxx311xxxx - xxx444xxxx.
The VCA recommended users check their battery codes at HP's official website: www.hp.com/go/batteryprogram2016.
Users have been asked to stop using the batteries and to remove them before contacting HP for further support, VCA said.
LTE smartphones the future for VN
As global sales of LTE smartphones have surpassed 3G smartphones, LTE has become vital in the global telecommunication market and is important for Việt Nam's telecom industry to move with the times from the early stage of network deployment, said Dongsu Shin, vice president and head of planning, Networks Business Division at Samsung Electronics.
Shin told the event 'LTE Technologies and Services' that Samsung would continue making innovations in the Vietnamese LTE market as a long-term partner.
LTE is one of the latest mobile telecom technologies, also called 4th Generation (4G), providing end-users with mobile data more than 10 times faster than 3G at its maximum speed. This is equivalent to downloading a multimedia file, such as a video of 100 megabytes to a LTE smartphone in 3 seconds.
With broadband data speed and its extended capacity, LTE can dramatically increase the availability of multimedia services to users and impact on diverse industries by building an IP-based ecosystem.
As the number of LTE subscription grows, the mobile eco-system will create more dynamic opportunities for business, so telecom service providers should lay the foundations to make these changes possible.
"Deploying a 4G LTE network does not only mean building the network, but it also means providing consistent upgrades for better user experience while it is also essential to research and apply future ready technologies," said Professor Nguyen Huu Thanh, Dean of Communication Engineering Department in Ha Noi University of Science and Technology.
The event in conjunction with the IEEE Sixth International Conference on Communications and Electronics (IEEE ICCE 2016) to share experiences in 4G LTE and beyond between South Korea and Vietnam. As many as 50 leaders from the governments, academia, telecom operators and equipment providers in IT participated and covered various topics.
IEEE ICCE 2016 aimed to share experiences in technologies, business, and academic research that LTE-leading countries such as South Korea, which adapted to LTE earlier, have witnessed for many years and to promote activities among academia, industry, operators, and institutes between the two countries.
Samsung participated in the Viet Nam-Korea LTE Vision workshop in April in which mobile telecommunication leaders from the government, operators and solution providers in both countries attended to promote interest in LTE technologies. This time, Samsung expanded its activities into academia with regards to the IT industry so that LTE technologies can be adopted and researched while the ecosystem is created in Viet Nam.
Vpresso expands franchise model in Vietnam
May Emerald Company from the Republic of Korea (RoK) which owns Vpresso coffee brand name will grow its footprint in Vietnam by opening more chains of shops operating under a franchise model in the time ahead, said its General Director Sung Seung Hoon.
Vpresso appeared in Hanoi in 2011 with an initial investment capital of US$100,000 and the figure has now increased to US$500,000. Vpresso, with 9 coffee shops and two restaurants in Hanoi, has become a familiar brand name for numerous coffee addicts and young people.
It has granted franchise to three other shops and on August 1, Vpresso opened the 12th shop at 45 Ly Quoc Su Street in Hanoi with the purpose of raising the number of shops to 20-50 in Hanoi as well as in Ho Chi Minh City and Danang in the future.
Mr Hoon said Vietnam is a powerful coffee producer and boasts great potential for expanding the coffee market under which Vpresso is able to diversify its products to meet customers' growing demand.
Vpresso's coffee beans are bought from the central highlands city of Da Lat, and then processed with different special flavors.
Medical market set for private investment
Tasco Joint Stock Company is seeking to form international partnerships to pursue large upcoming projects.
Tasco, one of Vietnam's biggest private transport infrastructure developers in Vietnam, is working on plan to co-operate with some state-run hospitals to develop their satellite hospitals. This will ease existing hospital overloads.
'We have studied medical development models in other countries, and we want to co-operate with partners from Singapore, Japan, France, Colombia, and the US who have strong financial capacity and years-long experience in the medical sector', Tasco's chairman Pham Quang Dung told VIR.
However, he admitted that Tasco's plan was encountering some challenges. Under several current rules, when a private firm invests in public hospitals, it is not allowed to own land where the hospitals are located. This means that private firms cannot use that land for collateral to get bank loans.
Tasco is an example of the growing trend among private firms to penetrate lucrative and sensitive sectors like the healthcare sector to gain potential untapped profits. Vietnamese nationals spend billions of dollars on medical care abroad a year.
In 2016, Vietnam has witnessed a bustling year of foreign capital flows in the medical market. In early July of this year, Japan's Taisho Pharmaceutical Holdings completed acquisition of a 24.5 stake in Vietnam's biggest publicly traded drug maker Hau Giang Pharmaceutical JSC from 34 foreign investors.
In late June, Malaysia's Navis Capital partners completed a partnership deal with Hanoi French Hospital (HFH) at an undisclosed value. HFH operates a 70-bed hospital in Hanoi.
Adding more to the list is VinaCapital Vietnam Opportunity Fund (VOF), who announced just a few months ago that it had invested US$9 million into Thai Hoa International Hospital to acquire a controlling stake in the healthcare facility located in the southern province of Dong Thap. Meanwhile, assert manager Sam acquired a 15% stake in Ho Chi Minh City-based medicine distributor My Chau Investment Corporation.
Pharma Group- the Pharmaceutical Sector Committee of EuroCham- believed that the formation of the ASEAN Economic Community, the signing of the EU-Vietnam Free Trade Agreement (FTA), and the Trans-Pacific Partnership has provided Vietnam with a regional competitive advantage in terms of attracting foreign investors.
'This could possibly put Vietnam on the road to becoming an ASEAN hub for innovative pharmaceutical manufacturing. But the window of opportunity is short with FTAs scheduled for other countries in the region in the next two three years, so this is the right time for Vietnam to take action', said Pharma Group.
Vietnam's hotel transactions among top in Asia-Pacific
Vietnam came as the fourth top market in Asia Pacific in terms of hotel investment volumes in the first half of 2016, with more activities expected during the rest of year, according to a new report.
The property consultancy Jones Lang LaSalle (JLL) said in its Hotel Investment Highlights report that transactions in Vietnam in the first six months hit US$237.6 million, which is only after the volumes in Japan, Australia and mainland China but beating Taiwan's and Thailand's.
A US$74.9 million deal for InterContinental Asiana Saigon in Ho Chi Minh City was among the top ten during the period.
Total transactions in the region climbed 13.2% to US$3.8 billion from a year ago, including more than half, or US$2.1 billion, from Japan market, which is expected to continue to dominate investment volume for the remainder of the year.
But there will also be stronger buying activity in Vietnam, as well as Korea, Myanmar and Thailand, according to JLL representatives.
"Despite the relatively sharp pricing in first-tier cities, there remains significant appetite from investors for deals in markets with strong domestic and international visitation fundamentals," Mark Durran, Managing Director of JLL's Hotels & Hospitality Group in Australasia, said in a press release.
"Investors are also expanding their focus to second-tier markets in search of higher yielding opportunities," he said.
Vietnam's tourist arrivals grew 21% in first six months and the country hopes to reach its goal of receiving 8.5 million foreign visitors by the end of the year, 7% increase from 2015.
AASC hosts conference to promote global cooperation
International auditing and consulting companies are seeking ways to increase co-operation, in order to best serve their clients investing in foreign countries.
Last week, 60 representatives from companies based in more than 18 countries gathered at the three-day HLB International Asia Pacific Regional Conference to share experiences and knowledge. HLB International is a global network of independent professional accounting firms and business advisers present in 130 countries worldwide. The conference, titled "Cross-border Investment – Challenges and Prospects", is hosted by auditing firm AASC, a member of HLB International.
According to Do Manh Cuong, deputy general director of AASC, cross-border investment is booming and legally facilitated by a number of common economic zones, free trade areas and bilateral or multilateral agreements.
"Particularly, within our Asia Pacific region, since 1989, we had the Asia-Pacific Economic Cooperation comprised of 21 economies with the objective of 'creating and advancing free trade for Asian-Pacific prosperity', by 'promoting balanced, inclusive, sustainable, innovative, and secure growth by accelerating regional economic integration'. Most recently, in 2015, the establishment of the ASEAN Economic Community (AEC) is also regarded as another 'milestone in regional economic integration'," Cuong said in his opening speech.
The lower tariffs in the free trade agreements (FTAs) that Vietnam has been joining will spur foreign trade and direct investment in the country, and more Vietnamese firms will expand to regional markets, creating tremendous growth potential for auditing firms.
It also means international accounting, auditing, and consulting firms should be working closely in order to provide no-border service for clients.
The conference, Cuong said, was a special occasion for members of HLB International to "engage in an open and constructive discussion, as well as create more effective and tighter connections".
Robert Gerard Tautges, chief executive officer of HLB International, said that the prospects of international investment into Vietnam were endless. "Vietnam is a very important country. It has an educated workforce and natural resources and many countries are looking to invest into Vietnam," he said, adding that the conference aimed to bring member companies together so that they could take advantage of cross-border investment.
Tautges stressed the importance of having AASC in HLB International's network. "AASC will help others that want to invest into Vietnam or their clients who look to invest outside of Vietnam," he said.
Recently, Vietnam has seen a surge in foreign direct investment (FDI). According to the Foreign Investment Agency, in the first seven months Vietnam attracted US$12.94 billion in FDI, up 46.9 per cent year-on-year. The disbursed capital reached US$8.55 billion, up 15.5 per cent year-on-year. The AEC, as well as the FTAs that Vietnam signed, have been a strong motivation for capital flows into the country.
Established in Vietnam by the Ministry of Finance in 1991, AASC is widely regarded as one of the first two auditing companies to lay the foundation for the development of Vietnam's Law on Independent Audit.
As of now the company has ventured outside of Vietnam to provide auditing and consulting services to clients in Thailand, Laos, Cambodia, and Indonesia, and has been involved in multiple projects of the World Bank and Asian Development Bank.
Vietnam's fiscal and monetary market stable following Brexit
Britain's decision to withdrawal from the EU, known as Brexit, has had an impact on the global economy and on Vietnam's fiscal and monetary market and investment flow. But the latter will be minimal thanks to proper and timely responses.
Vietnam's stock market lost more than US$1 billion as Brexit wreaked havoc worldwide. But following a sharp decline on June 24th, the market recovered.
At a press conference to review the implementation of fiscal and monetary missions and the state budget in the first half of this year and announce targets for the remaining months, the Finance Ministry said Brexit will not heavily impact the Vietnamese financial market.
Nguyen Mai Phuong, Director in charge of analysis with brokerage firm VNDirect, said domestic listed companies will barely be affected.
"The number of securities trading accounts of foreign investors in Vietnam increased significantly in the first half of this year due to domestic and foreign investors' increased trust in the market. The market is ready for a boom. Vietnam's securities market is mainly affected by policies and investor psychology. Trading on June 24th, 2016 declined primarily because of psychological factors", said Le Duc Khanh, strategy director for the Maritime Bank Securities Company.
Many Vietnamese economists say Brexit will not heavily impact the flow of direct investment capital from the EU and Britain to Vietnam because Britain's investment in Vietnam remains modest.
To date, the EU's registered capital for Vietnam is about US$100 billion, of which Britain has 266 projects worth US$3.5 billion.
"In the current situation, investors will shift their capital to safer markets. Vietnam will likely benefit from this situation, if it opens its policies and takes full advantage of integration. Indirect investment capital flows in the stock market may be affected, but direct investment capital in the real economy will be less affected", said Can Van Luc, a member of the National Financial and Monetary Advisory Council.
According to foreign economists, Brexit will not have a great impact on Vietnam's economy but will create opportunities for Vietnam's fiscal and monetary market and investment attraction.
The Finance Ministry said recently that Brexit will not negatively affect Vietnam's public debt.
Vo Huu Hien, Deputy Director of the Debt Management and External Finance Department, says Brexit has caused the British pound to depreciate about 8%. The Chinese yuan has also depreciated. The Japanese yen is still appreciating.
Hien says in the structure of Vietnam's public debt right now, government debt in Vietnam dong accounts for about 55%, debt in US$ accounts for 16%, and yen debt about 13%.
"The State Bank made appropriate exchange rate adjustments after Brexit, so exchange rate fluctuations have had little impact on public debt. For example, British pounds are just 2% of the debt structure, but the British pound depreciated 8%, benefitting Vietnam. Depreciation of the Euro also benefited Vietnam's public debt. By contrast, appreciation of the yen increased Vietnam's debt. But, in general, Brexit hasn't had a major impact on public debt in Vietnam", said Mr Hien.
Vietfish 2016 exhibition scheduled for early August
Around 200 seafood exporters and processors from Vietnam and 14 foreign countries and territories will gather at the biggest event of the industry - the 2016 Vietnam Fisheries International Exhibition (Vietfish 2016) - being held in Ho Chi Minh City from August 3-5.
Organised by the Vietnam Association of Seafood Exporters and Processors (VASEP), this is the 17th consecutive year that Vietfish has been oragnised to connect domestic and foreign seafood producers and processors.
Under the theme "Asia's Home of Seafood," the exhibition will feature 350 booths by companies from Vietnam, Malaysia, Thailand, China, Germany, Japan, the US, Singapore, Indonesia and the Philippines.
During the three day exhibition, conferences will be organised to discuss urgent issues relating to seafood certificates and technology for microbiological control and freezing.
Companies will have access to the most advanced technologies and new trends in the world seafood market to help upgrade production and strengthen business operation.
Along with offering a series of co-operation opportunities, Vietfish 2016 will give customers chances to try special and delicious seafood dishes made from tra fish, shrimp, tuna, cuttlefish and octopus.
The Vietnamese seafood industry, with several State-owned companies, earned an export turnover of US$300 million in the 1990s. Twenty years later, the figure had jumped by 26 times, reaching US$8 billion in 2014. The industry has an average growth of 30% a year.
Currently, the country is ranked third in the list of the biggest seafood producers in the world, following China and India. In terms of exports, it is listed fourth after China, Norway and Thailand.
With diverse products and high volume, seafood processing and exporting has become a key part of Vietnam's economy, becoming a leading sector in integration thanks to advantages of the Trans-Pacific Partnership Agreement and free trade agreements that Vietnam has signed with other countries.
This year, VASEP predicts total export turnover will reach over US$7 billion, up 6.3% over 2015.
Economy slows, forcing re-think on 'inclusive growth'
Expansion of the nation's gross domestic product has slowed to 5.52% in the first half of 2016 hurt by a crippling drought linked to the El Nino weather phenomenon, says the General Statistics Office.
Crop output from farming in the agriculture, forestry and fishing segments of the economy were a drag, as they often are, experiencing two-tenths of one percent negative growth in the first six months of the year.
One of the worst droughts to strike Vietnam in nearly a century combined with rising sea waters has taken a heavy toll and could cast a shadow on the economy for years to come, says the Ministry of Agriculture and Rural Development (MARD).
Dang Kim Son, former head of MARD's think-tank, the Institute of Policy and Strategy for Agriculture and Rural Development (IPSARD), at a recent business forum in Hanoi, was uncharacteristically blunt.
With more than 50% of the country's workforce engaged in agriculture, the drought has exacerbated troubles in an economy already weighed down by a slowdown in the rate of growth of manufacturing and exports.
Rural households are being hit by a perfect storm, said Mr Son, with the drought not only drying up farmland— but cash flows and profits as crop yields in the hardest hit central region dwindle.
This year, paddy rice fields have resembled parched deserts capes as farmers wait for a rainy season that is late to arrive. Smallholder farmers, who grow watermelons and orange trees about 40 miles from the East Sea, have seen crop-ruining salinity intrude farther inland than ever before.
Then there are the dams. China has built seven hydropower dams on the upper Mekong, known locally as the Lancang, and plans to add 21 more. Laos and Cambodia intend to build 11 hydropower dams on the lower Mekong, with two in Laos currently under construction.
The biggest impact from dams is the trapping of silt, said Mr Son. He said the silt is needed to replenish nutrients that wash away during the monsoon season in the Mekong Delta, and also to sustain the delta against rising sea levels.
Without the sediment, the low-lying delta is eroding and actually sinking and destroying valuable crop and fish farming lands.
Nguyen Do Anh Tuan, the current director of IPSARD, in turn pointed out that the stagnation of farming poses a big challenge to 'inclusive growth'—ensuring poor, largely uneducated, Vietnamese participate in the overall economy's expansion.
Over one-half of Vietnamese still work in farming and the economic segment gives them a chance to eke out a living even though they have a less formal education, he said, adding that few have attained education or skills beyond the basic primary level.
Farmers in Vietnam are largely engrossed in subsistence farming. They don't enjoy economies of scale and lack capital to expand, said Mr Tuan, and suffer the high costs of production and poor access to markets.
All of this in addition to the current drought conditions.
Mr Tuan underscored the point that farming is the perennial obstacle to 'inclusive growth' and underlined the importance for the government to rethink its strategies here.
Vietnam as a nation needs to pursue a steady course of supporting the drivers of transformation to reach its ambitious target of attaining growth to get to middle income status while promoting more inclusive development.
Economic transformation takes time, but policy makers must focus on those drivers and redouble their efforts to get farmers better educated, out of agriculture and into higher paying jobs in the urban and industrial areas of the country.
Annual Report Awards celebrates immense improvements
The 9th Vietnam Annual Report Awards Ceremony honours its 50 winners on July 29 at the Ho Chi Minh Stock Exchange.
The winners are the best reports out of the 136 finalists who have been selected from 600 listed companies on the Ho Chi Minh Stock Exchange (HOSE) and the Hanoi Stock Exchange (HNX). In the winners' list, 34 reports belong to firms listed on the HOSE and 16 on the HNX.
The awards are classified into three categories, including Top 10 (the 10 reports with the highest scores), Top 30 (the next 20 reports), and Top 50 (the remaining 20 reports in the Top 50 list). From the winners, the Selection Board will also choose a report with excellent content and presentation for the Outstanding Award.
The three companies with the most drastically improved reports will also receive the Outstanding Improvements Award.
In addition, the Selection Board will pick the three best contents on corporate governance, including one First Prize, one Second Prize, and one Third Prize.
Meanwhile, the Sustainability Reporting Awards will be handed out to five firms, including a First and Second Prize and three Consolation Prizes in three categories: completeness, reliability, and presentation. The World Bank's International Finance Corporation (IFC) and Britain-based global Association of Chartered Certified Accountants (ACCA) have joined the Selection Board for this award, selecting five winners out of 420 reports that included sustainable development issues.
Minister of Finance Dinh Tien Dung noted that the Annual Report Awards (ARA) provided the market with an independent and objective assessment of firms' annual reports. More transparent annual reports will help improve the Vietnamese market and attract long-term large investment flows.
Meanwhile, Ngo Viet Hoang Giao, board member and deputy CEO of HOSE, head of the Organising Committee and the Selection Board, highlighted the tremendous quantitative increase of reports with a sustainability dimension.
The standards of corporate governance reporting have improved this year, as 105 out of 136 finalists (77 per cent) earned at least average marks. The figure was 60 per cent in 2015 and only 40 per cent in 2014.
This improvement was applauded by Pham Nguyen Vinh, business development director and head of Responsible Investing at Dragon Capital. He noted that global investors are now unlikely to pour capital into firms that profess to low standards of corporate governance, social responsibility, and environmental awareness.
"Improvements in annual reports have shown firms' determination to open themselves to investors. As a result, everyone's efforts to create the best report in their ability should be celebrated," said Le Trong Minh, VIR's editor-in-chief and co-head of the Organising Committee.
ARA have been co-organised by HOSE and VIR since 2008. The awards are sponsored solely by Dragon Capital and received support from the State Securities Commission, HNX, IFC, and ACCA, to boost the transparency of the Vietnamese market.
Japan's ANA completes purchase of Vietnam Airlines stake: report
Japan's ANA Holdings has completed a US$108 million deal to buy an 8.8% stake in Vietnam Airlines, news website Deal Street Asia reported on July 28.
Vietnam Airlines reportedly will hold an extraordinary meeting prior to September 30 in order to elect ANA representatives to the board, and adopt a plan to increase charter capital by issuing additional shares to its existing shareholders.
Under the strategic partnership, the two airlines will launch codeshare arrangements, which will cover 30 major domestic routes within Japan and Vietnam and 10 international routes between the two countries.
Vietnam Airlines has said it will continue to look for potential investors to cut the state ownership to 65%.
The Vietnamese carrier sold 49 million shares, or a 3.5% stake, in an IPO in November 2014 for about US$51.3 million.
Chief Executive Officer Pham Ngoc Minh told Bloomberg in April that the airline expected to list its shares on the Ho Chi Minh City Stock Exchange "later this year" after closing the deal with ANA and fulfilling some procedural requirements of the exchange.
Three MoC enterprises propose IPOs for Q3
Three State-owned enterprises (SOEs) in the construction sector are to propose conducting their initial public offering (IPO) during the third quarter of 2016, according to a Ministry of Construction (MoC) report released on July 21.
After a three-year overhaul, the Song Da Corporation, the Housing and Urban Development Corporation (HUD), and the Urban and Industrial Zone Development Investment Corporation (IDICO) are expected to finalize their businesses valuations and propose IPO plans to the Prime Minister shortly.
Song Da Corporation, HUD, IDICO, and the Vietnam Cement Industry Corporation (Vicem) are the last four critical enterprises of MoC to not have undergone equitization. Ten of MoC's 14 such enterprises had done so by the end of 2014.
According to MoC the four have experienced difficulties during their equitization process. Song Da and Vicem's planned to conduct their IPO in the first quarter of this year but were delayed by the transfer of the loss-making Ha Long Cement Company.
Song Da was reportedly trying to sell its entire holding of 26.1 million shares in the Vietnam Italy Steel Company (VIS), equal to 53.04 per cent of the total. It was unable to divest the shares during July as planned due to market volatilities.
According to the report, nine MoC corporations divested a total of VND193.4 billion ($8.8 million) worth of investments for VND233.5 billion ($10.6 million), equal to 120 per cent.
Shareholder meetings approved the equitization plans of the Construction Corporation No.1 (CC1), the Building Materials Corporation No.1 (FICO), the Construction Machinery Corporation (COMA), and the Vietnam National Construction Consultants Corporation (VNCC).
Production value of MoC enterprises reached VND76.1 trillion ($3.4 billion) in the first half, reaching 47.2 per cent of the target.
Value was down against the first half of 2015 due to divestments from subsidiaries of some of the parents companies. Construction value stood at VND28.5 trillion ($1.3 billion), equal to 46.6 per cent of the target and representing 89.6 per cent of result in the same period last year.
Total output significantly declined compared to the same period last year, as old contracts come to an end and new contracts are either being identified or still in the middle of negotiations.
The value of building materials reached VND31.6 trillion ($1.4 billion), equal to 48.5 per cent of the target and 109.2 per cent of the result in the first half of 2015. Consulting value stood at VND1 trillion ($44.8 million), or 46.9 per cent of the target and 164.2 per cent of the first half last year. Other production value was VND14.9 trillion ($668 million), or 45.9 per cent of the plan and equal to 100.5 per cent of last year.
Some enterprises recorded higher growth in their production activities year-on-year while others saw lower than expected growth and a decline year-on-year, including Song Da, HUD, the Song Hong Corporation, and the Vietnam Water Supply Sewerage and Environment Construction Investment Corporation (Viwaseen).
The real estate market saw steady growth in the first half due to increases in outstanding credit and a decline in inventory.
There was also a steady increase in the number of transactions. House prices were stable compared to 2015 and inventory mainly consisted of land plots from undeveloped projects.
As at the end of May the government's $1.5 billion housing credit support package had disbursed a total of $1.1 billion. Total outstanding credit in the real estate sector as at the end of April stood at VND415.4 trillion ($18.6 billion), up 5.76 per cent compared to the end of 2015.
Masan Group revenue up 84% in 1H
The Masan Group earned revenue of more than $855 million in the first half of this year, an 84 per cent increase year-on-year, of which revenue from animal feed accounted for 60 per cent of total revenue.
Net profit stood at over VND1 trillion ($45 million), three-fold higher than the VND364 billion ($16.3 million) recorded in the first half of last year.
Company leaders predict annual revenue will come in at 25 per cent higher than the target set earlier in the year.
One factor pushing up Masan's profits was growth in animal feed from its subsidiary Masan Nutri-Science (MNS), which brought in VND11 trillion ($495 million), up 14 per cent year-on-year.
While the animal feed sector grew strongly, fast-moving consumer goods (FMCG) saw lower growth in the first six half, especially in sauces, with revenue from instant noodles declining. Total revenue from FMCG stood at over VND6.3 trillion ($283.5 million), up 7.9 per cent year-on-year, with growth in sauces at just 4 per cent while instant noodle sales shrunk 11 per cent.
Techcombank, in which Masan owns 34.4 per cent, also announced its business results for the first half. Pre-tax profit reached over VND1.5 trillion ($67.5 million), up 53.8 per cent year-on-year. Its bad debt ratio remained at 1.87 per cent and its capital adequacy ratio (CAR) was 14.3 per cent as at June 30, much higher than the State's requirement of 9 per cent.
Masan's mining concern, Masan Resources (MSR), recorded revenue of over VND1.7 trillion ($76.5 million), up 45.3 per cent year-on-year despite low commodity prices. Net profit was VND70 billion ($3.15 million).
The Nui Phao mine project in northern Thai Nguyen province has an important role to play for the group and MSR is to continue improving its production efficiency and reduce costs.
The Ministry of Natural Resources and Environment (MoNRE) recently announced it will conduct an inspection at Nui Phao in August, after claims of environmental pollution were made.
The ministry also asked the Nui Phao Mining Company, the project owner and a subsidiary of MSR, to evaluate the impact of the project on the environment and the lives of local people. Based on the company's report, the ministry and local authorities will decide whether it is necessary to relocate nearby villages. It also asked for plans for an automatic observation system for wastewater, under Decree No. 38/2015 from the government.
In response, MSR announced it is ready to welcome the inspection team and the media to the Nui Phao project.
The project was licensed in 2005 and has significant deposits of tungsten, fluorspar, bismuth and copper, and is the world's largest tungsten mine outside of China. It covers an area of 9.21 sq km in Dai Tu district.
In 2010 MSR acquired the project from Dragon Capital, a Vietnam-focused financial institution, and other stakeholders. The mine began commercial operations in the first quarter of 2014.
The Masan Group is one of Vietnam's largest companies, focused on domestic consumption and building leading businesses in the branded food and beverage sector and in the animal nutrition value chain.
In addition to MSR its businesses include Masan Consumer Holdings, the producer of some of Vietnam's most trusted and loved brands in food and beverages, such as Chin-su, Nam Ngu, Tam Thai Tu, Omachi, Kokomi, Vinacafe, Wake-up, Vinh Hao, and Su Tu Trang, and Masan Nutri-Science, Vietnam's largest animal feed company, with brands including Proconco and Anco.
Đồng Nai wants Investment Law update
The southern province of Dong Nai has urged relevant agencies to amend the Investment Law so that it covers the change in ownership of companies that are bought by foreign investors.
"The adjustment is very necessary [since] Vietnamese individuals set up businesses and then sell their shares to foreign investors," Cao Tien Dung, director of the province Department of Planning and Investment, told the Ministry of Planning and Investment at a meeting early this week.
These enterprises then become foreign-invested companies and State management offices find it hard to manage them since the laws lack the provisions required for it, he said.
Deputy Minister of Planning and Investment Nguyen Van Hieu promised to take up the issue with the Government.
"Dong Nai Province has a developed industry and is one of the five provinces that make the biggest contributions to the State budget," he said.
"The province has achieved growth of around 7.85 per cent in the first six months of the year, higher than the national average."
But he urged the province to promote exports, which have risen by only 5.3 per cent year-on-year in the first half to US$7.4 billion.
The province has achieved revenues of VND20.5 trillion ($919 million), or 49 per cent of the yearly plan and a 9 per cent year-on-year increase.
Total domestic investment was worth VND7.65 trillion, 85 per cent of the full-year plan, and foreign investment, $1.34 billion, 34 per cent higher year-on-year.
To achieve the year's economic-socio development targets, the province has cut expenses, improved the efficiency of public investment and of State-owned projects, continued to fix the difficulties faced by businesses, speeded up investment in industrial projects, focused on creating proper policies and mechanisms to attract investment for industrial parks and processing zones and explored solutions to encourage exports, Dung said.
"Dong Nai will focus on solutions to capitalise on advantages and mitigate disadvantages faced by our key export products while integrating into the international economy and from the ASEAN Economic Community, Free Trade Agreements and Trans-Pacific Partnership."
He promised that assistance would be provided to small- and medium-sized enterprises, especially start-ups and creative businesses.
Hieu said: "I strongly believe that Dong Nai will be able to achieve all of its 2016 socio-economic targets."
High-profit shrimp farming model grows
A "super-intensive" farming model, which raises white-legged shrimp in greenhouses in the Mekong Delta province of Bạc Liêu, has expanded after generating high profits.
The Hải Nguyên Company in Bạc Liêu City was the first company using the model in the delta, which is more environmentally friendly than traditional shrimp models.
In 2011, when shrimp disease outbreaks occurred on a large scale in the delta, Đinh Vũ Hải, the company director, chose to use the new breeding model.
The shrimp ponds, which are protected in greenhouses, are equipped with airlift pumps in the pond beds and fans at the pond surface, to provide oxygen for the shrimp. The pond beds are covered with plastic sheets.
The density in the so-called super-intensive farming models is 200-250 shrimp per sq.m, while density is 100-150 shrimp per sq.m in intensive models.
After a farming period of 75-90 days, the white-legged shrimp are harvested, usually with yields of 60-70 tonnes per hectare.
With a 60ha-farming area, Hải's company harvests about 900-1,000 tonnes of white-legged shrimp a year and earns profits of VNĐ100 billion (US$4.5 million).
The model requires high investment costs, but it reduces pollution as it does not use antibiotics and chemicals, according to Hải.
Many farms and other companies are using the model in Bạc Liêu and other provinces.
The Trúc Anh Production and Trading Company Limited in Bạc Liêu's Vĩnh Trạc Đong, for instance, raises white-legged shrimp under this model.
Lê Anh Xuân, director of Trúc Anh, said his company used probiotics to breed shrimp.
"Our company has piloted the model on an area of 1 ha with investment capital of VNĐ10 billion ($450,000)," he said.
Last year, the Việt-Úc Group, Việt Nam's leading supplier of shrimp fries, began its project of super-intensive farming of white-legged shrimp in greenhouses in Bạc Liêu and achieved good results.
The group now farms white-legged shrimp using this model in Bạc Liêu and the central province of Binh Định. It is expected to expand to 1,000ha by 2018.
The Việt-Úc Group has also helped farmers in Bạc Liêu and Cà Mau provinces and HCM City to breed shrimp.
Trần Ngọc Hải, deputy head of Cần Thơ University's Fishery Faculty, said one of the best features of the model was that temperatures in ponds could be controlled, which is important for raising shrimp.
Normally, when there are heavy rains or hot sunshine, the temperature in ponds will change rapidly, affecting the health of shrimp.
In addition, the super-intensive model also reduces pollution and the spread of germs from the ponds.
VEF/VNA/VNS/VOV/SGT/SGGP/Dantri/VET/VIR