VN to experience difficulties in reaching yearly export targets due to low growth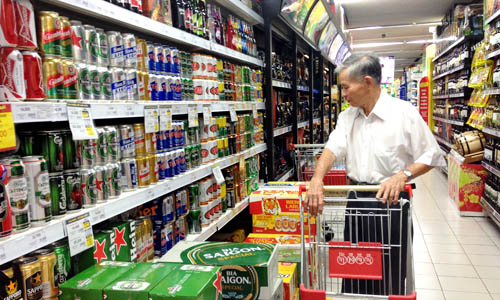 Viet Nam could face numerous difficulties in reaching its export value target for this year because of low growth in total exports for the first four months, experts said.
The Ministry of Industry and Trade (MoIT) reported that in the first four months this year Viet Nam reached a year-on-year increase of 6 per cent in total export value to US$52.87 billion. The rate was lower than the growth rate of 7.2 per cent in the first four months of 2015 against the same period of 2014.
The experts were worried about achieving the yearly target in growth rate of total export value at 10 per cent to $181 billion for this whole year.
With the low growth rate in the first four months, the nation's export value must reach an average at $16 billion per month in the remaining eight months to reach the total export value for this year, the ministry said.
That was a big challenge for this nation because the average export value in the first four months stood at $13.2 billion per month, while the average export value in 2015 reached $13.5 billion per month, reported Thoi bao Kinh doanh newspaper.
The ministry said the low growth in exports was mainly due to the strong reduction in export value of the fuel and ore group by 44.9 per cent, while other processing industrial groups had an average growth rate at 5 per cent for each group, including chemical products, textiles, garments and footwear.
The average price of Vietnamese exports dropped as the price of various products, excluding cashew and rice, dropped on the world market, the ministry said.
Pham Ngoc Hung, deputy of HCM City Entrepreneurs Association, said that local enterprises should re-build strategies for production and business and restructure enterprises to increase quality of products and the competitive ability of companies.
The ministry would receive suitable support for local enterprises to operate efficiently in markets where Viet Nam had free trade agreements for expanding their export markets.
It would also update information for local enterprises about the advantages of free trade agreements with Viet Nam's foreign partners.
Tran Thanh Hai, deputy head of the ministry's Import and Export Department, said enterprises should actively update information about free trade agreements to take full advantage of the agreements and increase the value of their export products.
Sugar industry faces difficulties
The nation's sugar industry might be harmed by increased imports of sugar if the Ministry of Industry and Trade's proposal to import an additional 200,000 tonnes is approved.
Under the proposal, the total amount of imported sugar in Viet Nam could rise to 335,000 tonnes, including 85,000 tonnes included in the import quota called for in the nation's WTO commitments; 50,000 tonnes imported by Hoang Anh Gia Lai from Laos and the proposed 200,000 tonnes. In addition, there are hundreds of tonnes of sugar smuggled into the country each year.
The Agro-Forestry, Seafood Processing and Salt Industry Department under the Ministry of Agriculture and Rural Development said the proposal followed the issuance of the report from the Viet Nam Sugar and Sugarcane Association.
That report indicated that Viet Nam was expected to produce some 1.2 million tonnes of sugar, a reduction caused by droughts and salt water infiltration of farm lands, while the nation's total demand for sugar was forecast at 1.6 million tonnes. The country, therefore, would see a shortage of 400,000 tonnes of sugar.
The MoIT said that the country would need a large amount of sugar this summer. This was the reason they proposed importing 200,000 tonnes of sugar, said Le Van Banh, the department's director.
The prices of locally produced sugar have always been 20 per cent higher than imported sugar. For this reason, an increased amount of imported sugar could cause pressure on domestic sugarcane factories and farmers.
Banh warned that the MoIT should be careful in considering the proposal to import 200,000 additional tonnes of sugar.
"We ask MoIT to collect ideas from four ministries, including MARD, Finance, Planning and Investment and Government Office, on the amount of imported sugar", he added.
By the end of last month, the reported inventory at sugarcane factories was more than 300,000 tonnes, while commercial companies belonging to the association had over 25,000 tonnes.
G-bonds in circulation grow strongly
The value of Government bonds in circulation on the domestic market has grown fast in recent years, shows a recent survey of the Vietnam Bond Market Association (VBMA).
By the end of April, the G-bonds in circulation had risen to VND641.55 trillion (US$28.75 billion), accounting for 80.03% of the total value of G-bonds, government-guaranteed bonds and municipal bonds on the market.
The respective figures of G-bonds in circulation were VND497.6 trillion and 75.19% in late 2014, and VND582.8 trillion and 78% at the end of 2015.
Compared to end-2014, the value of government-guaranteed bonds in circulation has fallen from VND144 trillion, or 21.75% of the total, to VND135.5 trillion, or 16.9%. Meanwhile, the ratio of municipal bonds had stayed the same at 3.06%, equaling to VND24.5 trillion, by the end of April.
G-bonds still make up a majority of the total bonds on the market and this is projected to continue in the coming time as the State Treasury keeps issuing G-bonds.
The G-bond auction at the Hanoi Stock Exchange on Wednesday was considered the most bustling this year.
Closing the auction, VND11.48 trillion was raised, higher than VND10 trillion worth of bonds offered for sale, including VND1 trillion for three-year bonds, VND8 trillion for five-year bonds and VND1 trillion for 20-year bonds.
All the three-year bonds were snapped up with an annual wining coupon of 5.30%, 0.2 percentage point lower than that at the auction on May 4.
Nineteen investors registered to buy almost VND21.68 trillion worth of five-year bonds. At the end of the auction, the State Treasury raised VND10.4 trillion with the winning coupon of 6.14% a year, down 0.15 percentage point compared to the auction on May 11.
The State Treasury had mobilized VND132.3 trillion from G-bond sales in the year to Wednesday.
South developing farm produce chain
Twenty one southern cities and provinces will colaborate in the development of a farm-produce chain to ensure safe, quality products reach the market, according to the HCM City Investment and Trade Promotion Centre (ITPC).
A supply-demand connectivity programme will be held in HCM City in July to promote consumption of safe produce in the localities.
ITPC will invite supermarkets, restaurants, hotels, food and foodstuff suppliers, traders at traditional markets, catering enterprises, food processors, convenience stores and vegetable and fruit stores to participate.
Suppliers have to register with the centre to participate.
At a meeting it held last week, officials from the industry and trade and agriculture departments of the 21 localities and investment and trade promotion centres pledged to work together to build a southern regional data base on investment and trade. The data base called "1+20 Model" will be regularly updated to provide information on investment and trade to domestic and foreign investors, Nguyen Van Ut, head of the Southwest Region Steering Committee's office, said.
The data base is expected to be launched at the end of the year.
Local food industry has potential
The domestic food production industry has great potential for development but local firms need to revamp production and study consumer trends to compete with foreign rivals, experts say.
At a forum on the food production industry in HCM City last week, Chau Thinh Lan, director of Viet An Food Processing Ltd Company, said in the domestic food production industry, the value of spices, sauces and seasoning production has reached VND4.5 trillion (US$200 million) at present and was expected to reach VND19 trillion in 2020.
He said food consumption trends in Viet Nam's market show that future use would move toward processed foods and away from more traditional food production methods.
In large cities, processed food is available in supermarkets and these would sell at traditional markets while they would appear gradually in small cities.
Candy would be developed in the future, Lan said, and added that the local dairy industry would have many chances of development, especially in health-related dairy products.
Meanwhile, the segment of instant food products still had great potential and small enterprises had ample opportunity to invest in this area. They could exploit this new market by selling instant food at supermarkets, he said.
For the crude food seasonings such as salt, spices, sauces and instant noodles, local and foreign firms have always had new products, and local enterprises should develop diversified products, according to the director.
Lan said a large challenge for the food production industry was a traditional system of supplying domestic raw material for food products.
Le Viet Thang from VianBeco Joint Stock Company said beverage consumption per capita in Viet Nam was too small compared to consumption in other Asian countries such as Thailand, Japan, South Korea and Hong Kong.
"Viet Nam has a large potential market for beverages, including alcohol and beer because the nation has a young population and an increased income per capita," he said.
Thang said that according to BMI Research's report, the growth rate in the turnover from alcoholic beverages in Viet Nam would be 15 per cent to 18 per cent each year from 2016 to 2018, reaching $14 billion in 2018.
However, Thang said that a huge challenge facing the domestic food and beverage industry was research and development (R&D) because it still faced limitations.
Experts said that local enterprises had often put small investments into R&D in the food and beverage sector.
Dang Thi Phuong Ninh, deputy general director of Vissan Company, said there were challenges such as food hygiene and safety, capacity and quality, requiring local enterprises to focus on R&D and revamping their technology.
Deposit interest rates under pressure to increase
Pressure from ensuring liquidity, meeting rising credit demands and purchasing Government bonds has caused commercial banks to hike their savings interest rates to attract depositors.
Instead of introducing promotional programmes, as in the past, banks have used their high deposit rates to lure customers. Currently, the central bank sets a cap of 5.5 per cent on short-term deposits of less than 6 months. Meanwhile, higher rates are floated.
Viet Capital Commercial Joint Stock Bank (Viet Capital Bank), for example, has launched a programme in which online deposit interest rates have been increased by 0.3 per cent per year since April.
Also, Viet AU Commercial Joint Stock Bank (VietA Bank) offers an additional 0.2 per cent interest rate per year for depositors aged 45 years and older.
Other banks also add 0.2 to 0.3 per cent interest rate per year to customers depositing large amounts of money.
The Export Import Commercial Joint Stock Bank (Eximbank), Sacombank and Orient Commercial Joint Stock Bank (OCB) are offering the highest deposit rates of 7.5 per cent, 7.55 per cent and 7.7 per cent per year, respectively, for 13 month deposits of at least VND500 billion (US$22.2 million).
A report from the National Financial Supervisory Committee also showed that liquidity at banks last month was under pressure, pushing inter-bank rates up 1 per cent for all terms.
Experts attributed the interest hike in deposits to rising credit demands and the draft revised Circular 36/2014/TT-NHNN, which lowers the ratio of using short-term funds for medium and long-term rates from 60 to 40 per cent. Currently, the ratio at State-owned banks is 33.91 per cent, while the rate is higher at 35.58 per cent at commercial joint stock banks. Therefore, these banks have the need to attract long-term mobilisation to ensure they reach their prescribed limits.
Additionally, banking expert Nguyen Tri Hieu said that banks are being forced to hike deposit interest rates to ensure liquidity, besides meeting rising credit demands.
Further, according to experts, banks also need capital to purchase Government bonds. This year, the finance ministry plans to issue G-bonds worth VND220 trillion, of which nearly VND111.79 trillion in G-bonds were issued by May 6. In Viet Nam, banks are allocated more than 80 per cent of total G-bond purchases.
Banks also need capital to boost consumer lending, as these loans have higher interest rates than corporate loans.
As for VP Bank, for example, after reporting a profit of nearly VND1 trillion from consumer loans last year, the bank targeted its consumer loans to rise by more than 30 per cent this year.
Exports of mobile phones, spare parts on the rise
Vietnam earned US$11.34 billion from exports of mobile phones and phone spare parts in the first four months of the year, a year-on-year surge of 22.45%, according to the Ministry of Trade and Industry.
The ministry said that the shipments accounted for 21% of Vietnam's total export revenue.
The United Arab Emirates (UAE) remains the biggest importer of Vietnamese-made mobile phones and components with total export value of US$1.54 billion, followed by the US with US$1.47 billion.
Other main importers include the Republic of Korea (US$809.9 million), Germany (US$600.5 million), the UK (US$637.4 million), Austria (US$621 million) and Hong Kong (US$523.5 million).
Mobile phones are mostly produced and exported by Samsung Electronics Co., Ltd and Microsoft Mobile Vietnam.
The RoK company Samsung has poured US$15 billion into Vietnam, including two production complexes in Bac Ninh and Thai Nguyen provinces. Their products are sold in more than 50 countries and territories worldwide.
Last year, the group exported 200 million cell phones and earned a total revenue of US$32.5 billion.
Ba Na Hills Golf Club launches promotions for summer
From May 03 to July 30, Ba Na Hills Golf Club is going to have summer promotions that would bring to golfers the opportunity to experience interesting challenges and world-class services at a discounted price.
The promotions apply from Monday to Friday every week. At the beginning of the week, golfers can enjoy the Unlimited Golf package, which costs VND2.1 million ($94) per person and which allows them to play for the whole day with unlimited number of holes. On Tuesday, the club has the Golf & Lunch combo, which costs VND1.8 million ($80) per person and which allows golfers to play 18 holes and then relax with lunch.
On Wednesday golfers can enjoy the Ultimate Golf package that costs VND2.5 million ($112) per person and allows golfers to play 18 holes, practice for the whole day and enjoy a set menu with three courses and unlimited beer.
On Thursday, the club has the Play 4 Pay 3 package that costs VND7.7 million ($345) per package. With the package a group of four people only has to pay the cost for three.
Moreover, from Monday to Friday golfers can enjoy the Twi-Night Golf package with unlimited number of holes at VND1.7 million ($76) per person playing from 3 pm to 9 pm.
All packages already include the fee for the course, caddie, cart and VAT. Conditions apply.
With the summer promotions, Ba Na Hills Golf Club hopes to create more opportunities for golfers to explore this world class golf course.
Ba Na Hills Golf Club is a mountain course with a diverse mix of natural topography and vegetation. It is located on Ba Na-Suoi Mo road, next to Ba Na Hills Mountain Resort, and only 25 minutes from Danang. In the first phase, the golf course has an area of 165 hectares and 18 holes. The golf course was constructed with world famous golfer Luke Donald as the design consultant. Services are provided by IMG Golf Course Services.
NESCAFÉ introduces two Dolce Gusto coffee machines in Hanoi
NESCAFÉ on May 21 introduced two coffee machines – the MINI ME and DROP - using NESCAFÉ Dolce Gusto coffee in Hanoi.
The MINI ME is designed for home and office use with a super-compact design and 15-bar pump pressure (normally seen in industrial coffee machines). With Flowstop technology, the machine lets the user make a perfect cup of coffee ready in less than 60 seconds.
The DROP has a touch responsive display, with which one can customise the size of the cup.
Available flavours include Espresso Intenso, Cappuccino, Café au Lait, Chococcino and Green Tea Latte. The capsules are made with Arabica and Robusta beans that undergo roasting and grinding processes in accordance with Nestlé's international standards.
"Premium quality coffee is much more than just a drink, it is a truly soul-stirring lifestyle choice, and we are delighted to present NESCAFÉ Dolce Gusto to you today in Hanoi. At Nestlé, we never stop attempting to achieve perfection and we have drawn on over 75 years of experience in the modern art of coffee to create a true masterpiece," said Jérôme Puget, country marketing director of Nestlé Vietnam.
Launched in 2006 in Switzerland, Germany and the United Kingdom, NESCAFÉ Dolce Gusto is now available in 60 countries worldwide. NESCAFÉ Dolce Gusto lets you easily make perfect café-style beverages.
Nestlé officially launched its first NESCAFÉ Dolce Gusto machines in Sweden, Germany and England in 2006. Up to now, this product line has been available in more than 60 markets around the world, including 41 European countries.
The two machines were introduced in Ho Chi Minh City in October last year and has seen positive reception from customers in the south of Vietnam.
Samsung initiates programme to find Vietnamese suppliers
Samsung is increasing efforts to find Vietnamese suppliers through implementing a supporting programme aiming to help Vietnamese enterprises to enhance their capacity and improve their production processes to manufacture products meeting Samsung's requirements, according to newswire VOV.vn.
On May 19, leaders from Samsung and experts arrived to Ngoc Khanh Wire and Cable Company Limited and Goldsun Packaging and Printing Joint Stock Company to assess its production capacity.
The visit took place in the framework of Samsung's supporting programme. Accordingly, Samsung will send experts to Vietnamese enterprises to work with for three months. These experts will advise and help Vietnamese enterprises to overcome their weaknesses.
The above two are among the nine domestic supporting enterprises receiving Samsung's support. The seven remaining enterprises include Chien Thang Co., Ltd., APV Plastic Co., Ltd., VietHung Packaging Co., Ltd., Thang Long Packaging Co., Ltd., Ngan Ha Wire and Cable Company Limited, Phuoc Thanh Plastic Co., Ltd., and Minh Dat Co., Ltd.
Chairman of Ngoc Khanh Wire and Cable Company Limited Vu Quang Khanh said that thanks to the support and advice of Samsung's experts, the company's capacity increased by 30 per cent. The figure is expected to increase to 50 per cent in the upcoming time. Even though the company is currently only a potential supplier, he is confident to overcome Samsung's strict requirements.
Regarding Goldsun Packaging and Printing JSC, becoming Samsung's first-tier supplier significantly increased the company's revenue. In 2015, the company earned $36 million, equalling 45 per cent Goldsun's total revenue, thanks to selling supporting products for Samsung.
According to a Samsung representative, it is the first time that the company has sent experts to a country to help local enterprises to enhance their production capacity. It shows Samsung's commitment in raising the localisation rate as well as Vietnamese enterprises' presence in Samsung's supplying chain.
The number of Samsung's Vietnamese suppliers is continuously increasing, thanks to Samsung's support and advice, as well as domestic enterprises' efforts to enhance their capacity and product quality.
As of now, 63 Vietnamese supporting enterprises are suppliers to Samsung, including 11 first-tier and 52 second-tier enterprises.
Debuting in Vietnam in 1996, the Korean giant currently has three major manufacturing complexes in the country, including Samsung Vina Electronics in Ho Chi Minh City and the $2.5 billion Samsung Vietnam Electronics complex in the northern province of Bac Ninh, which became operational in 2009. The remaining one is the $5 billion Samsung Vietnam Electronics Thai Nguyen complex, which went on stream in March 2014.
$200 million Amata expansion in Vietnam in 2016
Thailand's largest industrial park developer Amata Corporation Public Company Limited (Amata Corp. PCL) plans to add $200 million to expand its two industrial parks' in Vietnam in 2016 in order to meet foreign investor's increasing demand, according to newswire Reuters.
Accordingly, Amata will invest in Amata City Bien Hoa industrial park (IP) and Amata City Long Thanh IP, both located in the southern province of Dong Nai.
According to chief executive officer Somhatai Panichewa, as of now, Amata has invested $60 million in Bien Hoa IP, which is the company's first project in Vietnam. It is rated among the most dynamic economic zones in Vietnam, with 145 investors from 21 countries and territories investing $2.34 billion and creating 43,000 jobs.
Regarding Amata City Long Thanh IP, the 410-hectare project was licensed in 2015 and is expected to start receiving investors in 2017. Amata planned to pour the total capital of $634 million in Long Thanh IP, including factories, an urban area, and a service city. Once it starts operation, it will house high-tech, automated, and environmentally friendly companies.
Amata also applied for licences to develop two new projects, which it expects to receive in the third quarter.
Amata Vietnam was established in December 1994 as a joint venture of Amata Corp. PCL and Vietnam's Sonadezi Bien Hoa-a state-owned developer of industrial estates in Dong Nai. To date, they have developed Bien Hoa 1, Bien Hoa 2, and Go Dau IZ.
FinTech - Solution or Challenge to Vietnamese Consumer Finance companies?
The Vietnamese Consumer Finance Market (CF) has witnessed the fastest growth in 2015 domestic and foreign-owned finance companies are in a fierce competition for a slice of the consumer loans market.
Following a robust surge in 2014, Vietnam's Consumer Finance Market in 2015 continued to experience the fastest growth for the past 5 years. The outstanding loan balance soared from $10.5 billion in December 2014 to $15.12 billion at the end of 2015, signifying 44.1 per cent growth.
According to StoxPlus's analysis, the robust growth of the Vietnamese Consumer Finance Market resulted from the significant change in customer behaviour and the middle class'respectively high demand for housing loans. The transition in the borrowing behaviour of customers from borrowing from relatives, friends or the informal finance market to more formalized methods at finance companies also had a positive implication on the lending market.
Despite the favourable environment, the Vietnamese Consumer Finance Market has become more and more competitive with an increasing number of participants. Indeed, the market landscape in 2015 has experienced the acquisition of many local finance companies by Joint Stock Commercial Banks as well as the fast growth of local CF companies, like FE Credit. The market is predicted to be gradually dominated by local companies, as VP Bank Finance Company is taking over the first place from Home Credit in terms of outstanding loans, accounting for more than 50 per cent of the total market share of CF companies.
As the number of players doubled this year, while the number of Point-of-Sales (POS)is limited, buyers' bargaining power will be high. Incentives or commission will be raised in order to secure a place at POS. Taking Mobile World and FPT Shop for example, there are at least 4 consumer finance companies, including FE Credit, Home Credit, HD Saison, and ACS, located in one shop. Therefore, the profit margin of such CF companies will be unquestionably reduced.
Furthermore, the sales channels of CF companies also suffered from the challenges of higher sales and operation expenses from collection & payment third party companies, like MoMo and Payoo. In particular, these third party companies will charge a fee of 5 to 8 per cent per collection or payment transaction, which also led to the reduction of CF companies' profit.
FinTech is a term used to describe companies that apply innovative technology in the Financial Servicesindustry. 2015 marked a boom of FinTech in Vietnam, with MoMo and Payoo as the popular mobile payment apps being used by many CF companies and the emergence of new players, like LoanVi. Banks like VP Bank also introduced mobile banking app Timo, which expects to innovate banking and lending practices. These companies are changing the payment industry and creating a new era of applying technology to the lending business in Vietnam.
The benefit of FinTech is that theycan leverage technology in order to revolutionize sales channels and provide more convenience, accessibility, and tailored products for customers. Even though CF companies are still relying on Point-of-Sales, the mobile channel is considered to be the next big thing. FinTech companies can thus provide a user-friendly and time-saving mobile platform for financial transactions and pioneer untapped markets, including the unbanked, undeserved, and youth segments of the population.
Even though FinTech companies only provide a payment platform and limited lending activities at the moment, they are expected to rise to be a threat to CF companies. By utilizing their competitive advantages, such as an extensive network and a large client database, payment companies, such as MoMo, Payoo or BankPlus, have many incentives to enter the consumer finance market. Therefore, CF companies who fail to catch up with technology innovations will likely fall behind in the next few years.
Nowadays, when people talk about the successful leveraging of innovative technology into businesses, people immediately think about Uber or Amazon. In order to be the next "Uber moment" in the Consumer Finance industry, FinTech companies will need to overcome many challenges, including making their products and brand well-known, earning the trust of customers, as well as dealing with the lax and slow process of regulation formation for FinTech companies in Vietnam.
Hòa Phát Construction Stone delists in May
Hòa Phát Construction Stone JSC will delist nearly 1.57 million HPS shares on the stock market from May 30, according to Hà Nội Stock Exchange (HNX).
HPS's last trading day on the HNX will be May 27.
The delisting is to be carried out before the company merges with another.
In the annual shareholders' meeting held recently in Hà Nội, the company's shareholders authorised the board of directors' decision to merge HPS and Vicem Hải Vân Cement JSC (HVX).
The company expected to make VNĐ23.29 billion (US$1.03 million) in revenue. It has no plan to pay dividends this year.
Fragrant rice predominates in exports
According to the Vietnam Food Association (VFA), fragrant rice was at the lead in export volume in the first four months this year, accounting for 26.1 percent of the total volume, up 45.1 percent over the same period last year, thanks to surging demand from Asian and African nations.
Jasmine rice transactions rocketed strongly since the end of April till now to swing around US$485 a ton, higher than $470-475 before. It was followed by medium and high-grade white rice making up 24.5 percent and 21.3 percent respectively.
Meantime, sticky rice export saw a sudden increase of more than 237 percent against the same period last year. Low-grade rice accounted for only 10.1 percent.
Despite slow consumption still lingering, price has been on up trend because of down inventory and influences from drought which has affected the output of main export and import nations, VFA said.
By the end of April, Vietnam exported 1.8 million tons of rice worth US$788.7 million under FOB (Free On Board) term, which was a year on year increase of 20.8 percent in volume and 21.1 percent in value.
Ha Tinh collects $246,000 tax arrears from Taiwanese firm
The Customs Department in the north central province of Ha Tinh has issued a decision to collect nearly VND5.49 billion (US$245,610) in tax arrears from Hung Nghiep Formosa Ha Tinh Company (FHS).
The amount includes VND4.99 billion import taxes and VND499 million value added tax. In addition, the company has to pay a penalty for late tax payment and administrative violations.
Under a recently post customs clearance inspection, the department inspected all documents related to export import activities of the company for the last five years of 2010-2015, conducted field surveys at the construction site of its steel mill plant and spotted the tax arrears.
Capital high-rises attempt to ensure sufficient parking
Several experts have opposed a new proposal by the Hanoi's Department of Planning and Architecture which requires high-rise buildings in the city to have at least three underground car-parking floors in their basements.
Director of the Department of Planning and Architecture Le Vinh has just sent a notification that high-rise buildings such as apartment blocks and commercial centres must have at least three underground floors for parking lot and public toilets. Previously-approved projects whose constructions have not started now must include underground floors into their plans.
Tran Chung, former head of the Department for Construction Quality Control, under the Ministry of Construction said it was necessary that high-rise buildings have underground floors but the Department of Planning and Architecture must be more clear and detailed.
According to Chung, Vietnam already have architecture criteria for apartment blocks which states that investors must have at least 20 square metres of parking per 100 square metres of apartments. Social housing blocks must have at least 12 square metres of parking.
"Our problem right now should be management because many investors have flouted the rules to save money. Building underground parking is costly, time consuming and obviously doesn't provide huge profits like selling apartments," he said.
According to the firms, the authorities should be more specific and classify which project must have underground floors because if investors of housing projects for low-income people have to build three underground floors, the prices will definitely surge.
Vu Van Hau, director of Geleximco Group, said while he claimed to understand that the city authorities only try to deal with the lack of parking lots, the minimum requirement of three floors is too many. "It should be more flexible for different types of project. For example, high-rises in the city centre must have three floors but buildings in the suburbs only need one floor because of the size of the land," he said.
Hanoi's Chairman Nguyen The Hung has sent an urgent document to all agencies, stating that the Department of Planning and Architecture must work with agencies to find solutions and issue more detailed guidance on the proposal.
HSG forays into property sector
Hoa Sen Group (HSG) on May 19 broke ground for a hotel-shopping complex in the mountainous province of Yen Bai, marking its first foray into the real estate sector.
The Hoa Sen Yen Bai complex costs VND1.2 trillion (US$53.7 million) and covers 1.5 hectares. Its first phase is scheduled for completion in 2020.
The 15-storey complex will go up on an area of 74,410 square meters at the corner of Nguyen Tat Thanh, Nguyen Van Cu and Ngo Gia Tu streets in Yen Bai City.
The largest international-standard project in Yen Bai Province comprises shopping mall, four-star hotel, convention hall, restaurants, cafes, and luxury apartments.
According to HSG, a four-star hotel, trading and convention facilities, restaurants, cafes, and a multi-functional parking area will be built in the first phase of the project until June 2017. Luxury apartments, another four-star hotel and other components will be added in the second phase planned from June 2019 to June 2020.
HSG said it had chosen Yen Bai to implement the project as the northern province holds huge tourism growth potential.
Consumer finances in 2015 surge
Last year saw Vietnam's consumer finance market posting the fastest growth rate in a five-year period with outstanding loans exceeding US$15 billion, showed a recent report of StoxPlus.
The consumer loan balance in Vietnam reached US$10.5 billion in December 2014 and climbed to US$15.12 billion late last year, a 44% rise.
As late last year, the ratio of consumer loans to GDP was 10.4% compared to 8.2% a year earlier. Besides, consumer lending made up 6.8% of the loan book late last year while the figure in late 2014 was 5.6%.
As StoxPlus analyzed, robust growth of Vietnam's consumer finance market resulted from a significant change in consumer behavior and high demands for housing loans of the middle class.
The transition of consumer behavior from borrowing from relatives, friends and the informal finance market to borrowing from finance companies, had a positive implication on the market.
In addition, as a result of the VND30,000 billion preferential lending package of commercial banks for housing loans, consumer finance companies have tried to increase sales in this segment by offering lower interest rates, leading to sharp growth in the consumer loans market, the report said.
The consumer finance market in Vietnam has become more competitive with the participation of more players. Last year, many local finance companies were acquired by commercial joint stock banks.
According to the report, sales channels of consumer finance companies suffered from higher sales and operation expenses from collection and payment companies like MoMo and Payoo. These third-party companies will charge a fee of 5-8% per transaction, resulting in a profit decline at consumer finance companies.
Last year marked a boom of FinTech in Vietnam, a term describing companies that apply innovative technology to the financial services industry. In particular, MoMo, Payoo, BankPlus and 123Pay were the popular mobile payment applications used by many consumer finance companies while the industry saw new players like LoanVi.
The report said, "These companies are changing the payment industry and creating a new era of applying technology to lending business in Vietnam."
Though for now FinTech companies have only provided payment platforms and limited lending activities, they are forecast to emerge as a threat to consumer finance companies.
"By utilizing the competitive advantages such as extensive network and large client's database, payment companies such as MoMo, Payoo and BankPlus have many incentives to enter the consumer finance market. Therefore, consumer finance companies who fail to catch up with technology innovations will likely lag behind in the next few years," the report said
According to data of the State Bank of Vietnam, there had been 16 operational finance companies in Vietnam by December 31, 2015, including four 100% foreign-invested Mirae Asset, Home Credit, Prudential and Toyota Finance.
Some new players under commercial banks will join the market the coming time.
Govt agencies urged to help speed up ODA disbursements
Prime Minister Nguyen Xuan Phuc has called on Government agencies to work towards boosting official development assistance (ODA) disbursements for projects in Vietnam as the time for gaining access to low-interest loans is running out.
Phuc told them to swiftly complete procedures for all the capital pledged for Vietnam by the International Development Association (IDA) to be disbursed on schedule, and find ways to ensure the efficient use of ODA and concessional loans.
The Government leader made the urge in his conclusion at a recent meeting on preparation and approval for projects using IDA finances allocated for Vietnam by the World Bank (WB) in the IDA 17 term and other ODA-funded projects to be executed in fiscal 2016.
IDA 17 is the final term that the WB would give IDA capital to Vietnam in the 2014-2017 period. After that, Vietnam will have to take out loans with higher interest rates.
As for the projects for strengthening land management and land database, and improving teacher quality using IDA capital, the Prime Minister agreed to keep the scale of the first project unchanged, and will consider its expansion later.
Phuc urged related agencies to quickly finish procedures for the two projects for submission to him for approval before May 20 to meet the schedule for negotiations over funding and put them in the list of projects to be implemented in fiscal 2016.
Urgent preparations for projects to be carried out in fiscal 2017 are also required.
The Ministry of Planning and Investment is assigned to coordinate with other ministries and agencies to review and pick projects planned for implementation in fiscal 2017 and suggest conducting the feasibility study for viable projects only.
Management agencies for ODA-financed projects are told to use the capital effectively and not to use ODA and preferential loans for capability improvement projects and lending on to others.
Pledged ODA loans totaling around US$21 billion are awaiting for disbursement for projects in Vietnam as shown in data of the Planning and Investment Ministry.
According to the Asian Development Bank (ADB), if Vietnam does not complete the required procedures to boost ODA disbursements, the country might incur some US$100 million in opportunity cost.
Farm goods to face fiercer competition in TPP - ministry
Vietnam's agricultural products will face stronger competition from other member states of the pan-Pacific free trade agreement, the Ministry of Industry and Trade has warned.
Competition will grow strong given tariff reductions and exemptions under the Trans-Pacific Partnership (TPP) trade deal for farm produce of the member states which have advantages in agriculture, according to a proposal drafted in April by the ministry for the Government to present to the National Assembly for ratification.
The TPP was signed by Vietnam and 11 other Pacific Rim countries in New Zealand in February this year. Besides opportunities brought by the trade pact, the draft points out it will bring a slew of challenges, particularly those relating to socioeconomic issues which require Vietnam to solve by speeding up reforms.
The ministry said Vietnam can produce a range of meat products like chicken and pork but their competitiveness is poor. Meanwhile, these products are what other TPP member states are strong in, such as the U.S., Australia, New Zealand and Chile.
However, Vietnam will be granted a long roadmap to cut and exempt tariffs for agricultural products, such as more than 10 years for chicken. The roadmap is longer than what Vietnam committed to opening up the market for products from other ASEAN markets.
Milk, soybean, corn and animal feed materials will also see fiercer competition but the impact is lesser as Vietnam still needs to import large volumes of these products for local processing. Vietnam already pledged to facilitate milk and beef imports from Australia and New Zealand under the ASEAN-Australia-New Zealand free trade agreement.
Vietnam will reserve the right to impose quotas on sugar, salt and poultry egg imports, and bring down the duty on tobacco imports 20 years after the TPP takes effect.
To overcome challenges, the Government will have to adopt a new growth model, restructure production and boost application of science and technology to keep Vietnamese products competitive, particularly farm and livestock products, on the home market.
The ministry noted the TPP could cause difficulties for domestic producers of industrial products such as paper, steel and autos. Nevertheless, the pressure will not be significant in the next 10-15 years as Vietnamese products target medium-income consumers in while products of other TPP countries are for the high-end segment.
With tariff exemptions, Vietnam will collect less tax revenue from products made by other TPP countries that Vietnam slaps high import duties like confectionery, jewelry, metal items, air-conditioners, interior furniture, high-capacity motorcycles, wine and tobacco.
Besides, Vietnam's commitments to the TPP will make some groups of enterprises struggle and even go bankrupt, especially those relying on Government subsidies and use outdated technology. This would result in layoffs.
However, the ministry said impacts of the TPP on Vietnam will be inconsiderable and short-lived as most of the economies in the TPP do not directly compete with Vietnam, except for agricultural products.
Vietnam pledged to remove 66% of tariff lines right after the TPP takes effect and 86.5% in the following three years. The exemptions of the remaining tariff lines will be effective in the next period of 5-10 years.
EPC contract signed for e-toll equipment installation
Tien Phong Technology Joint Stock Company has clinched an engineering, procurement and construction (EPC) contract with VETC Joint Stock Co to install e-toll collection devices and automatic weighbridges on highways.
Under the contract, the devices and weighbridges will be in place at 19 toll stations on National Highway 1 and the section of Ho Chi Minh Road in the Central Highlands, general director of Tien Phong Lam Thieu Quan said.
The project costs around VND200 billion (US$9 million) and is scheduled for completion this year.
As part of the project, E-tag will be issued free of charge for all vehicles to stick it on the windshield. The E-tag will be connected to toll payment accounts of vehicle owners at banks.
Vehicles will be identified by laser technology and their registration numbers will be captured by cameras when running into the lanes with toll collection. Then, the bar will be lifted up automatically and the toll will be deducted from the account.
The E-tag will be added functions to check the valid registration period and speeds of vehicles, and collect road maintenance and parking fees in the future.
Quan said every year the project will help save VND70 billion (US$3.1 million) from toll ticket printing, VND233 billion (US$10.4 million) from fuel consumption, and VND360 billion (US$16.1 million) from transport management. Besides, it will help vehicles cut traveling time equivalent to VND2.8 trillion (US$125.5 million) a year.
Currently, it costs VND700 million to VND1 billion a year for toll ticket printing and hundreds of billions of dong for fuel cost when vehicles have to stop and depart at traditional tollgates. Therefore, the application of e-toll technology can help save around VND3.4 trillion (US$159 million) a year.
Listed on the Hochiminh Stock Exchange (HOSE) with stock code ITD, Tien Phong is a provider of intelligent transportation systems (ITS). The company has implemented ITS projects for Hanoi-Haiphong, HCMC-Long Thanh-Dau Giay, and HCMC-Trung Luong expressways and the Saigon River Tunnel.
Doors narrower for pig exports to China
Vietnamese enterprises may have difficulty selling pigs to China via auxiliary border gates in the coming time as Vietnam does not appear in a list of countries meeting the requirements to export meat, including pork, to the northern neighbor.
The Asia-Pacific Market Department has warned of tough times ahead for Vietnamese pig exporters following China's suspension of pig imports from Vietnam months after Chinese importers bought large volumes, which has pushed down pig prices on the domestic market.
The agency under the Ministry of Industry and Trade said pork prices in China recently beat the record price in June 2011 due to limited supply though Chinese authorities had increased the supply of frozen pork from the national stockpiles to meet increasing demand. Therefore, pig exports from Vietnam to China via auxiliary border gates surged.
However, the Asia-Pacific Market Department said Vietnam is not on the list of nations eligible to sell meat to China, including pork. The list was released by China's General Administration of Quality Supervision, Inspection and Quarantine on April 29 this year.
As reported by the Daily earlier, the prices of pigs have slid in Vietnam as China suddenly stopped imports, resulting in many trucks full of pigs being stuck at northern border gates. Previously, around 300 tons of pigs crossed the border to China a day.
The animal health department in the northern province of Lang Son said no pig transporting trucks have crossed the border to China via Chi Ma border gate since April 28. Before that date, hundreds of tons of pigs were transported to the northern neighbor a day through the border gate.
Nguyen Duc Trong, deputy head of the Livestock Department under the Ministry of Agriculture and Rural Development, said last week that the agency did not know when China would resume pig imports from Vietnam.
China's abrupt border gate closure for Vietnam's agricultural products happens almost every year.
Air route linking Chinese, Vietnamese cities to be launched
Vietnam and China will officially launch a direct flight linking Vietnam 's central city of Da Nang and Shi Jia Zhuang, capital of north China 's Hebei province, from May 23.
The flight will be operated by an Airbus A321 of Vietnam Airlines, Xinhua quoted the Hebei Airport Management Holding Corporation.
It is scheduled for every Monday, Wednesday and Saturday.
Four more international air routes will be launched starting July to link Shi Jia Zhuang with Nha Trang in Vietnam, Phuket in Thailand, Vladivostok in Russia, and the US's Saipan island, said the airport company.
Vietnam to hold trade fair in Cambodia
The Vietnamese Trade Fair 2016 in Cambodia will be opened from October 6-10, presenting 300 stalls from over 200 enterprises from Vietnam.
The information was heard at a conference introducing the fair held by the Centre of Exhibition and Trade Promotion of the Army (CETPA), of the Department of Economics, under the Ministry of National Defence (MOD) in HCM City on May 20.
The trade fair will be co-organised by the Department of Economics of the MOD, the Vietnam Trade Promotion Agency (VIETRADE) under the Ministry of Industry and Trade, and Cambodia's Trade Promotion Department from their Ministry of Trade.
Vietnamese enterprises will display apparel, footwear, handicraft products, electronics, fertilizer, ago-forestry-fishery products and processed food.
Several sideline activities will also be held during the four-day event, including a free cataract surgery programme for social welfare beneficiaries from the two countries' military hospitals; gift offering, and arts programmes.
Director of the CETPA, Colonel Bui Van Tien said this year's event aims at supporting Vietnamese and the military's enterprises in increasing exports of products and tourism to the Cambodian market as well as ASEAN member countries.
The official added that after six consecutive years of operation, the trade fair has become an important political, economic and social activity, contributing to cementing and strengthen the friendship between the two countries' people and armies.
VEF/VNA/VNS/VOV/SGT/SGGP/Dantri/VET/VIR