One more Tan Son Nhat airport bus service launched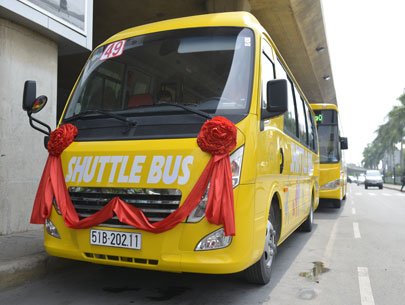 Southern Airport Transportation Joint Stock Company (SATSCO) on May 19 launched Bus Route No. 49 using high-quality automobiles to shuttle passengers between Tan Son Nhat airport and downtown HCMC.
Buses ply SATSCO's second such route from 5 a.m. to 1:30 a.m. and depart from the airport and the downtown every 15 to 30 minutes. The traveling time of the new shuttle bus service is 30 to 40 minutes, and fares cost VND40,000 per passenger.
Yellow buses of the new route will stop at major hotels, the Notre Dame Cathedral, and the HCMC Opera House in the center of the city, instead of using public bus stops.
SATSCO is working on a plan to develop more five-star bus services with free wifi and staff able to communicate in English.
Two months ago, the company put into serve Bus Route No. 109 linking the airport and the downtown.
The company expected the two bus routes will help reduce traffic congestion on the streets leading to Tan Son Nhat airport and meet increasing demand of passengers who want to use public transportation between the airport and the central business district.
Three batches of soft drinks with high level of lead removed from market
The inspection team of the Ministry of Health has decided to withdraw three batches of products of URC Vietnam in Thach That-Quoc Oai Industrial Park in Hanoi from market because the products have high level of lead, said Deputy Chief Inspectorate Nguyen Van Nhien of the ministry in last weekend.
The decision was based on current regulations and the latest tests conducted by the National Nutrition Institute.
The unsafe products are lemon green tea C2 and the strawberry energy drink Rong Do (Red Dragon) produced by URC Vietnam.
The batches of the lemon green tea C2 produced on February 4, 2016 and expiring on February 4, 2017 have lead content of 0.085 mg/l while the company announced the lead level in the products is less than or equal to 0.05 mg/l.
The strawberry energy drink Rong Do (Red Dragon) manufactured on February 19, 2016 with November 19, 2016 has the content of lead of 0.053 mg/l yet as per the company's announcement it is less than or equal to 0.05 mg/l.
Another batch of the strawberry energy drink Rong Do manufactured on November 10, 2015 with expiry date August 10, 2016 has lead level of 0.068 mg/l while it is written on document less than or equal to 0,05 mg/l.
The ministry inspectors required the company to temporarily stop circulation of substandard batches of soft drinks as per the decision as well as take back them from the market. Additionally, the company has to report the detailed number of produced products, the total amount of low quality product sold and products in stock.
Moreover, the company has to report materials used for production of the low quality products and send to the inspectors no later than May 23.
These products can be circulated again in the market only when the company complies with the regulations of food safety and hygiene.
DNA tests for verifying victims in traffic accident on highway to be conducted
DNA tests will be conducted on bodies of 13 people burned beyond recognition in a fatal accident involving two passenger buses and a truck, which happened yesterday in the south-central province of Binh Thuan.
A coach of Phuong Trang passenger bus line was travelling from the central province of Quang Ngai to Ho Chi Minh City on National Highway 1 at around 4:15 am, when it collided into another passenger bus running in the opposite direction.
Consequently, both buses burst into flame following the serious head-on collision. 11 passengers died on the spot in the horrific road accident and one died on the way to hospital. At least 40 people got injured in the accident.
Bodies of dead people were kept carefully in the province General Hospital for DNA tests. Deputy head of the Road Department under the Ministry of Public Security Lieutenant colonel Dinh The Anh said that a group of forensic medical workers wiould work on dead people's DNA night round to verify identity.
Party secretary Nguyen Manh Hung and chairman of People's Committee in Binh Thuan Province Nguyen Ngoc Hai soon arrived in the spot to instruct and visited victims in hospitals.
The National Traffic Safety Committee offered VND5 million (US$224) for each family of the deceased victims and VND2 million (US$89.7) for those of the wounded.
Prime Minister Nguyen Xuan Phuc and his deputy Nguyen Hoa Binh who is chairman of the National Traffic Safety Committee sent their condolences to victims' families. Deputy PM Binh ordered the ministries of Public Security, Transport, Health and People's Committee in Binh Thuan Province to do their best to help victims and their families.
Mr. Binh also asked responsible agencies to investigate the cause of the traffic and issue harsh penalties to violators.
Hanoi triumph at Hanoi athletics open
Hà Nội have triumphed at the Hà Nội Athletics Open at Hàng Đẫy Stadium.
After three days of competition, the team won a total of nine gold, five silver and six bronze medals. Thanh Hóa finished second with five golds, five silvers and one bronze, while the Military team made third with four golds, 10 silvers and 12 bronzes.
The event attracted the participation of 19 teams, competing for 32 sets of medals.
National athletes played successfully in this tournament. Lê Trọng Hinh won gold in the men's 100m and 200m, Nguyễn Thị Oanh took gold in the women's 200m, Nguyễn Trường Giang and Bùi Thị Xuân secured gold medals in the men's and women's javelin throwing, respectively.
Notably, Xuân broke her old national record of 50m48 with her new achievement of 51m28.
Hà Nội beat HCM City to win national beach handball event
Hà Nội beat HCM City 2-0 in the final match to win the women's title after 13 years of waiting at the National Beach Handball Championship at Mỹ Khê beach.
According to Lâm Vũ Trung, Hà Nội club's chairman, this year's event will create a driving force for his club to develop and compete in coming tournaments.
On the men's side, HCM City crushed Hà Nội 2-0 to take the title.
According to event's organising committee, the best players would be called on for the national team to compete at the Asian Beach Games in Đà Nẵng this October.
Vietnam launches nutrition days 2016
The National Nutrition Institute under the Ministry of Health yesterday launched nutrition days themed " People should use food having nutritional supplements necessary for brain growth, health and life quality" in the northern province of Ha Nam.
Speaking at the launching ceremony, Deputy Health Minister Nguyen Thanh Long said that supplementing nutrition for kids is necessary to protect them as nutrition plays an important role in kids' growth. Lacking nutrition will badly affect a kid's brain and height growth and immunodeficiency.
Realizing the important role of vitamin A, the program to supplement the vitamin for kid is implemented annually; subsequently, over 5 million kids below five year old are given the vitamin. Accordingly, Vietnam eliminated blindness caused by lack of vitamin A amongst kids.
Deputy Health Minister Long stressed that the ceremony is a part of activities in response to the 2016 action month for children which will take place from June 1-30. The deputy Health Minister proposed the health sector in localities to effectively implement vitamin A provision for kids as well as women who just give birth within one month.
In addition, the health sector in cities and provinces must pay attention to the task of preventing malnutrition and increase information of nutrition and nutrition balance in meals to inhabitants.
For years, the nutrition day is held on June 1 and 2 across the country with activities such as vitamin A supplementation for kids from 6 to 36 month old and for kids who are suffering malnourishment, long lasting diarrhea, breathing problem and measles; and new mothers who has just delivered one month and giving drug to worm for kids from 24 - 60 month old.
The National Nutrition Institute warned that to prevent malnutrition, parents should feed their kids with various kinds of food and mothers should breastfeed their babies in six months totally.
Da Lat student wins French writing contest
"Nhung giot nhua" (The resin), a short story by Ho Pham Quynh Mai, 18 years-old, from Thang Long High School for the Gifted in Da Lat city, the Central Highlands province of Lam Dong, won first prize at the Young Award-Alexandre Yersin French writing contest.
Her excellent French and entertaining tale brought Mai the top prize with her first entry to the event. Her story touches on themes like confidence and hope as well as humanity's interaction with nature.
Young Award-Alexandre Yersin is an annual award given to Vietnamese students of French who are under 25. Contestants have to write short stories in French.
The competition was first held in 2013 by the Le Liseron Organisation to celebrate 40 years of diplomatic relations between Viet Nam and France. It aims to attract the participation of Vietnamese youth who are keen on literature, and to enhance the understanding of Vietnamese youth about French culture.
Le Liseron is a French charity organisation established in 1999 by French people who have deep affection for Vietnamese culture and people. It has implemented several programmes and projects to support poor and disadvantaged people in Viet Nam.
Man caught with over 500 kgs
Police in the northern province of Bac Giang arrested a truck driver transporting 553 kilograms of elephant tusks from Hanoi to Lang Son Province on May 21.
Nguyen Quang Huy, 28, failed to present documents verifying the origin of the tusks, when his truck was flagged down by local traffic police.
Police officers also accused Huy of offering to pay them a bribe of VND500 million (US$22,400) to get away, according to the website.
The case is being investigated.
Vietnam has banned ivory trade since the 1990s, and yet it has been fueled by the rising affluence in recent years and the demand for using ivories for decoration.
Some studies suggested that the country is one of the biggest markets for wildlife as many people believe rare animal parts can cure diseases, despite a lack of scientific evidence.
Wildlife protection organizations in the country have been asking celebrities and doctors to campaign against the belief.
Vietnamese culture promoted at Norway festival
Vietnam's cultural space has attracted attention from locals and international visits at the Culture and Language Festival, which was held in Norway's capital city of Oslo, on May 21.
Vietnam's Embassy in Norway in collaboration with the Vietnam Art and Culture Exhibition Centre decorated the space, which featured the country's lacquer and craft products, traditional cuisine and the unique water puppet art.
Vietnamese Ambassador to Norway Le Thi Tuyet Mai said joining the festival is one of activities to mark the 45th year of Vietnam-Norway diplomatic relationships.
The Vietnamese embassy also coordinated with counterparts from Indonesia, Myanmar, Philippines and Thailand to organise an area introducing the ASEAN Community, which was formally established on December 31, 2015 with 10 members of the Association of Southeast Asian Nations (ASEAN).
The Culture and Language Festival, which has entered its 10th year, attracted the participation of around 15 foreign embassies in Oslo, besides ethnic groups and immigrant communities in Norway.
The event is an occasion for visitors to explore other cultures, conveying the message that despite cultural differences on culture, language, beliefs, different ethnic groups can get along together and promote peace via cultural awareness and exchanges.
Education, government, industry alliances give root to innovation
Vietnam's quest to strengthen its presence in international engineering, research and technology innovation hinges on its ability to create partnerships between educators, industry and government, according to participants in this year's Vietnam Engineering Education Conference (VEEC).
Students from Dong-Nai-based Lac Hong University presented their alternative fuel car during the conference. The car can travel 24 miles on one litre (one quarter gallon) of methanol, and won first place in the Shell Eco-marathon Competition for the Asian region. Photo courtesy of HCMUTE.
Held last month in Ho Chi Minh City in a partnership between Arizona State University's Higher Engineering Education Alliance Program (HEEAP) and Ho Chi Minh City University of Technology and Education (HCMUTE), VEEC attracted more than 380 participants from 85 organisations and featured two days of interactive plenary sessions, panel discussions and technical sessions.
"This year's conference focused on workforce competitiveness - how we can train engineers not only to be highly qualified, but also to be adaptable," said Ha Huu Phuc, general director, chief of the Vietnam Ministry of Education and Training South Representative in Ho Chi Minh City. "Collaborations between education and industry will help Vietnam meet labour needs for the Association of Southeast Asian Nations (ASEAN) in an emerging global economy."
"As Vietnam moves toward growing its economy in alignment with the Asean Economic Community (AEC) and the Trans-Pacific Partnership (TPP), it is vital that academic engineering programmes continue leveraging public-private alliances to ensure that higher educational systems produce workforce-ready engineering graduates with international accreditation," said Jeffrey Goss, HEEAP executive director. "HEEAP, the US Agency for International Development and industry partners supported HCMUTE in its quest to become the first Vietnamese university to be accredited by the Accreditation Board for Engineering Technology (ABET). That support continues through student scholarships, curricula innovation, conferences, training for Vietnamese faculty and leadership development."
Technical sessions at this year's conference addressed how to develop effective boards and councils, cultivating industry partnerships and investors, and research practices, development and assessment. HEEAP partner institutions, industry representatives within the TPP region, and US engineering educators led technical sessions.
Keynote speaker Sara Kelly, vice president, Starbucks Partner Resources for the Asia Pacific market within the China Asia Pacific Region spoke about the social responsibility of industry to increase access to higher education.
"We hire partners (employees) who are bright, warm and able to make an emotional connection with customers because our business actually depends on it," Kelly said during her speech. "Based on our insights, we know that the most important motivation for customers choosing Starbucks is the human connection inspired by our baristas. It follows that doing more for our people makes business sense as well as being the right thing to do. The Starbucks College Achievement Plan is an initiative we have pioneered to attract motivated, talented, achievement-oriented people – and we hope other companies might eventually follow. Supporting our partners' ambitions is the best investment Starbucks can make."
Students from HCMCUTE – HEEAP's partner and VEEC co-organiser – showcased projects built on technology platforms from National Instruments and Tektronix. Students from Lac Hong University showcased their electronic cars.
During his VEEC remarks, US Ambassador to Vietnam Ted Osius focused on the importance of innovation as the key to economic development. "Innovation is what keeps an economy dynamic and drives it forward," he said.
Osius outlined a three-pronged eco-system that nurtures innovation: an educational system that encourages critical thinking, rewards creativity and prizes invention through extensive support for research; government support for research and a legal framework to protect new ideas, and a private sector that creates space for the best ideas to thrive competitively.
"In the United States, the private sector contributes 65 percent of spending on applied research," Osius explained. "The result of the academic-government-private sector nexus is the creation of an environment that allows creativity and innovation to take root, and ultimately to power the economy."
Osius also remarked about the importance of providing students with access to fablabs or makerspaces creative spaces that often have 3D printers, software, electronics, craft and hardware supplies and tools pointing out that there were only two such spaces last year in Vietnam. There are now four makerspaces, with others in development throughout the country.
Sherry Boger, vice president and general manager of Intel Products Vietnam, and Andrew Bell, vice president and director, educational programmes, National Instruments (USA), addressed how the Internet of Things is transforming the world and outlined its implications for the future of education.
Boger, who is responsible for ramping up Intel's $1 billion, state-of-the-art assembly and test facility in Ho Chi Minh City, took the opportunity to speak directly to the educators in the audience. Set to employ 4,000 employees when the factory is up and running, Boger declared, "The future of Vietnam is in your hands!"
Nearly 2 million kids vaccinated against Japanese encephalitis in NEIP
The Department of Preventive Medicine under the Ministry of Health yesterday said that since 2015 vaccine against Japanese encephalitis has been officially included into the National Expanded Immunization Program (NEIP) and is vaccinated monthly.
As per the Ministry's decision, instead of immunizing kids according to a fixed timetable, localities will administer vaccine against Japanese encephalitis for kids along with other vaccines in the program.
The schedule for vaccinating Japanese encephalitis includes the first shot will be administered when a kid is one year old; the first shot and the second shot is one to two weeks apart and the third shot is one year after the second shot.
After one year implementation, nearly 2 million kids across the country were immunized two shots of Japanese encephalitis accounting for 91.1 percent and nearly 1,700,000 kids were vaccinated three shots of Japanese encephalitis in monthly immunization.
Many provinces including the northern provinces of Bac Ninh, Phu Tho, Vinh Phuc, Hung Yen, Thai Nguyen, Lai Chau , Tuyen Quang , Cao Bang, Yen Bai, Lao CAi, Son La, the central provinces of Quang Binh, Thua Thien- Hue, Quang Ngai, Binh Dinh, Phu Yen, Khanh Hoa, the Mekong delta province of Tien Giang , Can Tho, Hau Giang, Ca Mau, Dong Thap have had high rate of kids injected with the vaccine 95 percent. 36 over 63 cities and provinces have reported high rate of kids injected wit the third shots in the NEIP.
The inclusion of the vaccine into NEIP aims to ensure that kids are vaccinated when they are at one.
Health Ministry denies rumor of vaccination at home
Because there has been a rumor that five-in-one vaccine Pentaxim was injected at homes, the Department of Health has sent urgent document to medical units, claiming that no medical clinic or a person was allowed to administer vaccine at homes, said Director of the Department of Preventive Medicine Dr. Nguyen Nhat Cam on May 20.
To protect children's health and safety, the health authority prohibited immunization at homes.
Dr. Cam warned that as per the current regulations, medical clinics are not allowed to vaccinate at home, accordingly, people should not believe in a person who administer vaccine at home in the name of medical workers and vaccination at home is illegal.
Additionally, Dr. Cam advised parents to take their kids to legal medical facilities for vaccination.
Drink sale suspended due to high lead content
Health Ministry inspectors have ordered the suspension of sale on three batches of beverages produced by URC Hà Nội Ltd Company.
The ban was enforced due to the amount of lead exceeding 0.05mg/L as printed on the products' label.
The suspended products include one batch of lemon tea titled C2 and two batches of strawberry energy drinks named Rồng Đỏ (Red Dragon).
The company was asked to withdraw the drinks which were sold on the market and report the number of ingredients used to make illegal beverages to the Health Ministry.
The company involved will be allowed to resume sale of the drinks once their quality meets the ministry's criteria.
Cigarettes smugglers caught in Ha Noi
Hà Nội police yesterday seized 80,000 imported packs of cigarettes being transported in the city without legal documents.
This was the biggest cigarette smuggling in the city case since 2012 with the total value of confiscated goods reaching VNĐ2.3 billion (US$102,000).
Three men, Đặng Hữu Đô, 31, Trần Trọng Thường, 34 and Nguyễn Hữu Tín, 51, were reportedly caught while storing and transporting 160 cardboard boxes of cigarettes in Thường Tín District.
The packs are from the "Gold" brand and produced by a foreign company. The men failed to show documents to prove the imported origin of the goods.
The police are further investigating the case.
Modern flyover inaugurated in Hà Nội
Hoàng Minh Giám-Nguyễn Chánh flyover, the capital city's eighth steel flyover, was opened to traffic on Saturday after five years of construction.
The flyover spans a length of 595.7 metres with two nine-metre lanes, allowing vehicles to run at speeds of up to 40km per hour.
The project was under the supervision of Thăng Long Corporation. With a total investment of VNĐ148 billion ($6.6 million), it used the remaining capital of Ring Road No.3's second period with the support of Japan International Cooperation Agency (JICA).
It is expected to ease traffic congestion at the Trung Hòa intersection of Cầu Giấy District.
Fire destroys goods at Thừa Thiên-Huế's market
A major fire ripped through Điền Hải Market in Phong Điền District of central Thừa Thiên-Huế Province early Saturday morning.
As many as 20 out of 168 batches of goods including fabrics and groceries were completely destroyed. No human losses were reported.
Four fire engines and hundreds of officers and residents were immediately dispatched to the scene to stamp out the flame.
The district's People's Committee has presented VNĐ5million (US$223) to each trader that suffered from the damage.
The cause of the fire is being further investigated.
Endangered species event held in Hà Nội
Bị bẫy (Trapped), an exhibition spotlighting the impact of humans on Nature, was launched yesterday at Hà Nội Creative City (HNCC) in Hai Bà Trưng District.
The exhibition has been organised by the World Wide Fund for Nature (WWF) Việt Nam.
Featuring artworks that combine images, sound and interactive elements, the exhibition encourages visitors to study endangered species, experience the threats they face and co-operate in the preservation of rare animals for future generations.
According to data from the UN Environment Programme, over the last decade, more than one million species of animals around the world have been taken from the wild. While the disappearance of iconic species of elephants, tigers and sea turtles have hindered conservation efforts, the loss of any species, even at a regional level, can lead to much more unfavourable impacts on Nature and humankind. The reduction in biodiversity directly affects the natural systems on which we all depend for food security, fresh air, water, shelter and a clean, healthy environment.
Nguyễn Thúy Quỳnh, head of the communication department of WWF Việt Nam, said the conservation efforts need more than that. While WWF has always striven to conserve wildlife and their habitats in Việt Nam, we believe the conservation effort requires collaboration and contributions from every individual to truly make a difference," she said. "The exhibition is hoped to inspire people to take action together with WWF for the protection of Việt Nam's endangered species. If we work side by side, a future where wildlife thrive alongside human society is possible."
WWF has been deploying strategic projects, creating large biodiversified corridors for wildlife species and building national conservation parks. In its latest initiative, WWF Việt Nam has been working with International Investment Bank to conserve the declining Asian elephant population in Việt Nam by resolving the conflict between this species and humankind. After the display at HNCC, the exhibition will move to AEON Mall from May 27 to 30.
Six-month ban imposed on rip-off boat operator in Ha Long Bay
A fleet of tour boats operating on the famed Ha Long Bay in northern Vietnam has been banned from operation for half a year following repeated complaints over dishonest services.
The six-month ban, effective from May 19, was levied on the Hong Long boat fleet, owned by Huyen Viet Co. by the seaport authority of Quang Ninh Province, following a request the same day from the Administration of Ha Long, the province's capital.
The seaport authority was also asked to closely monitor Huyen Viet and prevent the company from transferring or selling its fleet during the ban.
The edict came as a direct response to accusations from a tour group on Sunday that Hong Long had cheated them.
The tourists, touring Ha Long on the Hong Long QN - 7038 boat, said they were overcharged for food services and the itinerary was cut off without their consent.
The Ha Long administration tasked relevant agencies with verifying the complaint on May 17, and eventually found the ship violated several regulations. Hong Long QN – 7038 did not quote its service prices and lacks a food safety certificate, according to the agencies.
It was the fourth time this year boats under the Hong Long fleet were found to be offending regulations. The Hong Long QN – 7038 boat itself has also previously been fined three times for allowing tourists to sit atop the boat's cabin during the journey.
Touring the resplendent Ha Long Bay on row boats is a favorite activity of both local and foreign tourists. The rides allow visitors to relish the picturesque landscape and take in villagers' traditions and culture at the UNESCO-recognized heritage site.
HCM City pours treatment chemicals into canal filled with dead fish
A large volume of water treatment chemicals has been discharged into a canal in Ho Chi Minh City, where at least 70 metric tons of fish died earlier this week, the municipal environment department has said.
Twenty-five metric tons of zeolite, a detox agent commonly used in aquatic cultivation, was used to purify the water in Nhieu Loc-Thi Nghe, one of the city's major canals, according to the department director Nguyen Toan Thang.
The canal water was tainted by pollutants washed over by rainwater following a heavy downpour on May 15, which led to the mass fish kill.
The environment department has also poured 100kg of dissolved oxygen into the water to sustain marine life there, Thang added.
While the canal was filled with floating bodies of the deceased aquatic animals on May 16-17 , competent agencies have so far finished picking up all the dead fish. Initial reports said 70 metric tons of fish died in the incident, but there has yet to be the final statistics.
The chemical discharges have indeed reduced the foul smell caused by the decomposed fish along the 8.7-km canal, snaking through District 1, District 3, Phu Nhuan District, Binh Thanh District and Tan Binh District.
However, test results found that the water in several parts of the canal still had ammonium and ammonia contents exceed allowable levels.
The latest fish death is not unprecedented, as similar incidents were recorded in May 2014 and 2015, when the rainy season began in Ho Chi Minh City, according to the municipal agency in charge of inspecting water quality.
With all of the steps taken so far only meant to resolve the consequences of the fish death instead of preventing similar incidents in the future, the water quality agency suggested that the city administration convene a meeting with competent agencies to figure out the solution.
UGVF praised for Vietnamese culture preservation effort
The State Committee on Overseas Vietnamese Affairs (COVA) highly values the role played by the General Union of Vietnamese in France (UGVF) in the system of Vietnamese organisations abroad and its efforts to preserve and promote Vietnamese cultural values
Deputy Foreign Minister Vu Hong Nam made the statement at the UGVF's 14th congress in Paris on May 21.
At the event, Nam, who is also COVA Chairman, spoke highly of the general union's support for OVs in France in general and those in other countries in activities to preserving Vietnamese language and culture and strengthening the national great unity.
Vietnamese Ambassador to France Nguyen Ngoc Son highlighted the UGVF's efforts to promote Vietnamese culture in France through courses teaching Vietnamese language for children.
The UGVF has always supported the Vietnamese Embassy in France in activities to introduce Vietnam's culture as well as disseminate the Party and State's guidelines and policies, Son stressed.
Participants to the congress watched a documentary film chronicling the general union's formation and development.
They also discussed the UGVF's plans and orientations in the 2016-2019 tenure, and elected a new executive board with 22 members, and a seven-member strategic research board.
The UGVF's newly-elected Chairman Ngo Kim Hung committed to doing his best to raise the Vietnamese community's position in France and their contributions to the homeland's development.
Founded by late President Ho Chi Minh in France in 1919, the UGVF had different names. It made great contributions to the nation's struggle for independence in the past and national construction and development at present.
Stamp exhibition celebrates election of NA, People's Councils deputies
More than 1,000 valuable stamps are being displayed at an exhibition from May 20-22 at the Hanoi Post Office, 75 Dinh Tien Hoang Street, Hoan Kiem District.
The event, co-organised by the Ministry of Information and Communication and the Vietnam Post Corporation (Vietnam Post), aims to celebrate the election of deputies to the 14th National Assembly (NA) and People's Councils at all levels for 2016-2021 tenure.
The stamps are expected to help visitors to understand the significance and importance of the election of NA and People's Councils deputies and the national unity bloc.
In addition, visitors will have a chance to learn more about the development of the Communist Party of Vietnam and President Ho Chi Minh as well as the land, people and seas and islands of Vietnam.
The exhibits not only are valuable documents, presenting numerous milestone in the country's history, but also significantly contribute to communicating the upcoming election as well as promoting the land, people and cultural identities of Vietnam to international friends.
So far, Vietnam Post has issued 1,067 postage stamp sets, including seven sets with 14 stamps on Vietnamese NA. The first collection on the elections in Vietnam was designed by painter Nguyen Van Khanh and issued on May 3, 1960.
Beach destinations are the stars of Vietnam's tourism industry: report
Favorite beach destinations Danang, Khanh Hoa and Phu Quoc performed very well in the past five years, together accounting for 30% of all tourist arrivals to Vietnam, according to a Savills report.
The three places, famous for their long beautiful beaches and sunny weather most of the year, have seen an average annual increase of 23% in the number of foreign tourists, the real estate services provider said in the new edition of its annual Asian Cities Report.
The report highlighted the arrival of international hoteliers, an improved visa policy and investment into key infrastructure as drivers for the growth.
Vietnam has waived visa requirements for short trips taken by tourists from key European markets and recently passed a new rule allowing US visitors to stay up to one year, with multiple entries.
Savills' report said in the last decade, more than 70% of international visitors to Vietnam spent their holidays along the coast.
Most of these visitors hailed from temperate climates like China, Europe and the US who visited central and southern coastal cities with year-round warm weather.
An increase in the number of tourists from prosperous markets have led to more demand for rated accommodation, especially upscale hotels.
In 2015, five-star rooms increased 37% to more than 24,000 units, 30% of which were in Danang, Phu Quoc and Khanh Hoa. The last of the trio is known for its resort town Nha Trang, very famous among Chinese and Russian tourists.
According to the Vietnam National Administration of Tourism, the country attracted nearly 8 million foreign visitors in 2015.
The number of international visitors reached 3.25 million in the first four months this year, up 18% over the same period last year.
Vietnam has been named by the United Nations World Tourism Organization in the top five ASEAN countries for the highest international visitor volume, with a compound annual growth rate of 9% over the last five years.
Record taiji performance gathers almost 3,000 elderly people
Nearly 3,000 elderly people set a Vietnam record when they joined in a mass taiji (tai chi) performance at a competition in Ho Chi Minh City on May 20.
They concurrently performed taiji movements for 15 minutes, and the performance was recognised as having the biggest number of participants from middle and old ages in Vietnam.
The Vietnam Book of Records also recognised an 83-year-old man La Tien and an 80-year-old woman Do Thi Thanh Thu as the oldest persons to perform the 32-form taiji sword, which is a taiji style.
The performances are part of the first day of the 15th HCM City Taiji Open at Phu Tho Sports Complex.
The two-day competition features 24 categories such as taiji, yoga, physical exercise with canes, and Vovinam – a Vietnamese martial art.
The competitors are some 3,000 elderly people from 29 taiji clubs in HCM City and neighbouring provinces.
First Vietnam film week opens in Czech Republic
The first Vietnam Film Week in the Czech Republic kicked off on late May 20 at Lucerna Cinema in the capital city of Prague, attracting hundreds of movie lovers.
The Film Week, held by the Vietnam Cinema Department under the Ministry of Culture, Sports and Tourism and the Vietnamese Embassy in the Czech Republic, features "Quyen" (Farewell, Berlin Wall), "Toi thay hoa vang tren co xanh" (I see yellow flowers upon the green grass), and "Taxi, em ten gi" (Taxi, what's your name), which have been popular in Vietnam recently.
At the opening ceremony, Vietnamese Ambassador Truong Manh Son said the Week is a chance to introduce the Czech people to Vietnam's land and people along with its cinematography.
Ngo Phuong Lan, Director of the cinema department, said the Czech Republic have a traditional friendship with her country and is home to a large Vietnamese community. She hopes that the Film Week will be successful and pave the way for many other Vietnamese movies to reach expatriate and Czech audiences.
The event was opened with "Quyen", which tells the story of a Hanoian girl named Quyen who crosses the Russian border into Germany with her husband. She experiences many ups and downs during her stay in the foreign land.
Sandra Kisic, a Czech citizen, said "Quyen" was the first Vietnamese film she had watched and she liked it. She hoped she could have tickets to see the other two movies.
The three movies will also be screened at the Vietnamese-owned Sapa trade centre in Prague, where local audience can have face-to-face conversations with Vietnamese film makers.
Vietnamese women present gifts to orphans in Malaysia
Representatives from the Vietnamese Women's Association in Malaysia on May 21 visited and presented gifts to orphans at the Rumah Anak Yatim & Asnaf Al Nasuha centre in the Malaysian State of Selangor.
The Vietnamese women donated cash worth 1,500 MYR (400 USD) and gifts including clothes, toys, and confectionery.
Head of the association Tran Thi Chang said that the presents, though small in value, show sentiments towards the disadvantaged children.
She also said the association will continue organising similar activities, contributing more to the ties between the two countries' people.
According to Director of the Rumah Anak Yatim & Asnaf Al Nasuha, the centre is home to about 80 Malaysian orphans who have special circumstances.
She said she was touched by the Vietnamese women's sentiments to the children.-
HCM City hi-tech park urged to increase hi-tech products
Ho Chi Minh City's Hi-Tech Park has done a good job in attracting foreign capital and technology but it should make more efforts to boost the proportion of hi-tech products.
Deputy Prime Minister Vuong Dinh Hue made the call at a working session with the park's management on May 20, adding that the park should choose enterprises using advanced technology instead of those merely involving in assembling.
The park also needs to attract more scientific ideas and innovation from universities and research institutes and turn them into commercial products, making the park a real place for nurturing scientific-technological start-ups.
The Deputy PM stressed that the development of science-technology needs support from venture capital funds, adding that the government will have to create mechanisms for such funds to operate.
He also said the government will review policies on science-technology development and the distribution of capital for science and technology to improve investment efficiency.
According to Le Hoai Quoc, Head of the Park's Management Board, in the past 14 years the park has attracted high-tech employees from many countries all over the world.
But for the park to develop further, suitable mechanisms are needed to develop infrastructure and call for more investment, he said.
The park also lacks quality managerial staff as well as trained human resources to meet firms' needs.
As of now, the park has 97 valid projects with a total investment capital of 5.49 billion USD, with the combined production value of all enterprises increasing annually.
Products manufactured in the park make up 94 percent of the high-tech products in the city.
Winners of 45th UPU letter writing contest honoured
One hundred winners of the 45th Universal Postal Union (UPU) International Letter Writing Contest in Vietnam were honoured at a ceremony in the northern province of Vinh Phuc on May 20.
The national contest themed: "Write a letter to your 45-year-old self," received 956,382 entries from students across the country between October 2015 and February 2016.
Ninth grader Nguyen Thi Thu Trang from Nguyen Trai Junior High School in Nam Sach district, the northern province of Hai Duong, won the first prize.
In the role of late Aylan Kurdi - the dead Syrian child washed up on a beach in Bodrum, Turkey, as seen in the world-shaking photo on the tragedy of wars, conflicts and illegal immigration into Europe last year; Trang wrote a letter from heaven about a world without violence or discrimination.
Her letter has been translated into French and English to be sent to the organising board of the 45th UPU International Letter Writing Contest based in Switzerland for the international round.
Three second prizes were awarded to Nguyen Thi Ngoc Anh, grade 9 from Nguyen Dang Dao High Junior School in Bac Ninh City in the northern province of the same name; Nguyen Duc Anh, grade 5 from Lien Minh Junior School in Vinh Yen City, the northern province of Vinh Phuc; and Duong Bao Nhi, grade 7 from Tran Quoc Toan High Junior School in district 9, Ho Chi Minh City.
A number of prizes were also awarded to the youngest candidate, and ethnic minority and disadvantaged candidates. Outstanding students received Vu A Dinh scholarships during the ceremony.
President attends Buddha birthday celebration
President Tran Dai Quang on May 21 attended a ceremony to celebrate the 2560th birthday of Lord Buddha at Quan Su pagoda in Hanoi.
President Quang highlighted the festival as an important religious event in the Vietnamese Buddhist followers' spiritual life while stressing Vietnamese Buddhism's contribution to national liberation, construction and development.
He said the Party, State and people acknowledged and appreciated the practical contributions of the Vietnam Buddhist Sangha (VBS) and all Vietnamese Buddhist monks, nuns and followers to the great national unity cause, as well as nation building and safeguarding.
The President spoke highly of the outcomes of the VBS's international relations, saying the VBS has served as an important bridge for overseas Vietnamese to look toward the homeland and join hands to develop the country, as well as its contribution to raising the role and stature of Vietnamese Buddhism and the image the country and people of Vietnam in the world.
He said he hoped the VBS will always come along with the nation, and encourage Buddhist followers to join hands with people of all walks of life in realising national industrialisation and modernisation.
At the ceremony, Most Venerable Thich Thanh Nhieu, Vice President of the VBS's Executive Council delivered a message from the Patriarch of the VBS to Buddhist followers on the Buddha's birth anniversary, calling on them to take part in efforts in protecting the environment and responding to climate change.
President Quang joined Buddhist dignitaries, monks, nuns and followers in ceremonial activities at the pagoda, including incense offering, bathing the Buddha's statue and the release of pigeons to pray for peace and happiness.
Traditional medicine targets stronger development by 2020
Developing traditional medicine in combination with modern health care practices is the top priority of the Vietnamese Party, State and the Ministry of Health.
Health Minister Nguyen Thi Kim Tien delivered the message at a teleconference in Hanoi on May 20 to review the five-year implementation of the Prime Minister's Decision No. 2166/QD-TTg on Vietnam's traditional medicine development plan by 2020.
The official urged participants at the event to assess difficulties hindering the actualisation of the document and propose solutions to traditional medicine development in the time to come.
Agencies and localities were asked to step up communications to raise public awareness of traditional procedure-based therapies, pay more heed to planting and processing traditional medicines, revamp their financial mechanisms and mobise resources for this type of medicine.
The network of traditional medicine has been consolidated and expanded nationwide with the number of traditional medicine hospitals expanding from 53 in 2010 to 58 in 2015, the teleconference heard.
Departments of traditional medicine have been established in hospitals and health clinics at all levels and the number of patients using the service has also increased significantly, especially in the southern provinces of Ba Ria-Vung Tau, Tay Ninh and Tra Vinh provinces, the central province of Thua Thien-Hue and Cao Bang province in the north.
However, limited budget and resources, and the lack of preferential policies are the major challenges to this alternative medicine.
During the 2016-2020 period, the health sector aims to create marked changes in traditional medicine development and combine traditional and modern pharmaceutical medicines to take care of public health.
Europe, Vietnam speakers inspire innovations to address challenges
Speakers from Europe and Vietnam delivered inspiring speeches that suggest new ideas to tackle challenges facing both sides at an event in Hanoi on May 20.
"Innovations from Europe and Vietnam" was organised by the Delegation of the European Union to Vietnam and the Embassy of the Netherlands to Vietnam. It was part of the Europe Days 2016 programme.
Opening the event, head of the EU Delegation Ambassador Bruno Angelet and Dutch Ambassador Nienke Trooster said innovations are one of the solutions that help Europe maintain its prosperity and resolve such challenges as an ageing population, natural resources scarcity and climate change.
As a country with ongoing integration, rapid urbanisation and a dropping poverty rate, Vietnam should strive to develop more through international cooperation and innovations, especially through applying smart solutions to ensure community health, they noted.
Pirkka Palomaki, a Finnish specialist on demand-based waste management, said cities around the world release about 1.3 billion tonnes of waste every year, a figure expected to double in the next 10 years.
In the face of unimproved effectiveness in waste disposal, he invented a sensor technology that helps disposal companies better manage waste containers by measuring their fullness, positioning the containers and even forecasting when they will be full.
He said that technology can help businesses save around 40 percent of waste collection and disposal expenses.
At the event, Dr Le Van Tan from Oxford University introduced a new tool to detect infectious diseases, noting that Asia is vulnerable to viral and bacterial diseases.
Vietnamese architect Vo Trong Nghia shared his ideas about combining urban structures with natural features. Eric Benedetti from the Netherlands presented a smart LED lighting solution for cities which can save 45 – 70 percent of electricity needed.
While Dutch expert Jos Joore introduced a new cell technology for medical treatment, Nguyen Thi Cam Van – founder and CEO of the Handikit company – brought to the event a technology that assists persons with disabilities.
Irrigation facilities upgraded in Central Highlands
The Ministry of Agriculture and Rural Development plans to invest over 11.5 trillion VND (517.5 million USD) to upgrade over 20 irrigation facilities in Central Highland and southeastern provinces between 2016 and 2020.
The money will be sourced from official development assistance (ODA), the State budget, and Government bonds.
Once completed, the facilities are expected to ensure irrigation for over 50,000 hectare of cultivation land across the region.
From 2011 to 2015, the ministry injected more than 4.8 trillion VND (216 million USD) to build a dozen large and medium sized irrigation works for the Central highlands, benefiting over 60,000 hectares of farm land.
As many as 2,352 irrigation works have been built in the Central Highlands, irrigating 215,765 hectares of crops, including half of the wet rice cultivation area and 21 percent of the area under coffee plants.
Monthly JE vaccination schedule benefits 2 mln children
About 2 million children (91.1 percent) aged 1-5, nationwide have received two doses of vaccine against Japanese encephalitis (JE) since the vaccine began to be provided free of charge on a monthly basis a year ago.
According to the Ministry of Health's General Department of Preventive Medicine, Vietnam has adopted a monthly schedule for JE vaccination in the national expanded programme on immunisation since early 2015, replacing the old one in which the vaccine is only given in a specific period of the year based on each locality's schedule.
It is recommended that the JE vaccination should be administered at least three times: the first injection when the child is a year old, the second dose one or two weeks after the first, and the last a year later.
The general department also revealed that many provinces have reported a two-dose vaccination rate of more than 95 percent, including those in mountainous areas – Lai Chau, Tuyen Quang, Cao Bang, Yen Bai, Lao Cai and Son La.
Approximately 1.7 million of the children received the third injection after a year. Some 36 out of 63 cities and provinces across the country had a three-dose rate of 95 percent last year.
Since 1997, the national expanded immunisation programme has included the JE vaccination, focusing mainly on JE-prone districts in 12 cities and provinces. All 63 localities of the country have benefited from the JE immunisation programme since 2014.
Micronutrient Day kicked off to promote daily micronutrient supplement
The National Institute of Nutrition (NIN) held a ceremony in northern Ha Nam province on May 21 to kick off the 2016 Vietnam Micronutrient Day (June 1 and 2).
This year, the day will promote daily micronutrient supplements and raise public awareness of the necessity of micronutrient in improving people's well-being and quality of life.
Speaking at the launching ceremony, Deputy Minister Nguyen Thanh Long said micronutrients are essential to children's health; a lack of micronutrients has a profound impact on their physical growth, mental development and immune system.
Over 5 million children under five in Vietnam have received free vitamin A supplements twice annually as part of a governmental programme that aims to protect them from the risk of blindness, infection and under-nutrition, Long noted.
The deputy minister asked local health authorities to continue providing vitamin A supplements to children and postpartum women and educate people on how to plan a healthy, balanced diet.
Over the past number of years, vitamin A supplementation has been included in the Micronutrient Day activities across the country. Children aged 6-36 months in 41 provinces, and those at risk of micronutrient deficiency, have been given free vitamin A capsules while children aged 6-60 months have received anthelmintic or anti-parsitic medicine in 22 disadvantaged localities.
Postpartum women nationwide has also been provided a dose of vitamin A within a month after giving birth.
Vietnam must prepare well for natural disasters
Vietnam needs to be well-prepared to cope with natural disasters, which have become more fierce and unpredictable in recent years, deputy head of the Ministry of Agriculture and Rural Development's General Irrigation Department Tran Quang Hoai said.
Speaking at a conference on preventing natural disasters held in Hanoi on May 20, Hoai said Vietnam has built legal policies and improved facilities to prevent natural disasters and overcome their consequences.
However, natural disasters have become more complicated and hard to predict. This showed that the nation's current preparation work was no longer as effective.
In the future, Vietnam would likely face new types of disasters such as Probable Maximum Floods, floods resulting from a combination of the most severe meteorological and hydrologic conditions that could occur in a given area, or maximum rate of drought.
The Mekong Delta region has experienced changing on natural disasters. The region was previously flood-hit, but flooding did not occur last year and the recent drought and saline intrusion were reportedly the worst in the past 90 years, he said.
Authorised agencies must prepare for drought and salinity, as well as flooding. Droughts may be fiercer in the future due to countries from the upstream of Mekong river demand for water.
Hoai said the country must build better facilities and improve human resources and forecasting activities.
"Improving forecasting is very important as it will help us prepare for disasters," he said.
He said there were two major river systems in the country with Vietnam located downstream. If disasters occurred, the country would suffer more severely than upstream nations. The country is participating in the Mekong River Commission to cooperate with neighboring countries on the use of water.
He also added that apart from preventative measures, the country must tackle natural disasters quickly as a one or two-hour-delay could cause huge loss of life and property.
When discussing this stormy season, Hoai said it was necessary to prepare essential equipment when natural disasters occurred, especially in 19 coastal cities and provinces. The safety of dams, dykes and other kinds of preventive works should be supervised, and the safety of fishermen should be assured.
He mentioned problems with dykes in big cities, which needed to be solved as they seriously affected the cities' flood protection.
Figures from the National Steering Committee for Flood Prevention and Control showed that more than 150 people were killed and 127 injured due to natural disasters. Over 1,240 houses were collapsed, 35,230 others were unroofed, 445,110 hectares of crops were submerged, causing the losses of 8.1 trillion VND (3.6 billion USD) in 2015.
Workshop seeks sustainable biodiversity conservation
Vietnam's biodiversity resources are degrading under the pressure of population growth, overexploitation and economic development, which threatens the stable livelihoods of many communities, experts said at a workshop in Hanoi on May 20.
Addressing the workshop, Mai Thanh Dung, Deputy General Director of the Vietnam Environment Administration (VEA) said c onserving and using biodiversity sustainably with the aim to create and maintain community livelihoods is of great importance to the country.
Dung noted that Vietnam is ranked 16th in the world in terms of biodiversity and is recognised as one of 10 centres having the most diverse biodiversity in the world.
He said Vietnam had made a strong commitment to conserving biodiversity. The country adopted the Biodiversity Law in 2008 and issued the national strategy on biodiversity by 2020 with a vision to 2030.
Several reports were presented on the preservation of rare and valuable gene sources and the establishment of a network and a database on genes in the country.
Participants were also introduced to the project entitled: "Capacity Building for the Ratification and Implementation of the Nagoya Protocol on Access and Benefit Sharing in Vietnam," which is funded by the Global Environment facility (GEF).
Issues relating to community-based biodiversity conservation were debated, with participants calling for attention to solutions to develop livelihoods based on traditional knowledge on gene sources.
The seminar was a joint effort of the VEA and the United Nation Development Program (UNDP) in response to the International Day for Biological Diversity (May 22).
The International Day for Biological Diversity is designated by the United Nations to raise awareness about the importance of biodiversity.
This year's day has the theme of "Mainstreaming Biodiversity; Sustaining People and their Livelihoods".
VN nuclear energy drawing prizes given
Pham Thu Trà, a student in class 6A3 of Thanh Quan Secondary School, won first prize in the Future of Vietnam and Nuclear Energy, a unique drawing contest held in Hanoi yesterday.
Phan Thanh Thao and Nguyen The Thanh Tâm of the same school won second and third prize.
The contest was held on Vietnam Science and Technology Day, aiming at making the public aware of the nuclear power plants in the public's eyes. More than 50 students from all primary schools and talent clubs in Hanoi competed.
Representing young students, Trà said: "My idea for my painting is a nuclear plant will become part of our life, today and tomorrow."
"Through the contest, we can partly understand children's dreams of a developed future Vietnam, with sustainable and secure energy sources," said Professor Ha Minh The. "The contest will awaken love and interest for science among students. It will also inspire them in their future career choices, which can involve nuclear industry. Students can therefore contribute to the young, yet developing, nuclear industry of Vietnam Nam," he said.
Marksmen shoot for glory at World Cup in Munich
Eight Vietnamese shooters arrived in Germany to compete at the ongoing International Sport Shooting Federation World Cup Rifle/Pistol in Munich.
Among the participants are Olympian Hoàng Xuân Vinh and Tran Quoc Cuong who will compete in the men's 50m pistol.
16-year-old Iwaki Ai, who won a bronze medal at the Asian Championship last year, will join her seniors Nguyen Thu Ngan and Phùng Thi Lan Huong in the women's 10m air rifle event.
The World Cup ends on May 26.
VNA/VNS/VOV/SGT/SGGP/TT/TN/Dantri