HCMC Industry and Trade opens more outlets to sell Vietnamese goods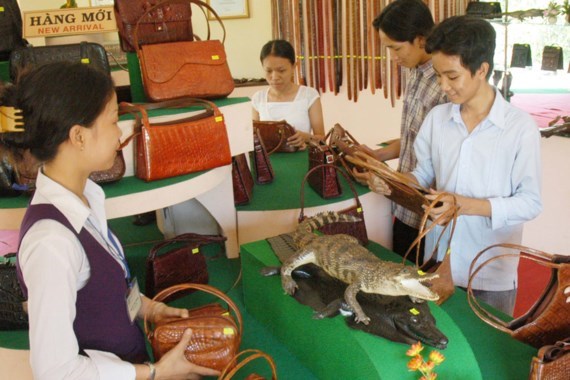 To implement the city's action plan in response to the campaign " Vietnamese people use Vietnamese commodities", many measures were taken by the industry and trade sector to boost production and improve the competitiveness of Vietnamese goods in the local market.
By the sector's statistic, by now, the city has 42 trade centers, 201 supermarkets, and 240 traditional markets. The sector spends more on these distributing channels of Vietnamese commodities including repairing facilities and improving quality especially in outlying districts.
Through the campaign, Vietnamese commodities account for 90 - 100 percent in these centers, supermarkets and markets; for instance, the rate of Vietnamese goods in supermarket chain Big C is 95 percent, in SatraMart at 95 percent and in Giant at 100 percent.
For the subsidized commodity program, in addition to uniting between companies, enterprises have opened more stores. So far, the city has 10,602 outlets to sell subsidized goods in suburban districts and in the premises of industrial parks and export processing zones.
In a bid to help residents in suburbs and laborers in industrial parks to buy subsidized goods, the Department of Industry and Trade has set up three mobile groups to sell Vietnamese commodities with cheap prices.
In the first six months of this year, Saigon Co.op, Satra and Ba Huan Company launched 602 mobile goods-carrying trips to suburban districts such as Can Gio, Cu Chi and Hoc Mon. Apart from this, Saigon Co.op organized 600 trips to sell subsidized good to 36 provinces collecting VND35 billion ($1,540,012).
Land prices up after proposal to open more entrances to airport
After Ho Chi Minh City proposed the Ministry of Transport to open more entrances to Tan Son Son Nhat International Airport to ease traffic jam in Truong Son street, the airport's sole entrance route now, land and house prices in proposed areas have rocketed up.
The proposal, made by the city at a working session with Minister of Transport Truong Quang Nghia, is still considered by the ministry and authorized agencies but real estate investors have taken advantage of that to blow prices up.
Land and house prices in areas near the proposed entrance in Truong Chinh street, Tan Binh district has hiked by 10-20 percent within two months. At a 38 hectare housing land project in the street, the price has surged from VND35 million to VND40 million (US$1,760) a square meter. Apartment block projects in the area have also seen price up.
Similar condition has occurred areas near Quang Trung and Thong Nhat streets in Go Vap district. The price of a house in Pham Van Chieu street has rocketed to VND5 billion ($220,000) from VND3.2 billion a year ago.
Projects of Cityland Group in Phan Van Tri street have strongly increased prices within a short time.
Mr. Nguyen Duy Minh, director general of L&L Real Estate Company, said that real estate investors and speculators usually grasp new positive planning information to improve their product value without caring about the feasibility of the information.
Experts advice customers to keep calm and be cautious in order not to pay a price much higher than the real value of houses or land plots they buy in case the proposal is not approved.
Condotels' legality to be clarified amid rising demand
The legality of condotels needs to be clarified to better manage this new type of property gaining popularity in Việt Nam, a representative from the Ministry of Construction said.
Phạm Văn Thường, from the Housing and Real Estate Market Management Department, said at a conference held late last week by the Vneconomy online newspaper that relevant ministries were developing regulations about condotel standards, ownership ands financial management.
Experts said clarifying the legality of condotels was urgently needed as this type of property is developing rapidly, but the absence of regulations carries risks for ownership and profit sharing.
Condotels are operated as hotels with units being individually owned. Unit owners can rented out their apartments like any other hotel room.
According to Lê Hoàng Châu, President of HCM City Real Estate Association, regulations are needed to ensure transparency in profit sharing in the long term and the rights of buyers, adding that profit sharing now relies mainly on developers' guarantees, with yet a solid framework for buyers' benefits protection.
Nguyễn Ngọc Thành, Deputy President of the Việt Nam Real Estate Association, said that condotels have great development potential in Việt Nam as tourism is one of the country's spearhead industries.
Thành said that it's too early to worry about an excess of condotel supply over demand because the demand was still very high. "What should be worried is the legality of condotel," Thành said.
Hương Trần Kiều Dung, deputy chairwoman of developer FLC Group, said that condotel supply remained below the market demand, given the increasing number of tourists. "Investing in condotels is a trend for smart investors," Dung said.
Dung proposed the legal framework for condotels be clarified soon, adding that this would stimulate developers to invest more in this type of property.
Hoa Phat group posts robust growth in steel production
Hoa Phat Group, a leading Vietnamese industrial production firm, manufactured some 209,000 tonnes of steel in July, up 24.7 percent from last month and nearly 50 percent from the same period last year, retaining top spot in terms of domestic steel market share.
The group sold 33,000 tonnes of wire rod in the month, surging 54 percent from June, while some 21,800 tonnes of steel were shipped abroad, increasing total steel exports to 111,800 tonnes in the first seven months of the year.
From the outset of this year, the group produced more than 1.24 million tonnes, a year-on-year increase of 32.3 percent. The company attributed the growth to thriving civil construction.
According to the Vietnam Steel Association, domestic steel production plants can meet domestic demand for steel products for construction.
Steel production in Vietnam expanded 12.8 percent year-on-year to nearly 11.3 million tonnes in the seven-month period ending in July, the association said.
VN firms ink deals with Bangladesh partners
Vietnamese firms have signed export contracts for electric fans, gas stoves, coconut and construction material with Bangladeshi partners estimated at US$60,000 at an investment and trade promotion workshop in Bangladesh last week.
Bangladeshi Minister of Civil Aviation and Tourism, Rashed Khan Menon, pledged at the event to co-ordinate with Viet Nam on opening a direct air route between the two nations to enhance trade and tourism. He promised to provide the best possible conditions for Vietnamese firms to invest in technology and tourism.
In his speech, Vietnamese Ambassador to Bangladesh Tran Van Khoa suggested businesses from the two countries diversify their exports, instead of depending on just few strong products as they have done so far.
Viet Nam views Bangladesh as a potential market, with a population of over 160 million, rapid economic growth and a young and abundant workforce. It is also considered a gateway for Vietnamese goods to enter other South Asian markets.
Cultivation growth predicted to reach 2.05 percent in 2017
The cultivation sector is expected to grow up to 2.05 percent in 2017 thanks to bright prospects in major export markets, according to the Cultivation Department under the Ministry of Agriculture and Rural Development (MARD).
Since early this year, the prices of most fruits have increased, while the rice price has remained stable.
The sector has replaced unproductive rice with other plants to match demand, mainly with fruit trees. Production plans will also be adjusted to minimise damage from extreme weather, especially in vulnerable areas such as the Central Highlands and the south central coastal and Mekong Delta regions.
The sector will also maintain the productivity of coffee and cashew farms, while expanding tea fields.
The Cultivation Department will also guide farmers in cultivating rice in the northern and Mekong Delta regions for high yield.
Nguyen Hong Son, head of the Cultivation Department, said that the autumn-winter crop in the Mekong Delta region is important, as it is expected to make up for the fall in productivity of the winter-spring crop 2017 when rice yield dropped 296,600 tonnes from 2016.
Son advised regional localities to strengthen forecast efficiency to prevent insect spreading, thus ensuring productivity.
Son added that the provinces should prioritise rice varieties with high export value such as Jasmine 85, Nang Hoa 9 and VD20.
According to the MARD, in the first half of 2017, the cultivation sector's growth reached 1.66 percent.
Vietnam's VPBank to list on Aug 17, seeks $2.3 bln market value
VPBank will list 1.33 billion shares with a reference price of VND39,000 (US$1.72) each
Vietnam Prosperity Joint Stock Commercial Bank (VPBank) will list its shares on the Ho Chi Minh Stock Exchange on August 17 with an expected market value of US$2.3 billion, the bank said on August 11.
VPBank will list 1.33 billion shares with a reference price of VND39,000 ($1.72) each, likely giving it a VND51.97 trillion ($2.29 billion) market value, which would be the ninth biggest on the exchange.
In Vietnam, an IPO and listing are separate processes. Foreign institutional investors currently hold 22.34 percent of VPBank, according to the lender. Foreigners are allowed to own a maximum of 30% in a Vietnamese bank.
VPBank chairman Ngo Chi Dung owns about five percent of the bank, while his mother and wife own another 9.6 percent combined.
VPBank's net profit surged 64.2 percent in 2016 to VND3.9 trillion ($171.58 million), while the lender's first-half bottom line jumped 108 percent from the same period last year to VND2.6 trillion ($114.39 million), the bank's financial statements showed.
"This is a fair price as VPBank is one of Vietnam's top lenders in the retail banking sector, which has room to increase given Vietnam's average income growth of 6-10 percent annually," said Nguyen The Minh, a deputy research director at Saigon Securities Incorp.
"The downside is that VPBank focuses too much on retail banking; so if the risk management system of VPBank is not good enough, it will face high risks of dealing with non-performing loans," Minh said.
VPBank said its bad debts were 2.81 percent of its total loans as on June 30, falling slightly from the 2.91 percent at the end of last year. Viet Capital Securities expects VPBank's bad debt ratio in 2017 and 2018 at 3.1 percent.
Toyota retains lead in auto market
Sales of Toyota motor vehicles totaled 4,291 units in July, equal to 83 per cent of the figure recorded in July last year, but Toyota Motor Vietnam (TMV) retained its leading position among automakers in the country (excluding trucks and buses), according to the company's latest report.
Total sales in July (excluding trucks and buses) were down, equaling 79 per cent of the July 2016 figure.
TMV's sales of passenger cars reached 2,333 units and commercial vehicles 1,958 units.
The Vios saw sales of 1,548 units and kept its leading position, while the Camry and Corolla recorded sales of 167 and 414 units, respectively. The Corolla Altis made an impressive step forward and found a place in the Top 10 during the month.
Leading the way in Toyota's commercial vehicle segment was the Innova, with 683 units sold, equal to 97 per cent of the figure in July 2016. It saw its share in the multi-purpose vehicle (MPV) segment increase, however, and was the seventh best-selling model during the month. In the year since the new Innova was introduced in July 2016, sales have stood at 12,878 units.
Among completely-built-up (CBU) units imported by TMV, the Fortuner saw sales of 1,089 units in July, up 21 per cent against July 2016 and taking third position in the Top 10 best-selling models during the month.
Sales of the Yaris were 204 units, the Hilux 77 units, the Hiace 47 units, the Land Prado 56 units, and the Land Cruiser six units.
Continuing to bring premium models and services, with the famous Japanese Omotenashi spirit, sales of the Lexus reached 84 in July.
Risis products available in Vietnam
Visitors to Singapore have long taken the chance to buy luxurious, exquisite gifts at Risis to reinforce business and other relationships. Lovers of the brand in Vietnam need no longer head to Singapore as they can find a host of its products at the VietinBank Gold & Jewellery showroom, located at Saigon Trading Centre, 15 Le Loi, Ho Chi Minh City.
As a market leader in the field of high-end gifts in Asia, for over 40 years Risis has constantly and effortlessly added many unique and exquisite gold-plated products to their collection, with designs inspired by blessings and prosperity in Asian culture.
Corporate gifts, jewelry, and accessories from Risis represent the pure beauty of Mother Nature. One hundred per cent of the process is completed in-house, allowing the Risis team to maximize the amount of creativity and quality control. Each meticulous step, from the initial sketching process to fine polishing, is executed with attention to the smallest of details.
Risis is also trusted by major enterprises such as Standard Chartered Bank, Procter & Gamble, and British American Tobacco, among others. Thanks to ingenious, skilled hands combined with advanced technology, every piece from Risis bears an impressive and refined design, comprehensively capturing the vision and philosophy of business associates.
Risis has also been selected to create trophies for the Singapore Formula 1 Grand Prix from 2013 to 2016 as well as five unique pendants prepared in celebration of Singapore's 50th anniversary.
The VNDIRECT Securities Corporation (VNDIRECT) has been given approval to list 154.998 million shares on the Ho Chi Minh Stock Exchange (HoSE), with the stock code VND.
Its first trading day is expected to be on August 18. On August 9, the Hanoi Stock Exchange (HNX) approved it cancelling its listing on HNX from August 14.
The target of VNDIRECT in changing stock exchanges is to improve governance standards and access local and international investors, mobilizing capital to develop services in the future, a representative from VNDIRECT told VET.
It will issue its shares to investors in the fourth quarter of 2017, at a ratio of 3:1 to existing shareholders, and expects to issue 51 million more shares.
The company will also pay a cash dividend of 10 per cent.
In the first half of 2017, VNDIRECT saw sharp growth in its business results. As at the end of the second quarter, net revenue stood at VND695 billion ($30.5 million) and after-tax profit VND325.5 billion ($14.32 million), or 65 per cent and 83 per cent of the annual plan, respectively.
In brokerage, VNDIRECT remains in the Top 4 on HoSE and Top 3 on HNX.
Brokerage revenue increased 76 per cent to VND82 billion ($3.6 million) and revenue from margin lending was up 80 per cent from VND46 billion ($2.02 million) in the second quarter of 2016 to over VND83 billion ($3.65 million) in the second quarter of 2017.
With positive signs in Vietnam's stock market this year and good business results, VND shares increased from VND13,000 ($0.57) to VND23,900 ($1.05) in the first half.
VNDIRECT was established in 2006 and is now one of the most trusted securities companies in Vietnam. Main business lines include stockbroking, securities custody, corporate finance advisory, proprietary trading, and portfolio management.
The first Japan Home Centre (JHC) outlet in Vietnam opened on August 12 in Hanoi's Cau Giay district, marking the arrival of the retailer in the country.
A representative from JHC said that Vietnam's home appliances market is huge and growing rapidly, and that its population is quite young and getting married, which present sound opportunities to develop the home appliances market.
Changes in consumer trends also encourage foreign retailers to come to Vietnam.
The V.I.C Retail and Trade Joint Stock Company (JSC) therefore decided to bring JHC to Vietnam after a long time researching the needs of Vietnamese consumers and determining the direction of the household appliances market throughout Asia.
JHC is a chain of retail outlets owned by International Housewares Retail (IHR), Hong Kong's leading home appliance company.
Launched in 1991, JHC retails high quality products at reasonable prices and is known for its "best selling prices for high quality goods by bringing Japanese gadgets directly to consumers through no intermediary".
It provides high quality products for personal and family life, with a network of more than 360 stores in Hong Kong, Singapore, Macao, Cambodia, Indonesia, Malaysia, Saudi Arabia, New Zealand, and Australia.
JHC has a diverse portfolio of products imported directly from 650 suppliers in more than 13 countries and territories, including Hong Kong, Japan, South Korea, Taiwan, Thailand, Malaysia, the Americas, and Europe.
Japanese household products are a popular choice among women in Vietnam because of their beauty, usability, and top quality. At the grand opening of its first Vietnam store, JHC offered discounts of up to 49 percent.
Phu Yen applies high technology in shrimp farming
The central coastal province of Phu Yen will branch out high-tech shrimp cultivation models in a bid to realise its target of 100 million USD in production value by 2025.
The province will set aside 55 billion VND (2.4 million USD) to zone off cultivating area, upgrade infrastructure, produce breeding varieties, examine the environment and diseases as well as transfer technology and promote trade and investment.
Production will be reorganised to create a large-scale material production area. The province will link local shrimp suppliers with consumption markets.
By 2020, Phu Yen will work to reduce total water surface area for shrimp breeding to 1,943 hectares from 2,028 hectares in 2016 but shoot up the volume of shrimp production to 9,950 tonnes from 6,760 tonnes.
The province is planning to produce 6 billion juvenile shrimps and 18,000 lobster-nurturing cages in an area of over 55 hectares.
Phu Yen's shrimp farming area is mostly situated in Dong Hoa and Tuy An district and Song Cau town. Last year, the province produced nearly 6,800 tonnes of shrimp and 650 tonnes of lobster.
US-FSIS sets meeting on new mandatory catfish program
On August 10, 2017, the Food Safety and Inspection Service published in the Federal Register a notice announcing an educational meeting to discuss the new mandatory catfish program.
The Final Rule, titled 'Mandatory Inspection of Fish of the Order Siluriformes and Products Derived from Such Fish,' went into effect as of August 2, 2017, to abide with direction from the US Congress.
In line with those instructions, all shipments of imported Siluriformes fish and fish products entering the US must be presented at an Official Import Inspection Establishment for reinspection by FSIS personnel.
Fish of the order Siluriformes include fish of several families including catfish (fish of the family Ictaluridae), basa, tra, and swai (fish of the family Pangasiidae), and clarias (fish of the Clariidae family).
FSIS will present information on the upcoming full implementation of the regulatory requirements at official domestic establishments that process Siluriformes fish and fish products, as well as information on entry procedures and reinspection at official import inspection establishments.
FSIS is particularly interested in soliciting participation from representatives from US domestic wild-caught operations that process Siluriformes fish and fish products.
The meeting will be held at the Holiday Inn Memphis Airport and Convention Centre in Memphis, TN, on Thursday, August 24, 2017; 9 am– 3pm CT.
Quang Nam taps potential of coastal economic zones
Located in an important position in the central region's economic hub, Quang Nam has many potentials and advantages in natural and human resources for economic development, especially tourism services.
Quang Nam has been developing economic zones with a focus on its eastern part, the driving force for provincial economic growth.
The eastern part of Quang Nam province includes 8 coastal districts and cities located along the Da Nang-Dung Quat Highway and covering more than 100,000 ha, with 125 km of coastline.
The area plays an essential role in the the socio-economic development strategy of Quang Nam where there are 110 investment projects with registered capital of US$2 billion. 70 of them are operational, according to Dinh Van Thu, the provincial People's Committee Chairman.
Thu noted that "Quang Nam has focused on industry and services. The advantages of each region are fully tapped for development in which the eastern part will mainly develop services to create an investment environment for industrial parks and Chu Lai Open Economic Zone and neighboring areas."
The plan focuses on several groups of projects including the South Hoi An urban residential and service area; a clean industry and service development linking with Chu Lai airport; a gas-electric project; a fishing port system, and a storm sheltering area. The Chu Lai Open Economic Zone has created a powerful push for the whole central coastal economic region.
Tran Ba Duong, President of the Truong Hai Automobile Company, the most successful investor in Quang Nam, said "Since 2014 we have increased sales and production to meet the requirements set for 2018 when we plan to integrate into ASEAN".
"We have increased the production of components and the locally made ratio by at least 40% to make the most of opportunities to export to the ASEAN market with a tax rate of 0% and compete with other automobile brands from ASEAN in Vietnam.
Since we invested in the Chu Lai Open Economic Zone, the Truong Hai Automobile Company has grown robustly, thanks to support from the Quang Nam administration", said Mr Duong.
Early last year, the Quang Nam People's Committee allocated 1,500 hectares of the overall development area of 42,000 hectares for investment project attraction.
Tran Xuan Dien, head of the Management Board of Chu Lai Open Economic Zone, said "The operation of Cua Dai Bridge and the coastal road linking Hoi An and Tam Ky City has made tremendous changes for Quang Nam. This year, we will complete connecting Tam Ky and Chu Lai Airport and create additional 2,000 hectares of land for investment projects."
Quang Nam's coastal districts have huge potential because they are near the seaport, airport, and industrial zones of Da Nang City and the Dung Quat Economic Zone of Quang Ngai Province.
Vietnam back in trade surplus in second half of July
Vietnam posted a trade surplus of US$429 million in the second half of July after falling into deficit for several months before, said the General Department of Vietnam Customs. This improvement helped push down the trade deficit in all of July.
According to the department's data on import and export operations from July 16 to 31, the export sector brought in over US$9.41 billion, increasing by 14.1% compared to the first half of July. Import spending in the last two weeks of last month was over US$8.98 billion, up 6.5% against the first two weeks.
This led to a trade surplus of nearly US$430 million in the second half of July.
According to the General Department of Vietnam Customs, the country had a trade deficit of US$2.53 billion in the first seven months of this year, representing 2.2% of total export revenue.
January-July exports totaled over US$115.3 billion, up 18.8% over the same period last year. Meanwhile, imports in the period amounted to US$117.83 billion, up 23.6%.
At the Export Forum 2017 in HCMC on August 8, Nguyen Phu Hoa, deputy head of the Import-Export Department under the Ministry of Industry and Trade, forecast Vietnam's trade deficit could reach about US$5 billion in all of 2017, 2.5% of total export turnover.
Hoa said the country could obtain US$200 billion from exports this year, up 13% year-on-year, while its imports would reach an estimated US$205 billion, a 17% increase.
In 2016, the nation's trade deficit was US$2.7 billion.
Data of the General Department of Vietnam Customs shows the trade surplus in the second half of July was helped by higher export sales of some items. In particular, exports of machines, equipment, tools and other accessories surged 34.7%, or US$158 million, against July's first half. Exports of phones and phone parts, footwear, iron and steel grew 7.5% (or US$110 million), 18.4% (or US$110 million) and 139.3% (or US$108 million) respectively.
The sectors that reported strong declines in export value included shipping with a drop of 77.3% (US$42 million), and oil with a 36.1% fall (US$13 million).
In the final two weeks of July, imports of phones and phone parts shot up 30.7%, or US$159 million, against the month's first two weeks. Other commodities whose import rose included fuels with a 29.6% rise (or US$75 million), iron and steel with a 21% increase (or US$60 million), fertilizer with 113.6% (or US$54 million) and computers and electronic products with 3.8% (or US$54 million).
But imports of ordinary metals fell 20%, or US$50 million, and feedstuffs dipped 31.2%, or US$40 million. Imports of coal and minerals decreased 29.3% (or US$25 million) and 32.8% (or US$17 million) respectively.
Novaland steps up M&A game
In the first seven months of this year, along with developing new projects, Nova Real Estate Corporation (Novaland), one of the leading property developers in Vietnam also expanded its operations via mergers and acquisitions (M&A).
Novaland has decided to spend VND1.045 trillion ($45.8 million) acquiring 98.12 per cent of Thanh Nhon Real Estate Investment One Member Co., Ltd. After the purchase, Thanh Nhon Real Estate Investment One Member Co., Ltd will be converted to Thanh Nhon Real Estate Investment Co., Ltd.
A few days ago, Novaland sold a 99.88 per cent stake in its subsidiary Nova Galaxy Real Estate JSC to Vietnamese real estate developer Anpha Holdings. The deal's value was not disclosed. After the purchase, Anpha Holdings will take over Nova Galaxy's projects, especially its newest project, the apartment and shopping centre complex located in District 4, Ho Chi Minh City.
Earlier in April, Novaland completed the purchase of a 99.99 per cent stake in Gia Duc Real Estate Co., Ltd. for VND1.939 trillion ($85.01 million).
Novaland said the acquisition is meant to advance its plans to enlarge its land holding, which would help it achieve its targets for the next year.
By acquiring Gia Duc, Novaland will also get a stake in the Sunrise Bay project, a 181-hectare complex of urban area, amusement, and commercial centres in Hai Chau district of Danang. The developer is Sunrise Bay Company Ltd. Gia Duc owns a 19 per cent stake in the complex.
In the same month, Nguyen Nhu Pho, a shareholder of Novaland, sold 19.5 million shares to Credit Suisse AG's Singapore branch for VND1.4 trillion ($61.37 million).
Officially listed at the Ho Chi Minh City Stock Exchange in December 2016, after more than three months, Novaland's market capitalisation was nearly $2 billion and is now among the top ten biggest capitalised stocks of the whole market, not to mention being a particularly coveted eye-candy to foreign investors.
The group has been actively diversifying its financial structure for prudent capital management, such as this private placement to increase its chartered capital by 5.6 per cent from nearly VND6 trillion ($26.3 million) to VND6.3 trillion ($27.6 million).
Novaland now has a portfolio of more than 40 projects with different types of products, such as townhouses, office-tels and condotels, trading centres, land houses, and villas.
Aside from six projects completed and delivered as committed, in the first quarter of 2017, Lakeview City in District 2, Lucky Dragon in District 9, and Orchard Garden in Phu Nhuan district have been handed over to residents.
Free trade deal boosts Vietnam's petrol imports from Korea
Between January and July this year, Vietnamese firms imported around 1.72 million tons of petroleum from the Republic of Korea, marking a jump of 200% against the same period last year, latest data from Vietnam's customs showed.
free trade deal boosts vietnam's petrol imports from korea hinh 0 The surge of petroleum imports from the East Asian country comes after a free trade agreement between the Association of Southeast Asian Nations (ASEAN) and South Korea came into effect in early 2016, lowering the import tariff on gasoline from 20% to 10%.
Meanwhile, petrol imports from traditional market China, which face a 20 percent tariff, witnessed an on-year decrease of 18% to 600,000 tons.
In total, Vietnam imported 7.55 million tons of petroleum worth $3.9 billion so far this year, marking a 34.2 percent jump in value from the same period last year.
Singapore remains Vietnam's the biggest petroleum supplier with 3.06 million tons. Petrol imports from ASEAN countries made up nearly 70 percent of Vietnam's total imports.
Vietnam exported around 1.2 million tons of petroleum in the first seven months, down 2 percent compared to the same period last year, mostly to Cambodia, Laos and China
Chinese trade, investment key for Vietnam economic growth
Chinese investors and markets are becoming increasingly important to the Vietnam economy, most especially to the slowing manufacturing and declining crop production industries, say experts.
Crop production companies in Vietnam grow foodstuffs such as rice, sugarcane, coffee, tea, vegetables, melons, fruits and cashew nuts and employ about half of the country's population while manufacturing accounts for roughly 8% of employment.
Once the most important economic segment in the country, the output value of agriculture, was surpassed by both manufacturing and services in the early 1990s and has continued to wane ever since without too many bright spots.
The Chinese market has in large part laid out the welcoming mat for Vietnamese agriculture faced by troublesome food safety regulations and scrutiny elsewhere in more lucrative markets like the US, EU and Japan where language barriers compound their lack of ability to compete effectively at a profit.
Hardly a day goes by without another Vietnamese-China initiative being announced, say the experts, whether it's new investments, joint ventures, trade conferences or delegations.
In August this year, another Chinese delegation of some 100 businesses staged the 6th Zhejiang Export Fair in Hanoi exploring yet further opportunities for commercial trade and investment.
To Ngoc Son of the Ministry of Industry and Trade, said the Zhejiang Export Fair is one of the biggest annual trade fairs in the entire Southeast Asian region and represents a useful source for investment, especially in higher tech agriculture.
Mr Son, who is the assistant head of the Ministry Asia Pacific Department, noted that plans are underway for Vietnam to put on its first trade expo in the Chinese city of Hangzhou later this year as part of a concerted effort to raise the level of investment in Vietnam from China.
China has not been a big foreign direct investor in Vietnam in the past, said Nguyen Duc Thanh, director of the Institute for Economic & Policy Research. However, he noted that large chunks of the country's infrastructure projects – including ports, railway lines and tunnels – are being carried out by Chinese companies these days.
He added that Chinese machines and equipment are imported into Vietnam in massive quantities as well. Estimates are that as much as 80% of all engineering, procurement and construction contracts are filled by Chinese contractors.
The rise of China and its adoption of an outward looking policy of investments and cooperation could have as much of an impact on the Vietnamese domestic economy as did the massive capital influx into Vietnam from chiefly the ROK.
But in the high-tech sector, say the experts, the Chinese presence has not yet translated to the same enormous presence such as that of Samsung and LG Electronics as of now— but Vietnamese companies are fielding more and constant inquiries from Chinese local government and private investors.
When you start seeing Chinese names on the sides of buildings in Hanoi, Ho Chi Minh City and Danang, you'll know they have really arrived en masse. That's still a long way off but getting closer every day.
Improving productivity of smallholder coffee farms
A workshop on improving the operation of smallholder Vietnamese coffee farms sponsored by the IDH Sustainable Trade Initiative in collaboration with the Global Coffee Platform was held recently in the city of Da Lat.
The workshop affirmed the vital role of smallholders to the Vietnamese coffee segment and offered the 70 participants the opportunity to address the challenges and opportunities today's farmers and traders face.
Issues discussed at the event included the legal complexities involved in forming a coffee venture in Vietnam, new governmental policies and regulations on the horizon, alternative sources of short and long-term financing, broadening the coffee supply chain, and best sustainable practices.
IDH is supported by multiple European governments including institutional donors: BUZA, SECO and DANIDA and works together with over 500 companies, CSOs, financial institutions, producer organizations and governments in 11 economic segments in over 50 countries globally.
The organization focuses on driving sustainability from niche to norm in mainstream markets, delivering impact on Sustainable Development Goals, focusing on creating positive impact on deforestation, living incomes and living wages, working conditions, toxic loading and gender.
US catfish feeding program in Vietnam successful
US sorghum and corn imports to Vietnam may soon be on the uptick thanks to the successful results of a recently concluded catfish feeding trial funded by the US Grains Council.
For 2014, the last year accurate figures are available, Vietnam aquaculture produced an estimated 1.2 million tons of catfish, requiring an estimated 2.4 million tons of compound feed, traditionally produced from locally-available cassava.
However, the production of cassava in Vietnam has not kept pace with the growing demand for its use in aquaculture, swine and even the production of ethanol for use in fuels, resulting in both higher prices for cassava and shortages.
To test the viability of substituting sorghum or corn for cassava, the Council recently concluded in-country feeding trials, with support from the United Sorghum Checkoff Program, for Pangasius, a catfish species native to Southeast Asia that is sometimes called basa.
The trials were conducted at a private research farm in Vietnam and compared diets based on sorghum (20% inclusion rate), corn (10% inclusion rate) or cassava (15% inclusion rate).
The results of the trials reached the conclusion that both grains could efficiently and profitably be substituted for cassava as a source of starch for feeding Pangasius on Vietnamese catfish farms.
Results showed no difference between the sources of starch on growth performance, fillet colour or physical properties of feed pellets (density and floatability). Beyond starch, sorghum is also low in tannins and contains higher protein (more than 10% versus 2.5 percent) and amino acids (like corn) than cassava, particularly tryptophan and threonine.
The new data will bolster local efforts the Council is undertaking to promote corn and sorghum for new uses, like in aquaculture.
Both grains - sorghum and corn - can be used for feeding catfish, but limited research on doing so was previously unavailable, said Manuel Sanchez, USGC assistant director for South and Southeast Asia.
This report helps fill the gaps for more information about feeding sorghum and corn to Vietnamese catfish as a substitute for cassava.
Top 12 Vietnamese startups to share US$360,000 investment package
The Vietnam Innovative Startup Accelerator (VIISA) has selected 12 outstanding startup projects from 160 local candidates for a combined investment of US$360,000.
The chosen startups cover a wide range of fields, including artificial intelligence, hightech agriculture, communications and education, and will be given exclusive training by VIISA.
VIISA is an open ended fund working in partnership with major corporations BIDV, Dragon Capital, FPT and Hanwha Investment.
Following their training, each startup will receive $15,000 in cash and $15,000 worth of training courses, technical resources and office fees, as well as access to more than 100 investors all over the world to pursue their dreams.c
The most promising startup will also receive an additional $200,000 investment, according to VIISA.
"Vietnam is such a rapidly emerging country. Startups here have great opportunity to innovate their products and services," said Sangyeop Kang, investment manager at Hanwha Investment Group. "I look forward to boosting the startup climate in Vietnam."
Tran Huu Duc, general director of VIISA and director of FPT Ventures Fund said: "We want to help the startup community to get access to local and foreign investors and advisors and look forward to upgrading the startup ecosystem in Vietnam by creating big global companies."
12 startups to receive the investment:
Electricity output rises 7.3%
Viet Nam's power output in the first seven months of the year reached 112.6 billion kWh, a 7.3 per cent year-on-year rise, said the Electricity of Viet Nam (EVN).
EVN on Friday released a report on its operations in the seven month period, saying that commercial electricity production increased 8.55 per cent year-on-year to 98.1 billion kWh, with domestic supply increasing by 8.84 per cent over last year.
In July alone, commercial electricity production hit 15.1 billion kWh.
The group last month ensured power supply for the country's demand and also worked with the Central Steering Committee for Natural Disaster Prevention and Control and the Ministry of Agriculture and Rural Development in operating big reservoirs in the northern region and in flood discharge work at hydropower plants in Son La, Hoa Binh and Tuyen Quang provinces.
EVN has been active in tackling the aftermath of recent storms to provide power for affected localities including Nam Dinh, Ninh Binh, Thanh Hoa, Nghe An, Ha Tinh, Quang Binh and Quang Tri.
Power transmission from the north to the south was estimated at 15kWh, while the EVN brought two turbines into operation and connected them to the national power grid in July with total capacity of 675MW including expanded Thac Mo Hydropower (75MW) and Vinh Tan 4 Thermopower (600MW). The group has brought seven turbines into operation with total capacity of 1,235MW so far this year.
EVN forecast that power consumption this month could reach 573kWh a day.
The group plans to pilot turbine 1 of the Thai Binh Thermopower Plant and to bring Trung Son and Thac Mo hydropower plants into operation this month.
Dong Nai province prioritises hi-tech FDI projects
The southern province of Dong Nai has given priority to foreign direct investment (FDI) projects using advanced technologies and fewer workers in recent years, said Deputy Director of the provincial Department of Planning and Investment Nguyen Huu Nguyen.
Nguyen said Dong Nai has attracted 1,711 FDI projects worth 31 billion USD, 1,294 of them are valid with a total registered capital of 26.19 billion USD. As much as 18 billion USD has been disbursed so far.
Nearly 900,000 labourers are working at businesses in and outside industrial parks. Recently, many of the migrant labourers have moved to northern and central cities and provinces for work, making it hard for FDI firms in Dong Nai, especially those operating in the labour-intensive sectors such as apparel and footwear, to recruit enough workforce.
Since 2014, the German government has assisted Vietnam in vocational training via Bosch Technical Industrial Apprenticeship (TGA) training centre and LILAMA 2 vocational training college.
Mai Van Nhon, deputy head of the provincial management board for industrial parks, said technology transfer is one of the first and most crucial commitments of foreign investors when they seek to get licenses.
Dong Nai is now home to 6,400 workers who are foreign experts working in industrial parks, more than 1,000 of them are senior personnel, he said, adding that technology transfer is gradually underway with important positions being transferred to Vietnamese instead of foreign workers.
Economists commented that the selection of projects using technological advances to create high added value and use less workforce is an important transformation amid the booming industrial revolution 4.0.
Association proposes establishing sugar development fund
The Vietnam Sugarcane and Sugar Association (VSSA) has submitted a plan to relevant agencies for the establishment of a fund for sugar industry development.
The association said the fund is aimed at restructuring the sugar sector to increase its effectiveness and sustainable development.
According to the agriculture restructuring plan approved by the Government, sugarcane-growing area would be some 300,000ha, producing two million tonnes of sugar by 2020 and 2.6 million tonnes of sugar by 2030.
The sector is required to implement synchronous solutions from material production to sugar products to reach the set targets. It must renew technologies to increase average sugarcane productivity to more than 70 tonnes per hectare and sugar productivity to seven tonnes per hectare, and reduce production costs to less than 500,000 VND (22 USD) per tonne of sugarcane.
These would help sugarcane farmers earn some 40 million VND per hectare and bring the sugar price to less than 10,500 VND per kilo.
Plants will have to restructure their sugar products by reducing raw sugar and increasing refined products as well as promoting investment in alcohol, ethanol and micro-life fertilisers.
Ha Huu Phai, head of the VSSA's representative office in Hanoi, said the restructuring would need significant capital of hundreds of billions of dong, which would be supported by voluntary contributions of sugar farmers, plants and initial help from the Government. Therefore, the fund, which has also been implemented in Thailand and the Philippines, could resolve the capital issue, he said.
This is not the only sector proposing to establish a fund to support development. Earlier, associations proposed the establishment of funds for tra catfish and coffee development.
Huge potential for Vietnam's rice exports to Singapore
There remains considerable potential for Vietnam to export rice to Singapore, according to a Vietnamese delegation which visited Singapore in early August to seek ways to boost the shipment of agricultural products to this country.
The delegation included representatives from the Ministry of Industry and Trade, the Ministry of Agriculture and Rural Development, the Vietnam Food Association, along with eight leading rice exporting companies.
They had working sessions with relevant agencies of Singapore such as the Ministry of Trade and Industry (MTI), the International Enterprise Singapore (IES) and the Agri-Food and Veterinary Authority (AVA) to learn about the management policy, the export-import situation and the transit mechanism for rice in Singapore.
The Vietnamese delegation also met representatives of local biggest retail chains like NTUC Fair Price, Giant and Sheng Siong to set up relations and learn about ways to directly export Vietnamese goods to these supermarkets, instead of via foreign traders.
Le Xuan Minh, a representative of the Vietnam Northern Food Corporation, said they found that Singapore has great potential and demand for Vietnam's high-quality rice products, especially fragrant rice.
Meanwhile, the Singaporean side also highly evaluated the quality of Vietnamese agricultural products, noting that a large number of Vietnamese goods such as rice, aquatic products, fruits and vegetables are being sold at their supermarkets.
Vietnam is currently the third biggest rice exporter to Singapore, after India and Thailand, with 80,000-90,000 tonnes of rice worth nearly 80 million SGD each year, making up 20 percent of the local rice market.
Lim Hock Leng, Managing Director of Sheng Siong Group Ltd, said his firm has imported rice from Vietnam since 2010. Its supermarkets are also selling other Vietnamese products such as groceries, fruits and vegetables.
The Singaporean market relatively prefers Vietnamese rice, he stressed, adding that the sales of Vietnamese rice at the Sheng Siong markets have been on the rise. Vietnamese rice has competitive prices and high quality, he added.
According to Singaporean officials and business leaders, to export more rice to the country, Vietnam needs to build its own rice brands while ensuring quality and competitive prices.
They also affirmed their willingness to cooperate with the Vietnamese Ministry of Industry and Trade and Vietnam's trade office in Singapore to organise Vietnamese goods fairs or weeks at their supermarket chains.
EVN reports 7.3 percent rise in 7-month electricity output
The Electricity of Vietnam (EVN) said its total electricity output in January-July increased by 7.3 percent year on year to reach 112.6 billion kWh.
The amount of commercial electricity output in the period was estimated at 98.1 billion kWh, up 8.55 percent year on year, including 15.1 billion kWh in July.
In July, EVN ensured sufficient power supply for socio-economic development nationwide and private consumption.
The corporation has worked closely with the Central Steering Committee for Natural Disaster Prevention and Control and the Ministry of Agriculture and Rural Development in regulating water release from major reservoirs in the north to ensure safety for downstream areas.
The group's units have quickly resumed electricity supply for clients following natural disasters in Nam Dinh, Ninh Binh, Thanh Hoa, Nghe An, Ha Tinh, Quang Binh and Quang Tri provinces.
In July, EVN put two turbines with a combined capacity of 675 MW into operation at the expanded Thac Mo hydropower plant and the Vinh Tan 4 thermo power plant, bringing the number of operational turbine in the 7-month period to seven with a combined capacity of 1,235 MW.
The group started construction on 103 transmission works and completed 117 others to improve the capacity of the national grid.
According to EVN, the daily power consumption in August is estimated at 573 million kWh.
The group plans to put on trial run the first turbine of the Thai Binh thermo power plant, and complete the Trung Son hydropower plant and the expansion of the Thac Mo hydropower plant in the month.
Peco named sole Vietnamese maker of Tatsuno-branded fuel dispensers
The Petrolimex Equipment Joint Stock Company (Peco) has inked a comprehensive technical cooperation contract on petrol dispenser production with two Japanese partners, Tatsuno Corporation and Nomura Trading Co. Ltd.
Peco Director Hoang Van Canh said under the contract, his company is the only manufacturer of Tatsuno-branded petrol dispensing pumps, along with some other products, in Vietnam.
At the signing ceremony, the Japanese partners expressed their trust in Peco's technological level, its staff quality and the quality of Peco and Tatsuno-branded products which will be controlled completely under Japanese standards.
Tran Van Thinh, General Director of Petrolimex – the Vietnam National Petroleum Group, said he hopes the Japanese side will continue assisting its Vietnamese partner with new technologies to protect the environment and gradually modernise the group's petrol retail network.
Peco formed partnerships with the Japanese partners in the late 90s through a technical cooperation and technology transfer contract and the building of a fuel dispenser factory.
Peco has posted strong growth in its petrol dispenser sales, up to 1,200 units in 2016. It has also supplied dispensers to Petro Lao Co. Ltd and Petrolimex Laos and is set to expand the market to Cambodia and Myanmar in the near future.
Vietnamese firms visit Bangladesh to spur trade relations
A delegation of nearly 20 Vietnamese businesses in various sectors has visited Bangladesh to boost trade partnership with the South Asian nation in the first trip of its kind held by the Ministry of Industry and Trade in five years.
The Vietnamese Embassy in Bangladesh coordinated with the ministry and the two countries' chambers of commerce and industry to organise an investment and trade promotion workshop.
At the event, Bangladeshi Minister of Civil Aviation and Tourism Rashed Khan Menon pledged to coordinate with Vietnam to soon open a direct air route linking the two nations so as to enhance trade and tourism. He promised to provide the best possible conditions for Vietnamese firms to invest in potential industries of his country such as technology and tourism.
Minister of Commerce Tofail Ahmed called on Vietnamese enterprises to invest in Bangladesh and asked the Vietnamese Government to create favourable conditions for his country's pharmaceutical products to enter Vietnam.
Noting the progress in economic and trade ties, Vietnamese Ambassador to Bangladesh Tran Van Khoa said bilateral trade reached about 400 million USD in the first half of 2017, up 40 percent year on year.
He stressed to develop sustainable and win-win trade relations, businesses of both sides should diversify their export items, instead of depending on just few strong products like they have done so far.
Bangladesh is assessed as a potential market with a population of over 160 million, rapid economic growth and young and abundant workforce. It is considered a gateway for Vietnamese goods to enter other South Asian markets.
Meanwhile, it also has a number of potential commodities for export to Vietnam such as jute and jute products, ceramics and pharmaceuticals.
At the workshop, some Vietnamese firms also signed export contracts with Bangladeshi partners at a total value of 60,000 USD.
Aside from the event, the Vietnamese Embassy worked with the Federation of Bangladesh Chambers of Commerce and Industries to hold a meeting to listen to businesses' proposals and help address problems facing their activities.
During their stay, the Vietnamese delegation surveyed the Bangladesh market and visited automobile and motor maker Runner and electric and electronic device producer Rahimafrooz.
VNA/VNS/VOV/SGT/SGGP/TT/TN/Dantri/VNEVET