Domestic air carriers post huge profits in H1
Domestic airlines posted huge revenues and profits in the first half of 2017 following a 19.5% year-on-year growth of the aviation market with the number of air passengers reaching 30.3 million, according to the Civil Aviation Administration of Vietnam (CAAV).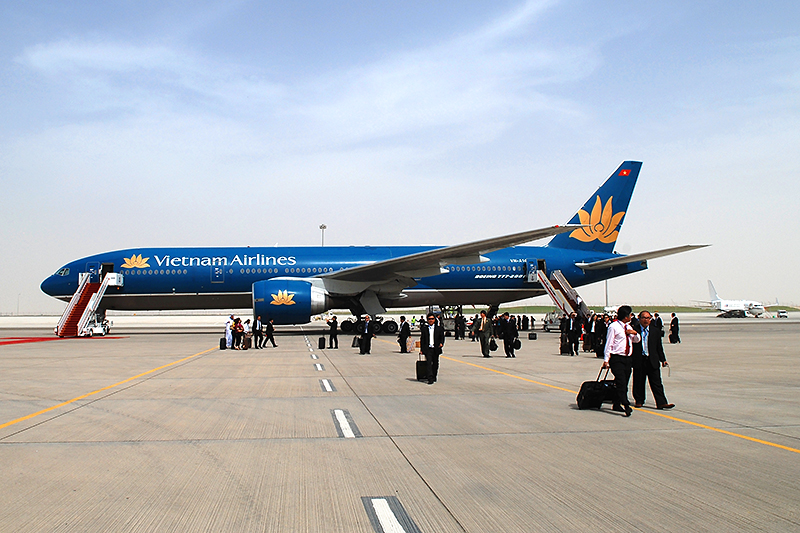 There are currently 63 foreign airlines from 25 countries and territories operating international flights to and from Vietnam.
On the domestic market, four domestic airlines namely Vietnam Airlines, Vietjet Air, Jetstar Pacific Airlines and VASCO are operating 52 domestic air routes connecting Hanoi, Danang and HCMC with 18 local airports. Local and foreign carriers also have conducted chartered flights to Can Tho, Dalat and Vinh among others.
Vietnam Airlines and Vietjet Air, two domestic largest airlines, both posted huge revenues and profits in the year's first half.
Vietjet's business report for the first six months of 2017 released last week shows that both revenue and profit of the airline far exceeded the plan.
In particular, Vietjet posted revenue of over VND10.7 trillion (nearly US$472 million), up 45.1% compared to the same period last year, and reaching 108% of the six-month plan. Its pre-tax profit amounted to nearly VND1.1 trillion, up 46% year-on-year.
Vietjet is operating 73 domestic and international air routes. The number of people flying with Vietjet in January-June totaled 8.27 million, a rise of 22.4% year-on-year.
Meanwhile, the national flag carrier Vietnam Airlines served nearly 10.3 million air passengers in the first six months of 2017, increasing by 6% compared to the same period last year.
The airline's revenue totaled nearly VND43 trillion, up 18% year-on-year, and pre-tax profit was estimated at VND830 billion, 51% of the year's plan.
As of mid-2017, Vietnam Airlines had a fleet of 11 Boeing 787-9 and seven A350 aircraft.
The growth of the domestic aviation market is forecast to slow down in the coming time but double-digit growth will be achievable.
However, the business performance of the airlines may be affected when the country's biggest airports, Noi Bai and Tan Son Nhat, are partially closed for repair and upgrade by the end of this year.