PM visits Vietnam's pavilion at Food & Hotel Asia 2018 in Singapore
Prime Minister Nguyen Xuan Phuc visits the Vietnamese section at the Food & Hotel Asia trade show.
Prime Minister Nguyen Xuan Phuc visited the Vietnam Food Pavilion at the Food & Hotel Asia (FHA) 2018 in Singapore on April 26.
More than 4,000 enterprises from 70 nations and territories are participating in the biennial event, the biggest international food and hospitality trade event in Asia.
This is the first time Vietnam has set up a booth on an area of nearly 200 square metres, featuring Vietnamese food.
Apart from introducing businesses which have trade activities abroad like TH True Milk and Trung Nguyen, this year, Vietnam prioritised promoting small-and medium-sized enterprises and start-up companies in processed farm produce such as coffee, cacao, cashew nuts, fruits, rice and seafood.
TH True Milk, one of the biggest dairy producers in Vietnam, took this occasion to introduce its products.
From 2015, the company's products were sold in China, Cambodia, the Philippines and other nations.
The same day, Prime Minister Nguyen Xuan Phuc and a high-level Vietnamese delegation laid flower wreaths at the statue of late President Ho Chi Minh in the campus of the Asian Civilisations Museum.
PM attends VN-Singapore Business Forum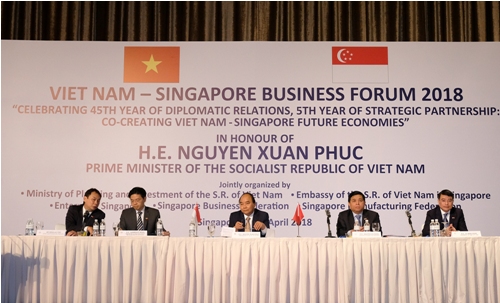 PM Nguyen Xuan Phuc attends the Viet Nam-Singapore Business Forum, April 26, 2018
Viet Nam welcomes more Singaporean investment and expects to learn start-up experience from Singaporean partners, affirmed PM Nguyen Xuan Phuc at the Viet Nam-Singapore Business Forum on April 26 within his official visit to Singapore from April 25-27.
Speaking at the forum, the PM highlighted that Singapore poured more than US$43 billion in nearly 2,000 projects in Viet Nam. In 2017, the two-way trade value reached US$8.3 billion.
Viet Nam has invested in 93 projects in Singapore, with the total capital investment of US$235 million.
In 2017, 280,000 Singaporeans visited Viet Nam and around 400,000 Vietnamese travelled to Singapore. Currently, around 10,000 Vietnamese students are studying in Singapore.
These active achievements have helped the nation be determined to establishing a Government of integrity and creativity serving the people and businesses, striving to improve the improve the business environment to be listed among top ASEAN countries and heading to standards of the Organization for Economic Co-operation and Development (OECD), he said.
The nation heads to reduce business expenditures, especially expenditures on administrative procedures and logistics, improve the growth quality based on capacity and renovation as well as take advantages of the fourth industrial revolution and harmoniously connect the State sector with foreign-invested one for a more sustainable development and higher economic growth, the PM asserted.
PM Phuc stressed that Viet Nam now has 52 million people getting access to the Internet, accounting for 54% of the total population and ranking fifth in the Asia-Pacific region and around 55% of Viet Nam's population are using smart phones, supposing that these help investors to bring their products and services to the huge number of customers in Viet Nam.
Viet Nam encourages investment funds to provide sponsors for start-up enterprises and enhancing creativity, he asserted.
The Vietnamese Government commits to supporting and facilitating start-up initiatives, protecting intellectual property rights within the framework of the Intellectual Property Law and realizing commitments on intellectual property rights within Free Trade Agreements the nation has joined, PM Phuc added.
The Vietnamese leader expected that the forum will open more cooperative opportunities for the two nations' businesses for the comprehensive development of both sides and the region.
Singaporean Minister for National Development Lawrence Wong expressed his hope that through the forum, the two sides will strengthen connection to seek for partners, bringing benefits for both.
At the forum, PM Phuc witnessed the exchange of 16 memorandums of understanding and cooperative documents.
The forum, jointly organized by the Vietnamese Ministry of Planning and Investment, Vietnamese Embassy in Singapore, Singapore Business Association and Singapore Manufacturing Federation, attracted the participation of more than 700 delegates from the two nations' large corporations.
French Communist Party leader welcomed in HCM City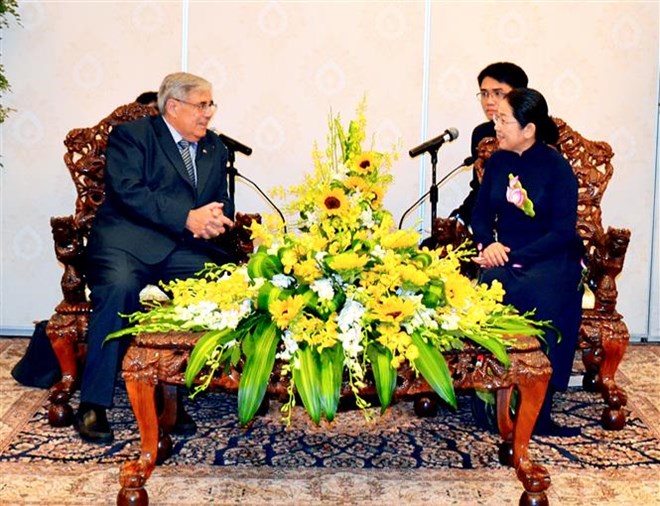 Vice Secretary of the Ho Chi Minh City Party Committee Vo Thi Dung (R) received Jean Charles Negre, Politburo member and former standing member of the French Communist Party (PCF) Secretariat on April 26
Vice Secretary of the Ho Chi Minh City Party Committee Vo Thi Dung on April 26 received Jean Charles Negre, Politburo member and former standing member of the French Communist Party (PCF) Secretariat, who is visiting the city.
The municipal official said that the cooperation and friendship between Vietnam and France have seen strong development, especially after the establishment of the Strategic Partnership in 2013.
As the two countries celebrate the 45th anniversary of their diplomatic ties and the fifth year of the Strategic Partnership, the recent visit by General Secretary of the Communist Party of Vietnam (CPV) Central Committee Nguyen Phu Trong to France has enhanced relations between the two countries and communist parties in particular, Dung added.
While informing her guest that HCM City has developed cooperation with many French localities, including Lyon city, she expressed her hope that Jean Charles Negre will create favourable conditions to foster the city's relationship with French localities.
In reply, Jean Charles Negre stressed that France always wishes to bolster cooperation with Vietnam for the sake of people of the two countries.
He also suggested the CPV and the PCF hold more cooperation activities in the coming time in a bid to raise their position in each country's social development.
ASEAN countries seek to foster mutual legal assistance in criminal matters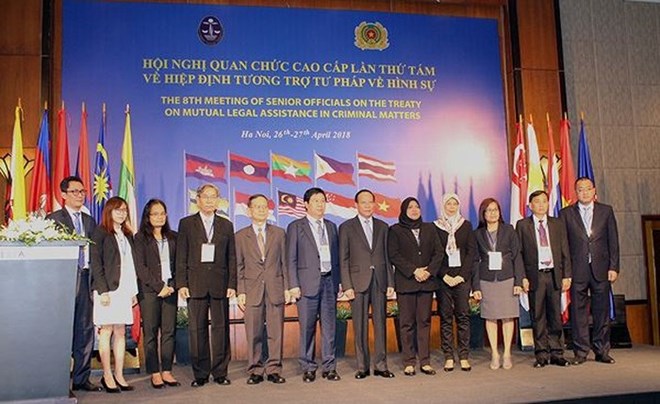 Participants at the meeting (Source: anninhthudo.vn)
The eight meeting of the senior officials of the agreement on mutual legal assistance in criminal affairs among ASEAN countries opened in Hanoi on April 26.
This is the second meeting hosted by the Ministry of Public Security of Vietnam and the first one organised since the formation of the ASEAN Community on December 31, 2015.
Addressing the two-day event, Deputy Minister of Public Security Le Quy Vuong highly valued the outcomes of the agreement in particular and activities on legal assistance in criminal matters among ASEAN countries in general.
However, he pointed to a number of difficulties in the implementation of the agreement, including a narrow scale of the treaty, while the agreement has yet to be recognised as an official document of the ASEAN.
Vuong said that he hopes participants will share information as well as scientific and realistic issues of their country, thus recognising difficulties and problems in the implementation of the agreement and seek adequate solutions.
Participants were delivered with reports of 10 ASEAN countries on the results of the agreement after the seventh meeting in 2014. They discussed ways to enhance the role of central agencies in strengthening the enforcement of the deal as well as issues related to the approval and implementation of the deal.
International experts at the event shared their experience in various maters, including gathering electronic evidence of the US, and evaluation of the UNODC on existing and emerging challenges.
They are scheduled to discuss the upgrade of the agreement into an official document of ASEAN as well as Kazakhstan's request for joining the agreement, as well as time and venue for the next meeting.
Vietnam's hosting of the event showed the country's willingness to cooperate with other ASEAN countries in mutual legal assistance in criminal matters.
Singaporean media spotlights Vietnamese PM's visit
Vietnam's PM Nguyen Xuan Phuc (L) shakes hands with his Singaporean counterpart Lee Hsien Loong ahead of their meeting at the Istana in Singapore on April 25, 2018
Singaporean newspapers have ran articles highlighting the ongoing official visit to Singapore by Prime Minister Nguyen Xuan Phuc from March 25-27, and specific outcomes reached during talks between the two countries' Prime Ministers.
Straits Times, Singapore's leading daily newspaper published in English, said Singapore and Vietnam signed many agreements to strengthen bilateral ties on environmental protection, banking supervision, fintech, renewable energy, liquefied natural gas (LNG) and trade rules.
According to the article, Singaporean Prime Minister Lee Hsien Loong and his visiting counterpart Nguyen Xuan Phuc toasted the close partnership between their countries, which celebrate 45 years of diplomatic ties this year, at an official dinner at the Istana on April 25's night.
It quoted PM Lee as saying that Hanoi, Ho Chi Minh City and Da Nang of Vietnam will be part of a network of smart cities of ASEAN being proposed by Singapore.
More details on the network, which aims to better connect digital infrastructure and services like e-payments across the region, will be announced at the 32nd ASEAN Summit from April 27-28.
Meanwhile, an article on Singapore's Channel News Asia online newspaper highlighted that the signing of six agreements between Vietnam and Singapore is an important result in the first official visit of PM Phuc to Singapore since he took office.
"One of the agreements will see the two countries collaborate on LNG development in Vietnam, which entails the exchange of information, sharing of best practices and building of technical capacity between the private and public sectors of both countries. This will enable Singapore companies to better understand the needs of the LNG sector in Vietnam and seize more partnership opportunities", the article said.
At the same time, the agreement on financial innovation will facilitate joint projects between the two countries, help FinTech companies in one jurisdiction better understand the regulatory regime and opportunities in the other, as well as encourage the sharing of information on emerging FinTech trends and developments, it added.
Channel News Asia also mentioned the talks between the two PMs, during which both leaders said that extensive investment and trade ties form a key pillar of Singapore-Vietnam relations, and agreed that measures such as enforcing regulations as well as strengthening business-to-business links were important in creating a pro-business environment.
The newspaper quoted PM Lee as saying that the partnership between Vietnam and Singapore goes beyond economic cooperation as the two sides are working closely on sustainable development.
HCM City hopes for Ukraine's engagement in urban development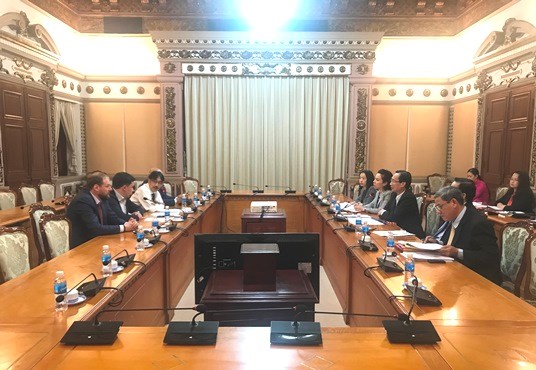 Scene at the meeting (Photo: hochiminhcity.gov.vn)
Ho Chi Minh City welcomes foreign businesses, including those from Ukraine, to engage in the city's urban building and development, said a municipal official.
At a reception for visiting Ukrainian Deputy Minister of Infrastructure Viktor Dovgan on April 26, Permanent Vice Chairman of the HCM City People's Committee Le Thanh Liem expressed his wish to step up collaboration with Ukrainian scientists and businesses in areas such as infrastructure building, information technology and environmental pollution treatment.
He stressed the visit by Viktor Dovgan will create good opportunities for HCM City and Ukraine to further enhance their cooperation in the time ahead.
For his part, the Ukrainian guest said that HCM City and his country hold great potential for stronger connections in various fields, especially economy, trade and investment.
Ukraine wishes to strengthen cooperation with HCM City, particularly in areas of shared concern such as wharf and metro system construction, and opening of direct air routes between the two sides.
Two-way trade between HCM City and Ukraine reached 40 million USD in 2017. The European country now has six projects in Vietnam's southern city with a total investment capital of 17 million USD.
Vietnam's role in ASEAN-Russia relations highlighted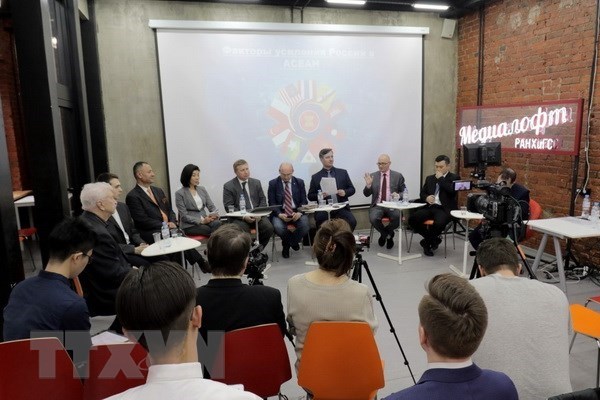 A seminar on Russia's integration in ASEAN was held in Moscow on April 25 on the occasion of the ongoing 32nd ASEAN Summit in Singapore, during which participants highlighted Vietnam's role in ASEAN-Russia ties.
Many reports affirmed Vietnam is a leading factor in ASEAN in the fields of politics, economy, and culture, thus pushing development in the region.
In his speech, head of the expert council of the Eurasian Ideas Foundation (EIF) Grigory Trofimchuk, said Vietnam, the only ASEAN member country signing the free trade agreement (FTA) with the Eurasian Economic Union (EAEU), will be an important bridge helping Russia connect with other ASEAN nations.
Meanwhile, Akiko Sato from a Japanese company in Moscow proposed implementing a series of joint tripartite projects between Russia-Japan-Vietnam in Vietnam – a potential market with economic growth of 6-7 percent.
Vietnam is working to gradually replace traditional energy sources with alternative others, she said, adding this will create new momentum for development of industries in the country.
Participants to event also discussed and gave assessments on cooperation between Russia and ASEAN member countries, while focusing their analysis on the efficiency of Russia's "Look East" policy; the role played by Asian economic projects for the global economic development; and issues related to digital economy, technology, investment and innovation in ASEAN member states.
Attendees agreed that the ASEAN-Russia Dialogue Partnership is a typical model for the sustainable and effective cooperation at the international level, and a model for other cooperative relations in the world.
Russia needs to promote its "Look East" policy and pay more attention to initiatives of ASEAN member countries, especially Vietnam, they said.
The seminar was jointly held by the Russian Presidential Academy of National Economy and Public Administration and the EIF.
Deputy PM asks for drastic measures to ensure aviation security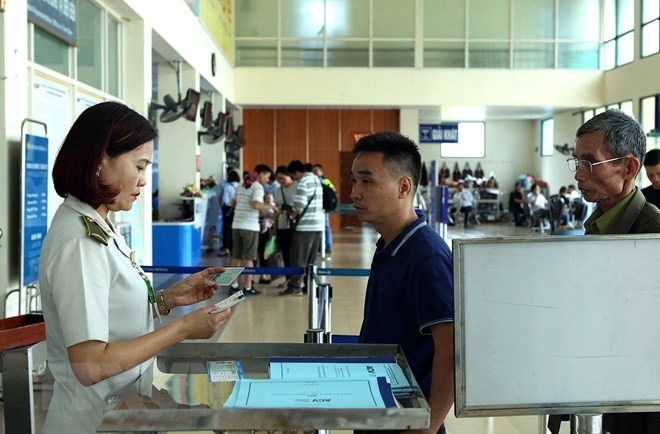 Security check at Dien Bien Airport
Deputy Prime Minister Truong Hoa Binh has asked for drastic measures to promptly handle problems and risks threatening aviation security while presiding over a recent meeting of the National Civil Aviation Security Committee in Hanoi.
The Deputy PM noted that in 2017, with joint efforts of the Government, the National Civil Aviation Security Committee and relevant ministries, sectors and locality, aviation security and safety was ensured, contributing to making Vietnam a safe and attractive destination to foreign tourists and investors.
Currently, ensuring aviation security and safety is a task of significant importance, he told the meeting held on April 24 to review the committee's operation in 2017 and set fourth tasks of 2018.
In 2018, the Ministry of Public Security should consult the Government and the Prime Minister on building and completing a legal corridor to implement the Anti-Terrorism Law 2013, while warning the aviation sector of terrorist and criminal schemes and methods in a timely manner, he said.
He urged the public security force of localities having airports and aviation works to complete their steering committees on anti-terrorism. He requested for close coordination of relevant agencies in ensuring aviation security and safety as well as strict punishments on violations.
He also asked the Ministry of Transport to continue reviewing and completing legal documents on aviation security and safety, along with regulations on necessary equipment to cope with illegal interference into civil aviation activities. A security camera system should be installed in all airports, he added.
According to Deputy Minister of Transportation Le Dinh Tho, last year, the committee held a national rehearsal on aviation emergency in Cam Ranh, the central province of Khanh Hoa. Agencies promoted close coordination to ensure all flights of senior leaders of the Party and State abroad and foreign leaders to Vietnam, as well as foreign leaders and high-ranking delegations to Vietnam, including those serving the APEC Economic Leaders' Week in the central city of Da Nang.
However, Tho also pointed to a number of shortcomings of the sector, including weak performance of some aviation security workers, and a lack of adequate equipment for anti-terrorism in some airports.
Deputy Minister of Public Security Bui Van Nam proposed higher financial investment in aviation security and the strengthening of advanced technology in the work, while improving the quality of aviation security staff by providing more training and equipment and raising the awareness of the staff on the importance of aviation security in the current situation.