Medical equipment corporation equitisation plan endorsed
The Prime Minister has recently approved the equitisation plan of the Vietnam Medical Equipment Corporation (Vinamed), which has a total chartered capital of 88 billion VND (3.9 million USD).
The plan allows the corporation to launch its initial public offering of 8.8 million shares for 10,000 VND each.
The State will hold 1.76 million shares, accounting for 20 percent of the company's chartered capital.
As many as 17,200 shares will be sold at preferential prices to Vinamed employees, or 0.2 percent of the chartered capital.
Strategic investors will seize 39.77 percent of the total capital by owning 3.5 million shares. The remaining shares will be offered to other investors.
The Prime Minister asked the Minister of Health to guide Vinamed to carry out the initial public offering, which will come under the hammer at the stock exchanges.
A total of 109 state-owned enterprises (SOEs) have completed equitisation as of the end of September. The set target is to equitise 289 SOEs this year, which means 180 more should complete the process by the year's end.
As of September 28, total State capital divestment was estimated at nearly 8.7 trillion VND (388.5 million USD), of which 2.69 trillion VND (120.1 million USD) was divested from real estate sector and 1.36 trillion VND (60.7 million USD) from insurance, security and finance-banking sectors.
Vietnam attends Cambodian import-export exhibition
Vietnamese food, confectionary, household appliances, electronic products and steel are being showcased at 20 booths at the 10th Cambodia Import- Export & One Province One Product Exhibition (CIE &OPOP).
The exhibition in Phnom Penh from December 15-18 also drew the participation of enterprises from Cambodia, China, Indonesia, Japan, Myanmar, and Thailand, who bring to the fair such popular consumer products as garments, mechanical products, fine art handicrafts, food and beverage.
The event looks to enable trade promotion activities, partnership establishment and export market expansion.
Sharing the borderline as well as similarities in culture and society, Vietnam and Cambodia are striving for $5 billion in bilateral trade in the near future.
Over the past three years, two-way trade hit 3.4 billion USD per year, posting a growth of 5.8 percent on average.
Vietnam's rice export surpasses yearly target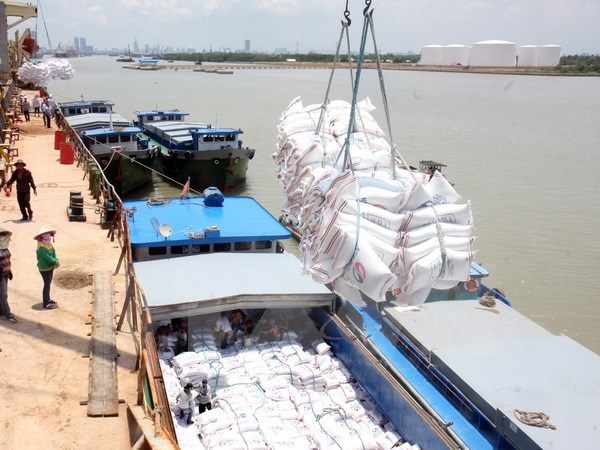 Vietnam's rice exports are likely to exceed the target set for 2015 by 200,000 -300,000 tonnes, hitting around 6.5 million tonnes for the year.
A strong end to the year has been attributed to the sector's success.
According to the Vietnam Food Association, the country had shipped 5.807 million tonnes of rice as of November this year, and the figure for December is forecast to reach about 700,000 tonnes.
Additionally, rice exported through unofficial channels – across borders - is estimated at 1,6-1.8 million tonnes, which is expected to lift the yearly exports through both official and unofficial channels to about 8 million tonnes.
Vietnamese rice exporters have recently won bids to supply 450,000 tonnes of rice to the Philippines and one million tonnes of rice to Indonesia, helping raise the price of rice in the domestic market.
Vietnam has around 4.1 million hectares of rice paddies, 53 percent of which are concentrated across the Mekong Delta.
In 2014, the country exported 6.3 million tonnes of the 45 million tonnes it produced, making it the world's third largest rice exporter after India and Thailand.
In the first ten months of this year, Asia maintained its position as Vietnam's biggest rice importer, despite an annual decline of 11.2 percent in the market share to 71.58 percent. Africa, Australia, and Europe showed greater demand for Vietnamese rice with higher imports recorded during the period.
Cement sales drop overseas, increase at home
Despite cement exports forecast to be lower than that of 2014, a supply-and-demand balance would be maintained thanks to increasing domestic demand.
According to the Ministry of Construction's Department of Building Materials, the volume of cement sold this year was expected to hit 72 million tonnes, including 55.5 million tonnes consumed domestically.
As such, domestic sales would increase some 4 percent compared to the yearly goal and approximately 9 percent from 2014.
In contrast, cement exports were calculated at 16.5 million tonnes for the entire year, down 19 percent year on year. The export prices have been hovered around 37 USD per tonnes, compared to between 40 and 42 USD recorded last year.
The balance between supply and demand is attributable to adjustments to production and development plans made during the sector recession in 2012 and 2013, said Head of the department Le Van Toi.
The changes scaled down the local production capacity to approximately 81.56 million tonnes per year with 76 working assembly lines, which have since utilised 95 percent of their maximum capacity.
In 2016, demand for the commodity was projected to reach between 75 and 77 million tonnes, increasing up to 7 percent from 2015, with domestic consumption expected to hit 60 million tonnes.
Dong Nai's trade surplus to hit 1.5 billion USD this year
The southern province of Dong Nai is likely to record a trade surplus of 1.5 billion USD this year, according to the provincial Department of Industry and Trade.
The province's export turnover is estimated to reach over 14 billion USD this year.
In the first 11 months of this year, trade surplus reached 1.3 billion USD, the highest level so far and up three times higher than that of the same period last year.
In November alone, Dong Nai earned 1.27 billion USD from exports and recorded 220 million USD in trade surplus.
Key export products seeing trade surplus were footwear, wooden products, garments, electronics and spare parts.
According to the provincial Statistics Department, exports of agro-fishery products reached over 1 billion USD in the January-November period, accounting for 8 percent of the total export turnover.
Companies plan big dividend payments by year-end
Many companies have declared over hundreds of billions of Vietnamese dong to pay dividends in the next two months.
PetroVietnam Fertilizer & Chemicals Corp (DPM) is the biggest spender. It planned to spend 950 billion VND (42.4 million USD) to make the first 2015 dividend payment at the rate of 25 percent in form of cash, the company announced recently.
The fertiliser producer posted a net profit of almost 1.2 trillion VND (53.3 million USD) in the first nine months of this year, a rise of 25.5 percent year-on-year.
Big payers also include two largest companies by market capitalisation on the HCM Stock Exchange, steelmaker Hoa Sen Group (HSG) and seafood exporter Hung Vuong Corp (HVG).
Hung Vuong Corp will issue 37.84 million shares worth 378.4 billion VND (16.9 million USD) to pay dividend of this year at the rate of 20 percent. Its nine-month earnings were not positive, however, when the net profit reached just 64.4 billion VND (2.9 million USD), down 81.3 percent from the same period of last year.
Meanwhile, Hoa Sen Group plans an additional issue of 30.2 million shares worth 302 billion VND (13.5 million USD) to pay the second tranche of the 2013-2014 dividend, equivalent to a 30-per-cent rate. The first tranche of the dividend pay-out was made in July at a rate of 10 percent.
Steelmaker Hoa Sen Group (HSG), one of the top 30 companies by market capitalisation on the HCM Stock Exchange, is the biggest spender.
The group plans to issue 30.2 million shares worth 302 billion VND (13.5 million USD) to pay the second tranche of the 2013-14 dividend, equivalent to a 30-per-cent rate. The first tranche of the dividend pay-out was made in July at a rate of 10 percent.
After this issuance, its charter capital will increase from over 1 trillion VND (44.6 million USD) to 1.31 trillion VND (58.5 million USD).
Hoa Sen Group's fiscal year begins on October 1 and ends on September 30 in the following year. For the 2013-14 fiscal year, it reported a net profit of 410.3 billion VND (18.3 million USD) and the cumulative amount of undistributed profits reached 979 billion VND (43.7 million USD).
Rubber companies are also generous payers.
Da Nang Rubber Co (DRC) is planning a 15-per-cent cash dividend scheme worth 137 billion VND (6.1 million USD) by the end of this year and Phuoc Hoa Rubber Co (PHR) will spend about 110 billion VND (4.9 million USD) to pay shareholders a dividend rate of 15 percent, expected on December 16.
However, their business results are mixed. Da Nang Rubber earned 370 billion VND (16.5 million USD) in after-tax profit in the first nine months of this year, up 16 percent year-on-year, while earnings of Phuoc Hoa Rubber declined 53 percent to just 70 billion VND (3.1 million USD) ending September.
Tien Phong Plastic Co (NTP), one of the top 10 biggest firms on the Hanoi Stock Exchange, will also set aside 93 billion VND (4.1 million USD) to pay the first stage of the 2015 dividend at the rate of 15 percent.
The pay-out will probably be made in January 2016.
The plastic company posted positive earnings in the third quarter with a net profit of 85.8 billion VND (3.8 million USD), up 22 percent year-on-year. Ending September, it collected 250 billion VND (11.2 million USD) in net profit while the cumulative undistributed profits by September 30 reached 332 billion VND (14.8 million USD).
Other companies have declared a smaller dividend payment, ranging between 60 billion VND (2.7 million USD) and 87 billion VND (3.9 million USD), such as Binh Chanh Construction Investment Co (BCI), Bien Hoa Sugar Co (BHS), Tu Liem Urban Development Co (NTL) and An Giang Fisheries Import Export Co (AGF).
MARD plans preferential farming loans
Farm owners will soon be able to borrow more capital to invest in their businesses, said Le Duc Thinh, Deputy Director of the Economic Co-operation and Rural Development Department under the Ministry of Agriculture and Rural Development (MARD).
"This is a remarkable policy in the draft decision of the Prime Minister to encourage the development of the farming sector," Thinh told Nong Thon Ngay Nay (Countryside Today) newspaper.
According to the draft decision, farming households will be loaned up to 10 billion VND (454,000 USD) and may also receive support with environmental investment, trade promotion, science and technology, farm restructuring and other assistance.
It is expected that the final decision will be issued this year.
According to head of the provincial Rural Development Department, Nguyen Van Toan, the farmers still face difficulties in accessing bank loans and that even when they do, the funds are not large enough, affecting their production.
Similarly in Hanoi, farmers' demand for animal husbandry certificates is high but only 247 out of over 3,180 farming households have been granted these certificates, reports Countryside Today.
Many reasons are cited for the poor progress of certificate issuance, one significant one being the lack of cooperation between district and commune procedures.
Farmers' knowledge of the certificate requirements is also lacking, causing delays.
Farmers are required to have land use certificates or land leases for farming, but many farmers lack land use certificates, said the report.
The ministry has many supportive policies for agriculture development, but, as of yet, there are no specific policies to support farms.
This draft decision, once officially passed, will be the first development and support policy to target farming households.
Agribank joins Eurogiro global payment network
The Vietnam Bank for Agriculture and Rural Development (Agribank) has become Vietnam's first bank joining Eurogiro, which provides global remittance services.
Agribank now has right to perform international payments and remittance services through the Eurogiro system, which is connected with nearly 660,000 transaction offices of Eurogiro's members in countries where Vietnamese people are living.
It enables Vietnamese people to conduct transactions in any time and at any place with various forms. They are provided with rapid, safe and effective remittance services through the Erogiro systems in their host countries.
International payments and remittance services are strongly developing in Asia. Vietnam, one of the top ten destinations of remittances, is viewed as a promising land for these services.
Agribank, a state-owned corporation, was established in 1988. It is now the largest commercial bank in Vietnam in terms of assets, capital, branch network, staff and customer.
Eurogiro is a unique payment network that connects different payments "ecosystems", e.g. postal organisations, post banks, commercial banks and other payment service providers, focusing on cross border high volume - low value payments.
The union facilitates its members' cooperation in the field of international payments and offers efficient solutions supporting their offering to clients. Thereby, Eurogiro helps increasing the business of its members.
Canada – Vietnam trade surges in first nine months
The Canada – Vietnam two-way trade increased sharply in the first nine months of this year, reaching 2.8 billion USD, according to Canada's statistics agency.
Vietnam's exports to Canada in the period were valued at 2.399 billion USD, a 31.4-percent increase year on year, while Canada exported 416 million USD worth of goods to Vietnam, up 41.2 percent.
Vietnam's key export goods are wooden products, clothing, footwear, seafood, printers, electric cables, telephones, telecom equipment, coffee, cashew, transport vehicles and spare parts, rubber, plastic products, vegetables and fruits.
Canada ships to Vietnam fertiliser, seafood, soybean, wheat, iron and steel products, diamond, animal leather, machinery, artificial rubber, plastic materials, pharmaceuticals, beef, milk products, zinc and zinc alloy, nickel and aluminium.
Agricultural value chain development needed in Mekong Delta
Developing the agricultural value chain in the Mekong Delta was focus of the national policy dialogue forum held in Hanoi on December 14.
Deputy Minister of Trade and Industry Tran Quoc Khanh highlighted agriculture's important role in growth to solve domestic and foreign consumers' increasing demand on hygiene and high-quality food. The Mekong Delta is a potential area for agricultural development in terms of output and added value.
In the region, agriculture attracts between 32 percent and 70 percent of workforce, but contributes just between 11 percent and 30 percent of the gross domestic product (GDP).
The contribution could be higher if there is better connection between the producer and local and international markets, which require agro products with better quality.
Professor Sisira Jayasurya, Director of the Centre for Development Economics and Sustainability, said Vietnam needs to create support policies on building infrastructure to maximise the benefit of the connection between farmers and enterprises.
Vietnam also needs to improve the quality and competitiveness of agro-products, said Jayasurya.
Vo Tri Thanh, Head of the Central Institute for Economic Management (CIEM), said a new agriculture needs three factors: the scale advantage to attract capital and technology; links with all relevant parties in the production and supply chain; and suitability for social, cultural, regional and lifestyle characteristics.
At the forum, participants recommended three solutions for the Mekong Delta to have a high-value, sustainable agriculture, namely prioritising infrastructure development, enhancing agricultural supply chain and empowering small-scale producers.
Breeding industry needs to rely more on technologies
Breeding industry in Vietnam should capitalize on science and technologies to achieve sustainable development and improve productivity and competitiveness.
Hoang Thanh Van, head of the Animal Breeding Department at the Ministry of Agriculture and Rural Development, made a remark at a ceremony on December 15 in which the breeding sector marked its 10th founding anniversary and received Third Class Labour Order.
The upcoming Trans-Pacific Partnership (TPP) agreement as well as free trade agreements (FTAs) will pose new challenges to local breeders and food businesses as more international rivals will enter the country, Van said.
He suggested the sector to establish breeding cooperatives that facilitate the closed-loop production chain from farm to fork.
According to deputy head of the Animal Breeding Department Nguyen Xuan Duong, the industry has developed remarkably over the past 10 years to satisfy rising domestic demand.
The entire sector grew 3-5 percent annually from 2011-2015. Fresh milk output recorded the highest growth rate of 22.1 percent during the period, followed by poultry meats (10.07 percent), eggs (7.56 percent) and pork (2.72 percent), Duong added.
It was estimated to earn approximately 205.4 trillion VND (9.1 billion USD) by the end of this year, he noted.
However, the small-scale pig breeding households who raised less than 10 pig heads represented 86.4 percent out of 4.1 million households but only produced 34.2 percent of the total output.
Out of 8 million small-scaled poultry farms in the country, those breed less than 100 individuals accounted for 89.62 percent but only contributed 30 percent to the total output.
The rampant small-scale production has limited the application of technologies at the farms while activities to control epidemics and food safety have remained inefficient.
Hundreds of needy elders get free health check-ups
The Ministry of Health (MoH) along with the Korea Workers' Compensation & Welfare Service (KCOMWEL) and Hong Ngoc General Hospital provided free health check-ups and medicines for 200 poor patients, including old people, in Hanoi's Phuc Tho district on December 15.
Director of Hong Ngoc General Hospital Cao Doc Lap said the charitable activity aims to help needy patients gain access to international medical equipment.
He revealed that the hospital will continue to coordinate with leading experts from the US to conduct the 4th surgery for children with congenital deformities.
The examination is in response to the national action month on population and Vietnam 's Population Day (December 26) themed "Community join hands to take care of the elderly".
On December 16, the MoH and KCOMWEL will hold a workshop to share information in medical technology as part of the project supporting the development of health sector in Asian countries.
The panels are expected to share strategic cooperation opportunities between Vietnamese and Korean hospitals in improving public healthcare services.
According to the United Nations, Vietnam is the 13th most populous in the world and eighth in Asia , with rapid aging population. The ratio of old people increased quickly to 10.5 percent in 2013 from 7.1 percent in 1989.
The country has entered the aging period since 2011, six years quicker than estimated. It might take about 20 years for Vietnam to transfer from an aging population to an aged one.
Deputy Health Minister Pham Le Tuan said the number of people aged above 60 years will make up 18.3 percent of the national population by 2030, doubling that of present.
According to the latest national population survey, only 4.8 percent of elderly Vietnamese enjoy good or very good health, while as many as 65.4 percent are weak or very weak. More worrisome, their access to health care services is limited as 26.1 percent do not hold any kind of health insurance and more than 51 percent cannot afford treatment costs – which are 7-10 times that of youngsters.
National Tourism Year creates new image for Thanh Hoa
The National Tourism Year 2015 has provided the opportunity to improve the image of tourism in the northern central province of Thanh Hoa.
The province was selected to host the national event, which is expected to help it welcome 5.5 million domestic and foreign travellers this year.
Over the past five years, the locality has been making great efforts to improve its infrastructure and accommodation services with the aim of contributing to a successful National Tourism Year.
The province has focused on developing local accommodation with 672 facilities offering over 20,000 rooms, including 121 hotels. The beach town of Sam Son is currently home to over 400 accommodation facilities with 12,000 rooms, including 600 five-star apartments.
Eleven new tours linked with a variety of local tourist attractions have been launched, including tours on the Ma river, Ma Hao waterfalls and Nang Cat community village.
The province has cooperated with neighbouring Ninh Binh province and other central provinces to create new tours and tourism products.
The province has also put into operation a number of social and cultural facilities since the beginning of this year, such as Lam Son theatre, a modern library, an exhibition centre and a temple to commemorate heroic mothers and martyrs .
Thanks to these efforts, Thanh Hoa received about 5.11 million visitors in the first 11 months of this year, up 15.7 percent compared to the same period last year and reaching 92.9 percent of the annual target.
Of the figure, 119,000 were foreigners, a year-on-year increase of 31.2 percent.
Total revenue from tourism reached nearly 4.9 trillion VND (220 million USD), up 34.9 percent.
The closing week for the National Tourism Year 2015 will be held from December 15-26 with highlights including a festival of Vietnam's intangible cultural heritage and a contest featuring the beauty of Thanh Hoa's landscapes and people, according to Vuong Thi Hai Yen, deputy head of the provincial Department of Culture, Sports and Tourism.
US investments in VN expected to see big growth
US investments in Viet Nam are expected to rapidly increase due to Viet Nam's potential for consumption and new business opportunities, according to the Ministry of Planning and Investment's Foreign Investment Agency (FIA).
The FIA wrote in a note on its website that many US corporations saw Viet Nam as a strategic market with long-term benefits, pointing out that low labour costs was a key factor in attracting investments.
As labour costs in China soared, many multinational corporations were shifting their investments to countries with lower costs, such as Viet Nam. Those businesses which have moved, or are in the process of moving production to Viet Nam, include Microsoft, Intel, Jabil and Microchip.
The participation of Viet Nam in the Trans-Pacific Partnership also helped promote US companies to establish a presence in Viet Nam to seek investment opportunities, according to the FIA, adding that the trade agreement would create advantageous conditions for the US to increase investments, including expanding capacity.
Viet Nam's young population and improved incomes would also promote consumption, in addition to the country's stable political situation, controlled inflation and the Government's incentives, which helped attract investment inflows.
The FIA also pointed out that US companies were showing increasing interests in major sectors of Viet Nam's economy, such as oil, with giants like Exxon Mobil, Chevron; in aviation with Boeing and ADC-HAS Airport; information and technology with Microsoft, Intel, Apple and HP; along with the power sector with General Electric and AES.
Still, US investments in Viet Nam remain below their potential.
According to the agency, transparency and corruption were of major concerns of US companies when investing in Viet Nam.
The FIA cited statistics showing that 69 per cent of surveyed US firms said that corruption was one of the biggest problems in Viet Nam.
Also, the lack of transparency in legal frameworks created conditions for corruption and inconsistent implementation of laws in different localities.
There was also a lack of co-ordination between the Government and businesses in the economic restructuring to enhance competitiveness and adaptability to international integration for both State-owned enterprises and small- and medium-sized enterprises (SMEs).
Other problems included shortages of power and transport infrastructure and skilled labourers, together with rising costs during the past five years.
In order to attract more investments from the US, according to the FIA, Viet Nam should look at different channels, including through banks and investment funds.
Co-operation with SMEs from the US should also be enhanced in manufacturing and heavy industries, besides strong US sectors such as petroleum, aviation, energy, IT and finance.
Additionally, promotional activities should be boosted, together with on-time handling of problems encountered by US investors, to increase their confidence.
The Ministry of Planning and Investment's statistics showed that, as of mid-2015, the US was the seventh largest investor in Viet Nam, with 748 existing projects worth US$11.08 billion.
US investments focused mainly on restaurant and catering services, processing and manufacturing sectors, and property businesses.
Policymakers urged to adapt
Agencies under the Ministry of Industry and Trade should adapt their management practices and policies to reflect the new economic reality, said deputy minister Tran Quoc Khanh.
Khanh told the conference on free trade agreements (FTAs) held in Ha Noi yesterday that a range of FTAs which Viet Nam has signed with big countries in the world would have a big impact on the country's export structure and macroeconomic control.
In the year of 2015, Viet Nam signed four important pacts with big markets including Trans-Pacific Partnership (TPP), FTA between EU and Viet Nam (EVFTA), Viet Nam-EEU (the Eurasian Economic Union) and FTA between Viet Nam and South Korea.
All of the pacts would have a big impact on the industrial and commercial sectors under the ministry, he said, adding that the ministry's departments and relevant agencies must regularly update information on market and legal framework in big markets to take advantage from the partners, thus increasing exports.
He emphasised that the thoughts of policy makers should be changed as all of the management would be based on the committed pacts.
A further requirement is to have strong interaction with businesses. Policies, regulations and documents should be published on the internet 60 days prior to their issuance to collect ideas from the enterprise community.
"The transparency is vital. Policymakers should be ready to exchange ideas and interact with firms," he added.
It can be seen that all of the four FTAs have high standards with content which was not mentioned in previous pacts.
Bui Huy Son, director of the ministry's Trade Promotion Agency said the signed FTAs would create big opportunities for Viet Nam in increasing its exports and reducing the trade deficit.
It was important that goods in the markets which Viet Nam has signed the pacts could support each other without direct competition, Son said.
In addition, with important partners such as Japan, South Korea and the US, the signings would play a vital role in providing materials for Viet Nam's production and creating momentum for exports.
The report from the ministry showed that in November, the country's total export turnover reached US$14.3 billion, posting an 8 per cent year-on-year rise. In the first 11 months of the year, the total export turnover was $148.7 billion, increasing 8.3 per cent over the same period last year.
Experts forecast that alone EVFTA could help Viet Nam's GDP increase by 15 per cent and exports to EU rising by 30 per cent to 40 per cent after the FTA's implementation.
Capital the biggest challenge for SMEs
Vietnamese small- and medium-sized enterprises (SMEs) will face challenges to raise capital as the country integrates more into the global economy.
"Only 31 per cent of SMEs can now borrow loans from banks, even though they make up 95 per cent of companies and contribute 40 – 50 per cent of GDP," Dr. Cao Sy Kiem, chairman of Viet Nam Small- and Medium-Sized Enterprises Association was quoted as saying in the Sai Gon Giai Phong (Liberated Sai Gon) newspaper.
According to a report from the Bank for Investment and Development of Viet Nam (BIDV), half of its customers are SMEs, but one-third receive loans because of their poor financial capability, management skills, outdated technology and limited market.
Most of the SMEs do not have much capital and have to borrow medium- and long-term loans. Banks do not want to let SMEs borrow because of the high risk.
"When Viet Nam deeply integrates into the global economy, local SMEs will face more challenges because of limited finance and poor financial management that restricts them from mobilising capital through issuing shares," Kiem added.
In addition, if SMEs lean on bank capital, they cannot compete because of the high interest rate of 7 – 8 per cent per year, while in other countries, enterprises must pay only 1-2 per cent per year.
"In international integration, SMEs must consider their weak and strong points to spur their own development and increase competitiveness," he added.
Many enterprises and experts have asked the Government to create a legal framework for SMEs so they can benefit from technology transfer; set non-tax technical barriers to ensure low-quality products do not enter the country and do not compete with local enterprises.
Samsung has sent a request to the government to give support to their satellite enterprises so they can produce products in the support industry. Few local enterprises can meet Samsung's demand for such products.
"In this context, SMEs can't seek their own way to develop, without support from the Government and related authorities," Kiem added.
Ha Noi's exports increase in Nov
Exports from Ha Noi have recovered in the three consecutive months following four months of decline from May to August this year.
According to the city's Department of Industry and Trade, the total export turnover of the city in the first 11 months this year was estimated at US$10.2 billion, increasing 3.1 per cent compared to the same period last year.
The growth was still lower than the year's target of between eight and nine per cent, however, it was higher than the increase of export turnover in the first 10 months (1.5 per cent) and nine months (0.2 per cent).
Exports of the state-owned sector reached $3.1 billion, accounting for 30.8 per cent over the total export revenue of the city, increasing 2.2 per cent year-on-year.
Meanwhile, exports of the foreign direct investment (FDI) sector were estimated at $5 billion, accounting for 49.5 per cent of total export turnover of the city, up 3.8 per cent from the same period last year.
Commodity groups, which had growth higher than the city's target, include garments and textiles, footwear and leather products and glass products.
Garments and textile exports grew 15.3 per cent year-on-year after boosting exports to the US market (up 28.6 per cent) and Japan (9 per cent).
Exports of footwear and leather products increased by 9.2 per cent due to increasing exports to the US and Chinese markets.
Glass and its products rose by 8 per cent as exports to the markets of Singapore, China and the United States were higher.
The farm produce sector, despite declining in export revenue in the first eight months of this year, saw recovery for three consecutive months as its export value increased 6 per cent in the first 11 months.
As prices of both pepper and cashew nuts rose, their export turnover increased at a high rate of 35 per cent, significantly offsetting the sharp decline of other key farm produce like rice, tea and coffee.
The electronic components and peripheral equipment sector increased 2.2 per cent as exports to key markets rose, such as Hong Kong (up 23.8 per cent), Japan (6 per cent) and the US (23.1 per cent).
Eximbank earns $24.5m in profits
The Viet Nam Export Import Commercial Joint Stock Bank (Eximbank) posted a pre-tax profit of VND552 billion (US$24.5 million) during the first 11 months of this year.
A shareholders' meeting of the bank was told yesterday in HCM City that the profit represented only 55.2 percent of the target it had set for 2015.
While profits from business activities reached some VND1.7 trillion ($76 million), the spending on bad debt settlement amounted to about VND1.2 trillion ($52 million).
The bank is expected to continue to establish provisional funds against non-performing loans during the rest of this year, after the soured loans reached VND1.54 trillion ($68 million) in 11 months.
The bad loans fell by 28 per cent from the figure recorded at the end of last year, accounting for 1.8 per cent of the bank's outstanding loans.
Eximbank's lending totaled VND96 trillion in the first 11 months of the year, representing 88.3 per cent of the annual target, while deposits at the bank reached VND101.3 trillion ($4.5 billion).
On November 31, its total asset value was VND127 trillion ($5.7 billion), down 21.2 per cent over the end of last year.
At the meeting, Eximbank shareholders discussed regulations for voting members of the bank's management and supervisory boards for the 2015-20 tenure, besides hearing the business results.
Last week, Eximbank announced the appointment of Tran Tan Loc as its acting general director. The bank's management board nominated Loc, previously the bank's standing deputy general director, to replace Pham Huu Phu, who resigned after finishing his tenure.
Gov't urges firms to transfer assets
Deputy Prime Minister Vu Van Ninh has directed ministries, ministerial-level agencies, government agencies and People's Committees of provinces to speed up the transfer of State capital ownership in State-owned enterprises to the State Capital Investment Corporation (SCIC).
Pending the transfer process, these enterprises may not change their operating scales and charter capital, as well as can not sell stakes at their subsidiary and associated companies.
For unprofitable businesses or the ones who have lost State capital, the existing representative of State capital ownership must tackle all shortcomings by law before transferring their ownership rights to SCIC, as well as specify liability and penalty of the collectives or individuals who have caused the damages to State capital, if any.
Starting operation in August 2006, SCIC's primary objectives are to represent the State capital interests in enterprises and invest in key sectors and essential industries with a view to enhancing the efficiency of State capital utilisation and strengthening the dominant role of the State while respecting market rules.
By December 30, the State investment arm has been representing the State shareholding rights in 230 enterprises with the total book value of about VND17 trillion ($759 million), excluding investments under the Prime Minister's direct decision.
SCIC is holding stakes of between 30 per cent and over 50 per cent in many large-scale companies including dairy producer Vinamilk, FPT Telecom, Bao Minh Insurance Corporation, Thieu Nien Tien Phong Plastics, Binh Minh Plastics, Hau Giang Pharmaceuticals and insurer Bao Viet Holdings.
In early October, the Government directed SCIC to sell the entire State capital in 10 large State-owned enterprises which could garner the State budget income of almost $4 billion. The target companies include Vinamilk, software producer FPT Corp, FPT Telecom, Bao Minh Insurance, Tien Phong Plastics and Binh Minh Plastics.
In the recent decision, Deputy Prime Minister also asked ministries of Industry and Trade, Construction to urge economic groups and State corporations under their management to draw a road map for State capital divestment during the 2016-20 period and submit to the Ministry of Finance before January 31 next year.
In November, Minister of Finance Dinh Tien Dung said the total value of State capital in enterprises stood between VND1.2 quadrillion ($54 billion) to VND1.3 quadrillion ($58 billion).
New laws promote social enterprises in Viet Nam
The concept of social enterprise first appeared in the United Kingdom about four centuries ago, before spreading to other countries. However, it continues to be a new idea in Viet Nam even today.
Before Doi Moi, the programme of political and economic reforms that started in the eighties in Viet Nam, there were several models that could be considered as social enterprise co-operatives providing jobs for the disabled. By the end of 2014, the National Assembly of Viet Nam began enshrining this model of enterprise into law with the new Law on Enterprises No68/2014/QH13 (the "Law on Enterprise").
Under article 10 of the Law on Enterprise, there are three main characteristics distinguishing a social enterprise from a company of other types. These are: (i) being established under the Law on Enterprise, (ii) its objective is to resolve social or environmental issues for the interests of the community, and (iii) at least 51 per cent of its profits must be re-invested to accomplish its social and environmental objectives as registered.
Vietnamese lawmakers – through the Law on Enterprise – have laid the foundation stone to form a legal framework for various types of social enterprises. This new law, however, either remains silent or lacks regulations on many important issues in connection with such new models of business. For instance, the Law on Enterprise has not stipulated the details as to the procedures for the establishment of social enterprises, whether a social enterprise must follow the same procedures applicable to different types of enterprises as specified in the Law on Enterprises, and how a social enterprise can register or deregister. All these have actually brought numerous difficulties for the development of social enterprises in Viet Nam. In a move by the Vietnamese government to resolve obstacles facing the proliferation of social enterprises in Viet Nam, Decree No 96/2015/ND-CP, guiding several articles of the Law on Enterprise, was born on October 19, 2015, and came into effect on December 8, 2015 ("Decree 96").
First, unlike the Law on Enterprise, Decree 96 expressly stipulates that the establishment of social enterprises shall be conducted in accordance with procedures, sequences and dossiers as specified in the Law on Enterprise.
Second, Decree 96 requires that a social enterprise has to notify its social or environmental aims to the business registration body in order to be published on the National Business Registration Portal (the "NBRP"). The decree also provides that the notification of commitments of social enterprises towards resolving social or environmental problems, which shall be published on the NBRP, must contain some key contents such as social or environmental issues that a social enterprise will resolve, a time period for implementing its objectives and the percentage of its profits that shall be reinvested to accomplish its earlier objectives as well.
Furthermore, under Decree 96, a social enterprise, during its operation, is permitted to receive foreign non-governmental aid in order to implement its objective of resolving social or environmental issues, but it must notify its receipt of aid to the department of planning and investment or other competent authorities.
Last but not least, under Decree 96, a social sponsorship establishment, social fund or charitable fund is permitted to convert itself into a social enterprise upon a written decision of the competent authority allowing such conversion. And in this case, new social enterprises shall, after conversion, automatically succeed to the entire lawful rights and interests, and shall be liable for all the obligations such as debts, taxes or the like of the former ones.
In conclusion, the Law on Enterprise and Decree 96 attempt to address all essential aspects closely pertaining to the establishment and operation of social enterprises. And with this new step in Vietnamese regulations, social organisations as a whole, and social activists in particular hope that it brings positive changes to the development of this kind of enterprise – still a new concept in Viet Nam – in the future.
Russia- Vietnam trade contracting rapidly
Vietnam's commercial trade with Russia has tapered off dramatically in 2015 having registered just US$1.8 billion during the first 10 months of 2015, far off the target set for the year.
Deputy Prime Minister Hoang Trung Hai made the revelation at a meeting of the Vietnam-Russia Inter-Governmental Committee for Economic Trade and Scientific Technological Cooperation Committee on December 16th in Hanoi.
"It looks virtually certain the figures for calendar year 2015 will be far off the record pace of US$2.5 billion reached last year as well," said Hai.
Others at the meeting explained Russia's exports and imports have plummeted across the board with economies around the globe on the back of the drop in the Russian rouble and oil prices.
Russia First Deputy Prime Minister Igor I Shuvalov in turn expressed confidence the Vietnam Eurasian Economic Union (EEU) Free Trade Agreement would help turn the shrinking economic figures around.
At the meeting, the two sides discussed measures to foster cooperation in fields such as mining, banking, communications and technology. They also agreed to engage in an array of new projects.
Vietnam-China international trade fair 2015 opens
The Vietnam-China international trade fair 2015 officially opened in Mong Cai city in the northern province of Quang Ninh on December 16.
Competitive products from Vietnam and China including agro-forestry and aquatic products, machines, equipment, electronics, handicraft and wooden items are showcased at 470 pavilions. The fair also aimed to help both sides promote trade and tourism activities, seek investment opportunities and introduce unique tourism products.
In his opening speech, Vice Chairman of the Quang Ninh provincial People's Committee Le Quang Tung said the fair served as a bridge for Vietnamese and Chinese businesses to seek partners, cooperate to expand markets, and strengthen investment and tourism activities.
Diverse activities are expected to be held during the fair including a street festival, a trade and tourism promotion workshop and the signing of a number of memoranda of understanding and contracts.
The event also offers a good chance for Vietnamese and foreign businesses to meet and cooperate for mutual development, introduce new products and services and seek new outlets. It also contributes to enhancing the friendship between Vietnam and China and accelerate trade exchange through Mong Cai border gate economic zone.
Ashley furniture comes to Vietnam
Ashley Furniture Industries, Inc. – the US leading furniture brand has officially inaugurated its first showroom in Hanoi.
The inauguration ceremony was attended by Ms Shari Wagner, Vice President of international sales and Mr. Lim Jit Piow, Robin, VP Sales, Asia.
In her speech, Shari Wagner expressed delight at cooperating with entrepreneur Duong Quoc Nam to open a series of franchise showrooms in Vietnam. She also highlighted Nam's efforts to introduce the US furniture No 1 brand to the domestic market.
Nam said it was a great honour for him to receive American experts from Ashley Industries. He highlighted Ashley's professional working manners which will be very helpful for staff of Ashley Vietnam.
Toyo Ink Group invests in Song Hau 2 Thermal Power Plant
The Hau Giang Provincial People's Committee and Malaysian Toyo Ink Group on December 15 initialed a contract for Song Hau 2 Thermal Power Plant BOT project in Vietnam's Mekong Delta province of Hau Giang.
Toyo Ink managing director Song Kok Cheong said this is an important landmark for bilateral cooperation.
Vice Chairman of the Hau Giang People's Committee Trinh Xuan Thanh said the province will closely cooperate with investors and relevant sides to soon licence the investment project to enable its construction on schedule.
The 2,000MW Song Hau Thermal Power Plant 2 is a foreign invested project with the largest capacity in Vietnam so far. It is the second phase of the US$3 billion Song Hau Power Complex.
VEF/VNA/VNS/VOV/SGT/SGGP/Dantri/VET/VIR