Social News In Brief 19/12
29 tourists saved from stalled cruise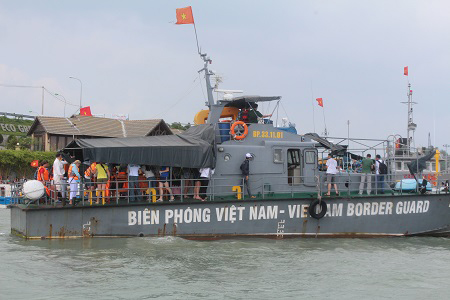 Central coastal Khanh Hoa Province's Border Guard rescued 29 Russian tourists trapped in a cruise in Nha Trang Bay this afternoon.
The cruise carrying ten boatmen and 29 Russian tourists left Cau Da harbour to visit Nha Trang Bay at 8:30am.
The cruise engine suddenly stopped working three hours later.
Khanh Hoa's Border Guard mobilised a ship and 17 soldiers to successfully rescue 29 tourists and transported them back to the harbour at 1:30pm.
The cruise belonging to Lang Ca Tourism Company was skippered by Nguyen Dan, 53, Vinh Trung commune, Nha Trang City. The wind speed was at around level 5 and 6 when the border guard force came to the rescue.
Khanh Hoa Province's authorities are investigating the incident further.
Pilot programme improves students' awareness on water conservation
More than 1,600 primary school students in Thanh Oai and My Duc districts on the outskirts of Hanoi are now more aware about conserving water thanks to an education programme.
Organised by the district education and training divisions and Suntory PepsiCo Vietnam Beverage (SPVB) since March 2015, the "Mizuiku – I love clean water", programme focused its activities on educating children on the role of water on the planet and raising their awareness on the importance of water resources and water hygiene in daily life.
In 2015, the programme has efficiently organised 60 classes on the subject of water with the participation of over 1,600 pupils in 120 indoor and outdoor lessons. The programme also offered pupils a wide range of practical outdoor activities like festivals of clean water protector, study tours, writing and drawing contests, and school newspapers.
The programme also helped to upgrade school infrastructures, including the donation of four water purification systems, building or upgrading six rest rooms based on an environment-friendly model.
Mizuiku is a natural water education programme that has been successfully implemented in Japan since 2004. Vietnam is the first country other than Japan to develop this project.
Localities funded to help ethnic minority groups settle
The Prime Minister decided to allocate 377 billion VND (16.8 million USD) to 16 localities to assist nomadic ethnic minority groups to settle.
Beneficiaries include Cao Bang (21 billion VND), Yen Bai (8 billion VND), Phu Tho (50 billion VND), Son La (18 billion VND), Lai Chau (40 billion VND), Dien Bien (9 billion VND), Quang Tri (30 billion VND), Thua Thien-Hue (16 billion VND), Quang Nam (16 billion VND), Quang Ngai (60 billion VND), Binh Dinh (3 billion VND), Ninh Thuan (3 billion VND), Gia Lai (62 billion VND), Kon Tum (5 billion VND), Binh Phuoc (25 billion VND) and Soc Trang (11 billion VND).
Ethnic minorities in mountainous areas often lead a nomadic life, which triggers infrastructural, social and security problems to localities where they are in. Their livelihoods rely heavily on exploiting forest resources, which cause noticeable damages to the environment.
To change the practice, the Party and Government have adopted a series of policies to help ethnic minorities have sustainable resettlement.
The PM issued Decision 33/2007/QD-TTg dated March 5, 2007 featuring a policy supporting the migrant ethnic minorities to settle from 2007-2010 and Decision 1342/QD-TTg approving a resettlement plan for the migrant ethnic minority groups to 2012.
In 2013, he then issued Decision 33/2013/QD-TTg dated June 6, declaring the continuous implementation of the support policy for the resettlement of ethnic minorities to 2015.
The policy will feature many fields from production, transport, utilities to education, health, with a view to improving the living conditions, stabilising production, and raising educational level for the ethnic minorities residing in remote, mountainous and border areas.
Hanoi, Vientiane youths boost cooperation
The Youth Unions of Hanoi and Vientiane signed a Memorandum of Understanding (MoU) to strengthen bilateral cooperation and friendship between 2016 and 2020, in Hanoi on December 17.
Secretary of the Hanoi Youth Union Nguyen Van Thang welcomed Lao counterpart Bounta Thepphavong, head of the Lao delegation, to visit Vietnam in celebration of 50-year diplomatic ties between the two countries and the 35th anniversary of the signing of the Vietnam-Laos friendship treaty.
Thang said the Youth Unions of Hanoi and Vientiane sealed cooperation in 1997. After several years of hiatus, the two sides have resumed connection since 2007, conducting annual delegation exchanges and experience sharing and expanding more pragmatic collaboration contents.
The Hanoi Youth Union has raised over 1.5 billion VND (66,000 USD) to launch a number of voluntary campaigns in Vientiane's districts since 2007.
Nearly 240 Vietnamese volunteers have joined charitable activities to provide free health check-ups and medicines to over 11,000 Vientiane locals, while visiting and presenting gifts to policy beneficiary families, transferring science-technology in husbandry and cultivation, and holding cultural exchanges with local people.
The Vietnamese union also launched a contest on the history of special relations between Vietnam and Laos as well as maintained exchanges, gift presentation, and Tet celebrations for Lao students in Hanoi.
Secretary of Lao Youth Union Bounta Thepphavong said the effective cooperation between the two capitals' youngsters demonstrates their countries' close-knit and time-honoured friendship,
With the hope of promoting the bilateral collaboration in 2016-2020, the two sides agreed to work together to conduct more voluntary activities and open youth training courses in Vientiane.
The pair will also create optimal conditions for young businesses to forge connectivity and cooperation across the fields.
During their visit to Vietnam, the Lao delegation is scheduled to visit the Ho Chi Minh President Mausoleum and a youth business model in Hanoi's Dan Phuong district.
PM requests traffic safety on New Year festivals
The Prime Minister sent a dispatch to the Vietnam Fatherland Front, ministries and local People's Committees requiring drastic measures to be taken to ensure traffic safety and order during the New Year, lunar New Year (Tet) festivals and the upcoming 12th National Party Congress.
The PM requested the Transport Ministry to direct transport businesses to improve services quality, vehicles' technical safety and intensify the online sale of tickets to facilitate the travel of people, and address hotspots of traffic accidents and congestions at key national highways.
The Ministry of Public Security was asked to strengthen patrols and strictly punish traffic safety and order violations and reinforce its personnel to ensure security, social safety and order during the holidays and the Party Congress.
The document required the Ministry of Information and Communications, the Vietnam Television, Radio the Voice of Vietnam, and the Vietnam News Agency to promote communications on traffic safety.
The National Committee on Traffic Safety was urged to announce a hotline on public means of communications to receive people's opinions on this issue, while the Vietnam Fatherland Front was required to make more efforts to encourage people to obey transport law.
To guarantee absolute safety for people during New Year holidays and the Party Congress, the Ministry of Public Security also asked its units to launch a raid on criminals from now until February 15.
It also asked for strengthened efforts to prevent goods smuggling, trade frauds and counterfeits, and to timely detect and address acts that violate laws on the environment, natural resources, and food safety and hygiene.
Firefighters were requested to better firefighting plans and stay ready for fire extinguishing and rescue activities in order to minimise damage caused by fires and explosions.
More resources needed for mine clearance
The State Steering Committee on National Mine Action Programme, also known as Steering Committee 504, called on donors and non-governmental organisations to constructively take part in the Mine Action Partnership Group (MAPG).
The committee made the appeal at a consultative conference in Hanoi on December 17, during which the donors and non-governmental organisations were urged to give more advice to the Vietnamese Government in order to effectively implement the National Mine Action Programme in the 2010-2015 period.
The move aims to ease impacts of bomb and mine pollution on Vietnam's socio-economic development, they said.
Cao Manh Cuong, deputy head of the Planning and Investment Department under the Ministry of Planning and Investment, said the Party, State, army and people of Vietnam have teamed up with domestic and foreign international and non-governmental organisations and donors to deal with aftermaths of bombs and mines left from the wars.
However, he said, the work have encountered a range of difficulties due to limited financial resources.
Participants at the event also proposed solutions to mobilise more resources in service of bomb and mine clearance and the settlement of bomb and mine consequences.
More than 800,000 tonnes of unexploded bombs and mines left from wartime are buried in 21 percent of the country, mainly in the central provinces of Nghe An, Ha Tinh, Quang Binh, Quang Tri, Thua Thien-Hue and Quang Ngai.
Wartime bombs and mines have killed about 42,130 and injured another 62,160, according to the Ministry of Labour, Invalids and Social Affairs.
Support should reach more migrant workers
Support for migrant labourers needs to be multiplied in Ho Chi Minh City as a number of problems have been seen in the group that constitutes a crucial part of the southern economic hub's workforce, heard a workshop on December 17.
Experts said migrant labourers are a key workforce source for a number of occupations in urban areas, helping improve the livelihoods of many rural families. However, overloaded infrastructure and public services in cities and a shortage of migration policies are exposing migrants to more vulnerability.
Unsustainable employment, low income, and limited access to social welfare policies are difficulties often facing migrant labourers, especially those in the informal sector, they added.
The unemployment rate among migrant workers was five times higher than the average. Fifteen percent of migrant workers in the formal sector and 52 percent of those in the informal sector did not have stable employment. Basic salary has also not satisfied their minimum daily demand, according to a survey of the Southern Institute of Social Sciences (SISS).
Up to 99 percent of migrant labourers in the informal sector were not covered by social insurance given the voluntary insurance premium exceeded their affordability and the insurance type has a few benefits.
Meanwhile, some 76 percent of those in the informal sector did not buy health insurance, only 7.7 percent of children of migrant families were sent to public nursery schools, and 12 percent of them went to public kindergartens. Up to 85 percent of migrant labourers lived in rented accommodation with poor living conditions.
Nguyen Thi Minh Chau, an SISS labour specialist, said 87.3 percent of migrant workers in the informal sector did know about where they could get information and consultation about labour laws and the Law on Social Insurance. Nearly 80 percent of them did not participate in any community activities at their living places.
Those facts demonstrate flaws in the group's access to social welfare, she stressed.
Over the last five years, some domestic and foreign social organisations have carried out initiatives, programmes and projects to assist migrant workers. Those activities have been organised under various forms, and many of them have proved effective, helping facilitate migrants' access to social welfare and livelihoods.
At the workshop, several fruitful support models were highlighted such as the domestic workers' club in Da Kao ward of HCM City's District 1, the provision of health care for migrant mothers and children in HCM City, and the legal advice provision to the target group in nearby Dong Nai province.
SISS specialist Huynh Thi Ngoc Tuyet said it is necessary to expand such models to better migrant labourers' livelihoods and improve their awareness and access to social welfare.
Making those initiatives official is also critical to popularising the good practices, she noted.
Project honouring President Ho Chi Minh abroad reviewed
The Foreign Ministry and Ministry of Culture, Sports and Tourism reviewed a project honouring the late President Ho Chi Minh abroad during a conference in Hanoi on December 17.
The project has been carried out on all continents since 2009, through which a number of precious artifacts and documents related to the late President have been collected and brought to home country, Deputy Foreign Minister Le Hoai Trung said at the event.
He added that activities under the scheme have also helped people around the world gain better understanding about Vietnam's history and President Ho Chi Minh's contributions to human development.
As a result, several memorial sites dedicated to the late President in foreign countries have been upgraded and expanded.
On the occasion, the Foreign Ministry also presented a collection of artifacts related to President Ho Chi Minh's revolutionary activities in the US to the Ministry of Culture, Sports and Tourism for preservation and exhibition.
Participants proposed specific measures to effectively carry out the project over the long term.
Vietnam's 30-year renovation featured at seminar in Czech
Vietnam's 30-year Doi Moi (renovation) was the main theme at a seminar in Prague, Czech Republic on December 16.
First Secretary of the Vietnamese embassy in Czech Nguyen Kim He presented a report on the Doi Moi process across the way of thinking, policies and politics. He also gave an overview of Vietnam's diplomatic policy in the Doi Moi period and the country's stance on settling the East Sea dispute.
The diplomat underlined Vietnam's consistent policy of settling disputes via negotiations without the use of or threat to use force in line with international law and regional agreements such as the Declaration on the Conduct of Parties in the East Sea, towards the early formulation of a Code of Conduct in the East Sea.
Stanislav Grospic, Deputy Chairman of the Czech Lower House's Legal Committee and journalist Pavel Pilny recalled what they experienced during their trips to Vietnam.
Participants also expressed their concern over the complicated and uncertain developments in territorial disputes, which can negatively impact the security environment and regional countries, including Vietnam.
The event was co-hosted by the Central Committee of the Communist Party of Bohemia and Moravia (KSCM), the women's club of central Bohemian region and the KSCM Committee of Mlada Boleslav city.
Vietnamese businesses help stabilise lives of Lao ethnic people
A resettlement area for the Sekaman 1 hydropower project within the Energy Cooperation Agreement between the Governments of Vietnam and Laos was inaugurated in Laos' southern province of Attapue on December 16.
Situated near the Sekaman 1 hydropower project reservoir in Sansay district, the Souksavang-Dakbou resettlement area has 59 houses for more than 400 people.
Apart from access to electricity, schooling and health care, the displaced will receive farm land, fertiliser, pesticides, plants and animals, along with vocational training.
Addressing the inaugural ceremony, General Director of Song Da Corporation Duong Khanh Toan - the investor of the project- said the resettlement area is a significant part of the project's environmental protection and social affairs efforts.
It is expected to help improve the living standards of Lao ethnic people, thus contributing to the two nations' special relationship, he said.
Governor of Attapue province Nam Viyaket praised Sekaman 1 Electricity Co. Ltd for the resettlement work, environmental protection and stabilising the lives of those living in the area designated for the project.
The company is also building another resettlement area for the project.
Located about 80km from the Vietnam-Laos border on the Sekaman River, the Xekaman 1 hydropower project has an investment of nearly 541 million USD, including 53.72 million USD spent on 230 kilovolt power transmission lines.
The build-operate-transfer project is designed to have a combined output of 1.21 billion KWh per year, about 80 percent of which will be exported to Vietnam.
Gov't provides rice, vaccines, antiseptic for three localities
The Prime Minister has asked the Ministry of Agriculture and Rural Development to distribute free vaccines and de-contaminant chemicals from the national reserves to two localities in an effort to stem diseases.
Accordingly, 30,000 doses of LMLM 2 vaccine (O&A), 10,000 doses of LMLM type O (Aftopor), and 10,000 litres of Benkocid will be allocated to the central coastal province of Ninh Thuan to prevent the foot-and-mouth disease.
As many as 50 tonnes of Chlorine 65% min will also be provided for the southernmost province of Ca Mau to cope with diseases that are affecting aquatic animals.
According to Ninh Thuan's provincial People's Committee, foot-and-mouth disease broke out in the province on October 17.
Reports from Ca Mau province also show that 772 hectares of shrimp farms have been infected with white spot disease and Early Mortality Syndrome since the beginning of the year.
The Prime Minister has also asked the Ministry of Finance to provide nearly 950 tonnes of rice for the central province of Thanh Hoa to help local people who are suffering from food shortages caused by floods this year.
Earlier, nine localities, including Thanh Hoa, were allocated 220 billion VND (9.87 million USD) from State budget reserves to address floods that occurred in July and August this year.
Japan provides over 320,000 USD in ODA for southern localities
The Japanese government will provide over 320,000 USD in official development assistance for five projects in transport and health care in southern localities, according to Nhan Dan newspaper.
Documents on the non-refundable aid were signed in Ho Chi Minh City on December 16 by representatives from the Japanese Consulate General in the city and beneficiary districts.
The sum will be allocated to the construction of six rural bridges in Cau Ke district of Tra Vinh province and Tan Tru district of Long An province, a road section in Krong No district of Dak Nong province, and the provision of medical equipment for Bu Gia Map district's general hospital in Binh Phuoc province and ambulances for Tan Thanh district in Long An province.
From 1995 to late 2014, the Japanese government provided aid worth more than 12.2 million USD for 153 projects in 26 southern provinces and cities.
Hanoi fosters ties with Prague
Hanoi is continuing to welcome and facilitate investors from the Czech Republic in industrial production, energy and environmental protection.
The statement was made by Chairwoman of the municipal People's Committee Nguyen Thi Bich Ngoc at a working session with authorities from Prague on December 14 as part of her two-day visit to the European country.
The municipal leader expressed her wish that Prague will continue fostering business delegation exchanges with Hanoi to boost their bilateral investment and trade.
The two sides agreed to work together on heritage preservation for tourism development, delegation exchanges, social welfare management, community health care, vocational training and cultural exchanges.
On December 15, Ngoc and her entourage met with the Overseas Vietnamese People's Association in the Czech Republic and representatives of the Vietnamese community in Prague.
Ngoc praised the significant contribution of the Vietnamese community in the Czech Republic in boosting trade, exports and investment between the two countries.
The delegation also visited Prague's ancient citadel and learned about how the city is preserving its historic buildings.
Conference discusses malaria elimination
The Health Department of the southern coastal province of Ba Ria- Vung Tau hosted a conference on December 17 to seek experts' solutions to preventing and then eliminating malaria.
Doctors from the Institute of Mariology Parasitology and Entomology (IMPE) and Hospital for Tropical Diseases of Ho Chi Minh City, and officials from the Health Departments of Dak Lak, Binh Thuan, Binh Phuoc and Dong Nai provinces attended.
The number of malaria patients in Ba Ria- Vung Tau reduced remarkably by 96.93 percent, from 7,719 in 1992 when the locality was established to 178 in 2015.
Despite the achievement, the local Preventive Health Center raised the fact that malaria-affected areas, mostly rural and remote, are home to a large number of poor and ethnic minority people.
Inaccurate diagnosis of malaria has often been made at commune and district health centres, leading to late treatment for those contracted the disease, it said.
For its part, the provincial health sector has worked to fix these problems, saying it has intensified health communication campaigns, monitored affected areas, and increased funding for human resources working in the prevention and control of malaria.
According to IMPE Director Le Thanh Dong, the number of malaria sufferers in the country reduced from 43,700 in 2012 to 27,800 patients in 2014.
However, the number of malaria patients in the Southeastern and Central Highlands areas increased remarkably over the last six months of 2015 with 66.59 percent and 26.11 percent, respectively.
Dong pointed to a lack of preventive measures in localities which were once the malaria hotspots as well as the unenthusiastic response of local authorities and mass organisations in the prevention work.
Vietnam targets to completely eradicate the disease by 2030.
Improving maternal, child health services in disadvantaged localities
The Health Ministry has unveiled its 2016-2020 action plan on mothers and children health care with a focus on narrowing down the gap among different areas across the nation.
There exist substantial gaps in the rates of diseases and mortality as well as the quality of health services among areas, posing great challenges to the health sector.
A 2006-2007 survey showed that maternity-related deaths in mountainous localities accounted for 81.5 percent that of the entire nation. The figure was 81.2 percent in 2013 and 2014.
The mortality rate among children under one and five years old in mountainous areas is also the highest in the country, with little progress seen in recent years.
The shortage of paediatric and obstetric staff, particularly at district and provincial levels, has been a pressing issue.
As such, the ministry's newly established national action plan will concentrate on providing essential services for pregnant women before, during and after childbirth as well as newborn care. Promoting nutrition and vaccination for mothers and children are also part of the plan.
Ministries must coordinate to help ensure food safety
Food safety and consumers' rights are the two topics that attracted many participants to a forum organised by the Viet Nam Union of Science and Technology Associations (VUSTA) in the capital city yesterday.
In his opening remarks, Pham Van Tan, VUSTA Vice Chairman and Secretary General listed five issues directly related to food safety in Viet Nam. They are the current legal system; state management; public communications; people's awareness and social organisations.
Tan complained that our current legal documents on food safety were too complicated, overlapping and sometimes contradicting. In his opinion, part of the blame is shifted to the co-management of three ministries: the Ministry of Health, Ministry of Industry and Trade and the Ministry of Agriculture and Rural Development.
"In their management, the three ministries have mainly focused on major food manufacturers or companies and almost forgotten the small ones. In addition, their law enforcement officers' expertise on food safety is weak and some are negligent during their supervision," Tan said.
Nguyen Tu Chuong, from the Viet Nam Fishing Association urged the government to publish a handbook on food safety to distribute to people to raise their awareness about food safety and to help them know how to detect good food from contaminated food.
Nguyen Manh Hung, Vice Chairman and Secretary General of the Viet Nam Standards and Consumers Protection Association asked the government to adopt synchronous measures on food safety from "farm to folk".
"This is a very effective way to retrieve the origin of the food and to handle any incidents that may arise," Hung said.
Medical doctor Do Thi Van suggested that the government should abolish its decision to appoint the three ministries to co-manage the issue of food safety.
"An agency should be appointed and act as a focal point in food safety and that agency has the duty to report to the Prime Minister," Van emphasised.
Van also asked the government to give due sanctions to any manufacturers or companies that violate the food safety laws in Viet Nam.
Tran Huu Thang, Vice-Chairman and Secretary General of the Viet Nam Medical Association, said food safety was the responsibility of the whole society, of all people, old and young alike.
"To achieve this goal, raising people's awareness is the most important measure so that they know what kind of food they should eat and what they should not," said Thang.
Authorities to bolster efforts to stymie smuggling
The country's efforts in cracking down on smuggling, trade fraud and fake goods have shown progress but there still remain challenges.
Participants from ministries and sectors agreed on the point last week at an online conference organised by the National Steering Board on the Prevention and Control of Smuggling, Trade Fraud and Fake Commodities or Steering Committee 389.
The meeting aimed to review the committee's achievements over the last year and put forward tasks on the fight against smuggling, trade fraud and fake goods next year.
According to the statistics of the committee, as of November 15 this year, inspectors at all levels nationwide discovered more than 186,000 smuggling cases.
According to Do Thang Hai, deputy minister of Commerce and Industry, market management forces detected such key products as cigarettes and petrol at supermarkets and trade centres. As many as 7,372 direct communication campaigns on smuggling were conducted on business bases. More than 29,000 units signed commitments against fake goods.
However, uncovered cases have not been equivalent to the real situation. The number of prosecuted cases is still limited, said Le Quy Vuong, deputy minister of Public Security said.
Officers of ministries, sectors and localities have implemented their tasks with high responsibility, however, the more cases they cracked down on, they see the more complicated smuggling is, Nguyen Thanh Cung, deputy minister of National Defence said.
To address the issue, Cung highlighted the importance of responsibility and transparency of ministries, sectors and localities in the fight against smuggling while suggesting the improvement of inspectors' abilities.
Punishment should be given to any government officials who colludes with smugglers, he said.
Addressing the conference, Deputy Prime Minister Nguyen Xuan Phuc, who also heads the Steering Committee 389, emphasised the seriousness and transparency of dealing with illegal trade activities.
He said that the urgent time to fight against smuggling and counterfeit goods is before, during and after Tet (Lunar New Year).
Phuc urged relevant ministries and sectors to step up cooperation in inspection, in addition to strengthening face to face and visual campaigns for people and improving the responsibility of organisations in these activities.
Elevated road to be constructed along highway 1A
A Ministry of Transport-owned company has offered to build an elevated road in HCM City on a build-operate-transfer basis.
In a proposal to the People's Committee, the Cuu Long Corporation for Investment, Development and Project Management of Transportation Infrastructure said Road No 5 would be 30.5km long with four lanes and stretch from the Ha Noi Highway intersection in Thu Duc District to the Tan Tao Street intersection in Binh Chanh.
It would cost more than VND19.7 trillion (US$875 million). The construction would be divided into three sections: 8.5km from the Ha Noi Highway to Binh Phuoc at VND5.6 trillion ($248 million), 12.7km from Binh Phuoc to An Suong intersection at VND8 trillion, and 9.3km from An Suong to the Tan Tao intersection at VND6.1 trillion ($271 million).
It is expected to be built in 2016-19, and toll collection will start in 2020.
It will share the load with National Highway 1A, an arterial city road that also plays an important role in linking the Cuu Long (Mekong) Delta.
Da Nang lacks doctors at district, commune levels
Central Da Nang City is still facing a shortage of doctors at the district, commune and ward levels despite policies issued by the city authority to attract medical personnel.
It is estimated that the city has 56 health centres but only 25 doctors.
Doctors were offered double the salary typically paid by the State budget along with other allowances if they worked in communal or ward health centres, Ngo Thi Kim Yen, director of the city's Health Department, said.
However, the policy still failed to garner interest, Yen said.
The lack of an adequate working environment and opportunities for doctors to improve their professional skills were blamed for the failure.
Le Ngoc Quy, a surgeon at Da Nang City's hospital, who was transferred to Hoa Vang District's Health Centre to provide support in September, said he cared a great deal about the working environment.
"When I work in a city hospital, I can learn a lot from the senior doctors who have plenty of experience in treating serious diseases," he said.
Quy added he was offered chances to study further to improve his professional skills while working at the city hospital.
But upon being sent to work at the health centre, he typically only gets to treat common ailments, such as the flu and headaches, he said.
"And there was no senior doctor there to teach me either," he said.
Nguyen Van Sy, deputy director of the health centre, said it currently needed 12 doctors working at the district, commune and ward levels. Doctors specialised in eye treatments, anaesthesia and resuscitation were urgently required.
For the short term, the centre has had to request support from city-level hospitals to alternatively send doctors to help at the centre, providing examinations and treatment for the locals.
Yen, a director from the health department, said it intended to submit a plan to the city administration to rotate doctors working in city-level hospitals to health centres at the commune and ward levels.
Boat builders criticise new rule
Many shipbuilding companies in southern Kien Giang Province have complained about a new regulation that ended the granting of shipbuilding licences as of last month.
The companies said the regulation would cause huge losses, as they were not informed about the regulation earlier.
Last month, the Ministry of Agriculture and Rural Development issued the regulation to end the issuance of licences for fishing vessels. The regulation, which took effect immediately, aimed to prevent the over-exploitation of marine resources and to ensure its sustainability.
"Currently, 12,500 out of more than 31,000 vessels are being operated, while the natural resources are limited. The ministry issued the regulation to stop this kind of exploitation," head of the directorate of fisheries' aquaculture exploitation unit Nguyen Van Trung told Tien phong (Vanguards) newspaper.
"The use of these vessels for catching all kinds of fish and seafood has seriously damaged the marine habitat and its ecological balance," Trung said.
"Kien Giang Province has the largest number of fishing vessels in the country. Thus, the regulation might have a huge impact on local businesses."
Hundreds of fishermen in the province said vessels, each worth several billion dong, were currently under construction. This means these vessels cannot be used as they will remain unlicensed.
Tran Hoang Minh, the owner of a private business in the province, said he was shocked to learn about the new regulation.
Minh has spent VND14 billion (US$616,000) to construct two fishing vessels, and half of the money has been raised through bank loans.
"The authorities should inform the people about their new policies. The new regulation has created difficulties. They should grant licences to fishing vessels that are being built," he said.
Do Thi Tuyet Ha, the owner of a private business in Rach Gia City's Rach Soi Ward, shared Minh's sentiment, as she could not get licences for four new fishing vessels valued at VND28 billion ($1.2 million).
"I can't pay my debt if these vessels are not allowed to go offshore," she said.
Unofficial figures from the province showed that about 80 vessels were newly built or were being constructed.
Nguyen Van Tam, deputy head of the provincial department of agriculture and rural development's aquaculture unit, said most vessel owners applied for licences when their vessel's frames were completed, calling this procedure simple.
He said the regulation was issued suddenly, causing difficulties for local businesses.
However, Trung said the ministry had informed many localities before it was issued.
Regional countries such as Indonesia and Malaysia have already banned the activity. Viet Nam will stop issuing licences to more vessels and is likely to ban their operation in the future.
Trung said the provincial authority had revised the list of businesses whose new vessels were unlicensed and would grant licences to those who had their design documents approved before November 16.
Japan funds six bridges and road
Japan's Grant Assistance for Grassroots and Human Security Projects will fund the reconstruction of six bridges and a rural road as well as the purchase of medical equipment and an ambulance in Viet Nam.
Nakajima Satoshi, the Consul General of Japan in HCM City, on Wednesday signed agreements to provide non-refundable aid totalling US$314,098 to the five projects.
A $124,500 grant was given for the reconstruction of six bridges in Tra Vinh Province's Cau Ke District and Long An Province's Tan Tru District.
The Dak Xuan rural road in Nam Xuan commune of Dak Nong Province's Krong No District will receive $72,500, and the General Hospital in Binh Phuoc Province's Bu Gia Map District $89,100 to purchase medical equipment.
VNA/VNS/VOV/SGT/SGGP/TT/TN/Dantri