Party Central Committee concludes 14th meeting with TPP consensus
The 11th Party Central Committee wrapped up its 14th meeting in Hanoi on January 13.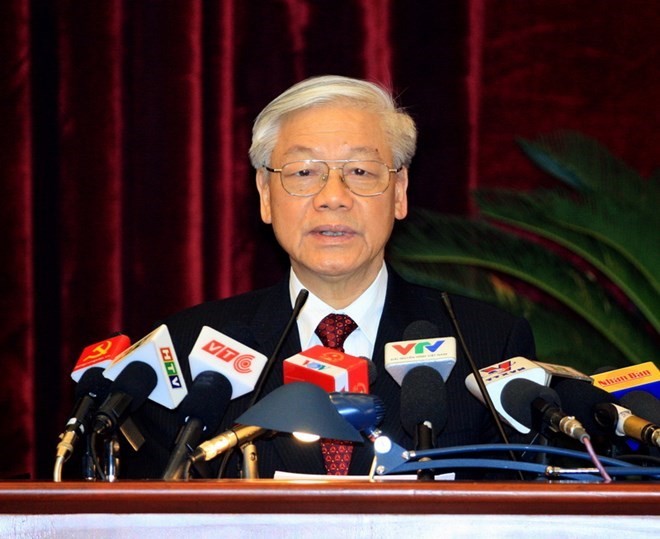 Party General Secretary Nguyen Phu Trong speaks at the closing ceremony.
Party General Secretary Nguyen Phu Trong said the three-day event took place in a serious and democratic manner as delegates had a high level of responsibility and duty to the country.
Delegates reached clear consensus on the signing and ratification of the Trans-Pacific Partnership (TPP) Agreement - in accordance with domestic law on signing and joining international treaties.
They agreed that the opportunities stemming from the TPP are enormous; however, challenges and difficulties will lie ahead, he said.
"With the country's experience from 30 years of 'Doi Moi' (reform) and global economic integration; along with the creativity, efforts, and united resolve of the whole Party, people, army and business community - we are confident to overcome any challenges, and seize opportunities from the TPP agreement for rapid and sustainable development", he said.
The Party Central Committee entrusted the Party committee of the Government to direct the TPP negotiation delegation in continuing to work with all the other TPP members to finalise all necessary procedures, so that the trade pact can be formally signed in early February 2016.
Meanwhile, the Political Bureau is responsible for directing preparations to submit the agreement to the National Assembly for ratification according to law; along with the drafting of the Party Central Committee's Resolution on effective international integration - given the country's engagement in the new-generation free trade agreements, including the TPP.
The Politburo is also to instruct the Government to build a programme of action to implement the TPP.
Regarding personnel work, the Party chief said the committee had discussed in a democratic and straightforward manner, and voted to adopt the proposed additional nomination of several members of the 11th Party Central Committee for re-election in the 12th tenure as "special" cases, along with nominations of Politburo members and Party Central Committee Secretariat for re-election in the 12th tenure as "special" cases.
The committee also passed the list of nominations for key leadership positions of the Party and the State in the 12th tenure, all with concentrated votes.
The committee reached strong consensus on the Political Bureau's proposal on nomination lists of the Presidium, the Secretariat, and the Committee for Appraising Delegates of the 12th National Party Congress.
The Party Central Committee also passed a resolution of its 14th meeting.