Seven outstanding features of the 2015 real estate market
The real estate market showed clear signs of recovery, which helped boost sales and real estate credit.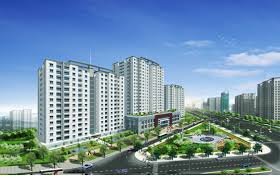 1.Foreign direct investment (FDI) continues flowing into the real estate sector.

By mid-December, foreign investors committed investment capital of $22.7 billion, including $2.39 billion, or 10.5 percent of total capital, for real estate projects.

Real estate ranks second among business fields which receive the most FDI.

2. As the market warms up, more successful transactions have been reported, while the inventory level has fallen.

According to the Vietnam Real Estate Association (VnREA), by November 20, 2015, the inventory volume had decreased by VND75.303 trillion compared with the first quarter of 2013, to VND53.245 trillion. At least 8,800 apartments had been left unsold by that time, worth VND13.2 trillion.

In HCM City, the inventory volume has decreased by 76.5 percent since 2012. About 24,300 transactions were made in the first 11 months of 2015.
The real estate market showed clear signs of recovery, which helped boost sales and real estate credit.
3. An open legal framework has been set up for the real estate market.

On July 1, 2015, the Real Estate Business Law and the amended Housing Law took effect, under which foreigners have the right to possess houses in Vietnam.

The laws, for the first time, comprise provisions aiming to protect house buyers, stipulating that real estate firms must have banks' guarantee when selling or leasing houses to be created in the future.

4. Improved infrastructure helps develop real estate market.

The news about urban area development and large infrastructure works helped stimulate the HCM City market.

The speeding up of the construction of the first subway station (Ben Thanh – Suoi Tien) and Rach Chiec Bridge, for example, has had impact on the market: a series of housing projects developed by Vingroup, Novaland, Hung Thinh, SonkimLand, Keppel Land Vietnam and Khang Dien have kicked off.

Investors have agreed to develop internal routes, Thu Thiem 2 Bridge and pedestrian bridge that connects Thu Thiem and district 1, all of which has attracted investors to the Thu Thiem new urban area.

5. Loans for real estate projects have increased rapidly.

In 2012-2014, Vietnam witnessed real estate credit growth rates of 14, 14.7 percent and 15.2 percent. In the first nine months of 2015, the figure was 14.59 percent, higher by 2.5 percent than the general credit growth rate.

6. A lot of mammoth projects have been registered, including Ba Son Complex, Sai Gon Port Complex and Can Gio urban area. The projects are expected to provide products by 2017.

7. Resort real estate is strongly developing. At least 70 percent of 200 registered projects on Phu Quoc Island had been kicked off by the end of the third quarter of 2015.