As VN banks digitise, customer service key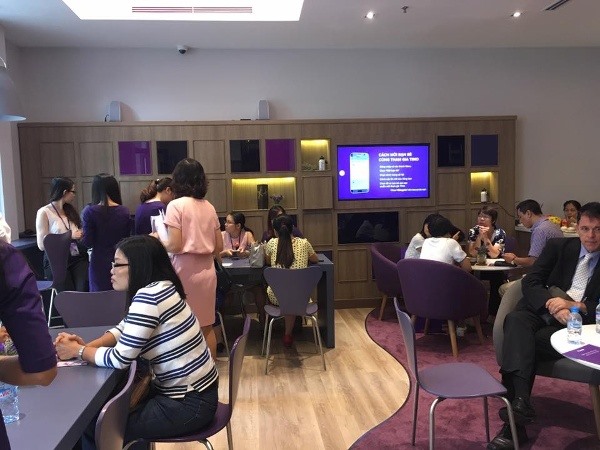 Customers use service at the Timo Hangout, No 17 Ng Quyền Street in Hà Nội.
Customers must be at the centre of banks' attention as they make a move towards digital transformation in an effort to adapt to a changing landscape of financial innovation and disruptive technologies.
This was said by the head of Retail Banking at VP Bank, Sandeep Deobhakta, at a conference held in Ha Noi on Thursday, titled, 'The Future of Finance in Vietnam 2017.'
Deobhakta, who has been holding this position since May 2015, said customers in Viet Nam are very open to new technologies and the nascent retail banking industry in Viet Nam can also adopt these technologies faster than other markets if they put customers first.
In the future, traditional banks might lose business to companies that employ disruptive innovations if they failed to deliver better, simpler and faster solutions to customers, Deobhakta cautioned.
VP Bank has been working with Timo, Viet Nam's first mobile-only bank, giving customers better solutions to manage their money, bills and the ability to top up their mobile cards through the Timo app. At Timo Hangouts, one can forget about a typical bank branch and instead enjoy a coffee as one opens an account and uses bank services.
Timo has about 4,000 customers in the HCM City and opened a Timo Hangout in Ha Noi last October, looking to attract more than 100,000 users by next year.
Viet Nam has a huge untapped market for financial innovation, with only 20 per cent of the population having bank accounts and three 3 per cent owning credit cards, Foo Boon Ping, managing editor of The Asian Banker, said at the conference.
"The stable GDP growth of around 6 to 7 per cent, low wages, a large population with a high savings and strong innovative approach are crucial factors that will accelerate the financial and industrial development in the Vietnam Vietnamese market," he said.
"Digital transformation is driven by real business needs to transform to become more cost efficient and to serve your customers as their behaviour and preferences change," he added.
According to fintechnews.sg, there are only about 36 fin-tech companies in Viet Nam, with most focusing on providing consumers and merchants with online and digital payment solutions.
HCM City OKs inland container depot
The HCM City People's Committee has approved construction of an inland container depot (ICD) in suburban District 9.
To be built in public-private partnership mode, the 60ha ICD will cost around VNĐ5.8 trillion (US$260 million) and be finished by 2019.
It will serve the relocation of enterprises operating in the Trường Thọ Port area in Thủ Đức District, which will mitigate traffic congestion and environmental pollution in the area.
The People's Committee has identified Đức Khải Corporation, Tân Hoàng Real Estate Joint Stock Company and Tam Bình Real Estate Joint Stock Company as the private sector partners.
The site is on Nguyễn Xiển Street, Long Bình Ward, which is only around 10m wide.
Fearing traffic jams there when the ICD opens, the People's Committee has instructed the departments of Transport and Planning and Architecture and the District 9 administration to widen the street.
Car, motorbike prices dance
There has been a boom in car and motorbike sales lately, leading to increased prices.
Automobile showrooms in Ho Chi Minh City are crowded with customers. Shop assistant Dang Thi Ngoc Sang of Viet Thai Quan automobile shop on Quang Trung Street in Go Vap District said that there has been an increase of 30 percent in purchasing power with 40 motorbikes being sold a day. Of which, all scooters account for 80 percent at the price of VND35-45 million ($1,550-$1,993).
Apart from which, SH scooters at the cost of VND85-115 million are not available in the shop. Because of increased demand but decreased supply, it takes at least three days to have a scooter if a customer wants to buy.
Additionally, prices of SH scooter at automobile shops are sold higher than that of producer. For instance, SH scooter 125 is sold VND80 million, 12 million higher than producer's listed price.
Air Blade, Lead scooters are listed higher than producer's prices yet they are sold like hot cake.
Similarly, Yamaha scooter also hiked compared to the previous price. For instance, Yamaha deluxe scooter is worth VND53 million, up VND2 million compare to producer's price.
On the contrary, market for motorbikes of other brand names is sluggish. Shops can sell one vehicle a week. SYM Shark Mini 125 EFI is sold VND29 million, a decrease of VND600,000 compared to the producer's price.
Demand for car also increased this year with vehicle new comer of VND1.2 billion. Agents of Toyota and Ford said that sales of car in the fourth quarter increased from 30-40 percent or averagely an agent sells 400-600 vehicles a month. Customers even pay more ten to hundreds of Vietnamese Dong to have a deluxe car before Tet holiday (the Lunar New Year).
Ngo Thanh Tri from Western Ford's Sale Department said that the company's agents sold out 450 vehicles a month near Tet holiday. Some vehicles are sold like hot cake, therefore, if customers want to have them, they must pay additional amount of VND100-250 million. For instance, agents sell the US-manufactured Ford Explorer sport utility vehicle at the price which is VND150-250 million higher than its original price of VND2.18 billion.
Similarly, Mercedes-Benz car, assembled and manufactured in Vietnam, has come on the market since April, 2016 with two models 250 4MATIC and 300 AMG 4MATIC with prices of VND1.789 billion and VND2.039 billion respectively yet clients must wait until March,2017 to have the car even they signed contract to buy it at this time.
Transport industry fails to meet disbursement plan
The disbursement of transport projects was VND33,387 billion (US$1.48 billion) including state budget and government bond funds by the end of December, accounting for 75.2 percent of the plan for 2016, the Ministry of Transport reported this morning.
According to the ministry, there are many reasons for the low disbursement progress. The major one comes from investors and project management boards who have not closely supervised total investment capital and construction costs of projects, causing established disbursement plans not close to reality.
They have been confused and short of the initiative in determining redundant funds while building projects.
After many times of review, projects expanding National Highway 1A and Ho Chi Minh Highway in the Central Highlands have kept reporting surplus capital raising difficulties for the ministry's management.
Another reason for the low disbursement is the slow settlement of problems occurring during construction process such as compensation for cracks and depressions of citizen houses.
In addition, the final settlement of accounts has been late. So far, spending results of many projects using government bond capital in the phase of 2012-2015 have yet to be approved to create a basis to determine building costs, redundant or deficient expenses compared to the phase of capital arrangement.
In the phase of 2017-2020, the ministry has proposed the Prime Minister to allocate VND40,551 billion ($1.8 billion) from government bond source for North-South Express Railway project.
In addition, the ministry also suggests the PM to approve VND7 trillion ($310.17 million) from the source to repair and upgrade tunnels and bridges in the north south railway to increase train speed and traffic safety, VND22,449 billion ($995 million) to complete important projects which progress has been extended because of capital shortage.
The ministry said that it would instruct relevant agencies to solve problems from the start of implementing plans this year and in the phase of 2016-2020.
Transport firms owe employees $31 million wages, premiums
Many businesses in the transport industry owed employees VND700 billion (US$31 million) in wages and social insurance premiums and letting thousands of workers short of work last year, reported the Ministry of Transport on January 11.
Workers' average income in the field reached VND6.2 million a month, up 6 percent compared to the previous year.
By the end of November, unpaid wages of the entire industry was VND289.9 billion ($12.85 million) while health and unemployment premium debts topped VND442 billion ($18.7 million). Over 3,000 workers were short of work at their companies.
This situation mainly occurred in companies falling in difficulties for many years or waiting for procedures to go bankruptcy.
Among them are member companies under Vietnam National Shipping Lines and Shipbuilding Industry Corporation with VND1,700 workers short of work, VND130.5 billion ($5.78 million) unpaid wages and VND160 billion ($7.09 million) premium debt.
In addition, many businesses have not closed insurance books for workers causing long lasting complaints.
Transport ministry wants road maintenance charge on power, telecom and water firms
Road maintenance fee revenues and State budget are not enough to maintain roads, so the Ministry of Transport has proposed generating a new extra source of revenue for road maintenance by leasing infrastructure to telecom, electricity, and water supply and drainage companies.
Le Hoang Minh, chief of the office of the central road maintenance fund, said the fund has two main sources of revenue: the road maintenance fee and the annual State budget allocation. Last year, the fund met just 48% of the total financing needs for maintenance of centrally managed roads.
Minh said Article 42 of Government Decree No. 10/2013 governing the management and use of traffic infrastructure says that the traffic infrastructure assets, including bus stations, parking lots, road administration offices, rest stops and other works serving road transportation and safety corridors, can be leased out. However, the Ministry of Finance has yet to provide specific guidelines for this.
Thus the office has plans to send a proposal to competent agencies for the issuance of a guiding circular that creates a legal framework to generate an extra source of revenue for road maintenance and reduce the State budget burden.
As reported by the fund, its total revenue was VND10.3 trillion last year, a year-on-year increase of 8.9%, of which the central budget was over VND3.5 trillion, and fee revenue from vehicles was VND6.2 trillion. The cost for road maintenance was VND7.5 trillion.
The fund had been allocated a total of VND2.4 trillion to 63 local funds to repair 263 roads.
Revenue is estimated to reach VND9.8 trillion this year, with VND6.1 trillion from autos and VND3.7 trillion from the State budget.
FDI approvals in Can Tho put at US$200 million
Foreign direct investment (FDI) approvals in Can Tho City last year amounted to nearly US$200 million, the highest annual level since it became a centrally governed city in 2004.
Truong Quang Hoai Nam, vice chairman of Can Tho City, announced this achievement at a conference to review FDI activity in 2016 and discuss plans for 2017, which was held on January 11 by the Can Tho City Center for Investment, Trade and Expo Promotion.
The sport shoes factory developed by South Korea's Taekwang Vina Industry Joint Stock Co accounted for US$172 million of the total FDI pledges in Can Tho last year, Nam said.
The city now has 74 FDI projects with total registered capital of US$643 million.
Data of the Southwest Steering Committee showed that the Mekong Delta had 171 fresh projects capitalized at US$1.36 billion approved last year. Meanwhile, 115 operational foreign-invested projects got the nod to add a total of US$555 million to their capital commitments.
The delta is now home to 1,324 valid FDI projects worth more than US$18.9 billion.
The number of FDI projects in Can Tho now accounts for 5.5% of the total in the delta while their registered capital only makes up 3.4% of the total.
Nam proposed the center foster cooperation with investment funds and consulting companies as they constantly provide consultancy for big companies.
Sun Life Vietnam makes first public appearance
Sun Life Vietnam held a ceremony in HCMC on January 11 to mark its official debut in the Vietnamese market following Sun Life Financial's acquisition of the remaining 25% stake in PVI Sun Life Insurance Co Ltd.
Sun Life Vietnam became a wholly owned subsidiary of Sun Life Financial after the stake acquisition from PVI Holdings got regulatory approval in November last year, giving the international financial services organization further access to the Vietnamese market.
Roger Steel, president of Sun Life Financial Asia for new markets and business development, described the new company as the opening of a fresh chapter in Sun Life's journey in Vietnam.
"With the recent achievement of sole ownership of our business here in Vietnam, and renaming of PVI Sun Life to Sun Life Vietnam, we reaffirm our commitment to this market and demonstrate our plans to be here for the long term," Steel said.
He told a press conference ahead of the grand opening ceremony of Sun Life Vietnam on January 11 that with PVI Holdings as its distribution partner, Sun Life Vietnam will continue its commitment to helping Vietnamese clients achieve lifetime financial security by offering a strong suite of life insurance, health riders and savings products.
"Vietnam is one of the fastest growing economies for life insurance and pensions in Asia and this transaction will enable us to strengthen our platform in this market," Steel said, adding that Sun Life is excited about its future, especially in Vietnam.
Larry Madge, general director of Sun Life Vietnam, said the firm's business grew strongly last year and that it is aiming high for the coming years though it is new to the Vietnamese market. The company is determined to be one of the best insurance companies in Vietnam.
"We will leverage our dynamic, client-centric and high performance startup with the global experience of Sun Life Financial Inc. We are already the market leader in corporate sales and will continue to strengthen our presence while leveraging the expertise from our parent company to take Sun Life Vietnam into the next phase of growth," said Madge.
Sun Life Vietnam said it has established itself as a market leader and industry pioneer in pensions.
Sun Life Financial provides a wide range of protection and wealth products and services to individuals and corporate customers. It has operations in Canada, the United States, the United Kingdom, Ireland, Hong Kong, the Philippines, Japan, Indonesia, India, China, Australia, Singapore, Vietnam, Malaysia and Bermuda.
Slow rise in consumer lending
Consumer lending is seeing only a slow rise ahead of Tet (Lunar New Year), despite commercial banks offering preferential loans to both individuals and enterprises, Dau tu Chung khoan (Securities Investment) newspaper reported.
Vietnam International Commercial Joint Stock Bank (VIB) is offering auto loans to customers at 7.6 percent per year. The credit limit is up to 80 percent of the car value and the loan is for a maximum duration of eight years. Early repayment is free of charge from the fourth year of the loan.
Car loans at preferential rates of 7 percent per year are also applying at HDBank.
Maritime Commercial Joint Stock Bank (MaritimeBank) is also launching loans at 5.99 percent per annum for customers who need money to shop for Tet, and at zero percent to customers who take installment loans via credit card.
Military Commercial Joint Stock Bank (MB) is also funding up to 90 percent of their customers' capital needs for purposes of production and business.
Similarly, to help small- and medium-sized enterprises (SMEs) during the festive season, Asia Commercial Joint Stock Bank (ACB) has offered loans at an interest rate of 7 per cent per year, with a ceiling limit of VND4 trillion (176.21 million USD).
The ACB also has a promotional lending product at 7.5 percent per year for business households borrowing capital to supplement capital and expand business premises and for homebuyers.
Though the demand for capital is rising sharply ahead of Tet, industry insiders said supply and demand are unlikely to match.
General director of a bank, who did not wish to be identified, said that though this was a good time to develop outstanding loans, it would not be that easy as customers are expecting interest rates to drop further, an expectation that cannot be satisfied because the banks' cost of mobilising capital tends to rise close to Tet. In fact, mobilisation interest rates have again increased at many banks by 0.2 to 0.4 percent per year, depending on the terms.
Besides, financial expert Huynh Trung Minh said that the US Federal Reserve's 25-percentage point hike in interest rate (from 0.25-0.5 to 0.5-0.75 percent per year) has strengthened the US dollar and put pressure on the dollar/dong exchange rate. When exchange rates rise, interest rates in dong go up as a sufficiently attractive interest rate gap is needed to prevent people from switching to depositing in US dollars, Minh said. This partly explains the slow growth in lending, though banks launched promotional products at the end of 2016.
In addition, many customers are hesitant to take preferential consumer loans, home loans or home repair loans because they are worried about high lending rates after the promotional period is over.
Lending interest rates are also forecast to inch up during the early months of 2017 because of increasing input costs.
Banking expert Tran Du Lich said that further reduction of lending rates in 2017 would be tough as inflation has shown signs of rising and there is pressure as another Fed interest rate hike is expected this year.
Ministry predicts 2017 export growth
Products including telephones and spare parts, garment and textiles, electronics and computers are expected to bring highest export turnover to the country in 2017, said the Ministry of Industry and Trade.
Last year, Vietnam's total export turnover was 175.9 billion USD, an increase of 8.6 percent over the previous year. Therefore, the ministry has set an export turnover target of 188 billion USD for 2017, or 6.9 percent higher than last year.
The ministry said telephones and spare part exports were expected to reach 39 billion USD, representing a 13 percent year-on-year rise, and the products with highest export turnover in 2017.
The garment and textile products would follow with export turnover of 25 billion USD or 6 percent higher than that of last year.
Electronics, computers and spare parts are forecast to achieve export turnover of 22 billion USD, increasing 19 percent from last year.
The exports of shoes, seafood and fruits would also contribute high export turnovers of 14 billion USD, 7.5 billion USD, and 3 billion USD respectively.
Minister Tran Tuan Anh believes that in 2017, import-export turnover would continue to increase thanks to the signing of a number of free trade agreements (FTAs) and FDI inflows shifting from other countries to Vietnam. Participation in the ASEAN Economic Community would also bring opportunities to the country by expanding its export markets as well as increasing competitiveness.
Statistics from the ministry showed that last year Vietnam exported 25 products, with turnover of more than 1 billion USD each.
In 2016, the country reported a trade surplus of 2.68 billion USD, accounting for 1.52 percent of its total import-export turnover.
Vietnam's export turnover to its traditional markets including Asia, Europe and the US saw positive growth last year. The export turnover to the US saw the highest growth rate of 13.2 percent, followed by Europe with 11.3 percent and Asia with 6.9 percent.
VCCI to hold series of activities during APEC Vietnam Year
The Vietnam Chamber of Commerce and Industry (VCCI) will hold a series of activities during the Year of Asia-Pacific Economic Cooperation (APEC) 2017 hosted by Vietnam, heard a press conference in Hanoi on January 12.
They include the APEC start-up forum slated for September in Ho Chi Minh City, events on the sidelines of the APEC Small and Medium Enterprises Ministerial Meeting and the fourth meeting of the APEC Business Advisory Council (ABAC) in Da Nang from November 4-7, the APEC Business Summit with Vietnam in Da Nang on November 8, the APEC CEO Summit in Da Nang on November 8-10, and a dialogue between leaders of APEC economies and ABAC members.
With more than 20 major activities and 159 APEC meetings to be held in eight cities and provinces, the Vietnamese businesses will have chances to seek foreign partners, deeply join the global manufacturing chain and introduce products to key partners and the world's leading corporations.
Permanent deputy head of the APEC Vietnam Secretariat Nguyen Minh Vu said the APEC Vietnam Year 2017 is a diplomatic of Vietnam's external activities until 2025, making it easier to popularise domestic businesses, localities and people to friends in the region and the world.
Within the framework of the APEC 2017, the VCCI-hosted events will enable APEC leaders to share global business trends and their insight into APEC member states' business climate.
The VCCI will also instruct localities to outline sets of papers to attract investment during the APEC Business Summit with Vietnam which is expected to be held annually in the country from next year.
In order to promote Vietnamese businesses' involvement in APEC Year 2017, Vu suggested them attend the APEC Business Summit, the ABAC dialogue with leaders, and a summit on Vietnamese economy, thereby tapping maximum support from APEC's support programme, including the APEC business travel card, the Boracay Action Agenda to Globalise Micro, Small and Medium Enterprises between now and 2020, a business training programme in specific fields, especially safety in exports.
Luc Yen orange awarded collective trademark
The Luc Yen orange cooperative had its specialty accredited as a collective trademark at a ceremony in the northern mountainous province of Yen Bai on January 12.
Grown for over 200 years, the Luc Yen orange is famous for its thick yellow peel and sweet juice.
There are 645 households cultivating the fruit trees on a total area of 308.8 hectares across 18 out of 24 communes in the Luc Yen district.
The district produces between 2,000 and 2,500 tonnes of orange on an annual basis, which brings an average revenue of up to 40 million VND (1,760 USD) per hectare.
The district plans to expand its orange plantation to 500 hectares by 2020.
US investment fund to expand operation in Vietnam
The Harbinger Capital Partners LLC of the US plans to expand investment and cooperation in Vietnam.
President of the US investment fund Philip Falcone revealed the plan at a meeting with Prime Minister Nguyen Xuan Phuc in Hanoi on January 12.
He said Harbinger will actively work to encourage US investors to pay more attention to the Southeast Asian market, thus contributing to propelling the two countries' economic-trade-investment collaboration forward.
He also hoped the Vietnamese government will create the optimal conditions for US businesses, including Harbinger, to make long-term and stable investment in the country.
He informed the host about the progress of the Ho Tram resort and tourism complex project in the southern province of Ba Ria – Vung Tau. The $4.2 billion project is considered the biggest foreign-invested one in the field of tourism in Vietnam, which is expected to generate about 4,000 jobs for local labourers.
For his part, Prime Minister Nguyen Xuan Phuc highly valued Harbinger's investment activities in Vietnam over the past time.
He highlighted Vietnam's policies to improve the investment environment for foreign investors, including those from the US.
The PM proposed the US investment fund continue expanding investment in Vietnam and serve as a bridge to connect US enterprises with domestic partners.
He urged Harbinger and other US businesses to actively support Vietnam in hosting the 2017 APEC Economic Leaders' Meeting.
Pharmaceutical firm acquires local partner of Canadian drug venture
A Vietnamese pharmaceutical firm has inked a deal to acquire a drugmaker which is the local partner in a Canadian joint venture.
Cuu Long Pharmaceutical (Pharimexco), located in the Mekong Delta province of Vinh Long, is expected to complete the deal to buy Euvipharm at VND170 billion (US$7.6 million) in the first quarter, with Pharimexco and its subsidiaries owning 90% of Euvipharm's shares upon the conclusion of the transaction.
Euvipharm was established in 2005, possessing one of Vietnam's biggest and most complete drug manufacturing facilities. Its factory in Long An Province, located in the Mekong Delta, received an investment of US$17 million.
In 2013, Euvipharm became a member of a joint venture with Canada-based Valeant Pharmaceuticals International.
In June, the company was suspended from all manufacturing activities for three months by the Drug Administration of Vietnam over violations in drugmaking, including the use of ingredients with unclear origin and substandard drug testing.
Nguyen Van Sang, chairman of Pharimexco, said the acquisition of Euvipharm would boost the firm's manufacturing power while enabling it to develop new lines of drug by making use of the modern equipment available at Euvipharm's Long An factory.
Pharimexco reported a pre-tax profit of nearly VND68.5 billion (US$3.06 million) in the first three quarters of 2016, a 23% growth rate from 2015.
Foreign Trade University announces research topics
The Foreign Trade University has used the StoxPlus' database platform in four areas of research with an aim to boost the school's scientific study activities during 2017-19.
The four research topic areas are: "Reform of the socio-economic regime for international integration," "Green economy and corporate social responsibility," "Restructuring of corporates' financial system and behaviour," and "Intelligence transfer for corporates."
The university emphasised that the research carried out under these heads will not only be recognised by the international science community but will also be applied practically to address some immediate obstacles that have been hampering reforms in Viet Nam's economy and obstructing its growth.
Speaking at a ceremony held on Wednesday where the announcement was made, the head of the Foreign Trade University, Bui Anh Tuan, said the school has always had faith in its researchers and they must fulfil their commitment to come up with high-quality scientific studies.
The 24 groups of researchers, who used StoxPlus' platform in conducting research papers, will publish 35 scientific studies in the next three years in international science magazines recognised by the US-based Information Sciences Institute (ISI).
In order to support these researchers, currently employed by the Foreign Trade University, the school issued a regulation for these research groups to ensure the best working conditions for them and maximise their capabilities in carrying out scientific research.
The university also funded an initial amount of US$4.375 million for the research groups.
According to the General Secretary of the State Council for Professor Title, Tran Van Nhung, the funding proves that the Foreign Trade University is capable of conducting scientific research and the school will make progress when it comes to international ranking of universities.
To support the research groups, the Foreign Trade University co-operated with StoxPlus, a joint-venture financial and business information corporation of Nikkei and QUICK Corp. This platform helped researchers gain access to StoxPlus' database on Viet Nam's economy and financial markets.
At the ceremony, the university and StoxPlus also gave awards to three research groups for best research works, including one on volatility timing in the stock market and another on the impact of the macroeconomic variables on premium risks provision. The two sides also signed a comprehensive agreement to promote co-operation and enhance the effectiveness of scientific research conducted by the school. This is being seen as a breakthrough initiative, particularly when other universities, and in fact the entire education sector, are struggling to develop their scientific research programmes.
The State Securities Commission's (SSC's) head of the Office, Nguyen Tien Dung, highly appreciated the co-operation between the Foreign Trade University and StoxPlus, saying it was comprehensive and covered scientific research which will help the State in applying the results in the decision making process.
The co-operation not only produces excellent academic reports but also generates practical benefits for the securities sector, Dung added.
He said the SSC helped select the topics, score the research papers and will consider using these research papers while formulating plans for the development of the securities sector.
The SSC also appreciated the efforts of various individuals and organisations to set up research groups to improve the efficiency of the financial and monetary market.
The co-operation between the Foreign Trade University and StoxPlus will serve as an instrument for the SSC to update its current market database. The market data will be now part of a well-organised and well-managed system, he added.
As one of the major channels to mobilise capital for socio-economic development, the securities sector needs to improve its operational and market trading aspect in order to attract more investors. In 2016, Viet Nam was one of the five stock markets in Asia that registered the highest growth.
The SSC also expected Viet Nam to transition from a frontier market into an emerging market, as per international standards. In order to achieve that objective, the government and all relevant agencies need to improve their legal framework, make local businesses more transparent and ensure availability of more products in the market.
Czech pharma firms target VN market
Pharmaceutical distributors from the Czech Republic are targeting the Vietnamese market, according to a report by Prague radio on Wednesday.
Lekarnici 95 pharmaceuticals company, which owns a network of pharmacies in Karlovy Vary and Plzen provinces, plans to expand operations to Southeast Asia, including Viet Nam.
Director of Lekarnici 95's regional pharmacy network Petr Koudelka said the firm has begun to study Vietnamese pharmacies and hospitals' demand for pharmaceuticals. It plans to import products from other countries, as well as its existing stock, to sell in Viet Nam.
Last November, the Vietnamese embassy partnered with the Czech Management Association to hold a seminar on trade and investment in Viet Nam.
Two-way trade currently accounts for nearly US$1 billion, but bilateral investment remains limited due to a lack of information about Viet Nam's business climate. Ivo Gajdos, Executive Director of the Czech Management Association hailed Viet Nam as a promising market with its population of 90 million.
HCM City's 1st permanent flower market to open
HCM City's first permanent flower trading centre will open at the Binh Dien wholesale market in District 8 this year, according to the municipal People's Committee.
The Saigon Trading Group (Satra) will build the 14ha centre at a cost of around VND700 billion (US$31.8 million).
It will offer flower sorting, packing, refrigerated transport and cold storage, floriculture support, post-harvest handling, logistics, and financial services.
Its first stage will be completed this year, with an expansion scheduled for next year.
Some 90 per cent of the flowers consumed in HCM City come from Da Lat City, according to Satra.
Da Lat grows flowers in the billions every year.
It too plans to set up a flower trading centre this year — at the bottom of Mimosa Pass – which will supply flowers to HCM City.
Central province hopes for investment surge
The central province of Thua Thien-Hue expects to see a surge of investment in tourism this year in light of interest expressed by investors last year.
Le Van Thu, director of the investment promotion and support centre of Thua Thien-Hue, said the province will conduct more investment promotion to attract investors in 2017.
In 2015, the province granted only nine Foreign Direct Investment (FDI) projects for a total of $451 million. In all, the province attracted 88 foreign direct investment projects with total investment capital of US$2.1 billion from 2000 to 2016.
Thu said the PSH Group from Spain is eyeing development of a resort in Vinh Thanh with a registered capital of $145 million, while the BRG Group has approached authorities with plans to develop a resort and golf course complex in Vinh Thanh-Vinh Xuan with an investment of VND2 trillion ($88.5 million).
Bitexco also plans to invest VND545 billion ($24.1 million) in the hot-spring resort in My An.
According to the centre, Bitexco Group was granted an investment license for an eco-resort and an urban project in Lap An lagoon with a registered capital of VND3.3 trillion ($146 million).
The My Way Hospitality company also plans to invest in Bach Ma resort with an estimated investment of VND1.5 trillion ($66.4 million).
Thu said the province is seeking investment in high-tech, tourism, logistics, health care and high-tech agriculture, offering competitive labour and land costs.
Several financial incentives have been provided to attract investors, such as tax exemptions for the first four years of operation, a 50-per cent tax reduction for the next nine years, and a 50-per cent tax rate reduction for high-income employees, according to Thu.
He said one of the largest planned tourism projects is a $875-million complex being financed by the Banyan Tree Group of Singapore.
The Hue City area has 128 km of coast and 22,000ha of lagoon for tourism development in connection with UNESCO-recognised world heritage sites in the central region.
The province has developed six industrial zones to attract garment, industry, food processing and mining, projects and create nearly 14,000 jobs.
Rubber sector enjoys 51% profit growth in 2016
Vietnam Rubber Group (VRG) achieved a pre-tax profit growth of up to 51 per cent, reaching over VND2.36 trillion (US$103.8 million) in 2016.
This was stated at a conference to review the firm's production and business in HCM City on Tuesday.
Addressing the event, Standing Deputy Prime Minister Truong Hoa Binh urged VRG to promote the equitisation of the parent firm and its subsidiaries and continue to withdraw capital from non-core businesses. It must also restructure shareholders of the group's major companies, he said.
Along with enhancing further trade promotion and seeking new markets, the group needs to devise solutions on saving production costs to cut prices and increase competitiveness towards promoting the industry's sustainable development in the future, he stressed.
The group should enhance processing of industrial products from rubber and rubber wood to reduce the export of raw materials and increase export value, Bình said. Medium density fiberboard (MDF) factories should promote production following the reduction in the price of material to increase market share.
VRG General Director Tran Ngoc Thuan said in 2016, the agriculture in general faced the most difficulty due to the impact of climate change. Meanwhile, the rubber industry, in particular, suffered significantly from high rubber supply, the price reduction of natural rubber and fluctuation of global oil prices.
However, VRG has outlined orientations and measures to tackle these problems, Thuan said. In 2016, VRG focused on restructuring the sector, applying further advanced technologies in production to improve the quality of products.
He said VRG's total revenue grew 14.4 per cent against the set plan, reaching over VND15.4 trillion. It contributed VND1.15 trillion to the State budget, up 39.9 per cent year-on-year.
The company has targeted earning an estimated profit of VND4.18 trillion in 2017, up 47 per cent from 2016.
As VN banks digitise, customer service key
Customers must be at the centre of banks' attention as they make a move towards digital transformation in an effort to adapt to a changing landscape of financial innovation and disruptive technologies.
This was said by head of Retail Banking at VP Bank, Sandeep Deobhakta, at a conference held in Ha Noi on Thursday, titled, 'The Future of Finance in Viet Nam 2017.'
Deobhakta, who has been holding this position since May 2015, said customers in Viet Nam are very open to new technologies and the nascent retail banking industry in Viet Nam can also adopt these technologies faster than other markets if they put customers first.
In the future, traditional banks might lose business to companies that employ disruptive innovations if they failed to deliver better, simpler and faster solutions to customers, Deobhakta cautioned.
VP Bank has been working with Timo, Viet Nam's first mobile-only bank, giving customers better solutions to manage their money, bills and the ability to top up their mobile cards through the Timo app. At Timo Hangouts, one can forget about a typical bank branch and instead enjoy a coffee as one opens an account and uses bank services.
Timo has about 4,000 customers in the HCM City and opened a Timo Hangout in Ha Noi last October, looking to attract more than 100,000 users by next year.
Viet Nam has a huge untapped market for financial innovation, with only 20 per cent of the population having bank accounts and 3 per cent owning credit cards, Foo Boon Ping, managing editor of The Asian Banker, said at the conference.
"The stable GDP growth of around 6 to 7 per cent, low wages, a large population with a high savings and strong innovative approach are crucial factors that will accelerate the financial and industrial development in the Vietnamese market," he said.
"Digital transformation is driven by real business needs to transform to become more cost efficient and to serve your customers as their behavior and preferences change," he added.
According to fintechnews.sg, there are only about 36 fin-tech companies in Viet Nam, with most focusing on providing consumers and merchants with online and digital payment solutions.
HCM City reviews plans to lend to enterprises
The banking – enterprises connection programme enabled around 22,000 businesses in HCM City to borrow over VND280 trillion (US$12.5 billion) from banks last year.
They had three kinds of loans available, with the city authorities acting as intermediaries for two: low-interest credit packages and loans for key sectors like agriculture, support industries, high-tech application and exports. For the third, district- and lower-level authorities helped bring the banks and enterprises together to address the latter's funding needs.
Sixteen banks joined the programme with total capital of nearly VND212 trillion. "The programme expanded with total loans last year being 60 per cent more than in 2015, and the number of customers increased by 2.3 times," Nguyen Hoang Minh, Deputy Director of the State Bank of Viet Nam (SBV)'s HCM City office, told meeting held on Tuesday to review the programme.
According to the SBV, complaints from businesses about difficulties in getting credit had reduced, and in fact banks are meeting with enterprises in a bid to find customers since they are awash in funds.
This year the programme will focus on high-tech agriculture, start-up businesses and household businesses that expanded into enterprises, and seeks to lend VND241 trillion ($10.7 billion) with short-term interest rates of under 7 per cent and medium- and long-term rates of 8–10 per cent.
The city's price stabilisation programme around Tet was also discussed at the meeting.
HCM City furthers hi-tech agriculture, targeting higher production value
Although agriculture contributes to less than 1 percent of HCMC's gross regional domestic product (GRDP), the city has affirmed to continue focusing on developing the field and boosting hi-tech application in production, Minister of Agriculture and Rural Development Nguyen Xuan Cuong said at a recent conference.
Agricultural land has been narrowed to make room for industrialization and urbanization still HCMC has bravely set a target to get the production value of VND450 million ($19,800) a hectare this year.
The city has changed from rice farming into other high value products since 2000 and continued restructuring toward hi-tech and bio technology application into urban agro production for the last two years.
Last year, production value reached VND410 million a hectare, up 9.3 percent over the previous year. It was only VND170 million in 2011.
Many hi-tech production models have been applied bringing higher than before income for farmers. A hectare of vegetables yields VND800 million to VND1 billion a year, orchid VND2 billion, tiger prawn VND800 million and ornamental fish over VND1 billion and a herb of 20 dairy cow brings VND800 million a year.
While the country's agriculture continued meeting with lot of difficulties with the growth rate of 1.2 percent, the city still sustained the growth momentum of 5.8 percent.
Deputy chairman of the city People's Committee Le Thanh Liem has instructed to transfer rice and salt making areas in Can Gio district into other crops with higher value and effectiveness to further production value amid shrinking farming land.
According to him, the city will continue having policies encouraging farmers and businesses to develop hi-tech urban agriculture and implementing agricultural restructuring to target product quality, food safety and hygiene, production efficiency and farmer profit instead of quantity.
So far, the city has built HCMC Hi-Tech Agriculture Park and a dairy cow farm with Israeli technology.
The park's management board reported that in the phase of 2011-2015 it contributed in forming some hi-tech agricultural zones such as orchid planting communes in Cu Chi district; safe vegetable communes in Binh Chanh and Hoc Mon districts with nearly 330 producing models meeting VietGap quality standards with the total area of 145 hectares.
Orchid planting communes in Cu Chi include Tan Thong Hoi, Tan An Hoi, Phuoc Hiep, Trung An, Nhuan Duc and Pham Van Coi. Vegetable production communes comprise Tan Quy Tay, Hung Long, Binh Chanh in Binh Chanh and Quy Duc, Xuan Thoi Thuong, Xuan Thoi Son and Thoi Tam Thon in Cu Chi.
The productivity of these vegetable models is 15-30 percent higher than previous farming methods. The new models have been introduced and transferred to farmers providing them with farming knowledge and skills to improve output and income and reduce loss after harvest. These have contributed in speeding up the progress of the new urban development program in the city.
Recently, the Ministry of Agriculture and Rural Development has recognized four scientific achievements by the center including bellflower and orchid varieties.
Dr. Nguyen Ky Phung, deputy director of the city Department of Science and Technology, said that the direct application ratio of accepted scientific research works into practice reached 35.5 percent in 2011-2015 when labor productivity increased 5.6 percent.
The increasing application of hi-tech and biotechnology is expected to bring more values for the city's agriculture.
This year, HCMC will put into operation broadened hi-tech agro zones in Can Gio, Binh Chanh and Cu Chi, where together with the HCMC Biotechnology Center play major roles in human resource training and achievement transfer to farmers.
Local authorities will continue implementing the agricultural restructuring project in the phase of 2011-2015, applying hi-tech and biotechnologies, issuing agricultural insurance assistance policies, boosting the establishment of new enterprises and cooperatives, creating supply chain connectivity to reduce costs, stabilizing production and ensure food safety.
Parliament aims to clarify SME criteria
National Assembly Chairwoman Nguyen Thi Kim Ngan called it critical to clarify criteria determining which businesses are small and medium sized in order to raise feasible support as the country aims to boost its private sector and start-up culture.
As small- and medium-sized enterprises (SMEs) account for around 97 per cent of firms in Viet Nam, the State's limited resources must support SMEs, Ngan said while discussing the Law on supporting SMEs at the National Assembly Standing Committee's sixth session Monday.
National Assembly deputies agreed that supporting SMEs is of special importance to create momentum for economic growth, noting that attention should be given to ensure the feasibility and timeliness of the law.
The scope of the draft law remains too large, making support infeasible and beyond State resources, Ngan said.
Phan Thanh Binh, Chairman of the National Assembly Committee for Culture, Education, Youth and Children, said that SMEs should be classified into different categories for appropriate support.
Deputies said that support should focus on SMEs operating in manufacturing, science and technology, especially those which could create high added value for the economy.
In addition, it is necessary to have policies that will improve SMEs' access to credit and capital.
Deputy Chairman of the National Assembly Phung Quoc Hien said that the law must ensure the consistency with other major laws, such as the Law on State budget, the Law on Tax and the Law on Land.
Deputies also said that further consideration must be given when drafting the law on supporting SMEs. The draft law will be discussed at the third meeting session of the National Assembly and might be passed at its fourth meeting.
The National Assembly Economic Committee said that the law will be drafted with a focus on supporting start-ups, start-up funds and SME support funds.
VEF/VNA/VNS/VOV/SGT/SGGP/Dantri/VET/VIR