Competition in farm-material growing areas heats up
Many foreign conglomerates have jumped into the Vietnamese farm produce market after Vietnam signed a series of FTAs.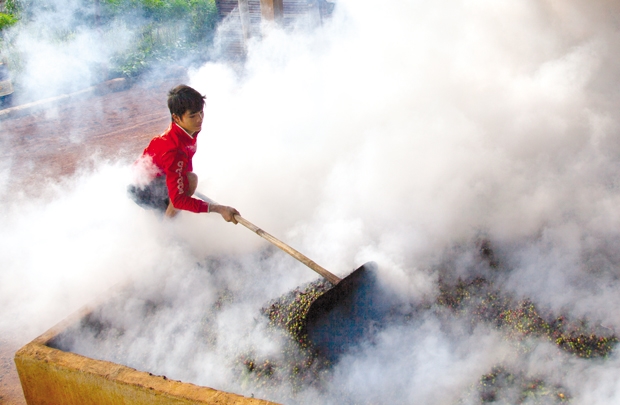 Phan Huu Thang, a respected foreign investment expert, said that Vietnam attracted more foreign direct investment (FDI) into the agriculture sector since 2015.

Many Japanese enterprises have shown their intention to invest in the farm produce processing sector or set up businesses to collect farm produce for export in the Central Highlands.

South Korean and Taiwanese have also eyed Vietnam's agriculture. CJ Group from South Korea has invested $2.1 million in a chili project in Ninh Thuan province. In the third quarter of 2016, it announced a plan to pour $500 million into Vietnam's agriculture.

Lotte in April 2016 revealed the plan to set up a logistics company with the emphasis on farm produce collection in Vietnam to export to South Korea.

Huynh Ngoc Phien, who was an advisor to a Thai company in Vietnam, said 4-5 years ago, many Thai companies set up their representative offices in Vietnam which organized the networks of local agents to collect farm produce to export to Thailand.
Many foreign conglomerates have jumped into the Vietnamese farm produce market after Vietnam signed a series of FTAs.
Since the mid-1990s, many big conglomerates from Japan, the US and Europe have come to Vietnam to collect farm produce for export, especially coffee, tea, cocoa and rice.

A report from the General Department of Customs (GDC) showed that 14 out of 30 leading roasted coffee exporters in the 2013/2014 crop were foreign invested enterprises, including Armajaro, Olam, Louis Dreyfus Commodities (LDC), Sunwah Commodities and Neumann Gruppe.

LDC, to serve its trade, cooperates with 6,000 farming households, 30 agents and 110 heads of farmers' teams in the Central Highlands to implement a program on developing coffee plants with 4C and UTZ certificates.

To date, LDC has set up its agents to collect Robusta coffee in Lam Dong and Dak Lak, the biggest coffee growing areas in Vietnam, and has built an Arabica production plant in Lam Dong and one Robusta plant in Pleiku.

In 2013, LDC joined forces with Vietnamese Vinafood 1 to set up a joint venture which runs a rice miller in Dong Thap province.

Vietnam's cocoa farming, despite modest output, also attracts foreign investors because the area has suitable climate and soil conditions to grow materials to make chocolate.

Instead of collecting, preliminarily treating and exporting cocoa beans to chocolate manufacturers in the world, Vietnamese enterprises can only grow and provide fermented cocoa beans to international traders such as Cargill, ED&F Man and Mitsubishi.

However, there are only two existing companies - Puratos Grand-Place Vietnam and Mars.

These enterprises support cocoa growers and run closed production chains, from farms to finished products.