Gov't, ministries, bankers and businesses cooperate to breed shrimp
Prime Minister Nguyen Xuan Phuc has decided that Vietnam should become the shrimp production base of the world.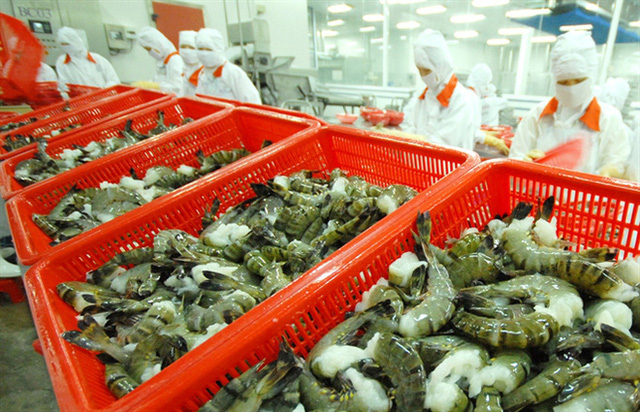 The target of exporting $10 billion worth of shrimp products by 2025 is within reach, he said.

The Ministry of Agriculture and Rural Development (MARD) said it hoped the shrimp export turnover would climb to $10 billion a year by 2030. However, Phuc said the target was too low and that this can be reached sooner, by 2025.

He went on to say that he wants to see Vietnam to become the 'world's shrimp production base'.

While the plan has raised doubts among some analysts about its feasibility, others believe that the $10 billion goal is attainable for several reasons.

Shrimp adapt well to saltwater intrusion

According to MARD's Minister Nguyen Xuan Cuong, Vietnam's agriculture is facing three challenges – small-scale household production, climate change and deep international integration.

Meanwhile, brackish shrimp is a product can be developed in the context of climate changes.
Prime Minister Nguyen Xuan Phuc has decided that Vietnam should become the shrimp production base of the world.
Vietnam can expect more than $3 billion worth of shrimp exports and 700,000 hectares of shrimp breeding area.

The natural conditions, climate and weather conditions in Vietnam, especially the Mekong Delta, are very favorable for shrimp farming.

The pioneer

Phuc said if Minh Phu Seafood JSC sets the target of exporting $2 billion worth of shrimp by 2021, the entire Ca Mau province would be able to obtain export turnover of $4 billion.

The remaining $6 billion export turnover can be obtained by other provinces and cities. This means that the $10 billion target by 2020 can be reached

Le Van Quang, president of Ca Mau-based Minh Phu Group, said Minh Phu has its reason to set such a target, affirming that this is a feasible plan as the group plans big changes in production, marketing and technology application.

There's no limit for shrimp export, no price crisis

Dang Quoc Tuan, deputy chair of Viet Uc Group, affirmed that Vietnam has all necessary conditions to turn into the world's shrimp production base.

Tuan said Vietnam can master the technology of farming and producing breeders, while it is now among the world's leading shrimp exporters.

Shrimp is a popular product and the consumption market is large. The shrimp price has never fallen.

Deputy Governor of the State Bank Nguyen Phuoc Thanhy said that banks have enough capital to develop the shrimp industry, including the capital for exporters, farmers and processors.