Court hears appeal on smuggling of 7,700 tonnes of oil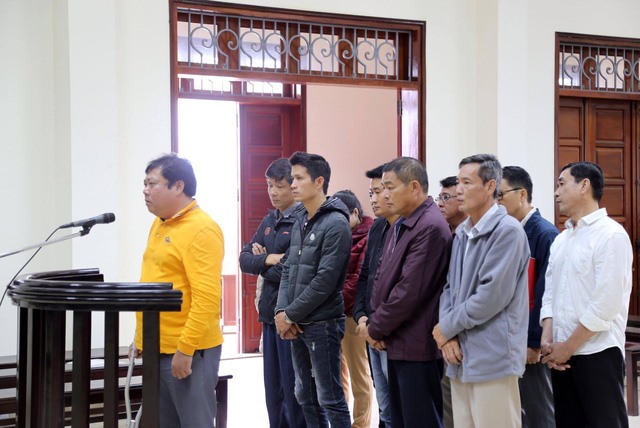 Defendants involved in the smuggling of 7,700 tonnes of oil at trial.
The Quảng Ninh People's Court on Tuesday began hearing an appeal on a case relating to the smuggling of 7,700 tonnes of diesel oil which resulted in the loss of over VNĐ22 billion (US$966,000) to the State budget.
The case involved 12 defendants, including Nguyễn Thế Dũng, 61, former general director of Đồng Tháp Oil and Gas Trading Company, Trương Hữu Có, 51, former director of Eastern Asia Transport Trading Joint-Stock Company and Phạm Văn Khương, a former official of Cẩm Phả Customs Office.
In the trial which took place in January, Dũng and Có were sentenced to 19 years imprisonment
Vi Văn Dũng, Nguyễn Ngọc Thi, Trần Quốc Việt and Nguyễn Thành Nam, as well as Phạm Văn Báu, Chu Thi Mỹ Hương, Đặng Việt Anh and Lê Thanh Thảo Ly were sentenced to between 3-16 years of imprisonment. Ly received five years' probation.
Phạm Hoàng Giang and Phạm Văn Khương were sentenced to 14-15 months of imprisonment as accessories to the crime. Khương received a probation.
Trần Mạnh Hùng and Đinh Văn Long received a warning for their lack of responsibility leading to serious consequences.
Đặng Thu Ngân evaded capture and is currently a fugitive.
According the Court's indictment, from the end of 2011 to July 2012, Nguyễn Thế Dũng agreed to sell diesel oil from his company to Có, Đặng Thu Ngân and Vi Văn Dũng.
The official imported oil in the form of temporary import for re-export and then sold it to other countries.
Thế Dũng asked Thi and Việt to draw up fake contracts and customs returns to regularise their illegal sales of more than 7,690 tonnes of diesel oil worth more than VNĐ168 billion (US$7.4 million).
They then sold the oil to Chinese smugglers at the Tà Lùng Border Gate in the northern province of Cao Bằng, the Mường Khương Border Gate in Lào Cai and in Móng Cái City, Quảng Ninh.
After the first court appearance, the twelve defendants appealed against the ruling.
The trial is expected to last until Friday.
Vietnam Red Cross aims at one million Tet gifts for the poor
The Vietnam Red Cross Society (VRCS) is striving to provide at least one million gifts for needy people on the Lunar New Year holiday (Tet), VRCS Chairwoman Nguyen Thi Xuan Thu stated at a fund-raising event in Hanoi on December 20.
At the event, six organisations and individuals donated 14 billion VND (615,160 USD).
According to Thu, to realise the target, fund-raising campaigns were held earlier this year.
An action month for Tet for the poor and dioxin victims will be launched, during which support through house repair, the supply of cows and insurance cards and musical concerts will come to these disadvantaged communities.
Between December 10 and February 8, 2017, the VRCS will kick off a texting campaign, where each "TET" message sent to 1402 equals 20,000 VND (0.87 USD) worth of donation for the needy.
These activities are part of the "Tet for the poor and dioxin victims" programme, initiated by the VRCS since 1999. It has so far raised more than 4.5 trillion VND (198 million USD) to assist over 17 million poor households and dioxin victims, with 2.17 million gifts worth over 852 billion VND (37.5 million USD) delivered in 2016 alone.
PM visits flood affected residents
Prime Minister Nguyen Xuan Phuc has requested the authorities of the central province of Binh Dinh to urgently support residents in rebuilding houses and repairing those on the verge of collapse.
In a tour to examine the living conditions of flood affected residents in the province on December 21, he also encouraged local residents to overcome difficulties and restabilise their lives.
The PM visited residents of the inundated An Xuyen 3 hamlet in the province's Phu My district, as well as residents of Luat Le hamlet in Tuy Phuoc district who were suffering from the erosion of the Ha Thanh River dyke.
Five major floods have hit the province since last month, inundating 11 districts, towns and cities in the province, according to the provincial People's Committee.
The floods killed 39 people, injured 10, pulled down 551 houses, submerged 97,000 and incurred a loss of some 1.9 trillion VND (83.5 million USD).
On the same day, Vice President Dang Thi Ngoc Thinh visited flood affected residents in the central province of Phu Yen.
At a meeting with the provincial People's Committee, she highly appreciated the province's efforts in dealing with and overcoming the natural disasters.
She asked the authorities to take care to avoid post-flood accidents and attend to the living conditions of the flood affected residents, especially when the Lunar New Year is only a month away.
Two major floods have occurred in Phu Yen since last month, incurring a loss of nearly 500 billion VND (22 million USD).
Water leakage sites were discovered at 23 reservoirs in the central province of Binh Dinh on December 20, the result of the heavy downpours and flooding that have afflicted the area since the beginning of the month.
The Centre of Flood and Storm Prevention in the Central and Central Highlands region reported the province is strictly monitoring the situation at these reservoirs.
The province also said erosion in the lower part of Hoai An district' Van Hoi reservoir has been repaired, while three dam outlets were plugged on December 21.
According to the latest reports from the centre, three outlets released the water level down to 38m via a safe spillway, and a duty team was put on 24 hour alert at the dam.
The central province, which was the most damaged locale in the flooding, has a total of 166 reservoirs built in the 1980-90s, of which 46 are in poor repair.
The Ministry of Industry and Trade reported on December 20 that 70 out of 250 reservoirs at hydro-power plants and irrigation lakes in the region continue to discharge water through spillways. Most of the reservoirs are 80 or 95 percent full.
PM calls for stable Tet prices
The Prime Minister has called on ministries and government agencies to tighten controls and take steps to ensure stable markets and social security during the upcoming Tet (Lunar New Year) holiday.
In a directive sent last week, PM Nguyen Xuan Phuc asked the Ministry of Industry and Trade to closely monitor market demand and supply, especially necessary goods and services, to take timely measures to ensure a supply source and reasonable prices nationwide during Tet, which falls in late January 2017.
The ministry was instructed to prevent counterfeit and low-quality goods without clear origins from being sold in the market and strictly punish those who speculate on products and cheat customers to earn illegal profits.
Besides preventing smuggling, fraud and counterfeit goods, the Ministry of Finance, was also asked to control market prices so that they remain stable before and after Tet.
Under the directive, the PM requested the State Bank of Vietnam to ensure cash supply is sufficient for the economy during the holiday, ATM machines work properly and workers get paid before the festival.
The central bank was also instructed to take effective measures to ensure stability of monetary, foreign exchange and gold markets.
It was told to increase inspections and monitoring on operation of credit institutions and foreign banks' branches to ensure the banking system's safety and liquidity.
The directive requires the Ministry of Transport to ensure that there are sufficient vehicles for people to travel during the Tet holiday with their families, especially those in remote and disadvantaged areas, including those inhabited by ethnic minority communities.
It should also implement plans to keep unsafe and substandard vehicles off the roads, ask transport companies to publicise their rates and deliver tickets directly to passengers.
It asked the Ministry of Agriculture and Rural Development to ensure that the agriculture sector continues production to meet market demand during the Tet holiday.
Public security ministry reviews 2016 performance
Public security forces uncovered 42,558 criminal cases and arrested 80,210 offenders this year, the Ministry of Public Security told a press conference in Hanoi on December 21.
The forces also discovered and dealt with 16,823 economic crimes, 224 corruption and 3,319 smuggling cases, 17,622 environment law violations, and busted 18,742 drug crimes.
The ministry reported that 11 public security officers killed and 274 others were injured on duty during the year.
More than 148,500 individuals and units of the forces have received certificates of merit from the Party, State, authorities at all levels for their contributions. The campaign "All people safeguard national security", a joint effort with ministries, agencies and localities, has been spread nationwide.
Minister of Public Security To Lam also said the sector has done well in advising the Party and State on strategic issues and ensuring the absolute safety of major political events and activities of Party and State leaders.
Answering reporters' queries about the hunt for former Vice Chairman of the People's Committee of southern Hau Giang province Trinh Xuan Thanh, Deputy Chief of the Police Department, Maj. Gen Pham Van Cac said the police are closely working with the International Criminal Police Organisation (Interpol) and other countries on the hunt.
Minister To Lam, for his part, denied rumours about a leak of information that prompted Thanh and several officials from the Ministry of Industry and Trade to flee abroad.
About tasks next year, the minister said the ministry has directed serious and effective implementation of the resolution on Party building and rectification adopted by the fourth plenum of the 12th Party Central Committee.
The ministry will continue coordinating with other ministries, sectors and all-level administrations to ensure public security and combat crimes with the support of the entire political system and the public.
The ministry will also expand ties with security and police agencies in other countries while pushing forward with efforts to build modern, strong and transparent public security forces, he stated.
Establishment of Vietnam People's Army celebrated in Laos
Vietnam's defence attaché agency in Laos held a ceremony in Vientiane on December 20 to mark the 72nd founding anniversary of the Vietnam People's Army (December 22, 1944).
The event was attended by Vietnamese Ambassador to Laos Nguyen Manh Hung, Lao Defence Minister Chansamone Chanyalath, officers of Lao Ministry of Defence and Ministry of Public Security, and representatives of other countries' defence attaché agencies in Laos.
Reviewing the glorious history of the Vietnam People's Army (VPA), Colonel Tao Van Thai – head of the Vietnamese agency – stressed that under the leadership of the Communist Party of Vietnam, the VPA has grown up and, together with the Vietnamese people, obtained great achievements in the struggle for national liberation in the past and in national development and protection nowadays.
The VPA has made substantial strides in 2016, especially in protecting the country's independence, sovereignty, unification, and territorial integrity, keeping peace and stability for national development while helping to ensure security and promote cooperation and development in the region and around the world, he said.
He noted this year has also witnessed enormous attainments in national development and protection of both Vietnam and Laos. They have enjoyed firm progress in the traditional friendship, special unity and comprehensive cooperation between their Parties, States and peoples. The two countries have also seen their defence-military cooperation growing substantively this year.
Thai voiced his belief that with the resolutions of the 12th congress of the Communist Party of Vietnam and the 10th congress of the Lao People's Revolutionary Party, and the outcomes of mutual visits by their leaders, bilateral relations will be continuously intensified.
On behalf of the Vietnamese Defence Ministry, he also thanked the Lao Party, State, people and army for supporting the countries' defence-military cooperation, along with the VPA and the defence attaché agency in Laos.-
Southern province acts to minimising children labour
The Binh Duong southern industrial hub has devised a working plan to implement its programme on preventing and minimising child labour for the 2017-2020 period.
The ultimate goal of the programme is to discover and take timely measures to intervene and assist vulnerable children and illegal child labourers in accessing opportunities for development.
The programme works towards the specific goal of enhancing awareness of administrations at all levels, relevant sectors and organisations, employers, community, parents and children about policies and laws relating to child labour.
Binh Duong aims to provide training to all communal-level officials in charge of child care and protection work, and strengthen the inter-sectoral working groups in this field.
The province will work to provide 65 percent of households with working children with knowledge and occupational skills to get stable livelihood and ensure 65 percent of employers who use child labourers will receive training in child labour laws.
According to the provincial People's Committee, Binh Duong currently has more than 425,000 children, of whom 7,000 children are from severely disadvantaged backgrounds and more than 3,600 children are at risk of falling into similar conditions.
Seminar discusses implementation of UN Agenda 2030
The Ministry of Planning and Investment (MoPI) held a seminar in Hanoi on December 21 discussing the United Nations 2030 Agenda for Sustainable Development and its implementation in Vietnam.
The agenda, adopted at the UN Summit in New York on September 25-27, aims to maintain sustainable economic growth in tandem with social progress and justice and ecological environment protection, effectively manage and use natural resources and actively cope with climate change, towards building a peaceful, prosperous, inclusive, democratic, fair, civilised and sustainable society.
Speaking at the event, deputy chief of the sustainable development office from the Ministry of Planning and Investment's Department of Environment and Natural Resources Planning and Education underscored the need to rally the involvement of ministries, centrally-run and local agencies, including the media, socio-political organisations, business community, development partners and the entire public for the effort.
The Agenda 2030 puts forth vision for the next 15 years with 17 sustainable development goals and successive actions. It has been added into the National Assembly and government's resolutions on socio-economic development scheme.
The MoPI has worked closely with ministries, agencies, localities, domestic and foreign organisations to devise a national action plan for the implementation of the agenda which has been submitted to the Prime Minister last month.
The action plan comprises 115 goals, including eliminating every form of poverty; ensuring food security and sustainable and comprehensive economic growth; improving nutrition; promoting sustainable agricultural development; ensuring access to sustainable, reliable and affordable energy sources; and promoting global partnership for sustainable development until 2030, among others.
Between 2017 and 2020, the country will perfect sustainable development mechanisms, improve the efficiency of State management on national sustainable development, and ensure sufficient legal framework for the implementation of the action plan and sustainable development goals.
The action plan is expected to help Vietnam make responsible contributions to common global efforts to boost sustainable development.
Hanoi authorities congratulate parishioners on Christmas
Hanoi authorities extended Christmas greetings to parishioners in the city on December 20.
At a meeting with Bishop John Vu Tat of Hung Hoa Diocese in Le Loi ward, Son Tay town, Standing Vice Secretary of the municipal Party Committee Ngo Thi Thanh Hang acknowledged the significant contributions of Catholic dignitaries, priests and followers to the city's socio-economic and cultural development in 2016.
She expressed her hope that the Catholics will continue to actively engage in local activities with a view to making the city more beautiful and civilised.
Meanwhile, Vice Secretary of the municipal Party Committee and Chairwoman of the People's Council Nguyen Thi Bich Ngoc congratulated Catholic dignitaries and followers at the Bac Ninh Diocese on the occasion of Christmas.
She noted that in 2016, the city recorded the highest economic growth rate in six years, reaching and surpassing all socio-economic development targets. These achievements were remarkably contributed by religious followers and Catholics in particular.
Bishop of the Bac Ninh Diocese Hoang Van Dat pledged to encourage parishioners to abide by the Party's policies and the State's law and make more contributions to the capital development.
The same day, Nguyen Lan Huong, head of the city's mass mobilisation department, also presented gifts to Catholics in Phuong Trung commune, Thanh Oai district.
PM approves Australian-funded project to support women
The Prime Minister has approved the "investing in Vietnamese women" project worth 4 million AUD (3.07 million USD) sourced from the Australian Government's non-refundable ODA.
The project, to be implemented from 2017-2019, aims to enhance the economic status of women engaging in small and medium-sized enterprises (SMEs), thus contributing to boosting sustainable economic growth in Vietnam.
Along with supports to SMEs owned by women, the project will help build policies and legal framework backing women's involvement in economic activities, changing social opinions towards advocating empowering women in terms of economy, and promoting renovations in SMEs led by women.
It is expected to improve the quality of SMEs owned by women thanks to access to financial sources and consultation activities.
At the same time, the PM has also approved a project to support the business community's effective engagement in international trade activities when Vietnam becomes a member of the United Nations Convention of Contracts for the International Sale of Goods (Vienna Convention 1980).
The project targets the strong popularisation of contents of the convention in import-export, as well as lawyers, judges, arbitrators, lecturers, public servants and State management officials, thus strengthening the effective and active application of the convention in international trade activities and ensuring the rights and benefits of Vietnamese firms.
Within the framework of the project, a number of conferences and training courses will be held, while communication documents on the convention will also be delivered out.
Can Tho seeks ways to foster connections with OV community
The Vietnam Fatherland Committee in the Mekong Delta city of Can Tho on December 20 held an international conference to highlight the importance of people-to-people and cultural diplomacy as well as the overseas Vietnamese (OV) community to the city's growth.
Currently, more than 10,000 people from Can Tho are studying and working in 13 countries and territories in the world. The city is also hosting 32 enterprises invested by OVs with a total capital of about 22.2 million USD and received remittances that increased 10-15 percent annually.
According to Chau Van Chy, Chairman of the OV Association in Cambodia, Can Tho should create more favourable conditions for the OV community to update information of the city and seek investment opportunities by designing specific support policies for them.
He suggested that Can Tho grant more scholarships to offspring of Vietnamese people abroad to increase the engagement of them in the locality's socio-economic development.
Meanwhile, Huynh Thi Hong Xuong from the Vietnamese Association in Jeollanamdo-Kwangju in the Republic of Korea, held that Can Tho should back OV enterprises in the city, while setting up a number of Korean language teaching centres, or Korean language faculties in training facilities.
Mai Van Sau, Chairman of the VFF in Can Tho said that to further foster the connection with the Vietnamese community abroad, in the future, the city will actively coordinate with State agencies to gather their opinions to design timely support policies and propose to the Party and State measures to deal with arising problems.
The city has also strengthened the coordination with the Overseas Vietnamese Liaison Board to gather Vietnamese abroad in engaging closely in the national unity bloc, bridging the host countries and the homeland, and introducing the nation and people of Vietnam to international friends, he said.
Thanh Hoa province calls for international non-governmental aid
The department for external affairs in the north central province of Thanh Hoa on December 20 held a conference to call for international non-governmental funding.
Since 2006, Thanh Hoa received 57 projects from some 40 non-governmental organisations worth about 7.8 million USD a year, the department reported.
In 2016 alone, there were 49 organisations and 66 programmes focusing on rural development - poverty alleviation, health care, environmental protection and disaster risk mitigation.
Three million USD worth of non-governmental aid have been provided for six mountainous districts and between 1 and 3 million USD reached five coastal districts.
Charities still running in Thanh Hoa include World Vision with 14-year operation and 36-million-USD funding, Anesvad foundation with 5 years of activities and 5.7 million USD, as well as Save the Children with 23 years and 4.1 million USD.
Speaking at the conference, Vice Chairman of the provincial People's Committee Le Thi Thin called on continued support for poverty alleviation efforts in the province.
Nine groups and 13 individuals from international charities were honoured at the function for their outstanding contributions.
Campaign launched to raise funds for flood victims
The Vietnam Fatherland Front (VFF) Central Committee launched a campaign on December 20 to raise funds for local residents in flood-hit south central provinces.
At the launching ceremony, the VFF Central Committee received over 8 billion VND (around 352,000 USD) and 9,800 USD donated by ministries, sectors and organisations to the affected people.
The same day, Vice President Dang Thi Ngoc Thinh presented 300 million VND to residents and another 300 million VND (13,200 USD) sourced from the National Fund for Vietnamese Children for kids in flood-affected areas in Binh Dinh province.
She also visited and presented gifts to support 20 affected households and 10 million VND to a family in Phuoc Hoa commune of Tuy Phuoc district.
A delegation from the Ministry of Education and Training led by Deputy Minister Pham Manh Hung also handed over 400 million VND (17,600 USD) and 2,500 sets of textbook to students in the flood-hit districts of Phu Cat, Tuy Phuoc and An Nhon in Binh Dinh province.
According to the provincial People's Committee, floods have claimed 36 lives, injured 10 others and cause total losses of 1,230 billion VND (some 54.1 million USD).
The province so far has received 12,000 packages of gift, worth 11.5 billion VND to support affected residents. It also disbursed 50 billion VND (2.2 million USD) from the provincial reserve budget to aid local people.
A total of 8.3 billion VND (365,200 USD), donated by organisations and individuals both in and outside the province, has been used to build 166 houses for the flood victims.
The province called on the Government to allocate 500 billion VND (22,000 USD) to address the consequences of the floods.
Also on December 20, a delegation from the Ministry of Agriculture and Rural Development visited the south central coastal province of Khanh Hoa to help local farmers resume agricultural production after the floods.
The delegation visited land-slide Phuoc Loc village in Phuoc Dong commune, Nha Trang city, in which two were killed, six were injured and one went missing.
The working team also supervised the flooded fields in Dien Dien, Dien Son, Dien Phu communes, in Dien Khanh district.
Four teams have been set up to help other south central localities, namely Thua Thien – Hue, Da Nang, Quang Nam, Quang Ngai, Binh Dinh, Phu Yen, Khanh Hoa and Ninh Thuan overcome consequences of floods.
Since early this month, floods and heavy rains have hit Khanh Hoa, causing a loss exceeding 600 billion VND (26,400 USD) and damaging 8,000 hectares of rice, 1,300 hectares of corn, 280 hectares of vegetables, irrigation works, killing thousands of livestock, and sinking dozens of ships.
Floods and heavy rains have caused serious damages, worth over two trillion VND (88 million USD) to the five provinces of Binh Dinh, Phu Yen, Quang Ngai, Quang Nam and Khanh Hoa. 59 were reported dead and missing, 22 injured, and hundreds of thousands of houses collapsed and flooded.
Vinh Long, Cambodia's BanTeay Meanchey boost cooperation
The People's Committee of the Mekong Delta province of Vinh Long on December 20 met officials of the Cambodian province of BanTeay Meanchey to exchange experience in socio-economic development.
At the working session, Chairman of the provincial People's Committee Tran Hoang Tuu briefed strengths of Vinh Long in a bid to seek to enhance cooperation with the Cambodian locality
There are over 70,000 ha of rice and over 40,000 ha of fruit trees in Vinh Long, as well as an abundant skilled labour force, historical and eco-tourism sites, according to Tuu.
Suon Bava, Governor of BanTeay Meanchey, applauded socio-economic development achievements of Vinh Long, adding that two localities should boost ties in agriculture and tourism due to similarities in those fields.
The two provinces will soon sign a memorandum of understanding (MoU) for 2017 – 2022, with cooperation priority suggested for the agriculture, trade and tourism sectors.
Four hi-tech centres built in Hanoi to meet patient demand
The Ministry of Health has given the green light to Hospital E in Hanoi to open four hi-tech centres to meet patient demand.
The four centres include a cardiology centre, a digestive centre, a bone-muscle centre, and a tumor centre. The cardiology centre is expected to be the leading one in performing complicated cases of congenital heart problems in the country.
The hospital on December 20 broke ground for building a treatment unit and a modern unit for outpatients as well as set up a children's unit.
The treatment unit and the unit for outpatients are built on an area of 13,000 square metres at a total cost of 358 billion VND (15.7 million USD). It is expected to serve 2,000 patients a day.
The two units will be opened in 2018.
Vietnam's top leaders to skip usual Lunar New Year visits
In a break from tradition, top Communist Party and State leaders will not take any official visit trips to cities and provinces during the coming Lunar New Year, or Tet, holiday.
The government portal said in a statement on December 21 that the decision was made by the influential Secretariat, which oversees the Communist Party's day-to-day policy implementation, in a bid to curb unnecessary spending during the country's biggest festive celebration.
City and provincial officials have also been banned from giving gifts to high-ranking leaders.
Vietnamese have a tradition of visiting others and offering greetings and gifts during festivals, especially Tet, which falls on January 28 next year.
In many cases the gifts can be bribery in disguise that officials use to curry favor with their bosses, according to media reports.
Prime Minister Nguyen Xuan Phuc in late November banned government officials from offering gifts to their superiors during the holiday.
"I have instructed them [government officials] not to pay any visit to the prime minister or other senior government, ministry and agency officials," Phuc said at a monthly cabinet meeting. Any kind of Tet gifts would also be prohibited, he said.
In mid-November, Phuc approved a seven-day Tet break from January 26 to February 1.
Provinces and cities in Vietnam have also been prohibited from celebrating the upcoming Lunar New Year, or Tet, with fireworks shows, long a staple of the country's biggest holiday.
According to a new directive from the Communist Party's Secretariat, some cities and provinces including Hanoi and Ho Chi Minh City have often been allowed to hold fireworks shows for Tet. The directive stopped short of whether there would be any exception for Hanoi and Ho Chi Minh City.
But this year the money should be used to help poor people, the directive said, adding that any violations will be severely punished.
Hanoi authorities congratulate parishioners on Christmas
Hanoi authorities extended Christmas greetings to parishioners in the city on December 20.
At a meeting with Bishop John Vu Tat of Hung Hoa Diocese in Le Loi ward, Son Tay town, Standing Vice Secretary of the municipal Party Committee Ngo Thi Thanh Hang acknowledged the significant contributions of Catholic dignitaries, priests and followers to the city's socio-economic and cultural development in 2016.
She expressed her hope that the Catholics will continue to actively engage in local activities with a view to making the city more beautiful and civilised.
Meanwhile, Vice Secretary of the municipal Party Committee and Chairwoman of the People's Council Nguyen Thi Bich Ngoc congratulated Catholic dignitaries and followers at the Bac Ninh Diocese on the occasion of Christmas.
She noted that in 2016, the city recorded the highest economic growth rate in six years, reaching and surpassing all socio-economic development targets. These achievements were remarkably contributed by religious followers and Catholics in particular.
Bishop of the Bac Ninh Diocese Hoang Van Dat pledged to encourage parishioners to abide by the Party's policies and the State's law and make more contributions to the capital development.
The same day, Nguyen Lan Huong, head of the city's mass mobilisation department, also presented gifts to Catholics in Phuong Trung commune, Thanh Oai district.
HCMC mulls congestion charge for cars entering city center
Car drivers in HCMC may be required to pay a small toll to enter districts 1, 3, 5 and 10 next year.
Authorities in Ho Chi Minh City are considering imposing an entry fee ranging from VND40,000 (US$1.76) to VND60,000 (US$2.64) for cars heading into the city center starting from next year in an effort to ease congestion.
The city's Transport Department has been working with the Innovative Technology Development Corporation (ITD), the company that proposed the idea, on a plan to establish automated toll booths in four of the city's busiest districts.
The plan was first suggested by ITD in 2010 and received approval from HCMC's People's Committee. However, when it was formally presented in 2012 it was shelved after several meetings.
ITD Director Lam Thieu Quan told VnExpress that not many changes had been made to the new plan from the older version proposed six years ago. The biggest concerns related to the plan are a legal framework for the fees and the level of sanctions for those who refuse to pay it, according to Quan.
"HCMC will have to consult the state government because there aren't specific regulations related to charging an entry fee for cars entering the city center at the moment. Fines for those who ignore the toll also need to be considered carefully," said Quan.
According to the 2010 version of the plan, which had an estimated cost of VND1.2 trillion (US$52.7 million), 36 automated toll booths would be installed on major streets in districts 1 and 3 and bordering areas of districts 5 and 10. Specialized cameras to recognize car number plates and other equipment worth over VND1 trillion (US$43.9 million) will be set up at each entry point.
Vietnam floods kill 24, more rains expected
Days of unseasonably torrential rains have killed at least 24 people in central Vietnam, authorities said on December 20, inundating swathes of the region including the tourist draw town of Hoi An.
Vietnam regularly experiences tropical storms and heavy downpours but it is unusual for the country to see so much rain in December, during the cooler dry season that is popular with tourists.
Coastal Binh Dinh province reported the biggest death toll with 16 people killed since heavy rains began on December 12, according to an official online report from the national flood and storm control committee.
At least two more are missing in the province with hundreds of houses in remote areas currently under water.
The report said damage totalled $32 million with more than 32,000 hectares of crops destroyed.
Parts of the central town of Hoi An, a World Heritage site that boasts picturesque pre-colonial trading houses, were submerged under water.
"It is strange for our town to be hit with flooding in December," Nguyen Thi Hon, a restaurant owner in Hoi An, told AFP adding some tourists had taken to seeing the sights by boat.
The floodwaters have receded in the last few days, she added.
But local forecasters have warned of further rains to come in the region at the end of the week.
Ho Chi Minh City mulls downtown road toll
Drivers of cars might have to pay a fee to be able to enter downtown Ho Chi Minh City in the near future, according to a new plan aimed at alleviating traffic jams.
The municipal Department of Transport is working with the Ho Chi Minh City-based Innovative Technology Development Corporation (iTD) to finalize procedures to initiate the scheme.
According to Ngo Hai Duong, head of the Road Infrastructure Management and Exploitation Division under the transport department, certain aspects of the plan are under consideration, including the parameters of the downtown area, the toll amount during specific hours and any capital investment needed, among others.
The project will be executed under a PPP (public-private partnership) contract.
PPP involves a deal between a public sector authority and a private party, in which the private party provides a public service for the project and assumes substantial financial, technical and operational risk.
Prior to the implementation, relevant authorities will collect feedback from local residents and experts, Duong added.
The primary purpose of the proposal is to reduce traffic congestion in the city's center, thus tolls would only be applied at rush hour, the official continued.
The charges will be between VND40,000 (US$1.76) and VND60,000 ($2.64), depending on the type of vehicle, one leader of the iTD said, adding that tolls would not be applied to buses and public service vehicles.
Drivers are required to pay the fee only when entering the downtown area, he said.
Electric boards will be installed around the city center to inform local residents.
Toll booths will not be used to collect the fee, the company leader elaborated, stating that charges will be deducted from the bank accounts of drivers or owners of vehicles via an automatic device installed on the vehicles.
iTD will be in charge of providing the necessary technology for the scheme as its management is under the authority of the state.
The proposition was first brought up for discussion in 2012, but was largely discouraged.
In response to the proposal, Tuoi Tre (Youth) newspaper has conducted a small survey on local people's opinions.
While some residents expressed support for the plan, others worried it might not be viable without careful consideration and thorough execution.
According to My Xuan, director of a local media company, the toll could be a significant penalty for some in comparison to people of the upper class.
Meanwhile, Tran Van Hi, a cab driver, said that the plan would reduce the number of passenger taxis in the downtown area.
Vietnam to open first observatory next year
The final phases of the construction of Vietnam's first observatory are being carried out in the south-central province of Khanh Hoa in preparation for its inauguration next year.
The building is being constructed on Hon Chong (Husband Islet) in Nha Trang, a famous beach city in Khanh Hoa Province, and is expected to be finished by March 2017.
According to Professor Pham Anh Tuan, director of the Vietnam National Satellite Center, the observatory will be a place to observe astronomical events as well as a potential tourist attraction for the city.
The structure includes a telescope with a diameter of 50cm and a covering dome nine meters across, Prof. Tuan said, adding that finishing touches of the building are being carried out.
With a capacity of 60 people, access to the observatory will be given to tourists and local residents, especially students who wish to study terrestrial and celestial events, the director stated.
The observatory is expected to be included in travel itineraries of local tours.
Its establishment is part of Vietnam's most significant scientific project with total capital investment at US$600 million.
Another larger observatory being constructed at the National Space Museum, inside the Hoa Lac Hi-Tech Park in Hanoi, is anticipated to open in 2018, at the inauguration of the museum.
The building will provide local residents with a better look at such phenomena as meteor showers, lunar and solar eclipses, said Prof. Tuan.
According to the academic, equipment in both observatories has been imported from Italy, while their construction cost is estimated at VND120 billion (US$5.2 million).
Hanoi's maiden BRT to offer month of free travel
The first-ever bus rapid transit (BRT) in Hanoi will offer free rides for one month after its inauguration on New Year's Day, as local authorities seek to familiarize city dwellers with the new means of getting around.
The BRT management under the Hanoi transport department said on Monday that they have obtained approval from the municipal administration for the one-month free ride program starting January 1, 2017.
After January, the fare is set to be VND7,000 (US$0.31) per ride.
A fleet of 29 brand new 90-seater buses will be employed for the BRT service, which will depart every five to 15 minutes.
The buses will run in a specific lane within a 14.7km route that connects the Yen Nghia bus station in the outer district of Ha Dong and the Kim Ma station in Dong Da, passing 21 stops.
At a speed of 19.6 kph, the full route will take 45 minutes, five to ten minutes faster than conventional buses.
"The 90-seater buses used for the service boast modern design and technology, so drivers will not have to work as hard as their conventional peers," Nguyen Hoang Hai, director of the BRT management board, said.
Hai added that there are few turns or crossroads along the route and expects that the service will always be on time.
The BRT will be in service from 5:00 am to 10:00 pm daily, with 358 rides every day except on Sundays, when there will be 264 rides.
The $53.6 million project has been funded by the World Bank.
Streets within the BRT route now have a specific lane next to the median strip dedicated to the rapid bus service.
BRT stops are also located on the median strips. Some of the stops are connected with pedestrian overpasses and others require passengers to cross the street, as per normal.
While authorities are upbeat that the BRT will facilitate the mobility of the capital's residents, widespread skepticism remains amongst critics that the system will not be as effective as expected.
Speaking at a press conference on Monday, Vu Van Vien, director of the Hanoi transport department, reiterated that authorities are confident of the effectiveness of the BRT.
Vien defended the decision to invest in the BRT system, saying that the cost of this kind of transportation is only one-tenth of the elevated urban railway, and one-twentieth of the subway.
An elevated railway, the infamous Chinese-funded Cat Linh-Ha Dong project, remains under construction in the capital city.
"As per international experience, a BRT should be developed during the construction of an elevated urban railway," Vien said.
Besides the maiden Kim Ma-Yen Nghia route, seven other BRT services are scheduled for development in the future, the department added.
Many local commuters and experts have expressed doubt that the BRT will reduce traffic congestion, suggesting that it would only worsen the situation on many of the busy streets the buses run on.
Addressing these concerns, Vien admitted that the BRT "may cause traffic disorder in its initial stages".
"But we hope local residents will understand and share the hardship with authorities," he said.
Vietnamese teen perfects charismatic portraits
Phan Dang Hoang, a 16-year-old artist from the north-central Vietnamese province of Nghe An, has dedicated himself to the art of drawing portraits that transmit the charisma of the subject through realistic renditions of their expressions.
The eleventh grader from Huynh Thuc Khang High School in Vinh City, Nghe An's capital, was even featured in the December issue of U.S. magazine Colored Pencil for his works.
Hoang had a brush with drawing at the age of three, and has since trained himself to draw 'truyen than' (charisma transmitting) portraits with his full passion.
This style of drawing is similar to photorealism in the sense that it looks to replicate as closely as possible the full emotion and expression, or the 'charisma', of the subject.
While photorealistic artists attempt to reproduce a photograph as realistically as they can, truyen than artists focus their attention primarily on reproducing the personality of their subjects rather than every detail.
"Every profession requires passion," Hoang told Tuoi Tre (Youth) newspaper. "I've fallen in love with these drawings and seen them as my ideal life. The moment I pick up the pencil is always the best moment of my life."
Hoang said he could only draw portraits of those that inspired and "catalyzed" him, as only then "could an artist let [his] soul roam free into drawing".
The 16-year-old artist often rejects money from those who paid him and draws for free for those without a penny to their name.
As a perfectionist, Hoang would spend up to a month finishing a single portrait, and has until now drawn over 50 portraits, mostly of Vietnamese celebrities.
"I spend a lot of time and effort on each of my works," Hoang said in the Colored Pencil article. "They consume me. There can't be one wrong detail."
Replica of Eiffel Tower illuminates perish in central Vietnam as Christmas nears
A parish in the north-central Vietnamese province of Nghe An has stepped up their Christmas decoration with an illuminated bamboo-made replica of France's famous Eiffel Tower.
The 'bamboo Eiffel,' measuring 34 meters high and ten meters wide, was built in the yard of Yen Dai Parish in Nghi Phu Commune in the provincial capital of Vinh.
Locals spent two weeks assembling over 300 bamboo trees together using 100 kilograms of steel wires and 20 kilograms of nails.
The structure was then spray painted in white and decorated with 100 LED bulbs and 1,000 meters of flickering string lights.
The whole project cost VND60 million (US$2,680) to make, according to Nguyen Van Nam, a local communal official.
The tower is lit up from 6:00 pm every day, and will be there to stay until Tet, or Lunar New Year, in late January 2017, Nam said.
In 2007, the parish had put together a similar Eiffel Tower at a smaller scale, measuring 17 meters high. The tower was later bought by a local hotel for VND7 million (US$313).
Vietnam Olympic Committee awarded Labour Order
The Vietnam Olympic Committee (VOC) held a ceremony to celebrate its 40th anniversary (December 20, 1976) and received the Labour Order, third class from the President of Vietnam in Hanoi on December 20.
The ceremony was attended by member of the Politburo of the Party Central Committee and President of the Vietnam Fatherland Front Central Committee Nguyen Thien Nhan, Deputy Prime Minister Vu Duc Dam and Minister of Culture, Sports and Tourism Nguyen Ngoc Thien.
Addressing the ceremony, Hoang Tuan Anh, former minister of Culture, Sports and Tourism and chairman of the VOC said since the VOC was founded, it has completed its tasks outstandingly and contributed to sports development in the country based on three principles: sports for everyone, elite sports and international sporting relationships.
One of VOC's excellent achievements is its contribution to the 2016 Olympic gold medal won by Vietnamese shooter Hoang Xuan Vinh and the 2016 Paralympic gold medal by weightlifter Le Van Cong.
All levels urged to join social security efforts
Deputy Prime Minister Nguyễn Đức Đam called on businesses, individuals and the community to join the Government in enhancing social protection.
Đam, who is also head of the National Steering Committee that oversees the implementation of Government's Resolution 70/NQ-CP dated 2012 – a Government Action Programme for social protection, said on Tuesday that mechanisms and policies were needed to better engage non-State resources in social protection activities.
He suggested a mechanism in which businesses, individuals and the community could raise funds and manage donations to the poor, those in vulnerable groups like the unemployed, or charity activities.
In June, 2012, for the first time, the Party Central Committee issued a resolution relating to social policies for the period 2012-20. The move affirmed the special attention from the Party and State for the sector for sustainable development in all stages of national growth.
In November 2012, the Government issued Resolution 70/NQ-CP to specialise the Party's resolution.
Resolution 70 assigned the main tasks to ministries, agencies, localities, organisations and individuals, focusing on developing an effective scheme for the search and collection of martyrs' remains, diversifying forms of social insurance, working on amendments and supplements to the supporting policies for households living near the poverty line, and implementing social security numbers for all citizens.
The Ministry of Labour, Invalids and Social Affairs reported that this year, the remains of 1,688 martyrs were collected. Out of 8.8 million revolutionary contributors nationwide, about 1.4 million contributors and their families received monthly aid from State. Almost 92,000 contributors got housing support.
The Government spent VNĐ15 trillion (US$659 million) offering monthly aid and free healthcare insurance cards. About 14 million people including poor people and those from ethnic groups or disadvantaged areas and 1.8 million people from near-poor households received the free health insurance cards.
By this month, about 1.5 million workers were assisted in education and employment.
The number of social insurance participants increased by 13.1 million people, or 1.96 per cent higher than that of last year. This means 24.19 per cent of Việt Nam's labour force participates in social insurance.
Regarding poverty reduction, 826,000 poor and near-poor households and 21,000 students received preferential loans worth over VNĐ27.3 trillion ($1.2 billion).
More than 10,000 families in rural areas and 12,000 poor households in flood-prone areas nationwide were helped to build houses.
By the end of this year, the country expects a poverty rate of less than nine per cent, about 1.3 -1.5 per cent lower than that of last year. However, poverty rates in remote disadvantaged areas are still high with some localities seeing more than half of their population living under poverty line.
Deputy minister of Labour, Nguyễn Trọng Đàm, said that the country's unemployment rate remained at 2.34 per cent but it saw high rate of college graduates unable to find jobs.
He said that job training activities in rural areas were ineffective because of the modest number of job categories, few applications of new technologies and hi-tech farming.
Attending the meeting with Deputy Prime Minister Đam, other representatives from ministries and agencies complained about the shortage of funding and improper co-operation among State agencies and non-State ones in social protection activities.
New shrimp breeding model produces power
A new, hi-tech shrimp breeding model that generates electricity via biogas and deals effectively with sludge is being piloted in Bến Tre Province.
The project, being carried out by Japanese and Vietnamese scientists in the Mekong Delta province, deploys the closed-cycle shrimp farm model, where sludge and other organic waste from shrimp ponds are mixed and put in a methane fermentation facility to produce biogas, which is desulfurized to create electricity.
The bioelectricity is supplied to a new aeration and air diffuser system in shrimp breeding, said Professor Takuya Kitaoka of Kyushu University.
The waste produced during the production of biogas is sent to a carbonization facility to produce charcoal, which is a soil improvement agent, boosting cultivation, he added.
Another new aspect of the model is that it uses a new aeration and air diffuser system which diffusers air from the pond's bottom to its surface. This replaces the propellers currently used to create oxygen, but this is confined to the surface.
The piloted model is part of a project to promote sustainable development of rural areas by effective utilisation of bio-waste with highly efficient fuel cell technology.
The project is carried out under the Japanese government's programme of science and technology research partnership for sustainable development. It uses non-refundable official development assistance from the Japanese government through the Japan International Co-operation Agency.
The project is carried out by several Vietnamese universities and institutes including the Institute for Nanotechnology-Việt Nam National University HCM City, the Kyushu University and other Japanese companies.
It has a total funding of more than US$3.6 million. It is expected to run for 60 months, from April 2015 to May 2020.
The model was first tested in a lab in Japan. The Vietnamese institute's staff have received training in Japan, and a lab was set up in Việt Nam in September.
Nguyễn Văn Buội, deputy head of the Bến Tre Province Department of Agriculture and Rural Development, told Việt Nam News that the province has 35,000 hectares of shrimp farms this year, producing 45,000 tonnes of crustaceans.
The province aims to apply hi-tech in shrimp breeding to increase output and ensure stable growth, Buội said.
Development of shrimp farming needs to go along with environmental protection, he said, adding: "The Japanese hi-tech shrimp breeding model suits the province's development trend."
It also introduces a technology for more effective waste treatment, he said.
Several shrimp farms that do not have areas to hold sludge after harvesting often discharge it into nearby canals, causing water pollution, Buội said.
Moreover, sludge at several other farms are just stored and not treated to use for the next crop, which can lead to the development of potential pathogens for shrimps, he added.
"If the pilot project is successful, the province will expand it to other farms, and other provinces in the Mekong Region can follow," he said.
Associate Prof Đặng Mậu Chiến, who heads the Institute for Nanotechnology-Việt Nam National University HCM City, said they are planning to carry out the new model for fish breeding as well.
Female workers' clubs boost solidarity, confidence
Dương Thị Thùy Linh, 25, a worker at the Khai Quang Industrial Park in Vĩnh Phúc Province, had a hectic, unvaryingly mundane schedule.
She worked hard for 10 to 12 hours a day, six days a week, returned to her rented room, cooked, ate, slept and returned to work.
She hardly went out and talked to neighbours, also migrant workers like her, in the rented rooms complex. In her "free" time, she stayed alone in her room and read books.
Linh and many migrant workers come to Vĩnh Phú, either from rural areas in the province or from other localities, are deprived of many material benefits and had no relief from their stress.
The province, located more than 60km to the northwest of Hà Nội, has been struggling with the pace of workers' influx, estimated at 67,000, which has been far greater than the development of local infrastructure and social services.
"As a new employee, I had several questions about benefits for workers. When I was confused about something or not satisfied with my working environment, I did not know who I should go to ask," Linh said.
"One day, when I was back from work, my landlord asked me to attend a group meeting of my rented room complex. It was the first time I had heard about such a meeting.
"For the first time, I was able to talk to so many fellow migrant workers."
The meeting is held every month in many rented room complexes of migrant workers in the northern province with the support of three Vietnamese and international non-profit organisations — BATIK International, GRET and Centre for Development and Integration.
Officers of the provincial Women Union, Labour Confederation and representatives of employers from companies and factories attend the meeting to answer workers' questions or provide necessary information about labour regulations, social insurance, healthcare policies and soft skills.
Workers have the opportunity to submit their proposals to local authorities and employers to better their working conditions and make sure their rights are fully protected.
Female migrant workers, in particular, have been guided and helped in setting up self-managed clubs to spread information on social rights, share experiences and make requests of local social service providers.
Before each monthly meeting at such clubs, leaders will ask for comments from members and choose topics. These topics are forwarded to the provincial Women Union, who will invite experts for a Q&A session.
The clubs also organise sports activities as well as song and dance competitions every week as a way to create closely-knit networks among migrant workers in the region. So far there are 15 female migrant clubs in the province.
"My boring free time is now filled with fun activities with my colleagues. After meetings like these, I feel more confident about standing up and raising my voice to ask for my benefits at work," said Nguyễn Thị Phương, another migrant worker at the Khai Quang IP.
"More importantly, I have friends at work and at home. Now when I am away from home, I can call on my neighbors to help me bring clothes off the line if it rains. It's a very simple example of how close we have become," she said.
Nguyễn Thị Thuý Hà, deputy head of Vĩnh Phúc's Labour Confederation, said: "Through Q&A sessions between labourers and employers, we identify violations. For example, upon receiving workers' report on low-quality meals at the canteen, we will contact our grassroots labour confederations to check their meal quality and improve working conditions."
The Vĩnh Phúc People's Committee has since announced plans to build a complex for workers at industrial parks, including health clinics, entertainment venues and playgrounds, Hà said.
VNA/VNS/VOV/SGT/SGGP/TT/TN/Dantri/VNE