Banks' listing enthusiasm simmers down
Banks are hesitant to go public over the persistent challenging business environment.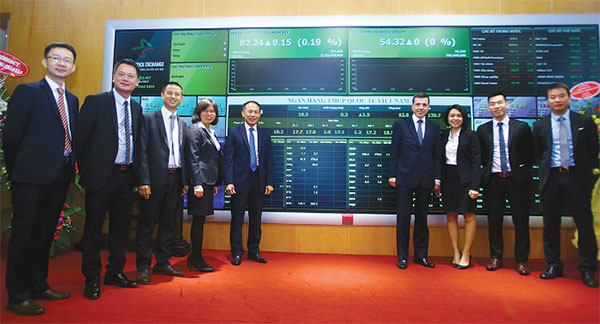 In early 2014, Bank for Investment and Development of Vietnam (BIDV), a leading state-owned bank, offloaded its shares onto the HCM City Stock Exchange (HoSE).
Since then, both the northern and southern bourses were yet to see a new bank listing until the end of 2016, though in the last two months of the year many banks were racing to complete listing procedures in conjunction with requirements set by the Ministry of Finance's Circular 180/2015.
Under the circular, public companies are required to fulfil listing procedures either on the official markets (HoSE and HNX) or on UPCoM, the unlisted public company market.
"As banks are a sort of public companies, they must also adhere to the regulation," said senior financial expert Nguyen Tri Hieu.
Privately-owned Kien Long Bank, based in the southern Mekong Delta province of Kien Giang, was reported to have received the stock registration certificate as well as its share code in December 2016.
Similarly, Ho Chi Minh City-based Orient Commercial Bank (OCB) and Hanoi-based Maritime Bank have closed the shareholder lists to become ready for stock registration.
Most recently, on January 9, privately-owned Vietnam International Bank (VIB) listed its more than 564 million shares on the UPCoM platform under the VIB ticker.
The remaining banks all have their own reasons why they still cannot go on the bourse or register for transactions on the UPCoM.
At the recent 2017 general shareholders' meeting of Techcombank, chairman Ho Hung Anh told shareholders that they have submitted the listing dossiers to authorised management agencies and are currently waiting for approval to be able to list on the southern bourse.
Similarly, at their 2017 general shareholders' meeting early last week, VPBank chairman Ngo Chi Dung said they had secured the shareholders' approval to go on bourse in late 2016, but have encountered several problems in stock registration with Vietnam Securities Depository (VSD).
They have hired a securities company for listing consultation.
"VPBank committed to going on bourse, but progress depends heavily on management agencies. We will try our best to debut on the HoSE right in this second quarter," Dung said.
According to economic expert Le Xuan Nghia, some banks face difficulties related to their capital size or bad debts, triggering the urgent need to raise chartered capital.
In the current context, they could hardly enrich their capital sources through support from local investors, as firms are also facing a multitude of difficulties.
"Going on bourse is a viable option for them to raise capital. Banks have missed their listing promises several times.
Therefore, a deadline must be considered to force banks to press on with listing, and this must be done immediately," Nghia said.