Vietnam's footwear industry threatened by automation
After five years of implementing a master plan on the footwear industry by 2020, Vietnam still mostly does outsourcing for foreign partners.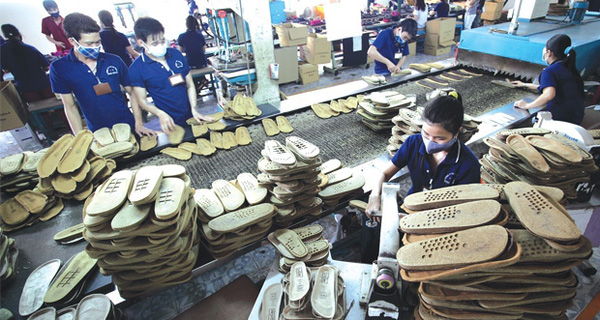 The HCMC Industry & Trade Department, the Vietnam Leather, Footwear and Handbag Association (Lefaso) and the Shoe & Leather Association of HCMC last week sat together to review the five-year development of the footwear industry by 2020 and prepare for the next 10-year stage.

Vietnam strives to obtain export turnover of $24-26 billion by 2020, $35-38 billion by 2025 and $50-60 billion by 2035 with export turnover growth rate of 10-11 percent per annum in 2016-2020.

Lefaso predicted that the output would increase by 5 percent this year, while the export turnover would increase by 10 percent to $18 billion compared with 2016.

In general, basic goals set in the master plan have been achieved. The fulfillment of the state-owned enterprise equitization plan, plus cooperation among economic sectors all have helped enterprises in the industry develop well. Manufacturers have built many new large-scale factories with modern technologies which improve productivity.

By the end of 2016, Vietnam was listed among the top four footwear manufacturers in the world. It ranks fourth in the world, after China, India and Brazil in terms of export volume, but ranks third in value, after China and Italy.
After five years of implementing a master plan on the footwear industry by 2020, Vietnam still mostly does outsourcing for foreign partners.
Vietnam's footwear products have reached 50 countries. Footwear remains a key industry of Vietnam which helps create jobs and improve people's income.

In 2016, footwear manufacturers exported $16.2 billion worth of products, which accounted for 9.2 percent of total export turnover, an increase of 8.8 percent over 2015. Foreign invested enterprises made up 81 percent of the industry's total export turnover.

However, as Nguyen Manh Khoi, deputy head of the Footwear Research Institute, pointed out, Vietnam still does the outsourcing for foreign partners, while it cannot make products of its own and export products under its brands.

Vietnamese enterprises always strive to export products under FOB mode, but they have been facing too many difficulties in production: they have to import input materials; their brands are unknown in the world market.

The modest locally-made content ratio of 35-40 percent, lower than the targeted 60-65 percent, has been cited as a failure of implementation of the footwear industry development plan.

According to Diep Thanh Kiet from Lefaso, in making sports shoes, Vietnamese enterprises can only undertake some work, including cutting, sewing and trimming.

By the time Vietnamese enterprises make six pairs of shoes, foreign invested enterprises will be making the 15th pair of shoes, thanks to automation.