Japanese investors pour money into mid-end hotels
Anticipating a wave of travelers flocking from East Asia, many well-known Japanese brands have injected money into mid-end hotels in Vietnam.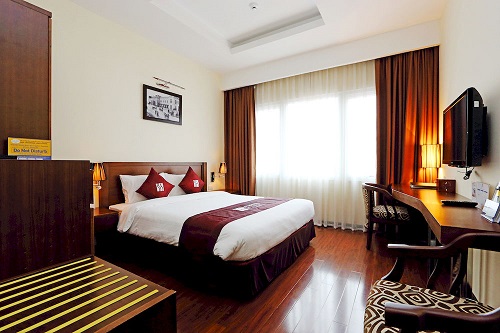 Route Inn Group last week officially began running the 4-star Grandvrio Hotel in the central city of Da Nang. The VND400 billion is expected to start the movement of Japanese hoteliers coming to Vietnam.

Route Inn Group's president Nagayama Katsutoshi said he plans to set up 50 hotel and resort complexes in Vietnam by 2025. It's Grandvrio Ocean Resort Da Nang project will be inaugurated in mid-May, while one more project would be opened in 2018 in Hue City.

Nikkei Asian Review reported that Super Hotel, another Japanese hotel brand, has just opened hotels in two locations in Hanoi, while Kuretakeso opened the first hotel in Vietnam in 2016 and the second last February. Azumaya Hotel has had hotels on nine locations.
Anticipating a wave of travelers flocking from East Asia, many well-known Japanese brands have injected money into mid-end hotels in Vietnam.
The mid-end hotel market segment in Vietnam has been developing rapidly with investments by many foreign developers, including Japanese. The investors can see the increased number of travelers, especially business travelers from East Asia.

The increased number of business travelers from Japan, China and South Korea is attributed to the number of small multinational companies and foreign company branches. There are also many foreign professional workers seeking job opportunities in Vietnam.

According to the General Statistics Office (GSO), travelers from these three countries made up 67 percent of total foreign travelers to Vietnam in 2016.

While new investments from large conglomerates such as South Korea's Samsung and Japanese automobile manufacturers have slowed down, about 340 Japanese investors in other business fields jumped into the Vietnamese market in 2016, an increase of 26 percent compared with the previous year.

A survey by JETRO found that 34 percent of Japanese businesses intend to expand their business in Vietnam. The trend of expanding business in Vietnam has been increasing for the second consecutive year.

Meanwhile, it is difficult for foreign workers to choose the places to stay where they are in Vietnam. They don't have many choices of luxury hotels with the room rate of $200 per night or places with the room rate of below $30. Vietnam lacks hotel rooms with rates of $40-100, but the demand is extremely high.

Some travel firms noted that Japanese travelers tend to stay in hotels developed by investors from the country.

Design and Urban Development Consultancy Company, which is running an 8-story Super Hotel Candle in Hanoi, commented that Japanese travelers, the ones the hotel targets, tend to be more fastidious than travelers from other countries.