PM inspects combat readiness of Binh Thuan-based missile brigade
Prime Minister Nguyen Xuan Phuc inspected training activities and the combat readiness of Naval Region 2's Coastal Missile Brigade in the south central province of Binh Thuan on April 19.

Writing in the brigade's book of traditions, he expressed his hope that officers and soldiers of the Coastal Missile Brigade will maintain strict discipline and high combat readiness so as to timely respond to every situation, thereby firmly safeguarding the Fatherland's sacred marine sovereignty.

Set up in 2006, the Coastal Missile Brigade of Naval Region 2 is tasked with protecting the sea and island sovereignty and the southern continental shelf of Vietnam.

The brigade's officers reported to the PO that it has taken measures to develop into a professional and modern brigade, adding that all officers and soldiers are ready to take on and fulfill any assigned tasks.

Cooperation with other military units and local authorities has also been enhanced to be prepared in any circumstance. The brigade has made efforts to improve the leadership and combat capacity of its Party organisation.

Additionally, it has actively engaged in natural disaster prevention, search and rescue activities, and assisted local residents in coping with disaster consequences.

Vietnam chairs Asian-Pacific charity fair in Japan

Vietnam was the chair of the 41st Asia-Pacific Ladies Friendship Society (ALFS) Charity Bazaar, held in Tokyo, Japan, on April 19, which attracted the participation of 19 regional countries.

Two Vietnamese stalls at the fair collected an estimated over 2 million JPY (18,368 USD) for the ALFS, the second highest among participating countries, only behind Japan.

With nearly 5,000 visitors, the annual event raised between 22 and 23 million JPY from ticket sales (201,916 - 211,094 USD), the highest amount recorded in recent years.

ALFS President Haruko Komura said the total proceeds will be evenly distributed among participating countries, about 1 million JPY (9,178 USD) each, to finance humanitarian activities in their countries.

She lauded efforts made by Vietnam as chair of this year's bazaar, which have significantly contributed to the success of the bazaar.

Vietnam will use half of the funds received from the event to pay for a clean water system for a high school in the central province of Ha Tinh in collaboration with the Japan International Friendship Association. The remaining is earmarked for supporting dioxin-affected children in the central region.

The ALFS was set up 49 years ago as an initiative of the spouse of the then Japanese Foreign Minister. It now has nearly 400 members, mostly spouses of Japanese politicians, CEOs of major Japanese businesses, female ambassadors and spouses of ambassadors as well as female embassy staff of the 25 Asia-Pacific countries in Tokyo. It operates under the sponsorship of the Japanese Ministry of Foreign Affairs and aims to foster regional cooperation and social welfare contribution.

Long An targets 89 new-style rural communes by 2020

The Mekong Delta province of Long An has set a goal of having 89 communes recognised as new-style rural areas by 2020, accounting for 53.6 percent of its total communes.

According to Deputy Director of the provincial Department of Agriculture and Rural Development Phan Van Liem, efforts will be made to further develop key infrastructure facilities, towards meeting requirements of production and daily activities of locals in rural areas, as well as build sustainable production models and create more stable jobs.

Average per capita income in rural areas in 2020 is expected to reach 56 million VND per year, 1.8 times higher than that in 2015.

To that end, the local authorities will focus on examining and making adjustments to new-style area building plans in accordance with the locality's socio-economic development.

Attention will be paid to promoting high-tech agriculture development in connection with restructuring the agriculture sector, and making it easier for local residents to play their key role in the process.

The locality will give priority to urgent projects, thus solving difficulties and creating breakthroughs for socio-economic development, Liem said, adding that local residents will be encouraged to engage more actively in building new-style rural areas, he added.

Long An now has 57 communes recognised new-style rural areas. The programme has received great response from locals throughout the province.

The national programme on building new-style rural areas, initiated by the Government in 2010, includes 19 criteria on socio-economic development, politics and defence, aiming to boost rural areas of Vietnam.

The criteria cover infrastructure development, production capacity improvement, environmental protection and cultural value promotion.

National programme on 2017-2021 rabies control begins

A conference to launch a national programme on the control and elimination of rabies in 2017-2021 took place in the northern province of Thai Nguyen on April 18.

The programme aims for the rate of vaccinated pet dogs in communes, wards and towns to exceed 85 percent while more than 70 percent of provinces will record no incidents of rabies in pet dogs for two consecutive years.

By 2021, over 95 percent of communes, wards and towns are expected to provide lists of households with pet dogs, while the number of fatalities due to rabies is hoped to be reduced by 60 percent.

Pham Van Dong, Director of the Animal Health Department under the Ministry of Agriculture and Rural Development, said rabies claims more than 70 lives on average each year and nearly 400,000 people have to seek medical help after being bitten by dogs, costing the country about 800 billion VND (34.78 million USD) yearly.

Participants discussed building rabies-free zones, coordinating to control rabies, improving institutional capacity and inter-sectoral communications about the disease.

The country currently has more than 7.7 million pet dogs, but only 2.9 million of them are vaccinated.

Last year, more than 411,000 people were bitten by dogs and 91 were killed by rabies in 28 cities and provinces nationwide. In the first quarter this year, 12 fatalities due to rabies were recorded.

Part of the reason for the problem is poor management of pet dogs in many localities, especially in rural and mountainous areas, and a lack of canine vaccination.

Foreign workers may be forced to pay social insurance in Vietnam

Vietnam's labor ministry is seeking public opinion on a new rule that would require foreigners working in the country to pay social insurance, the ministry said.

foreign workers may be forced to pay social insurance in vietnam hinh 0 nder the draft decree on compulsory social insurance for foreigners, the basic package would cover sickness, maternity, occupational diseases and accidents, retirement and death, which is similar to that for Vietnamese workers. If approved, the decree will come into force from January 1, 2018.

According to the draft, employees would pay a monthly insurance premium of 8 percent of their income, which would go to the retirement and death fund.

Employers would contribute 18 percent of an employee's monthly salary, including 3 percent to the sickness and maternity fund, 14 percent to the retirement and death fund, and 1% to the occupational diseases and accidents fund.

Income subject to social insurance payment includes wages, allowances and supplements in accordance with Vietnamese law.

A foreign employee whose contract has expired and not renewed, or who is eligible for pensions or monthly allowances but no longer resides in Vietnam, could still receive a one-off payment from the social insurance fund if requested.

At present, Vietnamese workers are required to pay social insurance based on the wages and allowances stipulated in their labor contracts, while from 2018, payments will also be based on any supplements mentioned in their contracts.

Early retirement and lump-sum pension payouts have been eating into Vietnam's pension fund, while employers paying workers in increments has led to losses to the social insurance fund, officials have said.

Compulsory social insurance for foreign workers would put Vietnam on a par with Thailand and the Philippines, while Singapore only requires citizens and permanent residents to pay social security, leaving temporary residents exempt from the tax.

Vietnamese government wants homegrown social networks to replace Facebook

The Vietnamese government plans to work with Facebook to remove fake pages that purport to belong to state leaders as it pursues a social media cleanup campaign, Minister of Information and Communications Truong Minh Tuan told a parliamentary committee on April 18.

Vietnam has 49 million internet users, or more than half of population, and more than 45 million social media accounts, a space Tuan said is not always a good thing.

"There are good and bad people on social media," Tuan said at a hearing of the National Assembly's Standing Committee. Distortions, defamations and fabrications mostly happen on international platforms such as Google, YouTube and Facebook, while most pages licensed in Vietnam comply with regulations, he said.

Tuan's ministry recently asked Google to block and remove 2,200 clips on YouTube that contained "slanderous" and "defamatory" content against Vietnamese leaders. Google had removed nearly 1,300 such clips as of April 12.

Tuan also called on the mainstream media and Vietnamese social networks to ensure speedy and accurate information.

"In the long term we need social networks provided by local businesses that can replace and compete with Facebook in Vietnam," he said.

The government has been working hard in recent months to rein in the internet.

In January, the information ministry issued a circular asking Facebook and similar sites with a Vietnamese base of over one million users to "collaborate" with authorities to block "toxic information", ranging from ads for banned products to anti-state content and state secrets.

Facebook is the most popular social network in Vietnam with around 35 million users, or 70% of the country's online community.

In recent years, the government has taken various steps to embrace the platform. Vietnam's health minister launched her official Facebook page more than two years ago to provide health information and receive questions from the public. It was months before Vietnam's central government opened its own Facebook page in October 2015.

The then Prime Minister Nguyen Tan Dung urged government officials to embrace social networks, which "we won't be able to ban".

Zachary Abuza, a Washington-based analyst who authored a 2015 paper about the media and civil society in Vietnam, made a similar point.

"The internet infrastructure developed far faster than the [Vietnamese] government's ability to regulate and control it," he told VnExpress International. "There is nothing the government can do to shut it down. And there are plenty of technical workarounds."

'Book city' to open in Binh Duong mall

Local book producer Phuong Nam Corp (PNC) has teased the opening of a 'book city' inside a shopping center in Binh Duong, a neighboring province of Ho Chi Minh City.

The company has described their plan as a "dream project" at a recent conference of book publishers and producers in Ho Chi Minh City.

The book city will reside in what PNC described as a 'grand and popular shopping mall' in Binh Duong - its actual location remaining secret.

The description does hint however at the AEON Mall Binh Duong Canary, a 62,000-square-meter retail mecca on Binh Duong Boulevard in Thuan An District, where there is already a Phuong Nam bookstore.

The mall opened in November 2014 and is run by Japanese retail and services group AEON Group, based in Chiba Prefecture just outside Tokyo.

The proposed book city will boast the most titles gathered in one bookstore in Vietnam, PNC said on Tuesday, as well as various other services it says will keep shoppers and readers entertained for a full day.

Last year, PNC opened 13 new bookstores across Vietnam, raising its number of locations to 52 and bringing it closer to main rival Fahasa, the dominant bookstore chain in Vietnam, which has 94 locations nationwide.

On Vietnam's book industry, PNC said that titles in the young adult genre continue to grow in popularity and make up the majority of the company's sales.

"Sixty % of our revenue comes from young adult books, while 40% of our best-sellers target young readers," PNC said at the recent conference.

At Fahasa, children's books are their mainstay, comprising up to 25% of revenue last year, and sales growth of 18% from 2015.

That said, Vietnam's book industry in general has been on the decline, with the number of copies-per-person dropping in 2016 to 3.6 from 2015's 4.1, according to statistics from the Vietnam Publishers Association (VPA).

The digital market also saw little improvement last year, VPA pointed out, as out of 64,588 publication registrations in 2016, only 1,893 were published in digital format.

'Kong: Skull Island' director plans short film to promote Vietnam

Vietnam's tourism officials said "Kong: Skull Island" director Jordan Vogt-Roberts will make a short film to promote the country and encourage his Hollywood colleagues to make movies here.

The 32-year-old director, who was named Vietnam's tourism ambassador in March, has recently submitted his action plan including various projects to introduce Vietnamese scenery and culture to the world.

His recent blockbuster has also made a strong case for Vietnam as a filming location and the director plans to invite more Hollywood colleagues over.

"Kong: Skull Island" was filmed in February last year in the central province of Quang Binh's colossal caves, the northern province of Ninh Binh and the world-renowned Ha Long Bay.

Vietnam provided the "perfect aesthetic" for the film, said Vogt-Roberts, who has been the only tourist to walk through the world's largest cave Son Doong in Quang Binh to date.

"The look of Vietnam is gorgeous and otherworldly at the same time," he said in an interview with Channel News Asia days before the movie premiere.

The movie hit local theaters on March 10, grossing VND150 billion (US$6.6 million) after two weeks.

A week ago, when the film hit the US$500 million mark at the global box office, Vogt-Roberts on Instagram sent his thanks to "everyone who went and supported the film (especially the people of Vietnam)."

Online trip planning market remains untapped in Vietnam

While a considerable number of Vietnamese travelers are planning their trips online, few local travel companies have tapped into this lucrative market, insiders said at a conference on April 18.

Websites or online services helping travelers to prepare for their trips via a mouse click is "a gold mine left unexploited" in Vietnam, experts have said at an event jointly held by Tuoi Tre (Youth) newspaper and Google.

Trinh Quang Chung, industry manager of Google Asia Pacific, said Vietnam currently has 47.7 million Internet users, most of whom search travel information, destinations and other related services as part of their daily habit.

Chung underlined this statistic with the fact that more Vietnamese are using mobile phones for their online trip planning than U.S. users.

Forty-eight percent of Vietnamese users search for hotel bookings on the Internet, compared to 18 percent in the U.S., according to the Google representative. Similarly, the ratio of Vietnamese and American users looking for travel information online is 42 percent and 25 percent, respectively.

However, Google experts told the conference that despite this great potential, it has yet to be taken advantage of by Vietnamese businesses.

Ha Lam Tu Quynh, Country Communications and PR lead with Google Asia Pacific, said that there are more than 260 million people in Southeast Asia with Internet access, all potential customers of travel companies.

"However, most Vietnamese companies have developed their websites with little attention to what the users really need, nor the platform's information optimization or a user friendly experience," Quynh explained.

Vietnamese travel websites takes an average of ten seconds to load, which Google suggested should be improved, given that a DoubleClick study recently revealed that 53 percent of visitors leave a site if its page-load time is longer than three seconds.

Chung, the Google expert, put the emphasis on the need for travel websites to go mobile.

"If a travel firm does not have a mobile presence, or delivering mobile users a slow experience, they are passing on the chance to create an advantage over their competitors," Chung said.

Mobile platforms will allow even a small Vietnamese tour operator to reach customers worldwide. "This is why Google is offering tools and programs to help Vietnamese companies make the most use of mobile," he added.

Quynh advised that local companies start by setting up a good website which meets three criteria: mobile friendly, fast page-load time and a good user experience.

With Google providing technical assistance to local travel firms, Tuoi Tre can alsot assist through effective media solutions.

Tuoi Tre will support travel firms by promoting them, especially those with eco-friendly tourism products, both in print and online editions, Deputy Editor-in-Chief Le Xuan Trung said at the conference.

The newspaper can also act as a bridge linking small to medium sized tourism operators with regulatory bodies, help them resolve bureaucratic difficulties and boost their overall development.

Child labour problem confounds Đắk Lắk

Lê Văn Hồng, a member of the H'Mông minority in Krông Bông District of the Central Highland province of Đắk Lắk, had decided to send his two sons, aged 10 and 15, to work for a garment factory in the south.

He accepted the fact that Lê Văn Cải and Lê Văn Khương would drop out of school so they could bring home a few million đồng and help ease the family's hardship.

However, after two months Hồng had to borrow money to bring his kids home as they could not stand the harsh working conditions. The two have gone back to school in Hoà Phong Commune, but many other children aren't as lucky.

Lê Văn Toả, another father from Krông Bông District's Hoà Phong Commune told vov.vn that he was worried about his 13-year-old daughter working far from home. She called him several times, and spoke about the hard life she had to suffer.

"She told me that she worked from 6am to midnight, and had only two hours off for meals," he said.

Nguyễn Văn Tâm, chairman of the Cư Pui Commune's People's Committee, said these ethnic minority students pay reduced school fees, but some parents let their children drop out of school to earn money.

Most of children have to work for a whole year to make VNĐ9 million (US$395), and only get the money once at the end of that year.

Trần Ngọc Hùng, deputy head of the district's Division of Labour, Invalids and Social Affairs, said that since 2014 students were being sent to work at industrial zones or restaurants in the south. This year, as many as 135 students aged 12 to 16 had quit school and 42 of them were reportedly sent to work in HCM City.

Hùng said the division, in co-operation with local authorities, has disseminated informaton about child labour law and penalties for dropping out of school to all households in the district, but the problem persists.

In 2014, more than 20 ethnic minority people in Cư Kuin District were found working in recruitment of child labourers for enterprises in the south. As many as 206 students from primary and secondary schools in Krông Bông, Lắk, Cư Kuin and Krông Pắc District, dropped out of school to work.

Từ Thị Khanh, head of the provincial Department of Labour, Invalids and Social Affairs's Children Protection and Caring Unit said that most of the children were between 13 and 15 and were vulnerable to social evils such as prostitution, abuse, drug use and human trafficking.

540 litres of wine of unclear origin seized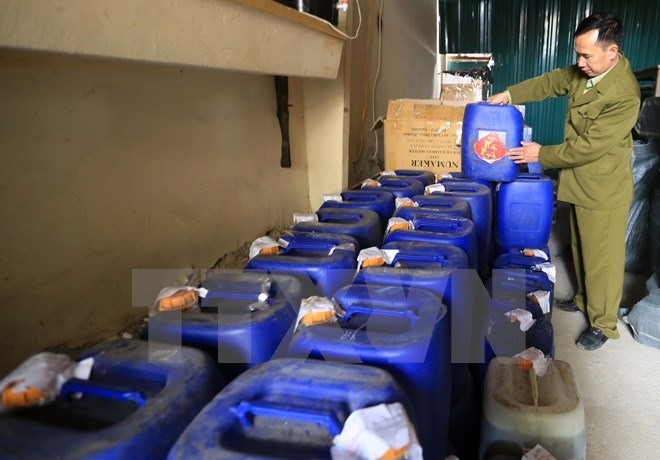 Police from the northern province of Hưng Yên have seized over 540 litres of wine without clear origin papers in Toàn Thắng Commune's Trương Xá Village.
The wine was confiscated after the police caught red-handed Cao Văn Nam, 30, on Tuesday, carrying 18 cans of wine to sell in the northern province of Quảng Ninh's Móng Cái Town.
Nam admitted to the police he was hired to transport the wine. He failed to show documents proving where the wine came from.
The police are conducting an investigating to determine the place of origin of the wine.
Previously, between April 10 and 12, the police seized 1,400 litres of wine of unknown origin in the commune. According to the initial investigation, the wine was allegedly produced from industrial alcohol and spice.

Fun Beach Festival comes to Vũng Tàu

Fun Beach Festival, one of the country's biggest music and camping festivals, will be held in the southern coastal city of Vũng Tàu on April 29 and 30.

The event, themed "Legend of the Sea", will feature more than 100 local and international DJs and musicians, numerous camping activities, and seafood.

French singer Celine Farach will take part in the show.

The event will take place at the Biển Đông Tourism Area. Tickets priced from VNĐ310,000 can be bought at www.ticketbox.vn.

TPD to screen movies by Hanoians

On Sunday, the Centre for Assistance and Development of Movie Talents (TPD) will present a screening of five short movies by young filmmakers in Hà Nội.

Entitled The Window That Tells Hà Nội's Stories, the screening will feature Ngoài Kia Có Gì (What's Out There) which won the Best Short Film Award at the Hà Nội International Film Festival and the Golden Lotus Award in 2013; and Sắc Màu Dịu Êm (Soft Colour) which also won a Golden Lotus Award in 2014.

The programme will also present Chuyện Anh Hùng (Being a Hung), Thức Giả (The False Awakening), and Tất Tay (All In).

The screening will take place from 7.30pm to 10pm. TPD is at the fourth Floor, 51 Trần Hưng Đạo Street. The screening is free but donations are welcome.

Book festival opens

More than 80 pavilions from 24 domestic and foreign publishers displayed around two million books in the Book Festival on the Hàn River bank, near east side of the Rồng (Dragon) Bridge, Đà Nẵng today.

The festival will run through Sunday with various music performances, colouring contest for kids and talks with writers.

Local readers have the chance to hear from famous writers Nguyễn Nhật Ánh, Dr. Đỗ Hồng Ngọc, Lê Minh Quốc, Hamlet Trương, Trần Nguyên Vũ, Đoàn Thạch Biền, Bùi Tự Lực and Anh Khang.

Chef Alain Nghĩa will introduce his book at the festival.

Publishers will also offer discounts from 20 per cent to 50 per cent for some books, buy three get four books and sell old books for between VNĐ10,000 (nearly US$0.4) and VNĐ50,000 ($2.2) each.

In the first edition last year, 70,000 people visited the festival, and 100,000 books were sold.

According to the city's Department of Culture and Sports, Đà Nẵng plans to open a book street.

Last year, Đông Á College also launched its first reading space, the Green&Brown Bookstore, comprising a library, a bookstore and a coffee shop on Trần Cao Vân Street, housing 10,000 books.

The city also hosted a regular book day event in three districts of Thanh Khê, Liên Chiểu and Sơn Trà to promote reading among youngsters.

The city in co-operation with the Korean International Co-operation Agency also inaugurated the first free public book park for the community in Sơn Trà peninsula last year.

Minh wins 10th stage of cycling event

Lê Nguyệt Minh of HCM City won the 10th stage of the HCM City Television Cycling Tournament yesterday.

Minh won the 88km stage from Ba Tơ District to Quảng Ngãi City in a time of 2:30.08.

It was a short race so many cyclists were in with a chance of winning, however, Minh sprinted the last kilometres to take the victory.

Lê Văn Duẩn of VUS-TP.HCM and Nguyễn Tấn Hoài of Domesco Pharmacy Đồng Tháp were the runners-up.

Minh holds the green jersey as the best sprinter with 60 points, followed by Hoài with 52 points and Huỳnh Thanh Tùng of the Military Zone 7 with 47 points.

Although not finishing in top three of this stage, Nguyễn Văn Dương of Bike Life ĐN still kept the yellow jersey for best overall time of 20.00.37 after 10 stages.

Military Zone 7 top the team rankings with the best overall time of 66:08.43. Domesco Pharmacy Đồng Tháp and Bike Life ĐN are second and third, respectively.

Today, cyclists will compete in the 179km 11th stage from Quảng Ngãi City to Quy Nhơn City.

Thái Sơn Nam beat Phú Nhuận at futsal tournament

Defending champions Thái Sơn Nam defeated Hải Phương Nam Phú Nhuận 7-2 in the National Futsal Championship yesterday in HCM City.

In the first half, Phú Nhuận were on the front foot from the first minute and opened the scoring through captain Đoàn Văn Định.

Minutes later, Phạm Đức Hòa levelled the score for Thái Sơn Nam before Trần Văn Vũ netted to take the lead.

In the last minutes of the first half, Vũ and Tôn Thất Phi scored to make the lead 4-1.

After the break, Thái Sơn Nam dominated and had three more goals thanks to Lương Thái Huy, Vũ and Lê Quốc Nam.

Mai Thành Danh Toại scored a consolation goal for Phú Nhuận, leaving the score 7-2.

With this win, Thái Sơn Nam lead the tournament.

Thái Sơn Nam's coach Nguyễn Bảo Quân said his players listened to his tactics, played with focus and controlled the match.

"We had a good match. We played with focus to make it hard to score against us. Although we conceded early we stayed calm," said Quân.

Coach Nguyễn Anh Tuấn of Phú Nhuận said his team has many young players who struggled to compete with Thái Sơn Nam's many national team members.

"Psychology affected our players in the match today. We will make every effort and strengthen for the next matches with Sanna Khánh Hòa and Hoàng Thư Đà Nẵng," said Tuấn.

In other matches, Thái Sơn Bắc beat Tân Hiệp Hưng 1-0 and Sanatech Khánh Hòa defeated Sanna Khánh Hòa 3-2.

Elsewhere, Sài Gòn FC vs Sanest Tourist Khánh Hòa, Cao Bằng vs Hoàng Thư Đà Nẵng (to be updated).

Bac Giang intensifies fight against corruption

The northern province of Bac Giang will continue enhancing the efficiency of corruption fighting in the second quarter of this year, Vice Secretary of the Provincial Party Committee Than Van Khoa has said.

Numerous measures have been devised to fight corruption and to enhance the quality of inspection work, with a focus on sectors prone to corruption.

Supervision will be strengthened to enforce the implementation of legal documents related to corruption, while local prosecutors will deal with corruption cases promptly.

The provincial Party Committee's Board for Internal Affairs will work with relevant bodies to ensure transparency in the assets and income of local government officials and civil servants.

Communications will also be enhanced to raise awareness of fighting corruption, while enhancing the role of the People's Council, all political and social organisations, press and people in combating corruption.

According to the provincial Party Committee's Board for Internal Affairs, in the first three months this year, five corruption cases were detected, including a case causing losses of over 13 billion VND (571,000 USD) for a local branch of the Joint Stock Commercial Bank for Industry and Trade of Vietnam (Vietinbank).

Ten other corruption cases have been transferred to authorised agencies to be investigated.

PM okays irrigation project in Mekong Delta
Prime Minister Nguyen Xuan Phuc has approved a project to build the first phase of Cai Lon – Cai Be irrigation system in the Mekong Delta provinces of Kien Giang and Ca Mau from 2017-2021.

The project will be managed by the Ministry of Agriculture and Rural Development with investment of more than 3.3 trillion VND (over 145 million USD).

It aims to control salinity in the two provinces and help develop local aquaculture.

The project will start this year with capital preparation, designing and land clearance.

Hue festival honours traditional crafts

The seventh Hue Traditional Craft Festival will be held in the central province of Thua Thien-Hue from April 28- May 2 to honour traditional crafts, promote socio-economic growth and develop traditional craft products along with tourism.

According to Nguyen Van Thanh, Chairman of the Hue city People's Committee and head of the organising board, the opening ceremony on April 28 will include a special art programme.

The festival will feature a space for artisans and craft villages and exhibitions of art works and imperial artifacts.

Other activities to be held within the festival include a food festival, an Ao dai (traditional long dress) festival, film screenings and a balloon festival.

Some 54 traditional craft groups and villages across the country have registered to attend the festival, which will also see the participation of five cities and enterprises from China, Japan and the Republic of Korea.

Aiming to restore and branch out traditional crafts as well as diversify products for tourism, the festival has been held biennially since 2005.

HCM City leader meets US Consul General

Vice Secretary of the HCM City's Party Committee Tat Thanh Cang hosted a reception for US Consul General to the city Mary Tarnowka on April 19.

At the meeting, Cang lauded the US Consulate General's efforts to enhance relations between Vietnam and the US as well as HCM City and US states.

He affirmed the city's continued support for the US Consul General for her work in Vietnam.

For her part, Tarnowka hailed the progress in cooperation between the city and the US and updated the Vice Secretary on the Consulate General's plans in the fields of environment, climate change, education, trade and investment this year.

Ethnic group's Culture Days promote Vietnam's unique culture

The Vietnamese ethnic groups Cultural Days themed "Melody of mountain and forest" officially began in Hanoi on April 19, featuring cultural, arts and sport activities.

The opening was attended by Head of the Party Central Committee's Commission for Information and Education Nguyen Van Thuong, representatives from Ministries, sectors and localities, religious dignitaries and outstanding individuals from ethnic minority groups nationwide.

In his opening speech, Minister of Culture, Sports and Tourism Nguyen Ngoc Thien said the ministry worked with relevant ministries and sectors to build policies on ethnic and ethnic culture affairs.

He also pointed out challenges in preserving the traditional cultural identities of ethnic groups.

The traditional cultural identities of several ethnic groups are at risk of falling into oblivion, while conservation and development is not synchronous and the development of new culture values remains limited, he said.

Additionally, there is a shortage of funding to implement projects and programmes, and it is difficult to attract investment in mountainous and ethnic minority areas in preserving culture.

The situation demands more attention, and proper solutions from sectors to implement the Party and State's policies in the work, contributing to strengthening national unity, he added.

After the opening ceremony, an art programme took place, featuring artists from 11 art troupes.

Visitors to the cultural event, which lasts through April 23, could take part in folk games, enjoy folk music and learn about and practice rites of some ethnic groups from the northern mountainous province of Ha Giang and the central province of Nghe An.

Formosa upgrades equipment after mass fish death disaster

Hung Nghiep Formosa Ha Tinh Steel Ltd. in Ha Tinh Province has buy two environmentally-friendly dry coking system from a Japan company to continue operation after the mass fish death in the central region last year.

Duong Tat Thang, vice chairman of Ha Tinh Province confirmed on April 19 that the Japanese Nippon Steel & Sumikin Engineering Co. will provide two systems to Formosa steel plant in Vung Ang Industrial Zone.

According to Thang, Formosa has been able to address 52 out of 53 violations accused by the inspector of the Ministry of Natural Resources and Environment. The only violation left is changing its wet coking system to a dry alternative.

The Nippon Steel & Sumikin Engineering Co. has won the contract to provide Formosa with two dry coking systems in order to make the process more environmentally friendly. It is estimated that Formosa will start building the site on April 25 and complete it in 2019. The dry coking system won't have phenol, cyanide and other industrial compounds as by-products.

Formosa has also completed a treatment station to deal with wastewater from coking process.

Formosa discharged wastewater into the sea which caused mass fish deaths in four provinces in central region and badly affected the local tourism and lives of the fishermen last year. In early April, the Ministry of Natural Resources and Environment announced that the plant had met the requirements for test runs of its first blast furnace.

3,200 new jobs for workers returning home from Rok

Over 100 businesses announced recruitment of 3,200 employees who used to work in South Korea at the fourth HCMC Job Exchange 2017 on Wednesday.

The announcement was made by Mr. Nguyen Cao Thang, deputy director of Job Service Center under the city Department of Labor, Invalids and Social Affairs.

The exchange has been organized for Vietnamese returning home after their labor export contracts to South Korea ended by the Job Service Center in coordination with Overseas Labor Center under the Ministry of Labor, Invalids and Social Affairs for the first time in HCMC.

Mr. Thang said that job seekers can access http://vlhcm.vieclam-vietnam.gov.vn and http://vieclamhcm.net to get more information or arrive at the headquarters of the HCMC Job Service Center at 153 Xo Viet Nghe Tinh, Binh Thanh to meet recruiters.

Vietnam receives warning of false heart medication

The Vietnam Drug Administration was warned of false heart medication Vastarel yesterday.

As per Les Laboratoires Servier Vietnam's report attached with survey and chemical analysis, false heart medication Vastarel 20mg with registered number VN-16510-13 and production batch 9298852 is fake product.

Worse, the fake product is an impostor Les Laboratoires Servier - France.

Consumers can distinguish the fake easily because words in the product are blurred and difficult to read while words on the genuine are sharp.

Vastarel is a cytoprotective drug whose cardiovascular effectiveness, especially in patients with stable ischemic heart disease.

Emily Hong Nhung named ambassador for Hue Hot Air Balloon Festival

Emily Hong Nhung, top nine at Miss Tourism Metropolitan International 2016, has been designated as ambassador for the second International Hot Air Balloon Festival within the framework of Hue Traditional Craft Festival 2017.

The April 28-May 1 festival is expected to attract pilots and balloonists from 10 countries of the Netherlands, Belgium, Australia, Thailand, France, Malaysia, the Republic of Korea, Switzerland, Japan and Vietnam.
emily hong nhung named ambassador for hue hot air balloon festival hinh 1 Nguyen Dang Thanh, vice chairman of Hue City People's Committee, said the event aims to promote images of Hue imperial city to both domestic and foreign visitors with a photo contest and a hot air balloon light show.
Wounded rare sea turtle rescued

A rare sea turtle with serious wounds was rescued by the Xuân Thủy National Park.

Fishermen fishing in Ninh Cơ River of Thịnh Long Township in Nam Định Province's Hải Hậu District on Tuesday discovered a turtle drifted away from the sea.

The turtle weighs some 70kg and is 1.2m long, with major injuries on its two front legs.

The fishermen and soldiers of Hải Thịnh Port's Border Guard, who were patrolling the area at the time, gave first aid to the animal and then sent it to the province's Xuân Thuỷ National Park.

The turtle will be released to the sea when it recovers.

According to experienced fishermen, the turtle belongs to a rare species that has a long lifespan of some 100 years.

Central Highland province develops rural areas

The Central Highlands province of Dak Lak has mobilised more than 37.6 trillion VND (1.69 billion USD) to improve living standards for people in rural areas.

More than 500 billion VND (21.9 million USD) of the total money was sourced from the central budget to carry out a national programme on building new-style rural areas in Dak Lak, while nearly 800 billion VND (35.1 million USD) was contributed by local people to upgrading the transport and irrigation systems.

The province focused on allocating capital on poor communes, with investment four to five times higher than other communes.
Currently, 20 communes in the locality have been recognised as new rural areas.

Chairman of the provincial People's Committee Pham Ngoc Nghi said authorities will continue mobilising financial sources to build infrastructure such as transport, irrigation, schools, and electricity and clean water supplying network, prioritising particularly poor communes.

In 2017, the province aims to have more 10 new rural communes.

Initiated by the Vietnamese Government in 2010, the programme sets 19 criteria on socio-economic development, politics, and defence, with a view to modernising rural areas.

The criteria cover the development of infrastructure, the improvement of production capacities, environmental protection and promoting cultural values.

The country aims to have 50 percent of all communes nationwide meeting all the requirements by the end of 2020.

VNA/VNS/VOV/SGT/SGGP/TT/TN/Dantri/VNE