HCMC apartment market falls in Q1
The apartment market in HCMC contracted sharply in terms of supply and demand in all segments in the first quarter of this year.
Data of CBRE Vietnam showed the market had 5,083 new apartments from 21 projects in the first three months of this year, down a staggering 44% quarter-on-quarter and 49% from a year ago.
Medium-class condos accounted for the largest proportion of 52% of the total put up for sale while the number of luxury apartments on sale dived by 72% over the previous quarter. Year on year, the high-end apartment segment tumbled by one-third.
More than 6,050 apartments found buyers in the January-March period, plunging 47% quarter-on-quarter and 29% compared to the same period last year.
The fall resulted from limited supply in quarter one, according to Duong Thuy Dung, director of research and consulting at CBRE Vietnam. She noted medium-class apartments made up 67% of the total offered for sale.
Meanwhile, Le Hoang Chau, chairman of the HCMC Real Estate Association (HoREA), pointed out lower-than-expected growth indicators were among the reasons behind the lackluster performance of the property market.
He noted the country's gross domestic product (GDP) grew 5.1% in the first quarter of this year. Chau specified the manufacturing and construction sector expanded 4.17%, a marked slowdown compared to the year-earlier period, and the growth of the construction-real estate sector in particular was 6.1% compared to the 8.6% in quarter one of 2016.
Apartments were sold at the average of around US$1,600 per square meter, up 6% quarter-on-quarter and 13% year-on-year, according to CBRE. Luxury products registered the highest price increase of 7.9%, especially for property projects in District 2.
The proportion of people who bought homes to meet their residential needs took 31% of total successful transactions in quarter one, well above 23% in the first quarter of last year.
CBRE said apartment projects in the western part of HCMC had for the first time taken the lead in the number of condos put up for sale with 1,821 units in quarter one, or 36% of the total apartments launched in the period. The eastern part came second with 1,523 units.
Apartments priced at VND1-2 billion per unit sold well in the first quarter of this year, according to property investors.
Nguyen Nam Hien, general director of Hung Thinh Land, said customers have registered to buy over 90% of the products at the company's Moonlight Boulevard in Binh Tan District and Richmond City in Binh Thanh District after their model homes were introduced in quarter one.
Moonlight Boulevard comprises of 656 apartments whose prices start from VND1.2 billion and 54 office-tel units, while Richmond City includes 880 condos with prices from VND1.6-2 billion per unit, plus 300 office-tel units and four levels for commercial facilities.
Apartments at multiple projects in the western part of HCMC were put up for sale at less than VND1 billion each in the January-March period. They included Dacin Company's Vision 1 with 620 condos in Binh Tan District and Sieu Thanh Co Ltd's Kingsway Tower in Binh Tan District.
In the south of HCMC, more than 96% of apartments at G Building of Saigon South Residences Phu My Hung found buyers on the launch day. The apartments measure 60-70 square meters and cost around VND2 billion each.
D-Vela project of Can Nha Mo Uoc Investment JSC attracted many buyers as apartments there are affordable, starting from VND1.5 billion per unit. The project in District 7 has 168 apartments, 82 office-tel units and nine shophouses.
Tran Khanh Quang, general director of property investment firm Viet An Hoa, said more homebuyers have sought products in the budget and medium-class segments and this is the reason why more investors have developed housing projects with affordable prices in the western part of the city.
Chau of HoREA said the HCMC real estate market performed well in 2015-2016, but the growth momentum has started to taper in 2017 compared to last year. Still, the market is expected to see more affordable housing projects for medium- and low-income earners.
Dang Phuong Hang, managing director of CBRE Vietnam, said the Vietnamese real estate market would expand at a slower tempo than in the 2015-2016 period as both investors and homebuyers have grown more cautious after more than two years of strong growth in the market.
"Growth of the real estate market will depend on the confidence of homebuyers. They will continue buying homes if they receive quality products as pledged by developers," Hang said.
Can Tho seeks initiatives for eco-friendly development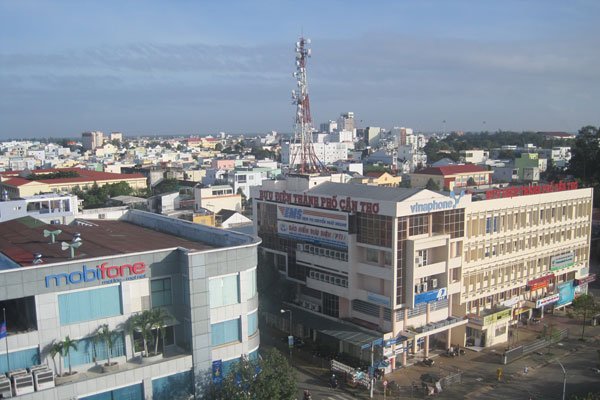 The government of Can Tho City is organizing a program to seek the most feasible innovations which will make the city green, clean and beautiful.
The World Bank will provide US$500,000 for the city to carry out the program as part of an urban upgrade project in the Mekong Delta.
The program aims to establish an environment that improves the health and lives of local residents, as well as contributes to the city's economic development, according to Doan Thanh Tam, deputy director of the city's management board of official development assistance projects at a working session on April 10.
The program focuses on four major themes: environmental cleanup, urban rehabilitation and sustainable use of construction works, school cleanup, and green coverage.
Selected initiatives will receive aid ranging from VND20 million (US$882) to VND200 million (US$8,821).
He said individuals and organizations have proposed 15 initiatives such as the organizing of eco-friendly trips for local river tourism, the application of Israel's drip irrigation technology in Can Tho, and the application of solar energy in the city's Con Son tourism site.
The program is part of Component 4 of the project for upgrading the Mekong Delta's urban area which is being implemented in the city between 2012 and 2017, he added.
Vietnamese visitors to South Korea increase sharply
Vietnam has become a key source market for South Korea's tourism sector as the number of Vietnamese tourists to this East Asian country has maintained a double-digit growth rate over the years.
According to the Korea Tourism Organization (KTO) in Vietnam, Vietnamese tourists to Korea in the first three months of 2017 increased by more than 30% over the same period last year. Meanwhile, this number in 2016 increased by nearly 55%, reaching about 251,000 people.
This year, Korea expects Vietnam tourists to grow 22% year-on-year to more than 300,000 visitors.
In order to maintain the growth of Vietnam's market, KTO will carry out plenty of marketing activities such as promoting Korean tourism in various provinces instead of major cities only. Korea will be introducing the FIFA U-20 World Cup, developing medical tourism, and offering high-class products.
In accordance with the tourism promoting program in Vietnam, KTO coordinated with Hanoi City's government to organize the "Korean Days in Vietnam 2017" festival on April 8 and 9. This festival featured a variety of exciting shows and entertaining activities, providing participants with an interesting cultural experience.
Coal revenue increases in Q1
Viet Nam National Coal and Mineral Group (Vinacomin) reported a total revenue of VND24.554 trillion (US$1.1 billion) in the first quarter of this year, a year-on-year increase of 104 per cent, equivalent to 23 per cent of the target set for the whole year.
The group sold 8.6 million tonnes of coal in the first quarter, with 185,000 tonnes being shipped overseas.
Vinacomin had set a production target of 3.2 million tonnes of raw coal and sales of 3.45 million tonnes (3.32 million tonnes for domestic use and 130,000 tonnes for export) in April.
Earlier during an online conference on production management for April 2017, Vinacomin's director general Dang Thanh Hai urged departments and units to be more active while executing their assigned jobs.
Specifically, it is necessary to actively work with households to unify the reasonable price of coal, strengthen resource management and product quality, reduce 5 per cent loss from mining exploitation compared to the previous year, and tighten the mine acceptance test and technological norms, while strengthening the management of mine boundary resources and the process of coal transportation and consumption, he said.
It is also necessary to ensure stability, optimise the technical criteria, meet the quality standards, and fulfil customer requirements, besides having strict controls to ensure environmental safety, as well as operate production-consumption in accordance with the market movements and enhance product consumption, Hai added.
SHS Holdings signs MOU to develop solar farm in Vietnam
SHS Holdings Ltd. has announced that it and its wholly-owned subsidiary, Sinenergy Holdings Pte Ltd, signed a memorandum of understanding with the Ninh Thuan People's Committee to develop a 300MW solar farm.
The proposed farm would be constructed by Singaporean based SHS Holdings on agricultural land in Ninh Thuan Province, Vietnam.
This proposed investment is subject to a detailed feasibility study to be conducted; the subsequent issue of an investment licence from the Ministry of Planning and Investment of Vietnam, and the passage of certain legislation by the Vietnam government.
The specific solar power policy and legislation is anticipated to be ratified by the Vietnam Government later this year, before the parties move ahead to sign a formal implementation agreement.
"We have completed extensive research into the opportunities and technical parameters surrounding the potential of harnessing solar energy in Vietnam, and believe that Ninh Thuan is the most suitable and ideal location for such a project," said Mr Henry Ng, CEO of SHS Holdings.
The Group, he said, is accelerating its track record in solar energy, which is one of its key growth engines. In 2016, it completed a 4MW grid-tiered solar photovoltaic system on the rooftop of SATS Airfreight Terminals 5 and 6 at Singapore Changi Airport.
It is also currently constructing a 50MW solar plant in Bangladesh that is expected to complete by the second quarter of 2018.
Vietnam Airlines adds flights for Labour Day holiday
Vietnam Airlines has announced it will introduce additional flights in preparation for the increased passengers expected to be travelling during the upcoming Labour Day (May 1) holiday season.
The flights are serviced by Boeing 767 aircraft, which can accommodate 232 passengers.
Because of high demand, the National Flag Carrier will add 175 flights from April 27 through May 3 on eight routes from Hanoi to Ho Chi Minh City, Danang to Nha Trang and Danang to Phu Quoc.
Coal consumption improves in Q1
The Vietnam National Coal and Mineral Group (Vinacomin) sold 8.6 million tonnes of coal in the first quarter of 2017, up 3 percent compared to the same period last year.
Of the total, 185,000 million tonnes were shipped overseas.
Vinacomin released the figures while reviewing its operation in the first three months at a conference in the northern province of Quang Ninh on April 10.
The group reeled in nearly 13 trillion VND (572 million USD) from coal sales and contributed more than 4.3 trillion VND (189.2 million USD) to the State budget.
However, combined coal inventories came to 9.3 million tonnes, higher than the regulated amount of 8.5 million tonnes.
Vinacomin Deputy General Director Nguyen Ngoc Co said the group has faced challenges selling its coal products due to high cost and coal imports from foreign countries.
The business strategy for the next quarter will prioritise production restructuring with a focus on technology and adjust output according to market demand, he noted.
Goals set for the coal sector in the second quarter included the exploitation of 8 million tonnes and selling of at least 9 million tonnes.
At the conference, alumina business was also mentioned as a highlight of Vinacomin's performance in the first quarter, with the total output of over 312,000 tonnes, which was sold out.
TPG Asia sets to become the majority shareholder of VAS
Global alternative asset firm TPG has just entered into a definitive agreement with the shareholders of Vietnam Australia International School to become a majority owner.
As part of this transaction, two private equity funds, Mekong Enterprise Fund II and MAJ Invest, will fully divest their holdings in Vietnam Australia International School (VAS). Founder Pham Tan Nghia will continue as a VAS shareholder after TPG's investment is closed.
Leveraging TPG's expertise in Asia and in the education sector, VAS will continue to expand its campuses, improve the quality of its programmes, and further develop its staff to remain the market leader in the bilingual K-12 education segment in Vietnam.
TPG is a leading global alternative asset firm with more than $74 billion of assets under management. TPG Capital Asia is the dedicated Asia platform for TPG, with investment professionals in Beijing, Hong Kong, Melbourne, Mumbai, Seoul, and Singapore, managing more than $6 billion in assets.
As one of the first private equity firms to invest in Asia, some of TPG Capital Asia's past and current investments include 8990 Holdings, Cushman & Wakefield, Healthscope, HCP Packaging, Janalakshmi Financial Services, Lenovo, Myer, PropertyGuru, Union Bank of Colombo, and Wharf T&T.
Across platforms, TPG's past and current investments in Vietnam include Proconco, Masan Group, and FPT Corporation.
"VAS is a business that is uniquely adapted to the Vietnamese market. Its innovative educational model responds to the needs and preferences of the expanding middle-class, and it has a strong brand with great potential for growth," said Dominic Picone, managing director of TPG Asia.
"VAS is a good example of the type of creative investment opportunities we look for in Southeast Asia, and we believe the business will thrive in partnership with TPG."
VAS has more than 6,300 students across seven campuses in Ho Chi Minh City – a steep increase from the 2004 school year, when it had 400 students.
It is now the largest private K-12 education group in Vietnam. The school system's growth has thrived since it introduced the Cambridge International Curriculum, which has led to an increase from 4,100 students in 2014 to its current total.
With investments in new buildings and facilities such as the newly-opened Garden Hills campus and planned campuses in Ho Chi Minh City and Hanoi, the school system is bringing more educational opportunities to students throughout Vietnam.
The growth of VAS has been achieved by a dedicated team of more than 1,300 high-quality Vietnamese and international teachers and staff, many of whom have been with the school since its inception.
Many alternatives to public education have been opened in recent years in Vietnam, especially private schools teaching international programmes.
VAS has created differentiation and a competitive advantage by pioneering the delivery of the Cambridge International Education in Vietnam, combined with the National Programme throughout all grades in Ho Chi Minh City.
Students enrolling in the VAS bilingual programme have advantages in terms of knowledge, skills, certificates, and diplomas issued by the Cambridge International Examinations Council (CIE), which have permanent, worldwide currency. Students also receive the national Ministry of Education and Training-mandated qualifications.
In particular, CIE's A Level Diploma at VAS helps many students save on costs instead of going abroad.
VAS is also the first school to introduce the "7-core-value system" in its teaching methodology, using it as a guide for the students to develop strong values as well as prepare for success in higher levels of education and in life.
"In the next three to five years, with the support of TPG, we will invest in the development and training of our staff, the further improvement in the quality of our service, the teaching-learning activities, and the facilities throughout the entire system," said VAS executive chairman Marcel van Miert.
"Regarding our expansion plans, VAS intends to open many more large-scale campuses in Ho Chi Minh City and other provinces. I am very honoured to continue to accompany the VAS staff and teachers who will implement this plan."
Ninh Thuan farmers make fortune with VietGap grapes
Thanks to technical assistance and training from NinhThuan's Department of Agriculture and Rural Development in recent years, many farmers in the central province have successfully applied the VietGap model in grape growing. The model has helped improve economic efficiency and the quality of local grape products.
Growing grapes under VietGap or Vietnamese Good Agricultural Practice standards poses plenty of challenges at first, as the plant requires special care, especially given climate change.
Yet, thanks to strict compliance with technical procedures in planting, growing and harvesting, one hectare on average can produce about 30 tonnes of the fruit.
As organic products, the wholesale price of grapes grown under the VietGap model is often 1.5 times higher than those without VietGap approval.
Grapes have higher economic value compared to many other plants. Specifically, its economic efficiency is 8-9 times higher than that of rice.
Therefore, applying VietGap model in growing grapes can help farmers make their fortune.
Being fully aware of the grape's foothold position in the province's economy, local authorities have mapped out a 7,900-hectare area for grape growing.They also focused on developing new varieties and technical assistance for local farmers.
Japan company helps Hanoi operate urban railway system
Tokyo Metro, the leading subway company in Japan, has established a subsidiary, Vietnam Tokyo Metro, to help Hanoi manage and operate its urban railway system.
Vietnam Tokyo Metro will share Japanese experience in operating the project through technical consultations and exchanges of information and human resources between the two sides.
Metropolitan railway lines will be the backbone of Hanoi's sustainable development, Director of Tokyo Metro Yoshimitsu Oku said, stressing the need for the development of the means of transport in the city.
Tokyo Metro has also partnered with the Japan International Cooperation Agency in the "Technical assistance project to strengthen the regulator capacity and to establish an agency managing the operation and maintenance of Metropolitan Railway Lines in Hanoi City, Vietnam".
Hanoi calls for environmentally-friendly, hi-tech projects
Hanoi is calling for investment in environmentally friendly large-scale projects that use advanced technologies.
According to the city's promotion programme for trade, investment and tourism in 2017, it will prioritise projects in urban infrastructure development, especially those that connect Noi Bai International Airport and Nhat Tan Bridge; hi-tech agriculture; retailing; healthcare; education and culture.
The capital aims to carry out more projects under public-private partnership agreements and draw more than 3 billion USD in foreign direct investment. It also hopes to have 80 percent of applications for business registration done online and plans to pilot granting investment licences online.
In addition, local authorities will enhance partnerships with other cities and provinces across the country to distribute high quality "made in Vietnam" products in the city and provide more support for local producers to improve product quality and help them access domestic and overseas markets.
The city will continue promoting tourism at international fairs with the focus on key markets like Europe, the United States, Southeast Asia, Northeast Asia, South Asia and the Middle East.-
Vietnam int'l tourism mart draws 61,000 visitors
The four-day Vietnam International Tourism Mart (VITM) 2017, which concluded on April 9, saw the participation of 3,000 enterprises and about 61,000 visitors.
According to the organising board, some 20,070 domestic and international tours were sold at the event for total revenue of 212 billion VND (9.35 million USD).
VITM, the largest of its kind in Vietnam, attracted major Vietnamese travel firms, such as Vietravel, Vietrantour, Saigontourist and Hanoitourist, along with international firms from the Republic of Korea, Japan, the Philippines and Cambodia.
Among the most successful enterprises at the event were Vietrantour with sales of 15.7 billion VND (692,527 USD), up 15 percent year on year, TransViet with 26 billion VND (1.14 million USD), a rise of about 30 percent, and Hanoi Redtours with 21 billion VND (926,310 USD).
The organising board said that a survey at the fair showed that 79.5 percent of participants were satisfied with the event, while 72.7 percent of the firms said that they will attend the fair next year.
A street food festival was a highlight giving visitors a chance to enjoy dishes from the Republic of Korea, Japan, Malaysia, Singapore, Mexico, Italy, the US, the Philippines and Vietnam.
Ten dishes, five chefs and five firms received awards, while the Vietnam Tourism Association honoured the first 10 travel enterprises to serve outbound tourists in 2017.
Sale of CBU cars up 114 percent in March
Sales of completely – built units (CBUs) increased 114 percent to reach 8,484 in March, according to the latest data released by Vietnam Automobile Manufacturer's Association (VAMA).
More than 18,388 complete knock down (CKD) units were sold last month, up only 35 percent, said VAMA.
Total automobile sales in March rose 52 percent from the previous month to nearly 27,000 units, despite people waiting for prices to further reduce.
Of the total, 16,805 units were passenger cars, up 67 percent; 8,278 units were commercial vehicles, up 31 percent; and 1,789 units were special-purpose vehicles, up 45 percent.
Domestic manufacturer Truong Hai Auto Corporation led VAMA members with 9,468 units sold, occupying 45 percent of the country's market share.
Second was Toyota Vietnam with 4,679 units, 20.5 percent of market share.
Ford Vietnam came third with 2,501 units, 11 percent of the market share.
Total automobile sales in the first quarter of 2017 experienced a year-on-year increase of 8 percent to 64,729 units with passenger cars up 23 percent while commercial and special-purposes vehicles declined by 10 and 13 percent respectively.
In addition, the number of CBUs sold expanded 41 percent while CKDs slid one percent.
APEC adopts Support Industry Initiative
The Asia-Pacific Economic Cooperation (APEC) member economies have adopted the Support Industry Initiative proposed by Japan and Vietnam.
The initiative aims to evaluate polices and experience in developing Vietnam's modern support industry, through which Vietnam will partner with Japan and the APEC Policy Support Unit to devise a set of policy guidelines and good governance practices on APEC Support Industry, which are expected to be submitted to the APEC Joint Diplomatic-Economic Ministerial Meeting later this year.
Mac Quoc Anh, Vice Chairman and General Secretary of the Hanoi Small and Medium Enterprises Association, underscored the importance of the initiative because 97 percent of Vietnamese businesses are small and medium-sized enterprises (SMEs).
He said supporting SMEs is a necessary task, saying that they create jobs, value and stability while State-owned enterprises attract as much as 80 percent of domestic capital but create a mere 20 percent of value.
Luong Hoang Thai, head of the Ministry of Industry and Trade's Multilateral Trade Policy Department, described the development of the support industry as a strategic choice of APEC member economies.
He added that one of the pillars of APEC Year 2017 is creating a driving force for its member economies to further integrate into the regional and global supply, manufacturing and value chain while promoting support industries and services.
Work begins on $35million plant in Bình Dương
A-Pro Tech Vietnam Co Ltd on Monday broke ground for the construction of a bike and automobile spare parts manufacturing plant in the southern province of Bình Dương.
The US$300 million project is financed by the Taiwan-based A-Pro Technology Co Ltd and will be operated by A-Pro Tech Vietnam Co Ltd.
GIZA Engineering & Construction Joint Stock Company is the general contractor.
The factory is being built on a 76,000sq.m plot in Đại Đăng Industrial Park. Once completed, it is expected to have an annual capacity of 300,000 bicycles, one million bike frames of different types, 100,000 tonnes of spare parts for bicycles, motorcycles and cars, as well as 50,000 tonnes of metal tubes.
The plant is expected to become operational this December.
VNREA pushes for low-cost housing policy
The Viet Nam Real Estate Association (VNREA) has again proposed that the government formulate policies for developing small, inexpensive apartments smaller than 75sq m and cheaper than VND15 million per sq m.
At its annual meeting held in the central Binh Dinh Province last week, the VNREA drew up five proposals to be submitted to the government.
The association has proposed the reduction of value-added and corporate income tax for cheap housing projects, and has recommended that such projects get preference for land funds and bank loans.
VNREA's chairman Nguyen Tran Nam said the market still faces risks such as unbalanced goods structure, meaning, the demand from a majority of the population is for mid- and low-cost houses, while most projects in the market are high-end.
"The market lacks products that suit the finances of the majority. The two big cities of Ha Noi and HCM City have only a small number of new apartments priced under VND20 million per sq m," Nam said.
Projects, especially in large cities, are not coming up based on demand in specific localities. The development of social housing projects has been slow as capital and policies are not in sync with market reality.
The VND30 trillion housing stimulus package, launched in 2014, supported low-income buyers, and people were given a preferential interest rate of 5 per cent for within 15 years. However, after the package period got over, no new credit policies have been introduced to encourage cheap apartment projects, said Pham Sy Liem, former deputy minister of construction. "The government should focus on credit for the development of low-cost housing projects. Developers selling apartments for VND10-15 million per sq m should get access to preferential loans," he said.
Liem pointed out that many countries have such policies in place to encourage low-cost housing projects.
Last November, the association made a similar proposal to the National Assembly on the local real estate market after it met in October.
The VNREA has also asked local authorities to determine the ratio of social, commercial and high-end housing projects, to balance the real estate demand. Based on real demand, localities should make decisions on granting land and construction.
The association has also suggested a collaboration between the ministries and the State Bank of Viet Nam to fix suitable credit resources and avoid concentration on only certain market segments.
Rent-A-Port NV expands business in Viet Nam
Rent-A-Port Green Energy on Saturday inked a memorandum of understanding (MoU) to develop wind and solar driven micro desalination, in a bid to solve the problems of salt water harming rice fields in the Mekong Delta region.
The agreement was signed with officials from Viet Nam's Ministry of Agriculture and Rural Development (MARD).
Rent-A-Port Green Energy is 100 per cent owned by Rent-A-Port NV, a Belgium engineering and investment company, specialising in the development of marine infrastructures and industrial zones. Through its shareholders, Rent-A-Port can fall back on a wealth of in-house experience in the analysis, design, construction, development and management of port, logistics and marine infrastructures, green energy as well as industrial zones worldwide.
Under the agreement, the Belgian firm and MARD will set up five demonstration wind-powered water desalination plants, with a total investment of US$15 million, which are capable of providing fresh water for at least 200 hectares of rice fields in five locations across the Mekong Delta region.
Each plant consists of two water production units, with a combined peak capacity of 400 cu.m per day. The amount of salt found in the fresh water from the plants would be below 0.1 per cent, making it suitable for irrigation and even drinkable for local people.
"We are expecting around 250 such plants to be built in the region, as a part of supporting Viet Nam in improving rice production and the livelihoods of the region's farmers. We are also willing to help Viet Nam identify and seek the most suitable financing source for the development of such plants in the Mekong Delta," Marc Stordiau, managing director of Rent-A-Port, said at the MoU signing ceremony.
He added that the project was not looking for profits, but will work to help farmers overcome difficulties in growing crops.
The project will only use green energies, thus reducing the system's costs, he said.
Tran Kim Long, general director of MARD's International Co-operation Department, said the project would support two of Viet Nam's important programmes for building new rural models and restructuring.
"The public-private-partnership in the agricultural sector is expected to take advantage of models and partners who have had success in green growth in other countries," Long added.
Since 2008, Rent-A-Port NV, a subsidiary of CFE, part of the large French Concession Group VINCI and the industrial group Ackermans and Van Haaren, have taken over all shares of AIG, to become the major shareholder of the Dinh Vu Industrial Zone in northern Hai Phong Port City.
Rent-A-Port continues to expand it industrial zones, not only in Hai Phong City, but also in Quang Ninh Province, creating the Deep C industrial cluster, which is built over a 3,000 ha. area.
Rent-A-Port Green Energy's management was the driving force behind the pioneering "far shore" wind C power farm. This was the first time that wind turbines were built so far offshore (30 kilometres). The total farm capacity was approximately 360 MW.
Rent-A-Port Green Energy has also participated in several green power projects in Oman and Belgium.
The group has begun investing in green energy for the sustainable development of Viet Nam. These include projects in wind-powered water desalination in the Mekong River Delta and Hai Phong, pioneering in solar energy in north Viet Nam, as well as waste-to-energy modules in Dinh Vu and Uong Bi City. Rent-A-Port is also looking at developing inland waterway ports that divert traffic from roads to a safer and more ecological route by sea.
In November 2016, Rent-A-Port Green Energy and Rent-A-Port Utilities signed an MoU with the MARD on co-operation in wind-driven desalination for agricultural production in the Mekong Delta region.
HCM City stabilizes market, ensures social welfare
15 years ago, Ho Chi Minh City was the first locality in Vietnam to implement a market stabilization program, enabling city dwellers to buy high-quality essential goods at affordable prices.
The 15-year-old market stabilization program has achieved its goal of ensuring social welfare and meeting low-income families' need for essential goods.
Nguyen Thi My works in the Linh Trung I Export Processing and Industrial Zone, Thu Duc district. She said "The prices are reasonable. The quality of goods is improving, gaining consumers' trust."
There are now 10,500 shops offering essential goods at subsidized prices, compared with only 240 shops in the beginning. 86 enterprises are selling rice, cooking oil, sugar, milk, and eggs.
Many enterprises have developed distribution networks and brands and work with producers to ensure a steady supply of goods.
Nguyen Thanh Nhan, Director General of the Saigon Trading Cooperatives' Alliance, said "My policy is to invest in credible producers of food to ensure food safety and hygiene and a dependable supply of goods."
Ho Chi Minh City is combining traditional and modern distribution systems and optimizing trade infrastructure to improve the price stabilization program.
Nguyen Huynh Trang, Deputy Director of Ho Chi Minh City's Department of Trade and Industry, said "We are focusing on the quality of goods and goods' supply. A tool for tracing pork origins is being used and this will be applied to chicken, vegetables, and fruit. Subsidized goods should be of good quality."
The city's market stabilization program is coordinated with a campaign to encourage Vietnamese to buy made-in-Vietnam products.
Lottery firms in southern Vietnam found with massive non-core investment
All 11 lottery ticket companies in southern Vietnam have collectively channeled nearly VND1,000 billion (US$44.64 million) into sectors outside their main business, the Ministry of Finance's inspectorate announced.
By the end of 2015, these 11 companies had earmarked more than VND1,078 billion (US$48.13 million) for long-term financial investment, though only over VND80.8 billion (US$3.61 million) was meant for their core business operations, the finance inspectors said.
The combined non-core investment of these companies amounts to VND997 billion (US$44.51 million), according to the inspectors tasked with examining the 2015 consolidated financial reports from the lottery firms.
The finance ministry also noted that plans to increase the registered capital of the 11 companies by a total of VND4,137 billion (US$184.69 million) are inappropriate and should therefore be carefully vetted.
The companies had either asked to increase chartered capital more than they should, lacked convincing reasons for needing more capital, or intended to put the extra capital into non-core business ventures, according to inspectors.
The finance ministry asked seven of the lottery companies to pay back a combined VND1,448 billion (US$64.64 million) to the state budget for submitting improper capital increase plans, and VND431 billion (US$19.24 million) for unpaid taxes and fees.
The ministry inspectorate also demanded that the lottery companies withdraw from their non-core ventures in the near future, though the firms say the divestment process may take some time.
The Tien Giang lottery firm, for instance, has invested a total of VND453 billion (US$20.22 million) into different entities operating in the finance, water supply, and tourism sectors and says it can only withdraw from these non-core investments by 2020.
Company director Ly Minh An said the investments were made before Vietnam banned lottery companies from investing outside their core business, adding that the company is speeding up its divestment processes.
Nguyen Hoang Hai, general secretary of the Vietnam Association of Financial Investors, said the nearly VND1 trillion of non-core investments would have been of better used if they had been channeled into education or healthcare.
Hai said the companies should be forced to withdraw from risky sectors, such as banking and finance, as "many provinces are still in need of money for social welfare projects."
"If the non-core investment withdrawals come with losses, we should also find and sanction the individuals responsible for those investment decisions," he said.
Indonesia turns it back on Vietnamese rice as crops at home flourish
Indonesia, the world's fourth most populous country and a major buyer of Vietnamese rice, has not returned to Vietnam for new purchases this year, while its overall 2017 rice imports are forecast to halve to around 500,000 tons thanks to better domestic production, according to industry reports.
Indonesia was among Vietnam's 10 biggest rice buyers in the 2010-2016 period, with imports peaking at nearly 1.9 million tons in 2011, based on data from Vietnam's agriculture ministry.
But its purchases have been falling and Vietnam received no orders during the first two months of 2017, ministry data shows. Vietnam is the world's third-biggest rice exporter after India and Thailand.
Indonesia is forecast to import 500,000 tons of rice this year, down 50% from 2016, as domestic milled rice output edges up 2.6% to 37.15 million tons "due to increased area harvested", a US Department of Agriculture attache said in a March 30 report.
The report said increased cropping intensity and new land will help expand the harvested area this year to 12.24 million hectares (30.25 million acres), 1.2% above 2016 when Indonesia experienced a weak to moderate La Nina weather phenomenon.
Given more use of high-yielding varieties, the report forecasts Indonesia's output next year will rise further to 37.4 million tons, leaving the country's rice imports unchanged.
The forecasts pose a challenge to Vietnam's rice exports in 2017, with shipments in the first quarter already dropping 24% from a year ago to 1.2 million tons, a two-year low, the government has said.
Hanoi maintains forecasts of a modest rice export volume for 2017, anticipating 5 million tons to be shipped, due in part to expected higher demand from top buyer China. Last year, Vietnam's rice exports fell to 4.8 million tons, the lowest since 2008.
Malaysia, another key buyer of Vietnamese rice, is forecast to import 950,000 tons of the grain this year, unchanged from 2016, said a USDA report dated March 27. Last year, the country was Vietnam's 5th biggest rice buyer, after China, Ghana, the Philippines and Indonesia.
The average export price of Vietnam's 5% broken rice eased 2% in the first quarter ending March from a year ago to US$344 a ton, free-on-board basis, and that on Thailand's 5% broken rice also eased the same pace in the same period to US$372 a ton, the UN Food and Agriculture Organization said.
Unseasonal rain in the past week has disrupted the harvest of the Mekong Delta's winter-spring crop, and quotations edged up slightly even though buying demand remains thin, traders said. The 5% broken rice advanced to US$355 a ton this week from US$347-US$350 on March 30.
Output of the crop, the biggest among the Delta's three crops grown a year, is projected to drop 1.3% from last year to around 10 million tons of paddy, the agriculture ministry has said.
Ministry strives for sustainable development of tra fish
In an effort to ensure a sustainable development of the tra fish sector, the Ministry of Agriculture and Rural Development will support enterprises and farmers to boost links in order to improve tra fish quality to fulfill choosy markets' demands.
After four years of implementation, a project of building a sustainable tra fish supply chain has proved effective with a 7-10% decrease in production costs of fish sapling rearing, breeding and processing. Thanks partly to the project, lots of breeding sites have met global standards.
Still, the supply chain needs to improve its diversity and added value for more sustainable development. Links between stakeholders should also be enhanced to further the interests of enterprises and farmers.
The Ministry of Agriculture and Rural Development is also reviewing focused tra fish farming areas and breeding to improve the production quality. It's also paying heed to linking closed chains and expanding markets.
Firms honoured for great efforts
Sixty-one foreign-invested enterprises, along with 100 local firms which have high growth rates and provided superior products and services favoured by consumers, received the Golden Dragon Award and Vietnamese Excellent Brands on Saturday in Ha Noi.
Initiated in 2001, the awards seek to honour businesses for in their operation and contributions to the economy. In addition, the firms were recognised for actions taken to protect the environment, as well as ensuring the rights of labourers.
The organising board said that this year, enterprises which have been in the lead in putting in place policies called for in the fourth industrial revolution, were also honoured.
These companies have made great efforts to overcome the difficulties caused by economic crises in the region and the world. They also have strategic plans to improve their competitiveness, while remaining active in international integration.
Several well-known names were honoured with Golden Dragon Awards, such as Samsung, Deloitte Viet Nam, Unilever and Honda. Others were awarded the Vietnamese Excellent Brands, including VietinBank, VinGroup, Viettel, Vietcombank, Viettel and Vinamilk.
Nguyen Khac Trinh, deputy director of Phuong Linh Company, said a strong brand name has been the precondition for business development amidst international integration.
"Companies should have new thoughts and technologies, if they want to have a strong brand name," Trinh said, adding that companied need to update their machinery to improve the quality of their products, while reducing their costs to consumers.
The annual prize is sponsored by the Ministry of Planning and Investment's Foreign Investment Agency, and the Viet Nam Economic Times, to honour contributions to the nation's economy by Vietnamese businesses. This is the 16th consecutive year the awards have been handed out.
Garment, textile exports expected to increase by 10 per cent
Viet Nam's garment and textile exports may increase by 10 per cent this year if there are not adverse fluctuations in the global market, according to the Viet Nam National Textile and Garment Group (Vinatex).
Pham Minh Huong, Vinatex's managing director, said the garment and textile industry earned US$28.5 billion from exports last year, a year-on-year increase of 5.2 per cent.
Viet Nam has advantages in making products for middle-class customers. With prolonged economic difficulties in the world market in recent years, the number of mid-end orders also fell, and importers shifted to import cheap products.
That is why the industry's growth rate fell last year, she said.
"But the number of orders increased significantly in the first months of the year, which is a good sign for the industry," she said.
Viet Nam's garment and textile sector has certain advantages, including diverse products, a higher level of quality and better skilled labour force than countries with a similar development level.
In addition, with its steady production, ensured quality and delivery time and services, as well as stable political situation, Viet Nam is considered a main destination for garment and textile products, she said.
Pham Xuan Hong, chairman of the HCM City Association of Garment Textile Embroidery and Knitting (AGTEK), told Viet Nam News that many enterprises have many orders until the second quarter of the year.
Enterprises were linking up each other to fulfill large orders, said Hong, who is also general director of Saigon 3 Garment Joint Stock Company.
Hong said Saigon 3 expected to enjoy a growth rate of 10 per cent this year, with Japan being its largest importer.
Both Hong and Huong believe that the industry's value addition has been low since enterprises mainly do sub-contracting work for foreign buyers, lack design capacity, and rely on imported materials.
Domestic supply for fabric remains modest, Huong said, adding that domestic and foreign firms have invested more in fabric production to meet domestic demand.
Speaking at a conference held on the sidelines of Saigon Tex 2017 held in HCM City from April 5 to 8, many delegates urged enterprises to switch their production methods to FOB (free on board) and ODM (original design manufacturer) to add value to products.
Proceeding to higher production methods to enhance added value in products is an inevitable trend, said Nguyen Dinh Truong, deputy chairman of the Việt Nam Textile and Apparel Association.
Businesses should thoroughly prepare for such methods, focusing on material market research and producing on demand from their partners, he said.
Some delegates at the seminar said they were afraid that the garment and textile industry would not reach its export target for the year amid drastic competition.
In addition, the increase in labour costs has affected the competitiveness of businesses, said Le Quang Hung, chairman and general director of Sai Gon Garment Trading Joint Stock Company.
Huong said to retain competitiveness, enterprises need to invest more in modern technology with higher automation features to improve productivity, save energy consumption and protect the environment.
In addition, they should develop similar products that compete with countries that have competitive advantages in those items, she said.
Besides prices and quality, large buyers have also paid attention to environmental requirements of products when they seek suppliers, she said.
Samsung expands consultation into hi-tech industry
Samsung Viet Nam on Wednesday officially kicked off their consultation programme for Vietnamese enterprises, assisting them in joining the component supply chain for the year 2017.
The consultation programme started in 2015 with focus on industries such as printing, packaging, and plastic moulding. In 2017, Samsung will expand their consultation to hi-tech industries such as electric, electronics (PCB, speakers built into TV, wire harness) to help Vietnamese enterprises produce sophisticated electronic parts which have added-value and hi-tech content in the global supply chain.
Samsung targeted to provide consultation for 12 Vietnamese suppliers, which would bring the total number of business consultees to 26 since the year 2015. Samsung affiliates like Samsung Display Viet Nam and Samsung Electro-mechanics Viet Nam join this programme for the first time.
Samsung will also launch a pilot model for tier-1 vendors to guide tier-2 vendors, creating a ripple effect in Viet Nam's supporting industry. This turning point demonstrates the Samsung's commitment in increasing localisation rate, supporting Vietnamese businesses to get further involved in Samsung's component supply chain and contributing to the development of Viet Nam's supporting industry.
With 12 Vietnamese firms participating in the consultation programme in 2017, Samsung will continue to send South Korean experts experienced in the field of final product technology and production quality control to directly guide them for 12 weeks. The South Korean experts will survey and assess local firms for two weeks and directly consult and work with them in the following 10 weeks in reforming production procedures and complete all standards in the product/parts supply process for Samsung's factories in Viet Nam.
Through the consulting, all suppliers have achieved good results, including an average 25 per cent reduction in defect rate and a 30 per cent increase in manufacturing capacity
Han Myoung Sup, president of the Samsung Complex Viet Nam said, "During the past two years, Samsung has always endeavoured to support Vietnamese enterprises in increasing their competitiveness in production and product quality. The consultation expansion into hi-tech industry with the aim of assisting local firms in producing sophisticated parts and joining the value chain is a strong affirmation for Samsung's long-term and sustainable commitments in Viet Nam."
This consultation programme is one of the Samsung's efforts to dramatically increase the number of local firms participating in its supply chain with 201 vendors in total (23 tier-1 vendors and 178 tier-2 vendors).
They are participating in supply chain for three Samsung plants in Viet Nam, including Samsung Electronics Viet Nam (SEV), Samsung Electronics Viet Nam Thai Nguyen (SEVT), and SEHC Complex (HCMC). It is expected that, Samsung's total number of tier-1 vendors will increase to 29 in 2017.
Besides, Samsung Viet Nam has also recorded the significant breakthrough in raising the localisation rate of products from 35 per cent in 2014 to 57 per cent at present.
This year, the turning point in supporting programme for high-tech enterprises will promisingly create more opportunities for Vietnamese suppliers to join Samsung's global value chain as well as help Samsung achieve its goal of increasing the localisation rate in 2017.
Vinamilk publishes growth targets
The Vietnam Dairy Products Joint Stock Company (Vinamilk) announced a growth target for the next five years of 10 per cent annually, with a 70 per cent increase in average production capacity by 2021.
The company's 2021 goal for total earnings is set at VND80 trillion (US$3.58 billion), 75 per cent of which will come from the domestic market ($2.73 billion) and 25 per cent ($851.5 million) from foreign markets.
Vinamilk's expected 10 per cent growth rate per annum from 2017 to 2021 is considered on par or above the market average.
As for 2017, the milk company's current revenue goal is VND51 trillion ($2.28 trillion), an increase of eight per cent from 2016, whereas the 2017 desired post tax income is VND9.7 trillion ($434.7 million), an increase of four per cent from the previous year.
The current average corporate income tax rate applied to Vinamilk in 2017 is 17.5 per cent, higher than the 16.7 per cent in 2016.
In the long term, Vinamilk plans to lead the domestic milk market, expand their market share especially in the frozen goods sector and develop new sales channels.
The company is also seeking investment opportunities through mergers and acquisitions in South East Asia, the United States, Australia and New Zealand.
Between 2017 and 2021, Vinamilk aims to harvest a total of 157,000 tonnes of milk from its farms, with an additional 251,000 tonnes from individual farmers.
Vinamilk released the targets in its report for the upcoming shareholders meeting for the first quarter of 2017, to be held on April 15.
Đồng liquidity cools down
Liquidity of the Vietnamese đồng in the banking system has shown signs of cooling down over the past week.
This has helped the central bank withdraw money from the banking system, a new report from the Saigon Securities Company (SSI) revealed.
In its weekly report on the monetary market, SSI said the central bank last week withdrew VNĐ8 trillion (US$352.4 million) from the banking system following four consecutive weeks of having to consecutively pump in a significant amount of money to support liquidity.
However, interest rate in the inter-bank market last week still stood at a high level. The overnight rate closed the week at 4.55 per cent per year, inching down by only 0.83 percentage points against the end of the previous week.
After rising in mid March, deposit rates listed at commercial banks last week remained unchanged, of which the rate for six-month deposits averaged 6 per cent per year and for 12-month deposits averaged 7 per cent, SSI reported.
SSI forecast that interest rate could be kept stable and could even be reduced in the coming months if credit growth and capital mobilisation were balanced. The central bank is capable of managing this, SSI said.
Lending from January to March 23 rose by 3.14 per cent against the end of last year while capital mobilisation rose 3.07 per cent, the central bank reported.
In a meeting to assess the interest rate in Q1 2017, held last week, both the central bank and commercial banks said the interest rate has been steady so far this year and there was no pressure on interest rate hike.
VEF/VNA/VNS/VOV/SGT/SGGP/Dantri/VET/VIR