SFC wants to buy more than 30 per cent of Foodsaco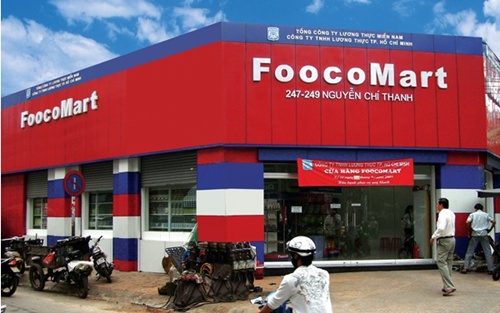 Sai Gon Fuel Joint Stock Company (SFC) registered to buy over 9.7 million shares, or nearly 33 per cent, of stakes in HCM Food One Member Company (Foodcosa) when the firm auctioned its shares in an initial public offering this week.
According to the HCM City Stock Exchange, which will organize the auction, the shares are to be offered on July 15 at a starting price of VND12,000 each (US$0.53).
After equitization, Foodcosa is expected to have a charter capital of VND294.5 billion ($13.1 million). Except shares sold in the IPO, the state would hold 65 per cent equity, equivalent to 19.14 million shares, while employees would hold over 2 per cent of the stakes.
Established in 1980 in HCM City, Foodcosa traded food and industrial products, such as flour, fertilizers and pesticides, as well as consumer goods. Focosa is also involved in trading fuel in the country, along with retailing.
SSC fines public firm for late document submission
The State Securities Commission fined Can Tho Urban Joint Stock Company VND7.5 million (US$333,300) for the late submission of their public firm document on July 6.
Can Tho Urban Joint Stock Company became a public firm in July 2015, with charter capital of more than VND53 billion and 318 shareholders. Yet, it only handed over the document to the SSC this year.
Under local regulations, the document should have been submitted one month after the company became a public firm.
MEF II sells 2.5m Mobile World shares
Mekong Enterprise Fund II, or MEF II, announced the successful sale of 2.5 million shares of Mobile World (MWG) on July 9.
After the sale, MEF II's ownership of MWG fell from 10.94 to 9.24 per cent, equal to 13.54 million shares in the technology firm.
The fund also became the largest shareholder of MWG after World Retail Investment Consulting Limited Company with its 13.18 per cent of shares.
According to statistics from the HCM Stock Exchange on July 8, the entire 2.55 million shares of MWG, worth VND344.4 billion (US$15.3 million), were traded when the shares ended at VNÐ130,000 each. So, at the lowest intraday trading price of VND129,000 during the day, MEF II could earn at least VND322.5 billion.
In the first six months of this year, MWG shares soared 64.5 per cent from VND79,000 to VND130,000.
The MEF II fund, managed by Mekong Capital, was one of the earliest institutions to invest in MWG since 2007. It was once the largest shareholder, with ownership of over 30 per cent.
VNPT and Microsoft signs co-operation agreement
The Vietnam Post and Telecommunication Group (VNPT) and Microsoft signed a memorandum of understanding for co-operation in strategic agreements on cloud computing, cyber security and smart city plans on July 7.
The VNPT was focusing on developing new products including information security applications and other applications on cloud computing platforms; while developing platforms and applications for smart cities, said Pham Duc Long, VNPT general director.
"Microsoft is an experienced provider in these areas. Therefore, the two sides discussed and negotiated to reach to decision of the co-operation and committed to bring effective and cost savings products and solutions for customers", he added.
Vietnam Air to hold extraordinary meeting before Sept
Vietnam Airlines Corporation will hold an extraordinary shareholder meeting before September 30 to elect more board members after Japan's All Nippon Airways (ANA) acquired an 8.771% stake in the local firm.
A representative of Vietnam Airlines confirmed that ANA has taken over the stake worth over VND2.43 trillion (US$109 million). The corporation agreed to sell its shares to ANA in May and the deal was done last Friday.
At the forthcoming meeting, Vietnam Airlines will seek approval from shareholders to issue more shares to increase its chartered capital.
Vietnam Airlines described ANA's investment as an important factor for its long-term development strategy. It will enable the two sides to expand cooperation in many fields and Vietnam Airlines to further modernize its aircraft fleet, expand markets, improve service quality, and increase business efficiency.
Vietnam Airlines will sell further shares to investors to lower the State holding to 65% in line with its restructuring plan.
Vietnam Airlines saw its consolidated revenue in the first quarter of this year rising by 13.3% year-on-year to VND19 trillion (US$851.8 million), meeting 26.4% of the full-year target.
It reported consolidated pre-tax profit of VND1.1 trillion (US$49.3 million) in quarter one, a year-on-year increase of 32.5%. Its parent company posted revenue of VND15 trillion (US$672.5 million) and pre-tax profit of VND873.9 billion (US$39.3 million).
Vietnam Airlines credited its revenue and profit growth to the world's lower fuel prices and a 20% year-on-year rise in foreign visitor arrivals to Vietnam in quarter one at 2.46 million, with the number of foreigners traveling by air accounting for nearly two million.
In the first three months, Vietnam Airlines transported over 4.6 million passengers, up 11.6% over the same period last year, and nearly 61,000 tons of cargo, up 15.6% year-on-year and exceeding 11.2% of its quarter target. It operated 34,500 flights on domestic and international routes, increasing 9.3% over the same period last year.
Vietnam Airlines now has a fleet of 89 modern aircraft, including Boeing 787-9 Dreamliners and Airbus A350-900 XWB. Its flight network covers 20 domestic and 29 international destinations.
Currently, Vietnam Airlines conducts 66 weekly flights to Japan's Narita, Haneda, Chubu, Kansai and Fukuoka airports.
Steel imports forecast to surge toward year-end
The Vietnam Steel Association (VSA) has projected that steel imports into Vietnam would continue leaping, especially in the final months of 2016, when demand for construction rises.
VSA statistics showed Vietnam had imported over 9.6 million tons of steel worth US$3.42 billion in the year to date, up 48% and 1% year-on-year respectively. China is Vietnam's largest steel exporter in the period, accounting for 60% of the total.
VSA vice chairman Nguyen Van Sua was quoted by the Vietnam News Agency as saying that although the local steel industry has expanded strongly, Vietnam remains the biggest steel importer in Southeast Asia and the seventh biggest in the world.
Cheap steel products from China, whose steel industry is facing overcapacity, are predicted to overwhelm the domestic market at the end of this year, Sua said, and local steel producers will have to scale down production or face bankruptcy if Vietnamese authorities do not protect them.
Sua suggested using import duties as a tool to protect local production. However, he stressed close cooperation among Vietnamese steel producers to improve the quality of their products and make their prices more competitive is a long-term solution.
The Ministry of Industry and Trade has imposed respective temporary safeguard duties of 23.3% and 14.2% on steel ingots and long steel imported into Vietnam from many countries and territories since March 22 as a measure against cheap imports.
Around 18.7 million tons of steel was shipped into the country last year.
Retail space demand in Hanoi lackluster in Q2
A report of Savills Vietnam indicated that though the retail space segment in the capital city was lackluster in quarter two, supply reached 1.2 million square meters, up 4% quarter-on-quarter and 22% year-on-year. As a result, the average space rental fell nearly 6% quarter-on-quarter and nearly 2% over the same period last year.
At least three new projects, namely T1 Tower of Thang Long Victory, Thang Long Garden and Victoria Van Phu, were launched in the period, providing an extra 48,000 square meters of retail space for the market.
As reported by JLL, the percentage of unoccupied space at commercial centers in Hanoi rose from 25% in the first quarter to nearly 26% in the second quarter, and represented a year-on-year rise of 10% because many food stalls were closed.
Commercial centers outside Hanoi's central business districts had the same fate. Therefore, the average space rental at commercial centers dropped by 1.3% to nearly US$30 per square meter per month in quarter two compared to the previous quarter.
JLL forecast that by the year-end the Hanoi market will have an additional 43,000 square meters of retail space from two projects in Long Bien and Dong Da districts and competition will intensify though more foreign retailers are projected to enter the market.
Meanwhile, the office segment recovered in April-June. Savills Vietnam reported in quarter two that office supply in Hanoi increased by 1.4% over the previous quarter and 9.4% year-on-year as a new project provided about 18,000 square meters of office for lease.
Average rents of grade A and B offices went up by 0.6% and grade C grew 3.7% quarter-on-quarter. The occupancy rate of grade A offices remained unchanged while the rates for grades B and C inched up over 3% and nearly 1% respectively.
In the second half of 2016, two new office projects with a total of 47,000 square meters will join the market.
Savills Vietnam said apartment transactions in Hanoi continued rising in quarter two. The total number of apartments offered for sale stood at 17,370, up 7% against the previous quarter and nearly 30% year-on-year. About 6,000 units found buyers in the period, up 7% quarter-on-quarter and 30% compared to the same period of 2012.
Of the total apartments, grade B products led the market with 73%. In the second half of 2016, about 22,000 units from 41 projects, mainly of grade B, are expected to be put up for sale.
EVN SPC to finalize power projects for island communes in Q3
Southern Power Corporation (EVN SPC) will complete two key projects designed to supply power for island communes in the Mekong Delta province of Kien Giang in the third quarter of this year.
The projects are aimed at meeting electricity demand of people in Lai Son and Hon Nghe communes of the province as well as ensure social security and defense.
Work started on the power project for Lai Son Commune worth VND467 billion (nearly US$21 million) in early September last year. It includes a 110-kV An Bien-Lai Son power transmission line with a length of 43 kilometers including 24 kilometers undersea, a 110-kV power station, and 13 distribution stations with a total capacity of 2,080 kVA.
The project is 96% complete and scheduled to be up and running this month, according to Kien Giang Electricity Co. It will supply electricity to 1,956 households in the commune.
Meanwhile, the power project for Hon Nghe Commune is planned to come on stream in the third quarter of this year, after around one year of construction. The VND140 billion project comprises 16.37 kilometers of 22-kV undersea medium-voltage cables and 154 kilometers of 22-kV line overland cables. Two 22-kV lines with a total length of 9.8 kilometers and eight substations with a total capacity of 975 kVA on Hon Nghe Island are also underway.
EVN SPC plans VND6.5 trillion (US$295.9 million) for power projects this year.
Regarding power supply in the third quarter, HCMC Power Corporation said it will deploy smart power grid applications to minimize power outages and meet demand.
Seminar: Greater chance of partnering with Japan firms
Local enterprises, including small ones, will have a lot of opportunities to join hands with Japanese firms, heard a seminar on investment promotion and business expansion in the Japanese market in Hanoi on July 5.
Nguyen Xuan Huy, director of Vietnam Precision Mechanical, Service and Trading Co Ltd (VPMS), told the seminar that his small company with an investment of only VND10 billion has been successful in doing business with Japanese firms.
Huy said his company mainly tailor-made parts under subcontracts in the past but has shifted to designing and producing molds since 2011. The company posted revenue of VND125.4 billion last year, with nearly 30% of it from Japanese partners.
Huy added he had contacted his customers via the Internet, the Japan External Trade Organization (JETRO), state agencies and word of month.
To secure deals with Japanese partners, VPMS regularly organizes technical training courses for its staff with Japanese trainers to increase their skills. He also called for Vietnamese businesses to discuss with Japanese enterprises to well understand what they need.
Speaking at the seminar which also aims to call for Vietnamese firms to invest in Japan, Shigeki Maeda, executive vice president of JETRO Tokyo, said Japan and Vietnam had cooperated in many fields. In terms of trade, Japan was the third biggest export market of Vietnam last year.
Maeda said once Vietnamese companies succeed in business ties with Japanese partners, they could meet quality requirements of any other picky markets around the world.
Japan , the world's third largest economy, has strong consumption demand and serves 20 million tourists a year. Therefore, opportunities abound for Vietnamese enterprises to tap into the hospitability and food sectors.
Atsusuke Kawada, chief representative of JETRO Hanoi, noted that when investing in Japan, Vietnamese firms should heed high labor costs and enquire with JETRO about the Japanese market or get legal advice before entering the market.
According to the Foreign Investment Agency (FIA), Vietnamese enterprises have registered a total of US$7 million for nearly 40 projects in Japan, mainly in the fields of software, service and trade.
"With the growth of Vietnamese enterprises, the figure will continue to rise in the coming time," head of the FIA Do Nhat Hoang said.
Long An: Over 900 new firms formed in six months
A total of 918 new businesses have been set up in the southern province of Long An in the first six months of this year, with combined registered capital reaching 6.7 trillion VND (301.5 million USD).
The figure showed year-on-year increases of 140 percent in the number of enterprises, and 72 percent in the value of capital, according to the provincial Department of Planning and Investment.
In the same period, the local authorities have also granted licences to 195 investment projects worth a total 20 trillion VND (900 million USD), including over 400 million USD from 53 foreign-invested projects.
To date, foreign investors have poured around 5 billion USD in 739 projects in Long An, with 434 of them operational.
The positive outcomes were attributable to solutions devised by the local authorities, including activities to support enterprises.
The provincial administration has taken many measures to improve the provincial competitive index (PCI), while organizing conferences to boost links between local firms with foreign counterparts.
Director of the provincial Department of Planning and Investment Nguyen Van Tieu said Long An will work harder to better investment climate in the locality, thus facilitating enterprises' production and business.
Vinh Phuc province vows maximal support for Japanese investors
The authorities of Vinh Phuc province in the northern key economic region assured Japanese businesses of maximum support for them at a meeting on July 6.
The event, held by the provincial People's Committee, the Vietnam Chamber of Commerce and Industry and the Japanese Embassy in Vietnam, drew representatives of the Japan International Cooperation Agency (JICA), the Japan External Trade Organisation (JETRO), the Japan Business Association in Vietnam, and Japanese enterprises operating in Vinh Phuc.
Chairman of the provincial People's Committee Nguyen Van Tri promised continued efforts to improve local investment climate, develop infrastructure and skilled manpower, and timely deal with Japanese firms' requests and administrative procedures.
Vinh Phuc has benefited from the growth in overall Vietnamese – Japanese relations, especially since 1995 when Japan's Toyota and Honda groups began investing in the province, the chairman said.
He appreciated the quality and effectiveness of investments from Japan which have substantially contributed to local socio-economic development.
By the end of June 2016, Vinh Phuc houses 222 FDI projects with a total registered capital of 3.43 billion USD from 16 countries and territories. Though Japan only ranks third in terms of the project number (26) and registered capital value (over 786 million USD), its companies have continually showed the best business performance and contributed most to local budget.
Chairman Chi called for Japanese investment in projects using modern technologies such as mechanical engineering (including automobile and motorcycle manufacturing and assembly), electronics and their support industries, telecommunications, and hi-tech agriculture. Investors from the Northeast Asian nation are also welcomed in tourism – entertainment, health care and education.
At the meeting, Japanese firms asked for more appropriate policies for importing used machinery with high quality and boosting auto manufacturing's support industry. Vinh Phuc should also keep investment incentives transparent and stable, while improving infrastructure at industrial parks.
Seafood exports to UK in the context of Brexit
Britain's exit from the European Union (EU) , or Brexit, may affect the competitiveness of seafood products exported to the UK in terms of price, according to the Vietnam Association of Seafood Exporters and Producers (VASEP).
Vo Van Phuc, Director of Vietnam Clean Seafood Corporation, said that there will be difficulties in seafood exports to both the UK and the EU as Brexit causes devaluation of GBP and EURO.
The VASEP also raised concern that exports to the UK will not enjoy preferential tax conditions from the free trade agreement (FTA) between Vietnam and the EU once it is approved.
Especially, Brexit will have a big effect on shrimp exports as the UK is the largest importer of Vietnamese shrimp.
Shrimp exports to the UK reached 47.5 million USD by June 15, up 16 percent against the same period last year, according to the VASEP.
The export growth of this product has slowed down in recent time, with an increase of 21.6 percent in the first five months in comparison with a 39 percent rise for the four-month period.
VSIP Nghe An invests 6 mln USD in ready-built warehouse
The Vietnam-Singapore Industrial Park (VSIP) Nghe An Co., Ltd is investing 6 million USD in constructing a 20,000 sq.m ready-built warehouse area in the central province.
The company held a ground-breaking ceremony for the project's first phase on July 6.
The first phase consists of two warehouses covering a total area of 5,000 sq.m, each having office and manufacturing zones furnished with electricity, water and telecommunication systems.
Enterprises operating at the warehouses will be supported with legal services, recruitment consultancy and firefighting.
Speaking at the event, Director of the company Anthony Tan said the ready-built warehouses will help investors accelerate their business and production process with reduced initial investment costs.
It is an ideal model for small-sized investors, he said, adding that the company's ready-built warehouse system in the southern province of Binh Duong has proven effective.
VSIP Nghe An lies on an area of 750 ha. Its construction started in September 2015.
VSIP Nghe An commences construction
The Viet Nam Singapore Industrial Park joint venture (VSIP JV) had a ground-breaking ceremony for the first phase of their Ready Built factory of VSIP Nghe An on July 7.
The phase will commence construction on the 5,000sq.m ready built factory in the initial phase before increasing it to 20,000sq.m with total investment of about US$6 million.
Last year, VSIP Nghe An was granted exclusive rights by the provincial people's committee to develop a 750ha integrated township and industrial park and the investment licence for phase one of the project with $15.2 million in funding.
The licence covers 198ha of industrial land and 81ha of commercial and residential land.
"A ready built factory helps investors to start their operation faster and with lower investment capital. It is ideal for those who want to start smaller and over time take up bigger units or land to build on their own as their operation expand. We have seen many tenants in VSIP Binh Duong taking this path," general director of VSIP Nghe An Anthony Tan said.
"To date, 124ha of land has been resettled and handed over to VSIP and many more will be handed over in the coming months. VSIP will push harder to quickly fill and put up the necessary infrastructure including drainage, sewer pipes, roads etc. In the next two months, we will also start building our fire station, sewage treatment plant and office building. By next September, we should complete about 140ha of industrial land with tree lined streets and facilities to support our tenants," he said,
It will be the seventh VSIP in Viet Nam after the ones located in Binh Duong, Quang Ngai, Bac Ninh and Hai Phong, in addition to Hai Duong.
VSIP said Nghe An, located in north-central Viet Nam and 70km from the Laotian border, played an important role in supporting Ha Noi, 400km away.
Garment manufacturers, agribusinesses and fast-moving consumer goods (FMCG) sectors are the target industries of VSIP Nghe An.
Till date, the total area of the seven VSIP projects in Viet Nam covers more than 6,000ha.
The latest report said VSIPs nationwide have attracted 616 investors from 30 countries and territories with a total investment capital of $8.5 billion, creating 160,000 jobs.
Over 10 tons of lychees shipped to Australia
More than 10 tons of lychees under Luc Ngan brand name were exported to Australia on June 23-29.
According to the Vietnam Trade Office in Australia, last year Vietnam lychees were mainly consumed in Sydney and Melbourne, but this year half of the volume was shipped to Perth city, Western Australia.
This year's import price was lower as transportation costs were reduced, but Vietnam lychees have to compete with Chinese lychees which were cheaper. However, the Vietnam fruits can compete with Chinese lychees given their quality and nice-looking skin.
A delegation from Hai Duong provincial Department of Industry and Trade have made a market research in Melbourne city to find an outlet for lychees under Thanh Ha brand name.
Earlier in June, the Australia's Department of Agriculture and Water Resources certified the Hanoi Irradiation Centre to irradiate Vietnamese lychees exported to the market. This is the third irradiation centre recorgnised by Australia, after two centres in Ho Chi Minh City.
Irradiation treatment in Hanoi will help save time and reduce transportation costs. As a result, the exported lychees will be cheaper and more competitive, experts said.
Japan's Oita prefecture keen to boster ties with Vietnam
Japan's Oita prefecture Governor Hirose Katsusada expressed his locality''s desire to step up all-around cooperation with Vietnam.
At a meeting with Vietnam Ambassador Cuong to Japan during his working visit to Oita on July 2-4, Hirose Katsusada highlighted great potential for bilateral broader cooperation, affirming local authorities' willing to offer favourable conditions for their businesses to invest in Vietnam.
Oita prefecture hopes to attract more Vietnamese tourists, students and workers to the locality, he said, adding that a host of activities will be launched to promote connections between local firms and foreign students, including those from Vietnam.
Ambassador Cuong in turn reiterated the embassy's support for Oita prefecture to augment cooperation with Vietnam, especially in economy, tourism, education-training, and labour.
During the visit, the Vietnamese diplomat had a meeting with former Japanese Prime Minister Murayama Tomiichi, during which he praised great contributions made by the Japanese official to the Vietnam-Japan relations.
Cuong and his delegation, visited APU University which is home to more than 500 Vietnamese students, and toured some businesses and tourist sites.
Vietnam-Taiwan economic links thrive
Economic and trade cooperation between Vietnam and Taiwan (China) has strongly expanded in recent years, with two-way trade in 2015 hitting US$13 billion.
According to the Vietnam Chamber of Commerce and Industry (VCCI)'s branch in Ho Chi Minh City, Vietnam mainly ships telephones and spare parts, textiles and farm products to Taiwan, while importing machines and equipment, computers and materials for textile and garment.
In the first four months of this year, Taiwan ranked third among 50 countries and territories running investment in Vietnam.
According to the Foreign Investment Agency under the Ministry of Planning and Investment, Taiwanese investors have mainly injected money into processing and manufacturing industries, water supply, waste treatment and logistics services.
Taiwanese investors' projects were present in 17 out of the 63 cities and provinces across Vietnam in the period.
The southern province of Tien Giang took the lead in the number of projects and the amount of investment capital. It was followed by the central province of Ha Tinh.
Seaports represent growing logistics opportunity
The nation's logistics network has not been implemented in an integrated manner, says the Vietnam Ministry of Industry and Trade (MoIT).
Speaking at a recent seminar, Bui Hong Minh from the Import-Export Department of the MoIT directed the audience's attention to the fact that this has resulted in an annual total logistic cost of between 15-20% of GDP.
"This cost is nearly double that of more developed nations," said Mr Minh.
For comparison purposes, said Mr Minh, an analysis by the Vietnam Business Forum last year showed that the US spends about 9.5%, Japan 11%, and China 21% of GDP on logistics each year.
The rapid growth of the nation's export oriented growth has outpaced its infrastructure, creating major bottlenecks in ports and is now a major constraint to continued economic expansion.
The country's infrastructure has often been described as "roads without bridges, bridges without roads" meaning there is no consistency and compatibility between ports and roads and the surrounding land use.
Simply put, a large part of the country's logistics network has not been implemented in an integrated manner, he stressed.
The problem isn't just limited to ports and inter-provincial roads, bridges and inland infrastructure works connecting to them— but can also be found in the major metropolitan areas and the inner-city traffic congestion.
The World Bank estimates that the nation will need to muster roughly US$200 billion to bring its dire infrastructure need for roads, bridges, and ports in line with the nation's economic requirements.
"As long as Vietnam fails to improve its infrastructure and waste13-14% of its GDP on an annual basis, it will continue to lag behind other developing countries around the globe," said Sandeep Mahajan, lead economist for the World Bank in Vietnam.
Big names like Toyota, Honda, Mercedes-Benz, Intel, PepsiCo, Coca-Cola, P&G, Metro Cash & Carry, and Unilever, are all present in Vietnam and if they decide to take their business elsewhere because Vietnam is no longer cost-advantageous, the economy will suffer tremendously.
The air and rail transportation network accounts for a low share of the overall transportation market in Vietnam and therefore the emphasis should be on port development.
Some analysts estimate that more than 85% of the nation's import and export commodities are shipped by sea, said Mr Mahajan, and the focus should be on integration of transport networks, information technology, warehousing and distribution facilities with the ports.
Because of the nation's geographical landscape, its access to water channels via ports is essential to maximize its competitive advantages.
With 3,200 kilometres of coastline, the nation has 266 ports, about 144 of which are seaports. However, most ports are relatively small with obsolete facilities and poor support services, said economist Gerard McLinden.
Mr McLinden underlined the fact that the lower the cost of freight the more likely that large multinational corporations would invest in and conduct their business operations in the Southeast Asian nation.
Most importantly he stressed the need for more port storage capacity and ports that can harbour larger vessels. In comparison to Thailand and Malaysia, the nation's main container ports seem miniscule in terms of storage capacity and depth.
Since Vietnamese ports lack the capacity to accommodate larger vessels the larger post-Panamax ships have to transit through Singapore and Hong Kong, more focus on dredging and upgrading ports in Vietnam would be extremely cost and time-efficient.
AEC integrates logistics network
Foreign logistic firms are expediting their efforts to tap into the market's growth following the establishment of ASEAN Economic Community.
Clement Blanc, managing director of DHL Global Forwarding Vietnam, told VIR that one key aspect of achieving the AEC is to create an integrated transport market to increase connectivity and help spur ASEAN's goals of economic integration.
Logistics is a priority sector for ASEAN integration, and the Roadmap for the Integration of Logistics Services under the AEC makes firm commitments to liberalise ASEAN's logistics sector including everything from cargo handling, storage, and warehousing, to courier services, customs clearance, and international freight.
As road freight is more cost-effective than air freight, and faster than ocean freight, DHL Global Forwarding has expanded its road freight network in ASEAN in anticipation of a boom in trade in the AEC in the years to come.
The firm first launched its road freight network in 2011 connecting Singapore, Malaysia, and Thailand, which now links to the existing Vietnam-China connection. Its latest integrated road freight network links all five countries and caters for the further expansion of trade and production networks across the region.
According to Blanc, Vietnam is an exciting country to be in right now – booming with investment especially in the hi-tech sector. It has a young workforce, and a reform-minded government. From a logistics provider's perspective, the firm is particularly satisfied with the consistent alignment with international best practices.
"Vietnam is the only ASEAN country which has a truly paperless customs environment. All this has been done within a relatively short time frame. DHL will continue to work with the government on all aspects of customs and trade facilitation reforms," he said.
Another foreign logistics firm, DB Schenker, has also witnessed an increasing volume following the establishment of the AEC. The last few months have been especially exciting for the firm, as it has received many enquiries from its international customer base about trade opportunities in the region, DB Schenker claims.
Christoph Matthes, managing director of DB Schenker in Vietnam, told VIR that the AEC is a critical enabler for the entire region because of the enormous market of over 600 million consumers. The ten member states have diverse economic profiles, and it will be interesting to see how the journey to full economic integration develops.
Indeed, the AEC is a great opportunity for Vietnam to expand its international trade prospects. Vietnam is located at the heart of the ASEAN region and is well positioned to enjoy the benefits of the single market and production base.
"To prepare ourselves, we will focus more and more on developing cross border logistics solutions. A good example is our Landbridge Asia road transport service where we take freight by truck to cross the borders of our neighboring countries," he said, adding that, "We expect that the demand for this type of service will grow significantly in light of ASEAN's substantial tariff reductions."
DHL-VNPT Express is also uniquely set up for ASEAN with its newly expanded South Asia Hub in Singapore and another hub in Bangkok. Currently, the firm's intra-regional Asia Air Network is one of its key strengths. DHL-VNPT Express says it benefits from having the fastest network intra Asia-Pacific, as the firm is the only service provider that can provide same-day uplift on its own aircraft for a next day delivery across most of the region.
According to George Berczely, the firm's general director, participation in the AEC will give Vietnam more opportunities to attract foreign direct investment, expand its export markets, and help boost the capabilities of its logistics service providers through physical connectivity, such as hard infrastructure for transport within the regional network. However, it should also be noted that the AEC will undoubtedly intensify competition within the region.
"For us, the AEC brings about more opportunities than competitive challenges, and we are continuously investing to capitalise on these opportunities. We are seeing strong growth within ASEAN, which has been the trend for a few years now," he said, adding that, "Our primary focus is the expansion our air network and ground network."
DHL-VNPT Express has recently expanded its Saigon gateway by 50%, and plans to open more facilities across the country over the next few years to further its reach and improve services across the region.
Debt trading decree in effect
The first ever legal framework for debt trading activities in Viet Nam is available.
Decree No 69/2016/ND-CP, which took effect last Friday, stipulates the following major conditions for enterprises dealing in the debt trading business:
- The companies must have at least VND100 billion, or US$4.4 million, in charter capital. Firms dealing in debt trading floor services must have at least VND500 billion in equity.
- Agreements in documents do not state that the debts cannot be transferred; the debts are not used as a mortgage for a civil duty at the time that transactions take place; debt buyers and sellers are not related parties in accordance with regulations of the Enterprise Law.
- Debt transactions must be contracted in documents based on agreements of relevant parties, guaranteeing their legal rights and interests. The documents are to specify the rights and responsibility of debt buyers and sellers.
- Debt trading companies must not use loans of credit institutions and foreign bank branches to buy debts from other borrowers of these lenders. Also, the firms are not to use a guarantee of credit institutions and foreign bank branches to buy debts from customers of the lenders.
- Debt buyers and sellers and relevant parties must obey current regulations on foreign exchange management in case debt trading forms a foreign lending/borrowing relation and requires foreign exchange in the debt transactions.
- Managers of debt trading firms must have adequate civil capacity and are not banned from corporate management in accordance with regulations of the Enterprise Law. They must have a bachelor's degree or higher degrees either in economics, business management, laws or a certain field that they are going to assume in their jobs. They are to have at least five years working directly in areas such as banking and finance, accounting, auditing, laws, asset evaluating or debt trading.
Persons who already worked for a debt trading firm, whose business registration certificates were revoked, can become managers of another debt trading company if they did not manage the old firm in the last three consecutive years.
Dau Anh Tuan, head of the Viet Nam Chamber of Commerce and Industry (VCCI)'s legislation department, said debt trading remained on a list of business areas where enterprises must satisfy specific conditions, as attached in Appendix 4 of the Investment Law.
"I think debt trading should not be on this list. It should be developed widely," Tuan told Viet Nam News in a phone call yesterday.
"I have no specific idea about developments in the domestic debt trading market, but activities here apparently remain feeble," he said.
State Bank of Viet Nam (SBV) Governor Le Minh Hung said last week that banking authorities would accelerate steps to form a market for debt trading, as part of national efforts to restructure the credit institution system and settle bad debts.
This was also part of an action plan of the banking sector to support the domestic business environment and national competitiveness with a vision towards 2020.
The SBV has also issued 14 circulars, and it reportedly abolished many business conditions in the banking area.
According to Government portal chinhphu.vn, the new circulars simplify administrative procedures related to activities such as lending abroad, mandating and payment for credit institutions, and foreign bank branches in Viet Nam.
Viet Nam International Bank Deputy General Director Le Quang Trung told Dau tu (Vietnam Investment Review) that simpler procedures would help banks cut time and costs to improve their business efficiency.
Can Van Luc, director of the BIDV training centre under the Bank for Investment and Development of Viet Nam, agreed, saying that this would create conditions for banks to lower interest rates.
Decree No 69/2016/ND-CP is one of about 50 decrees that have become effective and provided guidelines for the enterprise and investment laws. These laws took effect last Friday.
As of yesterday, the contents of fewer than 10 decrees were posted on the Government portal. The available ones include decrees on business conditions related to credit intelligence, maritime navigation, agriculture and automobile transportation.
Tuan from the VCCI said he expected the other decrees to be published in the next few days.
He said these documents had been built based on "quite a lot" of suggestions from the VCCI, which represents the domestic business community.
"The decrees provide clearer and more transparent regulations, yet greater changes are needed," he said.
Phan Duc Hieu, deputy director of the Central Institute for Economic Management, said last Friday was not a "dead-end" for Vietnamese business conditions reforms.
Legal revisions would go on, said Minister of Planning and Investment Nguyen Chi Dung.
Capitalising on Vietnam's retail market
Vietnam's retail sector posted an average growth rate of 7.3% per year during the 2010-2015 period with sales last year up 10% to reach US$112 billion, of which modern retail channels accounted for about one fourth of distribution.
It is projected that the retail sector will grow at an annual rate of 11.9% until 2020 when sales are expected to hit US$180 billion, of which more than 45% belongs to modern retail channels.
To achieve such targets, the Ministry of Industry and Trade (MOIT) has approved the plan to develop a network of supermarkets and commercial centres until 2020 with a vision towards 2030, in addition to stable economic growth.
Under the MOIT's plan, Vietnam will have between 1,200 and 1,500 supermarkets, 180 commercial centres and 157 shopping centres in 2020 to meet consumers' growing demand.
Despite many successes, Vietnam's retail market is facing numerous challenges both at present and in the future.
A series of free trade agreements that Vietnam has signed, and will come into effect soon, are expected to mount greater pressure on domestic enterprises.
Quality and competitively priced goods from member countries of the Trans-Pacific Partnership and the European Union will flood the Vietnamese market thanks to tax cuts and tariff eliminations.
Furthermore, as foreign retailers are expanding their distribution channels aggressively, Vietnamese counterparts face the risk of being sidelined and taken over right on the home turf if they have no viable strategies.
Vietnam is no longer among the world's 30 most attractive retail markets (number one in 2008 and 28th place in 2014) but remains a market with great potential to both foreign and domestic companies.
As such, identifying the trends in Vietnam's retail market correctly so that Vietnamese retailers are not overwhelmed at home is an urgent task for both regulators and business circles.
Vietnamese retailers need to formulate sensible and effective tactics to compete with rivals who possess strong financial resources, good business and marketing strategies, and professional management.
Vietnam used to have a number of plans to develop supermarkets and commercial centres but implementation was not as expected and this needs to be addressed to develop a healthy and transparent market where parties can compete fairly, serve consumers and promote production and trade effectively.
Domestic enterprises should build strength by working together to increase brand recognition and provide products in chains to maximise profits, while at the same time taking advantage of existing channels to increase their market share.
On the other hand, the government should facilitate domestic retailers' access to capital, land and other infrastructure so that they can proactively participate in the market without being crushed by foreign competitors.
Vietnam delays work on largest airport until 2021: report
State-owned Airports Corporation of Vietnam (ACV) has confirmed that complex preparatory work will delay the construction of the country's US$15.8 billion airport near Ho Chi Minh City.
In its recent report to the Ministry of Transport, the manager of 22 airports said work on Long Thanh Airport will likely start in April 2021, news website Dau Tu reported on July 5.
That will put the project in Dong Nai Province at least two years behind the original schedule.
It is taking ACV longer than expected to finish all the pre-construction tasks for the megaproject, described as the "biggest ever."
The selection of consultants for the project's feasibility study, for instance, will not be completed until January next year, about nine months behind the previous deadline.
Long Thanh Airport, about 40 kilometers from HCM City, is designed to serve 100 million passengers and five million tons of goods annually.
It is expected to replace the country's currently biggest airport Tan Son Nhat, which reached its full capacity of 20 million passengers a year in 2013.
Hanoi Gift Show 2016 to attract over 600 foreign importers
The Hanoi Gift Show 2016 is set to get underway at the National Planning Exhibition Center in Tu Liem, Hanoi on October 17-20.
It will exhibit handicraft and home décor products, indoor and outdoor furniture, home textiles and embroidery, gifts and ethnic items, personal accessories, toys and others.
Deputy Director of Hanoi Department of Industry and Trade Tran Thi Phuong Lan said at a press briefing on July 5 that the annual show will provide wide networking opportunities and build new commercial relations in the Gifts & Handicrafts industry.
It is expected to attract around 250 domestic businesses from 16 provinces and cities across the country to showcase their products on over 620 stalls.
The organizing board will allocate a special area to introduce new and typical designs of handicraft and home décor products and furniture in 2016.
To draw more visitors and foreign importers to the show, the Hanoi Department of Industry and Trade has actively coordinated with the Ministry of Industry and Trade and Vietnam Chamber of Commerce and Industry to introduce the event at home and abroad. They expect to lure around 3,000 trade visitors and over 600 foreign importers to the event.
Export value hits over 82 billion USD in six months
Vietnam exported 82.2 billion USD worth of commodities in the first two quarters of 2016, a year-on-year increase of 5.9 percent.
According to the Ministry of Industry and Trade (MoIT), the group of processing industries was not listed among sectors with impressive export growth. Meanwhile, the group of mining industries posted a tumble due to the rapid exhaustion of natural resources and the falling price of crude oil.
Economic experts said this is a negative sign for the national economy as these are key contributors to economic growth.
According to statistics from the ministry's Export-Import Department, Vietnam had 17 types of goods reaching export values of at least 1 billion USD in the period, with the agro-forestry-aquaculture sector having five out of its nine products named in the list.
According to Le Quoc Phuong, deputy director of the MoIT's Commercial Industry Information Centre, the reducing price of goods in the world market was one of reasons behind the slow export in some sectors of Vietnam.
He stressed the need to provide more support for businesses and facilitate their production and business, towards maintaining momentum for the export sector.
Vietnam's export is likely to have stronger growth in the remaining months of the year as textiles and footwear manufacturers are speeding up their production for signed orders. Processing industries are also hoped to recover their growth in the period.
Vietnam is set to rake in 180 billion USD from exporting commodities in the whole year, up 10 percent compared to 2015.
VEF/VNA/VNS/VOV/SGT/SGGP/Dantri/VET/VIR