Binh Dinh terminates investment attraction for oil refinery project
The central coastal province of Binh Dinh has decided to end investment attraction for the petrochemical oil refinery project in Nhon Hoi Economic Zone due to its unfeasibility.
In the coming time, the province will continue its other investment promotion activities while creating favourable conditions for investors from Japan and the EU to land their investments in the locality.
After receiving agreement from relevant ministries and agencies, the province will work to lure investment projects to the Industry-Trade-Service-Urban Becamex-Binh Dinh complex, which covers 2,400 hectares in Canh Vinh commune, Van Canh district.
This overriding priority is also given to investment attraction in other projects, including the Japanese Yo Yo frozen aquatic processing plant, Vinh Loi aquatic industrial complex and Cat Khanh seafood processing zone.
Australia to intensify inspection of imported seafood from VN
The Australia Department of Agriculture and Water Resources has announced that a reduction of the intensified inspection frequency on Vietnamese seafood will depend on the results of the examination of exporters' next shipments to the country.
The information was sent in reply to the request by the Department of Agro-Forestry and Fishery Quality Management under the Ministry of Agriculture and Rural Development on easing the frequency of intensified inspections on seafood processing facilities who had batches of seafood rejected by Australia.
The department has since inspected the facilities to find out the reasons and acknowledged their measures to fix the problems.
Under the Food Safety and Inspection Service under the Food Standards Australia and New Zealand , food imported to Australia will be divided into two groups of high-risk products and supervisory products, which will have different inspection frequencies applied.
Initially, 100 percent of high-risky products, including bivalve molluscs, shrimp, tuna, codfish and processed fish, will be inspected. If the following five batches meet requirements, the inspection ratio will drop to 25 percent, and then to 5 percent if the next 20 lots pass inspection.
If any lot fails to meet the import requirements, the ratio will return to 100 percent.
Meanwhile, the supervisory groups, including fish, fresh, frozen, dry and salted fish paste; sardines; salmon, and fish sauces will have an inspection frequency of 5 percent applied.
However, if any batches are detected to be in violation of the requirements, the frequency will increase to 100 percent. If the next five lots pass inspection, the ratio will return to 5 percent.
Minister urges more effort to reach export goal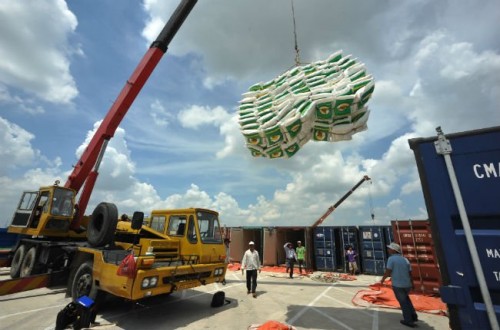 Minister of Industry and Trade Tran Tuan Anh at a conference held yesterday in HCM City called for more concerted efforts from the Government, localities and businesses to reach the target of 10 per cent export growth this year.
To improve productivity, the ministry would encourage the use of high technology and innovative management practices, while focusing on institutional reforms and new governmental policies, Anh said.
With a number of free trade agreements (FTAs) expected to take effect this year, he said the Government would disseminate market information to help businesses learn more about the opportunities and challenges offered by FTAs.
Although exports reached US$82.13 billion in the first half of the year, up 5.7 per cent against the period last year, the increase was lower than in the same period last year compared to 2014.
Duong Phuong Thao, deputy head of the Ministry's Import Export Department, attributed the situation to a decline in export prices, including prices of crude oil and industrial processing products.
In the first half of the year, global oil prices continued to drop, reaching a 13-year low of $27, affecting activities in oil and gas exploitation, mining and exports. Revenue from crude oil over the past six months reached only $1.1 billion, a year-on-year fall of 46.6 per cent.
Thao said the global economy was still facing difficulties as demand and export prices continued to fall.
In addition, trade volume from key importers of Vietnamese products has showed signs of a decline or slow increase. The markets include Japan (down 11.3 per cent in exports and 13.8 per cent in imports) and the Eurozone (a decrease of 1 per cent in exports and 3 per cent in imports), according to Thao.
Besides the drop in trade volume, Vietnamese exporters are expected to face more trade barriers as many import taxes will be eliminated under existing and upcoming FTAs.
Anti-dumping and anti-subsidy cases have also been on the rise, affecting Vietnamese exporters and preventing them from taking advantage of trade agreements.
Other challenges are outdated production technology, limited management capacity, and weak competitiveness. In addition, many small- and medium-sized businesses find it difficult to access capital.
Unpredictable exchange rates, interest rates and prices of fuel and materials for manufacturing on the global market affected many Vietnamese exports.
The severe drought in the country, the worst in 90 years, and saltwater intrusion also had a severe impact on agricultural exports. Rice exports brought only $1.3 billion in the past six months, a year-on-year decrease of 2.7 per cent.
However, exports of agro-forestry and fishery products in the country reached $13.63 billion in the first half of the year, up 4.1 per cent over the same period last year.
In addition to improving quality and competitiveness of products, both the State and enterprises were encouraged to expand promotions by participants attending the conference.
Trade promotions should be better organised, focusing on goods that are in high demand and on countries that have FTAs with Viet Nam, particularly the US, Japan and the EU.
They also encouraged a more active role for Vietnamese agencies abroad in helping businesses expand their markets and sharing information about host countries.
Binh Duong launches cold storage zone
Japanese company CLK Cold Storage Co Ltd on July 21 put into operation its modern cold storage zone in Tan Dong Hiep Industrial Zone, Binh Duong Province.
The coldest temperature in the zone is minus 50 degrees Celsius.
The US$18-million cold storage zone will keep goods in cold storage with modern temperature management technology.
The cold storage area was set up due to the increasing demand for Japanese food and predictions of large demand for frozen food in the future, the company said. In addition, the cold storage will help to promote the export of farm products, such as fruit.
Chairman of the people's committee of Binh Duong Province Tran Thanh Liem highly appreciated the project and expected the cold storage to work efficiently in the future.
He also asked Japanese investors to invest in the province because Binh Duong has created a good business environment for investors, such as good maritime and air transport infrastructure and professional operations of industrial zones.
Binh Duong has so far attracted 250 Japanese projects with a total investment capital of US$5 billion.
CapitaLand and Thien Duc celebrate topping out of Vista Verde
CapitaLand Limited (CapitaLand) and the Thien Duc Trading Construction Co., Ltd (Thien Duc) celebrated the topping out of Vista Verde in Thanh My Loi ward in Ho Chi Minh City's District 2 on July 20, marking the successful completion of the main structural works at CapitaLand's seventh residential project in Vietnam.
"We are proud to have successfully topped out Vista Verde on schedule," said Mr. Chen Lian Pang, CEO of CapitaLand Vietnam. "We look forward to presenting this landmark residential development that redefines modern living in Vietnam."
"We are proud to have been the first to partner CapitaLand in the development of The Vista," said Ms. Le Nu Thuy Duong, General Director of Thien Duc. "Our partnership with CapitaLand in developing Vista Verde allows us to combine our strengths to deliver an outstanding project."
Launched in 2014, more than 80 per cent of apartments at Vista Verde have been sold to date. Comprising 1,152 high-end apartments in four 35-storey residential towers with spectacular views of the Saigon River, Phu My Bridge, and the surrounding city, Vista Verde boasts lush green landscaping and features designed to bring a symphony of nature to residents.
It provides residents with more than 50 state-of-the-art recreational facilities and design features. A shopping town on the ground floor provides residents with essential retail shopping at their convenience.
Designed for modern living, apartments at Vista Verde include spacious living and dining areas, natural ventilation and a loggia.
Vista Verde won the prestigious "Best Condominium in Vietnam" award at the Asia Pacific Property Awards 2015 and the "Best Landscape Architectural Design" award at the Vietnam Property Awards 2015. The two awards recognize CapitaLand's efforts to incorporate international design principles and practices at Vista Verde.
CapitaLand Vietnam's first residential project in Ho Chi Minh City was The Vista, which was completed in September 2011 and has since been handed over to homebuyers. Other completed projects include PARCSpring in Ho Chi Minh City and Mulberry Lane in Hanoi.
Japanese locality looks to boost links with Vietnam
Japan
's Okinawa prefecture authority attaches importance to promoting relations with Vietnam across fields, governor Takeshi Onaga has told Vietnamese Ambassador to the country Nguyen Quoc Cuong.
Ambassador Cuong paid a three-day visit to the southernmost locality from July 18, where he met local officials and representatives of local enterprises with a view to boosting connections between Okinawa and Vietnam.
Takeshi Onaga briefed the Vietnamese diplomat on Okinawa's socio-economic development, stressing that the locality is providing a gateway for Japan to connect with Southeast Asia.
Meeting with Ambassador Cuong, head of the Okinawa Prefectural Assembly Yonekichi Shinzato recalled a visit made by local businesses to Vietnam to prepare for the opening of a glass production plant in the country.
The Vietnamese diplomat hoped cooperation between Vietnam and Okinawa will be stronger in the time ahead, especially in tourism, agriculture, support industry and handicrafts.
He asked the Japanese local authority to make it easier for local enterprises to receive more Vietnamese trainees and labourers, while supporting Vietnamese expats living and working in the locality.
Holding a talk with representatives from several enterprises and policy researchers of the locality, Ambassador Cuong introduced Vietnam's socio-economic strategy and extensive international integration.
Participants said they believe that Vietnam will achieve greater achievements in its renewal process and international integration.
During his stay, the Vietnamese diplomat also joined an annual meeting of the Okinawa-Vietnam Friendship Association, during which he expressed his deep gratitude towards the people in Okinawa for their valuable support for Vietnam through anti-war movements in Vietnam in the past, and activities to foster economic and cultural exchanges with Vietnam in recent decades.
Government - cooperative sector cooperation strengthened
Strengthening the cooperation between Governments and the cooperative sector was the theme of the July 19 press briefing on the 10th Asia-Pacific Ministers' Conference that will take place next year in Hanoi.
The event was co-chaired by Chairman of the Vietnam Cooperative Alliance (VCA) Vo Kim Cu and Balasubramania Iyer Director-General of the International Cooperative Alliance (ICA) - Asia-Pacific Region.
According to Balasubramania Iyer, the 10th Asia-Pacific Ministers' Conference is scheduled for Aprill 18-21, 2017.
The conference is expected to release a joint vision on economic cooperation and cooperatives by 2020 with the participation of over 400 delegates from between 60-70 countries and territories, and international organisations, he said.
Participants will focus their discussion on youths' involvement in cooperatives, access to food and socio-economic services, the green economy and public-private partnerships, according to Balasubramania.
Meanwhile, VCA Chairman Vo Kim Cu highlighted the significance of the upcoming conference to the ICA members in the context of extensive regional and global integration.
The occasion also presents opportunities for Vietnam to advertise the beauty of the people and landscapes of Vietnam while strengthening the friendship with international nations and contributing to the sustainable development of cooperatives and economic cooperation.
On the occasion, Vo Kim Cu and Balasubramania Iyer signed an agreement on the agenda of the upcoming Asia-Pacific Ministers' Conference.
Global experience necessary for boosting new-style cooperatives
Vietnam
's cooperative economy potential has not been tapped, Prime Minister Nguyen Xuan Phuc has said, asking to study related success stories around the world to promote new-style cooperatives.
He made the remark at the fifth national congress of the Vietnam Cooperative Alliance (VCA) in Hanoi on July 19, noting that almost all cooperatives nationwide are small-sized with poor capacity.
While their operations have yet to meet members' demand, some local authorities haven't fully understood the role of the cooperatives in economic development and social stability.
Domestic and global experience showed that connecting separate smallholders to form cooperatives and cooperative unions is the best way to improve the livelihoods of the millions of farming households, he said.
The PM stressed that a new cooperative model must be created by cooperatives' members, not imposed by authorities.
He asked the VCA to closely work with authorised agencies to create optimal conditions to spur cooperatives' operations and their members' creativity.
Meanwhile, ministries and local administrations should have thorough understanding of cooperatives' role so as to provide support policies and conditions they need.
The VCA's fifth national congress for the 2016 – 2020 tenure was attended by 546 official delegates representing about 30 million labourers across the country.
At the event, VCA Vice Chairman Nguyen Dac Thang reported that 5,000 cooperatives and 150,000 cooperative groups were set up over the last five years, contributing about 5 percent to the national GDP. The sector recorded an average 3 percent growth between 2012 and 2014.
Official safeguard measures on imported steel launched
The Ministry of Industry and Trade (MoIT) on July 18 issued Decision No 862/QD-BCT on applying safeguard measures against steel ingots and long steel products imported into Vietnam .
Under the decision, the ministry will maintain a safeguard duty of 23.3 percent on steel ingots while that levied on long steel products will be raised from 14.2 percent to 15.4 percent.
The decision will take effect within 15 days since it was signed.
According to the Vietnam Competition Authority under the MoIT, Vietnam saw a sudden increase of steel imports from 2012 to 2015, which seriously impacted domestic steel producers.
On December 25, 2015, the MoIT issued Decision No 14296/QD-BCT on a safeguard investigation into imports of steel ingots and long steel products, upon a complaint lodged by local producers Hoa Phat Steel Joint Stock Company (JSC), Southern Steel Co Ltd, Thai Nguyen Iron and Steel JSC and Vietnam-Italy Steel JSC.
On March 7, 2016, the ministry issued Decision No 862/QD-BCT on applying temporary safeguard measures against steel ingots and long steel products imported into Vietnam .
Accordingly, the ministry imposed temporary safeguard duties of 23.3 percent on steel ingots and 14.2 percent on long steel products for a maximum of 200 days.
Cooperatives should be restructured for stronger development: official
It is necessary to reorganise the cooperative sector through gathering individual producers in cooperatives and cooperative groups in the time ahead, said President of the Vietnam Fatherland Front (VFF) Central Committee Nguyen Thien Nhan.
At the 5th Congress of the Vietnam Cooperative Alliance (VCA) in Hanoi on July 19, the VFF leader stressed the need to roll out measures to make Vietnam's cooperative economy develop in line with the general trend of humankind.
He asked the VCA to arrange more campaigns nationwide to spread information on the 2012 Law on Cooperatives and the role played by new-style cooperatives towards improving the efficiency of individual production and business units and seeking markets for cooperatives' members.
Outstanding models of new-style cooperatives in agriculture, transport and handicraft should be introduced to farmers, so they are active in forming new-style cooperatives and cooperative groups owned by themselves, he stressed.
Additionally, special attention must be paid to training people who are or will be leaders of cooperatives in the future, he said, adding that it is necessary to solve difficulties concerning goods consumption, technology development and land facing cooperatives now.
According to VCA Vice Chairman Nguyen Dac Thang, a total of 5,000 cooperatives and 150,000 cooperative groups were set up over the last five years, contributing about 5 percent to the national GDP. The sector recorded a 3 percent growth between 2012-2014.
Some new-style cooperative models, which have a connection to goods value chains have been taking shape in the period; while many cooperatives have expanded production and business, promoted technological application and enhanced links with other economic sectors.
However, he also pointed out limitations in enforcing the 2012 Law on Cooperatives 2012, saying that the issuance of documents guiding the enforcement of the law and the State's support policies for cooperatives remained slow and unsystematic.
The state management for the cooperative economy from central to local levels was not consistent, he noted, adding that the role and position played by the VCA has yet to meet requirements, in the context of fostering integration.
VCA Chairman Vo Kim Cu stated that the alliance will focus on developing new-style cooperatives in connection with building value chains of goods and prioritising the development of public service cooperatives and those specialising in producing materials, preserving, processing and selling products for their members.
It is set to increase the number of cooperative groups to 250,000 by 2020, with 5 percent of the total being developed into full cooperatives. The average income of cooperative members and labourers is expected to double the 2015 figure, he said.
The congress elected a 142-strong executive board for the 2016-2020 tenure, led by Vo Kim Cu.
Thua Thien-Hue draws 88 foreign direct investment projects
As many as 88 foreign direct investment (FDI) projects with a total registered capital of 2.26 billion USD have landed in the central coastal province of Thua Thien-Hue so far, making the locality the 6th most attractive destination for foreign investors in the central region.
Large groups operating in the locality include Singaporean Banyan Tree Holdings Limited, HBI Group from the US and Charoen Pokphand (CP) Group from Thailand.
The 850-million USD Laguna Lang Co resort complex, Banyan Tree's first fully integrated world-class hospitality development in Vietnam, is among the standout projects in the province.
The Royal Caribbean International Group also invested 5 million USD in the upgrade of Wharf No.1 at the Chan May Port, making the port able to serve large cruise ships like Quantum of the Seas and Oasis of the Seas.
According to Nguyen Dung, Vice Chairman of the provincial People's Committee, the province welcomed over 75,000 sea arrivals in 2015 and expects to receive 150,000 sea-bound tourists to visit the former imperial Hue city through the Chan May port this year.
The province plans to call for further investments to preserve the ancient imperial relic site in Hue city and develop the Lang Co-Chan May bay.
Along with building comprehensive infrastructure, the province has streamlined administrative procedures under a "one-door" mechanism to encourage further foreign investment in the locality.
It is also focused on calling on all stakeholders to complete infrastructure in big projects with competitive products like the garment support industrial park, Chan May-Lang Co economic zone and Bach Ma National Park.
The overriding priority has been given to the study of additional suitable mechanisms and policies to lure foreign investors, especially large and strategic enterprises like Bitexco, Vingroup and Bayan Tree.
Meanwhile, revamped investment promotion methods and the issuance of a list featuring the province's prioritised projects during 2016-2020 have also been paid due attention.
Australia – potential market for Vietnam's fruit, vegetable
Australia, which needs to import 1.7 – 2 billion USD of fruit and vegetable each year, is a potential market for Vietnamese fruit and vegetable but its strict quarantine regulations remain a great obstacle, said the Vietnam Trade Office in the country.
According to the Vietnam Customs, Vietnam exported over 1.3 billion USD worth of goods to Australia in the first six months of 2016, of which fruit and vegetable made up 10.3 million USD.
The figure for 2015 was 19.6 million USD and for 2014, 17.4 million USD.
Currently, Australia has licensed the import of Vietnamese fresh lychees only with more than 10 tonnes shipped to the market so far.
Vietnamese dragon fruits and mangoes are expected to enter the market in the coming time.
In late June, a delegation from Australian Department of Agriculture and Water Resources came to Ho Chi Minh City, the Mekong Delta provinces of Long An and Tien Giang, and south central coastal Binh Thuan province to inspect the cultivation and harvest of dragon fruits as well as other steps before the fruits are ready for export.
According to the Vietnam Trade Office in Australia , the visit is an important part in the risks analysis process. The Australian Government is scheduled to release a draft report for public comment at the end of 2016.
Vietnam conducted evaluation of market access for dragon fruits right after Australia approved the import of Vietnamese fresh lychees in 2015.
The process to pave the way for fresh fruits to reach the market takes at least two years, the office said.
Besides fruits, Vietnam can look to expand its export of frozen, dried or processed fruit and vegetable to Australia, which currently imports 5-7 million USD worth of frozen mixed vegetable from China, but only 1,000 USD worth of the same products from Vietnam.
Australia also spends between 8-10 million USD on vegetable and dried mixed vegetable from China, but a mere 20,000-30,000 USD on those from Vietnam.
The most important issue to be addressed in order to sell more Vietnamese fruit and vegetable to the Australian market is ensuring food safety and hygiene throughout all steps from growing, harvesting to processing.
Southern electricity sees changes in use among sectors
There was a remarkable change in the use of electricity among sectors in southern provinces in the first six months of 2016, according to the Southern Power Corporation of the Electricity of Vietnam (EVNSPC).
The proportion of electricity used in industry and construction fell from 61.82 percent to 59.29 percent, while that in agro-forestry-fisheries increased from 3.22 percent to 5.37 percent.
In January-June, the company sold over 26.7 billion kWh of commercial electricity, a year-on-year rise of 12.41 percent, fulfilling 48.86 percent of the annual target.
Electricity used in industry and construction recorded a growth of 7.8 percent against the same period last year, while that in agro-forestry-fisheries also registered a high growth, mainly in Binh Thuan, Binh Phuoc and Hau Giang provinces.
The main sources to supply power for households in 21 southern cities and provinces come from electricity plants in the south and the 500kV North-South transmission line.
The EVNSPC is coordinating with the Ministry of Industry and Trade to promote electricity thrift practices among customers and build proper measures to avoid overloading and ensure sufficient electricity during the dry season and for the whole of 2016 in the south.
Viet Nam's fruit import up
Amid rising incomes, demand for imported fruits, especially cherries, has steadily increased among Vietnamese consumers, delegates said at a "Taste Canadian Cherries" event held in HCM City's SC VivoCity Shopping Plaza on July 16.
Barbara Nadeau, Commercial Counsellor of Canada in Ha Noi, said overall exports of Canadian fresh fruits, including cherries and Ambrosia apples, have increased by 80 per cent, reaching nearly C$4 million (US$3.12 million) last year.
Exports of fresh Canadian cherries to Viet Nam alone were valued at over C$1.7 million ($1.32 million) last year, a year-on-year increase by nearly 50 per cent, she told the event organised by the Embassy of Canada and Consulate General of Canada in collaboration with Co.opXtra supermarket and Nam Chan Food Corporation.
At the event, Vietnamese consumers had the opportunity to taste the finest Canadian cherries produced in British Columbia, Canada's westernmost province located on the Pacific Coast.
Canadian cherries are being exported to many markets in Asia and Europe. British Columbian cherry farmers are accredited for food safety and traceability standards, she said.
"Canada is a proud producer of the highest quality cherries," she said, adding that its Government has invested greatly in its cherry industry and has developed cherry varieties that feature high sugar and firmness.
"In Viet Nam, Canadian cherries enjoy increasing popularity among consumers," she said.
Duong Minh Quang, deputy general director of Saigon Co.op Fairprice Limited Liability Company, which operates Co.opXtra supermarkets, said the co-operation programme will contribute to offer local consumers more diverse and high quality products.
According to the General Department of Viet Nam Customs, Viet Nam spent nearly $278 million to import fruits and vegetables in the first five months of the year, an increase of 48 per cent over the same period last year.
Website connects distributors, consumers of farm produce
The e-commerce website muahangviet.com.vn, which specialises in selling clean and safe farm produce, debuted in HCM City on July 19.
The launch of the portal was part of the project Buying Vietnamese Goods initiated by Thanh Nien Newspaper Joint-Stock Company, which targets farmers, enterprises and consumers.
In the initial phase, muahangviet.com.vn will supply more than 50 farm produce divided into two segments – safe products and organic products having certificates of international safe food authorities.
Products will include organic rice, fruits and vegetables produced by farms in Da Lat and Can Tho.
To be able to join the project, suppliers must apply Good Agricultural Practices such as VietGap/GlobalGap in their farming, said Nguyen Phuong Linh, the project director.
All of the products have to pass strict testing steps, including testing at farms in cooperation with local Plant Protection Departments and the Da Lat Nuclear Research Institute that will test heavy metals, plant protection residue and others before harvest.
Testing will also be done at distributors' sites with nitrate-measuring devices and post-testing conducted by independent laboratories.
"Selling fruits and vegetables with clear origin and safety is a top commitment to our consumers," she said.
After receiving orders, products will be harvested and delivered to customers within 24 hours.
Dao Hong Hanh, deputy general director of Thanh Nien Newspaper Joint Stock Company, said the model helped reduce time needed for distribution of farm produce and ensure the quality and safety of products.
In the second phase of the project, expected earlier next year, other Vietnamese products that meet export standards will be supplied via the portal.
Eximbank to cut 2016 profit target
Eximbank will submit a plan to cut its 2016 profit target by 44 per cent at its upcoming shareholders' meeting.
According to a report due to be released at the meeting on August 2, the bank will cut its profit target in 2016 to VND400 billion (US$17.85 million) from VND720 billion, set earlier this year.
Under the report, the bank aims to achieve total assets worth VND134 trillion in 2016, up 7.3 per cent against last year. The targets for capital mobilisation and outstanding loans will rise 9.7 per cent and 4 per cent to touch VND108 trillion and VND100 trillion, respectively.
Last year, the bank's pre-tax profit dropped sharply by nearly 30 per cent against the previous year to reach just VND40 billion, following the provision of large amounts of risky loans worth VND1.434 trillion.
At the shareholders' meeting next month, Eximbank will also appoint more members to its board of directors for the 2016-20 period.
In addition, the bank will submit for the shareholders' approval a plan worth VND10 billion for payment of salaries to its board of directors in 2016.
KINDEX Vietnam attracts Korean investors
KINDEX Vietnam VN30 ETF attracted much attention from Korean investors two weeks after being listed on the Korean Stock Exchange (KRX), according to the HCM City Securities Exchange (HoSE).
KINDEX (245710KS) was among the certificates with most trading volume on KRX. On July 14, it rose 4.87 per cent to reach KRW10,450.
KINDEX Vietnam ETF simulates VN30, and is managed by HoSE through an investment swap mechanism. VN30 was calculated from the price index of 30 leading capitalisations and liquidity on HoSE.
The southern bourse said it was the first time a local fund certificate was listed on a foreign bourse, adding that the attention of Korean investors has confirmed the position of the VN30 in the international market.
HoSE expected to list more ETFs certificates in the overseas markets in the future.
Vingroup subsidiary suspends loan swap with furniture firm
Tan Lien Phat Investment and Construction JSC, a subsidiary of Vingroup, has announced the suspension of a loan swap worth VND1.2 trillion (US$53.7 million) with Truong Thanh Furniture (TTF).
According to Tan Lien Phat, the decision was made after finding serious discrepancies in data provided by TTF.
On April 15, TTF approved the issuance of 69.7 million shares as the swap for its borrowings in Tan Lien Phat, worth over VND1.2 trillion.
The first loan, worth VND603.5 billion, was set to be converted into shares at a conversion price of VND14,200 each, while the second loan, worth VND598.5 billion, was converted into shares at the price of VND22,000 each.
The swap was expected to be made in the second quarter of this year. However, after the recent verification and evaluation activities of the furniture firm, Vingroup's subsidiary found the discrepancies and canceled the loan.
In May 2016, Tan Lien Phat reportedly paid more than VND1.8 trillion to buy back 72.16 million shares or 49.9 per cent of the stake in TTF.
Tan Lien Phat is the investor in Vingroup's Vinhomes Central Park and the chain of supermarket and convenient stores of Vinmart and Vinmart+.
TTF is the main provider of wooden items and furniture for large construction projects by of Vingroup such as Vinhomes, Vincom, Vinpearl, and VinDS, in addition to Vinmec.
Based in HCM City, with a charter capital of VND1.4 trillion, TTF is active in the timber and furniture industry and manages 14,000 hectares of harvesting forest in the south of Viet Nam.
After the information released on July 19, TTF stock lost nearly seven per cent to end at VND40,600 on the HCM Stock Exchange on the same day.
Fertiliser firms fail to attract investors
When the market rose an average of more than 15 per cent, fertilisers stocks, despite a high rate of return, did not see good growth.
As the three largest firms in the industry, Binh Dien Fertilizer (BFC), Phu My Fertiliser (DPM) and Lam Thao Fertiliser (LAS) often give quite good dividend rates to shareholders.
In early June, BFC paid a dividend of 30 per cent for 2015. DPM was also a stock with a high dividend rate. In three years, the firm has paid a total dividend of 95 per cent corresponding to more than 30 per cent of the annual cash dividends.
LAS, with the highest annual dividend of 40 per cent, even gave shareholders bonus shares at 45 per cent in the third quarter of this year.
However, except the instant growth of BFC, DPM and LAS saw no significant change till very recently in the third quarter, when the two stocks showed some growth.
DPM shares, which were often traded at VND28,000 each before, grew six per cent to touch VND29,400 each on HOSE on July 19.
On the northern bourse, LAS shares rose nearly 12 per cent in the last quarter from VND27,000 to VND31,8000 each on July 19.
According to local experts, despite receiving high dividends from the fertiliser firms, investors looked out for profit-making potential. In Q1, most fertiliser sales and profits fell.
Earlier this year, FPT Securities Company (FPTS) said local fertiliser firms were facing fierce competition from peers and lower demand.
The Bao Viet Security Ccompany referred to the reports of the World Fertiliser Association, which said prices would fall following oversupply in the future. The World Bank (WB) forecast that fertiliser prices would decrease by two to five per cent in 2016 from the previous year.
In Viet Nam, the local fertiliser production was forecast to increase with the operation of new plants.
Vu Duc Minh Hieu, an expert in the field, said market analysts were of the opinion that fertiliser supply in Viet Nam was always higher than demand by one to 1.2 per cent, adding that demand would grow 1.5 to two per cent in the next five years, while supply would increase by 4.1per cent.
More importantly, Viet Nam was mostly producing and using inorganic fertilisers (second largest after China), while the global trend was towards less use of chemical fertilisers in agriculture to promote environment-friendly cultivation.
With such trends, increasing demand for food safety and more environment protection, local fertiliser firms would face long-term risks, which should force them to prepare suitable development strategies or be left behind, the FPTS evaluation department said.
Starwood Hotels & Resorts to open new six properties in Vietnam
Starwood Hotels & Resorts has announced to launch six new properties in Hanoi, Hoi An, Danang, Phu Quoc and Halong in the country from now until 2019.
Starwood Hotels & Resorts expects to launch Sheraton Hoi An Tam Ky Resort in Q2, 2017, Four Points by Sheraton Danang and Sheraton Phu Quoc Resort on July 1, 2017, Sheraton Danang Resort and Sheraton Halong Bay Hotel on January 1, 2018, and The Westin Hanoi on January 1, 2019.
The information was unveiled at a Media Appreciation Night in HCMC last week to wrap up The Week of Appreciation organized by Starwood from July 11 to 15. On the occasion, Sheraton Saigon opened its brand new ballroom on level 3 of the hotel with the presence of representatives of Starwood Divisional Office, general managers of four Starwood properties, including Sheraton Saigon, Sheraton Hanoi, Sheraton Nha Trang and Le Méridien Saigon, and local media.
Since the opening of Sheraton Saigon Hotel & Towers in 2003, Starwood Hotels & Resorts has accelerated growth in Vietnam with signing more upscale-brand properties including Sheraton Hanoi Hotel and Sheraton Nha Trang Hotel & Spa in 2004 and 2010 respectively. The debut of its Le Meridien brand with Le Méridien Saigon in 2015 marked the fourth milestone of Starwood Hotels & Resorts in Vietnam.
To mark this special occasion, Starwood Vietnam properties and Uber Vietnam collaborate to promote "Dine with SPG, Ride with Uber" program, effective from July 12 to December 31, 2016 as Uber riders are offered free Starwood Preferred Guest enrollment and 15% off on their bills at participating restaurants and bars of Sheraton Saigon, Le Meridien Saigon and Sheraton Hanoi.
Starwood Hotels & Resorts Worldwide, Inc. is one of the leading hotel and leisure companies in the world with more than 1,200 properties in some 100 countries and over 180,000 employees at its owned and managed properties. Starwood focus on the luxurious market segment with 11 globally-known brands: St. Regis, The Luxury Collection, W, Westin, Le Méridien, Sheraton, Four Points by Sheraton, Aloft, Element, Design hotels and Tribute Portfolio.
Coffee prices hit 12 month high
The prices of green robusta coffee beans in the Central Highlands have risen to 37.6- 38.3 million VND (1,671-1,702 USD) per tonne this week, up according to the Ministry of Agriculture and Rural Development.
The prices at one time reach 38.9 million (1,729 USD) per tonne, the highest since June 29, 2015, in Dak Lak province.
Meanwhile, the freight on board (FOB) price of robusta coffee in Ho Chi Minh City gained 24 USD per tonne, to 1,756 USD per tonne.
The rising trend was buoyed by the global price hike last week due to concerns over the prolonged drought's impact on coffee harvest in Vietnam and India, two among the world's top robusta coffee producers.
According to the Ministry of Agriculture and Rural Development, coffee exports of Vietnam, the world's largest robusta coffee exporter, reached an estimated 1.32 million tonnes in the first nine months of the 2015-16 crop year ending September, up 32 percent from a year earlier.
PetroVietnam seeks way to handle challenges
PetroVietnam will continue to boost oil and gas exploration and exploitation activities this year to offset the impact of the slow recovery in crude oil prices and higher costs.
This would help PetroVietnam deal with difficulties in production and business arising out of those factors.
Nguyễn Vũ Trường Sơn, CEO of PetroVietnam group, said the increase in oil exploitation productivity was quite difficult. Most of the oil wells have been exploited to the maximum. The group's expectations mostly focussed on new oil well explorations and exploitation to ensure an increase in oil and gas reserves.
To drill new oil wells in 2016, efforts are on to limit the fall in crude oil productivity in 2017, Sơn said, and added that priorities would be given to highly-effective projects focussed on developing the Cá Rồng Đỏ, Lô B, Cá Voi Xanh oilfields.
According to PetroVietnam, while exploiting one million tonnes of crude oil for the 2016 target, it has made efforts to continue drilling new wells in Sư Tử Nâu oilfield (Brown Lion) in Block15-1. It is expected to start drilling this month and be put into operation by September this year. The oil productivity is expected to reach 67,000 tonnes.
The group will also continue to drill two more wells including RC-9 in block 09-1. It is expected that oil productivity can reach between 10,000 tonnes to 15,000 tonnes.
PetroVietnam is also considering drilling two more wells at the Tê Giác Trắng (White Rhinoceros) oilfield in block 16-1 of the Cửu Long Basin, which could extract crude oil amounting to 43,000 tonnes.
Sơn said this month that PetroVietnam will work with contractors to conduct specific projects and ensure drastic measures to successfully implement exploration and exploitation activities of government-approved projects.
This year, PetroVietnam has also set a target of exploiting crude oil productivity of 17 million or one million surpassing this year's plan.
The group says that despite falling crude oil prices it has accomplished all targets for the first half this year. Its crude oil exploitation volume reached 14.75 million tonnes, or 1.1 million over the target. PetroVietnam also supplied 10.74 kWh of electricity to the national power grid.
Live cattle imports from Australia dip
Vietnam imported 129,471 head of cattle from Australia in the first half of this year, down 35% against the same period last year, according to the Ministry of Agriculture and Rural Development (MARD).
Vietnam was the largest importer of Australian cattle, after Indonesia and China. Last year, Australia shipped more than 300,000 head of cattle to Vietnam.
The decline is attributed to better supplies on the domestic market not because of Vietnam slaughterhouses' violation of the Exporter Supply Chain Assurance System (ESCAS).
The Australian Embassy said cattle exports to Vietnam depended on many factors like domestic demands, export prices and exchange rates.
Regarding Australian temporary ban on cattle exports to Vietnam after the animal welfare group Animals Australia revealed footage that showed cow being repeatedly hit by a sledgehammer, Tong Xuan Chinh, deputy head of the Animal Husbandry Department, said the country temporarily stopped exporting cattle to Vietnam to conduct investigations. If real proofs are found, a fine will be imposed. Up to now, there has been no answer from the Australian Department of Agriculture.
Mr Chinh said temporary stop exporting cattle to Vietnam will affect domestic livestock businesses, but not immediately. It will take at least six months before the decision can affect prices on the domestic market.
Amy Guihot, Counsellor (Agriculture) - Australian Embassy in Hanoi, said the ban will come into effect until the investigations complete. It is imposed only on violating slaughtering facilities while those meeting ESCAS still receive cattle from Australia.
Hapro opens Unimart - Seika supermarket in Ha Noi
The Ha Noi Trade Corporation (Hapro) opened the Unimart - Seika Supermarket at 51 Le Dai Hanh Street, Ha Noi, last week.
This is the third of its kind coinciding with the Japanese standard launched in the capital city. The supermarket chain is a joint venture between Hapro's Hanoi Food Company and Vietnam Supermarket Joint Stock Company (VHSC).
The 1,000sq.m supermarket showcases nearly 20,000 food and non-food products, processed products and home appliances. Many of these have been imported from Japan, South Korea and European countries, are of good quality and have reasonable prices.
Hapro has so far set up two shopping malls, three wholesale centres, and more than 40 supermarkets and Hapromart stores, besides Haprofood stores.
The corporation is also doing business in some other areas, such as electronic equipment and garments in Ha Noi.
Steel firms seeing optimistic growth
Local steel firms have recorded upbeat business results in the first half of this year on account of steady demand and an unexpected market rebound.
Local steel firms are receiving positive results during the first half of this year compared to last year's performance
In the first six months of this year, the steel sector turned out over 8.5 million tonnes of product, a 35.7 per cent jump on-year. Over eight million tonnes were sold, up 39 per cent on-year, of which more than one million tonnes were exported.
Chairman of Vietnam Steel Association (VSA) Ho Nghia Dung attributed the sector's upbeat performance to the Ministry of Industry and Trade's imposition of temporary safeguard duties on imported steel billet and long-steel products. This helped to back up local firms' production and sales in the year's second quarter.
Nam Kim Steel JSC, based in the southern province of Binh Duong and one of the country's leading steel makers, reported VND200 billion ($9 million) in profit in the year's first half and sold 346,000 tonnes of product.
This outcome is remarkable compared to the company's performance last year. Nam Kim Steel sold a total 423,000 tonnes of product last year and reaped only VND126 billion ($5.7 million) in post-tax profit.
According to Nam Kim's general director Pham Manh Hung, the company has a lot of advantages when exporting to Malaysia as its export products do not incur anti-dumping tariffs when entering the Malaysian market.
In early 2016, Malaysia's International Trade and Industry Ministry announced its decision to impose anti-dumping tariffs on imported coated steel products.
Nam Kim coated steel products incur an anti-dumping duty of just 0.06 per cent, and according to the World Trade Organization (WTO) regulations, it is not an anti-dumping case if the duty was set below two per cent.
This will be an advantage for Nam Kim when exporting to Malaysia during the 2016-2021 period.
In another case, state-owned Vietnam Steel Corporation (VNSteel) reported a 22 per cent jump in steel billet production in the first half of the year, and a sale volume hike of 7 per cent on-year, to 314,000 tonnes.
Its construction steel production reached 1.6 million tonnes, up 23 per cent, and sales volume surpassed one million tonnes.
The parent company reported VND105 billion ($4.7 million) in pre-tax profit during the period while its subsidiary companies touched VND339 billion ($15.4 million).
Private steel giant Hoa Phat Group gained VND1.85 trillion ($84.4 million) in post-tax profit in the first six months, reaching 58 per cent of the year's projection. Of this sum, VND1.28 trillion ($58.4 million) came from the construction steel business.
During the period, Hoa Phat exported more than 8,000 tonnes, equal to 10 per cent of the group's total steel sale volume, with a stable month-on-month growth in the export value to ASEAN markets.
Bitexco buys State stake in Huong Giang Travel
The Bitexco Group has secured the entire State stake in the Huong Giang Travel Joint Stock Company after signing a strategic cooperation agreement with the Thua Thien Hue Provincial People's Committee.
In response to enquiries from VET, Mr. Vu Quang Hoi, Chairman of the Bitexco Group, confirmed that "the group has bought 70.48 per cent of the charter capital in Huong Giang Travel," or equivalent to 14,096,200 million shares. He did not reveal any further information about the deal.
Mr. Hoi therefore becomes Chairman of the Huong Giang Travel JSC, which holds 100 per cent of the Huong Giang Travel Company (HG Holdings) along with 91 per cent of the My An Travel Joint Stock Company, which is in possession of some valuable real estate in the province.
At the end of March the Provincial People's Committee issued a decision granting approval to the Bitexco Group purchasing the entire State holding in Huong Giang Travel instead of 7.6 per cent, as was previously decided.
Securing more than 70 per cent of Huong Giang Travel allows Bitexco to change Huong Giang's hotels into international-standard hotels.
According to Mr. Hoi, when signing the cooperation agreement with Thua Thien Hue province Bitexco committed to investing in projects developing local tourism infrastructure to international standard and promoting high quality tourism products that will attract visitors to the city.
Its development plan includes projects such as the construction of the high-end Aman Hotel and Resort, luxury My An resorts, which have hot mineral springs, the upgrading of the Sai Gon Morin to a five-star hotel brand, and supporting the promotion of Hue's tourism potential to the world.
Local authorities, in turn, committed to supporting and creating favorable conditions for Bitexco to implement investment projects and business within the province.
The Minh Dien Vital Real Estate Joint Stock Company, a member of the Bitexco Group, has recently announced the launch and opening of display homes at the Manor Crown Hue project, which has an area of 4.2 ha at the An Van Duong urban area, which is Hue's administrative center and next to the city's services, tourism and entertainment area.
Bitexco now owns a number of major real estate projects in large cities, including the Manor My Dinh and the Manor Central Park in Hanoi and the Manor Officetel and Bitexco Financial Tower in Ho Chi Minh City.
Expert calls for integrated approach to prop up entrepreneurship in Mekong Delta
Tran Dinh Thien, director of the Vietnam Institute of Economics, has underlined the urgency of adopting an integrated approach, especially in terms of policy, to shore up entrepreneurship and economic growth in the Mekong Delta and help the region better deal with emerging challenges.
Thien told a business forum as part of the Mekong Delta Economic Cooperation 2016 in Hau Giang Province (MDEC - Hau Giang 2016) last week that laws and regulations have been revised in recent years to fuel the development of enterprises, particularly private ones.
Thien said the region showed a better sign in the January-June period that it posted higher growth than the nation's average in terms of startup, registered capital and employment.
However, Thien expressed concern over a big gap in administrative and institutional reforms and visions of provinces in the Mekong Delta. What Dong Thap has done to brace for international integration is far better than other provinces in the delta.
Nguyen Thi Thuong Linh, vice director of the Vietnam Chamber of Commerce and Industry (VCCI) in Can Tho City, said Dong Thap came second among the nation's 63 provinces and cities in the 2015 Provincial Competitiveness Index (PCI) thanks to the local government's strong reforms. But efforts of other provinces to cut informal fees and create a level playing field for businesses have not paid off.
Thien said greater effort and an integrated approach would be needed to bring positive changes in the delta, which is not only reeling from the national economy's woes but also feeling the pinch of drought and salinity intrusion.
Linh cited figures of the investment departments in 13 provinces in the Mekong Delta as saying that the region had had 59,350 operational firms as of end-March, accounting for 11.6% of the country's total.
There were 1,240 startups in the delta in the first quarter with total registered capital of VND54.6 trillion, up 12.1% versus quarter one of last year.
However, Linh said the country's international integration, climate change and drought have hit businesses in the delta.
Thien shared Linh's view, saying the impact of drought, salination and rising sea levels on the delta is not yet over. The delta will continue dealing with drought, salination, fresh water shortfalls and less silt in the coming years, he noted.
Thien stressed the region would find it tough to ride out these difficulties.
According to the Ministry of Agriculture and Rural Development, further studies should be carried out to find viable solutions for the Mekong Delta to efficiently cushion the effects of drought and salination on its economy and society.
Deputy Minister of Agriculture and Rural Development Hoang Van Thang told the Daily on the sidelines of a seminar on solutions to control salination and store fresh water for production and daily use in the region in Hau Giang Province last week that more scientific research should be implemented and lessons from domestic and foreign organizations learned to combat drought and salination.
Although numerous conferences have been organized and coping measures have been proposed by experts, climate change is not a problem that can be solved overnight, Thang said.
He said the Government has spent big on projects in the Mekong Delta in recent years with large canals dredged, but the region still needs huge finances for more projects to boost the resilience of the region.
At earlier conferences, experts proposed solutions for the Mekong Delta to adapt to climate change. For instance, Nguyen Ngoc Tran, former deputy head of the National Council for Scientific and Technological Policies, suggested restructuring plants and livestock, and building dikes for freshwater storage and saltwater prevention to reduce the impact of drought and salination.
Thang said it is difficult to thoroughly solve problems concerning saltwater intrusion and climate change in the Mekong Delta but stressed new proposals are welcome.
According to the Southwest Steering Committee, drought and salination have caused severe water shortages for daily use and agricultural production in the Mekong Delta, with total losses estimated at VND4.68 trillion (US$210.5 million).
VEF/VNA/VNS/VOV/SGT/SGGP/Dantri/VET/VIR