Famed musician releases new work
Veteran musician Nguyen Cuong is back and better than ever, with his new musical work entitled Da Giang – Dai Hop Xuong (Da River – Masterpiece Chorus).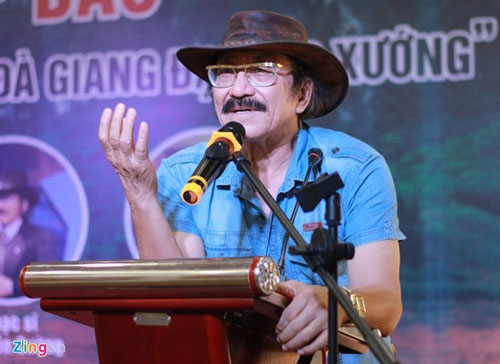 Renowned artist: Musician Nguyen Cuong introduces his new work at the launch ceremony in northern Hoa Binh Province. -- Photo newszing.vn
The work comprises four movements about Da River and Muong culture in the northern Hoa Binh Province.
"I intended to write a song, but after getting to know more about the Muong culture, De Dat De Nuoc, a Muong epic that explains how the universe was created, I thought it needed much more than a song," Cuong said.
The first movement entitled Da Giang Bi Vang Thang Dong is a musical narration of a Muong epic. It features the roots and progress of Muong ethnic culture, which is seen as belonging to a legendary and mysterious land.
The musician was inspired by literary works of noted poets Tan Da and Vu Hoang Chuong, writer Nguyen Tuan and musician Phạm Duy to create the second movement entitled Thuyen Du Ben Nuoc Song Trang.
The Duong Len Tay Bac movement reminds people of the Dien Bien Phu Victory, which was in part due to thousands of young volunteers who transported rice to the Tay Bac region.
The final movement entitled Ta Xay Thanh Pho Mo Cung Song Da is about a desire to build a modern city along Da River.
The piece was warmly welcomed and highly appreciated at the launching ceremony held recently.
"Cuong shows freshness and creativity in his new work," musician Pham Ngoc Khoi, deputy head of the Viet Nam Musicians' Association, said. "It is a masterpiece of Vietnamese music in the 21st century."
From a historian's angle, researcher Duong Trung Quoc said it was not only a musical work about Da River but also about the Vietnamese people.
"It is not by chance that Da River flows through the Muong ethnic area, which is seen as the oldest area in Viet Nam. Da River has provided rich plains to the country."
The chorus has been commissioned by businessman Vu Duy Bong to celebrate the 130th anniversary of Hoa Binh Province.
Cuong visited Hoa Binh Province several times and read many books. He researched about Hoa Binh culture and its people for a year.
"The trips to Hoa Binh Culture were a return to the roots of Vietnamese culture," the musician said.
Born in 1943 in Ha Noi, Cuong is known for composing songs about the Central Highlands, in which he incorporates traditional musical ideas.