Prices of oil, petrol remain unchanged in latest adjustment
The prices of oil and petrol were kept unchanged following the latest adjustment by the Ministry of Industry and Trade and the Ministry of Finance on July 7.
The two ministries review fuel prices every 15 days to adjust the prices in accordance with fluctuations on the world market.
The ceiling price for E5 Ron92 and Ron95-III are maintained at 19,611 VND per litre and 21,177 VND per litre, respectively. Meanwhile that for diesel oil 0.05S stands at 17,455 VND per litre, down 5 VND per litre.
The prices of kerosene and fuel oil (FO) 180CTS 3.5S are not more than 16,243 VND per litre and 14,756 VND per litre, up 189 VND and 319 VND per litre, respectively.
The global price for RON92, which is the base for the production of E5 petrol, stood at 80.935 USD per barrel in the 15-day period prior to July 7.
RON95 was sold at 82.761 USD per barrel, diesel 0.05S 86.297 USD per barrel, kerosene 87.370 USD per barrel, and FO 180CST 3.5S 459.223 USD per tonne.
The petrol price stabilisation fund has been used constantly and at a high level over the past time, particularly for petrol products, to mitigate the impacts of global rising commercial oil and petrol prices and contribute to curbing inflation.
This time, subsidies for E5 RON92 are 922 VND per litre (previously 870 VND per litre) and 161 VND per litre for RON95 (previously 198 VND per litre).
Agreement inked to boost businesses' technology transfer
The Ho Chi Minh City Union of Business Associations (HUBA) has signed an agreement with the American Chamber of Commerce in Vietnam (AmCham Vietnam) to promote their members' partnership in transferring technology and expanding investment chances.
Speaking at the signing ceremony on July 7, HUBA Chairman Chu Tien Dung said boosting the connectivity and technology transfer between FDI and domestic businesses is a target of his union' cooperation with foreign business associations in Vietnam in the time ahead.
Vietnam has been attracting a relatively big flow of foreign investment, but FDI firms' transfer and domestic companies' absorption of technology remain modest, he noted.
He attributed the problem to Vietnamese enterprises' lack of necessary preparations for receiving new technologies. Meanwhile, the country's FDI attraction policy hasn't had binding conditions forcing foreign businesses to transfer technology to or support the development of domestic ones.
As a result, for a long time, FDI businesses only focused on capitalising on raw resources like natural resources and low labour cost while not paying much attention to making use of the business development ecosystem or intelligence resources to improve the value of Vietnamese contribution to their products.
The country also lacks a concrete plan or strategy for enhancing the connectivity between FDI and domestic firms. There are very few technology transfer projects between the two sides at present, and they have been carried out only between certain businesses or localities, Dung said.
He noted that the agreement between HUBA and AmCham is one of the first steps to improve bilateral cooperation to support their member entrepreneurs and businesses in transferring technology, expanding investment chances and developing the market in the two countries.
Executive Director of AmCham Vietnam John Rockhold said trade and investment ties between Vietnam and the US are developing well. To boost the connectivity between US and Vietnamese firms, AmCham will actively realise the cooperation deal. In particular, they will regularly organise meetings and exchanges between enterprises to share experience and discuss investment and business opportunities.
AmCham will also encourage US companies to share experience, assist and transfer new technologies, and seek and introduce development supporting resources to Vietnamese firms to build a basis for cooperation and mutual support towards sustainable development in the future, he added.
Da Nang Port handles over 774,000 tonnes of cargo in June
Da Nang Port in the central coastal city of Da Nang, handled over 774,000 tonnes of cargo during June, the highest level so far, according to Vietnam National Shipping Lines (Vinalines).
In particular, the volume of cargo transported through the port on container ships reached a record of 32,406 TEUs (20-foot equivalent unit) over the month, up nearly 4 percent compared to the highest level of 31,280 TEUs in December 2017.
The port received over 4 million tonnes of cargo in the first six months of 2018, a year-on-year rise of 6.14 percent. It welcomed 912 ship arrivals, including 551 container ones, a year-on-year rise of 3.3 percent.
Those commodities with high growth include clinker (up 141 percent), wood chip (up 80 percent), coal (up 40 percent), cement (up 88 percent), and equipment (up 64 percent).
As an important seaport in the city, Da Nang Port also welcomed a large number of cruise ships.
In the January-June period, the port received 71 cruise liners, up 36 percent from the previous year's same period, while serving 107,381 tourists and crew members, up 7.6 percent.
The increased presence of high-end cruise ships, such as Costa Atlantica and World Dream, has affirmed the port's brand value in regional and global tourism maps.
Located within Da Nang Bay and shielded by Hai Van mountain and Son Tra peninsula, Da Nang Port is capable of receiving vessels of up to 50,000 DWT.
It is a gateway to the east-west economic corridor and is connected with an extensive road network, as well as aviation and railway routes.
Currently, the port serves containers, cruises, and high-capacity vessels, while also providing them with logistics services.
According to the Ministry of Transport, Da Nang city's port system will handle 29 million tonnes of cargo by 2030.
Da Nang has become increasingly popular among tourists at home and abroad, thanks to its beautiful landscapes, friendly people and good services.
According to the municipal Department of Tourism, the number of visitors to the central coastal city is increasing with annual average growth of 20.06 percent in the 2013-2017 period.
In 2017, the city welcomed 6.6 million tourists, 2.1 times higher than the figure in 2013. The tourism industry generated 186,770 jobs in 2017 and grossed over 19.5 trillion VND (854.1 million USD) in revenues, 2.5-fold increase from 2013.
This year, the city was ranked second in the list of the 10 most popular destinations among solo or couple travelers, according to the Republic of Korea's Ticket Monster Inc.
The website said people who plan to travel abroad with family members chose Da Nang as the most popular destination.
The city is also the second-most popular destination among couple of travelers, followed by Bangkok (Thailand) and Guam (the US), it said."
The US's New York Times listed Da Nang among 52 places to go in 2015. The city was recgonised as one of the world's 20 low-carbon cities at the 44th APEC Meeting on Energy in the US in 2012.
Da Nang International Airport was ranked third among the best airports in the world in 2014, according to a survey by Dragon Air.
The InterContinental Danang Sun Peninsula Resort won the Asia's Leading Luxury Resort in 2014 thanks to its perfect combination of traditional beauty and modern, luxurious standards.
The US's Forbes Magazine selected My Khe Beach in Da Nang as one of the six most attractive beaches on the planet in 2013.
The cable line that takes visitors to the peak of Ba Na Hills at an altitude of 1,487 metres in just 17 minutes and is able to carry 3,000 passengers per hour won four Guinness Records in 2013.
Sun Wheel, which is 115 metres in height and situated in Asian Park, Hai Chau district, Da Nang, was listed among the 10 tallest wheels in the world.
Mini Thailand Week 2018 opens in Can Tho
The Mini Thailand Week 2018 kicked off in the Mekong Delta city of Can Tho on July 6 with 123 booths, as part of the cooperation activities to promote trade between Vietnamese and Thai enterprises.
The event attracted 73 companies offering various kinds of products such as food and beverages, healthcare products and cosmetics, household utensils, leather-made products, and jewellery and accessories.
Speaking at the opening ceremony, Thai Deputy Consul-General in Ho Chi Minh City Somrudee Poopornanake said trade between Vietnam and Thailand reached 16.6 billion USD in 2017, the highest level so far.
The Mini Thailand Week 2018 aims to increase bilateral relations and boost two-way trade to 20 billion USD by 2020, as set by the two countries' leaders.
The Director of the Can Tho Investment-Trade-Tourism Promotion Centre, Nguyen Khanh Tung, said the event, which will run until July 8, will create good opportunity for enterprises to explore trade and investment opportunities, as well as expand their business network in the south of Vietnam, especially the Mekong Delta.
According to the Asian-African Market Department under the Ministry of Industry and Trade, strong growth was seen in the Vietnam-Thailand trade revenue over the past years.
Last year, Vietnam mostly exported telephones and accessories, computers and electronic products, crude oil, transport vehicles, and spare parts to Thailand. Meanwhile, Thailand exported many agricultural products to Vietnam, especially fruit. In the first four months of this year, Vietnam imported 203 million USD worth of Thai fruit, up over 28 percent year-on-year.
Thai products are competitive due to their high quality and reasonable prices. Thai businesses have also been active in organising trade promotion activities and invested strongly in distribution channels in Vietnam.
Ha Nam province takes various measures to lure more investors
The northern province of Ha Nam has been striving to lure more investment with a series of measures, according to Nguyen Van Oang, Director of the provincial Department of Planning and Investment.
The provincial authorities have been regularly holding dialogues with local businesses to learn about and remove their problems. They have also initiated incentives and reclaimed idle land spaces from projects in breach of the Law on Investment and the Land Law.
At the same time, Ha Nam has diversified forms of investment promotion and actively called for investors, introducing them to local business opportunities. The province has been focusing on attracting foreign direct investment (FDI) firms and large domestic enterprises in projects in the supporting, and processing and manufacturing industries.
Priority has been also given to projects using environmentally-friendly and energy-saving technologies to prevent pollution and projects contributing greatly to the local budget.
Furthermore, the province has been working on enhancing the quality of services in its industrial parks (IP), as well as fast-tracking the implementation of key projects such as Tam Chuc tourism complex, Kim Bang Golf Course, Nam Cao University and a top-quality health service facility.
Infrastructure at the IPs has been improved – particularly with the construction of facilities for the livelihood of workers such as residential houses, hospitals, and schools – while support has been provided to companies in the IPs in terms of labour recruitment and legal consultancy.
According to the provincial Department of Planning and Investment, Ha Nam drew in 54 investment projects, including 22 FDI and 32 domestic ones, and approved capital rises in 19 other projects, in the first half of 2018. The projects have brought a total of 371 million USD in investment to the province.
To date, the province is home to 792 valid projects, including 229 FDI projects, with a total investment of 7.19 billion USD.
Dak Lak attracts 109.6 million USD in investment
The Central Highlands province of Dak Lak has attracted dozens of projects with a large amount of investment, thereby helping to foster the locality's socio-economic development, said a local official.
Since the beginning of 2018, the province has approved 31 projects with a total investment of 2,488 billion VND (around 109.6 million USD), up three projects and 104 percent in terms of capital as compared to the same period last year, said Vice Chairman of the provincial People's Committee Nguyen Tuan Ha.
The newly-approved projects mainly focus on industry, solar energy, wind power, agricultural-forestry product processing and tourism, he said.
In the recent past, Dak Lak has stepped up investment promotion by introducing its potential, investment opportunities and key projects at overseas and domestic conferences, and working directly with foreign investors.
The province has provided both domestic and foreign investors with updated information about the list of projects calling for investment and its investment environment as well as removing their difficulties and obstacles during the process of implementing projects.
In addition, Dak Lak has also publicised its investment incentives such as land rental reduction and exemption, and import tariff exemption for equipment, materials, transport vehicles and goods to serve projects in the province.
To draw more projects in the time ahead, the province plans to continue increasing investment promotion activities and working closely with ministries and sectors to grasp investment orientations and priorities of investors and donors.
Opportunities, challenges for accounting, auditing in Industry 4.0
Opportunities and challenges of the Fourth Industrial Revolution (Industry 4.0) for accounting and auditing sectors were spotlighted at a workshop in Hanoi on July 6.
Dang Van Thanh, Chairman of the Vietnam Association of Accountants and Auditors (VAA), said accounting is one of the fields taking the lead in information technology (IT) application. Big data technologies enable faster accounting practices and data access over a short period of time.
Pham Sy Danh, Chairman of the Vietnam Association of Certified Public Accountants (VACPA), cited the results of a VACPA survey which demonstrated that accounting and auditing businesses believe that the Industry 4.0 will greatly affect their sectors. They believed it would provide tools, helping them to not only improve service quality, but also expand their market to other countries thanks to ease of online communications.
According to the VACPA survey, the biggest challenges facing the sectors include the need for personnel with IT skills and the big financial investments. While it is more difficult to control accounting data, competition in the field is increasingly fierce.
Over the next three to ten years, smart systems and software are forecast to automate complicated processes like finalising financial agreements, and support outsourcing trends, the survey indicated.
Sharing experience from other countries, Narayanan Vaidyanathan, head of Business Insights at the London-based Association of Chartered Certified Accountants, said cloud computing is widely applied in accounting in many countries since it supports access to information from anywhere. It helps businesses boost the scale of their services regardless of whether their IT systems can keep up with the expansion.
He called on businesses to partner with prestigious cloud storage providers in order to steer clear of technological problems.
The Industry 4.0 does however pose some major security challenges, especially those regarding information about management accounting, payments, and investment activities. As such, it requires the financial system to be more responsible for the safety and privacy of accounting information, he added.
VAA Chairman Thanh said to capitalise on the advantages and mitigate any negative impacts from the Industry 4.0, it is necessary to reform accounting processes, from collecting to handling, to importing and exporting data.
Meanwhile, the risks for handling accounting data when the IT system is connected to the internet also need to be fully identified and evaluated, he noted.
Quang Binh looks to expand links with Singaporean partners
An investment promotion workshop was held in Singapore on July 6 to introduce the strengths, policies, and opportunities of the central province of Quang Binh to Singaporean investors.
Speaking at the event, Chairman of the provincial People's Committee Nguyen Huu Hoai gave participants details of Quang Binh's advantages and investment incentives in spearhead economic fields such as tourism, renewable energy, communications, and transport.
Hoai highlighted Quang Binh's 116km of coastline with many nice beaches. It has the World Natural Heritage Site Phong Nha-Ke Bang National Park, which covers 120,000ha of primeval forest and nearly 400 caves, including those ranked among the world's most magnificent caves, such as Son Doong, Phong Nha, and Thien Duong.
The locality is in a strategic position in the East-West Economic Corridor, serving as an important gateway for trade links between Vietnam and Laos, Thailand, Myanmar, and other countries in the region.
Quang Binh is now home to over 440 investment projects, including 23 foreign-invested projects with a total registered capital of 763 million USD, he noted.
The province will apply the highest incentive level for investment projects in desired fields, Hoai said, adding that it will also provide other support for enterprises related to land clearance, labour training, and infrastructure construction.
In his speech, President of the Singapore Manufacturing Federation (SMF) Douglas Foo praised Vietnam's socio-economic development achievements in recent years.
He said 2018 would mark an important milestone in the strategic cooperation between Singapore and Vietnam as the two countries are celebrating the 45th founding anniversary of diplomatic ties.
SMF will work to conduct more surveys and organise forums to promote the exchange of information between the two countries' enterprises, thus supporting Singaporean firms in expanding their investment in Vietnam's provinces and cities, including Quang Binh.
He expressed his belief that the memorandum of understanding on cooperation between the SMF and Quang Binh will enable Singaporean businesses and investors to further increase their investments in the province.
At the event, Quang Binh's officials signed MoUs on cooperation with the SMF, SOFOS Capital Management Pte Ltd, and Kinder World Education Group of Singapore.
Country's most modern poultry processing plant built in Thanh Hoa
Construction work started on the country's most modern poultry processing plant in the north central province of Thanh Hoa on July 6.
The 300 billion VND (nearly 13.1 million USD) Viet Avis plant in Hoang Quy commune, Hoang Hoa district, is invested by the Master Good group of Hungary and the local Phu Gia company. In the first phase, it will have a processing capacity of 2,500 chickens per hour.
The event was attended by Minister of Agriculture and Rural Development Nguyen Xuan Cuong and representatives from Thanh Hoa People's Committee and Hungary's Ministry of Agriculture.
From now to 2020, Master Good and Phu Gia companies will also invest in a chain of around 100 farms in 10 districts to supply chickens for the plant, which will export products to European countries.
According to Thanh Hoa's Department of Agriculture and Rural Development, the livestock sector in the province has developed strongly in recent years in both scale and product quality. Regarding poultry, the province currently has 18.3 million fowls, supplying 36,327 tonnes of meat per year.
The province is restructuring the livestock sector towards value chains with large-scale and hi-tech farms. It aims to have 23 million heads of poultry by 2020, producing 47,000 tonnes of meat (live weight) and 160.25 billion eggs.
Over 2.8 trillion VND raised from G-bonds
The State Treasury of Vietnam has recently raised 2.81 trillion VND (123.7 million USD) via an auction of Government bonds (G-bonds) held by the Hanoi Stock Exchange (HNX).
The auction had planned to sell 6 trillion VND (264.3 million USD) worth of G-bonds with a 5-year, 7-year, 10-year, 15-year, 20-year, and 30-year maturity.
As much as 200 billion VND (8.8 million USD) was mobilised from five-year bonds with an annual interest rate of 3.45 percent, 0.35 percent higher than that of the previous auction on June 20.
Ten-year bonds were sold for 1 trillion VND (44 million USD) with an annual yield rate of 4.4 percent, up 0.03 percent from that of the previous auction on June 27.
As for 15-year bonds, 110 billion VND (4.88 million USD) was raised at an interest rate of 4.7 percent per annum, equivalent to that of an auction on June 27.
Meanwhile, 20-year bonds raised 300 billion VND (13.2 million USD) at a yearly rate of 5.22 percent, marking a 0.02 percent increase from that of an auction on June 27.
Last year, Vietnam sold some 159.9 trillion VND, or 7.03 billion USD, worth of G-bonds with an average maturity of 13.52 years and annual interest averaging 6.07 percent, down 0.2 percentage points against 2016.
The interest rates of Government bonds have been on the rise lately, after a long period of decline throughout 2017 and the first four months of 2018.
Firms play crucial role in Hai Phong's industrial development: official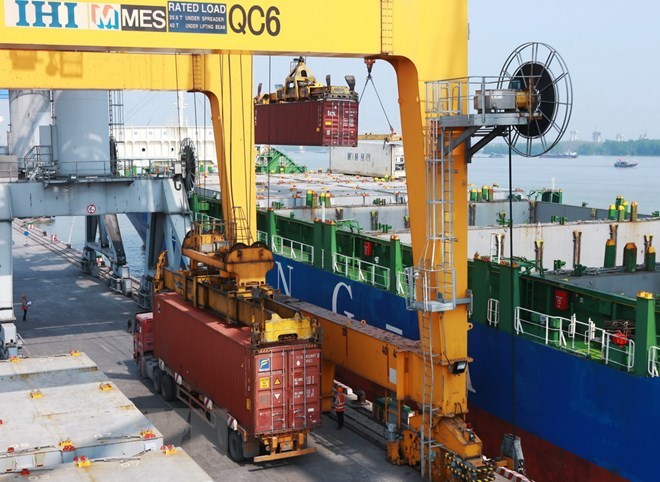 Enterprises in industrial parks and economic zones are important driving forces for industrial development in the northern port city of Hai Phong, a local official has said.
Chairman of the municipal People's Committee Nguyen Van Tung affirmed this during a conference on July 5, which aimed to review the investment attraction into the city's industrial parks and economic zones in the 2013-2018 period.
Over the last 25 years of development, the Hai Phong Economic Zone Authority (HEZA) lured 262 foreign direct investment (FDI) projects with a total capital of 12.3 billion USD, accounting for nearly 80 percent of the FDI poured into the city.
It also granted licences to 127 domestic projects worth over 97.3 trillion VND (4.3 billion USD).
Notably, a new wave of investment from Japan and the Republic of Korea was poured into Hai Phong from 2013-2018 with the total investment of 9 billion USD, which made up 73 percent of the total FDI attracted by the city in the last 25 years.
Also in the reviewed period, domestic investors injected over 70,000 VND in projects in the city, accounting for 70 percent of the city's total domestic investment.
Director of the Hai Phong Economic Zone Authority Pham Van Moi said enterprises in industrial parks and economic zones have respectively contributed over 60 percent and more than 70 percent of Hai Phong's industrial production value and export turnover, creating over 100,000 jobs for locals.
Their contribution has accounted for nearly 20 percent of the local budget collection, helping the city re-invest and improve its infrastructure system and social welfare.
With its efforts to improve investment and business environment and facilitate investors' operation in the city, Hai Phong's Provincial Competitiveness Index in 2017 ranked ninth among 63 provinces and cities nationwide, up 19 places compared to that in 2015. It has been also named among top 10 attractive investment destinations in Vietnam.
In recent years, the municipal authority has paid attention to developing and upgrading the transport infrastructure system to link the city with other northern localities.
The city plans to build passenger terminal 2 in Cat Bi International Airport, a number of transport routes, ports in the Hai Phong Port, other infrastructure facilities serving tourism, education, entertainment centres and urban areas.
Chairman Tung took the occasion to call on investors to help the city promote its image and introduce its investment environment to others.
More efforts will be done to accelerate administrative reform and enhance State management, thus swiftly addressing difficulties facing enterprises, especially those related to land clearance.
In the first two months of 2018, Hai Phong's industrial production index went up 20.61 percent year on year.
Its export revenue reached 1.14 billion USD, up 24.14 percent. Up to 16 million tonnes of cargo were handled at the Hai Phong Port, up 18.34 percent.
It contributed over 9.1 trillion VND (400 million USD) to the State budget.
Israeli city seeks partnership importing Bac Lieu's shrimps
A delegation from the Israeli city of Nazareth, led by its Deputy Mayor Youset Ayad, worked with authorities and toured shrimp farms in the Mekong Delta province of Bac Lieu on July 6, seeking partnership opportunities for importing shrimp.
At the working session, Chairman of the provincial People's Committee Duong Thanh Trung briefed the delegation on the strength and potential of the local industry.
Bac Lieu has a reputation for its agriculture, with its spearheaded economic sectors being aquatic farming and seafood processing for export, Trung said.
The province has more than 130,000ha of shrimp farms, each hectare annually yielding more than 170 million VND (7,403 USD) of profit on average. In early 2018, it began the construction of a high-tech agricultural park for shrimp farming, which spans 419ha across Hiep Thanh commune. The entire project costs 3.217 trillion VND (138.33 million USD), considered the biggest of its kind in Southeast Asia and a step towards turning Bac Lieu into the centre of Vietnam's shrimp industry.
The province also hopes to develop tourism development and calls for investment in the healthcare and private education sectors, the provincial leader added, mentioning the local potential for clean energies like wind and solar power.
Trung said he expects the field trip in Bac Lieu by the Israeli delegation will create favorable conditions for bilateral cooperation in the shrimp sector and other fields of common interest.
For his part, Youset Ayad said Nazareth city is looking for partnerships overseas and Bac Lieu in Vietnam is among its target destinations.
The delegation toured a number of local companies, which raise and process shrimps for export. They included the Viet Uc Bac Lieu JSC and Thien Phu Seafood Company.
Hanoi: Seminar on reforming State monopoly in network industries
The Central Institute for Economic Management (CIEM) and the Australia-Vietnam Economic Reform (Aus4Reform) Programme held a scientific seminar in Hanoi on July 6 on reforming State monopoly in network industries.
The event aims to help the Vietnamese Government achieve its goals of improving the business climate and shifting to a better market economy, bringing higher, more comprehensive, and better quality growth.
CIEM Director Nguyen Dinh Cung said the programme affords scientists, experts, managers, and policymakers along with the business circle a chance to present opinions on the field and suggest measures to continue the process of reform towards a healthy and fair business environment and improving Vietnam's competitiveness.
Participants suggested restructuring the economy in tandem with stepping up the reform of State-owned enterprises and narrowing the fields of State monopoly.
The power sector should ensure independence among manufacturing, transmission, distribution, and free price negotiations with customers; publicise their electricity price structure; and launch an independent supervisory agency for the sector.
Experts proposed continuing to restructure the Vietnam Railway Corporation, attracting private investment in railway services, and establishing an independent supervisory body.
Regarding aviation, they called for ensuring airlines' fair and equal access to airport infrastructure at reasonable costs, issuing a mechanism to manage airport management units, and reducing the Airport Corporation of Vietnam's monopoly over airports.
In the telecommunication sector, participants underscored the need to drastically equitise State-owned enterprises, especially the Vietnam Post and Telecommunication Group and MobiFone Corporation, while building a system to safeguard against possible monopolies.
The Australia-Vietnam Economic Reform (Aus4Reform) Programme is expected to benefit at least 1 million private firms by 2020, contributing to increasing the number of female-led enterprises, while also facilitating Australian investment in Vietnam thanks to a more competitive and transparent business environment.
An Giang earns 388.3 million USD from exports in H1
The Mekong Delta province of An Giang earned over 388.3 million USD from its exports in the first half of this year, up 10.5 percent year on year, said Director of the municipal Department of Industry and Trade Vo Nguyen Nam.
Major currency earners include rice, aquatic products, and apparel. Rice remains promising as firms have actively expanded their foothold in new and traditional markets such as the Philippines, Indonesia, and Bangladesh.
Rice exports surpassed 217,450 tonnes during the period, raking in 109.1 million USD, up 31.3 percent in volume and 43.2 percent in value. It was shipped to 35 countries, of which 13 in Asia, 10 in Africa, five in Europe, four in Oceania, and three in America.
More than 58,920 tonnes of frozen aquatic products were shipped abroad, earning 139.5 million USD, equivalent to 97.7 percent of the previous year's volume but up 22.3 percent in value.
This year, An Giang has provided support for its enterprises, regularly updating information about domestic and foreign markets while also ensuring power supply for manufacturing and legal support for firms.
It held seminars on the Comprehensive and Progressive Agreement for Trans-Pacific Partnership (CPTPP) for businesses, farmers, cooperatives, and officials.
The province has also piloted a system to trace the origins of fruits and vegetables, building schemes to develop rice, pork, and mango trademarks in Cho Moi district to improve the quality of local farm produce, thus meeting demands at home and abroad.
Vietfood Beverage-Propack expo to open in HCM City
Around 600 domestic and foreign businesses will take part in the VietFood, Beverage and Professional Packing Machines (VietFood & Beverage – ProPack) international exhibition in HCM City from August 8-11.
The annual event is part of trade promotion activities organised by the sector.
In 2015, around 250 businesses participated in the event, while 500 attended the event in 2017.
Major local brands such as Sabeco, Habeco, Tan Hiep Phat, Heineken, Golden Farm, Rang Dong Plastic and Duy Tan Plastic will be showcasing this year.
The four-day exhibition will include a wide range of sidelines activities, meetings and visits to factories and industrial zones to present businesses with information and trade opportunities.
According to the organising board, last year's event drew around 10,400 commercial visitors, most of whom were business owners, food and beverage companies, importers, distributors, retailers, and hotel and restaurant owners.
Foreign start-ups receive mentorship for Viet Nam entry
Six start-ups from Malaysia and Singapore connected with entrepreneurs in Viet Nam to receive mentorship in how to penetrate the local market and network at a programme organised by the Saigon Innovation Hub on Monday.
Nguyen Phi Van, chairwoman of SIHUB, said the programme to assist foreign start-ups in Viet Nam is part of its Runway to the World programme, a start-up exchange programme between Viet Nam and developed regions such as the US and Asia Pacific.
Its future plans involve global link-ups and further promotion of FDI start-ups in many countries around the world, she said.
"Start-ups should focus on a long-term, global vision from the beginning since it affects how businesses develop and strategies.
"If a business focuses solely on doing well in its own country first, its business structures and strategies may be so used to operating domestically that expanding globally may be harder in future if it decides to do so."
The three-month programme aims to help the foreign start-ups, most of which have created apps for various functions, understand and network in the Vietnamese market.
Hoh Hon Bing of Teleme, which has created a healthcare app, said Viet Nam presents a great opportunity with its growing educated middle class and mobile phone penetration.
Tran Hung Thien, general manager of GCOMM, a market research company, said Viet Nam is an attractive country for foreign investors with its high economic growth rate, a young population, affordable labour, and favourable policies.
Experts at the event also advised the start-ups to show a long-term commitment to their stakeholders and carefully research regulations related to taxes, imports and setting up businesses in the specific area they seek to set up.
Foreign condo buyers flock to Phu My Hung City Centre
In the first half of this year many foreigners bought housing at its projects, including new ones and ones under construction like Scenic Valley, Riverpark Premier, Nam Phuc Le Jardin, and Phu My Hung Midtown's second and third phases, it said.
For instance, over 20 per cent of Phu My Hung Midtown Project has been sold to foreigners, it said.
Late last week, when the company held the sales event of its new project, Urban Hill, more than a fifth of the 500 prospective buyers who turned up were foreigners.
Many foreigners have even bought Phu My Hung units on the secondary market, the corporation said, revealing that foreigners' buying has reached the maximum legally permitted level of 30 per cent at most of its housing projects. So Phu My Hung has now limited confirming transfer for foreigners.
At Urban Hill, before the sales event late last week, the company announced it would stop accepting applications from foreigners if their purchases reach 30 per cent.
When the sales event was held, over 500 customers turned up and 20 per cent of them were from the US, Africa, South Korea, China, and Taiwan.
At the sales event only 164 apartments were on sale. Within an hour 96 per cent were sold.
Within three weeks of the launch of the project Phu My Hung received over 600 applications and it allotted units to 500 buyers.
Over 500 customers turned up and 20 per cent of them were from the US, Africa, South Korea, China, and Taiwan.
Though there is a huge supply of housing in HCM City, foreigners only buy at projects developed by prestigious developers, and this makes sense, experts said.
This is the normal psychology of foreigners buying property in a strange country, they pointed out.
Besides, not all the apartment projects in the market can meet the foreign buyers' requirements, they said.
For foreigners, besides the developer's prestige, they also care for other factors like size, location and price and especial, the most important requirement is a good living environment, they said.
This is a major hurdle for developers seeking to attract foreign customers because few projects in the city can meet their demands like many amenities, a peaceful environment and modern infrastructure.
By meeting these demands, Phu My Hung City Centre has become the ideal spot for many foreigners who seek to settle down in the city.
One more reason for people to buy housing from Phu My Hung Development Corporation is its policy of determining buyers from the applications it gets.
Foreigners buying at Phu My Hung projects have revealed that when buying they worry about neighbours because of the differences in culture and lifestyle, and that is why they are delighted to know that the developer carefully identifies its customers when selling apartments.
Phu My Hung recently announced that to meet the demand from foreigners it plans to develop a new project in the Southside District of the Phu My Hung City Centre. The project will be named Happy Residence Premier, a deluxe version of the Happy Residence, which has been very successful in attracting foreigners.
Ceramics firm Viglacera sees profits up 4 per cent
State-owned glass and construction ceramic producer Viglacera plans to earn VND950 billion (US$41.65 million) in pre-tax profit in 2018, up 4 per cent year-on-year, the company announced in its annual shareholders' meeting on Friday in Ha Noi.
The company, whose stocks are traded on the Ha Noi Stock Exchange under the code VGC, aims to attain VND9.1 trillion in revenue, down slightly from the previous year's figure of nearly VND9.2 trillion, it revealed.
As for the parent company, VGC set a pre-tax profit growth target of over 11 per cent in 2018. It plans to keep the dividend payment ratio the same as in 2017, at 9.5 per cent.
In 2017, VGC's consolidated pre-tax profit was VND913.8 billion, equivalent to 108 per cent of the annual plan approved by the General Meeting of Shareholders, up 19 per cent compared to 2016. Of this, pre-tax profit earned by the parent company reached VND566.5 billion in 2017, fulfilling 115 per cent of the annual plan, up 28 per cent compared to 2016.
VGC's development investment plan in 2018 will focus on high-tech building materials, green projects and urban housing projects.
The company plans to set up Yen Phong Super White Float Glass Co Ltd in Yen Phong Industrial Park in the northern province of Bac Ninh. It plans to hold a 51 per cent stake in the company and invest in plant processing super white float glass, which is used for making solar panels, with a capacity of 650 tonnes per day.
The company is also preparing to invest in the expansion of Dong Van IV Industrial Zone in the northern province of Ha Nam.
Regarding the real estate segment, VGC will focus on workers' housing and social housing in industrial parks as well as resorts.
It is expected to invest in worker housing in the northern province of Bac Ninh, the southern provinces of Binh Duong and Ba Ria-Vung Tau and develop Van Hai Ecological Tourist Zone in the northern province of Quang Ninh.
In the field of overseas investment, Viglacera will continue to promote trade cooperation in joint venture investment projects to produce sanitary ware ceramic tiles.
It will boost the investment and development of Viglacera Industrial Park in Mariel Special Zone in Cuba. The company will also invest in hotels, resort villas and golf courses in Cuba, which, according to VGC, will open up many opportunities for Viglacera in Cuba.
In 2018, the government's plan to divest capital from Viglacera will create a fundamental change in State ownership— down to 36 per cent, and involvement of investors in corporate governance, contributing to the development of VGC.
VGC shares ended trading on Sunday down 4.2 per cent, settling at VND20,600 per share.
Viglacera was established in 1974 under the decision of the Ministry of Construction. In 2014, the company became equitised and changed its mode of operation with a charter capital of VND2.64 trillion.
The company specialises in construction and construction material and real estate trading. Viglacera aims to become a multinational company, operating mainly in standardised construction material manufacturing and real estate investment, with priorities given to industrial zones and residential areas.
Tiền Giang eco-tours exceed expectations
The number of Vietnamese and foreigners visiting eco-tourist destinations in Tiền Giang Province totalled more than 950,000 visitors in the first six months of the year, an increase of 12 per cent over the same period last year. — Photo sinhcafetravel.vn
The number of Vietnamese and foreigners visiting eco-tourist destinations in Tiền Giang Province was up 12 per cent over the same period last year, according to the province's Department of Culture, Sports and Tourism.
The province attracted more than 950,000 visitors, including 316,000 foreigners, in the first six months of the year.
It earned VNĐ567 billion (US$5 million), an increase of 26 per cent compared to the last season.
Travel agencies launched several special eco- tours at affordable prices to satisfy increasing demand among Vietnamese and foreigners.
Famous tourist sites include Cái Bè Floating Market in Cái Bè District, Đồng Tháp Mười Ecological Conservation Area in Tân Phước District and Tân Thành Beach in Gò Công Đông District.
Local hotels, lodges and restaurants are offering quality services at reasonable prices, while local authorities have worked with HCM City and neighbouring provinces of Cửu Long (Mekong) River Delta region to launch new river tours.
Three projects on infrastructure serving tourism at Thới Sơn Isle, Cái Bè and Tân Phú Đông are expected to be completed by 2020.