Drilling of second tunnel for HCM City metro completed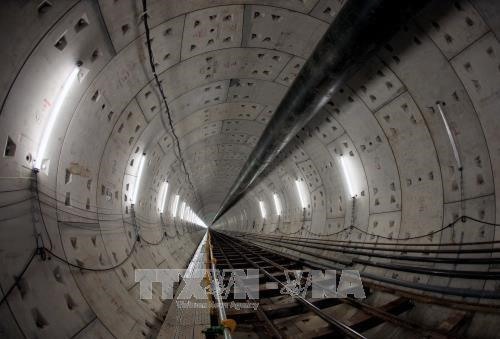 The drilling of a second tunnel at Ba Son Station on Metro Line No 1 in HCM City has been completed.
Tunnel-boring machines yesterday completed the drilling of the second tunnel of the Metro Line No.1 connecting HCM City's Bến Thành Terminal in District 1 with Suối Tiên Terminal in District 9 after more than five months of implementation, according to the HCM City Management Authority for Urban Railways.
The tunnel, with total length of 781 metres, width of 6.79 metres and depth of more than 12 metres, runs from Ba Son Station on District 1's Tôn Đức Thắng Street to the Municipal Theatre on Đồng Khởi Street in District 1.
According to the HCM City Management Authority for Urban Railways, because the tunnel's depth is lower than the first one, more careful drilling was required.
Strict monitoring to adjust the machine's operation parameters during the drilling process were necessary, the authority said.
After drilling the two tunnels, the main builder of the tunnel project, Japan's Shimizu-Meada Joint Operation, will continue construction on the western tunnel, and also install rails, signal systems and drainage for both tunnels.
Construction on Metro Line No 1 began in August 2014. It is expected to open by 2020.
The line, which has a total length of 19.7 kilometres, has 2.6 kilometres of underground passage.
Around 54 per cent of construction on Metro Line No 1 has been completed.
Total capital after adjustment for the project has reached US$2.49 billion.
Court delays trial in deforestation case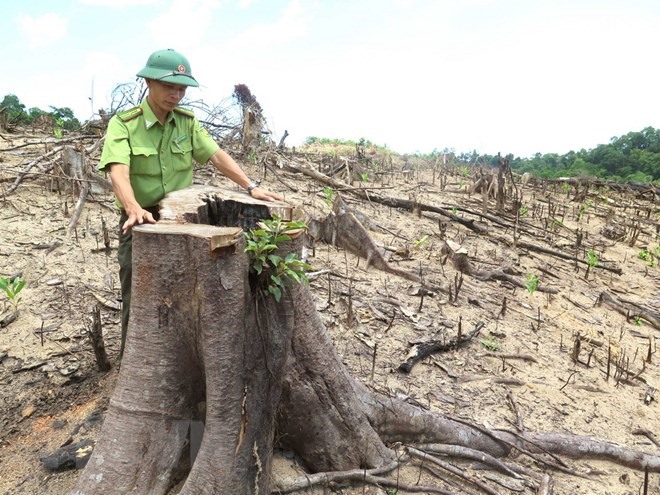 A large tree is chopped by loggers in central Bình Định Province.
The People's Court of central Bình Định Province on Thursday delayed the first-instance trial in a large-scale deforestation case in An Lão District last year.
More than 64ha of forest were chopped down.
Nine defendants were required to be present at the court for hearing, but most of them did not turn up.
After considering the opinion of the People's Procuracy, participating lawyers and defendants, the judging council decided to delay the trial.
According to the indictment of the provincial People's Procuracy, in July 2017, Lê Văn Thiệt, general director of Thương Thảo Trading and Investment Joint Stock Company, directed Nguyễn Văn Ri, a company official, to cut down trees in zone 1 of An Hưng Commune for planting acacia trees.
Ri hired workers to get the work done, destroying 37.5ha of two forest areas.
Thiệt widened the roads and set up camps to make it easier for the workers and to transport timber to the company.
Seven other defendants, who lived in Hoài Nhơn District's Hoài Sơn Commune, hired workers and cut down trees in 27ha of forests in An Hưng District.
Damages are estimated at VNĐ4.79 billion (over US$2 million).
Deputy Prime Minister Trương Hòa Bình asked the Bình Định People's Committee to investigate the case after the incident was reported by the Việt Nam News Agency in September 2017.
Flashfloods leave one missing in Dien Bien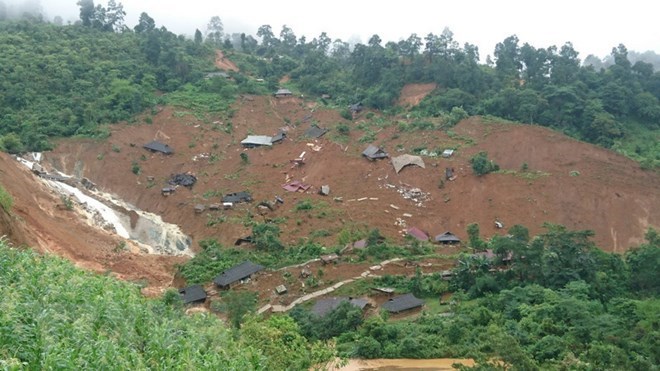 Flashfloods swept away a local on June 27 in Muong Nhe commune, Muong Nhe district of the northern province of Dien Bien, while destroying many houses and massive areas of crop.
According to the Steering Committee for Natural Disaster Prevention, Search and Rescue of Dien Bien, torrential rains from June 23-27 caused floods in the locality, damaging 25 houses and 10 hectares of crop.
About 500 square metres of aquatic farm was swept away, while more than 60 heads of livestock were drowned.
All equipment of the kindergarten of Nam Vi commune in Muong Nhe district was swept away. Floods also destroyed a primary school in Sen Thuong commune of Muong Nhe district.
Many suspension bridges, irrigation dams and canals in the district were seriously damaged, while travel in Muong Nhe and Tua Chua districts has been difficult due ot the damage to roads.
Meanwhile, floods ruined 11 middle-voltage power poles and 38 low-voltage poles, causing power loss in a massive area spanning Muong Nhe, Dien Bien Dong and Tuan Giao districts.
On June 25, 11 transformer stations were damaged, along with a 35kV transmission line, leading to power disruption of more than 900 households. Power supply is expected to resume on July 4.
On June 28, National Assembly Vic Chairman Phung Quoc Hien led a working team to the neighbouring province of Lai Chau to direct the settlement of flood consequences and visit victims' families.
Lai Chau has been seriously hit by flood and landslides, with heavy losses in both human life and property.
By 7:00 on June 28, the province reported 16 deaths and nine people missing.-
Fourth International Day of Yoga comes to Gia Lai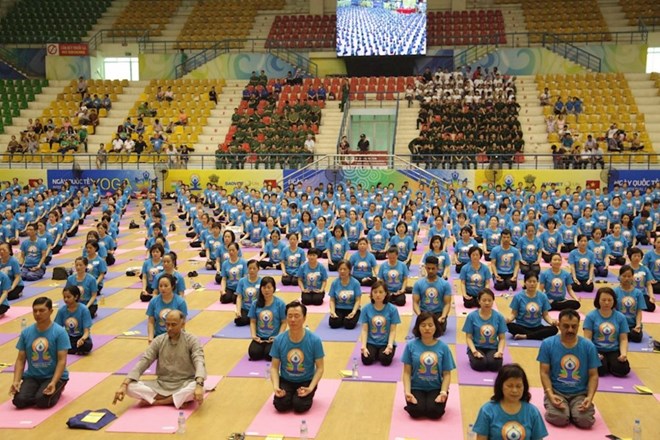 The 4th International Day of Yoga (IDY) took place in Plaiku city, the Central Highlands province of Kon Tum on June 28, with the participation of nearly 200 people.
The event was jointly organised by the provincial Department of Culture, Sports and Tourism and the Indian Consulate General in Ho Chi Minh City.
The event of this kind was held in succession from June 16 - July 15, 2018 in 11 provinces and cities of Vietnam, including HCM City, Hanoi, Da Nang, Nha Trang, Dong Nai, Can Tho, Dak Lak, Tien Giang, Vinh Phuc, Kien Giang and Gia Lai.
The IDY is to honour the 5,000-year-old physical, mental and spiritual practice originating in India, which aims to transform both body and mind.
It helps those who practice yoga improve their health and life quality.
Project helps ensure traffic safety at schools in Gia Lai
The Fondation Botnar and the Global Road Safety Partnership (GRSP) have jointly launched a project on traffic safety in two elementary schools in the Central Highlands province of Gia Lai.
The targeted schools are Phan Dang Luu Elementary School in Bien Ho commune and Nguyen Luong Bang Elementary School in Thang Loi Ward, Pleiku city.
A conference on the implementation of the project was held by Gia Lai province's Traffic Safety Board and the Asia Injury Prevention Foundation (AIPF) on June 28.
The project aims to ensure traffic safety around schools in Pleiku city by upgrading traffic infrastructure and improving public awareness of this issue.
Pleiku has 31 elementary schools with nearly 24,000 pupils, who are dropped off and picked up by their parents. Traffic jams often occur at school gates as the schools are located on main streets.
According to Vietnam's National Traffic Safety Committee, traffic accidents kill about 1.3 million people and injure 50 million others each year, causing losses worth 500 billion USD.
The Vietnam-Germany Transport Research Centre reported that the number of child fatalities in accidents in Vietnam was 20 per 100,000, nearly three times higher than other countries in the Association of
Southeast Asian Nations (ASEAN) and more than four times higher than developed countries.
Against the back drop, the committee has selected the theme of "Traffic safety for children" for the 2018 Traffic Safety Year.
Northern mountainous provinces seek to improve PCI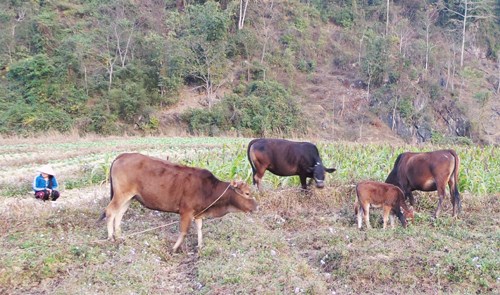 President of the Vietnam Chamber of Commerce and Industry (VCCI) Vu Tien Loc has urged northern mountainous provinces to review their economic management, with priorities given to businesses in socio-economic development.
Speaking at a workshop in Cao Bang province on June 28, which saw the participation of representatives from 14 northern mountainous provinces, the official pointed out the fact that these localities have been left behind in socio-economic development and investment environment quality.
Of note, the five provinces with the lowest provincial competitiveness index (PCI) belong to the region, Loc said.
Given this, he asked the provinces to improve their competitiveness, build department and district competitiveness index, and pay more attention to the quality of investment promotion.
In this regard, Dau Anh Tuan, head of the VCCI's Legal Department, said the provinces should push forward the reform of enterprise establishment procedures as well as administrative reform, especially land-related procedures, and pay more heed to micro-and small-sized enterprises.
Other delegates at the workshop suggested implementing open dialogues to remove difficulties facing enterprises, and boosting regional connectivity in business environment development.
Vietnam, RoK intensify IT cooperation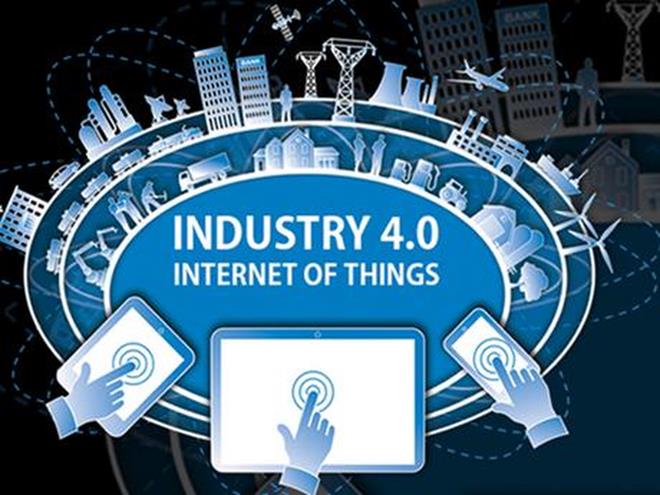 The Vietnam Internet Association has signed a cooperation agreement with the Korea Federation of ICT Organisations, aiming to develop bilateral relations and create a forum for businesses of Vietnam and the Republic of Korea (RoK) to transfer technologies, services and industries relating to ICT.
Accordingly, the two sides will exchange market information, support Vietnamese and RoK companies to participate in trade fairs, and organise workshops and training courses on ICT.
The RoK is pursuing the I-Korea 4.0 policy, which, the Presidential Committee on the Fourth Industrial Revolution said, will secure a new growth engine for the country by expanding industries' productiveness and competitiveness under the idea of "intelligence, innovation, inclusiveness, and interaction," according to the Yonhap News Agency.
Vietnam is the RoK's third largest trade partner. Of note, the bilateral cooperation in the IT sector is thriving.
Vietnam has more than 58 million internet users out of its 90 million people and over 125 million mobile subscribers.
Vietnam promotes ITC technologies at CommunicAsia 2018
The Vietnamese space at the CommunicAsia 2018
Vietnam ran a national space spanning 100sq.m at Asia's largest telecommunications exhibition CommunicAsia 2018, which took place in Singapore between June 26 and 28.
Themed "Connect the Future", the exhibition attracted the participation of about 2,000 businesses from 50 countries and territories.
The Vietnamese space, organised by the Ministry of Information and Communications, gathered representatives from the Vietnam Association for Information Processing, Vietnam Post and Telecommunication (VNPT), MobiFone, and MQ ICT Solutions. It displayed the latest information and communications technology developed by Vietnamese engineers.
The VNPT introduced a series of Internet of Thing (IoT) solutions for the management of smart city, smart tourism, and smart agriculture, among others, based on the IoT Connected Platform. The platform was developed by the VNPT Technology and helped its developer won a Gold Stevie Award in 2018.
MobiFone, meanwhile , showcased its four IT solutions, including the journey tracker mTracker and distribution channel management mSale.
CommunicAsia, together with BroadcastAsia, and the new NXTAsia, form ConnecTechAsia – the region's answer to the converging worlds of Telecommunications, Broadcasting and Emerging Technologies.
The organiser said the event drew more than 30,000 visitors during its 3-day course.
Vietnamese students graduate from agricultural programme in Israel
A cow breeding farm in Israel
More than 130 students, including 50 Vietnamese nationals, on June 28 graduated from an international agricultural programme at the Sedot Negev Agriculture Centre in the south of Israel.
At the graduation ceremony, Shlomo Nezer, manager of the centre's training programme, noted that the course, the fourth of its kind, was designed for students from Asia and Africa.
Due to the excellent performance of Vietnamese students, the centre decided to increase the number of Vietnamese attending the following course to 65, he said.
Meanwhile, Khuat Van Quyen, First Secretary of the Vietnamese Embassy in Israel, affirmed that the 11-month training course gave the students an insight into the modern agriculture of Israel.
He expressed his hope that the Vietnamese graduates, will use their knowledge acquired in Israel con contribute to agriculture development in their homeland.
Professor Yiftach, director of the Katif Research Centre under the Sedot Negev Agriculture Centre, told Vietnam News Agency that many Israeli farm owners want to recruit Vietnamese students due to their industriousness and creativeness.
During their stay in Israel, the students also have opportunities to practice English, and receive a minimum stipend of 1,000 USD per month excluding tax and accommodation fees.
Currently, there are four Israeli centres offering training for Vietnamese students, including AICAT Arava, Ramat Negev, Sdot Negev and Agrostudies.
Photo contest on sea and islands launched
A photo contest themed 'Homeland's sea and islands' was launched on June 28, aiming to introduce and promote the role, potentiality, and beauty of the seas and islands of Vietnam to domestic and international art lovers.
The event was co-organised by the Central Committee's Propaganda and Training Department, the Ministry of Culture, Sports and Tourism and the Vietnam Association of Photographic Artists.
The competition is open to Vietnamese people and foreigners working and living in Vietnam from all ages. Participants are encouraged to submit photos under specific topics, including the beauty of nature, people in the sea, islands of Vietnam; life moments, daily activities, customs, the habits and cultures of coastal people in Vietnam; photos of visitor's experiences with local people on sea and islands; protecting the security, order, safety and sovereignty of the sea and islands of the Vietnamese armed forces; praising outstanding individuals; economic activities and images showing the friendship cooperation of Vietnam and other countries in the East Sea; cultural works, artforms, festivals in the sea and islands of Vietnam.
Contestants can submit their images through the website: www.anhnghethuatbiendao2018.com. The deadline for applications is midnight on August 31, 2018.
There is one first prize worth VND15 million, one second prize worth VND10 million, one third prize worth VND7 million, and ten consolation prizes.
International eye hospital resort opens in Bắc Giang
The view of the hospital. — Photo Vietnamplus
An international eye hospital was put into operation in northern Bắc Giang Province on Thursday.
The DND hospital covers an area of some 10,000sq.m in Dĩnh Kế Ward, Bắc Giang City.
Combining the high-end resort model with hospital, DND is the first international standard hospital in the province. Along with its high-tech equipment and qualified staff, DND provides a variety of choices for high-quality medical service to the locals.
The elements of a resort would also be included such as biological gardens, lakes, and a Japanese style architecture, ready to serve thousands of patients every year.
Lương Ngọc Khuê, head of the ministry's Medical Examination and Treatment Department, said the hospital with its equipment and staff was expected to satisfy the increasing demand of the people for health examination and treatment.
Raising the quality of medical services is also the goal of the ministry to better serve patients, according to Khuê.
On the occasion of the opening ceremony, the hospital plans to provide free cataract surgeries for 150 poor and disadvantaged patients from Bắc Giang, Bắc Ninh and Lạng Sơn provinces.
Trà Vinh farmers grow mangrove forests to breed shrimp, other species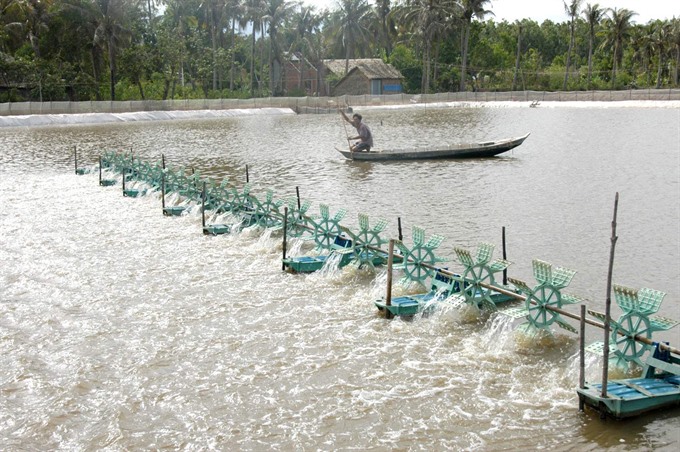 A shrimp pond belonging to a local resident in the southern province of Trà Vinh.
Farmers in coastal Trà Vinh have planted more than 4,000ha of mangrove forests to breed shrimp and other aquatic species, according to the province Department of Agriculture and Rural Development.
They are mostly in Duyên Hải, Cầu Ngang, and Châu Thành districts and Duyên Hải Town.
The model of growing mangrove forests and breeding aquatic species in them is highly sustainable since it protects the environment amid the ravages caused by climate change, according to the department.
Besides it involves little investment and protects the shrimp from disease outbreaks, according to local authorities.
Huỳnh Văn Phong, who has 4ha of land in Duyên Hải Town, said he grew forests on 2ha to breed aquatic species.
He raises 50,000 black tiger shrimp and 6,000 mud crabs every year through extensive farming and earns a profit of more than VNĐ200 million (US$8,850), he said.
He has to spend money only on buying shrimp and crabs fry for breeding, and nothing on their food since they subsist on what they find in the forest, he said.
Phong also breeds blood cockles and mud clams in the submerged forest and earns dozens of million of đồng a year.
Phạm Thị Hồng Diễm, deputy head of the Duyên Hải District Agriculture and Rural Development Bureau, said the industrial shrimp farming model yields high profits but involves high costs for breeding facilities unlike the mangrove-shrimp model.
Besides, the risks of the environmental pollution and disease outbreaks are high, she said.
Duyên Hải District has more than 8,500ha of shrimp farms, according to the bureau, with the shrimp – forest model accounting for nearly 60 per cent.
The bureau plans to petition the district People's Committee and province People's Committee to help establish a value chain to supply organic shrimp to the market.
The chain will help farmers increase their profits, sustain the shrimp – forest model, protect the environment and provide the market with clean shrimp.
The Cửu Long (Mekong) Delta province has more than 9,000ha of forests, including more than 4,000ha submerged forests grown by farmers, according to the department.
Trà Vinh farmers raise brackish shrimp on a total area of 24,000ha and harvest 37,000 tonnes a year, according to the department.
Its first high-tech shrimp breeding centre has been supplying quality fry to the market since March.
The centre, owned by the Thông Thuận Group, has already supplied more than 250 million shrimp fry, mostly white-legged shrimp, to farmers in Trà Vinh and other delta provinces.
Trần Trung Hiền, director of the department, said the centre has a capacity of more than 5.5 billion white-legged shrimp, black-tiger shrimp and blue-legged prawn fry a year.
It would help ensure supply of quality shrimp fry for farming, he said.
Trà Vinh has bred 1.35 billion black tiger shrimp fry and 3.1 billion white-legged shrimp fry so far this year.
It has 72 other breeding establishments that can supply around 1 billion black-tiger shrimp fry annually.
Electricity supply resumes on Cô Tô Island
Electricity workers fix the power line on Cô Tô island.
Electricity supply was resumed on Cô Tô island in northern QuảngNinh Province on Friday after the power line was struck by lightning earlier this month.
The power line was damaged by heavy rains and lighting on June 18, causing power loss to Cô Tô and five other communes. The local electricity department had mobilised divers and various means to replace the damaged submarine cables.
However, the local authorities have warned tourists to limit their visit to the island for now due to rough seas and water shortage. Tourists to CôTô island are advised to have a backup plan in case they get stuck on the island.
From June 24 to 26, 5,500 tourists were stranded on the island due to rough seas. The Quảng Ninh Inland Waterways Port Authority had to ban ships from leaving the port.
During the peak season in summer, Cô Tô island receives 7,000-10,000 tourists per day.
Binh Dinh strives to deal with EU "yellow card"
The fishery sector of central Binh Dinh province has employed solutions to prevent local fishermen from violating waters of regional countries, helping deal with the "yellow card" issued by the European Commission (EC), a provincial official has said.
Tran Van Phuc, Deputy Director of the provincial Department of Agriculture and Rural Development, said local agencies have increased inspections of fishing activities at the three largest ports of Quy Nhon, De Gi and Tam Quan.
Over the past three months, up to 5,896 fishing boats and more than 20,000 tonnes of seafood were monitored by the provincial Department of Agriculture and Rural Development.
Phuc said captains have to present relevant documents to competent agencies, inform them about where they will fish before setting sail. They also have inform agencies of their return to port at least an hour before docking.
Local fishermen have committed to not violating foreign waters while fishing. Training courses have also been held to raise their awareness of the "yellow card" warning.
Those who violate the commitments could get administrative fines, no longer receive support from the Government and have fishing licenses revoked for six months.
The European Commission has noted Vietnam's efforts in addressing illegal, unreported and unregulated (or IUU) fishing and its inspectors will return to Vietnam in January next year to review progress in addressing its 'yellow card' warning.
The Ministry of Agriculture and Rural Development said despite considerable achievements, Vietnam still struggles with IUU, especially in controlling fishing activities and origin of fishing catches.
Vietnamese authorities have admitted that the country lacks the budget to fit all fishing vessels with proper tracking equipment. They also said that despite the country's integration of the EC's recommendations into its 2017 fisheries law, regulations are lacking at local level.
The EC issued the "yellow card" against Vietnamese aquaculture products on October 23 last year.
Vietnam Red Cross sends more aid to flood victims
Members of the Vietnam Red Cross Society present aid to flood victims in Sin Ho district of Lai Chau province
The Vietnam Red Cross Society (VRCS) has sent the second batch of urgent aid worth over 870 million VND (37,900 USD) to victims of recent floods and landslides in the two northern mountainous provinces of Lai Chau and Ha Giang.
Accordingly, the organisation offered 210 million VND in cash for 70 families whose houses were swept away or collapsed, along with 240 boxes of goods and 600 personal hygiene kits.
Earlier on June 25, the VRCS presented assistance worth 250 million VND to families of victims who were dead or injured during the floods in the two provinces.
According to the Central Steering Committee for Natural Disaster Prevention and Control, as of June 28 morning, the death toll in floods and landslides triggered by torrential rains in northern mountainous provinces on June 23-26 reached 23, while 10 others went missing.
In Lai Chau alone, 16 people were killed, nine went missing and 15 were injured.
Total economic losses are estimated to reach about 458.7 billion VND (19.9 million USD), with Lai Chau being the hardest hit with damages amounting to 338 billion VND.
People in Lai Chau province have continued to receive support from organisations and agencies to overcome losses in recent floods and landslides.
Lai Chau to date has received about 2.3 billion VND from donors across the country. Of the amount, one billion VND came from Ho Chi Minh City, 300 million VND from the Vietnam Bank for Agriculture and Rural Development (Agribank). Dien Bien and Son La provinces also offered 200 million VND each.
The province has decided to present 35 million VND for each family losing their home and 15 million VND for each household whose house was damaged.
The Vietnam Fatherland Front chapter in Lai Chau and local authorities are responsible for the prompt distribution of the aid to people in need.
Quang Ngai: Exhibition on Ly Son's sea and islands opens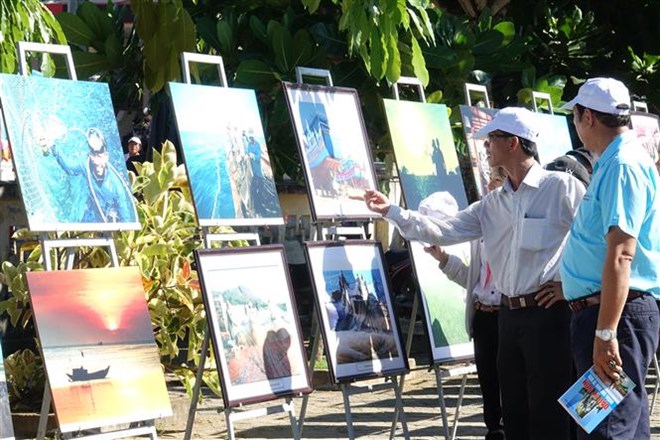 Visitors look at photos of the exhibition
An exhibition entitled "Ly Son - Sea and Island Culture Heritage" opened in Ly Son district of the central province of Quang Ngai on June 29 as part of the first Ly Son Culture - Tourism Week.
On showcase are about 80 images and 50 exhibits and documents introducing Ly Son's geological characteristics and history, along with locals' daily life and their activities to protect the country's sea and island sovereignty.
Using the digital 3D technology, the exhibition also displays maps and documents on Vietnam's Hoang Sa (Paracel) and Truong Sa (Spratly) archipelagoes. The maps and documents are seen as historical and legal evidence proving Vietnamese sovereignty over the islands.
Vice Chairman of the district People's Committee Le Van Ninh said the event aims to introduce Ly Son's traditional cultural values, festivals and beautiful landscapes to both locals and foreign tourists.
In addition, it also proves Vietnam's sovereignty over Hoang Sa and Truong Sa archipelagoes as well as raises public awareness of protecting the national sovereignty over the islands, he added.
The exhibition and the Ly Son Culture - Tourism Week will run until July 2.
Phu Quoc island invests in six power works
The Southern Power Corporation of the Electricity of Vietnam (EVN SPC) is investing in building six new power works in Phu Quoc island district of the Mekong Delta province of Kien Giang.
With total investment worth 3.3 trillion VND (143.7 million USD), those projects are designed to ensure constant and stable electricity supply for the island's socio-economic development.
They include two 110kV transformer stations of South Phu Quoc and North Phu Quoc, which is being built at a cost of 61.2 billion VND and 71 billion VND, respectively.
Some 156 billion VND has been spent on a 110 kV Phu Quoc switching station, while the remaining has been allocated for construction of two 110 kV power lines and a 220 kV line connecting Kien Binh commune of Kien Luong district with Phu Quoc.
Director of the SPC Project Management Board Vo Quoc Tuan said the 110kV power works are expected to become operational within this year.
Chairman of the provincial People's Committee Pham Vu Hong has instructed Phu Quoc authorities and the SPC to step up communications to help local residents understand benefits of the power works and devise suitable compensation and land clearance plans.
Kien Giang aims to mobilise 9.5 billion USD for socio-economic development by 2020 and 45 billion USD by 2030.
The adjusted target was recently approved by the Prime Minister as part of a master plan to 2020 and towards 2030 for the province.
The province targets becoming a well-developed locality and a transportation and tourism service destination in the Mekong Delta, and a development hub of the southern key economic region.
It aims for an average Gross Regional Domestic Product (GRDP) of 7.5-8 percent per year by 2020.
Large-scale fields yield higher profits for farmers in Ninh Thuan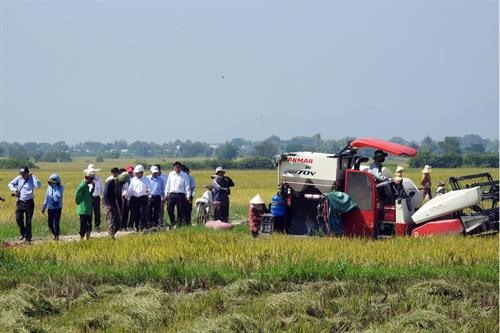 People visit a large-scale rice field that produces rice seeds for cultivation in Ninh Thuận Province's Ninh Phước District.
Farmers in the south-central province of Ninh Thuận are planting more rice, corn, sugarcane and other crops on large-scale fields to raise incomes.
As many as 103 ethnic Chăm households, who are part of the Phước Hậu Agricultural Services Co-operative, planted TH 41 rice seeds last year on the province's first large-scale field, which covers 56 ha in Ninh Phước District.
Under the model, the households must use certified or quality seeds and reduce the use of seed, fertilisers, herbicides, irrigation water and post-harvest losses.
In the first crop produced on the large-scale field, the households harvested more than 8 tonnes of rice seeds per hectare, up 2.5 tonnes compared to normal fields.
The Nha Hố Seed Joint-Stock Company signed a contract with the co-operative to buy all output of the large–scale field.
Quảng Đại Hoàng, chairman of the Phước Hậu Agricultural Services Co-operative, said that many households registered to expand the large–scale field to 100ha for the 2017-2018 winter – spring rice crop.
"The success of the model has changed the outdated farming habits of Chăm households here," he said.
The techniques of sowing rice seeds in lines and using fewer seeds helped farmers save 150-200 kilos of rice seeds per hectare compared to traditional sowing techniques, he said.
The planting of the same variety of rice seeds and the use of the same cultivation schedule for the large–scale field had improved productivity and reduced production costs.
In the 2017-2018 winter-spring field, the province developed an additional nine large-scale fields with a total area of 986ha.
Of the figure, Ninh Phước had six large-scale fields, producing rice and corn seeds for cultivation and asparagus.
The Phước An Agricultural Service Co-operative in Ninh Phước's Phước Vinh Commune is producing hybrid corn seeds for cultivation on an 80ha large-scale field.
The co-operative's members have made a profit of VNĐ40-50 million (US$1,760 – 2,200) per hectare a crop, up VNĐ29 – 33 million compared to planting corn for consumption.
Lê Phúc Hoa, director of the Phước An Agricultural Service Co-operative, said the co-operative focused on guaranteeing an outlet for its members and supplying material inputs for them.
The co-operative has worked with companies to expand cultivating areas and ensure outlets for members, he said.
Trương Thịnh, who participated in a large-scale rice field in the 2017-18 winter-spring crop, said his 3ha rice field had a yield of nearly 9 tonnes of ML 48 paddy per hectare, up nearly 500 kilos per hectare against the 2016-17 winter-spring crop.
He earned a profit of VNĐ20 million per hectare. "With high profits, many farmers will invest in expanding large-scale rice fields in the summer-autumn crop," he said.
Nguyễn Hữu Đức, chairman of the Ninh Phước District People's Committee, said the model of large-scale fields had been used for three crops with positive results.
The area of large-scale fields had increased after each crop.
The model eliminated outdated farming techniques and small-scale production, increased links among farmers, and reduced production costs, he said.
Ninh Phước District plans to increase the area of large-scale rice fields to 766ha this year, and encourage farmers to plant corn and asparagus by 2020.
This year, Ninh Thuận plans to develop 14 large-scale fields with a total of 1,424ha.
Local authorities have helped farmers take part in large-scale fields, including a 180ha large-scale sugarcane field in Ninh Sơn District and a 30ha large-scale grape field in Ninh Hải District.
The provincial People's Committee has told agencies to support co-operatives and stakeholders who participate in large-scale fields.
The dry season lasts up to nine months in Ninh Thuận, which has the least rainfall of any area in the country.
Mainstream media remains key platform in digital era: experts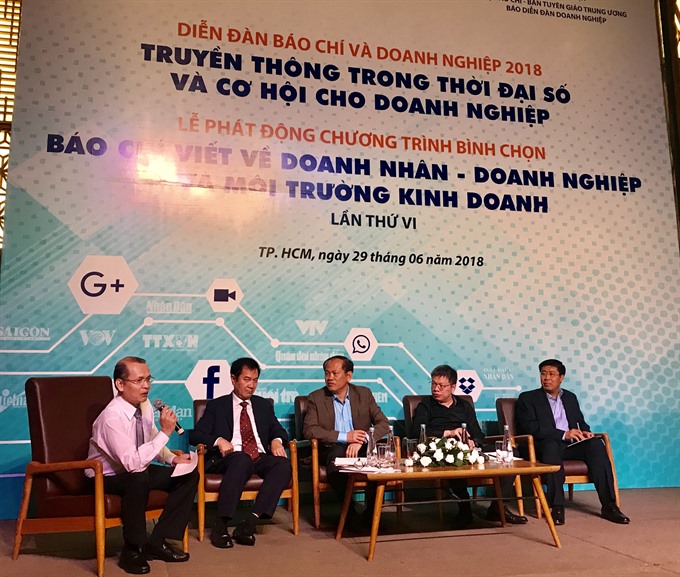 A panel at the forum "Media in the Digital Age and Opportunities for Enterprises" held yesterday in HCM City.
Though new media platforms such as social media have become increasingly popular, mainstream media remains the major channel to promote the growing business community in Việt Nam, speakers said at a forum held yesterday in HCM City.
Vũ Tiến Lộc, chairman of the Việt Nam Chamber of Commerce and Industry (VCCI), said "A country's prosperity is reflected through its economy with businesspeople playing an important role, which should be a key focus of media coverage."
Speaking at the forum "Media in the Digital Age and Opportunities for Enterprises", Lộc noted that media products today should be shorter, faster and easier to understand, and have more visual appeal.
"In the context of fake news, the media should reflect multi-dimensional information in an objective, accurate, honest and timely manner," he said. "More in-depth analysis of business activities and investment should be produced to promote the business community, which still faces challenges."
Vũ Đình Thường, head of the Journalism and Publishing Department of the Party Central Committee's Commission for Publicity and Education , said: "The press and business community should stand together for a better growing business community."
"Social media is now a popular platform with both positive and negative effects," he said, adding that inaccurate information and fake news could cause serious consequences to enterprises.
"Journalists need to continue renewing and exerting more efforts to keep their role and position in guiding public opinion," he said.
Dr Phạm Hải Chung, lecturer and researcher at the Academy of Journalism and Communication, said that digitalised information was challenging traditional news concepts.
"However, even though anyone with a smartphone can be a citizen journalist, the mainstream media will still play the objective role of a third party that can verify sources," she told Việt Nam News.
Lê Quốc Vinh, chairman of Le Group, said the fight against false information or fake news had become increasingly important.
"The mainstream media must create trust among the public," he said, adding that the content and accuracy of the information would be key to the continued existence and prestige of a newspaper.
According to Reuters 2018's Digital News Report, the biggest challenge of press agencies is not only pressure to rush in the digital age, but also the loss of trust of readers.
Readers' habits are changing and moving from traditional media to digital media, including social media.
With a strong force of nearly 850 media agencies and more than 18,000 reporters with press cards, and a Việt Nam Journalists' Association with more than 22,000 members, the Vietnamese press has become a pioneer in the ideology battlefield.
The forum's organiser, Business Forum newspaper, plans to offer awards to journalists for the best articles about the businesses community in Việt Nam.
Submitted articles will be about profiles of innovative businesspeople or Government policies.
The forum was attended by representatives of newspapers' leaders and enterprises in the city.
Flood relief work underway
Police and army forces were working together to search for four people who were still missing after a landslide at Noong Hẻo in Lai Châu Province's Sìn Hồ District.
Flood recovery work is underway in the northern provinces of Lai Châu, Hà Giang, Lào Cai and Điện Biên after days of torrential rain claimed lives and destroyed property.
Local authorities have mobilised all forces and vehicles with priority given to find people who are still missing and support people in repairing their houses and resuming production.
In Lai Châu Province, efforts were being made to promptly relocate households in areas at risk of flash floods and landslides. By 12pm on Friday, 233 households had been evacuated to safer areas.
Police and army forces were working together to search for nine people who were still missing. The incident happened in a remote area and it was difficult for rescuers to access.
Meanwhile, workers were striving to clear the road so that traffic could resume on all routes.
The province was trying to provide food and water for 20 households in the Sà Dề Phìn Commune in Sìn Hồ District, which are isolated due to a landslide.
Lai Châu Province is considered the hardest-hit locality with 16 people killed and nine missing in the floods.
As many as 452 houses in the province have been reported either damaged or swept away. Over 1,000 ha of rice and maize cultivation have been destroyed.
Flood recovery work was also underway in Hà Giang Province which suffered VNĐ122 billion (US$5.3 million) in damage from the floods.
On Thursday night, the provincial Party Committee held a meeting with the province's Steering Committee for Natural Disaster Prevention, Search and Rescue to discuss measures to direct flood-relief work.
At the meeting, Triệu Tài Vinh, Hà Giang Province's Party Secretary, asked local authorities to calculate the damage and adopt measures to help affected victims stabilize their lives.
Localities were requested to provide assistance of VNĐ6 million per family of each person killed in the floods and VNĐ20 million for households that lost their homes to the floods.
In the Quản Bạ District, police forces and civil servants were mobilised to help local residents rebuild their houses and return their lives to normal.
Competent agencies were ordered to collaborate with communes in arranging housing for families whose houses were displaced or lie in landslide-prone areas.
Quản Bạ district authorities also instructed local authorities to disseminate information to warn people who are living in places where there is a high risk of landslides and flash floods so that they will be vigilant and take appropriate measures in case they face a bad situation.
According to the latest report of the Central Steering Committee on Natural Disaster Prevention and Control, flash floods have killed 23 people and left 11 missing in northern mountainous provinces, mostly in Hà Giang, Lai Châu, Lào Cai and Điện Biên.
Torrential rains and floods have also swept away 161 houses, damaged 958 houses and submerged thousands of hectares of crops.
Roads and irrigation works have also been damaged, causing losses of VNĐ487 billion ($20.9 million)