BUSINESS NEWS IN BRIEF 30/7
Conference promotes investment, tourism in Laos' Sekong province
Authorities of Laos' Sekong province organised an investment and tourism promotion conference in Tam Ky city of the Vietnamese central province of Quang Nam on July 26.
At the event, a representative from the Lao province briefed participants on the locality's socio-economic development and investment attraction achievements. Two years into the implementation of the 2016-2020 economic development plan, the province continues to enjoy remarkable economic growth, with gross regional domestic product (GRDP) reaching 9.17 percent and per capita income at 12.64 million LAK (1,580 USD).
Investment promotion and attraction has also produced positive results. Notably, in the field of energy, there are currently 44 projects with a combined capital of over 1.2 billion USD. The province is calling for investments to 41 other projects, including 13 hydropower, two thermal power, one wind power, and two solar power projects.
Participating Vietnamese enterprises were also introduced to Sekong's advantages, potential, and preferential policies as well as its fields of priority such as tourism, transport, mining, trade, and industry.
Quang Nam province pledged to soon propose that the two Governments approve the upgrade of the Nam Giang-Dak Ta Ook border gate to international level in order to create a breakthrough in tourism development and investment cooperation, bringing the East-West economic corridor crossing the two localities into full play.
Vietnam becomes biggest trade partner of China in ASEAN
Vietnam has surpassed Malaysia to become the biggest trade partner of China in ASEAN, Hu Suojin, Trade Counsellor of the Chinese Embassy in Vietnam, said at a press conference in Hanoi on July 26.
According to the diplomat, trade between Vietnam and China was estimated at around 66 billion USD in the first half of 2018, with the average monthly total for bilateral trade during the period breaking records to exceed 10 billion USD.
In June alone, China's trade value with Vietnam reached 11.2 billion USD, higher than the figure with Malaysia, at 9.3 billion USD.
China-Vietnam trade grew 28.8 percent from the same period last year, compared to the 15.5 percent annual growth of China-Malaysia trade.
The year-on-year growth rates of Chinese exports to Vietnam and of Vietnamese exports to China were at 23.5 percent and 37.4 percent, respectively. In February, China surpassed the US to become the biggest export market of Vietnam.
In terms of investment, Hu said the inflow of Chinese investment into Vietnam is growing in line with the country's overseas investment growth.
In 2017, China's foreign direct investment (FDI) in Vietnam exceeded 2.1 billion USD, the highest level to date.
Since the beginning of 2018, China has invested 330 million USD in 163 new projects in Vietnam, ranking 6th among international investors in the Southeast Asian country.
Chinese contractors have also undertaken projects in Vietnam for about 6 billion USD per year on average. In the first half of the year, the figure was 2.4 billion USD.
Vietnam Entertainment Fund makes debut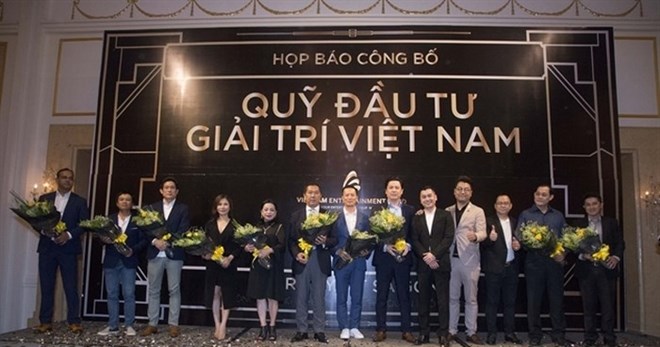 The Vietnam Entertainment Fund (VEF), which aims to increase value through medium- and long-term investments in the entertainment sector, made its debut in Ho Chi Minh City on July 26.
This type of open-ended fund operates under the holding form, meaning that the company will hold shares of other firms.
The VEF, established under the consultation of VinaCapital Fund Management, will operate to maximise profits for investors by increasing the capital value and dividend yield from initial investments, such as with intellectual property assets of films and fixed assets.
Regarding the portfolio, representatives from the VEF said that the fund will diversify its operation fields to reduce risks and ensure investment objectives.
At the same time, with its flexible investment form, appropriate financial capacity, transparent information, and safety for investors, the VEF expects to attract the attention of businesses and investors.
The fund sets a minimum income plan of 8 percent per year and a maximum of 10.5 percent annum for the 2018-2019 period, and a minimum revenue of 10.5 percent for 2020-2022.
Other financial benefits for investors include the right to buy preferred stocks at the time of issuance, as well as stock value expecting to climb at least five times higher than the initial investment value after three years.
Shares in the VEF are hoped to be offered at the initial public offering (IPO) five years after its establishment.
Currently, the attractive profit opportunity in Vietnam's entertainment industry is attributed to its average growth reaching 25 percent per year, with the average revenue of the film industry alone reaching 2.3 trillion VND (99.2 million USD) per year.
Trade office advises firms to keep away from reported Morocco firm
The Trade Office of the Vietnamese Embassy in Morocco has warned domestic firms not to take any transaction with Ste Top Arabic Sarl A.U, a Moroccan company that has been reported by many foreign firms.
The company, which also holds a representative office in Spain under the name of Macrotex Trading Solutions, holds the tax code of 5612886 and is addressed at QU Bouchouaf Immb A 1 Etage, in the Moroccan city of Nador.
Its office, which is located in a small city in the northern mountainous region of Morocco, closes frequently, while the phone number it sent to its partners can hardly be reached.
The Trade Office said that the company often contacts exporters in other countries, including Vietnam, either directly or through a third party in order to seek suppliers of agricultural products such as packed fruits, cashew nuts, coffee, pepper, and spices.
Many exporters have fallen into failed dealings with the firm. After signing a contract and reaching an agreement in payment methods, exporters then sent goods which the Moroccan firm then ignored, leaving exporters with high storage fees and forcing them to reduce the prices of their goods. The exporters were then faced with an awkward situation and suffered from losses.
So far, several foreign companies and one Vietnamese firm have fallen into such troubles in the same way.
As such, the Vietnamese Embassy in Morocco's Trade Office advised enterprises to be careful and keep away from Ste Top Arabic Sarl A.U to avoid losses.
It also reminds businesses to research information of all firms carefully before partnering with them, while also being cautious in contract negotiations to reduce risks in the promising markets of Morocco and others.
RoK seafood firms seek opportunities in Vietnam
A business-to-business (B2B) meeting was organised by the Vietnam Chamber of Commerce and Industry and K-Fish Trade Support Centre in HCM City, providing opportunities for 12 firms from the Republic of Korea (RoK) and 50 local seafood companies to seek and foster partnerships.
The RoK firms said they are looking to export raw and processed seafood to Vietnam and import raw seafood from the Southeast Asian nation for processing.
Bae Byeong-Cheol, chief representative of K-fish, said: "RoK seafood is plentiful in terms of variety, and because of the difference in climate and location, the RoK can supply a great deal of high-quality products unavailable in Vietnam".
"We are striving to help more Vietnamese enjoy RoK seafood," he added.
Consumers in both countries have shown their favour and would like to try more of each other's seafood products, he said.
Le Thi Nguyet of the Van Kim Commercial Joint Stock Company said RoK seafood products are very safe and of very high quality, but are usually more expensive than products from Southeast Asian countries, which could deter many Vietnamese from consuming them.
Bae said several RoK companies are facing difficulties in exporting raw seafood to Vietnam because of the lengthy customs and other formalities involved, and would like to see the process streamlined.
Vietnamese seafood exports to the RoK reached 390.7 million USD in the first six months of this year, accounting for 9.8 percent of the total seafood export turnover of the country, the General Department of Vietnam Customs reported.
In recent years, K-Fish Trade Support Centre has regularly organised events to promote exchange and trade links between the two countries' enterprises, making it easy for RoK firms to introduce traditional processed products to Vietnamese consumers.
The two countries aim to lift their two-way trade to 100 billion USD by 2020.
The RoK is now the biggest foreign investor in Vietnam, and also one of its most important trade partners.
HCM City's imports from China soar
Ho Chi Minh City's 2018 spending on Chinese imports has exceeded 8.1 billion USD to date, an increase of more than 2.4 billion USD from the same period last year.
According to the municipal customs department, the import of computers-electrical equipment and components and of machines and spare parts made up the lion's share of the sum, exceeding 2.5 billion USD and 1.1 billion USD. The respective figures recorded for 2017 were more than 1.2 billion USD and more than 858 million USD.
During the period, the city also purchased Chinese steel products worth some 719 million USD and cloth worth 708 million USD.
Initial estimations of the General Department of Vietnam Customs showed the import value of the entire country amounted to more than 110 billion USD.
China continued to be one of the biggest suppliers of Vietnam, with its goods accounting for nearly 29 percent or about 30 billion USD of total import value.
Ca Mau strives to speed up ODA projects
The Mekong Delta province of Ca Mau has sought measures to hasten the progress of projects using official development assistance (ODA) capital in the locality.
Currently, the locality is hosting 23 ODA projects worth nearly 4.5 trillion VND (193.5 million USD), with 3.2 trillion VND (137.6 million USD) coming from ODA.
So far, 17 projects are operational. Disbursement as of January 31, 2017 exceeded 2.76 trillion VND (118.68 million USD). The projects have helped improve rural infrastructure and the quality of the local education and health care sectors.
However, some projects are lagging behind schedule due to site clearance and capital difficulties.
Secretary of the provincial Party Committee Duong Thanh Binh proposed that central ministries and sectors define responsibilities in the implementation of projects relating to climate change prevention and adaption.
Meanwhile, he suggested the allocation of capital for the construction of a bypass around in Ca Mau city and the expansion of Ca Mau general hospital to 1,200 beds, while adding some projects to the medium-term investment plan, including the upgrade of National Highway 63 crossing Ca Mau city and a project to protect coastal area and restore mangrove forest in Kien Giang and Ca Mau.
Binh added that Ca Mau provided more than 851 billion USD (36.59 million USD) as corresponding capital for ODA projects in 2011-2016.
Major groups to invest in Can Tho city
Several major domestic and foreign groups will be committing to projects in the Mekong Delta city of Can Tho after signing memoranda of understanding on investment next month.
A number of large-scale projects will be constructed, including the FPT University and Vinmec General Hospital complex with investment capitals of 1.17 trillion VND (50.6 million USD) and over 2 trillion VND (86.6 million USD), respectively, according to Chairman of the municipal People's Committee Vo Thanh Thong.
Local authorities are due to grant investment licenses to other large-scale projects, including a complex made up of villas, a golf course, and reception area in Con Au islet in Cai Rang district.
Furthermore, businesses from the Republic of Korea and Japan have also been exploring investment opportunities in Vietnam's Mekong Delta city.
According to the municipal People's Committee, industrial and processing parks in Can Tho attracted an additional three projects during the first six months of 2018 with a combined registered investment of 4.17 million USD, as well as three existing projects with increased capital of 4.91 million USD and two reclaimed projects worth over 3 million USD.
In summary, industrial parks count for 233 valid projects with a total registered capital of over 1.6 billion USD. The capital disbursement was estimated at over 1 billion USD.
From January to June, businesses grossed 776.59 million USD in revenue, representing a year-on-year rise of 3 percent and fulfilling 53 percent of the target set for the year.
In the six-month period, Can Tho granted an investment licence to one project worth 20,000 USD, allowed another existing project to raise its capital by 30.6 million USD, and suspended the operation of two projects worth 500,000 USD.
To date, the city has run 76 FDI projects worth 687.4 million USD. The capital disbursement has reached 477.8 million USD.
According to economists, foreign investment attraction in Can Tho has yet to truly reflect its position as a centre of development in the Mekong Delta region due to poor infrastructure connectivity between the city and other localities nationwide.
The lack of high-quality labour forces and slow development of the support industry are also barriers to drawing foreign investment, they said.
To address these shortcomings, Can Tho has been increasing trade and investment promotion activities both at home and abroad, as well as clearing land at industrial and processing parks to enable businesses to make further investments into the city.
Relevant agencies have been working to simplify administrative procedures to create a favourable mechanism for investors.
Local authorities also meet with enterprises on a monthly basis to promptly address any difficulties that has arisen and help them promote business production.
Can Tho will call for 124 trillion VND (5.4 billion USD) in investment to finance 54 projects at an investment promotion conference to be held on August 9-10, with Prime Minister Nguyen Xuan Phuc being expected to attend the event along with 550 domestic and foreign delegates.
Of the said projects, 44 are in the form of direct investment with an estimated value of over 112.9 trillion VND (4.89 billion USD).
Among them, 22 have found investors who are already prepared to spend 82 trillion VND (3.55 billion USD).
It will introduce its strengths and investment policies during the conference under the theme of "Sharing Potential for Mutual Development" on August 10.
Discussions will focus on services, high-tech agriculture, and information technology. Some investment projects are hoped to be awarded licences at the event and ground-breaking ceremonies for key projects will be held.
The Mekong Delta city is seeking investment to enable it to become a service and high-tech agriculture centre, as well as an information technology hub.
Phu Yen's spending on off-shore fishing increases six-fold
The south central province of Phu Yen planned to spend more than 61 billion VND (2.65 million USD) on supporting offshore fishing this year, six times higher than the figure for 2017.
The sum has been channeled into building seven new steel and composite ships and supporting the purchase of insurance for the bodies of 1,336 vessels with capacity of 90 CV and above.
It has also been used to open training courses on fishing techniques and seafood preservation for 418 sailors.
Nguyen Tri Phuong, Vice Director of the provincial Department of Agriculture and Rural Development, said the fund was created following the Government's Decree 17 issued on February 2 this year. The Decree amends and supplements Decree 67 dated July 7, 2014 on fishery development policies targeting fishermen.
Decree 67, which took effect in August 2014, stipulates policies in investment, credit, insurance and tax incentives in support of fishermen and ship owners, who wish to build new fishing boats, upgrade their existing boats and buy fishing and marine equipment, among others.
To date, Phu Yen authorities have approved 290 billion VND (12.63 million USD) in loan for eligible ship owners in line with Decree 67. As a result, fishermen have built and put into use 19 new ships.
Since the beginning of 2018, the province has licensed 80 fishing vessels to operate, most of them have the capacity of 160 CV and higher.
Between now and 2020, the Government will provide Phu Yen with 85 billion VND (3.7 million USD) to build an area in Tuy Hoa city for fishing ships to dock during storms.
National Single Window mechanism benefits enterprises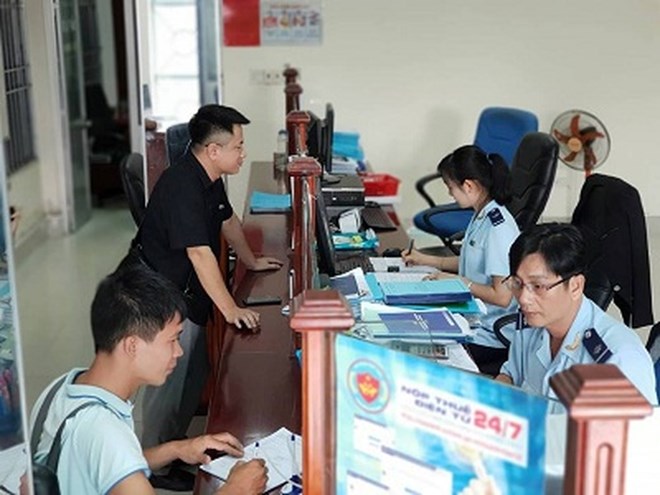 The National Single Window (NSW) customs mechanism has made significant contributions to administrative reform in Vietnam since it was officially launched in November 2014, notably creating more favourable conditions for enterprises.
The Customs Department under the Ministry of Finance said on July 23 that a total of 53 administrative procedures in 11 ministries and sectors have to date connected to the NSW mechanism.
As of July 15, 1.34 million dossiers from 22,800 businesses were handled through this mechanism.
Through the NSW, enterprises do not need to directly work with each State agency to complete administrative procedures, thus helping reduce time and costs, and shorten the duration for customs clearance of goods. The mechanism has contributed to building an open and transparent administrative sector, improving competitiveness of businesses and the economy, and increasing the efficiency of State management.
Besides benefitting enterprises, the implementation of the NSW mechanism has also brought a lot of benefits to State management agencies as they get familiar with conducting administrative procedures without paperwork, and have more experience in simplifying and modernising administrative procedures. It has prepared Vietnam well for negotiations of bilateral and multilateral agreements on the mutual recognition of technical standards, and e-licenses and e-certificates in order to simplify administrative procedures in importing countries, thus shortening customs clearance and facilitating the export of Vietnamese products.
According to a World Bank report, in 2017, Vietnam was able to slash 3 hours for customs procedures for exported goods from 58 to 55 hours and 6 hours for imported goods from 62 to 56 hours. Meanwhile, the cost of direct customs clearance at the border gate for a consignment dropped down by 19 USD. It is estimated that with more than 11 million customs declarations in 2017, the enterprises were able to save over 200 million USD while saving more than 16 million hours from storing the exported items in warehouses and more than 34 million hours from storing imported goods in warehouses.
However, Nguyen Cong Binh, deputy head of the Vietnam Customs, said that the number of procedures connected to the NSW – 53 out of 251 – is still modest compared to the target set.
To speed up the implementation of the NSW and the ASEAN Single Window (ASW) customs mechanisms, the department said that it is necessary to continue completing legal foundations and reforming administrative procedures to create a sufficient legal framework for the use and exchange of e-dossiers.
Binh emphasised the importance of implementing an information technology system to serve the implementation of the NSW mechanism as well as building a supervision and assessment mechanism within the business community on the implementation of tasks by ministries and sectors.
In 2018, the Finance Ministry will coordinate with ministries and sectors in completing and submitting an action plan for the approval of the Government and Prime Minister. The plan looks to boost the NSW and ASW customs mechanisms and reform specialised inspections over imports and exports for 2018-2020.
According to Deputy Finance Minister Vu Thi Mai, by the end of this year, an additional 143 administrative procedures will be carried out through the mechanism, raising the total to 196, equivalent to 78 percent of the 251 procedures expected to be implemented by 2020.
Quang Nam successful in restructuring agricultural sector
The central province of Quang Nam has made impressive progress in agricultural restructuring, raising production value by 4.5 percent each year in 2008-2017.
At talks with a working group from the Ministry of Science and Technology led by Minister Chu Ngoc Anh on July 23, Vice Director of the provincial Department of Agriculture Le Muoi reported that the province's economic structure has changed, with a lower percentage of agriculture in gross regional domestic products to 11.6 percent in 2017 from 25.84 percent in 2008, and higher ratio of forestry-fisheries sector.
After 10 years of implementing the 10th Party Central Committee's resolution on agriculture, farmers and rural areas, the locality's agricultural production value has increased from 36.06 million VND per hectare in 2008 to about 80 million VND per hectare in 2018. Nearly 4,000 hectares of rice farm with low production have been switched to other plants with higher value.
At the same time, total cattle meat production increased from 49,297 tonnes in 2008 to 56,885 tonnes in 2017. The production value of the breeding sector rose to 2.15 trillion VND in 2017 compared to 1.6 trillion VND in 2008.
Meanwhile, Quang Nam has planted more than 10,000 hectares of forest each year, raising forest coverage by 1.38 percent per year to 56.9 percent in 2017.
In the aquatic sector, the province's offshore catch reached nearly 45 percent of total aquatic output, up 15 percent over 2008. The increase of fishing vessels by six times to 758 in 2017 brings the province closer to its target of 60 percent in offshore catching in total aquatic output in 2020.
Aquatic farming also surged 70 percent from 2008, with production in 2017 reaching nearly 400 million VND per hectare.
The province has 57 industrial clusters which host 258 projects worth 13.2 trillion VND and create jobs for 57,049 people.
In the past 10 years, progress in technology research, transfer and application activities as well as human resources training have significantly helped the modernisation of agricultural sector and industrialisation of rural areas.
Many science-technology advances have been applied widely, enhancing value farm produce and contributing to transforming agricultural economic structure.
At the working session, Minister Chu Ngoc Anh lauded the achievements of Quang Nam over the past 10 years, noting that the success has improved living conditions for locals.
However, he pointed out that although the number of enterprises investing in agriculture and rural areas in Quang Nam expanded 4.5 times to 1,558 firms in 2018, the figure still only accounted for 23.5 percent of total businesses operating in the locality.
He suggested that the province apply production connectivity models, while encouraging the engagement of businesses via preferential policies.
Bright signs in Vietnam - Czech Republic trade

Bright signs have been seen in two-way trade between Vietnam and the Czech Republic, as the two countries' import-export turnover in the first five months of this year reached nearly 464.5 million USD, up 15.6 percent from the same period last year.

Vietnam mostly exported to the Czech Republic seafood, farm produce, food, tea, coffee, rubber, chemicals, electronics, and footwear, the Vietnam Trade Office in the Czech Republic cited sources from the Czech Statistical Office.

Products seeing highest revenue included electronics with over 140 million USD, and footwear products with 110.6 million USD.

Exports of rubber, chemicals, leather products, garment materials, knitwear, boilers and mechanical products, engine vehicles, and wood furniture also fetched from 10 million USD - 31 million USD.

Meanwhile, Vietnam imported from the European nation electronics, mechanical equipment, plastic products, military equipment, seeds, pharmaceuticals, medicinal plants, and industrial tree varieties.

In 2017, two-way trade between the two countries exceeded 1 billion USD for the first time to 1.02 billion USD, a rise of 12 percent over the previous year.

However, trade turnover remained modest compared to the economic potential and real demand of both markets.

Currently, the Czech Republic is keen on fostering cooperation with Vietnam in areas of environmental protection, mining technology, construction technology, chemicals, telecommunications, radar, industrial and agricultural machineries, biotechnology and nanotechnology.
Conference highlights financial inclusion for income balance
Financial development with a focus on financial inclusion for people of all incomes will be the key for stable economic development, Vice Rector of HCM City Open University Nguyen Minh Ha said at Vietnam's Business & Economics Research Conference that ends on July 24.
Vietnam is witnessing a strong economic growth within the Asia Pacific region, Ha said, adding that it is committed to undertaking economic reforms to integrate into the regional economy.
"Financial development with a particular focus on financial inclusion (or access to finance by the poor) will be key," he said.
When it comes to economic reform and restructuring, the issues of inequality become very important for consideration by policymakers, he added.
Dr Vo Hong Duc, head of business and economics research group at HCM City Open University, told Vietnam News that during financial development, people who can take advantage of opportunities can become rich, and those who fail to grasp those opportunities remain poor, leading to an income gap.
While it is important to develop the economy, life for everyone needs to be better, he said.
Policymakers should issue social policies that reduce income inequality and allow everyone to get access to the benefits of economic development, he added.
Although the Government has tried to reduce inequality, there are still many things to do, according to Duc.
Income inequality remains high, especially between urban and rural areas.
According to Mark Loo of the Concordia University of Edmonton in Canada fintechs could promote financial inclusion in an era of digital transformation.
Many people in ASEAN still live in marginalized areas that have difficulty in accessing banking facilities.
Fintechs manage a broad range of financial services to sustain livelihoods, build assets and manage risks.
They offer opportunities to enhance financial inclusion as more people can access digital banking with increasing internet penetration.
Ha Thi Thieu Dao, dean of the International Economics Faculty at Banking University in HCM City, said: "Microfinance programmes being carried out throughout the country could take an important role in reducing inequality and increasing access to capital sources for low-income people."
Institutes which offer these programmes provide loans or receive people's savings, Dao said, adding that they also provide services which help empower women.
Microfinance programmes can also remove the need for low-income consumers to use "black credit" loans on the black market, she said.
Researchers at the Dublin Institute of Technology and the University of Limerick in Ireland said that microfinance had made significant contributions in developing countries such as Bangladesh, India, and Malaysia.
In developing countries, microfinance has become a useful tool for poverty reduction and enhancement of economic growth and development strategies.
Dao suggested that the Government should create a more detailed legal framework for microfinance institutions to operate.
Vietnam's Business & Economics Research Conference was held on July 22-24 by HCM City Open University. Academics, researchers, practitioners and policymakers discussed ongoing research on a wide range of theoretical and empirical issues related to sustainability of economic development in emerging markets, especially for Vietnam.
Gas-power-fertiliser complex – major contributor to Ca Mau province
More than 2 trillion VND (86.2 million USD), or 40-50 percent of the budget of the southernmost province of Ca Mau, is contributed by the Ca Mau Gas-Power-Fertiliser Complex each year, a recent meeting heard.
The Ca Mau Gas-Power-Fertiliser Complex, inaugurated in October 2012, is jointly operated by the PetroVietnam Gas JSC (PV Gas), the PetroVietnam Power Corporation, and the PetroVietnam Ca Mau Fertiliser JSC.
It is comprised of three projects covering more than 200ha in the Khanh An commune of U Minh district.
The first project is the PM3-Ca Mau gas pipeline carrying gas from the PM3-CAA gas well (in the overlapping area between Vietnam and Malaysia in the Gulf of Thailand) and Block 46-Cai Nuoc (off the coast of Vietnam) to the complex to produce electricity and fertiliser.
The other projects are the Ca Mau No. 1 and 2 gas power plants with a combined capacity of 1,500MW, and the Ca Mau fertiliser plant with the designed output of 800,000 tonnes per year.
A report at the meeting, which reviewed the coordination in operating the complex, said that the PM3-Ca Mau pipeline, put into use by PV Gas in 2007, has supplied about 2 billion cubic metres of gas each year. The two gas power plants have generated over 7 percent of the electricity output nationwide. Meanwhile, 40 percent of total urea output in Vietnam is produced by the fertiliser factory of the complex.
A gas processing plant has also been unveiled in the complex this year. In the first six months of 2018, it manufactured nearly 79,000 tonnes of liquefied petroleum gas and over 3,600 tonnes of condensate, up 42 percent and 15 percent from the planned figures, respectively.
At the meeting, participants pointed out problems and solutions to ensure smoother operation at the Ca Mau Gas-Power-Fertiliser Complex.
Dinh Van Son from the member council of PetroVietnam (Vietnam National Oil and Gas Group), said amid the changing global economy, good coordination among parties in operating the Ca Mau Gas-Power-Fertiliser Complex will help the group successfully fulfil the tasks assigned by the Party, State, and Government.
Guaranteed bonds mobilise 150 billion VND
The Vietnam Bank for Social Policies (VBSP) raised 150 billion VND (6.5 million USD) at the latest auction of Government-guaranteed bonds on the Hanoi Stock Exchange (HNX) held on July 23.
The amount was mobilised from five-year bonds with an annual interest rate of 4.1 percent, which was 0.05 percent higher than that of the most-recent auction on July 16.
The auction had planned to sell 2 trillion VND (86.63 million USD) worth of bonds with five-year, 10-year, and 15-year maturity. However, there were no successful bids for the 10-year and 15-year bonds.
Since the start of 2018, the VBSP mobilised 350 billion VND (15.17 million USD) worth of guaranteed bonds through auctions on the HNX.
Government-guaranteed bonds are bonds issued by authorised entities to mobilise capital for investment projects as appointed by the Prime Minister.
According to the HNX, the State Treasury of Vietnam raised about 4.4 trillion VND (more than 190.7 million USD) in the last Government bond (G-bond) auction of June. The amount brought the total funds collected from G-bond auctions in the first half of 2018 to nearly 74.6 trillion VND (3.23 billion USD).
The National Financial Supervisory Commission has predicted that the G-bond market in 2018 will see modest changes from last year thanks to the economic growth of more than 6.7 percent and inflation of below 4 percent. It expects the value of G-bonds issued this year to reach 180 trillion VND (7.92 billion USD).
Last year, Vietnam sold some 159.9 trillion VND, or 7.03 billion USD, worth of G-bonds with average maturity of 13.52 years and annual interest averaging 6.07 percent, down 0.2 percentage points against 2016.
The interest rates of G-bonds have been on the rise lately, after a long period of decline throughout 2017 and the first four months of 2018.
Central localities need to boost administrative reform to increase competitiveness index
Local authorities in the central coastal and Central Highlands areas should remove post-licensing obstacles and improve inspection activities to boost their provincial competitiveness index (PCI), an official has said.
According to Chairman of the Vietnam Chamber of Commerce and Industry (VCCI) Vu Tien Loc, a survey – carried out to compile the Vietnam Provincial Competitiveness Index (PCI) 2017 report – showed that 7 percent of enterprises in the Central Highlands had to wait for over three months after being licensed to have all paperwork for their official operation completed, while the average figure for other regions was between 2 and 3 percent.
There were 14 percent of firms in the central coastal region reported experiencing overlapped inspection content, while 18 percent said the inspection created a breeding ground for improper activity by some of the inspectors. The figures for the Central Highlands were 15 and 24 percent, respectively – the highest nationwide.
Loc said efforts to cut informal fees are necessary, as 62 percent of the enterprises surveyed in the central coastal region and 65 percent of their peers in in Central Highlands said they faced difficulties caused by administrative personnel. The two regions' sub-indices on transparency and informal fees were ranked fifthand sixth respectively, and the lowest among those regions involved in the PCI 2017 report.
He suggested that strengthening the connection among provinces and cities in the central coastal region, particularly in investment attraction and business climate improvement, is an important move.
Dau Anh Tuan, Director of the VCCI's Legal Department and a member of the PCI survey team, said companies in the two regions demand a fairer business climate. A total of 48 percent of them pointed to the fact that local authorities often prioritise tackling foreign businesses' obstacles over those of domestic businesses.
Of Central Highlands firms, 79 percent agreed that most local business resources are owned by companies which had established a close relationship with the authorities.
Tuan highlighted that transparent, professional, and trustable administrative procedures are a pivotal factor needed for these localities to increase their annual number of newly established enterprises.
Despite several shortcomings, both regions recorded positive PCI increases, with the central coastal region scoring 63.09 points and the Central Highlands 60.05 points. Their respective points for 2016 were 59.8 and 56.92.
The PCI Report is an annual joint project between the VCCI and the US Agency for International Development (USAID). It has been produced annually since 2005 to assess the ease of doing business, economic governance, and administrative reform efforts by the provinces and cities in Vietnam in order to promote the development of the private sector.
The 2017 PCI Report was the 13th iteration and was based on responses from 12,000 enterprises, including more than 10,200 domestic private enterprises from 63 cities and provinces and nearly 1,800 foreign invested enterprises in 21 provinces in the country.
It revealed optimism among private and foreign business communities and helps to raise their economic prospects.
Fifty-two percent of PCI 2017 respondents in the domestic survey said they planned to broaden the size of their operations over the next two years, the highest level since 2011, while the number of firms planning on scaling down or closing their business was extremely low at 8 percent.
Sabeco cuts projected profit by a fifth
The Saigon Beer-Alcohol-Beverage Corporation (Sabeco) is targeting a lower post-tax profit in 2018 due to the increase of production costs and stronger competitiveness in the industry.
Its management board said at the company's annual shareholder meeting recently that it had cut its projected post-tax profit by 19 percent year on year to 4 trillion VND (178 million USD) in 2018.
Its total revenue is forecast at 36 trillion VND in 2018, up 2.4 percent from 2017, and a 35 percent dividend payout, level to the previous year.
In 2017, the company recorded 35 trillion VND in total revenue and 4.95 trillion VND in post-tax profit. The 2017 figures increased by 11.2 percent and 9.6 percent year on year, respectively.
This was the first annual shareholder meeting after the Thai beer firm ThaiBev via its Vietnamese legal entity had spent around 5 billion VND to purchase 53 percent of capital in Sabeco at the end of last year.
Sabeco's management board said the domestic market was going to be tough in 2018 as competition among brewers in Vietnam rises. Meanwhile, production cost was estimated to grow as input material prices were expected to increase due to bad weather conditions and seasonal changes.
In addition, alcohol and beer products have been affected by a 5 percent increase in special consumption tax from the beginning of this year. The new rates for alcohol products range from 35 percent to 65 percent and the rate for beer products is 65 percent.
However, there are also advantages for Sabeco and the beer industry in 2018. According to studies of international organisations, Vietnam is among rapidly developing economies with increasing per capita income, fast urbanisation and young population that accounts for 60 percent of the country's total.
According to Sabeco's management board, those will be the factors that are benefiting the local industry to grow strongly in coming years.
At the moment, Vietnam ranks among top 10 countries with the largest beer production in the world, top among ASEAN countries with the highest consumption and ranks third in Asia in terms of per capita consumption with around 43 litres a year. With an annual growth rate of 5 percent, Vietnam's beer market will attract more and more foreign brewers from overseas, Sabeco said.
Sabeco debuted on the HCM Stock Exchange with code SAB on December 6, 2016 at 128,280 VND (5.7 USD) per share. Its share price rose to the highest of 334,460 VND per share on November 29, 2017 but has fallen 40 percent since then to end last week at 200,000 VND per share.
Eco-shrimp farming – model for sustainable aquaculture development

Eco-shrimp farming, which has been spreading in the Mekong Delta localities in recent years, is touted as a model for sustainable aquaculture development thanks to its strengths in environmental protection, low costs, and high profit.

Eco farming refers to the practice of raising shrimps in rice fields or mangrove forests at low density. Compared to industrial shrimp cultivation, farmers do not have to pay that much on feeds, waste water treatment system, and medicine to treat diseases. Eco farming also requires less labour.

Meanwhile, shrimps raised under this model are sold at higher price than industrial shrimps.

According to Dinh Xuan Lap, Vice Director of the International Collaboration Centre for Aquaculture and Fisheries Sustainability, eco-shrimp farming model created jobs for more than 700,000 labourers in the Mekong Delta.

Chairman of the Bac Lieu province People's Committee Duong Thanh Trung said that as of May, 2018, the province housed more than 120,000 hectares of water surface used for eco shrimp farming, and improved extensive shrimp farming.

He said the province will promote the application of advanced technologies in eco-shrimp cultivation, adding that the model allows local famers easily control diseases, prevent pollution in the farming areas, and ensuring the living environment for both the shrimps and farmers.

However, to ensure the sustainable expansion of eco-shrimp farming, there should be close connection between production and marketing processes, experts said.

Chairman of Minh Phu Group Le Van Quang said that Vietnamese eco-shrimps have been granted certifications by prestigious orgasisations, and have been shipped to more than 160 countries across the five continents.

Minister of Agriculture and Rural Development Nguyen Xuan Cuong stated that localities have to draw up strict shrimp farming process so as to enhance competitive capacity for Vietnamese shrimps.
Workshop on Vietnam's investment opportunities held in Malaysia
A workshop to introduce investment opportunities in Vietnam was held on in Kuala Lumpur on July 26, drawing the participation of more than 100 representatives from firms in Malaysia.
Themed "Promising investment spotlight: Why Vietnam now", the event organised by the Vietnam – Singapore Indutrial Park joint company (VSIP) and the Trade Office at the Vietnamese Embassy in Malaysia, focused on Vietnam's advantages and potential as well as the country's business climate improvements and tax incentives.
Opening the event, Vietnamese Trade Counsellor Pham Quoc Anh emphasised Vietnam's efforts in improving investment climate, thereby drawing numerous foreign investors, including those from Malaysia.
Malaysia is the eighth biggest foreign investors in Vietnam. As of June, Malaysia invested over 12 billion USD in 577 projects in Vietnam
Malaysia is also the second largest trade partner of Vietnam in ASEAN after Thailand. In the first six months of this year, bilateral trade reached more than 5.8 billion USD. up 21 percent the same period last year.
Trade Counsellor Pham Quoc Anh described the figures as a basis for the two countries to continue promoting the bilateral ties in various areas, including investment.
John Campell from Savills emphasised Vietnam's advantages such as competitive land rent prices and maritime transport charges, big population and geographic location.
He highlighted that Vietnam signed many free trade agreements including those with the European Union and the Republic of Korea and the Comprehensive and Progressive Agreement for Trans-Pacific Partnership (CPTPP).
At the event, representatives of VISP and KPMG Malaysia also pointed out other attractive aspects in Vietnam's investment environment like tax incentives.