JICA helps improve water drainage system
Installing water drainage system in district 11
The Japan International Cooperation Agency (JICA) will give non-refundable aid to improve the existing water drainage system of Ho Chi Minh City, announced the City People's Committee office on June 30.
Accordingly, JICA will provide US$17.5 million to upgrade the 2.7km-long degrade water drainage system in the heart of city, aiming to reduce pollution, depression, traffic jams and flooding.
The total capital of the project costs US$20.6 million, including the reciprocal capital of US$3.1 million.
The project is scheduled to be carried out from now until 2020.
National Committee for e-government to be established
The National Committee for e-government will be established and chaired by the Prime Minister, the Government Office announced at the conclusion of the meeting between PM Nguyen Xuan Phuc and Deputy PM Vu Duc Dam and members of the National Committee on IT application.
The National Committee for e-government will be formed from the strengthening the National Committee on IT application to conduct the building of e-government system directly.
PM also asked the ministries, departments and local authorities to provide online public services to better serve the people and businesses in the country and improve business environment for investment.
Traffic restricted around Hòa Bình Hydropower Plant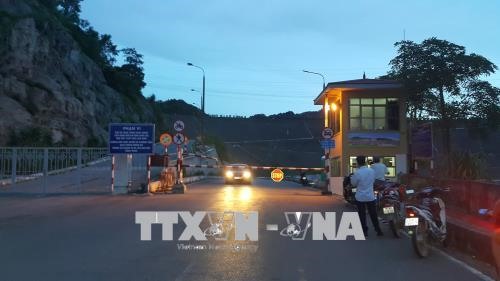 Hòa Bình Province People's Committee has decided to restrict traffic running through Hòa Bình Hydropower Plant as of this month.
Starting this month, Hòa Bình Road that runs through Hòa Bình hydropower plant in the northern province will be restricted to traffic.
Only staff and special-use vehicles that serve the plant will be allowed to use the road, but only between 5.45-8.15 in the morning and 4.15-6.45 in the afternoon.
Director of the plant, Nguyễn Văn Minh, said that the decision to restrict traffic was made after the plant was recognised as an important work relating to national security last year.
However, he said that the plant managers would try to ensure convenience for people so that public vehicles could travel on Hòa Bình Road or visit the plant if needed.
Local residents were disappointed with the decision as the area was a popular place for exercise because of its quiet surroundings and fresh air.
The Hòa Bình Hydropower Plant, located in the northern province of Hòa Bình, is the second largest hydropower plant in Việt Nam, after the Sơn La Hydropower Plant, with an annual electricity output of over 10 billion kW/h.
The plant has taken on several important tasks, including ensuring flood and drought prevention for the downstream area, providing electricity to the national grid and improving waterway transport, as well as ensuring local socio-economic development.
It will be expanded in the future, with the installation of two more turbines that will raise total capacity from 1,920 MW to 2,400 MW by 2022, equivalent to the capacity of Sơn La Hydropower Plant, contributing to ensuring national energy security, Minh said.
Fire breaks out at apartment block
Firefighters attempt to enter the building in Hà Nội. — Photo vietnamnet.vn
A fire broke out at 3am this morning at an apartment compound in Thanh Xuân District, Hà Nội, Vietnam News Agency reported. No casualties were reported.
Reportedly starting in a footwear store, the fire spread to the 5-storey apartment blocks, trapping many residents inside.
At least seven fire trucks and dozens of firefighters were deployed to the scene.
Major Nguyễn Quang Huấn, Vice Chief of firefighting, prevention, and rescue team No 8 said, "The fire started on the first floor in a shoe storage room. We prioritised rescuing people from the second floor to the fifth."
Due to the narrow stairs and heavy smoke, rescue forces had to access the building through the balconies and used equipment to battle through the smoke. Approximately 20 people were guided to safety by the firefighters, and a further 20 had to be rescued from the fire.
"At around 3am, I was watching football then heard someone shout that there was a fire. I woke up all five people in my family to escape. Due to the heavy smoke in the stairway, we had to escape through a balcony," said Nguyễn Sĩ Tuấn, resident on the fourth floor of the building.
Firefighters took 45 minutes to extinguish the blaze.
Deputy Patriarch of VBS Patronage Council passes away
Most Venerable Thich Duc Phuong
Most Venerable Thich Duc Phuong, Deputy Patriarch of the Vietnam Buddhist Sangha (VBS)'s Patronage Council, passed away on July 1 at the age of 85.
According to the VBS's Patronage and Executive Councils, the funeral is being held at Lam Son pagoda in Hue city of the central province of Thua Thien-Hue.
The memorial service started from 7am of July 3 to the end of July 7, while the burial service will be organised on July 8.
With his great contributions to the Buddhism and the nation, Most Venerable Thich Duc Phuong was honoured with noble awards by the Party, State and VBS, including the Independence Order, third class, and the Great National Unity Order.
Quang Binh welcomes over 1.8 million tourists in first half of 2018
A new cave in Quang Binh
The central province of Quang Binh welcomed over 1.8 million tourists in the first half of this year, up nearly 17 percent year-on-year.
Foreign arrivals surged by more than 22 percent with nearly 90,000 visits.
Since early 2018, Quang Binh has successfully held tourism promotion activities such as the Culture-Tourism Week in Dong Hoi city, the Hoang Phuc pagoda festival in Le Thuy district, the Phong Nha grass carp festival, the traditional boat race on Son River, and the Phong Nha-Ke Bang cuisine festival.
The province also gave direction to upgrade hotels and restaurants, diversify tourism products and services, and open new tours.
In order to expand the tourism connectivity network, the province signed tourism cooperation agreements with the Mekong Delta provinces of An Giang, Bac Lieu, Soc Trang, and Can Tho regarding the exchange of information and State management experience in tourism promotion.
In the near future, Quang Binh will be calling on major prestigious partners at home and abroad to invest in tourism projects in its localities, offering incentives to investors in resort development.
Along its coastal areas, Quang Binh has allocated over 1,000ha for tourism investors.
An Giang finds remains of 116 fallen soldiers
During the 2017-2018 dry season, the search team K93 of the An Giang Military High Command found the remains of 116 Vietnamese volunteer soldiers who laid down their lives during wartime.
According to the head of the team, Colonel Pham Quang Trung, 78 of the total remains were discovered in Cambodia's Kampong Speu and Takeo provinces, while the rest were found in Vietnam.
Among the 38 remains recovered in Vietnam, two were identified. The team contacted the soldiers' families so that they could be laid to rest in their hometowns.
As planned, all the remains found in the 2017-2018 dry season by the K93 team and the K90 team of the Military Zone 9 will be reburied at the Doc Ba Dac Martyrs' Cemetery in Tinh Bien district, in the Mekong Delta province of An Giang on July 20, on the occasion of the 71st Day of War Invalids and Martyrs.
Vietnamese leader congratulates re-elected Turkish President
President Tran Dai Quang sent a congratulatory message on July 2 to Recep Tayyip Erdogan on his re-election as President of Turkey.
Vietnam and Turkey set up their diplomatic ties on June 7, 1978.
Turkey is Vietnam's leading trade partner in the Middle East. Their bilateral trade has increased over the years, exceeding 2 billion USD in 2017, of which 1.9 billion USD came solely from Vietnam's exports.
Turkey currently runs 16 investment projects in Vietnam with total registered capital of more than 1 billion USD.
In June 2016, Turkish Airlines opened a flight route connecting Hanoi and Istanbul via Ho Chi Minh City with seven flights per week. Previously, the two countries had signed agreements on aviation, maritime transportation, and double tax avoidance.
Summer football camp gives hope for young talents
More than 3,860 children from around the country have taken part in selection for the Toyota Junior Football Programme 2018, with hopes of becoming the country's next football stars (Photo: nghenhinvietnam)
More than 3,860 children from around the country have taken part in selection for the Toyota Junior Football Programme 2018, with the hope of becoming the country's next football stars.
The programme covered three selection rounds in Ho Chi Minh City, Da Nang, Gia Lai and Hanoi.
In the second round, 106 qualified players will join six-a-side group matches to show off their individual technique and logical thinking.
Finally, 36 players will be selected for another six-a-side match. In this round, players have to demonstrate strong abilities in teamwork, aggression and intelligence to solve problems on the pitch.
"I'm very satisfied with this year's contestants as they have been trained carefully by the local centre. I also have a good feeling about the Vietnamese football movement because summer football camps like this will help find many more talented football players in the future," coach Le Huynh Duc said about the quality of this year's programme.
After the four selection rounds, 30 of the top football talents will advance to the training camp at Ton Duc Thang University in Ho Chi Minh City from July 10 to 16.
Finally, the best 18 players selected from the training camp will play a friendly match in Japan and join the Toyota international football league with Toyota teenage football teams from Japan and Thailand from September 13 to 20.
The Toyota Junior Football Programme has been annually organised by Toyota Motor Vietnam (TMV) since 2015, for young football talents aged between 9 and 12, in the country.
2018 also marks 45 years in the relationship between Vietnam and Japan. Besides annual activities, TMV has been making efforts to become "a good citizen in the local community" through many social activities, focusing on traffic safety, education and training, environmental protection and culture.
National programme adopted to support minority students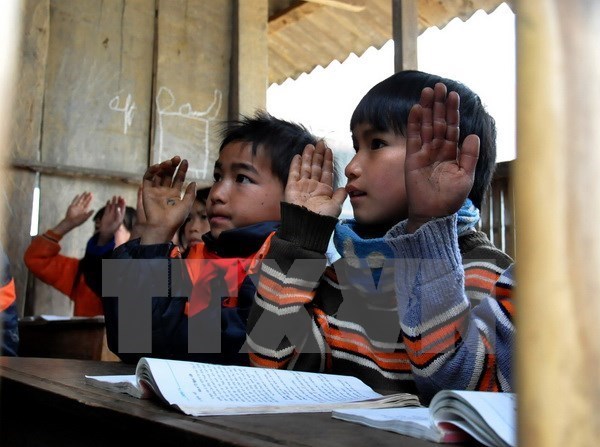 Prime Minister Nguyen Xuan Phuc approves a national target programme on education for ethnic minority, mountainous and disadvantaged areas across the country between 2016 and 2020. Illustrative image
Prime Minister Nguyen Xuan Phuc has approved a national target programme on education for ethnic minority, mountainous and disadvantaged areas across the country between 2016 and 2020.
The programme aims to provide financial support for the construction, expansion and renovation of boarding schools for ethnic minority students with total investment of more than 401.7 trillion VND (17.67 billion USD).
The investment can be increased but should not exceed 1.1 trillion VND (48.4 million USD).
It will also offer 4 trillion VND (176 million USD) in funds to repair, upgrade, expand and provide necessary facilities for 1,070 schools, including semi-boarding high schools for ethnic minority students as well as elementary and secondary schools with day boarders, in extremely difficult areas.
These schools will get support to purchase basic teaching aids, classroom desks and chairs, equipment for catering services and residential houses for students.-
Part of the sum will be used to purchase utensils and equipment for 1,045 canteens, kitchens and 1,045 dormitories at the targeted schools.
Companies learn how to adopt zero-tolerance policy on wildlife crime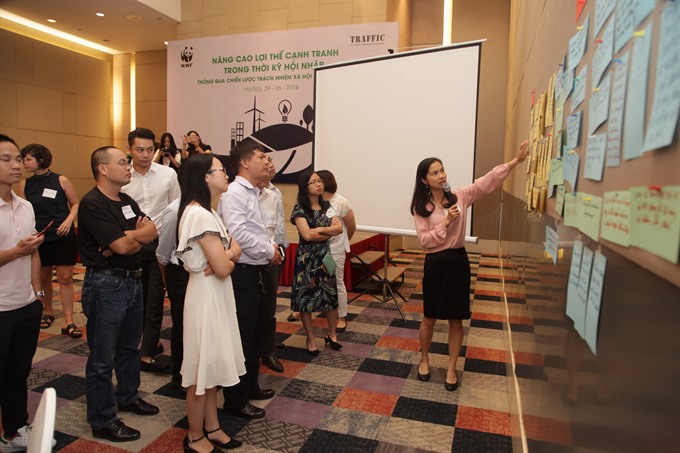 Staff from 30 Vietnamese and Germany companies met at a workshop last weekend in Hà Nội organised by TRAFFIC to learn the benefits of adopting a zero-tolerance policy on wildlife crime.
Staff from 30 Vietnamese and Germany companies met at a workshop last weekend in Hà Nội organised by TRAFFIC to learn the benefits of adopting a zero-tolerance policy on wildlife crime.
Taking a public stance against buying, gifting and consuming wild animals could make their companies more competitive, workshop leaders said.
"Wildlife trafficking is transnational by nature and has repercussions that are felt worldwide. It is an issue that resonates with the German people and we are pleased with this opportunity for German and Vietnamese companies to join together and spread a united message against this crime," said Katharina Trump, anti-poaching programme manager at the World Wide Fund for Nature (WWF)-Germany.
During the workshop, participants learned how to enact a corporate social responsibility (CSR) policy to attract ecologically-minded clients, increase competitiveness, and mitigate potential risks.
The workshop featured sessions on how to construct meaningful messages using CSR activities that could combat wildlife crime and lead to a change of practices among their colleagues and customers.
Adopting these policies could strengthen the reputation of their businesses by ensuring they are not inadvertently participating in wildlife crime.
"In this age of global integration, Vietnamese companies are expected to accept their stakeholder responsibilities and societal obligations along with their shareholder wealth-maximisation goals," said Lương Tú Anh, managing director of Mắt Bão - Northern Area, one of the presenters at the workshop.
The event was the latest in a series organised by TRAFFIC with different companies and civil society organisations, including the Việt Nam Chamber for Commerce and Industry (VCCI), Việt Nam E-Commerce Association, and Việt Nam Automobile Transportation Association.
The aim is to work towards the eradication of animal trafficking by encouraging companies to take a strong position against wildlife crime.
TRAFFIC's efforts to encourage companies to integrate wildlife protection into their CSR activities have spanned the business, tourism and hospitality sectors.
As a result, anti-trafficking messaging has been placed on buses, websites, at events, and on other platforms, reaching around 250,000 people.
Following the workshop, companies were given CSR toolkits to help them develop an effective integrated CSR policy against wildlife crime.
Bình Phước warns farmers not to grow uncertified cashew varieties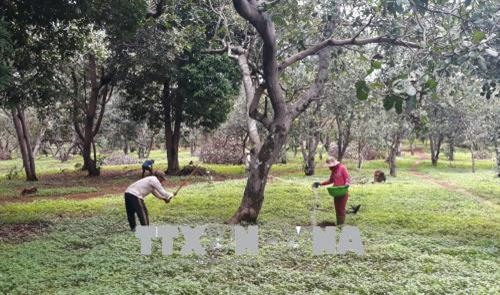 The Bình Phước Province Department of Agriculture and Rural Development has warned local farmers not to grow new cashew varieties that have not been certified by the Ministry of Agriculture and Rural Development to ensure cashew quality is not affected.
Farmers in the country's largest cashew growing province have begun to replant old cashew trees since the start of the rainy season in summer.
They are planting varieties like AB29 and AB05-08 that have not been certified, saying they produce large nuts and more fruits than existing varieties when they begin to fruit after one year.
The seedlings of the two varieties are in great demand now.
But the department said the two varieties cannot match traditional ones for quality or flavour.
Lê Thị Ánh Tuyết, deputy director of the department, said the department is monitoring the growth and disease situation of the two varieties grown on a trial basis by the Institute of Agriculture Science for Southern Việt Nam's cashew research and development centre.
It is also evaluating their quality for flavour and fat, she said.
It has petitioned the ministry to instruct relevant authorities announce the research results soon, she said.
The department encourages farmers to replace old cashew trees with certified varieties like PN1, MH54, ĐP41, and PN18, which are suitable for the province's soil conditions.
The south-eastern province needs to replant about 2,486ha this year, according to the department.
Ethnic minority, poor, and near-poor farmers and those covered by the Government preferential policies, who are replacing their old cashew trees, are provided with subsidies for seedlings.
Bù Đăng and Bù Gia Mập districts lead the province in the number of old cashew trees that need to be replanted this year -- 241,000 and 197,190.
Cashew farmers have suffered from poor harvests in recent years because the weather has been inclement and their trees are too old.
Dương Văn Phong, who has a 4ha orchard in Bù Gia Mập District, said he suffered a loss of about VNĐ15 million (US$660) this year after having a poor harvest.
Disease outbreaks had caused yields to decline for the last three years, he added.
The province plans to replant 25,000ha of cashew trees and plant more than 41,000ha anew under the intensive farming model by 2020.
The cost of replanting is around VNĐ20 million ($880) per hectare while new trees cost VNĐ10 million ($440) per hectare, according to the department.
Cashew is the province's key industrial crop and has helped people in ethnic communities and rural, mountainous and border areas to escape poverty.
Bình Phước's cashew has been given geographical indication (GI) certification by the National Office of Intellectual Property.
The province has 134,170ha under cashew, or nearly 50 per cent of the country's total area under the nut, and produces 150,000 tonnes a year.
Cancer can be controlled: experts
The development of new generation sequencing along with artificial intelligence help doctors quickly identify the best drugs for their patients, said doctor Phan Minh Liêm.— Photo ungthuvietnam.com
The development of new generation sequencing along with artificial intelligence help doctors quickly identify the best drugs for their patients, said doctor Phan Minh Liêm.
Addressing at workshop on next-generation sequencing and genomics in cancer precision medicine and screening held in the central province of Khánh Hòa yesterday, Liêm said with these technologies, genetic experts can analyse genomes, detect genetic mutations that increase the risk of cancer and provide appropriate cancer prevention counselling.
According to Liêm - who has been honoured four times by MD Anderson Cancer Centre in the United States, cancer is a deadly disease in Việt Nam.
The treatment of diseases in Việt Nam is still limited as it based on monitoring the effects of drugs, but if detected early, cancer can be controlled, he said.
"The results of 20,000 gene sequencings provide important information about genetic mutations. The analysis of the genetic code will help medical specialists choose the right treatment, especially for cancer," said Yun Yu, from MD Anderson Cancer Centre.
According to the Ministry of Health, more than 150,000 new cancer cases are detected yearly in Việt Nam. Of these, nearly 90,000 resulted in deaths, mainly due to late detection.
Việt Nam is among the countries with the highest rates of cancer mortality in the world at 74.8 per cent.
Cancer is a dangerous disease and claims the lives of more than 8 million people a year.
Liêm said that the number of people suffering from the disease could be cut if cancer screening technology was used well.
On this occasion, a Việt Nam-US Biomedical Institute was launched yesterday in Nha Trang City.
The institute will be the place for patients to receive information, counselling support and help finding the optimal drug for treatment from specialists at the MD Anderson Cancer Centre, the American Society for Clinical Pathology and the American College of Medical Genetics and Genomics.
According to Trần Đình Thiên, Director of the Vietnam Institute of Economics, the opening of the institute is a breakthrough, allowing Việt Nam to use the world's advanced medical treatment.
It would help Vietnamese access cancer screening technology without having to visit Japan and Singapore as before, he said.
Thiên said that successful transfer of technology for early detection and treatment of cancer at the Việt Nam-US Biomedical Institute demonstrates that the Vietnamese medical sector is fully capable of receiving the world's advanced solutions, opening up opportunities for the best screening, treatment and lowest possible costs for patients in Việt Nam.
HCMC to make efforts in addressing urban flooding
The basic cause of urban flooding in HCMC is the unsuccessful sewage treatment
Ho Chi Minh City (HCMC) People's Council Chairwoman Nguyen Thi Quyet Tam announced at the forum 'Urban Flooding in HCMC – Reasons & Solutions' yesterday that the flooding situation in the city has become worse and worse, creating much concern among city dwellers.
According to Mr. Nguyen Hoang Anh Dung, Deputy Director of the Steering Center of the Urban Flood Control Program HCMC, recently, his center has focused on addressing urban flooding in the downtown basin and a part of the five urban basins in an area of 550km2, accommodating around 6.5 million citizens.
His staff has also tried to improve the water environment, increase the space of water reservoirs, and create attractive cityscapes in order to develop living standards and protect the environment.
At the moment, 22/37 hotspots of urban flooding have already been tackled (accounting for 59.46 percent) and the other 15 routes are now being dealt with. It is expected that in 2020, all tasks will be completed.
When explaining for the fact that many streets are flooded whenever it rains, Mr. Dung shared that the drainage system of the city is quite small, while littering is still a serious problem, all of which have impeded the sewage flow.
In addition, there are many cases of illegal land encroachment near the opening of the drainage system, yet no actions have been made to address that.
Sharing his feeling in the event, Mr. Ngo Chi Hung, a worker of the HCMC Urban Drainage Co. Ltd., expressed how upset he was when people in many construction sites, restaurants, or food shops thoughtlessly throw litter into the drainage system. Much of this litter is fat substance, which easily impedes the water flow, let alone other dangerous kinds like waste, injection needles, broken bottles, knives that can harm sanitation workers.
His hope is that people have higher awareness and stop littering public space and drainage systems. That will also prevent occupational accidents among sanitation workers.
Expressing her apology to these workers on behalf of the municipal authorities, Ms. Nguyen Thi Quyet Tam promised to focus more on the task of raising people's awareness of this issue.
Vice Chairman of the HCMC People's Committee Tran Vinh Tuyen welcomed all suggestions of citizens to tackle urban flooding and admitted that this is a very challenging problem, caused basically by the unsuccessful sewage treatment in the city.
Furthermore, the drainage planning of the city has become so outdated, along with the ineffective management.
The city, therefore, is going to focus on urgent tasks first while socializing projects to fight against urban flooding, hoping to have many breakthroughs in the future. Simultaneously, the local authorities will be stricter in addressing illegal land encroachments to clear the openings of the drainage systems.
Meanwhile, the evaluation on previous actions, which cost dearly yet delivered very poor results, must be done to pinpoint weaknesses and correct them. All must be done to ensure quick sewage draining.
Concluding the forum, Ms. Nguyen Thi Quyet Tam insisted that the fight against urban flooding is one of the critical tasks of the city to boost the economic and social development and to answer the urgent request of city dwellers.