Thanh Hoa province holds oil spill response drill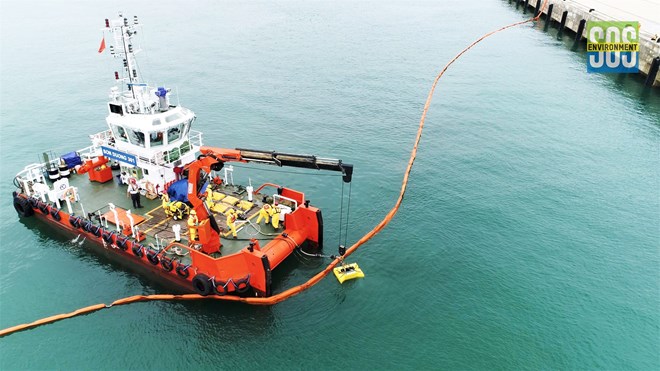 A drill was held in the central coastal province of Thanh Hoa on July 10 to provide local relevant forces with necessary knowledge and skills to cope with oil spills and improve search and rescue efforts.
The event was jointly organised by the provincial Steering Committee for Oil Spill Response and the environmental incident response centre of the SOS Environment JSC.
According to the hypothetical scenario, an oil spill occurred due to a collision between two tankers in the waters near the Nghi Son International Port.
The incident posted a serious risk of fire and explosion, and had two crew members to be rescued urgently.
Right after the incident, the port's security force asked for support from the environmental incident response centre, the provincial fire fighters, and the provincial border guard force.
The border guard station at Nghi Son border gate, flotilla 2 with 20 officers and soldiers onboard were dispatched to the site to guide boats away from the oil-spilled area, and two crew members were taken to hospital.
Other efforts were made to minimise the amount of oil spilled into the sea and isolate the spilled oil by using floats to surround the crashed vessels, and pumps to collect the spilled oil.
Le Van Hung, Deputy Commander and Chief of Staff of the Thanh Hoa Border Guard Command said the drill was successfully organised with smooth coordination among rescue forces.
It contributes to raising public awareness of the importance of oil spill incidents, thus giving effective assistance to relevant forces to deal with oil spills in real situations.
Expats affected by Phnom Penh fire receive support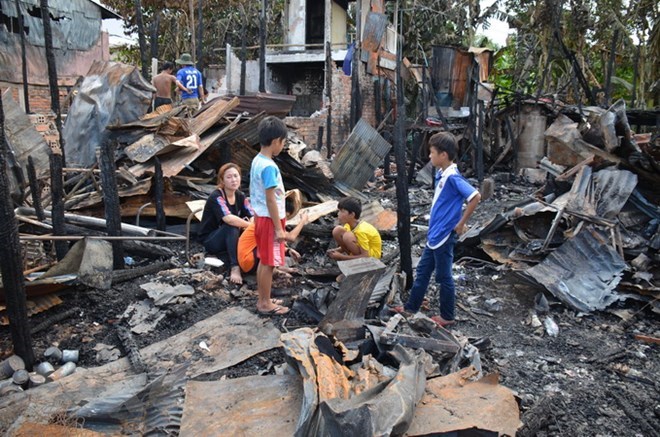 Representatives from the Vietnamese Embassy, the Khmer-Vietnamese Association and Vietnamese businesses in Cambodia on July 10 afternoon visited Vietnamese families in Phnom Penh affected by the blaze which took place early morning the same day.
Ambassador Vu Quang Minh thanked local authorities and the Cambodia Red Cross Society for their timely support to the victims, and pledged that the embassy and relevant units will continue to mobilise assistance for them.
The fire began at 3.30am on July 10 in Russey Keo district, Phnom Penh, destroying 59 houses and assets of 67 households, including 58 households of Vietnamese Cambodian people.
The initial conclusion shows that the fire was caused by an electrical fault. Firefighters used 32 fire engines, but the road was so small and the houses were made of wood so that the fire trucks found it hard to battle the fire.
Following the incident, the Vietnamese Embassy and the Khmer-Vietnamese Association sent officials to the site and had working sessions with local authorities and police to seek aid for the victims.
US servicemen's remains repatriated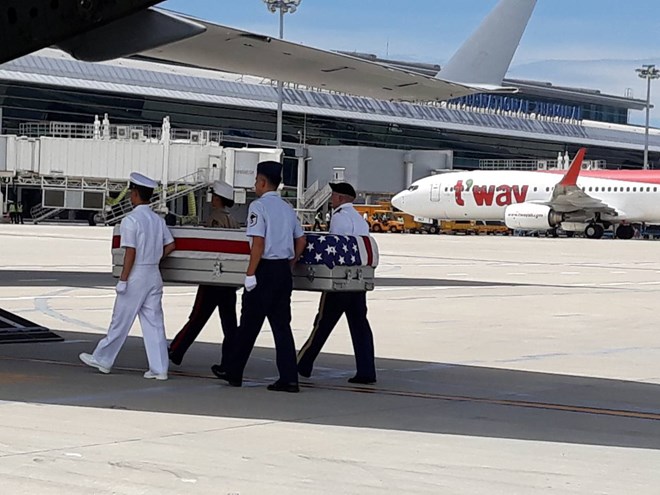 A repatriation ceremony of remains of US servicemen who died during the war in Vietnam was held at Da Nang International Airport on July 8 (Photo: Ministry of Foreign Affairs)
A repatriation ceremony of remains of US servicemen who died during the war in Vietnam was held at Da Nang International Airport on July 8.
Attending the ceremony, for the Vietnamese side, were representatives from the Board of Directors of Vietnam Office for Seeking Missing Personnel (VNOSMP) and, for the US side, were Mary E. Tarnowka, US Consul General in Ho Chi Minh City, Colonel Tuan T. Ton, Defense Attache of the US Embassy in Hanoi, representatives of the Defense POW/MIA Accounting Agency and the US MIA Office in Hanoi.
The Vietnamese side's representative handed over to the US side two boxes of remains which were recovered by joint and unilateral excavation teams during the 131st Joint Field Activities from May to July, 2018.
The remains had been jointly reviewed and concluded by Vietnamese and US forensic specialists in Da Nang that they might be associated with the US servicemen missing during the war in Vietnam and were recommended to bring to Hawaii, the US, for further review.
Addressing at the repatriation ceremony, the US Government's representative expressed deep gratitude and high appreciation for the steadfast humanitarian policy, good-will, the full and the increasingly efficient cooperation of the Vietnamese Government and people.
The seeking of the remains of US servicemen missing during the war in Vietnam is humanitarian cooperation between the Vietnamese Government and the US Government. This is the 144th hand-over of American missing servicemen's remains since 1973.
First Vietnamese language class for expats opens in Thailand
The first-ever Vietnamese language class for overseas Vietnamese (OVs) in Thailand was opened at the headquarters of the Vietnamese Embassy in Bangkok on July 7.
The class, with 10 learners in attendance, is jointly organised by the Vietnamese Embassy in conjunction with the association of Thai people of Vietnamese origin and the Thai-Vietnamese business association.
Addressing the opening ceremony, Ambassador Nguyen Hai Bang emphasised that the Party and State of Vietnam always pay due attention to teaching Vietnamese language for overseas Vietnamese.
With the support of the Thai royal family and government, and the large number of Vietnamese, Thailand has favourable conditions to organise such classes, the diplomat said.
Vietnamese language classes are expected to help Vietnamese families abroad preserve their mother tongue and encourage young generations contribute to their homeland, he added.
Training course on UXO actions opened for military officials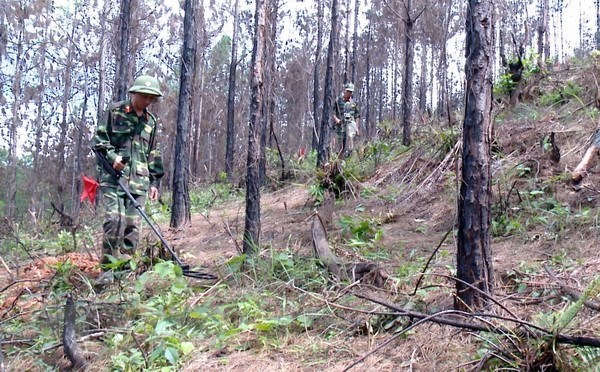 Vietnam has made efforts in the settlement of left-over unexploded ordnances (UXO)
A training course on bomb and mine operations jointly held by the Vietnam National Mine Action Centre (VNMAC) and the UN Development Programme (UNDP), with the support of the Republic of Korea (RoK) Government, opened in Hanoi on July 9 for officials of the Ministry of Defence.
Addressing the opening ceremony, VNMAC Vice General Director Nguyen Van Nghiep said that in order to catch up with the fourth industrial revolution, the management of work relating to the settlement of left-over unexploded ordnances (UXO) will now be implemented with computer software instead of on paper, which makes the work faster, more convenient, and accurate.
The training contents have been built by the UNDP and the VNMAC along top practice methods applied in technical support projects across the world, with less focus on theory and maximum time spent practicing, he said.
Trainees will be divided to groups of 10 for tasks practicing with modern equipment and tools.
Nil Chirstensen from the UNDP said that the programme has held bomb and mine action projects in 20 countries, with an aim to improve the skills and capacity of agencies in making plans, and defining prioritised bomb and mine actions.
The course is expected to provide a new approach through the globally-successful lessons, offering trainees insight into bomb and mine clearance.
It draws lecturers with 20-30 years of experience, along with speakers from many international organisations.
The course is part of a cooperation project between Vietnam and the RoK on coping with the consequences of bombs and mines, focusing on the management of information, quality control, and bomb and mine detection and clearance.
The project will be implemented over three years until 2020 in the two provinces of Quang Binh and Binh Dinh, where about 30-40 percent of land area is still polluted by bombs and mines left by the war.
It is comprised of 21 detection and 52 clearance groups operating from late 2018, over a total area of 20,000 hectares.
HCM City police complimented for anti-terrorism efforts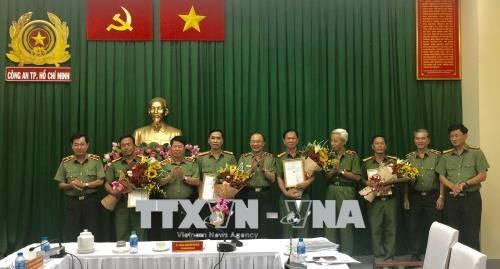 Ho Chi Minh City's police units were applauded for their glorious achievements in fighting terrorism.
Ho Chi Minh City's police units were applauded for their glorious achievements in fighting terrorism in the past time, especially the raid on a group of people conducting terrorist activities at a police station in Tan Binh district on June 20.
Deputy Minister of Public Security Sen.Lieut.Gen Bui Van Nam on July 9 spoke highly of the municipal Police's resounding success in ensuring social order and security while asking the force to continue their efforts to fulfill the entrusted missions in the coming time.
With their excellent performance, four units under the city's Police were awarded 15 million VND (660 USD) each. They money was drawn from the crime prevention and combat fund.
Earlier, the Ho Chi Minh City police had launched criminal proceedings against and put into temporary detention four suspects with charges of conducting terrorist activities aimed at overthrowing the people's administration, and three others of illegal trading of explosives.
According to Major General Phan Anh Minh, Deputy Chief of the city's Police, a big explosion occurred on June 20 at a police station in Tan Binh district, injuring three people and damaging some property.
After over 10 days investigating, the municipal Police, in coordination with their counterpart from the neighbouring province of Dong Nai, arrested seven suspects.
They seized nearly 10kg of TNT explosives, as well as other materials used to make explosives, together with eight explosives to be used for similar attacks.
After his arrest, Nguyen Tuan Thanh – born in 1990 – confessed that his father Nguyen Khanh – born in 1964 and residing in Trang Bom district, Dong Nai province – told him to make explosives with remote activation detonators. Both admitted to having close relationships with Ngo Hung, the self-proclaimed commander-in-chief of the Viet Nguyen dynasty, currently residing in the US.
Hung appointed Khanh as Governor of the Dong Nai autonomous region and Thanh as Major General. Afterwards, Hung transferred 120 million VND (5,214 USD) to Khanh and assigned him to organise the production of explosives which would be detonated at police stations.
Following Hung's order, Khanh assigned his nephew, Duong Ba Giang – born in 1971 and residing in Dong Nai province – to make the explosives. Thanh was responsible for supporting Giang.
After receiving two bombs created by Giang, Khanh handed them to Vu Hoang Nam – born in 1996 residing in Tan Binh district, Ho Chi Minh City – and asked him to detonate them at police stations without clear addresses.
On June 20, Nam threw two bombs into the police station at Ward 12 in Tan Binh district, injuring himself in the process.
Khanh gave another bomb to Nguyen Xuan Phuong – born in 1988, residing in Bien Hoa district, Dong Nai province – and asked him to create a blast at Tam Hiep police station in Bien Hoa district. However, Phuong left the bomb in a deserted location, falsely reporting back to Khanh that he had successfully planted it but that it may have failed to blast.
Khanh told the police that he bought explosives from a group of people in Dak Mil district, Dak Nong province. On the basis of this, the police arrested three more suspects. However, they said they did not know Khanh would use the explosives for terrorist purposes.
According to the investigation authorities, the reactionary Viet Nguyen dynasty group has enlisted several people to disturb public order in Ho Chi Minh City, filming and posting the incidents on social networks, with many further events planned.
The police are expanding the investigation to arrest more suspects.
Workshop highlights historical significance of Khe Sanh victory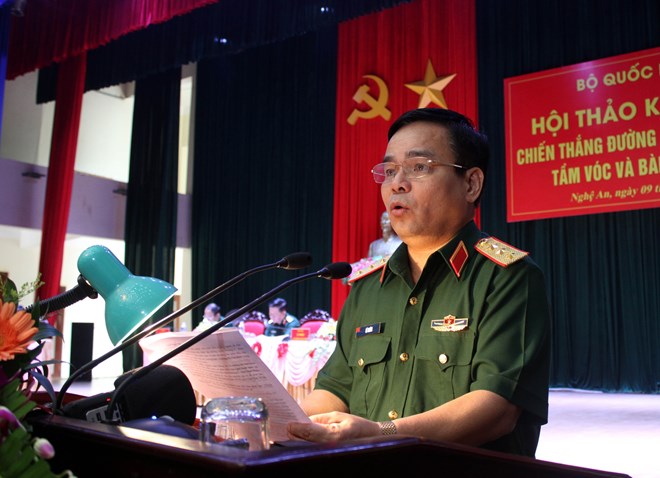 Senior Lieutenant General Le Chiem, Deputy Minister of National Defence, speaks at the workshop on July 9
A workshop remembering the Battle of Khe Sanh, 50 years ago, was held in the central province of Nghe An on July 9.
Prior to the General Offensive and Uprising in Spring 1968, the US imperialists built Road 9 through Khe Sanh in central Quang Tri province, as a special strategic position.
Khe Sanh became the region which gathered the largest number of US soldiers and weaponry, aimed at suppressing the assistance from the north to the south of Vietnam.
During 170 days of fierce fighting at Khe Sanh, the Vietnamese armed forces and people had put out of action 11,900 enemies, shot down 480 aircraft of different kinds, destroyed 120 military vehicles and hundreds of artillery, and seized a substantial amount of weapons.
With the victory on July 9, 1968, Huong Hoa district in Quang Tri province became the first district in the south to be liberated.
Senior Lieutenant General Le Chiem, Deputy Minister of National Defence, said the workshop aimed to highlight the historical significance of the victory.
Workshop participants analysed the domestic and international context of the battle, as well as the preparations and coordination of the Vietnamese armed forces and local people that contributed to the victory.
The direction and creativity of the Vietnamese Party played a crucial role in the victory, according to Major General Nguyen Van Bao, Director of the Political Academy under the Ministry of National Defence.
The triumph demonstrated a mix of strategic and accurate decision-making, appropriate selection of combat zones, and excellent implementation of diversionary tactics by the Vietnamese army, he said.
The workshop received 80 reports analysing the developments of the battle, the build-up behind the victory, and its historical significance.
Cargill raises 6 billion VND for community projects in Vietnam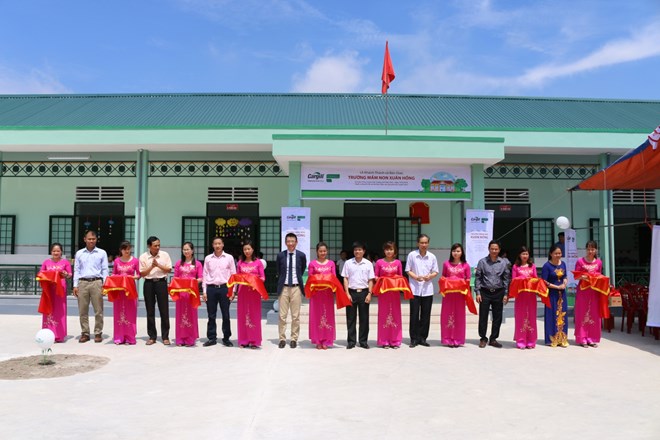 Cargill inaugurates its 86th school in Vietnam's northern province of Nam Dinh. (Source: http://www.cargillfeed.com.vn)
Cargill Cares Council, Cargill Incorporated's international charity fund raiser, has mobilized nearly 6 billion VND (264,300 USD) in June to implement community projects in Vietnam.
Since its establishment in 1997, the employee-led council has raised over 120 billion VND (5.2 million USD) in Vietnam to build 87 schools in 47 cities and provinces nationwide.
It has also carried out other community projects such as digging wells to supply clean water in the country's poor rural areas.
Cargill recently built two schools in central Quang Tri and northern Nam Dinh provinces and plans to build another in Quang Tri in August.
Stoney Su, chief representative of Cargill Vietnam, said the school building programme is providing quality education for about 14,000 students a year.
The Cargill Cares Council plans to build 100 schools by 2020.
Vietnam attends World Cities Summit in Singapore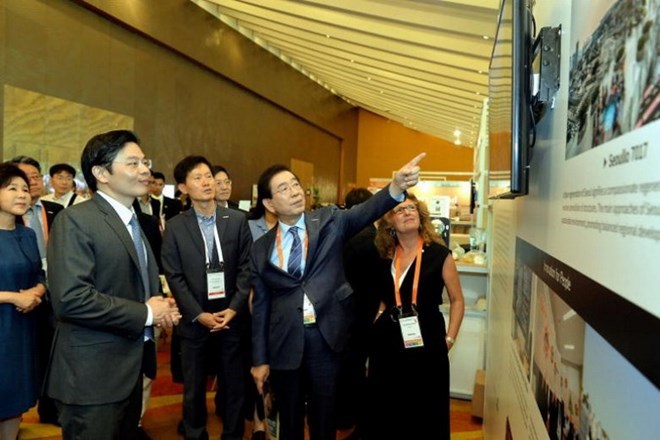 Participants at an exhibition held in the framework of the the World Cities Summit
Officials from Vietnamese localities namely Hanoi, Binh Duong, Quang Ngai and Hai Phong, and representatives from the country's Ministry of Foreign Affairs are joining foreign mayors, governors and officials from 125 countries and territories around the world at the World Cities Summit (WCS) Mayors Forum in Singapore on July 7-8.
Themed "Livable and Sustainable Cities: Embracing the Future through Innovation and Collaboration", the event explores how cities can be more liveable and resilient through better governance and planning, technology and social innovations, as well as collaborations with various stakeholders and other cities.
The forum, a highlight of the WCS which is taking place from July 6-11 also focuses on how to tap breakthrough innovations to create development momentum for cities, and to attract funding for infrastructure projects.
In his opening remarks at the event, Singaporean Minister of National Development Lawence Wong emphasised that cities around the world are facing common challenges in urban governance, city planning, resilience and innovation.
As chair of ASEAN in 2018, Singapore has paid attention to "resilience and innovation", aiming to create a channel for and leaders to debate solutions to the design and construction of urban areas and share experiences to connect cities worldwide, he said.
Nguyen Van Suu, Vice Chairman of the Hanoi People's Committee, discussed the vision and strategy for smart city and e-government development in Vietnam and Hanoi in particular.
He stressed that amidst international integration and the 4th Industrial Revolution, the development of smart and sustainable cities is important for all big cities, including Hanoi.
Hanoi is determined to accelerate the building process of people and business-centric intelligent cities, aiming to become an intelligent city by 2030, Suu said, expressing the hope to foster international cooperation in technology and knowledge transfer with localities, businesses and partners worldwide.
Delegates to the summit discussed measures to create creative breakthroughs and adapt to new technologies to boost the development of cities.
They also concentrated on governance solutions to mobilise finance from the private sector to invest in infrastructure development, towards harmonising the public interest and short-term commercial profits.
Chairman of the Mayors' Committee of Singapore Low Yen Ling and CEO of Pontiac Land Group Melissa Kwee briefed participants on the outcomes of the 6th Meeting of Governors/Mayors of ASEAN Capitals (MGMAC) and the World Cities Summit Young Leaders Symposium.
They called for a joint effort from mayors, governors and leaders to address global challenges, towards building livable and sustainable cities.
During the 6th MGMAC, the Vietnamese delegation joined the signing of the Singapore Declaration on sustainable environment and attended the ASEAN Smart Cities Network Inaugural Meeting.
Vietnamese delegates will also participate in the fourth Lee Kuan Yew Prize Award Ceremony and seminars on urban governance, planning, improving the resilience of cities, application of breakthrough innovations in urban construction and cooperation among cities.
Initiated by the Singaporean Government, the annual event is a platform for government leaders and industry experts to address liveable and sustainable city challenges, share integrated urban solutions and forge partnerships.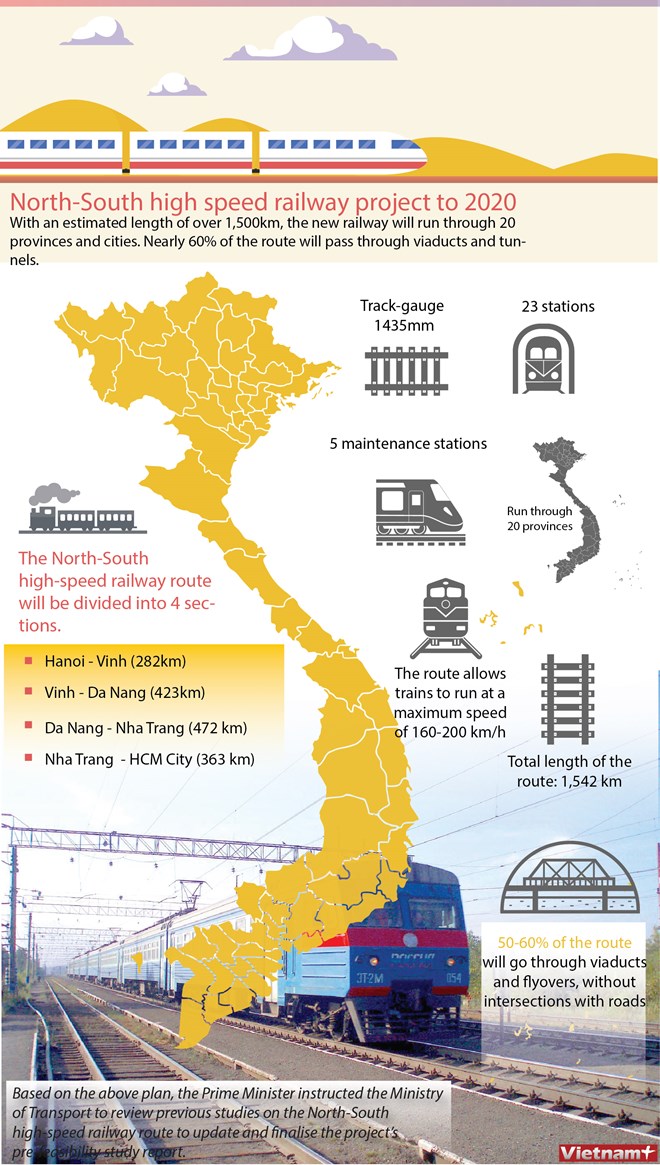 Long An province cracks down on smugglers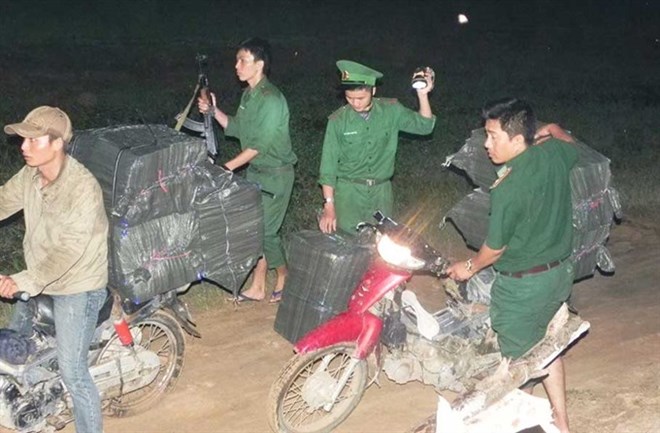 Long An Province's anti-smuggling forces have strengthened border patrols, supervision and inspections to prevent and fight smuggling at border areas (Illustrative image. Source: baolongan.vn)
The Mekong Delta province of Long An has made significant achievements in preventing and fighting smuggling and trade fraud at border areas.
In the first six months of the year, 497 cases of smuggling and trade fraud were uncovered, while 1.2 million packages of smuggled foreign-made cigarettes, 240 bottles of foreign wine, and more than 24 tonnes of sugar were seized.
The province fined a number of cases, collecting nearly 5.5 billion VND (238,740 USD) for the State budget, and prosecuted 17 cases involved trade and transport of prohibited goods.
The province's investigation police office has decided to start criminal proceedings against many of the violators.
The My Quy Tay Border Gate Economic Area in Duc Hue district has long been seen as a transit point for cigarette smuggling from Cambodia into Ho Chi Minh City. Thanks to more frequent inspections, the number of smuggling cases has fallen.
Lieutenant Colonel Trinh Anh Kiet, the district's deputy police chief, said that smuggling of cigarettes in the district had been placed under strict supervision.
Several cases involving trade and transport of banned goods in large numbers have been strictly punished, acting as a deterrent to repeat offenders, according to Kiet.
In the first months of the year, the district's anti-smuggling police discovered more than 20 cases involving storage and transport of prohibited goods.
The police said they would prosecute seven of the cases and charge a total of eight people.
Senior Lieutenant Colonel Nguyen Ngoc Trai, deputy police chief of Kien Tuong town, said that smuggling and transport of prohibited goods at the town's Binh Hiep International Border Gate had decreased significantly.
He said that authorities had compiled a list of masterminds and retailers suspected of involvement in storing and transporting banned goods and illegal cigarettes.
Since the beginning of this year, the town police have discovered 34 cases of cigarette smuggling, with a total of 77,980 packages.
Tran Van Can, Chairman of the provincial People's Committee, has directed the province's anti-smuggling forces to step up patrols and control of smuggling and trade fraud.
Officials, civil servants and soldiers who engage in smuggling and trade fraud must be punished, he said.
More jobs need to be created for people in border areas so they will not turn to smuggling, he added.
The province will also raise public awareness about laws on smuggling and trade fraud via the media.
Nghe An province works hard to lure more visitors
Cua Lo beach of Nghe An province
The north central province of Nghe An has been taking numerous measures to promote the province's tourism in both domestic and foreign markets.
The province is striving to welcome 5-5.5 million tourists by 2020 and increase tourism earnings by 17-18 percent each year. It also aims that tourism will account for 4.5-5 percent of the province's gross regional domestic product (GRDP) and generate jobs for more than 45,000 labourers.
Nghe An has been working with the Vietnam National Administration of Tourism and the Vietnam Tourism Association to participate in annual tourism promotion events in traditional foreign markets of Thailand, Laos, Japan, China, the Republic of Korea, Singapore, Malaysia and Indonesia.
The province has also promoted itself in new and potential markets such as France, Germany, the UK, Russia, the US, Canada and India. Several fam trips are arranged in a year for foreign delegations to explore the province.
Accordingly, tourism publications with updated maps and information have been introduced in various languages to serve international tourists. New tourism kiosks have been set up recently in Nam Can and Thanh Thuy border gates.
In addition, Nghe An has drawn more investment in high-quality tourism services to meet current demand and increase tourist's expenditure in the province.
Director of the provincial Department of Tourism Nguyen Manh Cuong affirmed that Nghe An has built a mechanism to encourage the participation of local organisations and people in tourism and investment promotion. The province will collect visitors' opinions to devise suitable methods for tourism promotion, along with local tourism products and services, he added.
Training classes have also been organised to improve qualifications of tourism workers in terms of tourism knowledge, service skills and foreign languages.
Nghe An received more than 3.5 million visitors in the first half of 2018, including nearly 70,800 foreign tourists, a year-on-year rise of 18 percent.
Voluntary campaign launched in Ho Chi Minh City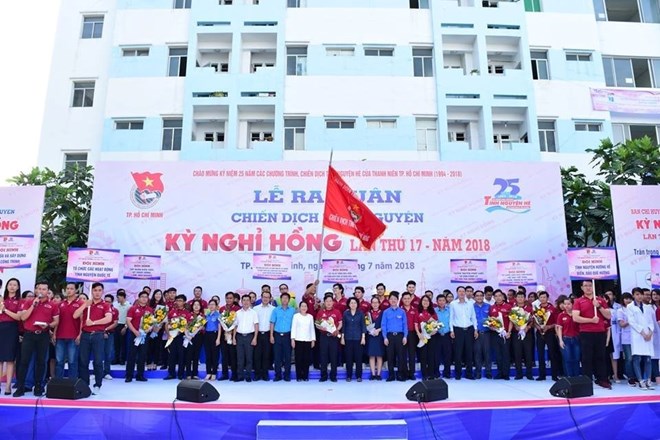 The 17th Ky Nghi Hong (pink holiday) campaign in Ho Chi Minh City was launched on July 8
As many as 1,000 young people and workers gathered at the launching ceremony of the 17th Ky Nghi Hong (pink holiday) campaign in Ho Chi Minh City on July 8.
The annual campaign, to last until August 12, is expected to attract more than 50,000 youths and workers who will be assigned to 24 districts in HCM City, several provinces in the southern, central and Central Highlands regions and some localities of Laos.
Divided into nine teams, the volunteers will popolarise laws among the public, provide local farmers with knowledge about agriculture, forestry and fishery, improve water and power systems, repair and build facilities, provide health care and organise cultural and sport events, among others.
They will present 500 sets of gifts to social policy beneficiaries, heroic Vietnamese mothers, workers and families in difficult circumstances, as well as officers and soldiers working in border and island areas.
The volunteers are expected to mobilise the donation of at least 2,000 units of blood during the campaign.
In that spirit, a blood donation drive was held right after the launching ceremony of the campaign.
Young scientists voluntarily join agricultural restructuring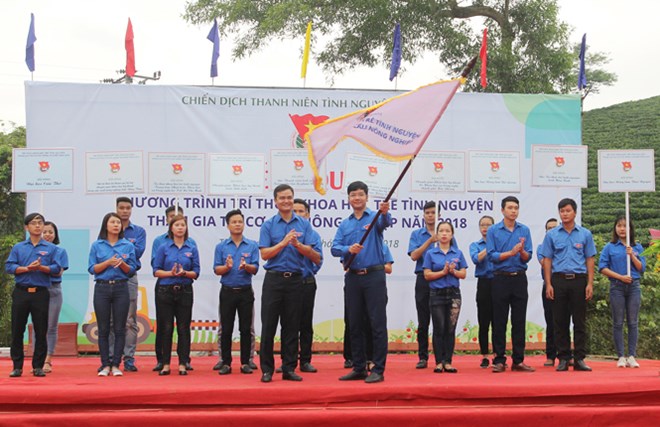 Scene at the ceremony
Over 300 youths in the northern province of Thai Nguyen on July 8 took part in the launching ceremony of a voluntary programme designed to call on young intellectuals and scientists join hands in agricultural restructuring.
Speaking at the ceremony, Secretary of the Ho Chi Minh Communist Youth Union (HCYU) Central Committee Bui Quang Huy said the programme has been carried out over the past three years, under which young lecturers and students were sent to disadvantaged areas across the country to participate in agricultural restructuring.
Twenty-six teams of excellent lecturers and students transferred more than 30 agricultural production models, opened 73 training courses on application of new technologies in farming and farm produce processing for local famers.
Based on the fruitful outcomes in the past three years, the programme's scope of eligible participants has been expanded this year to promote a greater role of young people in agro-forestry-fishery technological application, Huy added.
At the launching event, 10 teams were selected for the campaign. As planned, during this year's the summer, provincial and municipal youth unions in collaboration with universities, and agricultural science institutes will establish 98 teams of volunteers to work in all 63 provinces and cities.
Between July 8 and August 31, they are expected to transfer 336 farming models, organise 261 training classes on new agricultural technologies. The programme is estimated to cost 9.2 billion VND (401,000 USD) and draw nearly 1,500 youths.
After the event, various activities were held, including health checks-up for residents, environmental cleaning, and training the cultivation and harvest of tea in line with VietGap standards.
Litter in canals, sewers worsens floods in HCM City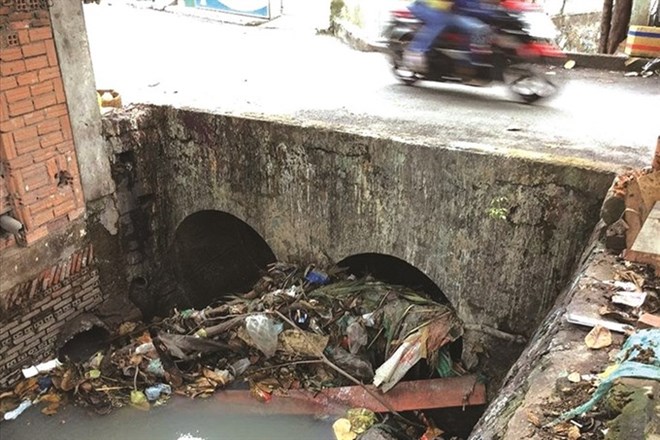 Heavy rains and excessive amounts of rubbish have worsened flooding in HCM City (Photo: laodong.vn)
An excessive amount of rubbish and litter is blocking drains and sewers in Ho Chi Minh City, worsening flooding in the rainy season.
Bui Quang Truong, head of the city's Urban Drainage Company's rainwater management system, said that locals were trying to prevent odours from drains by dumping trash or covering trench drains and sewers with wooden sticks, plastic bags and other items.
"Every rainy season, sewer workers conduct periodic inspections to remove items blocking the sewers," he said. "Some locals don't want us to do this, and will reblock them after we remove the rubbish."
Before, during and after rains, sewer workers are sent to flood-prone areas to collect rubbish and clear the sewage system.
However, these areas are a small part of the 1,400km-long sewer and 80,000 tunnels that the company currently manages, Truong said.
According to environmental experts, nearly 40 percent of the drainage capacity of the sewer system is affected by excessive amounts of rubbish.
Flooding is often seen along streets in Binh Thanh district, Tan Binh district, and districts 5 and 6, especially in Cho Lon.
Sewer worker Le Van Long said that locals blame the authorities for not protecting the environment, but that it is actually the locals who cause the problem. Long said that he had to dive into the water to clear rubbish from one canal, but then "it became full of trash again".
Ho Long Phi, Director of the Centre of Water Management and Climate Change under the HCM City National University, said that environmental awareness among local residents must be improved through education campaigns.
While people should proactively protect the environment, stricter punishment is also needed, he said, adding that it was also essential to assign responsibility to a group of households living near each sewer entrance.
Huynh Minh Nhut, Director of the HCM City Urban Environment Company, said that management tasks were unclear and waste collection was inefficient.
Units of the HCM City Department of Transport are responsible for road maintenance and clearing garbage blocking the sewage system, while environmental sanitation workers take care of garbage collection on the roads.
Nhut said the city should form a specialised unit to clear rubbish from sewers.
At a recent meeting on socio-economic development, Chairman of the city People's Committee Nguyen Thanh Phong agreed that excessive garbage and heavy rainfall had overloaded the drainage capacity of the sewage system.
As a result, severe flooding on a large scale could occur, he said, adding that locals' small actions can also help the effort to clear rubbish.
Cuban Workers' Federation delegation visits Ninh Binh
Participants in the meeting between the Cuban Workers' Federation delegation and Ninh Binh leaders
A delegation of the Cuban Workers' Federation (CTC), led by its Secretary General Ulises Guilarte de Nacimiento, visited the northern province of Ninh Binh on July 7.
At the working session with the Cuban delegation, Secretary of the provincial Party Committee Nguyen Thi Thanh said under the leadership of the Vietnam General Confederation of Labour (VGCL) and provincial leaders, trade unions at all levels in Ninh Binh province have shown their role in caring for and protecting legitimate benefits of workers.
Ulises Guilarte de Nacimiento, who is also Politburo member of the Communist Party of Cuba and member of the Council of State, lauded growth potential of Ninh Binh province.
He reviewed joint activities between the two countries' trade unions, praising effective outcomes of bilateral experience exchange, particularly on protecting workers' interests in foreign-invested companies.
He expected the bilateral cooperation will be strengthened and more and more Vietnamese enterprises will invest in Cuba.
VGCL President Bui Van Cuong said Vietnamese and Cuban trade unions share a close relationship thorough experience and cultural exchanges and mutual support at international forums.
Cuong believed the Cuba delegation's visit to Vietnam would contribute to caring for and protecting workers' rights and interests in both nations.
At the session, the Ninh Binh Confederation of Labour introduced to the Cuban guests its labour-related affairs.
Ninh Binh is home to 2,600 operating enterprises, of which 50 are foreign-invested businesses. The province has 1,077 grassroots-level trade unions with 83,000 members.
Deputy PM presents gifts to Heroic Vietnamese Mothers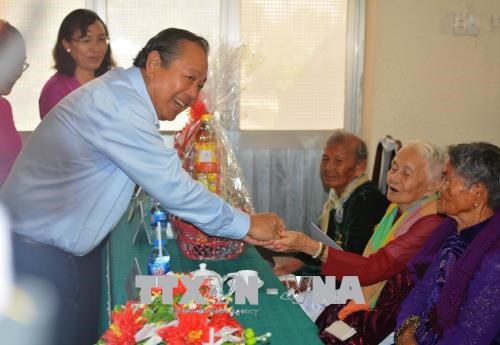 Deputy Prime Minister Truong Hoa Binh on July 8 visited and presented gifts to Heroic Vietnamese Mothers in the Mekong Delta provinces of Long An
Deputy Prime Minister Truong Hoa Binh on July 8 visited and presented gifts to Heroic Vietnamese Mothers in the Mekong Delta provinces of Long An and Tien Giang on the occasion of War Invalids and Martyrs Day (July 27).
In Long An province, Binh handed over 20 sets of gifts to Heroic Vietnamese Mothers in Dong Thap Muoi district.
The Deputy PM affirmed the Party's and State's consistent policy of caring for and improving the material and spiritual life of Heroic Vietnamese Mothers, war invalids and revolutionary contributors.
He stressed that implementing policies towards revolutionary contributors is the responsibility of the entire society, helping ensure social progress and equality, and consolidate the great national unity bloc.
The official called on organisations, agencies, officials, Party members and people in Long An to participate in the work.
On this occasion, Binh handed over 250 bicycles to poor students in Dong Thap Muoi district. The bicycles valued at 600 million VND (26,400 USD) were mobilised by the People's Public Security Newspaper via the fund in support of ethnic minority and poor students.
Also on July 8, the Deputy PM and donors presented gifts to 43 Heroic Vietnamese Mothers and 277 poor households and social policy beneficiaries, along with 100 bicycles to poor students in Cai Lay township and Cai Lay district of Tien Giang province.
Binh lauded efforts made by the Party Organisation, authorities and agencies of Tien Giang in supporting Heroic Vietnamese Mothers and social policy beneficiaries, as well as their attention to the education system, especially in rural and remote areas.