Industry 4.0 requires Government to change itself: PM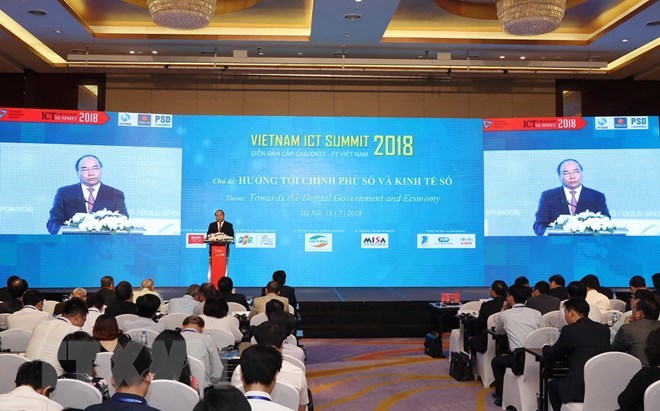 PM Nguyen Xuan Phuc speaks at the summit

The Government needs to change itself in the Fourth Industrial Revolution (Industry 4.0) in order to be able to govern the country in the digital age, said Prime Minister Nguyen Xuan Phuc.

Addressing the Vietnam ICT Summit in Hanoi on July 18, the Government leader said Vietnam has recorded marked achievements in e-Government building which began since 2000.

He, however, admitted shortcomings in the work such as incomplete legal framework, lack of high-quality human resources, low safety level of the information infrastructure and low rate of public service users.

PM Phuc highlighted the role played by the heads of agencies in e-Government construction, as well as the significance of information-technology (IT) in administrative reform.

Vietnam is working to establish a National Committee on E-Government led by the PM, with members being ministers, he said, adding that the committee also sees the participation of representatives from the private economic sector in order to utilize the public-private partnership in this regard.

The Government has assigned its Office to compile the Government's resolution on major tasks and solutions in e-Government development during 2018-2020, with a vision towards 2025, PM Phuc said.

He asked ministries, agencies and localities to continue to improve the quality of legal institutions and policies, creating a framework for the process.

"A smart labour force plus creativity would serve as driving forces for economic development amidst the Industry 4.0," the leader stressed.

He also called for efforts in building technological platforms for the e-Government, including updating the e-Government architectural framework, completing the national database and building the national public service portal and the national information system, which serve as the IT foundation for e-Government building.

Besides, it is necessary to diversify financial and human resources by identifying key and priority targets in both short and long terms, while promoting the role of businesses and improving the capacity of experts, he noted.

The PM also emphasised the importance of information work so as to raise public awareness of the e-Government, digital Government, digital economy and digital infrastructure.

Theme "Toward the digital government and economy," Vietnam ICT Summit 2018 focused on e-Government Construction towards Digital Government, Digital Economy and Digital Infrastructure.

Vietnam ICT Summit is a national and global Summit on IT policy, starting from 2011, organized annually by Vietnam Software and IT Services Association, under the sponsorship of Ministry of Information and Communications.

The Summit gathers senior government leaders, ministries, provincial leaders, business enterprises, IT-application enterprises, experts and media, in order to share vision, growth potential, strategies and especially big solutions for the development, bringing IT as a foundation for creating development method to modernize the country. The Summit annually delivers the message about policies, technology, recommendations to the Communist Party, the Government, management agencies and business community, the society in order to push application and develop IT.-VNA
Cuba, Fidel – sacred words in Vietnamese's heart: Party official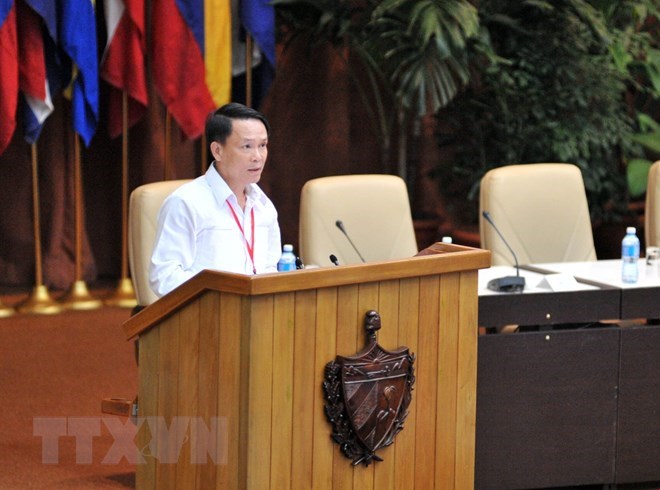 Nguyen Duc Loi, member of the Communist Party of Vietnam Central Committee and General Director of the Vietnam News Agency, speaks at the 24th Sao Paulo Forum in Havana, Cuba.
Cuba and Fidel are two sacred words in the heart of every Vietnamese, said Nguyen Duc Loi, member of the Communist Party of Vietnam (CPV) Central Committee and head of the Vietnamese delegation to the 24th Sao Paulo Forum in Havana, Cuba.

Addressing the special plenary session of the forum on July 17, Loi, who is also General Director of the Vietnam News Agency (VNA), underlined that Fidel is a great leader of international communist and worker movements, and a symbol of revolutionary heroism, and aspirations for freedom and happiness.

He highlighted that humanitarian internationalism initiated and led by Fidel had materially and spiritually supported many revolutions and movements for national liberation worldwide, including Vietnamese people's resistance war against the US.

The official recalled Cuba's support to Vietnam in the past even when the Caribbean country was facing numerous difficulties as a result of the embargo imposed by the US, quoting Cuban revolutionary leader Fidel Castro's saying that "For Vietnam, Cuba is willing to shed its blood."

He also recollected Fidel's historic visit to Vietnam's central province of Quang Tri in September 1973, the first trip by a foreign leader to a liberated area in Vietnam. During the trip, the Cuban Commander-in-Chief hoisted the Vietnamese liberation flag on top of a bunker formerly belonging to the enemy troops, and then urged the Vietnamese soldiers to "put up this glorious flag in the centre of Saigon." His wish came true two years later.

On this occasion, Loi congratulated the Mexican leftist force on the triumph of Andres Manuel Lopez Obrador at the recent presidential election, and expressed his support for the revolutionary cause and social progress in a number of Latin American countries.

The official noted his wish that under the leadership of the Communist Party of Cuba, the Cuban people will successfully update the socio-economic model, and complete development targets set through 2030.

During the plenary session, other leaders and politicians of Latin American, Caribbean, Asian and African countries also delivered speeches reiterating the universal and everlasting values of the ideology and model of Fidel.

At the July 15-17 forum, many Latin American and Caribbean leaders committed to reinforcing solidarity between leftist forces in the region and the world.

625 delegates from 51 countries and 168 organisations across the world have adopted 45 resolution and statements on socio-political issues in the region.

Created in 1990 as a result of the Permanent Conference of Political Parties of Latin America and the Caribbean, the Sao Paulo Forum is a space for dialogue, which attracts about 100 political parties, organisations and progressive movements in the region.
Soc Trang province to work to reinforce Vietnam-Cambodia ties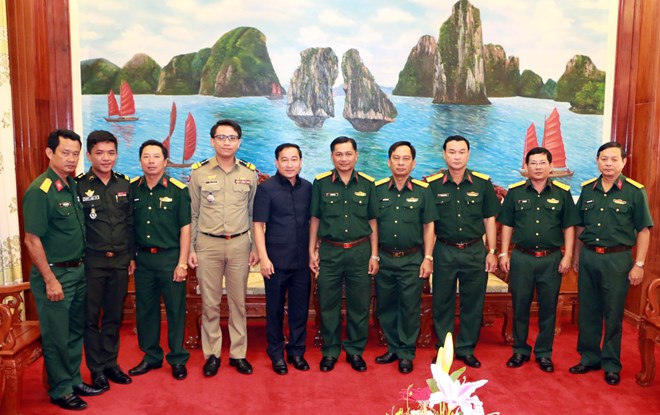 Officers of the Soc Trang Military High Command and the Royal Cambodian Armed Forces pose for a photo at the working session on July 17
Officers of the Military High Command of southern Soc Trang province had a working session with visiting representatives of the Royal Cambodian Armed Forces on July 17, stressing that the locality always respects the two countries' bilateral traditional friendship and all-round cooperation.

Col. Tran Van Lau, head of the command, informed the Cambodian delegation of local socio-economic developments and defence-security situation, especially ethnic minority and religious policies, in the first half of 2018.

The province has implemented ethnic and religious policies well, particularly in rural areas inhabited by Khmer ethnic people. While the socio-economic developments and defence-security situation have been maintained, sustainable poverty reduction models have also been expanded, thus helping to improve locals' material and spiritual life, he noted.

He affirmed that Soc Trang always treasures the sound neighbourliness, traditional friendship, and comprehensive and sustainable cooperation between Vietnam and Cambodia. It will work harder to promote the people-to-people diplomacy and solidarity between the two peoples.

For his part, Lt. Gen. Yong Mao, deputy head of the Royal Cambodian Armed Forces' development agency, said their working visit to Soc Trang was an occasion to enhance the fine cooperation between the two countries and affirm their time-honoured solidarity.

He thanked Vietnam, the Vietnam People's Army and Soc Trang province for helping Cambodia get out of the Khmer Rouge genocidal regime, voicing his hope that bilateral relations will become even stronger and reap more achievements in the future.
Hanoi, UAE look to bolster bilateral ties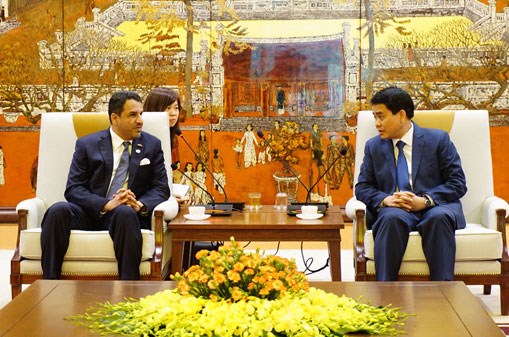 Chairman of the Hanoi People's Committee Nguyen Duc Chung (R) receives UAE Ambassador to Vietnam Obaid Saeed Bintaresh Aldhaheri. (Photo: hanoimoi.com.vn)
Hanoi will create favourable conditions for businesses from the United Arab Emirates (UAE) to invest in the Vietnamese capital, said Chairman of the municipal People's Committee Nguyen Duc Chung.
At a reception for UAE Ambassador to Vietnam Obaid Saeed Bintaresh Aldhaheri on July 17, Chung said both sides have great potential for cooperation, adding that Hanoi has many products that can meet demands of the UAE market, such as garments, leather shoes, agricultural products and food.
The official affirmed the city always encourages cultural exchange activities with the Middle East country.
Chung also expressed his hope that the UAE diplomat will do his best to elevate relations between the UAE and Vietnam to a new height.
For his part, Aldaheri stressed that the UAE government sees Vietnam as an important partner.
As the two countries will ink agreements in cultural and sport cooperation, he wished that Hanoi will back UAE in promoting tourism, and help UAE firms to invest in the city.
He hoped that both parties will enjoy further cooperation, as well as sound growth in two-way trade.
Congratulations to new chief of Italian Communist Party

Head of the Communist Party of Vietnam Central Committee's Commission for External Relations Hoang Binh Quan on July 17 sent a message of congratulations to Mauro Alboresi on his re-election as General Secretary of the Italian Communist Party.

Vietnam and Italy set up diplomatic relations in 1973.

Italy is currently the fourth biggest trade partner of Vietnam in the European Union while Vietnam is the biggest trade partner of Italy in the Association of Southeast Asian Nations (ASEAN).

Over the past five years, two-way trade neared 5 billion USD each year. Within 10 years, from the fourth place, Vietnam has become the largest ASEAN trade partner of Italy.

Both sides are working to lift two-way trade to 6 billion USD for 2017-2018. Vietnam mainly exports footwear, aquatic products, coffee and apparel to Italy and imports mechanical machinery, transportation vehicles and leather materials.

As of February 2018, Italy ranked 31st out of the 128 countries and territories investing in Vietnam with 88 projects worth more than 388 million USD. The Italian government has added Vietnam into its list of 10 emerging markets prioritised for trade and investment ties.
NA Chairwoman presents gifts to war invalids in Ha Nam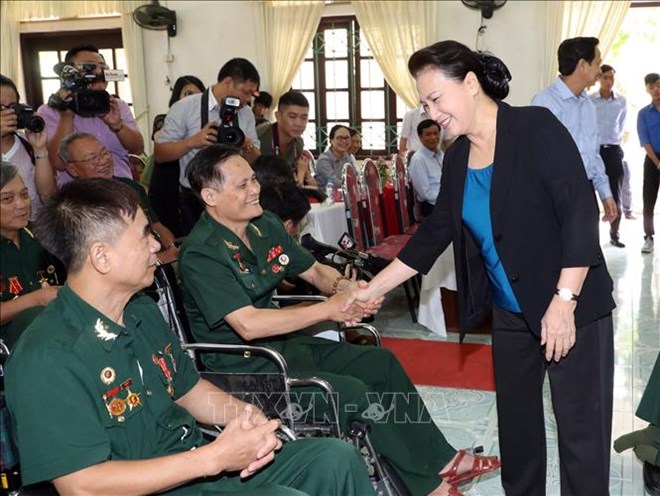 National Assembly Chairwoman Nguyen Thi Kim Ngan visits war invalids at Duy Tien nursing centre.
National Assembly Chairwoman Nguyen Thi Kim Ngan visited and presented gifts to war invalids at Duy Tien and Kim Bang nursing centres in the northern province of Ha Nam on July 17 ahead of the 71st anniversary of Day of War Invalids and Martyrs (July 27).
She also presented 10 TV sets to each centre and expressed her profound gratitude to war invalids and families of ex-revolutionaries for their dedication to the struggle for national independence and defence.
The top legislator asked the Ministry of Labour, Invalids and Social Affairs (MoLISA) and the provincial authorities to pay more attention to nursing centres for war invalids, affirming that the Party and State always attach importance to refining policies for those who rendered service to the nation.
Duy Tien nursing centre, one of the five ones under the watch of the MoLISA, was established in May 1957. Over the past six decades, the centre has cared for thousands of war invalids, even nearly 700 during peak times.
It now provides care for seriously wounded and sick soldiers with injury severity from 81 percent and above, including three females. The oldest patient is 87 years old and the youngest is 49.
Founded in 1976, Kim Bang nursing centre has offered treatment and rehabilitation to more than 500 invalids and sick soldiers. It is caring for 114 soldiers from 12 cities and provinces, including 81 severely wounded ones.
In the morning the same day, the NA Chairwoman offered incense and laid a wreath at a temple dedicated to war heroes in the province.
Vice President presents gifts to policy beneficiaries in Dak Nong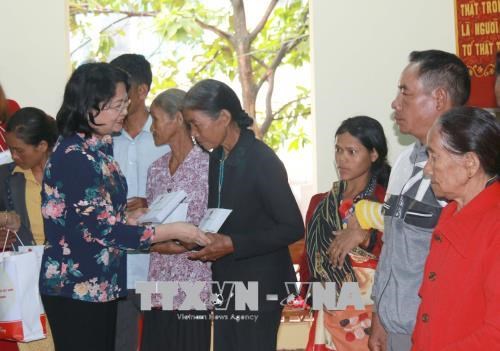 Vice President Dang Thi Ngoc Thinh presents gifts to policy beneficiaries and poor households in Quang Tin commune
Vice President Dang Thi Ngoc Thinh presented gifts to policy beneficiaries and poor households in Quang Tin commune, Dak R'Lap district, the Central Highlands province of Dak Nong on July 17.
Thirty gifts each worth 2 million VND (86.9 USD) were handed over to policy beneficiaries, while 20 presents valued at 1 million VND (43.4 USD) granted to poor families.
The "For the poor" fund of Quang Tin commune also received 30 million VND (1,303 USD).
At a meeting with Dak R'Lap district's leaders, Vice President Thinh praised achievements gained by the district's Party Committee, authorities and people.
She noted that along with socio-economic development, local authorities should give more heed to education and training, in order to ensure all children in the school age are offered chances to go to school.
More attention should also be paid to the care for policy beneficiaries to make all of their families have the living standard equal or higher than the province's average.
On the occasion of the 71st War Invalids and Martyrs' Day (July 27), the State leader expressed her profound gratitude for those who made great contributions to the struggle for national liberation.
HCM City beefs up cooperation with Canada, Lithuania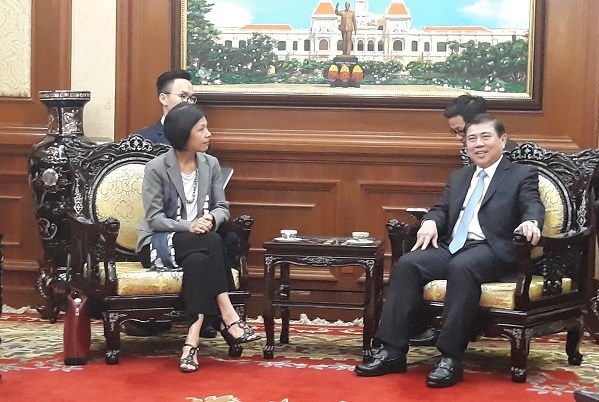 Chairman of the Ho Chi Minh City People's Committee Nguyen Thanh Phong (R) hosts Canadian Ambassador to Vietnam Ping Kitnikone (Source: http://voh.com.vn)
Chairman of the Ho Chi Minh City People's Committee Nguyen Thanh Phong hosted separate receptions on July 17 for outgoing Canadian Ambassador to Vietnam Ping Kitnikone and outgoing Lithuanian Ambassador to China and Vietnam Ina Marciulionyte.
Phong spoke highly of the significant contributions made by the Canadian ambassador to promoting bilateral cooperation.
HCM City hopes Canada will pay more attention to collaboration in fields of its strength such as banking, finance and smart urban development, Phong said.
He also suggested the two sides outline cooperation programmes in education and vocational training, saying nearly 5,000 Vietnamese students are studying in Canada, the largest number among Southeast Asian nations.
Kitnikone said she hopes there will be more exchanges between the two countries' businesses.
She hailed the city's potential and expected more Canadian enterprises will come to explore business opportunities in Vietnam's southern economic hub.
While receiving Marciulionyte, Phong described HCM City as an ideal investment destination for both domestic and foreign firms and a trade connection centre with many countries worldwide.
Aiming to become a trade-finance hub of the country, HCM City encourages investment in improving transport infrastructure, building smart urban areas, developing high-added value industries and increasing human resources quality, he said.
Phong believed that with strengths in science-technology, start-ups and innovation and food processing, Lithuania and HCM City will have more cooperation programmes in the coming time.
Future connectivity between their businesses will contribute to promoting the two countries' trade and investment relations, he added.
Marciulionyte said she was impressed with the city's dynamic development and hoped the two nations will soon sign agreements to implement cooperation in science, information technology and agriculture.
She agreed that the commitment of HCM City to support the establishment of the Lithuanian consulate in the city will help propel bilateral relations forward.