Mobile World leader to sell VND41 billion worth of shares
After five years of being a member of Mobile World's Board of Management, this is the first time Robert Alan Willett registered to sell a large amount of MWG shares.
According to the Ho Chi Minh City Stock Exchange (HSX), Willett has just registered to sell 415,000 MWG shares to reduce his ownership to two million shares.
The transaction will take place between July 11 and August 9. On the stock exchange, the price of MWG has decreased by 20 per cent over the last month to around VND100,000 ($4.4) from VND130,000-140,000 ($5.7-6.1). At this price, Robert Alan Willett could gain VND41.5 billion ($1.83 million).
Willett is former CEO of BestBuy International. He become a member of Mobile World's board of management in April 2013 and has been a member of Phu Nhuan Jewelry JSC (PNJ)'s board of management since April 2018.
At the end of May, the two sisters of Nguyen Duc Tai, chairman of MWG, surprised the market by registering to sell 90,000 MWG stocks due to "personal reasons." Big shareholders and the chairman's family members have been continuously registering to sell MWG shares as the mobile phone segment is becoming saturated. Since the beginning of the year, Thegioididong.com has closed 11 stores, sales in the last four months have been reducing continuously.
Meanwhile, the Bach Hoa Xanh grocery chain has been facing many difficulties: it failed to reach the breakeven point and cut back on its expansion plan from 1,000 to 500 stores. After revising the schedule and focusing on the quality of each store, there has been positive signals in the last month driven by high sales.
At the 2018 general shareholders' meeting, Willett confirmed his belief in the future of Bach Hoa Xanh grocery chain, as well as the strategy of Mobile World.
Credit Suisse AG allocates $200 million credit package to FLC Group


On July 6, Credit Suisse AG's Singapore branch allocated a senior secured term loan facility worth up to $200 million (VND4.6 trillion), to FLC Group under a credit agreement signed by the two parties.

According to FLC Group, this facility, with a term of 2.5-3 years, is secured by shares in some of its subsidiaries and will be used to supplement its working capital. The disbursed fund will be allocated to implement and expand its projects and new business activities. With this facility, FLC Group proves to be highly rated both in prestige and development prospects by Credit Suisse AG as well as other international financial institutions.

In recent months, FLC Group has seen positive results in real estate sales, with 2,000 new products sold in the most recent two months in four projects in Quy Nhon (Binh Dinh), Sam Son (Thanh Hoa), Halong (Quang Ninh), and Quang Binh. This is also the peak season in resort services offered by FLC Group.

Apart from having developed an effective sales system supported by a network of thousands of brokerage staff from large real estate distribution agents throughout Vietnam, FLC Group has also made big steps with the establishment of Bamboo Airways.

The airline's establishment is part of FLC Group's long–term strategy, which not only aims to satisfy the increasing market demand in the aviation market but also to improve the operational efficiency of its existing resorts.

Credit Suisse has started operations in Vietnam in 2001 and is now one of the largest foreign capital arrangers in Vietnam, having arranged approximately $7 billion in funding for the Vietnamese government, local state-owned and private enterprises, as well as foreign enterprises in Vietnam.

Credit Suisse has been recognised as the best foreign investment bank in Vietnam that arranges USD-denominated share and corporate bond issuances for local companies, as well as in M&A deals.

However, Credit Suisse often targets large enterprises which have strong financial capacity and stable and rapid growth prospects in line with its rigid standards.

Credit Suisse measures Vietnam as one of its key markets with the aim to double its profits in 2018, among its global strategy focusing capital and resources on the Asia-Pacific. The investment bank will continue to bring big foreign investors to Vietnam in several fields, such as aviation, infrastructure, and telecommunication.

FLC Group is the latest partner of Credit Suisse in Vietnam, along with VPBank, Vietcombank, and FE Credit, among others.

Credit Suisse announced that they conducted thorough research by their analysis and financial experts before signing this loan agreement with FLC Group. FLC Group has proved its prestige and strong financial capacity thanks to its effective business model, financial transparency, safe capital structure, and efficient business activities.

The Swiss bank also appreciates FLC Group's strategic focus on property investments and development in order to maintain its firm position in the Vietnamese resort real estate market, as well as the strategies to expand into aviation and high-technology agriculture, among others.

Founded in 1856 in Switzerland, Credit Suisse provides financial services in investment banking, private banking, and asset management. Recognised as one of the world's best investment banks, Credit Suisse proves their ability by remaining stable through the financial crisis without any government support.
Local governments not permitted to receive direct foreign loans
A new decree by the Government prohibits local governments from directly borrowing from international lenders, or to guarantee the borrowing of organizations and individuals, along with the issuance of bonds.
Under Decree 93/2018/ND-CP on management of debts of local governments, local governments can receive loans to finance their overspending with projects in medium-term public investment plans to pay off original debts, if approved by municipal or provincial People's Councils.
Local governments' borrowing must follow regulations as set by the laws on State budget and public debt management. Also, governments needs to ensure a five-year borrowing plan, a three-year debt management program and an annual borrowing plan within the upper cap, as informed by the competent authority, and the outstanding loan cap as stipulated by the law on State budget and the Government's decrees, concerning special financial and budgetary mechanisms of certain localities.
Prevailing special mechanisms for localities, such as Hanoi and HCMC, allow for capital mobilization of over 30% of capital for annual investments to meet local capital needs and accelerate investments.
Government data reported that outstanding loans by local governments, as of early last year, were VND66.105 trillion, with advances on the State budget making up VND7.48 trillion, municipal bonds VND25.234 trillion and loans from commercial banks reaching VND1.356 trillion.
Regarding local government loans from the Vietnam Development Bank, which were primarily from bonds guaranteed by the Government and from the Government's foreign loans, they were not included in the calculation of outstanding loans of localities, as they were already in Government-guaranteed debts and foreign loans by the Government, to avoid overlaps.
This year's planned borrowing by localities has reached over VND21.513 trillion, with VND8.769 trillion in domestic loans and VND12.744 trillion from the Government's on-lending loans, which is still within the permissible level.
On-lending of ODA, concessional capital specified
The Government has issued Decree 97/2018/ND-CP on on-lending of official development assistance (ODA) loans and foreign concessional loans provided by international donors.
On-lending requirements applied to local governments, enterprises and public non-business units are stipulated in Article 36 of the law on public debt management.
Regarding on-lending ratios assigned to local governments, localities with central budget allocations making up 70% or more of total local budget spending, the ratio is 30% of ODA and concessional loans. However, with localities which have central budget allocations accounting for 50-70% and below 50%, the ratio is kept at 40% and 50%, respectively.
Localities which send off a proportion of their incomes to the central budget fund, except for Hanoi and HCMC, receive an on-lending ratio of 70%. Such a ratio for Hanoi and HCMC is 100%.
The Ministry of Finance provides on-lending ratios of localities for every budgeting period by January 1 of the first year in such periods.
As for public non-business units, those which can cover all regular expenditures and investment costs, the on-lending ratio is 100% of ODA and concessional capital used for investment projects. Meanwhile, the ratio is only 50% for units which can cover all regular expenditures and part of investment costs.
Businesses are eligible to borrow ODA and concessional capital used for investment projects, but the loans cannot exceed 70% of the investment amounts approved by competent authorities.
According to the decree, on-lending rates are as prescribed in Clause 5, Article 34 of the law on public debt management, including the law on public debt management and rates of the Government's foreign loans, related fees in foreign lending agreements and fees of on-lending management and risk provisions.
Lenders must make sure on-lending loans are used for the correct purposes and are applied effectively, according to decisions on investment approval, project documents and signed on-lending contracts.
Also, borrowers have to pay off loans in full amounts and on time, according to on-lending contracts to the Ministry of Finance or authorized on-lending agencies.
Accelerators, incubators back startups in HCMC
Accelerators and incubators in HCMC have teamed up to organize supporting activities for startups and startup projects, aiming to attract more investment capital sources and help local startups connect with their international counterparts.
Last Saturday, July 7, the Management and Startup Community, a group mainly operating on Facebook, signed an agreement with accelerators and incubators, such as Saigon Innovation Hub; Startup Wheel, which is a contest for startup ideas; Dubai-based Faster Capital Foundation; and Thai firm Reed Tradex, at a conference in the city to raise capital, themed, "Angel Meeting-Shark Tank Gathering."
The cooperation agreement is expected to strengthen ties among startup communities and centers, exhibition organizers and local startups in the city.
Addressing the conference, Lam Minh Chanh, co-founder of the Management and Startup Community, said domestic startups needed the support of entrepreneurs, angel investors and venture capital funds to help them connect with consulting experts and to seek investments. Some startups are still green and, therefore, have trouble developing their companies, including brand valuation or negotiations with investors to sell stakes, and even miss opportunities to receive funds from investors.
According to Pham Thanh Hung, also known as Shark Hung, vice chairman of CENGROUP, early-stage companies need advice and tips on choosing the right markets and rolling out product promotions and development activities.
Nguyen Manh Dung, investment director and head of the Vietnam and Thailand offices of CyberAgent Ventures, Inc., stated that investors had different methods of evaluating a certain startup brand based on the potential of the firm and expectations of the investors, while long-established enterprises were usually appraised by specific financial bodies.
VCCI proposes end to minimum wage hikes from next year
The Vietnam Chamber of Commerce and Industry (VCCI), representing employers in the nation, has suggested keeping region-based minimum wages unchanged from next year as annual minimum wage hikes place a heavy burden on enterprises.
At the first meeting on the minimum wages in 2019, held by the National Wage Council in Hanoi on July 9, VCCI Vice Chairman Hoang Quang Phong said the VCCI had consulted domestic and foreign enterprises about the minimum wage spike next year, and most of them had agreed on the proposal.
The reason behind the proposal is that employers want to improve their payment capability and boost the training of workers to help them meet working requirements and raise labor productivity. Minimum wage hikes can be adopted later.
In addition, minimum wage spikes will put pressure on enterprises, particularly in terms of sharp increases in their expenditures for employees' salaries and social and health insurance premiums, as well as for trade unions' operations.
Enterprises' payroll funds are used to pay the monthly salaries and allowances for employees covered by social insurance. The monthly salary, which is used as the basis for calculating social, health, unemployment, occupational accident and disease insurance premiums, must not be lower than the region-based minimum wage.
Mai Duc Chinh, vice chairman of the Vietnam General Confederation of Labor (VGCL), operating on behalf of employees, noted that Vietnam's gross domestic product in the first half of the year had expanded 7.08% year-on-year, the highest first-half growth rate since 2011. Employees are entitled to enjoy this economic development achievement, Chinh added.
According to the Party Central Committee's Resolution 27, the minimum wage must ensure the minimum living needs of workers and their families are met by 2020. To meet this goal, the VGCL proposed increasing the region-based minimum wage by 8% next year.
Doan Mau Diep, Deputy Minister of Labor, Invalids and Social Affairs and Chairman of the National Wage Council, said that Vietnam will continue revising the region-based minimum wage until 2020 to ensure the interests of employees, especially those on a low income.
According to Resolution 27, the government will not interfere in enterprises' salary payment policies to encourage negotiations between employers and employees, Diep noted.
Prior to the meeting, Le Dinh Quang, deputy head of the Labor Relations Department under the Vietnam General Confederation of Labor, said the confederation had earlier proposed increasing region-based minimum wages next year by 7.5-8%, or VND190,000-300,000 per month, Thanh Nien newspaper reported.
The proposal was made based on a survey of laborers after Decree 141/2017/ND-CP on this year's minimum wage came into force. Accordingly, the minimum wage, which accounts for 85% of the total income of laborers, can cover their basic daily needs but are not enough for savings.
Vu Quang Tho, head of the Institute for Workers and Trade Unions and a member of the National Wage Council, pointed out that the institute had initially proposed raising the minimum wage by 10% but had later revised down the rate to 8%. The institute noted that the 8% hike was reasonable to satisfy workers' minimum living needs, offset price hikes and increase labor productivity.
Meanwhile, Pham Minh Huan, former Deputy Minister of Labor, Invalids and Social Affairs and ex-chairman of the National Wage Council, forecast a 5-6% increase in the minimum wage.
Nguyen Thi Lan Huong, former head of the Institute of Labor Science and Social Affairs, and Bui Sy Loi, deputy head of the Committee for Social Affairs of the National Assembly, shared the same view that a 6% hike was reasonable to balance the benefits to both enterprises and workers.
Last year, the National Wage Council decided to increase this year's minimum wage by 6.5%. Accordingly, the minimum wage for enterprises operating in region one is up by VND230,000; in region two, it is up by VND210,000; region three, VND190,000; and region four, VND180,000.
SMEs see low benefits from FDI's spillover effects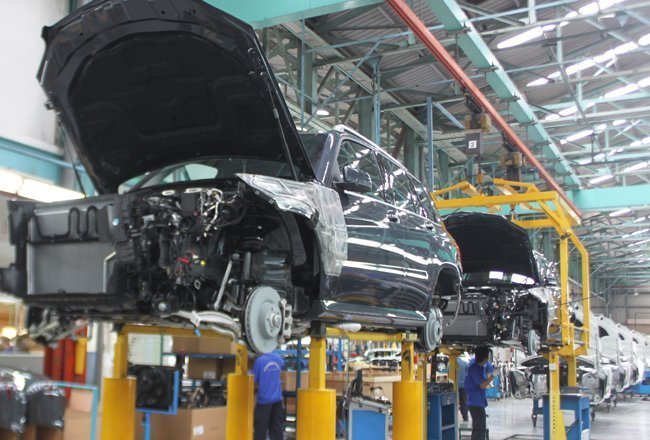 Local small and medium-sized enterprises (SMEs), due to their poor capacity in global value chains, benefit little from the spillover effects of foreign direct investment (FDI), heard participants of a workshop on trade facilitation.
The People's Committee of Can Tho City, the US-ASEAN Business Council (US-ABC), and the Vietnam Chamber of Commerce and Industry (VCCI) organized the workshop, titled, "Trade Facilitation: Integrating SMEs into Inclusive Global Value Chains," in the Mekong Delta city of Can Tho on July 9.
More than 240 leaders and senior executives of SMEs across the country attended the workshop, which was aimed at executing a memorandum of understanding between the US-ABC and the VCCI, thereby providing participants with necessary integration information and skills.
Though many international organizations consider Vietnam one of the world's top potential manufacturing bases, only 21% of local SMEs are engaged in global supply chains, well below the average 46% of their ASEAN peers, according to Vu Tu Thanh, deputy regional managing director and representative of US-ABC in Vietnam.
Thanh said even enterprises that are carrying out production and business chain activities have yet to tap the full potential of each stage, so they cannot create the highest added value at the lowest cost. Besides this, the relationships among these enterprises are not strong.
Therefore, according to Thanh, local SMEs are not likely to get much benefit from the spillover effects of FDI enterprises through technology and knowledge transfer and productivity improvement.
Vo Hung Dung, director of the VCCI branch of Can Tho City, noted that local SMEs are also faced with poor financial capacity, weak technology and manpower problems. They have limited access to loans and commercial sponsorships.
As a result, Dung added, these enterprises do not have enough financial resources to join global supply chains. In addition, they face a shortage of skilled labor needed for entering the high value-added stages, including processing, retail distribution and marketing.
Delegates at the seminar suggested various solutions for overcoming these obstacles. They recommended that the government speed up institutional reforms, enhance the business and investment environment and create leapfrogging stages in economic development.
Meanwhile, local companies should update their market information, particularly for potential products and international standards, so that they can create long-term business plans.
As Vietnam becomes a magnet for international investors, local firms should also be active in gaining access to large FDI corporations and seeking partnerships with them, thereby making steps toward gaining a foothold in global value chains.
Truong Quang Hoai Nam, vice chairman of the People's Committee of Can Tho City, said as an economic hub of Vietnam's southwestern region, Can Tho will, in the coming period, adopt a pioneering role in shifting production structures and industrial exports in a way that increases emphasis on products requiring advanced technology and offering high added value, as well as new products.
Nam stated that the municipal authority will support enterprises in innovating their technology and equipment, as well as improving their product models and designs to keep pace with market demand.
The senior city leader called on other localities in the southwestern region of the country to set out clear orientations in an upcoming master plan for the development of the food and foodstuff industry.
He said these localities should work closely to upgrade infrastructure, especially transport infrastructure; pay special attention to scientific and technological investments; build logistics for the food processing and preservation sector; accelerate training and develop manpower; and create favorable conditions for SMEs in this sector.
In a related development, Ngo Chung Khanh, deputy head of the Multilateral Trade Policy Department under the Ministry of Industry and Trade, told the delegates of the seminar that two out of 11 countries – Japan and Mexico – had ratified the Comprehensive and Progressive Agreement for Trans-Pacific Partnership (CPTPP).
Chile is expected to ratify the CPTPP, while Canada has submitted the trade pact to its congress. Australia and New Zealand will likely follow suit, Khanh claimed, adding that Vietnam plans to ratify the pact in a National Assembly session this October.
He stressed that if at least six countries ratify the CPTPP later this year, the trade pact will take effect in early 2019.
Nawaplastic lifts ownership in BMP to over 54.39 per cent
After completing the purchase of an additional 1.17 million shares, Nawaplastic Industry Co., Ltd. (Nawaplastic), a subsidiary of Thailand's SCG, has lifted its stake in Vietnamese plastic producer Binh Minh Plastic JSC (BMP) to 54.39 from 52.96 per cent.
According to a disclosure by BMP, the transaction occurred between June 22 and July 5. Nawaplastic spent VND60 billion ($2.6 million) on the deal.
The share volume is the remaining part of the 2.86 million shares that Nawaplastic failed to buy during previous transactions.
Notably, Nawaplastic registered to buy 2.86 million BMP shares during transactions on May 14-June 12, however, the Thai investor ended up buying only 1.69 million shares as BMP did not match Nawaplastic's target price.
Established in 1977, BMP has cemented its position as the country's leading manufacturer and trader of plastic pipes and fittings.
Acquiring BMP serves for SCG's petrochemical project in Vietnam. According to a representative of Ho Chi Minh Securities Corporation, BMP is considered a key part in SCG's petrochemical strategy in Vietnam. Notably, according to plan, once SCG's $5.4 billion Long Son Petrochemical Complex comes into operation in 2023, BMP will become the plastic supplier of this complex.
Vietnamese textile and garment expect rosier US exports
Textile and clothing exports to the US might touch $13.8-13.9 billion this year, and experts assume the sector would see more import orders shifted to Vietnam due to the implications of the US-China trade war.
In the first half of this year, the textile and garment sector was once again named among Vietnam's major export areas after witnessing a 13.8 per cent jump on-year to $13.4 billion.
The US and China's imposition of steep new tariffs affecting tens of billions of dollars worth imports isexpected to become major factors affecting global trade prospects this year.
According to Huynh The Du, Fulbright University lecturer, there will be more opportunities for Vietnam to scale up export to the US in some fields where Vietnam has for years been directly competing with Chinese peers, such as textile clothing and footwear.
Echoing the mindset, a representative from the Vietnam Textile and Apparel Association (Vitas) said that if Chinese textile and garment items incurred high tariffs in the US, it would be beneficial to China's direct competitors, such as Vietnam, Cambodia, and Bangladesh.
Besides, when China's textile and garment export faces a threat, the Chinese government might step up efforts to shift export production to neighbouring countries, including Vietnam, to make avail of these countries' comparative advantages on labour costs and business expenses.
There will be more opportunities for Vietnam to scale up export to the US in some fields where Vietnam has for years been directly competing with Chinese peers, such as textile clothing and footwear.
According to Le Quang Hung, chairman of Saigon Garment JSC (Garmex Saigon), as labour costs in China rose sharply in recent years, the country has not invested in export production, which reduced its competitiveness against Vietnamese export products.
In fact, some US importers, fuelled by the fear from the implications of the on-going US-China trade war, have shifted their import orders from China to Vietnam.
"There is a concern that part of Chinese textiles and garments will flow into the markets of neighbouring countries, including Vietnam, after they fail to reach the US market, thus fuelling domestic market competition," said Hung.
According to Vitas' figures, in the first six months of this year, Vietnam earned nearly $6.4 billion in textile and garment export turnover from the US, up 12.5 per cent on-year and representing 47.7 per cent of the sector's total export value.
General export performance is forecast to maintain this growth momentum in the remaining half of the year. Recent survey results by the General Statistics Office about quarterly production-business trends in the last six months of 2018 show that 93.7 per cent of surveyed firms believe that exports will increase in the second half of the year, with fiber and garment firms forecast a sharp growth in order intake.
The survey involved 6,500 businesses in the processing and manufacturing industries.
Arctech Solar becomes key equipment supplier for Trung Nam solar plant
Supplying a tracking system for the VND5 trillion ($217.02 million) solar farm of Trung Nam Construction Investment Corporation (Trung Nam Group) not only marks the first tracking system project of Arctech Solar in Vietnam, but also creates the single-largest tracking system project in Southeast Asia.
According to information published on Arctech Solar's website on July 10, the company has recently inked its first deal in Vietnam with Trung Nam Group for a 258MWp solar power plant project located in Ninh Thuan province.
According to the agreement, Arctech Solar will deploy its Arctech Skyline tracking system to this project. The Skyline tracking system can handle up to 20 per cent N-S slope with special designed torque tubes and a one-button commissioning function. All of these technologies are optimised to work in concert, giving Skyline better land adaptability and making it more cost-effective and quicker to install than regular trackers.
Nguyen Tam Tien, CEO of Trung Nam Group, stated, "This landmark project marks a milestone in Vietnam's journey to grow the clean energy industry. We were cautious to select suppliers for this key equipment. We believe this project will have higher economic returns compared with fixed mounting structures by adopting the Arctech innovative Skyline tracking system."
Previously, on July 7, Trung Nam Group organised the groundbreaking ceremony for the 204MW solar power plant.
The power plant, the nation's largest solar power plant to date, will have over 705,000 solar panels, and once operational in next June, it will produce a maximum output of approximately 450 million kWh each year, said Nguyen Tam Thinh, chairman of Trung Nam Group.
The plant is also billed as the nation's first "integrated sustainable energy project," utilising both solar panels as well as turbines to harness wind energy.
Arctech Solar is a world-leading manufacturer and provider of solar tracking solutions and racking systems. In the past nine years, Arctech Solar set up overseas subsidiaries/service centres in the US, India, Japan, Spain, and Mexico.
As of the end of 2017, Arctech Solar has cumulatively installed 13.5GW capacity and completed 800 projects in 15 countries. With a production capacity of 6GW and 4GW in fixed mounting structure and tracker field, respectively, (a total annual capacity of 10GW), Arctech Solar is a reliable partner in the global PV tracking and racking industry.
Tiki may suffer from losses for three more years
As startup enterprises are commonly suffering losses, with examples of firms running in the red for an entire decade, Tiki may have a long three years ahead.
After seven years, Tiki has accumulated nearly VND600 billion ($26.43 million) in losses, including VND308 billion $13.56 million) in 2016 and VND284 billion ($12.5 billion) in 2017.
Its revenue in 2016 reached VND62.4 billion ($2.74 million), up six times against 2015. However, the e-commerce platform took losses of nearly VND179 billion ($7.9 million) in the same year due to overly high sales expenses. Accordingly, sales expenses in 2016 were over VND222.5 billion ($9.8 million), tripling against 2015.
In fact, Tiki JSC only reported revenue from services, as well as e-commerce trading recorded by its subsidiary Tiki Trading. In 2016, the subsidiary's revenue hit VND817 billion ($36 million) with the gross margin of 9 per cent. Despite this, Tiki Trading suffered a loss of VND41 billion ($1.8 million) as sales expenses exceeded the business' profit.
Suffering losses to succeed later is quite common for startups, while startups reporting profit from the get-go are really rare. Investors pouring money into the firms commonly expect returns in 5-10 years.
Tiki CEO Tran Ngoc Thai Son also stated that the losses are part of the firm's long-term development plan. Tiki is expanding its scale of operations by investing in infrastructure, warehouses, human resources, and technology.
Maybe due to the firm belief in their development potential, Tiki and other e-commerce platforms receive high valuationes. In 2016, Tiki was appraised at VND1 trillion ($44 million) despite only being in business for six years. At the time, VNG Group poured VND383 billion ($17.02 million) to acquire 38 per cent in Tiki for VND104,000 ($4.57) per share. Thanks to this, Tiki recorded a surplus of nearly VND340 billion ($15 million) in late 2016.
Different from other firms, the value assessment standards for startups like Tiki revolve not around profit, but market share, revenue, per customer purchase value, and the rate of returning customers.
According to Financial Times, Tiki has annualised gross merchandise value—an indicator by which ecommerce sites measure their sales—of about $240 million, and delivers across Vietnam.
Due to the satisfying revenue despite the losses, Tiki has even received foreign investment. In the middle of January 2018, Chinese-based JD.com poured VND1 trillion ($44 million) into the e-commerce platform.
In the world, many of the contemporary giants look back on a difficult first decade. These include US-based Tesla Motors and sandwich chain Charleys Philly Steaks. For seven-year-old Tiki, three more years of losses is well within the realm of possibilities.
Gemadept finalises divestment from Hoa Sen-Gemadept Port
Gemadept Corporation (code: GMD) has just announced completing the divestment of its 51 per cent stake in Hoa Sen-Gemadept Logistics and International Port Corporation.
Gemadept finalised the sale of its 51 per cent stake in the company to an undisclosed South Korean buyer. The transaction's value was also not disclosed, but it is estimated at over VND104 billion ($4.6 million).
According to its financial statement in the first quarter of 2018, Gemadept poured VND63.1 billion ($2.8 million) into Hoa Sen-Gemadept Port. Thanks to the transaction, GMD's profit in the first quarter is over VND1.278 trillion ($56.3 million), twelve-times as much as in the same period last year.
At the 2017 annual general shareholders' meeting, Gemadept's representative said that the Korean buyer plans to turn it into a port for carriers transporting liquefied petroleum gas (cooking gas).
He also stated that the divestment is part of their restructuring plans. Gemadept would divest from several other projects and pick strategic shareholders to continue growing in the logistics industry.
In 2008, Gemadapt and Hoa Sen Group signed a deal to establish Hoa Sen-Gemadept Port, aimed to develop a logistics and port project in Ba Ria-Vung Tau province. Gemadept held 51 per cent of the shares, while the Hoa Sen Group held 45 per cent.
Gemadept is a Vietnamese company with an interest in ports, logistics, forestry, and real estate. The port it has just divested was one of six ports that it operates.
After divesting the project, Gemadept plans to channel investment into the Gemalink deep water port in the Cai Mep-Thi Vai area. Work on this port, which has a total area of 72ha, a 1,150m main berth, and a 370m feeder berth, has been suspended for many years due to the global economic downturn.
Honda Vietnam refuses warranty for new vehicle
Citing its policy of not repairing external damage, Honda Vietnam refused to fix the deformed rims of a Vision motorbike bought two months ago.
At 7.30 PM on June 29 Nguyen Tien Dat (Ho Chi Minh City) and his wife were driving on Ba Thang Hai Street (District 10) at the speed of 45 kilometres per hour when they ran into a protruding manhole cover (Ba Thang Hai Street is currently under construction and some manhole covers are still several centimetres above the road surface).
Afterwards, Dat took the vehicle to a nearby repair shop for checking, then discovered that the vehicle's rims were warped and jutted out 1.5 cm toward the shock absorber part. As there was no damage to the tire, Dat and his wife drove the vehicle to the Honda dealership still that night.
After 8 PM the same day, they took the vehicle to the Honda Vietnam dealer on Kinh Duong Vuong street (Binh Tan district's An Lac ward) for repairs under the warranty. However, the dealer's technical staff refused to repair and replace the damaged part because the damage occurred from an outside source, namely a pothole.
Between April 1, 2017 and March 31, 2018, the total number of motorbikes sold by the five foreign-invested firms (Honda Vietnam, Yamaha Vietnam, Suzuki Vietnam, Piaggio Vietnam, and SYM) reached 3.28 million, including 2.38 million by Honda Vietnam, equaling 72.5 per cent of the total and exceeding the 69.3 per cent in the 2017 fiscal year.
According to tieudung.vn, Duong Minh Duc, a staff of Honda Vietnam's public relations department, said: "In the case of Dat, the technical department checked the vehicle and found that the vehicle ran over nails, reducing tire pressure, then hit a pothole, deforming the rear rim. This is external damage that does not come from the wear and tear of regular everyday usage, so Honda Vietnam cannot apply warranty for this case."
However, Dat repeatedly claimed that there are no potholes on the road segment he drove on June 29 and his vehicle's tires were not flat. As Dat required Duc proving flat tire, he receive an answer that reading carefully the user's manual.
He also stated that he and his wife weight approximately 100 kilogrammes together, while the vehicle's maximum carrying capacity is 162 kg. In addition, the vehicle's maximum speed is 140km per hours, while he drove with the speed of 45km per hour. Thus, Dat claims that his use was well within what would be construed as 'regular usage' and the contents of the user's manual.
Dat threatened to sue Honda Vietnam for violating the Law on Consumer Protection.
Dat supposed that instead of sending staff to Ba Thang Hai street to verify whether there are any potholes on the road, Honda Vietnam blindly went on blaming external issues. Honda Vietnam has notexplained him how a vehicle bought two months ago was so easily damaged because of a little impact on the road? Furthermore, a damaged rim is not covered by the warranty.
VNPT finds success in divestment plans
Vietnam Posts and Telecommunications Group (VNPT) has divested successfully from some units to gain high profit, which is a good start to the divestments to come.
VNPT has just announced that it has already handed over Post and Telecommunication Finance Co., Ltd. (PTF) to Southeast Asia Commercial Joint Stock Bank (SeABank). VNPT's whole capital contribution to PTF should be transferred to SeABank by the August 22, 2018 deadline.
Divestment from PTF is one of VNPT's plans and a target assigned by the prime minister in 2016. In February 2018, VNPT auctioned its entire holding in PTF at the initial price of VND500 billion ($22 million), which is the charter capital of the company stated in the business certificate granted in 1998.
After several rounds of public bidding, SeABank spent VND710 billion ($31.3 million) becoming the winner of the auction.
"VNPT has successfully divested from PTF as well as seized the charter capital before," stated the representative of the Department of Business Management of the Ministry of Information and Communications.
Earlier, VNPT successfully auctioned off its stake in Aviation Information and Telecommunications JSC (AITS) to earn VND26.16 billion ($1.15 million). The group has doubled its initial investment of VND13.2 billion ($0.58 million).
Tran Manh Hung, chairman of VNPT, said that the group's divestment plan has been coming along smoothly. Three companies have been evaluated in June, including Telecommunication Technical Service JSC (TST), Viteco Telecommunications Technology JSC (Viteco VNPT., JSC), and Nha Trang Post Hotel.
"These three companies received great attention from investors, so I think VNPT could divest them successfully," said Hung.
According to Decision No.2129/2017/QD-TTg of the prime minister approving VNPT's restructuring plan in 2018-2020, the group will divest from 41 companies. Some of the auctions organised were unsuccessful as no investors registered to buy.
In May 2018, VNPT auctioned the entirety of its 8.52 per cent stake in Saigon Postel Corporation (SPT) worth around VND102.5 billion ($4.5 million), with no success.
Another item that VNPT have attempted to divest three times is its 71 million shares in Maritime Bank due to the hard conditions set for investors. Additionally, VNPT has been having difficulties in the divestment of several small construction units.
The group expects that the successful divestment from PTF and AITS will provide momentum to its further divestments.
Electrical technology & equipment exhibition to kick off in HCM City

The 11th International Exhibition on Electrical Technology & Equipment (Vietnam ETE 2018) and the 8th International Exhibition on Products, Technologies of Energy Saving & Green Power 2018 (Enertec Expo 2018) will simultaneously opened in Ho Chi Minh City on July 18.

The two-day events, jointly held by the municipal Department of Industry and Trade, the Centre of Supporting Industries Development, and C.I.S Vietnam Advertising & Exhibition JSC, will take place at the Saigon Exhibition and Convention Centre in District 7.

They will draw the participation of nearly 200 businesses, including renowned domestic and foreign-funded firms in Vietnam like the Ho Chi Minh City Power Company, Vietnam Electrical Equipment Joint Stock Corporation, Panasonic, Dien Quang Lamp JSC and Megasun JSC.

There will also be hundreds of booths run by foreign enterprises from 10 countries and territories, including Germany, France, Sweden, the US, the Republic of Korea, China, and Thailand.

The exhibitions will feature a networking space, gathering close to 50 foreign firms, who are looking for business partners in Vietnam.

On the sidelines, there will be symposium on guiding enterprises' application of the national set of standards for energy-saving construction projects. It is expected to discuss relevant topics on public management and experience in the management and building of these projects.

Fact-finding tours to leading Vietnamese companies in HCM City and neighbouring localities will be organised to help investors gain an insight of their production capacity and operations.

Currently, Vietnamese mechanical companies are able to produce more than 90 percent of spare parts and key equipment for the national grid. Many local businesses have become credible partners of the world's top groups. They are striving to boost export of electric equipment to Southeast Asian, South American and African markets.
Angola promising for Vietnamese investors

Angola is a promising country for Vietnamese enterprises to do business and investment, thanks to its stable political system and numerous preferential investment policies.

The statement was made by Dang Van Thanh, President of the Vietnamese Traders' Club, at a Vietnam-Angola trade and investment promotion conference held in Hanoi on July 14.

The event was held by the Angolan Embassy in Vietnam and the Vietnamese Traders' Club, Investment Review reported.

Participants were introduced to potential and advantages of Angola, as well as trade and investment cooperation opportunities with the country.

Angolan Ambassador João Manuel Bernardo said that the event offered a chance for Vietnamese businesses to seek investment opportunities and trade collaboraton with Angola in fields Vietnam has strength such as agriculture, health and telecommunications.

The Angolan government is stepping up investment attraction and carrying out activities to intensify connectivity with foreign enterprises, including those from Vietnam, he added.

First Secretary at the Angolan Embassy Abel Paxe recommended Vietnamese businesses to boost exports to the African market in the fields of its demand, including rice, seafood, garment and textiles and confectionary.
Vietnam attends Asia's food fair in Singapore
Vietnamese firms specialised in rice, coffee and spice are taking part in the 2018 Specialty and Fine Food Asia (SFFA 2018), which opened on July 17 in Singapore (Illustrative photo: Honeycombers Singapore)
Vietnamese firms specialised in rice, coffee and spice are taking part in the 2018 Specialty and Fine Food Asia (SFFA 2018), which opened on July 17 in Singapore.
The function draws the participation of nearly 200 businesses from 20 countries and territories worldwide.
David Kwok, Business Manager of Co May company, which ships rice from Vietnam to Singapore, said Vietnamese rice has become more popular in Singapore. The company's imports of Vietnamese rice now triples the amount recorded two year ago.
Vietnamese rice has been sold at supermarkets and food centres across Singapore to meet the increasing demand of local consumers, he noted, adding that the rice will be introduced in upcoming international exhibitions to promote the brand and expand markets.
As one of the leading exhibitions of the region, SFFA 2018 is an important trade platform for fine food producers and purveyors to meet distributors, retailers, restaurant owners and chefs. Creative ideas and modern equipment in food manufacturing sector are also introduced in the event.
More than 160 firms from 30 countries and territories attended the event last year, with nearly 3,000 visitors.