Storm-proof housing programme benefits 11,253 needy families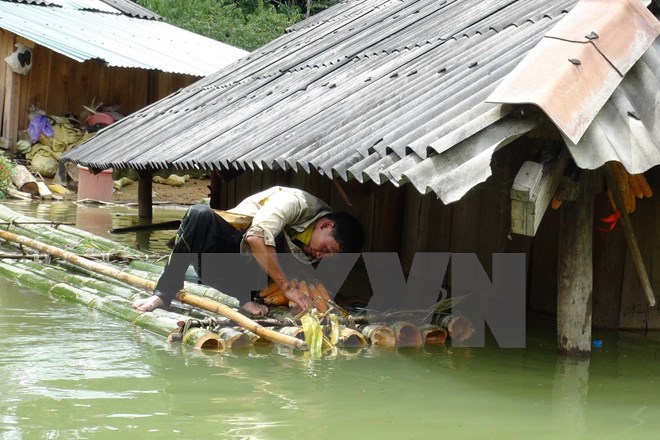 A Government programme on assisting poor households in central region build flood and storm-proof houses has reached 11,253 needy families as of the end of the second quarter this year, said the housing and real estate market department under the Ministry of Construction.
The beneficiaries account for 41 percent of the total number of households targeted by the programme, which was launched under the Government's Decision 48/2014 issued on August 28, 2014.
Under the decision, the housing support programme is carried out in 14 central provinces from Thanh Hoa southward to Binh Thuan from 2014 to 2016, aiming to help 27,196 needy households.
Each of the eligible households will receive a cash grant of 12-16 million VND depending on localities, and a 15-million VND preferential loan with a 3-percent annual interest rate for a duration of 10 years and a five-year grace period.
The programme will receive 568 billion VND from the central budget, of which 364.3 billion VND will be channelled directly to the beneficiaries while 204 billion VND will be provided via the Social Policy Bank to grant preferential loans.
As of the end of June this year, the central budget already allocated 233 billion VND to the programme, with 147 billion VND disbursed. The Social Policy Bank received 204 billion VND and disbursed 88.1 billion VND.
The central budget will have to allocate 203 billion VND more in order to complete the programme this year.
Tribute paid to World Peace Council Honorary President
A ceremony was held on July 11 in Hanoi to pay last tribute to Honorary President of the World Peace Council (WPC) Romesh Chandra, who passed away on July 4 at the age of 97.
The event was organised by the Vietnam Union of Friendship Organisations (VUFO), was attended by VUFO President Vu Xuan Hong, representatives from the Embassy of India in Vietnam, and the Vietnam – India Friendship Association, among others.
Romesh Chandra, who was born on March 30, 1919 in India, served and contributed significantly to the peace and solidarity movement in India and the world.
According to VUFO President Vu Xuan Hong, Romesh Chandra, one of the renowned international peace soldiers in the second half of the 20 th century, was always proactive in movements calling for justice and peace for Vietnam as well as promoting friendship solidarity with the country.
Chandra affirmed India's friendship with Vietnam during his visit to Vietnam in 2000 to attend the 25 th anniversary of the national reunification day and the 90th anniversary of late President Ho Chi Minh's birthday, Hong reminded.
Voluntary blood donation festival comes to Hai Phong
A voluntary blood donation festival in the northern port city of Hai Phong collected more than 300 units of blood during the opening day on July 11.
The festival is part of the fourth "Red Journey 2016" campaign, which kicked off in Hanoi on July 10.
Addressing the opening ceremony, Vice Chairman of the municipal People's Committee Nguyen Xuan Binh, who is also head of the city's steering committee for mobilising voluntary blood donations, expressed his thanks to blood donors and called on the public to respond to the event.
A total of 130 volunteers will join in the 31-day campaign, which is organised by the National Institute of Haematology and Blood Transfusion, the Nhan Ai Vong Tay Viet Joint Stock Company and the VTV News Centre.
During the journey, the volunteers aim to provide advice on blood donations and thalassemia – a genetic blood disease, for 500,000 people, and collect around 20,000 units of blood, said the organising board.
Since its inception in 2013, the campaign has been held in 42 cities and provinces across the country and gathered nearly 57,000 units of blood, helping rescue thousands of patients.
Vietnam collected 1.15 million units of blood in 2015, surpassing the year's target figure by 17.8 percent and up 9.7 percent from 2014.
However, blood shortages, particularly blood type A and O, often occurred in summer and prior to the Lunar New Year. The repetition rate of donations was just above 40 percent, compared to between 60 and 70 percent in Japan, Singapore and Australia.
In 2016, the national steering committee for voluntary blood donations plans to collect 1.2 million blood units, 98 percent of which will be sourced from volunteers.
Young expatriates learn to preserve Vietnam's culture abroad
Young Vietnamese expatriates joining in the Vietnam Summer Camp 2016 took part in a cultural heritage seminar on July 11, an event to help them preserve the country's cultural identities while living abroad.
At the seminar in Hanoi, Prof. Nguyen Chi Ben – an expert on Vietnam's culture, gave about 100 young expatriates, along with students of the Diplomatic Academy of Vietnam, an insight into Vietnam's world natural and cultural heritage recognised by UNESCO.
The heritage pieces include Ha Long Bay, Phong Nha – Ke Bang National Park, Hoi An Ancient Town, Nha Nhac (Vietnamese court music), Quan Ho Bac Ninh folk songs, and Gong culture.
The young participants also learned about the role of culture amid globalisation, the significance of the recognised tangible and intangible cultural heritages, and cultural preservation in Vietnam, and overseas Vietnamese communities.
Nguyen Thai Yen Huong, Deputy Director of the Diplomatic Academy of Vietnam, expressed the hope that through the seminar and visits to heritage sites, the expatriates will become young ambassadors promoting the Vietnamese culture around the world.
The annual Vietnam Summer Camp, held by the Foreign Ministry's State Commission on Overseas Vietnamese, has attracted more than 100 overseas young Vietnamese from 26 countries and territories this year.
It is taking place from July 10 – 23 with activities in Hanoi, Quang Ninh, Nghe An, Quang Tri, Thua Thien – Hue, Quang Nam and Quang Ngai provinces and Da Nang city.-
Cultural event promotes Vietnam's image in RoK
Vietnam's culture has once again become closer to people in the Republic of Korea (RoK) through an event held in Seoul capital on July 10.
Hundreds of people came to the Vietnam Culture Day, organised for the second time by the Centre for Vietnam Cultural Bridge in the RoK, to visit booths introducing Vietnam's culture and traditional cuisine.
While a song and dance programme with performances by artists from the two countries attracted some 1,000 people, and a singing competition was organised for Vietnamese expatriates.
The cultural event also included a fashion show, a contest on Vietnam's culture and fundraising for charity.
Notably, an exhibition was held to show photos and copies of historical documents that prove Vietnam's sovereignty over Hoang Sa (Paracel) and Truong Sa (Spratly) archipelagoes.
The items on display also reflected China's changing of the status quo, its illegal construction of artificial islands, and militarisation on Vietnam's islands it illegally occupies in the East Sea.
The culture day, sponsored by the Seoul administration and the Vietnamese Embassy, was among an array of annual cultural activities to help reinforce the solidarity of the Vietnamese community in the RoK and popularise their homeland to local people.
More than 134,000 Vietnamese nationals are living in the RoK, forming the third largest foreign community in the country after those from China and the US, according to a report of the RoK's Ministry of Justice in March.
EVN to link more islands to national power grid
Electricity of Việt Nam is set to link up more islands with the national power grid this year.
It would supply power through undersea cables to Chàm Island in the central province of Quảng Nam possibly from September, EVN said.
In the Cửu Long (Mekong) Delta province of Kiên Giang, Lại Sơn Island is expected to be linked by the end of this month.
Work to supply electricity to Hòn Nghệ Island Commune in Kiên Giang is 25 per cent complete and likely to be finished this quarter.
In the north, Cái Chiên Island Commune in Quảng Ninh Province, the only island not to have power the province, will be linked soon.
From now through 2020 EVN will focus on wrapping up a 2013-20 programme to supply power to all rural and mountainous areas and islands.
In May an EVN team did a survey on solar and wind energy generation in the Trường Sa (Spratly) archipelago, and found that 33 had power supply.
EVN will seek Government permission to supply electricity to all islands in Trường Sa (Spratly), according to Phạm Minh Thắng, an EVN board member.
In the first six months of the year EVN supplied 76.44 billion kWh of electricity, a 11.7 per cent increase year-on-year.
During the period demand was up 10.3 per cent in the central region, 11.96 per cent in the north and 12.28 per cent in the south.
Despite the rapid rise in demand, EVN has assured it can continue to meet it.
Nguyễn Thị Thật maintains lead at cycling tournament
Nguyễn Thị Thật maintained her lead in the National Women's Open Cycling Tournament, An Giang Television Cup, after the second stage yesterday.
The cyclist from the Hạt Ngọc Trời crew finished the 122km from Gia Nghĩa of Đắk Nông Province to Đồng Xoài of Bình Phước Province with a time of 3hr 35.41min. She was followed by Phạm Hồng Loan of Biwase Bình Dương) and Kang Hyungkyung from South Korea.
As the organisers started counting time for individual and team categories from this stage, Thật was given the yellow jersey to start the next stage.
The national team member Thật also kept the green jersey as she strengthened her position at the top with 42 points after two stages, setting a 19-point distance with the closest runner-up, Kim Hyunji of South Korea.
"My teammates worked very hard to support me to win this hilly stage. I am now keeping two individual titles and will try my best until the end of the race," said Thật.
In the team events, South Korean who had three members in the first group yesterday were on top of the ranking with a total of 10:47.03. Hạt Ngọc Trời and Biwase Bình Dương were second and third, respectively.
Today, cyclists will tour from Đồng Xoài to Củ Chi District of HCM City on 98km.
No win for Việt Nam at junior champs
Vietnamese athletes failed to secure any win at the SCG Badminton Asia Junior Championships's team events in Thailand.
The team lost to Myanmar 3-2 in the last match of the Group D. Earlier, they were defeated 0-5 by India and Thailand in the first two matches.
Losing all matches meaned that Việt Nam were at the bottom of the ranking.
While the team events continued with the knock-out round, Việt Nam will train for the individual categories which will begin on July 13.
HCM City works to expand methadone treatment
Ho Chi Minh City is striving to increase the number of drug addicts accessing methadone treatment to 8,000.
Since the methadone programme began in 2008, more than 4,000 local addicts have so far been treated with the drug, with 68 percent of them getting employment.
The current number of medical facilities providing the treatment across the southern hub amounts to 19, most of which are State-run clinics.
By the end of 2016, three more facilities will be put into operation in District 2, District 3 and Can Gio suburban district, helping increase the number of patients using the therapy to 5,500.
District 5 together with Tan Phu and Cu Chi districts are set to join the programme within the first quarter of 2017.
However, municipal health officials said the methadone treatment has been facing budget difficulty due to dropping international aid and State financing in recent years. Given the context, HCM City spent more than VND7.6 billion US$342,000) on purchasing the drug in the 2014-2015 period. The city has also decided to add over VND18.3 billion (US$823,000) to the budget for this work this year.
In addition, patients had to pay part of the treatment costs, at VND6,000 (US$0.27) for a dose of methadone in 2015. The payment increased to VND8,000 (US$0.36) as from June this year.
Trust indexes in electricity supply improve
Trust indexes in electricity supply continued to improve in the first half of this year, according to the Electricity of Vietnam.
The corporation's system average interruption duration index (SAIDI) recorded 806 minutes, a drop of 18% compared with the same period last year.
The momentary average interruption frequency index (MAIFI) was 0.67 times/client, down 23%, and the System Average Interruption Frequency Index (SAIFI) was 5.75 times/client, a 12.5% year-on-year decrease.
Regarding electricity access, by June this year 2,512 new clients gained access to medium-voltage electricity supply with time taken to complete procedures averaging 7.47 days.
As of May 2016, the sector met all criteria of customer services, with more than 97% of customers requests addressed within the time set.
According to EVN, in June, the corporation's five Centres for Customer Services handled 212,683 reports from clients.
Currently, EVN has 70 power plants directly participating in the domestic electricity market. They have a combined capacity of 15,549 MW, accounting for 43% of the sector's total capacity.
Stats say int'l guests on the rise in Hanoi
The number of international guests visiting the capital city during the first half of 2016 shot up about 33% over the same corresponding six-month period last year to nearly 2.1 million.
Generally, things are looking good for the travel industry, according to figures of the Hanoi Department of Tourism (DoT), with the number of domestic guests visiting the city also rising to roughly 9 million, a new record high.
Related tourism revenue also shot up for the six-month period from January-June, rising by 24%.
The City's increase in popularity results from a concerted effort to improve the quality of tourism products, create a friendlier and hospitable environment and improve staff training, said Do Dinh Hong, director of the DoT.
Chemical producer fined for untreated wastewater release
A company has been fined VND860 million for releasing untreated wastewater into Hau River in Vietnam's Mekong Delta.
Huy Viet-Tay Do Company, which produces industrial alcohol and other industrial chemicals, is also ordered to remove its unqualified wastewater treatment system, according to the People's Committee of Can Tho Town, Hau Giang Province.
Environment police of Can Tho caught the company red-handed releasing its untreated wastewater to Hau River in May.
Environment police caught the company red-handed releasing its untreated wastewater to Hau River in the lower reaches of the Mekong River, which runs through Hau Giang, in May.
This has been the fourth time Huy Viet-Tay Do was caught doing so since 2007. In the most recent incident in 2013, the company was fined VND340 million.
The environment ministry early this month launched an inspection at 29 companies in Hau Giang Province, to ensure compliance with environment protection regulations.
Among the companies inspected is a US$1.2 billion paper plant owned by Taiwanese Lee & Man Paper. The factory has recently raised public fears that it could have been discharging contaminated effluents that might pollute the river and kill fish.
Hau Giang helps local labourers seek jobs overseas
The Mekong Delta province of Hau Giang is stepping up efforts to help local labourers find jobs in foreign countries, especially the Republic of Korea (RoK) and Japan.
This is considered one of the solutions to reduce poverty and increase income for local people, particular those living in rural areas.
Director of Hau Giang Job Service Centre Tran Minh Thien said the centre has been organising job transaction floors in localities to introduce labour markets with stable and high income to local labourers.
He said, from now to the end of the year, the centre plans to help 100 labourers to have jobs in the RoK.
According to Thien, the cost for a job in the RoK and Japan ranges from 100 to VND120 million (US$4,400-US$5,300) but labourers can earn VND15 million-VND20 million (US$660-US$880) per month when working in the fields of textiles, garment, electronics and food processing.
Besides the RoK and Japan, the centre also introduces other markets such as Malaysia, Taiwan and some countries in the Middle East to local workers.
In 2015, the centre helped 50 labourers work overseas and the figure for the first six months of this year was 29. Most of them were sent to Japan, the RoK and Taiwan.
Vietnam youth feeling the burn to 'catch 'em all'
An augmented reality mobile game featuring the famous Japanese cartoon Pokémon is taking the world by storm and Vietnam is definitely no exception.
Though Vietnam is not among the short list of countries where the Niantic-developed viral game is available for iOS and Android users, gamers are sharing tips on how to get Pokémon GO installed on Vietnamese devices.
Built on Niantic's Real World Gaming Platform, Pokémon GO uses real locations to encourage players to search the Poké world in order to disocver 'catch 'em all.'
"[The game] allows you to find and catch more than a hundred species of Pokémon as you explore your surroundings," the app creator writes on their website.
Pokémon GO was the top free app in Apple Inc's iTunes store as of July 7 afternoon and had been installed on almost 100,000 Android devices, according to media reports.
On July 6, a Facebook fan page was founded for the Vietnamese Pokémon GO community shortly after the game launched in Australia and New Zealand.
The Pokémon GO Vietnam page quickly gathered more than 91,000 likes in two days, with followers sharing installation tips and screenshots of Pokémon caught in unusual places, thanks to augmented reality technology that can show Pokémon in places like pagodas, kitchens, bedrooms, and restrooms.
A page member uploaded a series of photos to showcase his 'trophy' after "walking for four hours."
"This game is great for health, especially people with big bellies who don't exercise," he wrote.
Another member, Pham Minh Trung, posted a photo showing the Pokémon he just caught in the campus of the University of Social Sciences and Humanities in Ho Chi Minh City.
"The game play is great because the developer has real experience in augmented reality technology," Trung said. "The only drawback is that it drains my battery and the server is down at times."
Some Vietnamese players have complained that they had been frequently kicked out of the game, or the app simply crashed on their mobile devices.
It has been reported that the game developer blocked Vietnamese users, as Pokémon GO is not yet officially available in the Southeast Asian country.
Though location may be the problem, it is more likely that the app server isn't able to withstand the enormous traffic it is receiving as it is only meant to test-run in a handful of markets.
As of July 8 at noon, it remains unclear when the block will be removed for diehard Vietnamese fans.
To some players, Pokémon GO brought not only joy but also trouble.
"I was walking around the street hunting for Pokémon, my eyes glued to the screen, when the phone disappeared," a member wrote. "Highly recommended: you should not play this in the street."
A Pokémon Go player named Nhut Linh also recounted a tragicomic experience he had with the game. "I was taking a nap when somebody rang the doorbell, asking to enter as he found a Pokémon inside my house," he shared on his Facebook.
From a security perspective, Do Vo Thang, director of Athena, an Internet security training center in Ho Chi Minh City, warned against the download of the installation file of the game from unknown sources.
As the game is not officially available for download in Vietnam, Android users have to download an APK file to install the game on their own.
"There are many of these types of files with malicious software inside, which, once activated can steal personal data, or even secretly record phone calls on the victims' devices," Thang said.
"It is recommended that Vietnamese fans wait until for the official launch of the game."
First Detective Conan film premieres in Vietnam in August
"Detective Conan: The Darkest Nightmare", a Japanese animated film released in 2016, will have its big-screen premiere in Vietnam on August 5.
It is the 20th feature episode of the animated series based on the manga series "Detective Conan" about a teenage genius detective trapped in a boy's body written and illustrated by Gosho Aoyama.
The 112-minute-long film will roll out in theatres across the country to thrill Vietnamese fans of the manga series.
Directed by Kobun Shizuno, it was first released in Japan on April 16, 2016.
According to the Anime News Network, the film was number-one in its first weekend in Japan with 934,000 admissions and US$11.1 million in gross, the highest opening weekend gross in the franchise's history.
After 12 weeks in release, the film has generated US$57.3 million in gross.
Art exhibition celebrates Vietnam, Philippines ties
The Ministry of Culture Sports and Tourism (MoCST) has announced that on July 10-16 it will showcase more than 100 traditional lacquer and brocatelle items at a culture and arts exhibition in Manila.
In making the announcement, Deputy Minister Vuong Duy Bien of the MoCST said he highly appreciated all of the hard work and effort put forth by ministry staff in preparing for the event.
"The art of lacquer and brocatelle is a strength of Vietnam," said Deputy Minister Bien, "therefore, the exhibition is a great opportunity to display and introduce Vietnamese handicrafts to the world."
The exhibit will feature traditional lacquer and brocade products, Ao Dai, wedding costumes of Red Dao ethnic minority people, and traditional costumes of Mong, E Do, Lo Lo ethnic minority people.
The cultural event celebrates 40 years of diplomatic ties between Vietnam and Philippines and is an opportune occasion for the two nations to enhance the traditional friendly relation between two countries, said the Deputy Minister.
Cham culture, sports, tourism event to be held in An Giang
A large-scale culture, sports and tourism event of Cham people in Vietnam will be organised in the Mekong Delta province of An Giang from July 15-17.
The event, held by the Ministry of Culture, Sports and Tourism, carries the theme "Preserve and promote Cham culture in the country's sustainable development". It will include many activities featuring the distinctive traditions of Cham people.
Eleven provinces and cities – Danang, Quang Nam, Binh Dinh, Phu Yen, Ninh Thuan, Binh Thuan, Dong Nai, Tay Ninh, Binh Phuoc, An Giang and Ho Chi Minh City – have registered to participate in the festival.
Deputy Minister of Culture, Sports and Tourism Huynh Vinh Ai said the event aims to promote unity and honour the cultural values of Cham people throughout the whole country and to international friends.
Among interesting events being held over the three days of the festival are an art festival, demonstrations of Cham festivals, Cham traditional customs; and Cham cuisine and traditional professions.
It also includes an exhibition displaying photos, objects, costumes, musical instruments and typical cultural products of the Cham, along with sport competitions.
A conference on Cham people's culture within the country's sustainable construction and development will be organised as well.
Phu Yen tourism flourishes
The tourism sector in Phu Yen has begun to flourish in recent time, gradually becoming an economic pillar of the south central coastal province.
The number of visitors to Phu Yen increased by an average 20% a year during 2011-2015. More than 580,000 tourists visited the province in the first half of this year, a year-on-year increase of 18.2%.
A sudden surge of 200% year-on-year was seen in the number of visitors to the locality in the period from March to July this year, according to Hoang Anh Tung, director of Tuy Hoa tourism company.
An upward trend in the number of international arrivals to Phu Yen has also been seen with 28,000 foreign tourists choosing the province as their tourism destination in the first six month of this year, up 11.2% compared to last year.
One of the reasons behind the growth was the beautiful scenery of Phu Yen captured in the popular movie "Yellow Flower on Green Grass", said some executives in the local tourism sector.
Vice Chairman of the provincial People's Committee Phan Dinh Phung revealed the province will introduce suitable mechanism and policies to attract more investment in tourism development, towards the goal of seven million tourists including 1 million foreigners during 2016-2020.
Phu Yen has more than 30 tourism projects with a total investment capital of nearly VND51 trillion (US$2.3 billion), of which eight projects have been partially put into operation.
The province is home to 19 national historical sites and tourism attractions, including six among the best destinations in Vietnam as selected by the Vietnam Records Association and Vietnam Records Organisations.
The six best destinations in Phu Yen are Cu Mong Pass, Dai Lanh Lighthouse, Nhan Tower, Xuan Dai Bay, Vung Ro Bay and Da Dia Reef.
Lam Dong: 3.8 billion VND in support for coffee replanting
The Central Highlands province of Lam Dong has allocated 3.8 billion VND (170,400 USD) to help local coffee farmers to replant 650 hectares of aging coffee trees, including 565 hectares of robusta coffee and 85 hectares of Arabica coffee.
Most of the support will be given to localities with large coffee cultivation like Di Linh, Bao Lam and Lam Ha districts. The money will be used to subsidise 60-80 percent of the prices of coffee seedlings.
The province is also holding training courses for farmers to improve production capacity, and facilitating their access to preferential loans to carry out the replantation programme.
Since 2013, some 25,000 hectares of coffee in the province have been replanted with the government-backed credit of 800 billion VND (36 million USD). The replanted area accounts for 60 percent of total coffee land in the Central Highlands region, which produces 92 percent of the country's coffee output each year.
Annual average yield of replanted coffee areas ranges from 5-8 tonnes per hectare, doubling or even tripling productivity recorded in aging coffee crops.
The province is now home to 167 nurseries producing over 12 million qualified seedlings every year.
Thanh Hoa takes measures to shelter children from drowning
The central province of Thanh Hoa has exerted every effort to provide a safe playground for children during the summer, helping minimise the number of child fatalities caused by accidents, especially drowning.
The provincial People's Committee approved a plan to keep children away from accidents in 2016-2020 with the goal of reducing the rate of accidents among children from 520 per 100,000 to 400 per 100,000.
The plan also aims for around 90,000 families' houses meeting safety criteria for children, as well as 200 schools and 10 communes, wards and towns safe for children.
The provincial Department of Labour, Invalids and Social Affairs was asked to boost communication campaigns to raise families and communities' awareness of keeping children away from injuring accidents and drowning, equipping them with preventive skills.
The provincial Department of Education and Training will closely work with families to manage and educate children on safe skills.
The People's Committees in districts, communes, towns and cities were asked to review facilities for physical training and swimming, while localities should review areas that are prone to drowning in order to have warnings and timely preventive measures.
According to the Department of Labour, Invalids and Social Affairs, in the first six months of 2016, among 16 child deaths from accidents, 15 died of drowning.-
Quang Tri strives to create sustainable livelihood for local fishermen
The central province of Quang Tri has allocated 9 billion VND (405,000 USD) and 800 tonnes of rice to local fishermen affected by the recent mass fish deaths.
The locality has also injected 3.7 billion VND (166,500 USD) sourced from its budget into branches of the provincial Bank for Social Policy to help coastal residents take out reproduction loans.
The provincial People's Committee has instructed localities to join hands with social organisations to evaluate losses caused by the environmental incident, and with the banks to launch credit packages to help local farmers find new jobs, purchase big fishing boats and expand fishery logistics services.
Nguyen Duc Chinh, Chairman of the committee, said the most urgent task is how to create sustainable livelihood for local people.
He added that the committee has assigned the provincial Department of Labour, Invalids and Social Affairs to open employment transaction floors to train young workers for businesses based in the locality.
However, locals share the desire for restored maritime environment, he said, calling on competent agencies to set up monitoring stations regularly updating the maritime environment quality.
Hung Nghiep Formosa Ha Tinh Limited Company Chairman Chen Yuan Cheng on June 30 accepted responsibility and offered an apology to Vietnamese people, especially the residents in Ha Tinh, Quang Binh, Quang Tri and Thua Thien-Hue provinces for causing the environmental problem sparking mass fish deaths that has seriously affected the people's daily lives and production, as well as the local maritime environment.
Initial statistics from the four provinces reported some 277 tonnes of dead fish – both washed up on the beaches and farmed fish from the sea, causing estimated economic losses totaling more than 260 billion VND (11.5 million USD).
Further, at least 123,000 fishermen and locals who rely on the sea for a living or who work in the tourism industry were severely affected by the incident. This has not taken into account the damages to the local environment.
On June 30, Hung Nghiep Formosa Ha Tinh Steel Limited Company, after admitting its link to the fish deaths, offered a total compensation of 11.5 trillion VND (equivalent to 500 million USD), which will be used to support local fishermen to switch to other jobs and recover the polluted maritime environment.
In the same vein, Formosa pledged to absolutely deal with shortcomings and limitations in waste and wastewater treatment, improve its production technologies to ensure waste is completely treated before being discharged to the environment as required by Vietnamese State management agencies, and not to repeat such incident.
VNA/VNS/VOV/SGT/SGGP/TT/TN/Dantri/VNE