Drug found hidden in motorbike tyres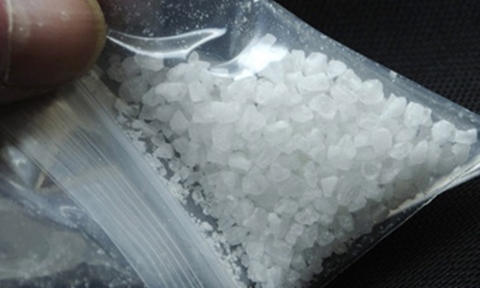 Methamphetamine is a very addictive drug that has a strong effect on the central nervous system.
Hồ Chí Minh City police and customs officials yesterday seized a batch of ephedrin - used to produce synthetic drugs - hidden in motorbike tyres.
The police and customs officials found the drug hidden in a parcel of 20 motorbike tyres of the Yokohama brand, which were being sent from Việt Nam to New Zealand by international fast delivery service on July 4, the police said.
The officials found white powder inside the tyres, after noticing a 3cm to 4cm-long cut in each of them, the police said.
A police test later showed the powder was 4.5 kg of ephedrin, a substance used to produce methamphetamine - a very addictive stimulant drug that has a strong effect on the central nervous system.
The police have detained the two persons who had sent the parcel, a male foreigner and a Vietnamese woman, they said.
The case is under further investigation.
Four children die in drowning accidents in one day
Four children and an adult drowned yesterday while swimming in a dam and a river, adding to the country's grim statistics of drowning fatalities.
Drowning kills 3,500-4,000 children in Viet Nam every year, according to the Ministry of Labour, Invalids and Social Affairs.
Nguyễn Hữu Đại, chairman of Yên Thành District's Tiến Thành Commune in the central province of Nghệ An, said local authorities had mobilised nearly 100 people to find the bodies of the three children, including two siblings.
The victims were identified as Trương Thi Mai, 14, his sister Trương Thi Thuong, 11 and Nguyễn Thi Loan, 13, who had gone swimming at Choạc dam.
In central Hà Tĩnh Province, Nguyễn Thanh Hải, head of Hưong Sơn District's Sơn Trường commune, said a man and a child were washed away while the man was trying to rescue the child swimming in Ngàn Trươi River.
Also yesterday, a 15-year-old child was reported missing after going swimming in Đào River in Thanh Hóa province's Thọ Xuân District.
As of this morning, the body of the missing victim has not yet been found.
Illegal football betting ring smashed
Police yesterday arrested six men in HCM City and Gia Lai Province for their alleged involvement in a large online football betting ring.
About VNĐ1 billion (US$ 44,400) and a K59 pistol with bullets were also seized from them.
The police said about $1 million was involved in the ring's illegal betting activities during Euro 2016 alone. They have issued a 'wanted' notice for three other suspects.
Initial police investigation showed the ring had been conducting activities of an advanced level for a long time.
Nguyễn Văn Minh, 32, the gang leader, told the police after being detained that he used an account on an overseas website to organise the betting activities.
He rented a house in HCM City's Tân Phú District to open a shop selling woodwork as a front, the police said.
They said Minh had hundreds of employees in Hồ Chí Minh City, Hải Phòng, Hải Dương and Gia Lai. He and his accomplices organised other illegal activities across the country such as being loan sharks and collecting debt illegally, besides football betting.
Minh has two previous convictions and was released from jail in 2014.
The police are expanding their investigation.
Deputy PM urges inspection over Hung Hiep Formosa's dumping of waste
Deputy Prime Minister Trinh Dinh Dung has asked for prompt inspection of the dumping of waste by the Hung Hiep Formosa Ha Tinh Steel Limited Company.
The request was made following recent news stories which said that the company was found burying a huge amount of waste at a farm run by the director of an environmental company in Ky Anh town of central Ha Tinh province.
Dung urged the Ministry of Natural Resources and Environment to coordinate with the provincial People's Committee to check the information.
If it is true, measures should be taken to strictly address the case following legal regulations.
The outcomes of the inspection must be reported to the Prime Minister, he added.
Improved legal framework needed to prevent corruption
Politburo member and Deputy Prime Minister Truong Hoa Binh has urged competent agencies to build a synchronous legal system and impose strict sanctions to prevent corruption effectively.
He made the request at a national conference to review the 10-year implementation of the Law on Corruption Prevention and Control in Hanoi on July 12.
The Deputy PM asked ministries, sectors and localities to push ahead with fine-tuning mechanisms, policies, and law to promptly address loopholes in socio-economic management.
He particularly pointed to corruption prone areas such as natural resources management, mining, equitisation of State-owned businesses, financial market management, banking, investment license granting, construction, education and health.
Participants said the system of legal normative documents on counter corruption has been established and increasingly improved over the past 10 years. However, some unfeasible regulations still exist.
They agreed on the necessity to revise the Law on Corruption Prevention and Control, which should create an extensive and inclusive anti-corruption mechanism to promote public and transparent State socio-economic management.
The law needs to put forth political, administrative, economic and criminal sanctions to strictly punish violators, the panel said.
Over the past decade, the Government Inspectorate has conducted a number of administrative and specialised inspections, detecting violations of economic laws amounting to nearly 60 trillion VND (2.7 billion USD) and over 400 hectares of land.
More than 4.6 trillion VND (207 million USD) and 219 hectares of land were reclaimed.
Ninh Binh facilitates Lao investors
Ninh Binh is committed to creating favourable conditions for Lao investors who wish to enter the local market, said Vice Chairman of the provincial People's Committee Tong Quang Thin.
Thin made the statement at a meeting with the visiting Lao delegation from the Prime Minister's Office, led by its Chairman Phet Phomphiphack, on July 12.
He also informed his guests that his province grew 8.7 percent in 2015 and is among the top ten localities nationwide in building new-style rural areas.
Phet Phomphiphack said after the 10 th congress of the Lao People's Revolutionary Party, poverty alleviation has become a priority to help Laos get out of the underdeveloped country list by 2020.
Laos wants to learn from Ninh Binh's experience to develop agriculture and new rural-style areas, he noted, adding that his country highly welcomes Vietnamese investment.
Ninh Binh twined with Oudomxay and assisted the Lao province in building a number of medical and social facilities, the Lao official said expressing his hope for future twinning between Ninh Binh and other provinces in Laos.
Vietnam, Philippines celebrate 40th anniversary of diplomatic ties
The Vietnam Union of Friendship Organisations and the Vietnam-Philippines Friendship Association (VPFA) hosted a meeting in Hanoi on July 12 celebrating the 40th anniversary of bilateral diplomatic ties.
Addressing the ceremony, Deputy Minister of Agriculture and Rural Development Vu Van Tam, who is also VPFA Chairman, said since the establishment of bilateral diplomatic ties on July 12, 1976, Vietnam and the Philippines have seen encouraging progresses in the political, economic, cultural, education and tourism areas.
Last year, the two countries lifted bilateral ties to the strategic partnership level in order to bring benefits to both nations and contribute to peace, stability and prosperity in the region.
The Philippines currently invests in 62 projects in Vietnam, mostly in pharmaceuticals and the food industry. Two-way trade soared to 3 billion USD last year from 416 million USD in 2002.
Bilateral cooperation has been expanded across the fields of agriculture, national defence-security, education-training, health care and tourism.
Filipino Ambassador Noel Servigon said nearly 30 bilateral agreements have so far been signed since July 12, 1976.
In agriculture, the Philippines is a major importer of Vietnamese rice. Moreover, more and more Filipino tourists and teachers have arrived in Vietnam, he said.
He expressed his hope that the two countries will continue working closely together towards peace, prosperity and neighbourliness.
Lao Vice President visits Hai Duong
Visiting Lao Vice President Phankham Viphavanh worked with authorities in the northern province of Hai Duong on July 12.
Chairman of the provincial People's Committee Nguyen Duong Thai informed his guest that Hai Duong grew 7.2 percent in the first half of 2016 despite the nationwide economic slowdown.
As heard at the working session, Hai Duong and Vientiane established twin relations in 1984, with cooperation activities focusing on agro-forestry and trade. Lao students have come to study in Hai Duong and received support from the local authority. Hai Duong has sent experts on farming and planning to Laos and helped Vientiane build a centre for livestock artificial insemination and a kindergarten.
Speaking at the function, Phankham Viphavanh, who is also Politburo member and standing member of the Lao People's Revolutionary Party Central Committee's Secretariat, lauded the progresses in development that Hai Duong has achieved recently.
As former Chairman of the Laos-Vietnam Friendship Association, Phankham Viphavanh said he will work to boost mutual understanding of the traditional and special relationship between the two countries.
He added that he expects Hai Duong will continue to assist Vientiane along its development path.
All dioxin victims should gain access to support policies: President
President Tran Dai Quang has required ministries and localities to coordinate closely with the Vietnam Association of Victims of Agent Orange/Dioxin (VAVA) to ensure all victims enjoy the support policies of the Party and State, as well as support their fight for justice.
The State leader made the request in Hanoi on July 12 at his meeting with dioxin victims and delegates who are attending the third national "For AO victims" congress.
He urged that communications be intensified to encourage Vietnamese people from all walks of life and international organisations and countries worldwide to respond to movements and campaigns in support of AO victims.
The leader called on all individuals and organisations worldwide to take action to prevent chemical warfare and help Vietnamese dioxin victims in their fight for justice.
At the meeting, the President also spoke highly of efforts made by the VAVA and its all-level chapters to support the victims.
The VAVA has to date collected 1.15 trillion VND (51.5 million USD) from both domestic and foreign donors to build houses for dioxin victims, help them in production and provide scholarships for their children.
The third national "For AO victims" congress is taking place in Hanoi on July 12-13 with the participation of 300 delegates, and is one of the activities being held in response to the 55th anniversary of the Day for Agent Orange/Dioxin Victims (August 10, 1961-2016).
About 80 million litres of toxic chemicals, mainly Agent Orange containing dioxin, were sprayed over the south of Vietnam during 1961-1971. Nearly 4.8 million Vietnamese people were exposed to the chemicals and about three million people and their descendants suffer from health problems as a consequence of the exposure.-
Vietnam Cooperatives Alliance to hold fifth congress
The Vietnam Cooperative Alliance (VCA) will convene the fifth nationwide congress for the 2016-2020 tenure, in Hanoi from July 17-19, its Chairman Vo Kim Cu told a press conference on July 12.
The event is expected to attract 863 delegates, including 546 representing more than 20,000 cooperatives, 43 cooperatives alliances and VCA chapters nationwide.
The congress is scheduled to review the VCA's operations for the 2010-2015 tenure, and lay out orientations and tasks for 2016-2020.
All communes are striving to form cooperatives by 2020, including 100-150 cooperative alliances, and nearly 250,000 working groups.
By late 2017, all 63 cities and provinces nationwide are targeting to establish cooperatives development funds – each with a registered capital of 20-100 billion VND, and increasing that number to 300 public credit funds.
In order to achieve the above goals, the VCA will strengthen ties with its chapters nationwide and implement a project on building new-model cooperatives with product value chains, toward creating stable jobs for about 30 million workers.
There will also be a second contest to raise awareness of new-model cooperatives, Cu said the organising board encourages entries which feature cooperatives with product value chains.-
Torrential rain cools down Hà Nội
Torrential rain has been hitting several parts of Hà Nội since early this morning, after a long heat wave, raising the risk of flooding in many streets.
The National Hydro-meteorological Forecast Centre said the rain was likely to cause flooding of up to 0.1m to 0.3m in many streets in the inner districts. The districts facing a high risk of flooding include Cầu Giấy, Ba Đình, Đống Đa and Hà Đông.
Some streets in Hoàn Kiếm District such as Phan Bội Châu and Lý Thường Kiệt have already been hit by flooding.
The Hà Nội Water Drainage Company has sent workers to the affected areas and those prone to flooding to check the sewage systems and manholes to clear waste that block the flow of water.
Heavy rains also caused traffic chaos. Traffic congestion reportedly affected several streets such as Nguyễn Trãi in Thanh Xuân District and Tố Hữu in Hà Đông District. Traffic police have been mobilised in areas at high risk to guide vehicles.
The rain has helped to cool down the capital city, with the temperature dropping to 28 to 31 degrees Celsius from 35 to 38 degrees Celsius over the past few days.
Hội An launches Tuồng course for children
The Culture and Sports Centre in Hội An City has launched a training course in Hát Bội or Tuồng (classical drama) for 15 children.
The move is an attempt to preserve the ancient art form and to entertain tourists.
Director of the centre Võ Phùng said the course, funded by Hoàng Châu Ký Foundation, will last three months, with Tuồng artists instructing the children every Saturday night at 39 Nguyễn Thái Học Street.
"It's the first-ever course in Tuồng for children in Hội An after a training course in Bài Chòi (a traditional Vietnamese game combining folk songs and picks from a deck of cards) was launched for children two years ago," Phùng said.
"The trained children will perform for tourists visiting Hội An, while the ancient art form will also be preserved," he said, adding that Bài Chòi was being staged on the Hoài River bank for tourists every night.
The classical drama from Quảng Nam Province was researched and preserved by late professor Hoàng Châu Ký (1921-2008).
Last year, the Tuồng Xứ Quảng (Quảng Nam classical drama region) art performance was recognised as national intangible heritage.
Hội An, a UNESCO world heritage site, is the most popular destination in the central Quảng Nam Province.
A survey showed that 27 per cent of the international tourists visited the city to learn about its culture and history.
Hanoi considers Hoang Sa and Truong Sa street names
Hanoi considers naming two new streets in Dong Anh District after the Spratly (Truong Sa) and Paracel (Hoang Sa) Islands.
The municipal People's Committee has recently made a proposal to the city's People's Council on naming 26 new streets, including two with the name called Hoang Sa and Truong Sa in Dong Anh District. This is expected to be considered by the council at its meeting early next month.
The committee has also suggesting naming a street in Dong Anh District after Ly Son Island in the central province of Quang Ngai.
EVN to link more islands to national power grid
Electricity of Vietnam is set to link up more islands with the national power grid this year.
It would supply power through undersea cables to Cham Island in the central province of Quang Nam possibly from September, EVN said.
In the Mekong Delta province of Kien Giang, Lai Son Island is expected to be linked by the end of this month.
Work to supply electricity to Hon Nghe Island Commune in Kien Giang is 25 percent complete and likely to be finished this quarter.
In the north, Cai Chien Island Commune in Quang Ninh Province, the only island not to have power the province, will be linked soon.
From now through 2020 EVN will focus on wrapping up a 2013-20 programme to supply power to all rural and mountainous areas and islands.
In May an EVN team did a survey on solar and wind energy generation in the Truong Sa (Spratly) archipelago. EVN will seek Government permission to supply electricity to all islands in Truong Sa, according to Pham Minh Thang, an EVN board member.
In the first six months of the year EVN supplied 76.44 billion kWh of electricity, a 11.7 percent increase year-on-year.
During the period demand was up 10.3 percent in the central region, 11.96 percent in the north and 12.28 percent in the south.
Despite the rapid rise in demand, EVN has assured it can continue to meet it.
Workshop discusses ecosystem service assessment and valuation tool
An ecosystem service assessment and valuation tool - ValuES - was introduced to national and provincial planners and decision makers at a worskhop on July 12 in Hanoi.
In a speech, Assoc. Prof. Dr. Nguyen The Chinh, General Director of the Institute of Strategy and Policy on Natural Resources and Environment (ISPONRE), emphasized the need to ensure that the ES concerns are mainstreamed into planning processes.
"It is now the time for policy makers to consider how they may apply global and regional lessons learned on ecosystem valuation at the national level," he said.
Mr Nguyen The Chinh were echoed representatives from the UN Development Program (UNDP) and the German Development Cooperation (GIZ).
"Ecosystems provide essential services to people's lives and livelihoods, especially for local communities," said Mr Dao Xuan Lai, Head of UNDP Sustainable Development Cluster.
"There has been limited appreciation and integration of the economic values of ecosystem services into development planning, budgeting, and decision making processes" Mr Lai added.
Assoc. Prof. Dr. Nguyen The Chinh, General Director of the Institute of Strategy and Policy on Natural Resources and Environment (ISPONRE)
He underscored the importance of valuation of ecosystem services, which help enhance the understanding and trigger local actions on preservation and restoration of ecosystems.
"Healthy ecosystems provide high profits in terms of public health and public savings and achievement of broad objectives of overcoming poverty and achieving sustainable development goals," said Mr Lai.
"Ecosystems contribute directly to the national economy through the services they provide. Valuing these services and integrating them into planning and investment decisions is essential to ensure long-term economic growth", Michael Wahl, Chief Technical Advisor of the project Strategic Mainstreaming of Ecosystem-based Adaptation in Vietnam (EbA), noted.
Michael Wahl stressed that in the context of the implementation of Vietnam's Green Growth Strategy, GIZ continues to support ministries to better integrate ecosystem services into policies.
Conference promotes coordination in receiving, addressing complaints
The National Assembly's Ombudsman Committee hosted a conference in Hanoi on July 11, focusing on coordination among agencies in listening to and addressing citizens' complaints and petitions.
According to deputy head of the Central Committee for Reception of Citizens Duong Van Hue, the committee received 12,583 citizens who filed complaints about 3,522 cases, of which 371 petitions involved a large number of complainants, up 7.2% compared to the same period last year.
Almost all complaints and denunciations related to land, land clearance (2,171 cases), judicial affairs (555 cases), policy (224 cases), and corruption (64 cases).
The committee also received 7,800 complaints in written form, 7,015 of which have been processed.
The committee's deputy head noted that many petitioners became violent and engaged in extreme behaviours at the offices .
Participants at the conference emphasized the necessity to ensure officials' proper attitude and behaviours when receiving citizens. All complaints must be promptly processed and dealt with, while agencies should enhance coordination and information sharing with the goal of effectively addressing complicated situations, they stressed.
They also underlined the need to improve the skill for NA deputies in receiving citizens and dealing with complaints, and provide them with detailed information on complicated cases.
Participants proposed to build a national software and database for management of complaints, denunciations and petitions.
Detailed information concerning cases and resettlement processes should be publicized, while relevant legal systems should be updated in order to improve the efficiency of the work.
Participants also recommended further inspection and supervision of the enforcement of the Law on Reception of Citizens in localities nationwide, as well as measures to ensure security and safety in offices of the Central Committee for Reception of Citizens.
HCMC's leaders commemorates revolutionary scholar Tran Bach Dang
A delegation of Ho Chi Minh City's leaders on July 12 offered flowers and incenses to late Vietnamese revolutionary, scholar, journalist Tran Bach Dang on the 90th anniversary of his birthday ( on July 15, 1926).
The delegation included Secretary of HCMC Party Committee Dinh La Thang, former Secretary of HCMC Party Committee Le Thanh Hai.
Tran Bach Dang whose real name was Truong Gia Trieu, was born in 1926 in Rach Gia town in the Mekong Delta province of Kien Giang. He joined the revolutionary forces in 1941.
He served as a secretary of the Communist Party Committee in Saigon-Gia Dinh region and was the head of the propaganda and training committee of Central Office for South Vietnam and a member of the National Liberation Front in the Vietnamese War against the US invaders.
After 1975, he focused on studying, teaching and writing on the national liberation revolution. Apart from journalism, he wrote many poems, plays, short stories and novels. The famous spy novel, Van Bai Lat Ngua (Put your cards on the table) by revolutionary writer Tran Bach Dang is one of the best novels on the anti-American Resistance War.
Vietnam urged to focus more on scientific research
Professor Ngo Bao Chau, who won the 2010 Fields Medal, said that Vietnam should focus more on fundamental scientific research which is a key factor in improving the quality of its science sector.
Chau made the suggestion at a international fundamental science workshop in Binh Dinh Province on July 7-8, attracting the participation of 300 Vietnamese and international delegates from across different fields, including six Nobel laureates and Vietnamese mathematician Ngo Bao Chau.
According to Professor Ngo Bao Chau, except for the National University in Hanoi and HCM City, scientific research at other universities remained quite modest.
It can be said that Vietnam currently boasted substantial scientific and technological infrastructure, including hi-tech parks, institutes and research centres; but research capacity remains limited, with many projects having little real-world value.
"As the scientific research is not focused on much, universities don't also pay attention to selecting really qualified lecturers, so, this affects their training quality. Universities in Vietnam need to have competitive and transparent recruitment policies to have good staff. The selection of lecturers must be based on their real capacity, not their relationship with university leaders," he added.
Every year, Vietnamese people spend around USD2-3 billion studying overseas. The government also offers local students scholarships to study abroad, but many Vietnamese prefer to work in other countries after graduation.
Many students, particularly those studying masters or doctorates, have no interest in returning to Vietnam due to lack of research opportunities and poor pay.
PASCOS 2016 opened in Quy Nhon
International Symposium on Particles, Strings and Cosmology (PASCOS) was officially opened by the association of Rencontres du Vietnam (Meeting Vietnam) at the International Center of Interdisciplinary Science Education (ICISE) in Quy Nhon, Binh Dinh province on July 11.
The symposium is a part of the program of 12th Rencontres du Vietnam 2016 which was co - hosted by Professor Tran Thanh Van- Chairman of Meeting Vietnam Science Association and Professor Pham Quang Hung- lecturer of U.S Virginia University.
Around 200 domestic and international scientists gathered in the science event.
After the opening ceremony, American theoretical physicist and string theorist, winner of the Nobel Prize in Physics 2004 Mr. David Jonathan Gross; Japanese professor and winner of Nobel Prize in Physics 2015 Mr. Takaaki Kajita respectively delivered their speeches at the science symposium.
According to Prof. Pham Quang Hung, PASCOS has been held annually since 2005, aiming to summarize and discuss on achievements and results of the particle, string theory and cosmology in the recent years.
The goal of this year symposium is to review and discuss recent progress in particle physics, string theory and cosmology. Following important discoveries made within the last few years, including properties of neutrino mixings, the Higgs particle, and most recently gravitational waves, it is urgent to bring together theorists and experimentalists to discuss what has been learned and what might show up in the next few years. ICISE will provide an ideal setting for both established and young physicists to present new theoretical ideas and new experimental projects.
Rencontres du Vietnam desired young scientists as well as science lovers have favorable opportunity to show their ideas so behind speeches of well-known scientists, members of the symposium will also listen to young scientists and students, esp. some of them are Vietnamese, added Mr. Pham Quang Hung.
PASCOS is scheduled to run by July 16.
Finance, Transport Ministries propose 10-20 percent road toll cut
The Ministry of Transport and the Ministry of Finance have proposed the Prime Minister to reduce road toll rate by 10-20 percent at 29 tollbooths across the country.
The toll cut proposal based on project implementation costs lower than estimates, the ministries said. If it is approved, toll reduction will start from August 1, 2016.
Previously, the Government assigned the two ministries to review and estimate road toll levels and BOT (Build-Operate-Transfer) fees.
The move aims to rationalize toll rates and help businesses especially those from transport service field reduce costs in accordance with Resolution 35 on business assistance and development.
The Red Journey attracts over 1,000 donors in Ba Ria-Vung Tau
The southern province of Ba Ria-Vung Tau received nearly 1,000 units of blood from 1,200 donors on July 11-12 during an activity under The Red Journey, a transnational campaign to raise awareness about donating blood.
The Red Journey 2016 blood donation campaign was officially kicked off at a ceremony held in Hanoi on July 11by the National Institute of Haematology and Blood Transfusion (NIHBT).
The organisation expects to collect 50,000 units of donated blood during the month-long campaign, including 20,000 units in 27 provinces and cities, which will be visited by the volunteer group.
The Red Journey is an important milestone in the development of the country's voluntarily blood donation movement, contributing to reaching the goal that all of its blood will be donated by voluntary donors by 2020, said NIHBT Director Nguyen Anh Tri.
Since the first Red Journey in 2013, thousands of patients' lives have been saved due to the nearly 57,000 blood units collected during the past three years, said the director.
Last year, the health sector collected more than 1.1 million units of blood.
The sector has set a target to collect 1.2 million units of blood from voluntary donors in 2016.
Climate change a threat to Mekong Delta
Politburo member and Deputy Prime Minister Vuong Dinh Hue emphasized that climate change is posing serious threats to the Mekong Delta, which produces half of Vietnam's rice output and 65 percent of aquaculture products.
The Deputy PM, who is also Chairman of the Southwestern Steering Committee, spoke on the issues in his opening speech for the 9th Mekong Delta Economic Development Forum (MDEC), which opened on July 11 in Vi Thanh City, Hau Giang province.
He noted that the Party, National Assembly and central Government, as well as Party organisations and administrations of Mekong Delta localities, have been looking for integrated solutions and long-term strategies to ensure the region's sustainable development and local residents' livelihoods.
Deputy PM Hue noted that the previous eight MDEC forums have outlined many mechanisms and policies aiming at enhancing the region's internal connectivity and cooperation as well as external economic links.
He suggested the forum this time will give businesses, donors and other localities a chance to seek opportunities in the Mekong Delta, while local administrations will study how to better respond to investors' demands.
The Deputy PM took the occasion to announce that the World Bank and the State Bank of Vietnam signed an agreement in Can Tho City on a 560 million USD loan package for climate change adaptation and sustainable development of the Mekong Delta on the same day as the opening of the MDEC forum.
The 9th MDEC, which has the theme of "Mekong- Delta- Active Integration and Sustainable Development", will focus on major issues related to climate change and sea level rises, such as drought and salinity intrusion, along with technology applications in agriculture and the marketing of local produce, particularly rice, fruits and aquatic products.
At the end of the week, the forum's participants plan to issue a joint statement, with suggestions on solutions for the region's development. It will be sent to the Prime Minister for approval.
"Climate change is no longer an abstract warning, but is directly threatening the delta's sustainable development," Son Minh Thang, deputy chairman of the Southwestern Steering Committee, said.
With recent events like the historic drought, the worst in 90 years, along with saline intrusion, the need to improve linkages among provinces as well as with other regional countries is more important than ever, Thang said.
With 1.5 million hectares of land for paddy cultivation, the Mekong Delta plays a key role in the country's food security. It produces 50 percent of rice output and 70 percent of fruit in the country, while contributing 65 percent of seafood exports, and 90 percent of rice exports.
It has 700km of coastline with picturesque beaches, three biosphere reserves recognised as international Ramsar sites, a rich resource for tourism development.
As of June 2016, the delta attracted 1,348 foreign direct investment projects with total registered capital of 20 billion USD, contributing seven percent of the country's FDI, according to the Ministry of Planning and Investment.
The Mekong Delta comprises Can Tho city and 12 provinces - Long An, Dong Thap, Tien Giang, Vinh Long, Tra Vinh, Ben Tre, An Giang, Hau Giang, Soc Trang, Bac Lieu, Ca Mau and Kien Giang.
Official slogan of traffic safety programme announced
A slogan penned by a ninth grader from Ngan Son boarding school for ethnic children in the northern province of Bac Kan has been selected to be the official slogan of the "Doraemon with traffic safety in Vietnam" programme.
The slogan "Niem vui theo em den truong la su an toan tren tung buoc di" (my joy to school is safety in every step) of Luan Anh Tuyet was chosen among 24,257 entries sent to the slogan contest. It will appear on posters and leaflets popularising road safety nationwide.
Tuyet will receive a prize value at 2.2 million VND (200 USD) and a round-trip air ticket from Hanoi-Tokyo from Japan Airlines.
A ceremony is scheduled on September 14 to present awards to authors of the 22 most standout slogans.
The slogan contest was jointly organised by the Traffic Police Department, the Ministry of Education and Training and Japan's Mainichi Newspapers Co. Ltd. It is part of the "Doraemon with traffic safety in Vietnam" programme, which uses the image of the cat robot in a popular Japanese cartoon to educate children about traffic safety, thus reducing accidents in the country.
Under the programme, traffic safety classes will be opened at three schools in Hanoi and two others in Ho Chi Minh City in September and October this year. Local traffic police officers along with the Doraemon costumed characters will come to popularise the traffic law and guide primary students how to commute safely.
Each student at those schools and 20 others in the two cities will also be presented with a road safety handbook and a badge featuring the winning slogan and Doraemon.
Japan launched a traffic safety programme featuring Doraemon 30 years ago, when about 15,000 Japanese people were killed by traffic accidents every year. Japan is now one of the countries with the safest traffic network in the world, while its people have very good road sense. The number of traffic-linked deaths has shrunk to around 4,000 a year.
TransViet Travel in top 10 leading tour operators
The TransViet Travel company was listed in Vietnam's top 10 leading international tour operators in 2016 voted by the Vietnam National Administration of Tourism and the Vietnam Society of Travel Agents.
It is the third year in a row the company has been included in the list.
Established in 1996, the company has diversified significantly into a number of dynamic subsidiaries in Hanoi and Ho Chi Minh City. It offers a wide variety of travel related services from representing international airlines in Vietnam to inbound and outbound tour packages and all fields of MICE.
The company has gained several prestigious prizes over two decades of operation such as the "2015 ASEAN Trusted Branch" by the Vietnam Chamber of Commerce and Industry (VCCI), the ASEAN Enterprise Association and ASEAN Consulates; the "Top 10 Leading Tour Operators in Vietnam" since 2011 until now and the "Top 10 Leading Tour Operators in Ho Chi Minh City" since 2010 until now.-
Vietnamese man killed in Central Highlands explosion
A man died in the Central Highlands province of Kon Tum after an artillery shell left over from the Vietnam War exploded on July 10.
The incident happened at noon when Nguyen Thanh Duong, 44, tried to cut open the shell he had discovered earlier on a hill in la H'Drai District.
The blast reportedly killed him instantly.
Since the Vietnam War ended in 1975, unexploded ordnance (UXO) incidents have killed more than 1,500 people and maimed another 2,200 a year, according to official statistics.
While some were accidental, many happened when poor people tried to salvage scrap metal from bombs.
Festivalgoers immerse in Japanese culture
The event 'Feel Japan 2016' simulating a traditional Japanese summer festival is expected to draw thousands of guests on July 16-17 to the Gem Centre in Ho Chi Minh City.
At the event, guests can partake in eating traditional Japanese food, play games and watch Japanese students' dancing performances as well as meet the cartoon characters Hello Kitty and Ninja fencer.
A large number of special guests will also make presentations on the history of Japan and present information about Japanese clothes, housing, food and how summer festivals are celebrated in the Far Eastern nation.
They will also teach guest to speak some common phrases in Japanese and demonstrate the techniques of bowing and show how Japanese men and women bow differently.
Those who attend the event will have the opportunity to visit some 50 food game and cultural booths in the summer festival booths area and eat Japanese vegetable pancakes, noodles, skewered chicken, candy apples and chocolate-coated bananas as well as partake in traditional refreshments.
Other activities will include calligraphy and origami demonstration as well as trial-fitting for traditional Japanese clothes.
Dancers will perform two different types of traditional Japanese dances - Soranbushi and Bonodori, which are dramatically different from any dances popular in Vietnam, said the organizing committee members.
The popular Japanese music band 365, singer Chi Thien and Bao An are also scheduled to perform their magic at the event, said the organizers, and they encourage anyone with an interest in Japanese or Asian culture to attend.
Lastly, a special drawing will find some lucky guest winning an all-expense paid trip to Mombetsu – a paradise in the north of Japan, they noted.
Lâm Đồng Province warns drivers about highway danger
The Central Highland Lâm Đồng Province's local authorities have warned drivers to be cautious on National Highway 20 after many people were either injured or killed in several serious accidents.
National Highway 20 is a key road linking Đà Lạt tourist city in Lâm Đồng to HCM City and southeastern provinces. It has become an accident hotspot, particularly during festive seasons or in summer when tourism is at its peak.
In the latest case on June 19, a head-on collision of two passenger coaches on Prenn mountain pass, which is part of National Highway 20 in Đà Lạt, killed eight people and injured 30. A 50-seater coach en route from Đà Lạt to HCM City hit a road worker on the mountain pass, which was being upgraded. The bus then lost control and struck another 50-seater coach that was going to Đà Lạt from Phan Thiết City in Bình Thuận Province.
Earlier in June, a truck hit a motorbike in the highway section going through Di Linh District, killing three people.
Vice-Chairwoman of Di Linh District's People's Committee Lâm Thị Phước Linh said the district recorded eight road accidents in the first six months of the year, seven cases of which happened on National Highway 20.
Meanwhile, 10 out of 13 road accidents recorded in Đạ Huoai District also happened on National Highway 20.
Lâm Đồng Province recorded 101 accidents in the first half of the year, in which 74 people were killed and 61 injured. Of the total, 57 cases happened on national highways, with the majority occurring on National Highway 20, according to figures from the provincial Traffic Safety Committee.
Director of the provincial Department of Transport Trương Hữu Hiệp said there were many reasons behind the increase in the number of road accidents on this highway.
Apart from factors such as speeding and careless driving, the upgrade work in many sections of the highway failed to ensure the safety of drivers, he said.
The risk of accidents was high in many sections of the national highway such as on mountain passes or at intersections, he said.
In a recent meeting held to discuss measures to ensure road safety in the province, Chairman of the provincial people's committee Đoàn Văn Việt said there were shortcomings and asked relevant agencies to take measures to help reduce the number of road accidents in the coming time, by inspecting and supervising vehicles travelling on the highway and checking road upgrade works to ensure that they take steps to ensure public safety.
Chợ Rẫy Hospital given 85 chairs for IV treatment by J&J
A unit for out-patient cancer treatment at Chợ Rẫy Hospital, the largest public hospital in southern Việt Nam, has been given 85 chairs for intravenous procedures related to cancer treatment which should help patients feel more comfortable during the process.
Associate Professor Dr Nguyễn Trường Sơn, the hospital's head, said that the hospital in 2012 set up the special unit to reduce the overcrowding of patients staying at the hospital to receive chemotherapy, because the hospital is often the first choice for patients with serious diseases in the southern region.
The unit treats nearly 11,000 people on an out-patient basis at the hospital's Hematology and Oncology Ward every year.
The chairs were presented by Johnson & Johnson Company.
VNA/VNS/VOV/SGT/SGGP/TT/TN/Dantri/VNE