Four people die in road accidents
Police from the northern city of Hải Phòng said three people died and a person was badly injured in two car accidents in the locality.
A car with an unknown number plate hit a woman who was walking on the sidewalk this morning, causing her death on the spot.
The accident occurred on Road 212 which passes through Tiến Thắng Commune. The car left the scene after the accident.
Also on the same road, a collision occurred last night between two motorcycles, leaving two people dead and one seriously injured.
Initial investigations found that all the deceased were residents from Tiên Lãng District's Bắc Hưng and Quang Phục communes.
Further investigation is underway.
In related news, a 16-seat car lost control and crashed into a road divider on Nguyễn Văn Cừ Street, at the section belonging to Hồng Hải Ward in the northern province of Quảng Ninh's Hạ Long City this morning.
Eight people who were injured in the accident were taken to hospital but Đỗ Mạnh Cường, the driver, died due to a serious brain injury.
The authorities of Quảng Ninh and Hạ Long have decided to support the deceased man's family with VNĐ6 million (US$270) and the injured with VNĐ3 million ($135) each. –
US-funded centre for natural disaster prevention inaugurated
A US-funded centre for natural disasters prevention and mitigation began operational in the south central coastal province of Phu Yen on July 15.
Under funding from the US Pacific Command and the US Embassy in Vietnam, its construction started in October 2015 and was completed after nearly nine months.
The three-storey facility spans an area of 880 square metres and is fully equipped to handle storms, floods and carry out rescue operations.
It will help the province raise public awareness, update flood scenarios, design solutions to typhoons and maintain facilities, such as dams, reservoirs and docks.
Phu Yen and its neighbouring provinces in the region regularly bear the brunt of severe weather conditions such as storms, floods and whirlwinds.
A huge flood in 2009 inundated all 126 houses in the local Tuy An district's An Dinh commune at depths of up to three metres.
Slow Internet to continue for nearly ten days
Bad news for sufferers of slow Internet in Vietnam: the repair job to restore connection will begin later and take more days to complete, a local telecom firm said on July 15.
Engineers are expected to start repairing the rupture found last week in the Intra Asia (IA), one of four underwater Internet cable systems Vietnam is connected to, somewhere today, and will finish their work by 7:00 am on July 24, according to CMC Telecom.
Another local Internet service provider, Viettel, previously said repairs would be performed between July 12 and 19.
The cable break, identified in the IA cable section linking Vietnam and Singapore, resulted in snail's pace connection speeds for users in Vietnam from July 9.
Subscribers to Viettel, one of Vietnam's leading Internet service providers, were most affected, as the military-run telecom firm relies heavily on the IA cable to ensure Internet traffic for its customers.
The underwater cable system was launched in late 2009, connecting Singapore, Vietnam, the Philippines, Hong Kong (China) and Japan. Spanning 6,800km, the system boasts a data transfer speed of 3.84Tbps. Among the Vietnamese Internet service providers, Viettel relies on this system most heavily.
The three other major submarine Internet cable systems Vietnam is internationally connected to are the AAG, SMW3 (Southeast Asia - Middle East - Western Europe 3), and TVH (Thailand-Vietnam-Hong Kong).
The IA incident came only ten days after the Asia America Gateway (AAG) cable system, crucial to Vietnam's Internet connectivity, underwent regular maintenance between June 22 and 27.
AAG itself is infamous for repeated ruptures and cuts, which has left Internet users in grief many times in the last few years.
Vietnam to destroy 1 ton of live cats, chicken smuggled in from China
Customs officers in the northern province of Quang Ninh said on July 14 they will destroy around half a ton each of cats and chickens they seized from two trucks and which they suspected were smuggled from China.
They found the cats at around midnight on July 12 and the chickens the next morning.
Neither driver could produce any documents for the consignments, and the officers thought they were smuggled in to supply restaurants.
The drivers said they had merely been hired to carry the animals and did not know their origins.
The animals could have fetched VND45 million, or more than US$2,000.
But Vietnamese laws stipulate that illegal goods should be destroyed by crushing or burning.
The country's biggest markets for cat meat are in Thai Binh and Nam Dinh Provinces, where it is still considered by some as a delicacy and served at festive occasions like wedding parties.
In January last year a huge cat smuggling case shocked the nation after the Hanoi police stopped a truck carrying three tons of cats, all alive, from China.
The animals, which were to be sold to restaurants in northern Vietnam, were culled.
The climate change scenario for Mekong Delta is very bleak
Rising sea level caused by climate change could sink nearly 40% of Vietnam's Mekong Delta by the end of the century, with negative weather conditions already taking their toll on agricultural production, scientists say.
According to the Southern Institute of Water Resources Research, the region's temperature could also increase by up to 3.5 degrees Celsius by the year 2100.
The projections were released at a conference held by the Ministry of Agriculture and Rural Development in Hau Giang Province on July 13.
They were based on the Representative Concentration Pathways (RCP) 8.5 climate change scenario.
The delta, named the rice basket of the country, has struggled with severe drought and saltwater intrusion recently.
Last year, intense El Niño conditions cut short the rainy season and saltwater intrusion came two months earlier than usual.
This year farming is being threatened as 10 of 13 provinces in the delta face water shortages. Groundwater levels in the delta have dropped by up to 0.4 meter annually.
The Cultivation Department said the region produced nearly 11 million tons of rice in the winter-spring crop, down 6% from the previous same period.
Scientists estimated that Vietnam's fisheries industry will also suffer damage worth about US$25 billion in 2030 due to climate change.
Experts say to help the Mekong Delta survive climate change there has to be a wide range of measures, including planning for more effective use of water resources among the Mekong River countries and planting more mangrove forests along the coastline.
Vietnamese celebs reject China's claim to East Vietnam Sea
After the Permanent Court of Arbitration (PCA) announced China has no rightful claim to the East Vietnam Sea with an absurd nine-dash line on July 12, Vietnamese celebrities began speaking out against Chinese infringement on their country's maritime sovereignty.
Vietnamese showbiz stars began voicing disgust on social media with China's illicit claims to the waterway on July 13, after a ruling in The Hague proved their neighbor to the north was guilty of impeding on their country's sovereignty.
Pham Huong, crowned Miss Universe Vietnam in October 2015, took to social media to say that, "Hoang Sa (Paracels) – Truong Sa (Spratlys) belong to Vietnam," showcasing her agreement with PCA's rejection of China's claim of historic rights to resources within much of the East Vietnam Sea.
"China should respect the Permanent Court of Arbitration," the Vietnamese belle opined.
Model Lan Khue, who showed a full map of Vietnam, complete with Hoang Sa and Truong Sa, during the Miss World 2015 pageant in China, reintroduced the map to her social network account, implying the U-shaped line has no legal basis.
Thu Minh, a local singer with over two million followers, said that the two archipelagos "are of Vietnam ever after."
The Permanent Court of Arbitration in The Hague announced its ruling on July 12 that there was no legal basis for China to claim historic rights to resources within much of the East Vietnam Sea – a subject that has long been the basis of territorial disputes by several countries.
China, which boycotted the hearings at the court, vowed again to ignore the ruling and said its armed forces would defend its sovereignty and maritime interests.
Formosa found burying waste at another landfill in Ha Tinh
While the dumping of waste by the Formosa Ha Tinh Company in Ky Anh district of central Ha Tinh province still seems a hot topic, the company has been denounced for burying its waste at Thien Cam landfill in Cam Xuyen district one year earlier.
Vice Chairman of the Cam Xuyen People's Committee Tran Huu Duyet told the media on July 14 that the information is true, as it was reported in May 2015, that there were 8-10 trucks carrying waste from the Formosa company to the Thien Cam landfill.
He steered the district Office of Natural Resources and Environment to assign the Environmental Protection Office under the provincial Department of Natural Resources and Environment and the Institute of Environmental Technology to collect waste samples to check whether they are hazardous or not.
However, the two units faced difficulties in collecting and analysing the samples. Therefore, the company's waste was yet to be tested until now.
Duyet admitted that the responsibility in this case belonged to the district authority.
In May 2015, about 15 tonnes of waste mud from the Formosa company was dumped at the Thien Cam landfill.
In July 2016, the Taiwanese company was found burying 100 tonnes of waste at a farm owned by the director of the Ky Anh Urban Environment Company in Ky Trinh ward of Ky Anh town.
Earlier on June 30, it admitted responsibility for mass fish deaths in the four central coastal provinces of Ha Tinh, Quang Tri, Quang Binh and Thua-Thien Hue between April and May.
It also promised a total compensation of US$500 million to support local fishermen to switch to other jobs and recover the polluted maritime environment.-
Methane explosion injures 6 in Hai Phong
A methane explosion on a ship in northern Hải Phòng City injured six workers this morning.
The explosion occurred at around 10am on the Toàn Thắng ship while it was anchored at Tư Long Port in Hồng Bàng District.
Ngô Thanh Phong, director of the Bình An Shipbuilding Company, said their workers were working below deck when the accident occurred.
"They were cleaning the lower decks, where the oil is kept. While they were cutting into a steel bar, some leftover methane exploded," Phong said.
He said the ship belonged to Thái Bình Province-based Southeast Petroleum Joint Stock Company, which had signed a contract with his company on July 4 to have the ship repaired and cleaned.
Bình An Shipbuilding Company and its labour union will provide financial aid to the injured workers, he said.
A worker who witnessed the accident said the six workers had sustained injuries to their faces, arms, legs and necks. They were sent to a local hospital and then transferred to the National Institute of Burns in Hà Nội for treatment.
Young Vietnamese expats pay tribute to General Vo Nguyen Giap
As many as 110 outstanding overseas youths from 24 countries and territories worldwide offered incense and flowers to late General Vo Nguyen Giap in the central province of Quang Binh on July 15 as part of the Summer Camp 2016 programme.
They expressed their immense gratitude to the late General, whose name is closely linked with the historic victory in Dien Bien Phu in 1954, putting an end to French colonialism in the country.
They affirmed that they will tell their friends about the talented Vietnamese general and his final resting place after coming back to their host nations.
Attending the Summer Camp, titled "Young Vietnamese expats with national cultural heritage", the youths have a chance to explore the country's culture and history, further their understanding about national tangible and intangible cultural heritages and improve their Vietnamese.
Participants are set to pay homage to national heroes and tour many heritage sites such as the Imperial Citadel of Thang Long and Temple of Literature in Hanoi, Ha Long Bay in northern Quang Ninh province, Hue imperial city in central Thua Thien – Hue province and My Son Sanctuary in central Quang Nam province.
They will also engage in an exchange with students from the Diplomatic Academy of Vietnam to discuss cultural preservation among overseas Vietnamese and the significance of seeking global recognition for Vietnamese tangible and intangible heritages.
The youngsters are scheduled to participate in charitable activities such as visiting and presenting gifts to Vietnamese heroic mothers in Thua Thien – Hue province, building book shelves for street children and growing trees at the coastal areas in Da Nang city.
HCM City urges chemical restrictions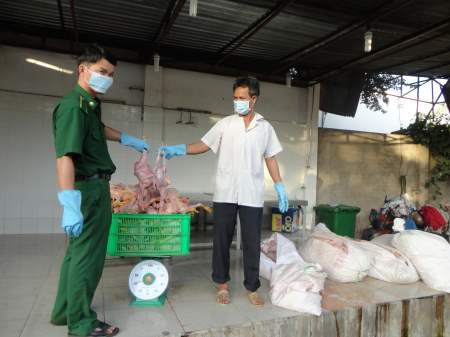 HCM City food safety inspectors check meat products.
HCM City officials at a workshop yesterday in HCM City urged passage of a new regulation that would separate the sale of food additives and industrial chemicals within shops to prevent the sale of fraudulent or banned substances.
At the workshop on chemical abuse in breeding and food processing, Nguyễn Hữu Hưng, deputy head of the city's Department of Health, said that food additives were sold alongside industrial chemicals at many shops, causing confusion for city inspectors who have oversight of such goods.
Some of the sellers also are not knowledgeable about usage of these chemicals and sometimes are not even aware of the differences between the substances, according to the Health Department's food safety and hygiene division.
Kim Biên Market, the chief market for such substances, sells many kinds of chemicals and additives, with a total of 17 traders. Some of the chemicals are banned from trade by the government.
Hưng said the Department of Trade and Industry had been told to improve monitoring of illegal sales at the shops at Kim Biên Market.
Besides strict oversight of banned substances, the city will also expand safe food chains as the city buys 70 per cent of its food products from other provinces.
Phan Xuân Thảo, head of the city's Animal Health Division, said that consumers should not be overly concerned about food safety as the quality of pork, beef, buffalo and poultry meat was ensured as the division monitored slaughterhouses at 24 establishments that meet standards.
Meat from provinces such as Đồng Nai, Bình Thuận and Vũng Tàu has been checked and found safe, he said.
Meat sold at traditional markets also meets standards because their management boards usually maintain strict control of trading.
"Problems occur at illegal small markets near streets, especially areas with a lot of workers," he said, adding that it was difficult to ensure quality and control.
About 85 per cent of consumers in the country buy food at markets, including small markets, according to the Việt Nam Retailers Association. The rest buy food at supermarkets and convenience stores.
Thảo suggested that the city call for investment from the private sector to sell food at cheap prices for workers.
Phạm Thị Huân, director of Ba Huân Co. Ltd, a manufacturer of safe eggs, said that workers found it difficult to access safe meals provided by food caterers and their company kitchens.
"This is harmful for the health of workers at industrial parks and processing export zones. They should step up management of food safety and hygiene at these areas," Huân said.
The city has 280,000 workers at industrial parks and processing export zones that use processed meals by food caterers every day, according to the city Food Safety and Hygiene.
Five food poisoning cases have occurred in the area since 2012, including one case in which 49 people were hospitalized for treatment.
Of the five cases, 80 per cent were because of contaminated food. Food processing, transportation and storage failed to meet hygiene regulations.
Some vegetables and meat provided to kitchens were also deemed unsafe.
The price for a meal at such places are between VNĐ10,000 (US$0.4) and VNĐ13,000.
A law with severe penalties for violators of food safety and hygiene will come into effect next year. Violators could be sentenced up to 20 years in jail.
MDEC 2016 raises big fund for social welfare in Mekong Delta
As much as 927 billion VND (41.71 million USD) was raised for the region's social welfare fund at the 2016 Mekong Delta Economic Cooperation Forum (MDEC 2016) that closed in Hau Giang on July 15.
The figure was released by the Vice Chairman of the Hau Giang province People's Committee Dong Van Thanh, who is vice head of the MDEC organisation board.
Prominent donors include Hanoi with 19 billion VND (855,000 USD), Ho Chi Minh City - 13 billion VND (585,000 USD), and the banking sector with 257 billion VND (11.56 million USD), according to Thanh.
The proceeds will be used to cover the construction of schools, local health centres, charity houses, scholarships, health insurance for disadvantaged people and natural calamity recovery.
Chief of the Office of the Steering Committee for the Southwest Region Nguyen Van Ut, who is also head of the MDEC Secretariat said as part of the implementation of the MDEC 2016 joint statement, the Steering Committee will ask the Government to allocate funds for developing transport and waterway infrastructure facilities and projects to adapt to climate change in the Mekong Delta.
Regional connectivity will be strengthened in agricultural production and in addressing droughts and salt intrusion.
Local authorities will take efforts to enhance the awareness about and capability of international economic integration at all levels and sectors.
The region will focus on boosting trade, investment and tourism promotion, expanding hi-tech agriculture production and new-style cooperative models.
Measures will be devised to improve the investment climate, simplify administrative procedures, facilitate the operations of local enterprises, thus boosting the sustainable socio-economic development of the region.
The MDEC Forum, originally organised as an annual event in regional localities from 2007 to 2014, aims to promote the potential and strengths of the Mekong Delta region and boost economic cooperation towards sustainable development.
From 2016, the MDEC Forum will be held biennially. MDEC 2018 will take place in Bac Lieu province in April, 2018.
The Mekong Delta comprises of 12 provinces and one centrally-run city with a total area of 40,000 square kilometres and a population of 18 million. It is the country's main rice producer.
Party chief pays working visit to Lai Chau
Party Secretary General Nguyen Phu Trong has urged the northern mountainous province of Lai Chau to develop agro-forestry toward industrialisation and modernisation.
He made the call during a working session with local authorities on July 15 as part of his two-day visit, which began a day earlier, to inspect the implementation of the Resolution adopted by the 12th National Party Congress and another by the 13th provincial Party Congress.
Lai Chau needs to continue investing in infrastructure and new rural construction, reducing the rate of poor households, he said, adding that it must also pay attention to ethnic and religious work, crack down on drug crimes and maintain political security and social safety and order.
On the occasion, the Party leader called for improving personnel work and developing human resources while launching more external activities, partly by increasing cooperation with China's Yunnan province and northern Lao localities.
Currently, 87 percent of the local population are ethnic minorities. With the goal of escaping its status as an especially disadvantaged province, Lai Chau has built new models of high-yielding rice and tea cultivation.
All 96 communes now have proper road access to town centres, while 84 percent of households have been connected to the national power grid and 75 percent of the rural population have access to clean water.
A number of major hydropower plants such as Lai Chau, Ban Chat and Huoi Quang have been built.
The provincial Party Committee has devised an action plan in which three key programmes have been identified, focusing on agriculture, new rural construction, and the improvement of human resources and the grassroots political system.
A programme on building new-style rural areas will continue.
Earlier on July 14, the Party chief paid a working visit to Ban Bo commune.
Diphtheria outbreak hits Bình Phước
The People's Committee of the central province of Bình Phước yesterday declared diphtheria an epidemic after three people died and 47 others were hospitalised to be treated for the bacterial infection.
Nguyễn Đồng Thông, director of the provincial health department, said this was the first time the disease was reported in the province.
Most of the infected people are from six to 26 years old and living in Đông Phú District's Thuận Lợi and Thuận Phú communes. They have all displayed symptoms of high fever, sore throat, coughing and headaches. When combined, these symptoms are easily misdiagnosed as swollen tonsils.
According to the Department of Preventive Medicine, diphtheria is caused by a type of bacteria called Corynebacterium diphtheria. The infection usually attacks children, but adults can be infected if their immune systems are weak. The condition is easily spread through person-to-person contact or through contact with objects that have the bacteria on them, such as cups or used tissues.
To prevent the disease, the department advised people to get routine vaccinations, regularly wash their hands with soap, cover their mouths when coughing or sneezing, and keep their houses clean. Anyone who has symptoms of diphtheria must be quarantined and taken to the hospital for timely treatment.
A reduction in diphtheria immunisations might be a factor behind the sudden outbreak in the province, Thông said.
Nguyễn Văn Sáu, deputy director of the provincial health department, said the immunisation coverage among local residents was 95 per cent and those who didn't get vaccinated might be at risk of becoming infected with diphtheria.
However, he said, all three of the deceased individuals had been vaccinated for diphtheria, according to their relatives.
While 80 to 90 per cent of people are immune to the disease after getting vaccinated, the rest might become infected due to some errors in the immunisation process, Sau explained.
The provincial health department has coordinated with the Pasteur Institute and local authorities to disinfect the environment in communes and villages where cases of diphtheria were reported, he said.
About 10,000 doses of diphtheria vaccines have been delivered to the province, Sáu said.
The vaccine was provided by the Ministry of Health to ensure that all citizens aged 6-16 get vaccinated against diphtheria.
Phan Trọng Lân, head of the Pasteur Institute, said the epidemic was contained to two communes and didn't spread to other districts.
He urged the provincial health department to promptly carry out vaccinations for 9,000 people aged from 6-16 to ensure that the rate of immunization covers 95 per cent of the population – the suggested percentage to prevent diphtheria outbreaks.
Thông said diphtheria outbreaks often occur in areas with overcrowding, low immunisation rates and poor hygiene.
He advised parents to take their children to receive vaccinations on schedule and with the right dose, as outlined by the expanded programme on immunisation.
Occupational safety training centre opens with better capacity
The completion of a project assisted by the Republic of Korea (RoK) on enhancing the capacity of an occupational health and safety training centre of Vietnam was marked with a ceremony in Hanoi on July 14.
The project, funded by the RoK Government, was carried out from 2013 by the Korea International Cooperation Agency (KOICA), the Korea Occupational Safety and Health Agency (KOSHA) and the Vietnamese Ministry of Labour, Invalids and Social Affairs.
The RoK supported Vietnam with training equipment and documents, teacher training and technology transfer costing 3.4 million USD in total. Meanwhile, the Vietnamese ministry upgraded facilities like workshops, classrooms and the dormitory of the centre, based in Son Tay township of Hanoi, at a cost of nearly 50 billion VND (2.2 million USD).
At the ceremony, Deputy Minister Doan Mau Diep said occupational health and safety in the country has been improved recently. Between 2010 and 2015, training was provided for more than 70,000 managers, 15,000 business owners and millions of labourers, including over 500,000 farmers.
About 1.5 million people receive occupational health and safety training every year, much lower than the 21.5 million workers who need such knowledge. Hence, demand for training in this field is huge, especially after the law on occupational health and safety requests training for the sectors that do not have labour relations. These sectors have some 35 million workers who need training.
The project's inauguration will help the centre become a leading facility of its kind in Vietnam and also assist the country to promote occupational health and safety, he added.
Photo contest on water launched in Hanoi
A photo contest on "Our water, our life" was launched in Hanoi on July 15.
The event was introduced by the Embassies of Bulgaria, Czech Republic, Hungary , Poland , Romania , and Slovakia coordinating with Vietnam 's Ministry of Natural Resources and Environment and the Vietnam Association of Photographic Artists.
Hungarian Ambassador to Vietnam Ory Csaba said it is important to enhance public awareness of water security and climate change in Vietnam as well as around the world.
The contest targets participants aged 18-28 years who are not necessarily professional photographers.
Black and white or coloured photos should be be sent to waterexhibition@gmail.com . The entries should have a short description (about 3-5 sentences) and a brief self-introduction, preferably in English.
Each contestant can send a maximum of three photos.
The deadline for submission is September 15, 2016 and the results will be announced on September 30, 2016.
The 20 best photos will be selected and displayed at exhibitions in the aforesaid countries throughout October-November 2016.
Ministry seeks to expand family doctor clinics nationwide
The Ministry of Health sought to expand the family doctor model across the country during a video conference in Hanoi on July 15.
Deputy Prime Minister Vu Duc Dam hailed the model as a good idea that has worked well around the world; however, it has yet to be implemented effectively in Vietnam .
He suggested improving initial healthcare services, including disease prevention and examination, and health consultation at grassroots medical stations.
The most urgent issue at present is reforming the financial mechanism at grassroots health clinics, he said, adding that the mountainous areas need more medical stations.
According to Minister of Health Nguyen Thi Kim Tien, as of last December 2015, the ministry set up 240 family doctor clinics at six centrally-run cities and provinces, surpassing the set target of 80.
Of which, 234 public family doctor clinics accepted health insurance payments.
The ministry established a steering committee to implement a project on building and developing family doctor models in 2016-2020.
It requested the People's Committees of cities and provinces to make more investment in health facilities at the grassroots level and expand family doctor models in particular.
Provincial and municipal health departments, it was suggested, coordinate with relevant departments and sectors to build plans and roadmaps to expand this model across all localities.
Water resources in Hong-Thai Binh River basin under discussion
Scientists and officials from relevant agencies scrutinized scenarios on the changes of water resources in the Hong (Red) –Thai Binh river basin and their impacts at a conference held in Hanoi on July 14.
The conference also took in subjects like the sustainable development of water resources, improving water use efficiency and solutions to ensure water supply in the context of climate change, economic development and related international agreements.
Discussions at the event will assist with the building of a water resource plan for the Hong-Thai Binh river basin that ensures a fair and reasonable distribution of the resource among areas and groups of water users in the region.
According to Dr. Tong Ngoc Thanh from the National Centre for Water Resources Planning and Investigation, the water resources planning in Hong-Thai Binh River basin should include the protection of ecosystems depending on water resources.
Echoing Thanh's viewpoint, Dr. To Van Truong said the environmental planning should be done in correlation with the water resources planning.
The Hong and Thai Binh are the two major rivers in the north of Vietnam. The rivers and their tributaries form the Red River Delta.
Nelson Mandela International Day celebrated in Hanoi
The South African Embassy in Vietnam launched humanitarian activities celebrating Nelson Mandela International Day in Hanoi on July 15.
This year's Nelson Mandela International Day took the theme "Take Action, Inspire Change, Make Every Day a Mandela Day," with all proceeds to be given to Vietnam-Cuba Friendship Hospital in Hanoi.
Gifts will be offered to 150 children with cleft palate who undergo health check-ups and surgery in July.
In 2009, the United Nations declared July 18 as Nelson Mandela International Day, which will be held annually to honour Mandela's 67-year dedication to the fight for freedom and justice.
The event called on individuals, organisations and community to spend at least 67 minutes to help change the world for the better and give help to disadvantaged individuals and community, and in doing so, to build a global movement for the good.
Coach-car collision injures four in Đà Nẵng
A passenger coach collided head-on with a car in the central Đà Nẵng City early this morning, seriously injuring four people.
The accident occurred at 7am in front of Resort Sandy Beach in Trường Sa Road, Ngũ Hành Sơn District. The two vehicles were travelling in opposite directions.
The four-seater car was badly damaged and four passengers in the vehicle were seriously injured. The front of the truck was also damaged, but all its passengers escaped unharmed.
Police are investigating the accident.
Mẫu Sơn Summer Tourism Festival draws thousands
Mẫu Sơn Summer Tourism Festival was organised by the Lạng Sơn Province Department of Culture, Sports and Tourism earlier this month with thousands of people and tourists attending.
The visitors took part in a food festival with traditional Dao dishes, an art exhibition held in old French villas and several other cultural and sporting activities such as lion dancing, folk singing, a cycle race and mountain climbing, Bé Thị Thu Hiền, deputy director of the department, said.
Located some 30 km north-east of Lạng Sơn city, Mẫu Sơn is home to the Tày, Dao and Nùng ethnic minorities. The mountain boasts a pristine landscape, clean air and cool weather all year round.
Tourists often flock here to enjoy its beautiful streams and waterfalls as well as occasionally experience snow in winter.
The area is well-known for its specialties like peaches, Tuyết Sơn tea, wine and rare cockerels with six claws.
Huế's tile-roofed bridge a big tourist drawcard
The 17m long and 4m wide wooden bridge is a big tourist attraction in the ancient city of Huế. It is an arch bridge with both sides being protected by railings with balconies. The bridge spans an irrigation canal extending from the entrance of the village to its end.
On both sides are benches inviting you to rest. Eighteen wooden pillars and iron work support the bridge. The bridge is unique because of its tiled roof, a rarity that makes it a model among the bridges built at that time in Việt Nam.
Next to it is the village market, which is small but offers everything, especially culinary specialties like hến (mussel) rice, fish pancakes, and a variety of rice noodles.
On the other side of the bridge is a showroom displaying agricultural tools: ploughs, harrows, sickles, scoops, and rice mills. There are also bamboo and rattan souvenirs.
Lam Dong: Large-scale deforestation to face prosecution
Legal proceedings will be launched against a case pertaining to large-scale illegal logging in the river basin of the Dong Nai 5 Hydroelectric Plant located in Loc Bac commune, Bao Lam district.
Relevant authorities will also a prosecute Le Hong Ha, born in 1968 in Dien Chau district, the central province of Nghe An, Nguyen Van Tuan from the Central Highlands province of Dak Nong and Nguyen Van Thanh residing in the southern province of Binh Duong for their involvement in the case.
The police force is currently hunting for a man called Ha – leader of the illegal logging ring, widely known as Ha "den", and is carrying out interrogations of eight other people in custody for further information about the logging.
On July 8, the police conducted a surprise raid and arrested about 20 members of the gang.
Relevant authorities captured tens of cubic metres of logs on Dong Nai 5 Hydroelectric Plant lake side and in the 390 forest area managed by Loc Bac Foretry Ltd., Co. Meanwhile, some 15 cubic metres of various logs were seized at Ha's house in Bao Lam district.
According to the investigators, the smuggled logs were consumed in Bao Loc city, Bao Lam district, Da Huoai district, and in other provinces like Dak Nong and Binh Phuoc.-
Encephalitis spreads in north
Japanese encephalitis is quickly spreading in the northern provinces, said Trần Đắc Phu, Director of the Department of Preventive Medicine under the Ministry of Health.
Dr Nguyễn Trung Cấp, deputy head of the Emergency Department of the Central Tropical Diseases Hospital, said 15 cases who suffered from Japanese encephalitis were treated at the hospital in recent days.
Meanwhile in Bạch Mai Hospital's Pediatrics Department, nearly 10 cases of the disease are being treated in the hospital, Dr Nguyễn Tiến Dũng said.
Cases of Japanese encephalitis have been recorded in the cities and northern provinces of Hà Nội, Bắc Giang, Điện Biên, Sơn La, Hải Phòng, Thái Bình, Lào Cai and Thanh Hóa central province, Phu said.
As many as six more cases of Japanese encephalitis have been reported in Hà Nội over the last week of June, he said.
Prolonged hot weather is creating favourable conditions for mosquito development and is leading to a high risk of the mosquito-borne disease spreading, Phu added.
Japanese encephalitis is caused by the mosquito-borne Japanese encephalitis virus that can spread the disease throughout the year, especially in summer. The disease is more common among children under 15, he said.
Japanese encephalitis is transmitted to humans through infected culex genus mosquitoes.
The symptoms of Japanese encephalitis - commonly known as "brain inflammation" -include high fever, nausea and, in severe cases, seizures, paralysis and coma.
While there is no cure for the disease, treatment focuses on relieving severe clinical signs and helping the patient to beat the infection.
AmCham helps organise blood-donation campaign
The American Chamber of Commerce in Việt Nam (AmCham Việt Nam) helped organise blood donations in HCM City yesterday during World Blood Donor Day, which was initiated by the World Health Organisation (WHO).
AmCham is working with the HCM City Institute of Hematology and Blood Transfusion and the HCM City Humanitarian Blood Donation Centre-Red Cross to carry out the campaign at six locations from July 12-20.
Dr Nguyễn Phước Bích Hạnh, of the HCM City Institute of Hematology and Blood Transfusion, said there was a shortage of safe blood supply at the institute.
"We encourage everyone to donate blood, but they should do it only in three-month intervals. My daughter and I frequently donate blood," Hạnh told Việt Nam News.
The World Blood Donor Day aims to raise awareness of the need for safe blood and blood products. It also pays tribute to voluntary unpaid blood donors who help to save lives daily.
The six-day event is expected to attract more than 1,000 blood donors.
Though the number of voluntary blood donations rose nearly 8 per cent last year, the supply of donated blood meets only 58 per cent of the need nationwide, according to the institute.
Tourism village to showcase life in northwestern region
A series of activities based on life in the northwestern region will be showcased in the Việt Nam Culture and Tourism Village on the western outskirts of the capital.
Entitled "A Month of Northwestern Echo", the programme includes an exhibition of tools for fishing of various ethnic groups from the northwestern provinces, a photo exhibition and a one-day homestay for tourists who want to experience the daily life of the Thái, Mường and Ê Đê people.
The exhibition of tools for fishing will take place from July 15 to 31, while the local people will showcase their fishing skills from July 29 to 31.
The photo exhibition will feature more than 100 photos of people and landscapes of the northwestern region such as the Mường Hoa Valley, Tả Van and Cát Cát villages, the season when rice matures in terraced fields in Hoàng Su Phì and Hà Giang Province, besides Mù Cang Chải in Yên Bái Province.
The homestay event will take place every weekend till the end of the month.
The village is located in Sơn Tây District, 45km west of the centre of Hà Nội.
VNA/VNS/VOV/SGT/SGGP/TT/TN/Dantri/VNE