HCM City plans weekend market downtown
The government of HCMC will open a weekend market downtown in the second quarter to create a new shopping and entertainment venue for city dwellers and tourists.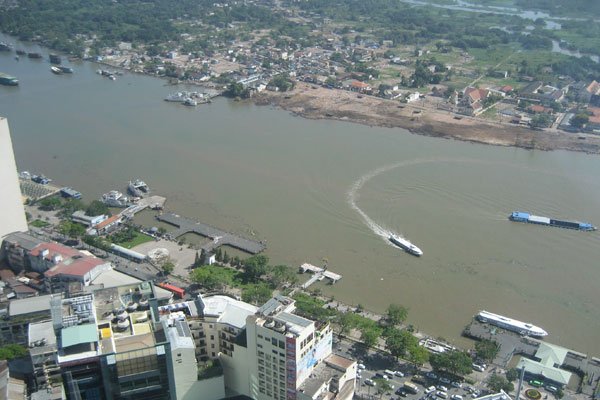 File photo of a hydrofoil heading to a now-defunct pier at the Bach Dang Park. The government of HCMC will open a weekend market at the Bach Dang Park along the Saigon River in the second quarter of this year
Expected to open from 10 a.m. to 10 p.m. on Saturdays and Sundays, the market will cover 3,000 square meters at the Bach Dang Park along the Saigon River in District 1 and feature 120 stands for art performance, food and folk games, a city government official told a meeting on March 20.
To be eligible for attending the market, vendors must ensure that goods are of clear origin and that they sell only genuine products and guarantee food safety.
All the stands will be cleared to before 8 a.m. on Mondays.
Tran The Thuan, chairman of District 1, described the weekend market as an extension of the Nguyen Hue pedestrian square which is always crowded with people at weekends.
Since the Bach Dang Park and the Nguyen Hue pedestrian square are separated by the busy Ton Duc Thang Street, District 1 authorities are working with the voluntary youth force to map out plans to help visitors cross the street, and regulate traffic in the area.
Tran Quang Lam, deputy director of the HCMC Department of Transport, said the area is prone to traffic congestion, especially at rush hour, and the situation would worsen when the nearby Thu Thiem 2 bridge is opened to traffic.
Therefore, Lam noted, a lot of manpower would be needed to help people walk between Nguyen Hue Boulevard and the weekend market.
City vice chairman Tran Vinh Tuyen said the weekend market was a pilot project as the city is planning to build an underground venue connecting the Nguyen Hue pedestrian square and the Bach Dang Park.
The city will look into its impact on traffic, he said.
In a related development, District 1 will carry out a pilot plan to allow food vendors to operate on some streets in the city center.
The district said on March 20 that Nguyen Van Chiem Street would be the first to house stands of 20 households which would be operational from 6 a.m. to 9 a.m. and from 11 a.m. to 1 p.m.
The second location is Bach Tung Diep Park with a sidewalk being 30 meters long and 8.5 meters wide, where 15 households can sell stuff from 6 a.m. to 9 a.m.
The third site is Chu Manh Trinh Street whose 120-meter-long sidewalk will be occupied by 35 households.
Those vendors will pay no charges for using sidewalk space but be required to ensure food safety, classify waste and have professional selling skills.
The district will consider other streets with wide sidewalks to arrange more stands for street vendors.