HCM City to have Vietnam's largest square
With an area of over 20ha, Thu Thiem Central Square in the Thu Thiem New Urban Area in Ho Chi Minh City's District 2 is planned to be the largest public space in Vietnam.
The city authorities have basically approved the main contents in the scale-1/500 detailed plan for the central square and a waterfront park at the Thu Thiem Urban Area by Dai Quang Minh Real Estate Investment JSC.
Accordingly, Thu Thiem Central Square and the riverbank park will cover an area of over 27 hectares on Thu Thiem Peninsula, divided into separate areas for political and cultural activities, as well as daily events.
The square is capable of accommodating 268,000 people during political festivals and 500,000 for cultural events.
In addition, there will be an underground parking lot that can hold nearly 2,700 cars at the same time.
As part of the project, construction for two pedestrian bridges over the Saigon River linking Thu Thiem Square with the Bach Dang wharf area in District 1 will be kicked off.
The waterfront park will feature a 1,000 m2 tourist ferry terminal representing the 100-year-old Thu Thiem ferry, which stopped operating after the opening of Thu Thiem Tunnel (located under the Sai Gon River) in late 2011.
The total investment for the project is set at nearly VND2 trillion (US$87.7 million), according to a study by French consulting firm Deso Defrain Souquet Associates.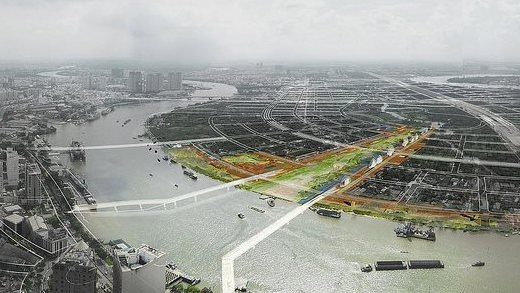 A conception of Thu Thiem Central Square.
Thu Thiem Square with transport routes designed in a trapezoid system. (Credit: deso-architecture.com)
Location of the square and a park on Thu Thiem Peninsula. (Credit: deso-architecture.com)