Vietnamese economy sees slower Q1 growth
Viet Nam posted a year-on-year GDP growth of 5.1 per cent in the first quarter of 2017, slower than the previous two years at 5.48 and 6.12 per cent, respectively.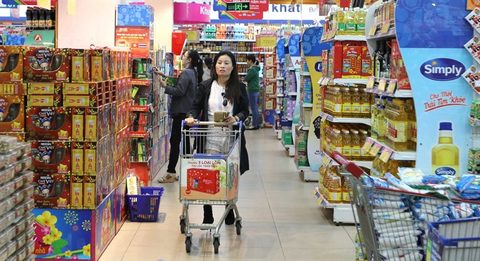 Nguyen Bich Lam, head of the General Statistics Office of Viet Nam (GSO), said at a press briefing yesterday that one of the main reasons for the contraction was the slow growth of agriculture, forestry and aquaculture.
He said this sector grew 2.03 per cent in the first quarter, higher than the same period in 2016, but still recording the second lowest growth rate since 2011.
The sector contributed just 0.24 per cent to national GDP growth, he added.
The agriculture sector was hit by repeated natural disasters like flooding in the central region, severe drought in the Central Highlands and saltwater intrusion in the south, Lam noted.
The slowdown could also be attributed to negative impacts of a global economy that was still recovering, with attendant uncertainties in financial flows, the rising US dollar, interest rate hike by the US Federal Reserve (Fed), making global monetary policy more complex, he said.
At the same time, Viet Nam's international economic integration was deepening with a series of free trade agreements (FTAs) coming into force and tariffs being abolished, Lam said.
Furthermore, the industry and construction sector grew by just 4.17 per cent, 2.99 percentage points lower than that in 2016, posting the lowest rate of growth in the past 11 years, which dragged down by a 10 per cent drop in the mining industry.
The service industry hit the highest growth rate of 6.52 per cent since 2012, with wholesale and retail sectors up 7.38 per cent; banking, finance and insurance up 7.76 per cent; and real estate services up 3.72 per cent.
Export turnover in the first quarter is estimated at US$43.7 billion, up 12.8 per cent, with significant increase seen in some key items like electronic products, including computers and components, up 42.3 per cent. Textiles and garment exports were up 10.2 per cent, and machinery, equipment and spare parts up 34.6 per cent.
Investment in social development reached VND297.8 trillion ($13 billion) in the first quarter, up 8.6 per cent year-on-year.
Foreign direct investment (FDI) grew 6.2 per cent to reach VND80.5 trillion ($3.53 billion).
Total retail sales and services saw a year-on-year increase of 9.18 per cent to some VND921.1 trillion, going down to 6.2 per cent when factoring price hikes. This was lower than the 7.5 per cent increase in the first quarter of 2016, which means aggregate demand and purchasing power of the economy was rising but at a slower rate than the first quarter of 2016, Lam said.
Viet Nam needed its GDP to expand by 7 per cent in the remaining months to meet the 6.7 per cent target for 2017 to be met, he added.
Lam saw more difficulties and challenges ahead, rather than favourable conditions, making the national growth target very difficult without a breakthrough development in the remaining quarters.
Therefore, the Government, sectors, authorities at all levels, the business community and society as a whole must be proactive and flexible in overcoming obstacles and realising the socio-economic development targets set by the National Assembly, he said.
The country's Consumer Price Index (CPI) increased 4.96 per cent year-on-year in the first quarter, with January CPI up 5.22 per cent, February CPI up 5.02 per cent and March CPI up 4.65 per cent.
March CPI rose 0.21 per cent against the previous month, 4.65 per cent year-on-year and 0.9 per cent over last December.
Vu Thi Thu Thuy, head of the GSO's Price Statistics Department, said that to keep the CPI below 4 per cent, the Government should direct the ministries of Finance and Industry and Trade to closely monitor price and market movements, especially for essential goods like rice, gasoline, steel and fertilizer. It should also pay attention to the timing of price adjustments for some goods managed by the State, she added.
The prices of eight of the basket of 11 groups of goods and services used to calculate the CPI increased, with the highest rise recorded for pharmaceuticals and healthcare services at 7.51 per cent, followed by education, 0.75 per cent; housing and construction materials, 0.5 per cent; and transportation, 0.39 per cent.
The three groups that experienced a price decline were restaurants and food services (0.87 per cent), garments, hats and shoes (0.12 per cent) and beverages and tobacco (0.02 per cent).
Thuy said the March CPI tended to decrease every year as consumption falls following the Lunar New Year, but this year, it increased after the Government raised the prices of medical and educational services.
The prices of petrol and diesel oil fell on March 6 and March 21, making the former cheaper by VND790 per litre and the latter by VND480 per litre. Cooking gas (LPG) prices rose 1.48 per cent over the previous month.
In March, gold prices fluctuated at around VND3.6 million per tael while the VND/USD exchange rate was stable at around VND22,700 to VND22,800 per USD. (A tael of gold is 1.205 ounces)
Core inflation (excluding food and fresh foodstuff, energy and State-controlled commodities such as health and education services) in March climbed 1.6 per cent over the previous month.
The CPI is forecast to continue increasing in April with price hikes in food, beverages, garment and educational services, GSO officials said.