Cross-border credit information exchange important for investment cooperation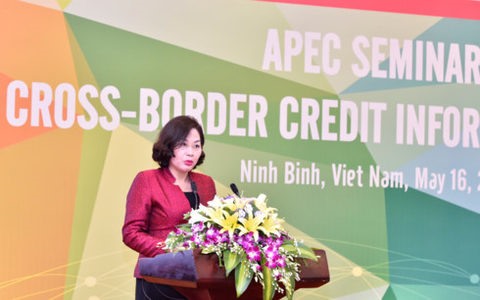 Deputy governor of the State Bank of Việt Nam Nguyện Thị Hồng delivers speech at the APEC seminar on cross border credit information exchange in Ninh Bình on Tuesday. – Photo vov.vn
NINH BÌNH – Cross-border credit information exchange plays an important and necessary role in promoting the quality and efficiency of investment and business activities for 21 member economies in the Asia Pacific region.
This was stated by experts at a seminar on Tuesday on this issue.
Addressing the APEC seminar on cross border credit information exchange in Ninh Bình, deputy governor of the State Bank of Việt Nam Nguyễn Thị Hồng said extensive globalisation required APEC members to connect their credit information networks to ensure equality and transparency in investment co-operation and diminish information discrepancy risk.
"Cross-border exchange of credit information will open up great opportunities for credit institutions in expanding co-operation, sharing experiences and obtaining reliable information to facilitate investment and business activities, as well as credit access for people in each country," Hồng said.
This issue has been on the agenda of many international financial conferences and attracted special attention from the APEC region. Its implementation, however, is held back by the differing legal principles in the member countries, especially in regulations concerning credit information, cross-border information exchange and customer privacy protection.
Hồng said in recent years, Việt Nam has actively participated in regional and international conferences on this topic and expressed its desire to enhance co-operation and exchange of credit information.
"This has reflected the country's determination to undertake its commitments to open up and integrate deeper with the world's economy," the central bank's official said.
Policymakers in 21 APEC member countries, ASEAN and ASEAN+3 have discussed the need of exchanging credit information, creating key elements for establishing a successful mechanism of cross-border credit information exchange, including legal framework and database, and outlining a draft on the memorandum of understanding on data dictionary.
These are important content for a developing country such as Việt Nam on its path to build a legal framework and standards on credit information activity, including cross-border sharing of credit information and regulations on customer privacy protection.
The seminar took place on the sidelines under the framework of the APEC Senior Finance Officials Meeting (SFOM), which will take place on May 18-19 in Ninh Bình. – VNS